If you think you will be bored in Maldives, think again with this list of 40 things to do during your holidays.
From Haa Alifu Atoll, at the extreme north of the archipelago, to Addu, the country southernmost Atoll and we did them all ( excepted sky diving, sorry it's not our thing ).
Each of these experiences is illustrated by one of our photo when possible.
You will never get bored in Maldives. THIS is a myth. With almost 1200 Islands and more than 150 Island Resorts, the destination offers many things to do and places to see. And THAT is a fact.
You can spend your days unwinding and do nothing, it's up to you, but you can also choose to move and explore each day, get new sensations, have a dose of adrenaline and blow your mind if you wish it too !
40 Things To Do during your Holidays in Maldives
If you think you will be bored in Maldives, think again with this list of 40 things to do during your holidays I gathered here for you.
remark : some activities are only possible if you stay in a resort and are listed accordingly. Otherwise they appear in a random order
Things to do only in resorts


Sleep under the Stars
Some resorts offer you the possibility to sleep under the stars like here at Gili Lankanfushi. The resort water villas have a daybed on their rooftop.
Read more about Gili Lankanfushi Maldives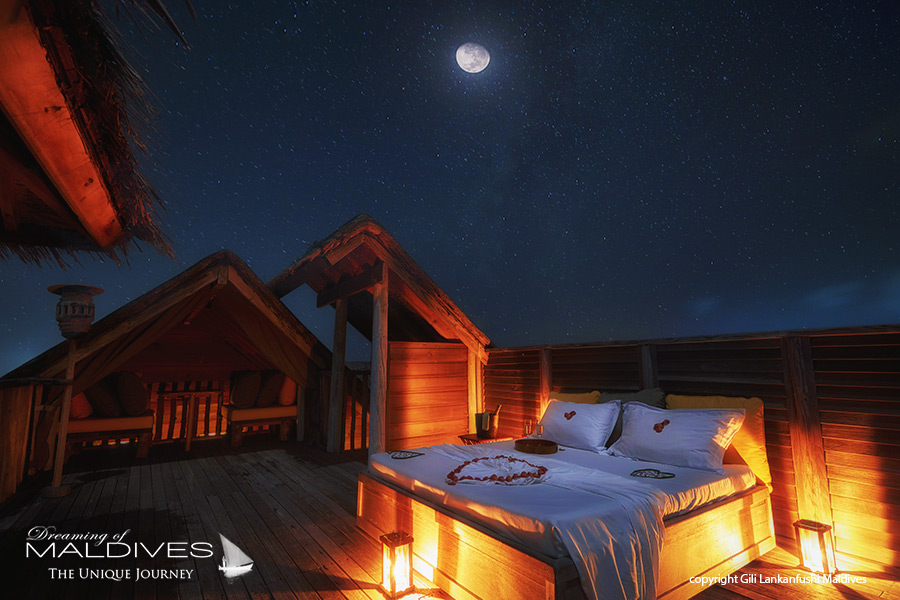 See also
The Maldives have an incredible concentration of amazing places. Nowhere else in the world, you will see and experience such a concentration…
Watch a Movie in a Open-Air Cinema on the Beach
The Maldives offer some of the world's coolest open air cinemas that let you watch a movie under the stars.
Located on the beach, in the jungle of an island, on the rooftop of your own villa or even overwater, this extraordinary experience is offered by a few resorts only.
Discover 17 Dreamy Outdoor Cinemas in Maldives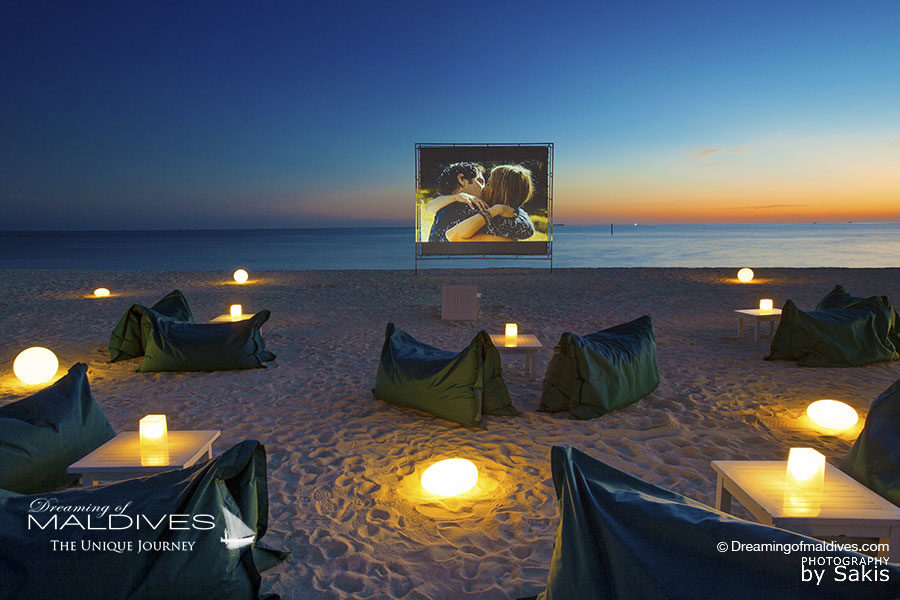 Stay in a Water Villa and hide with your beloved one
The Maldives boast some of the most beautiful Water Villas in the world. Iconic hideaways to escape and hide, they are an endless source of inspiration for couples.
Discover more :
The Best and Coolest Maldives Water Villas we've seen (so far)
10 Sexy Villas in Maldives For a Romantic Holiday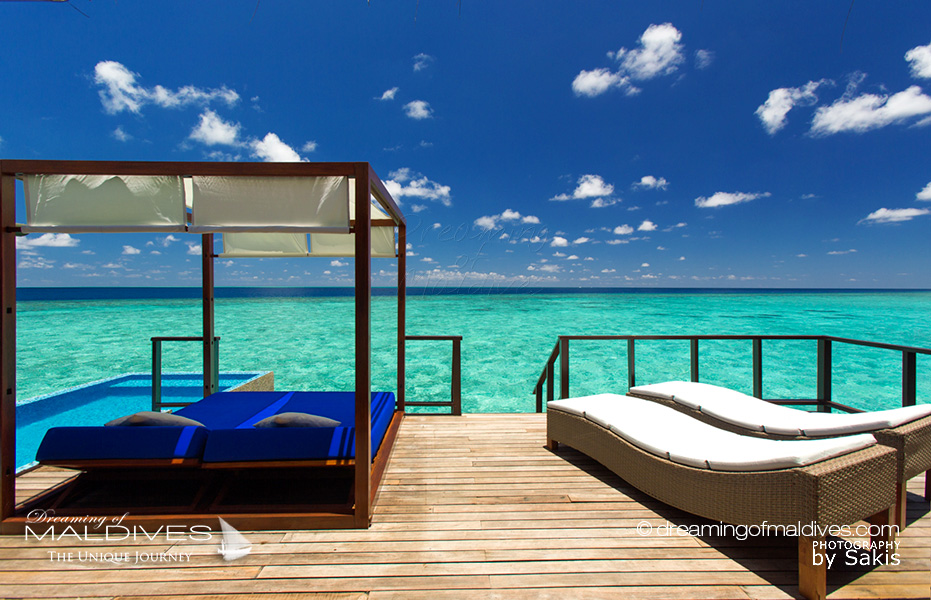 Make a wine degustation in the lagoon
Dip your toes in the lagoon and watch the sunset as you enjoy a selection of wines paired with amuse-bouches like here, at Constance Moofushi.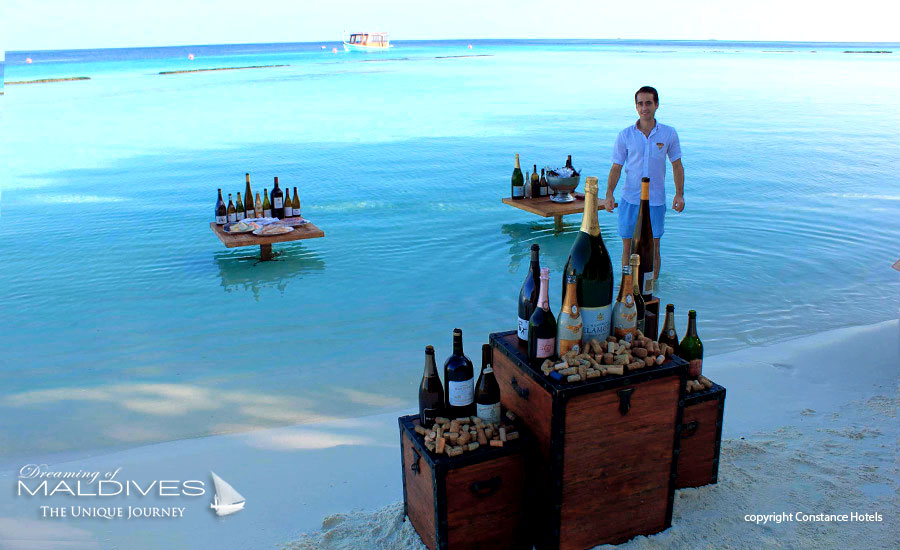 Live a Dream Wedding
Many resorts offer dreamy wedding packages. The most typical one includes the ceremony on the beach, the flowers, the music, the makeup, the cake, and the photography.
The bride will bring her own wedding dress, wear a simple dress, have one from a local even planner or wear a Dhivehi Libaas, the traditional Maldives dress.
Read more about Weddings in Maldives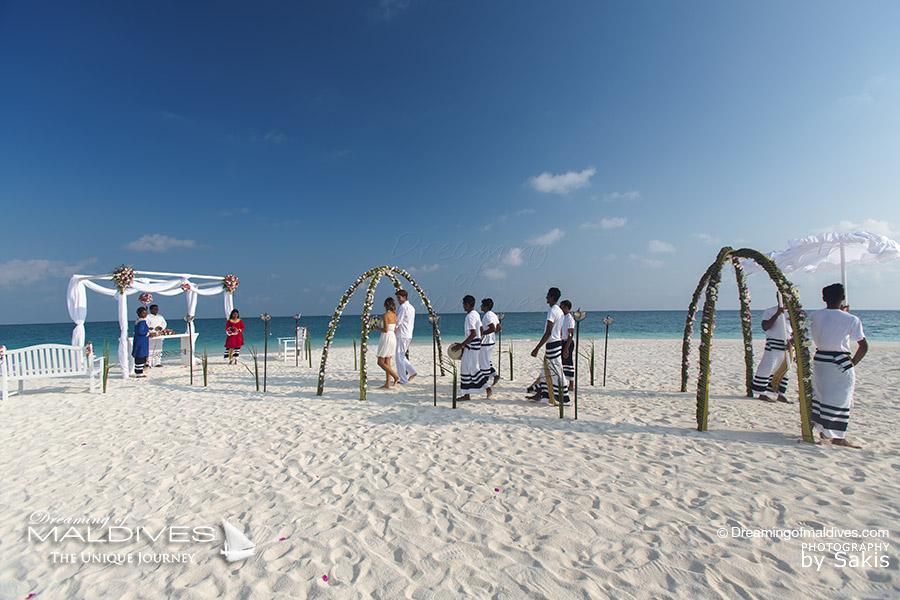 See also
Are you Dreaming of a wedding in Maldives ? Here are the 10 most common questions and their answers to help you start to plan this unique…


Party beneath an Island Beach
W has a unique place in the world : 15Below, a real nightclub with a very evocative name, since it is located at 15 feet underground…right beneath the island tropical beach.
Discover 15Below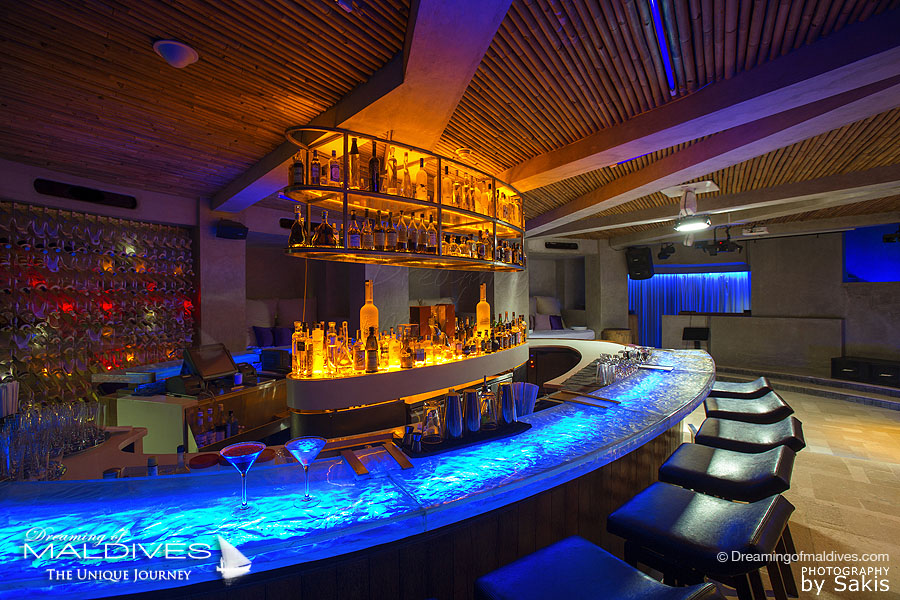 Our Video of W Maldives
W Maldives Video. An Extraordinary Luxury Resort. #WMaldives #BestSnorkelingMaldives #WHotels




Have a Fabulous Private Dinner on the Beach
If you are Dreaming of a beach dinner under a starry sky, the Maldives are probably the destination that offers the most spectacular experiences with a plethora of extraordinary dining settings.
Discover more Romantic Beach Dinners in Maldives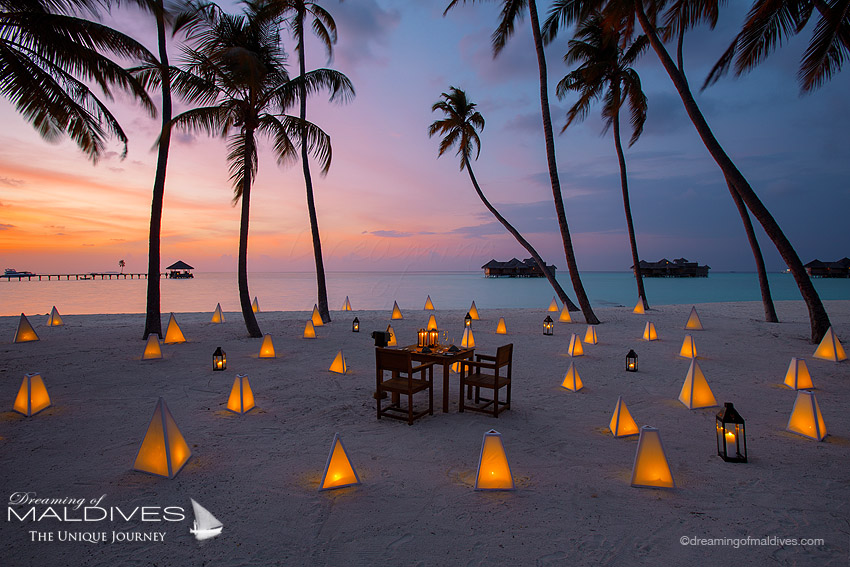 Take a Spa Treatment
The destination is known for having some of the most beautiful spas in the world. Located overwater, on the beach or in a tropical jungle, They combine everything we can wish for to help us find back our inner peace : blue lagoons, tranquility, ocean views, sound of the sea, extraordinary sunsets…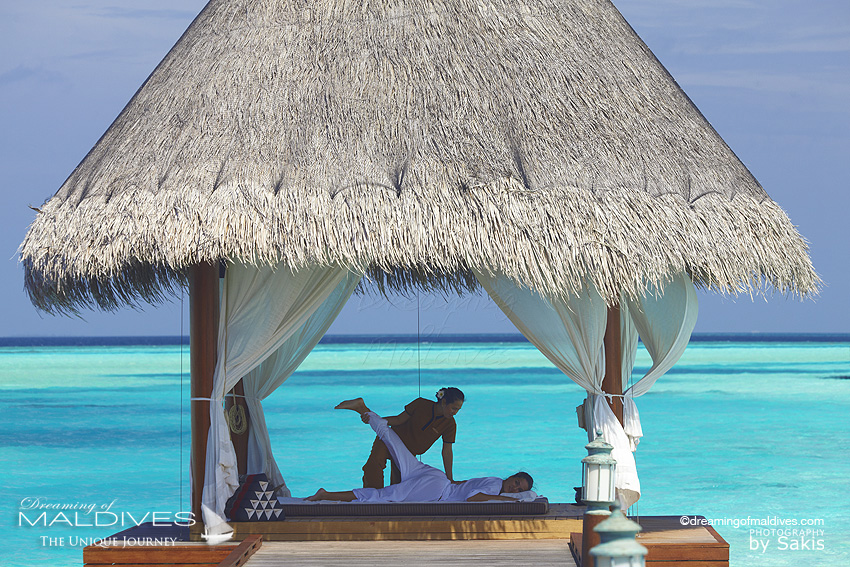 See also
The finest selection of the best Maldives overwater spas with treatment rooms that offer Dreamy massages with heavenly views at the lagoon.…


Swim in an Infinity Pool by the Ocean
A Water Villa with a big Private Pool in Maldives is just beyond your wildest dream of Luxury.
Discover more : 10 Splendid Water Villas with Pools in Maldives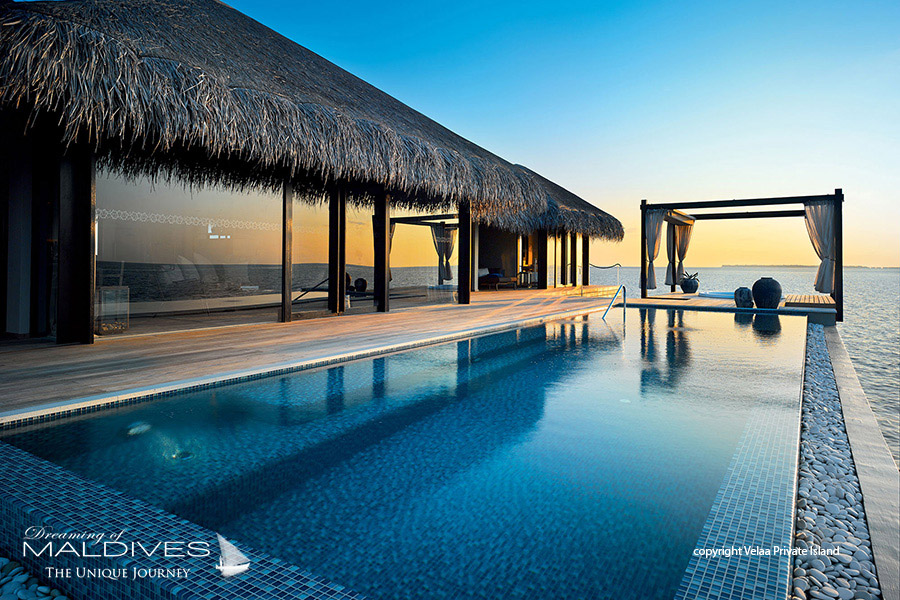 Have a Massage Underwater
Huvafen Fushi has an underwater Spa where you can enjoy the pleasure of a relaxing massage surrounded by thousands of fishes.
Read more about Huvafen Fushi underwater Spa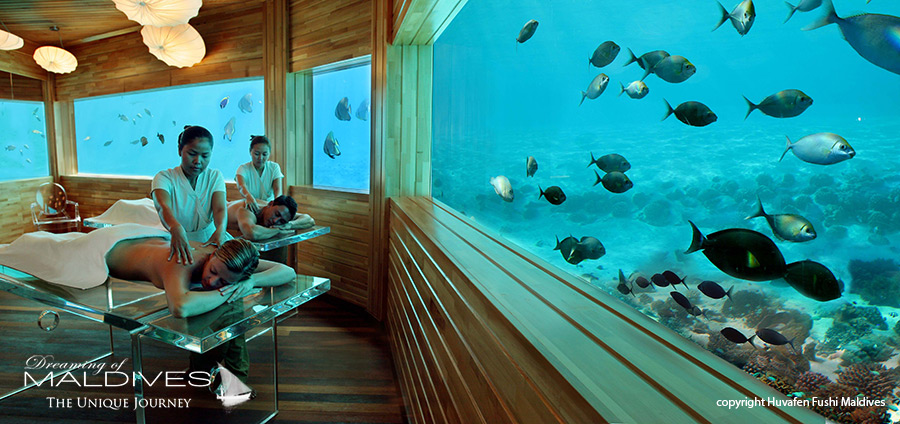 Things to do only on local islands
These moments are also possible from your resort as excursions. For Utheemu, which is a local island located in Haa Alifu, you will be only able to visit it if you stay in the same atoll ( In a resort or on another local island ).


Visit Utheemu and Discover 450 years of Maldives History
Utheemu is one of the country most important historical place. The island is the birthplace of Sultan Mohammed Thakurufaanu, the nation hero, who overthrew Portuguese occupants from the country in 1573.
After more than 500 years, his palace still exists and is in perfect condition, cherished and protected by the island population.
Read more about Utheemu


Meet the locals. Speak and Discover
Maldivians are proud islanders but remain the discreet guardians of their cultural heritage. If not obvious to the traveler, their customs and traditions are more rich than it appears to the visitor.
Go travel around the Maldives and visit local islands, be kind, speak and will discover the real soul of the archipelago.
Discover more about Maldivians, the Dhivehin.
Maldives Culture and Traditions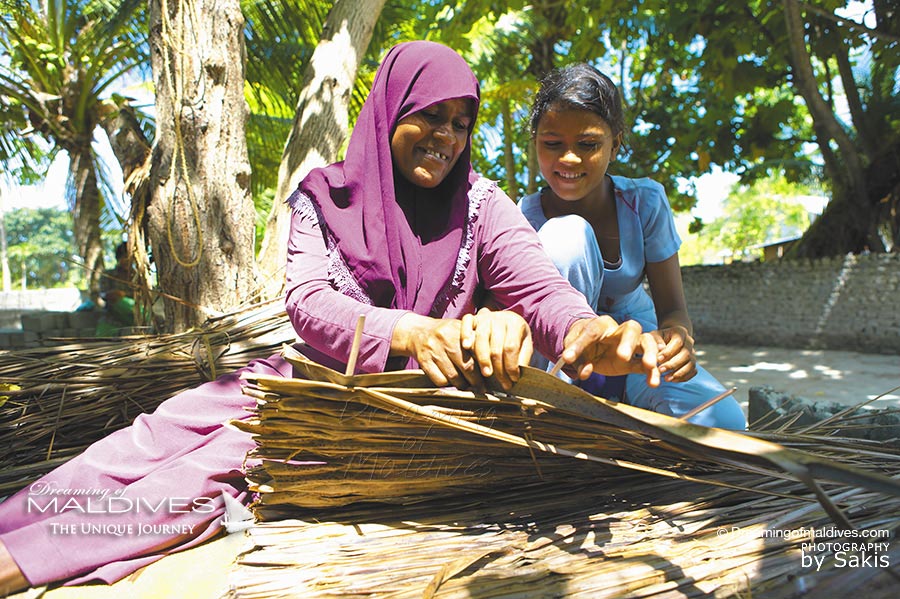 Discover more photos from Sakis, Dreaming of Maldives

Remembering the People of the Maldives islands in photos
Beyond hotels & resorts, here are portraits of the People of the Maldives
Things To Do everywhere


Get Lost on a Sandbank in the Middle of Nowhere
The destination offers countless sandbanks. These low sandy dunes have shapes which are by seasonal currents during monsoons. Some sandbanks disappear and some new ones emerge.
See our photos of Maldives sandbanks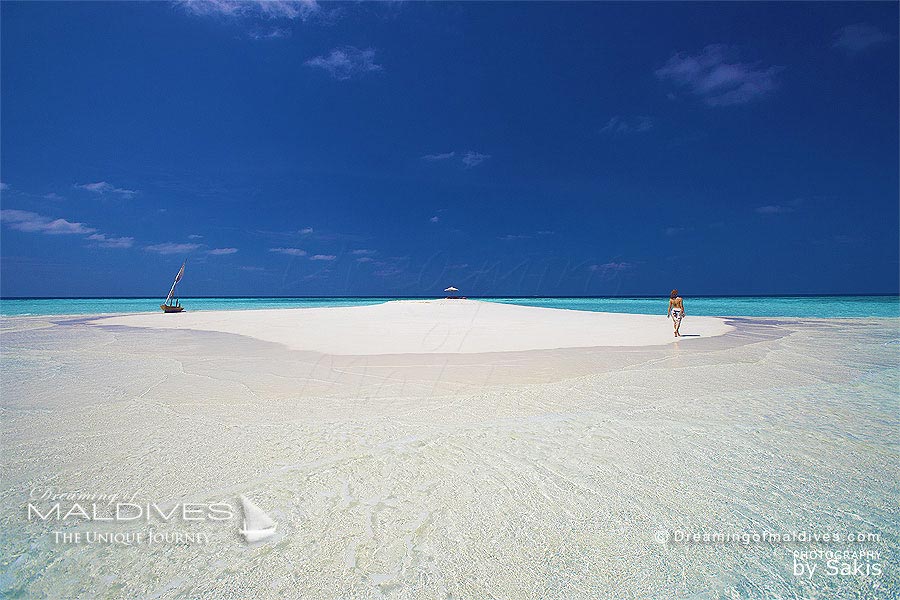 Our Video of Milaidhoo Maldives Sandbank
Stunning Drone Footage of Milaidhoo Sandbank. A Dream Video for Honeymooners #MilaidhooMaldives




Explore the wonderful world that is underwater
Maldives waters are an endless playground swirling with fishes and colors. You can snorkel literally everywhere just as diving. Explorations are done from the island shores or after a boat trip according to the island surroundings.
Read more : My snorkeling Guide to The Maldives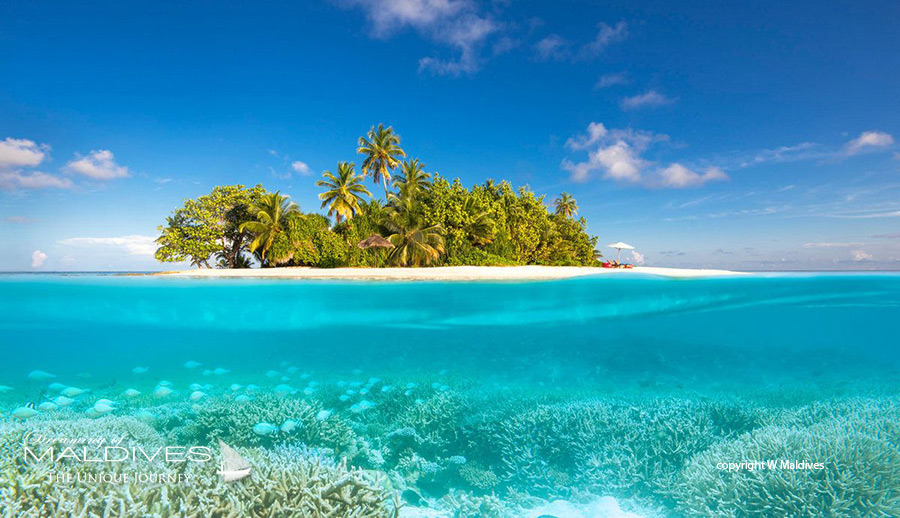 Spend a Honeymoon
The islands offer the perfect surroundings for a Honeymoon. Breathtaking landscapes are all over the archipelago and each resort is a romantic hideaway.
Some hotels organize weddings on their beautiful beaches, on a sandbank or even underwater.
Read more : Wedding In Maldives in 10 Questions And Answers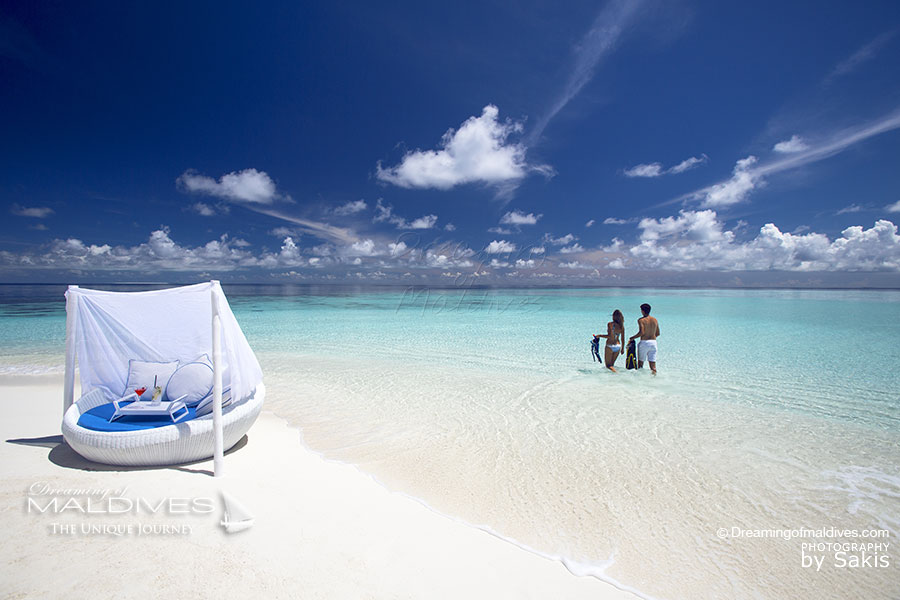 Our Video of Velassaru maldives
Velassaru Maldives Full Resort Video. The Most Beautiful Resort Places !




Experience a Desert Island
There are several hundreds of desert islands in Maldives. On 1200 islands that exist in the archipelago, : around 800 of them are still uninhabited, approximately 200 islands are populated and about 200 host Resorts. Around 50 are used for airports, agricultural purposes, picnics, governmental assets, industrial activities and even jails !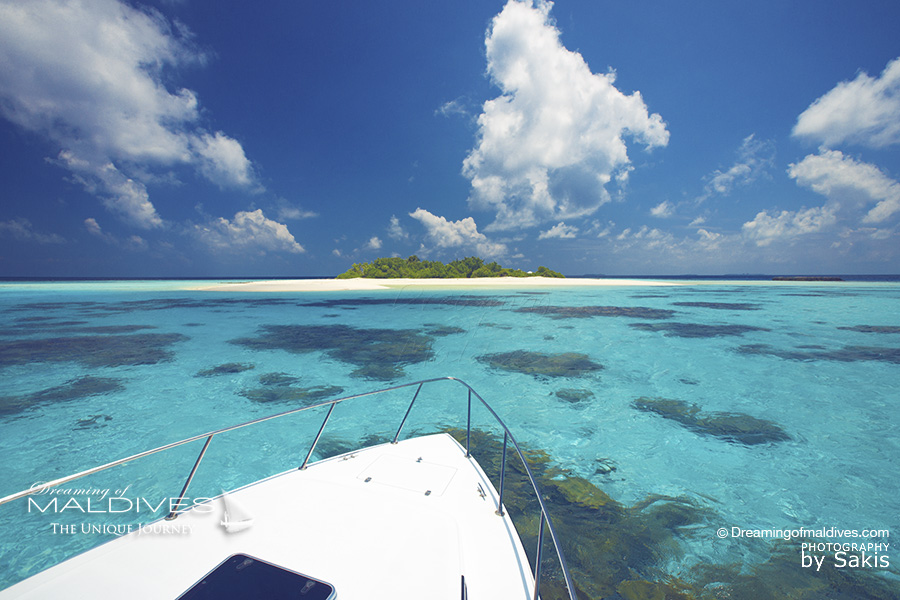 Go on a Seaplane for a Photo Flight
Flying on board of a seaplane is one of the many dreamy experiences the destination has to offer. You will probably have the chance to fly with one of them as part of your transfer to your resort. If a transfer by seaplane can not be schedule during your holidays, because of your budget – average price for a seaplane round-trip transfer can reach up to app 500 USD / 325 £ per person or because the resort simply does not provide it, you might still have a chance to experience it by booking a photo-flight excursion available at your resort.
Departures are organized directly from the resort itself or after a transfer by boat to Male Airport.
Read more about Seaplanes in Maldives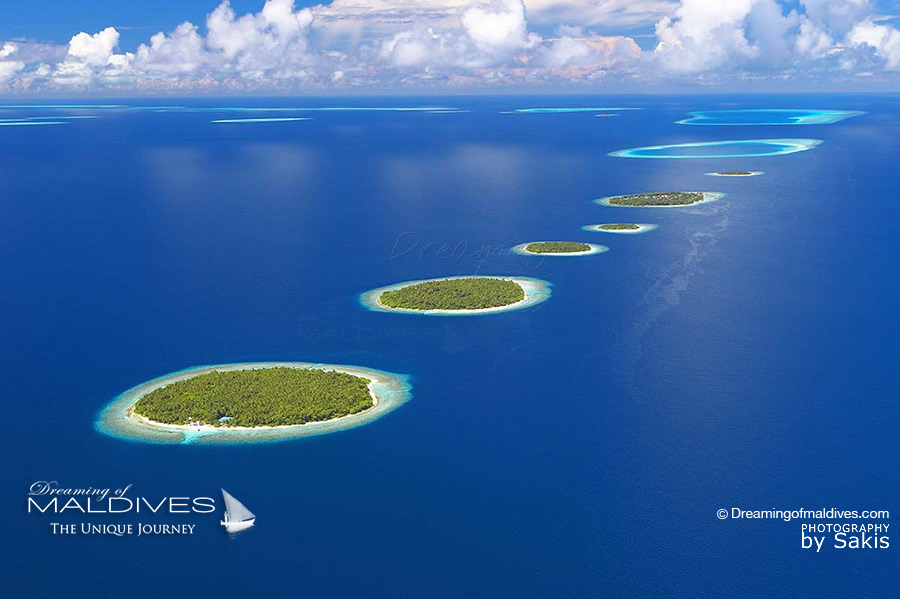 Dreaming of Maldives. The Video




Go on a Sailing Cruise
Here, you can cruise on many types of boats, from a super luxury modern yacht to a sailboat, a catamaran or a traditional dhoni, with skipper and crew. It is the perfect way to tour the islands !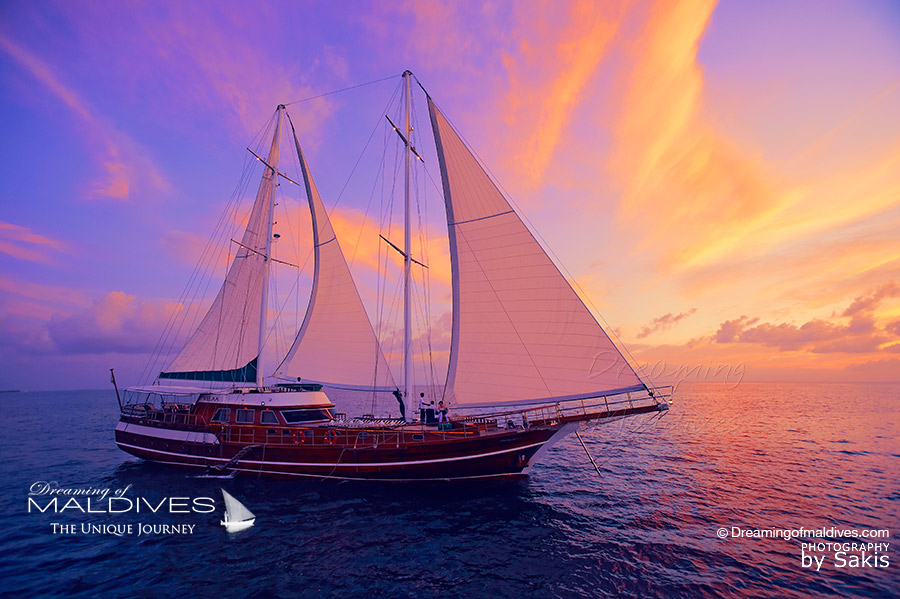 Take a sunset cruise and spot dolphins
Enjoy all different colors of the sunset and wait for dolphins to show up. On board of a private boat or with other guest, you will spend both an exciting and relaxing moment. It requires patience and luck sometimes, but it is so rewarding. Take it as a kind of privilege.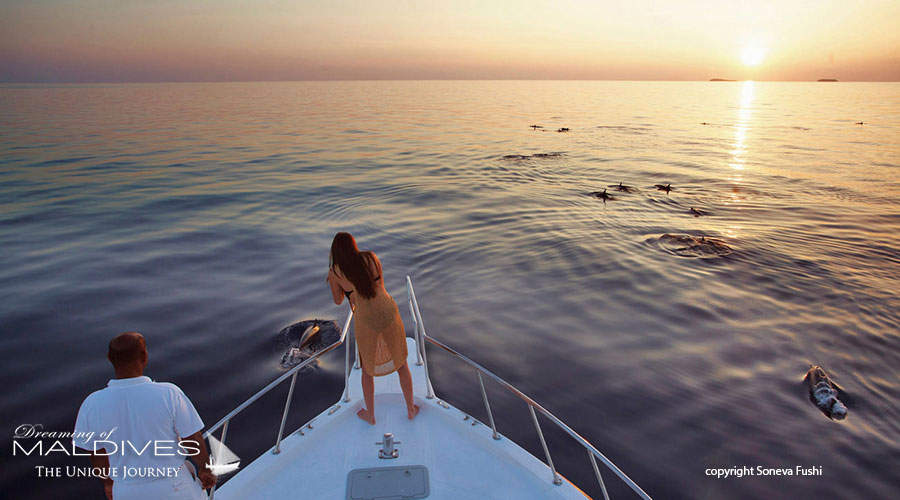 Explore the Capital Island : Male City
The capital of the Maldives is Male, one of the smallest and most populous city in the world.
Male is the place for business, politics and happenings.
The city is very small, overcrowded, noisy and bustling with people, cars and motorcycles, it is surrounded by a blue lagoon and hundreds of boats and ships.
To give Maldivians a better life, the government has developed Hulhumale, an artificial island located close to the capital.
Read more about Hulhumale, Male sister island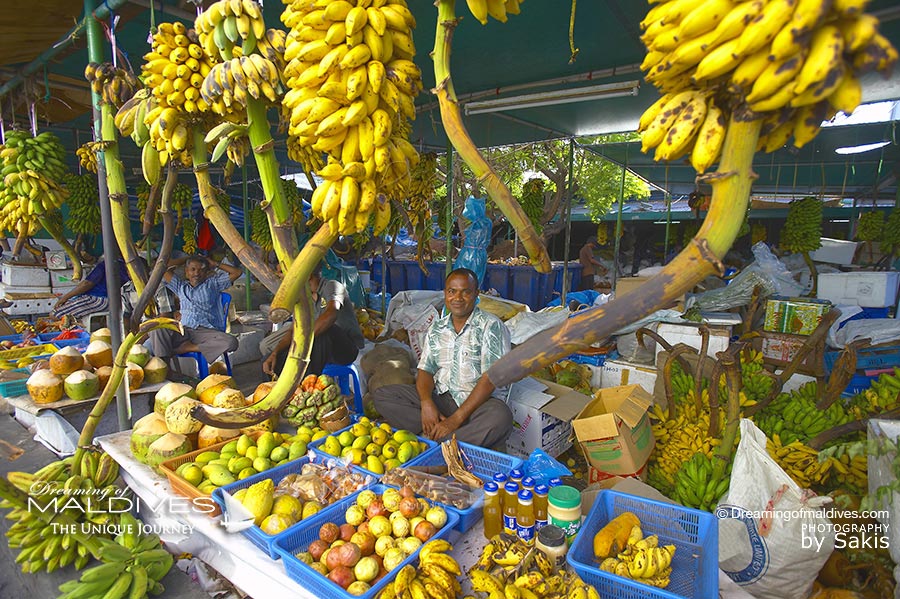 Make a splash with water sports
Whatever water sport you wish for, the island nation will surely provide it. The destination is a paradise for water activities and an endless playground for sea fanatics.
Discover more : 10 of the best water sports the Maldives have to offer.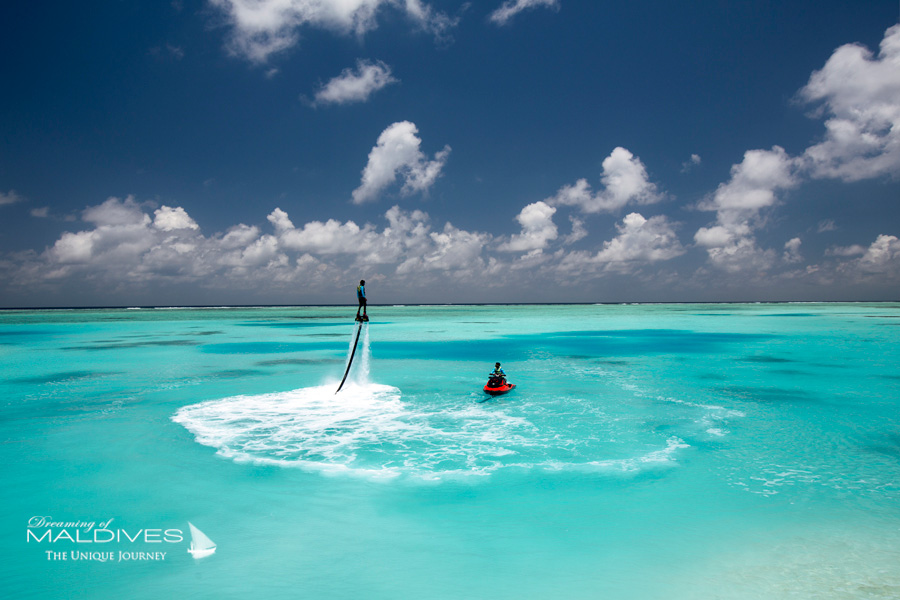 Go Big Game Fishing
The Maldives are a great big game fishing destination. Their waters are rich in varieties of pelagic fish and big species. Several resorts organize big game fishing outings but it's not the majority. Check with the hotel reservation team before booking.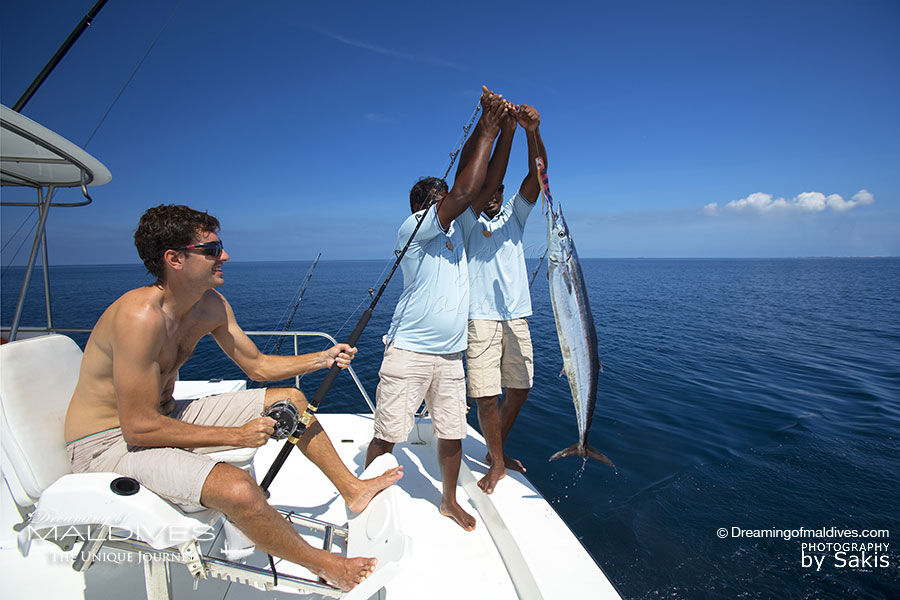 Wake Up Early to Catch the Sunrise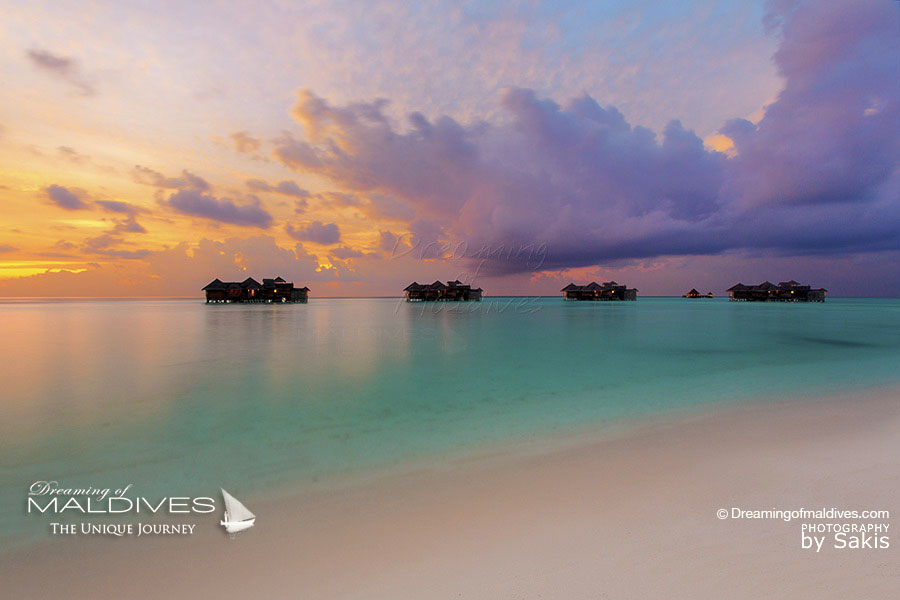 Our Videos of Gili Lankanfushi Maldives
The Best of Gili Lankanfushi Maldives Resort #GiliLankanfushi #BestMaldivesResort #Maldives
Gili Lankanfushi Maldives Dreamy Video #GiliLankanfushi #BestMaldivesResort #Maldives
The World's Best Hotel : Gili Lankanfushi Maldives #GiliLankanfushi #BestMaldivesResort #Maldives




Chill in a Hammock and Watch the World Goes By

The Maldives can't be explained well in words. They have so many Dreamy Places. I hope these…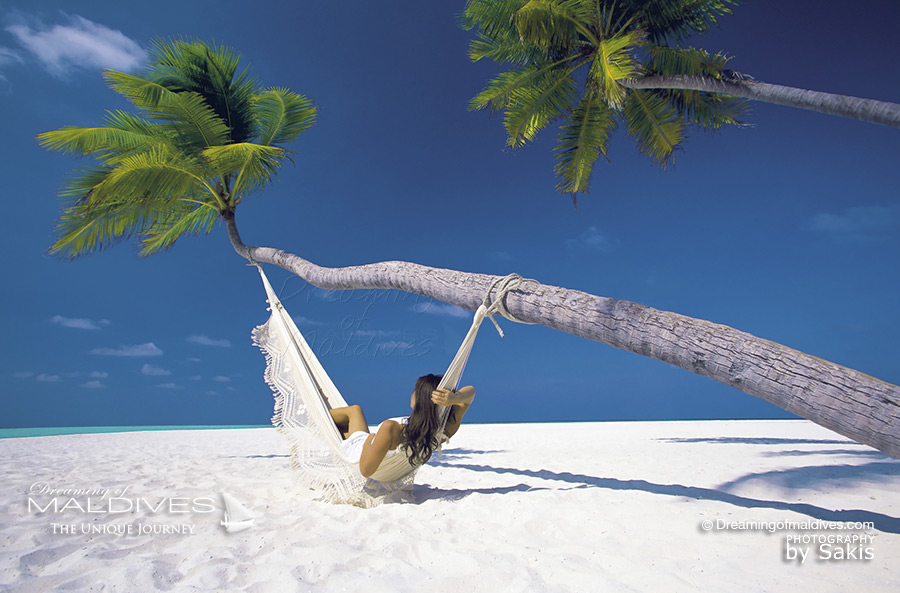 Observe Local Wildlife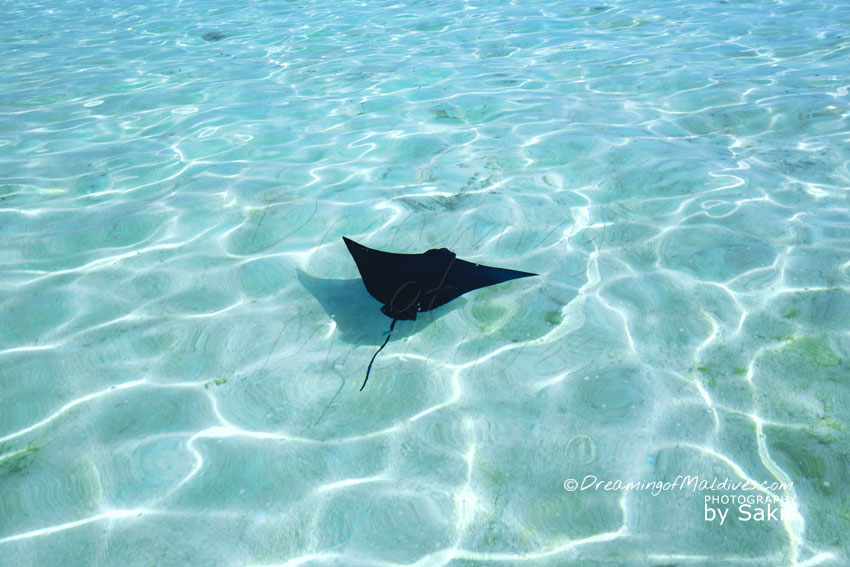 Take Amazing Maldives Photos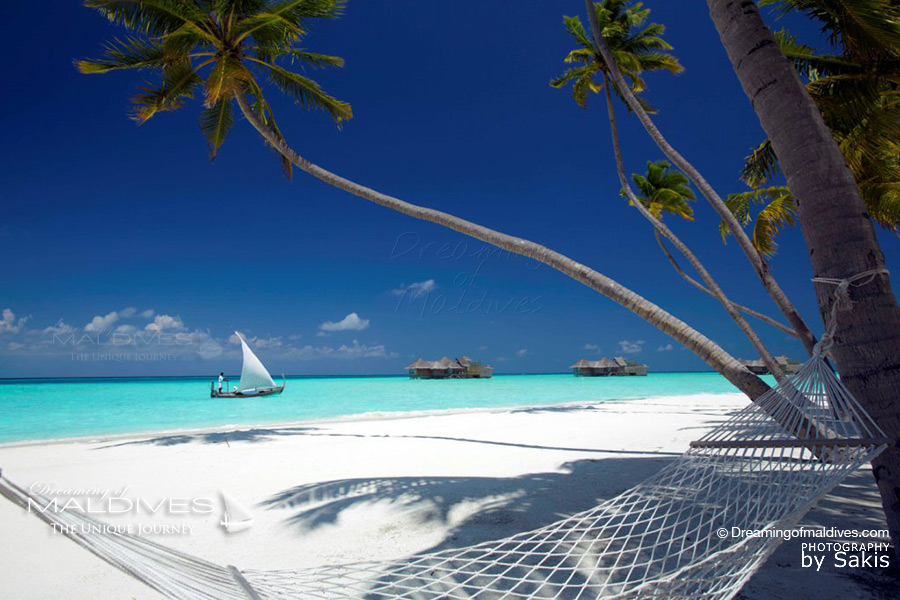 See also


Watch the Beautiful Maldives Sunsets
In Maldives, Sunsets start every evening at around 06.00 pm, with a small variation of a quarter of minutes according to the time of the year.
They are particularly impressive due their location close to the Equator, where Earth is at her wider bulge.
The archipelago is closer to the Sun and sunlight arrives at a perpendicular (90 degree) angle. Add this to the air humidity and the total flatness of the horizon, you get the ideal factors for a perfect show.
Discover more Photos of Maldives Sunsets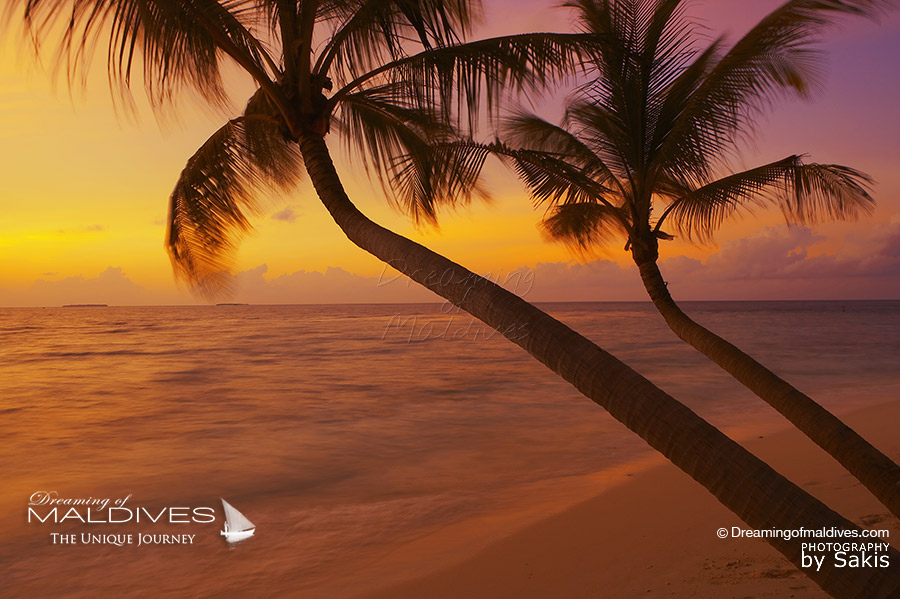 Get dazzled and Play with Bioluminescent plankton
You probably heard of the Maldives glowing beaches. This natural phenomenon occurs at night, according to the season and currents. Millions of phytoplankton come some island shores and emit a bright vibrant blue light in the water which creates an ethereal effect. You can play with them by gently splashing the water. AMAZING.
This phenomenon can happen anywhere in the archipelago. We personally experienced it in Noonu atoll. Totally unexpected.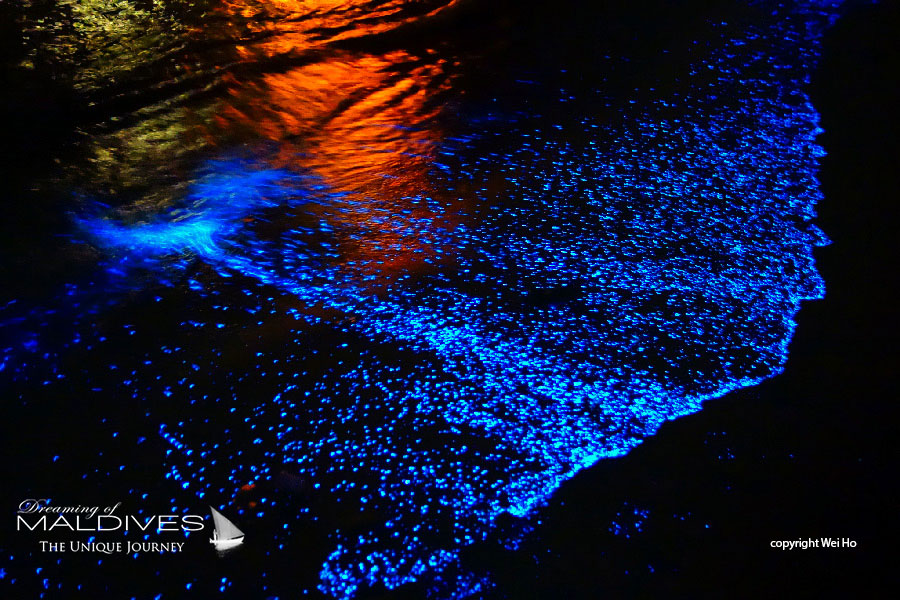 Go snorkeling and Search for Turtles
Snorkeling is doable in almost all resorts, with some being true Paradise with their rich house reefs located at a few steps from your villa. In some hotels you will be able to snorkel with turtles who chose those reefs as their home base, like here, at Baros.
Read more : Why Snorkeling at Baros Maldives is A Dream ?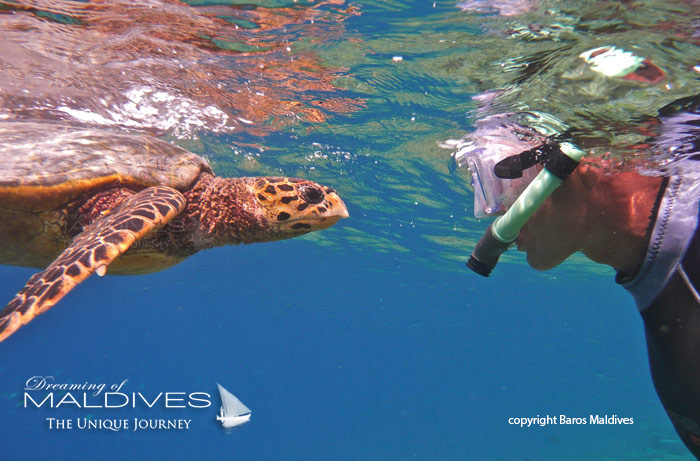 …or at W, in South Ari Atoll, who also hosts many turtles.
See also
W Maldives is a snorkeling Paradise. The superb Luxury resort is amongst the best island to snorkel from its shores. W island, or Fesdhu in…


Take a Walk Along Paradise Beaches
The Maldives islands are of coralline origins. Their amazing sand is white and extremely fine. Coralline beaches are rare, they represent less than 5% of the World beaches, the rest of them are mostly made of quartz. This is why the Maldives have Paradise beaches everywhere !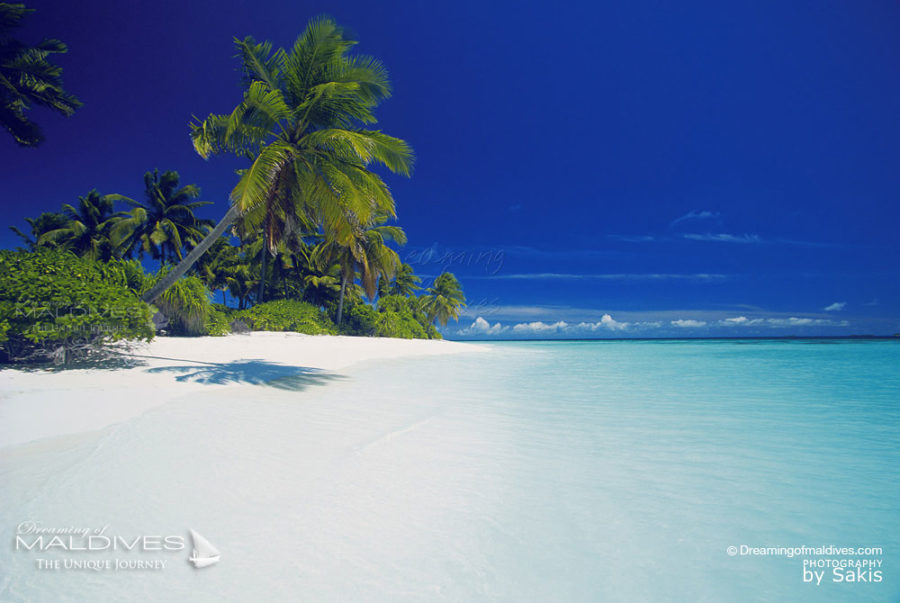 Surf Gorgeous Waves
Famous for its blue lagoons and beaches, the Island nation also offers some of the best tropical-born swells on the planet.
Read more about Surfing in Maldives


Sky Dive
Sky Dive is a must-do activity. Get into your jumpsuit, strap on your goggles, board the aircraft and experience the most adrenaline-fueled moment of your life above the islands.
Read more about Sky Diving in Maldives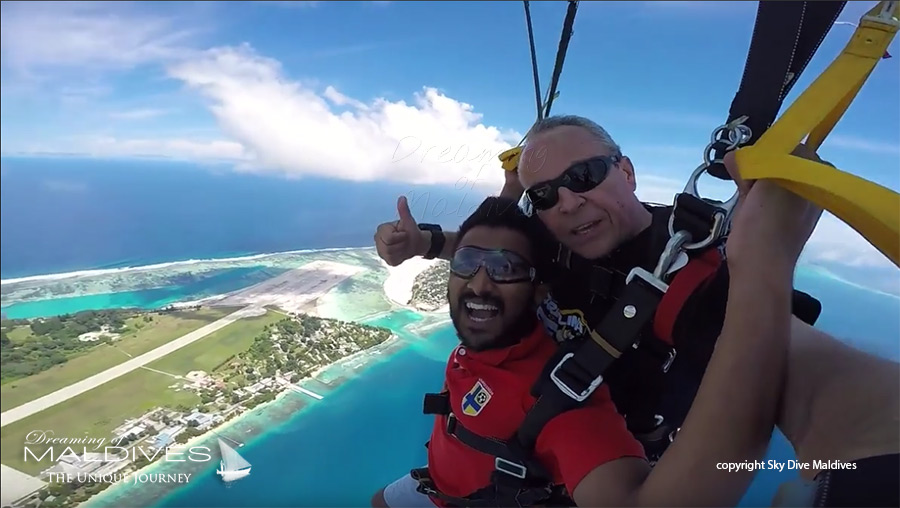 Rent a Seaplane for a Day Tour
Take your own sea plane and go travel above the Maldives. Hop on a sandbank, go snorkeling, surfing, have a picnic, dine underwater in a resort… If you can afford it ( it's not cheap ) this special treat will offer you one of the most exciting adventure you can dream of.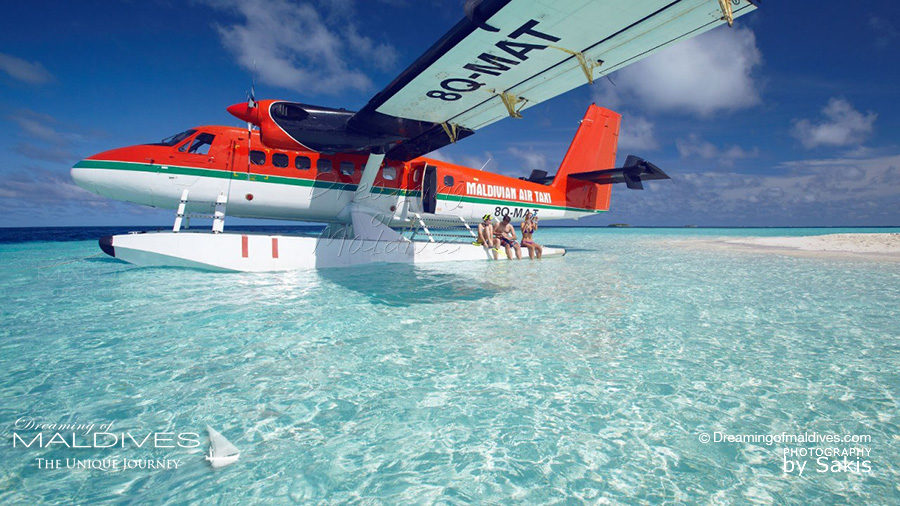 Rent a Dhoni and Cruise
Dhonis are one of the oldest sea vessels in Maldives and can be found all around the archipelago. These elegant boats are at the very heart of the Maldivian way of life and cannot be missed during your stay. Dhonis are the most common transportation in the country and play a fundamental role in the Maldivian economy for fishing, transportation of people and goods between Atolls and Islands.
Modern dhonis have become today a usual way to transport tourists for transfers, during excursions, diving safaris or to reach diving spots. You can rent your own dhoni and crew from your local island or your resort.
Read more about dhonis on our main website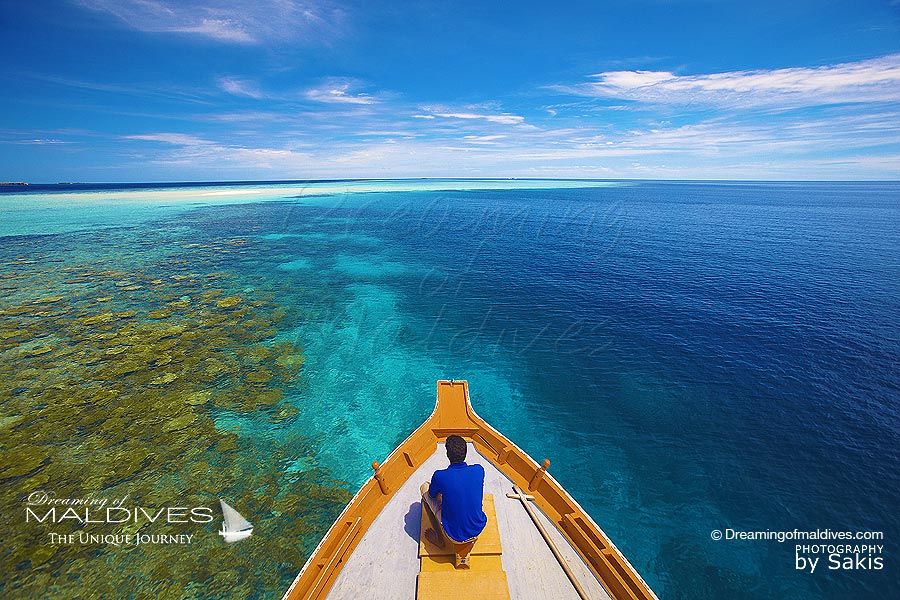 Maldives Dhonis. Our Video Tribute
The Beautiful Story of Maldives Traditional Boats The Dhonis #Maldives #MaldivesCulture #Boats


Go Island Hopping
The best way to discover the archipelago is to go on excursion on a local island from your resort or to stay in a guest house. Ideally, you should stay at least 3 weeks and hop between the islands. Each region has its own landscape and tradition. Some islands are specialized in dhoni construction, lacquer, embroidery, agriculture or offer prime access to whale sharks and Manta sanctuaries like Dhigurah.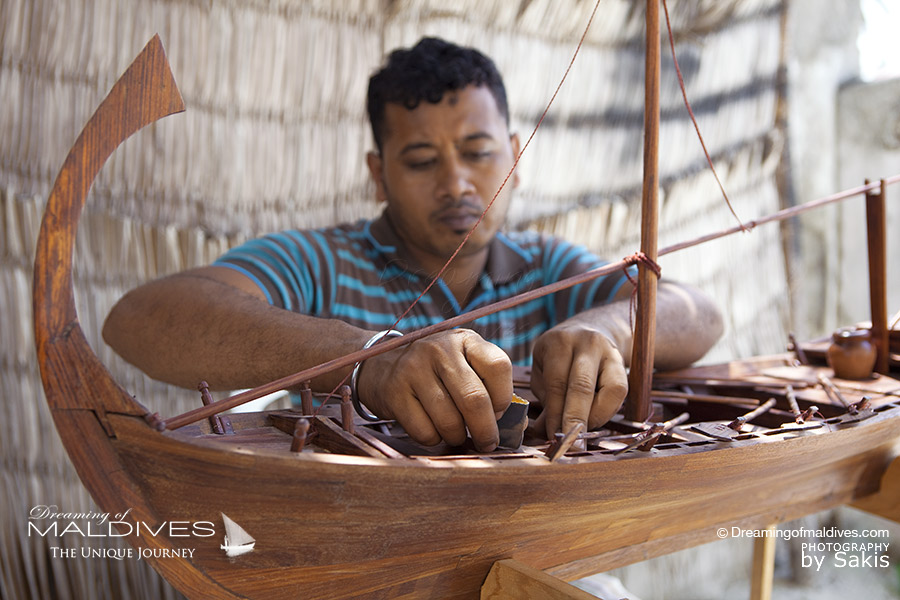 Practice Yoga and feel Better than Ever
The destination has some of the most beautiful places I've ever seen for a yoga practice.
The islands offer stunning surroundings and quietness that highly increase the incomparable feeling of relaxation that yoga naturally brings.
Read more about Yoga in Maldives
10 Beautiful Places To Practice Yoga In Maldives
Our Most Beautiful Photos of Yoga and Meditation in the Maldives
The Best Resorts for a Dreamy Yoga Retreat in Maldives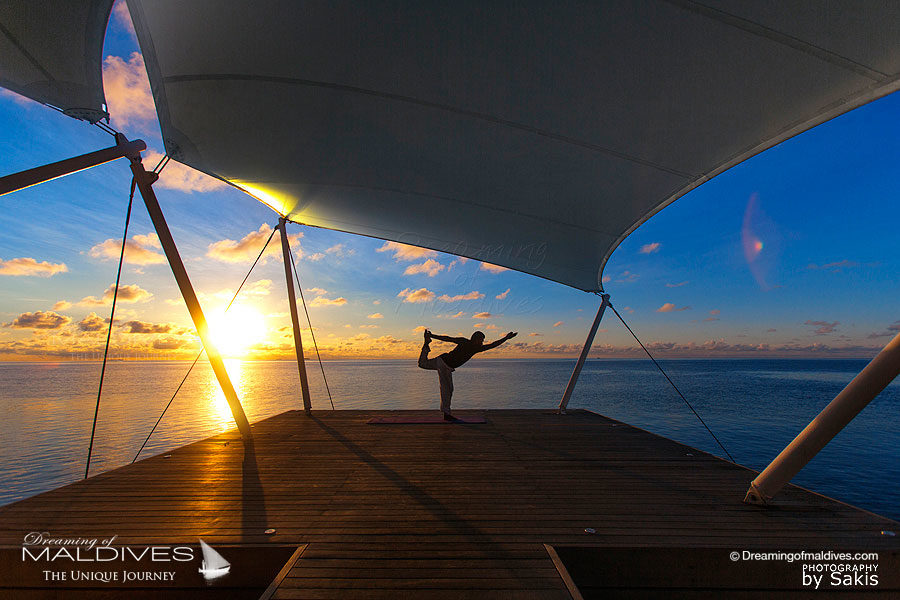 Observe Baby Sharks learning to Hunt
In Maldives, you will often see baby sharks hanging out on the shore of your island. They are just learning to hunt.
Do Not Fear them ! These babies are totally harmless and will flee if you come too close.
They are more scared than you are.
Watch our video of baby sharks hunting on a beach shore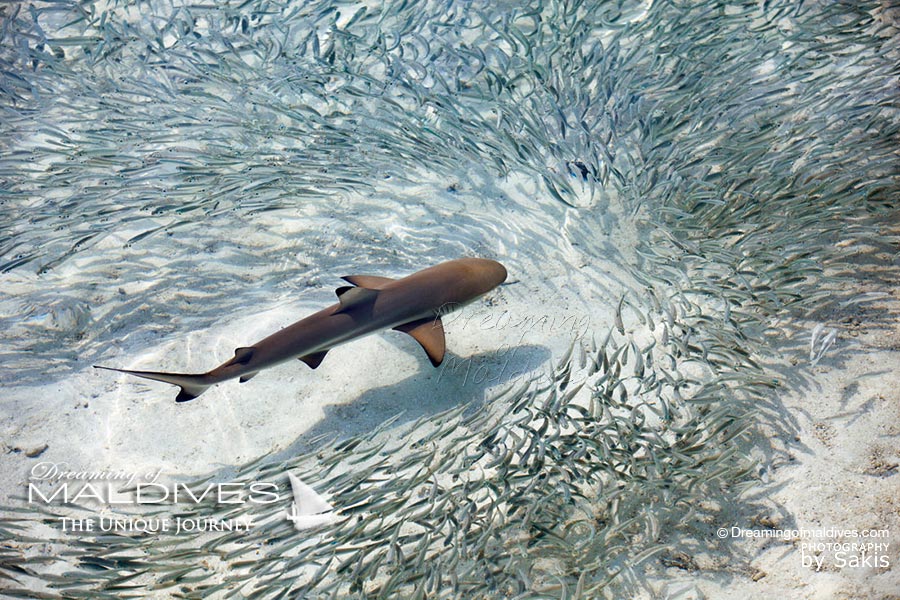 Windsurf or Kitesurf on the shallow waters of a Dream sandbank
The archipelago is a paradise for windsurfing and kitesurfing. Sailing on the island pristine lagoons is a must and will definitely offer unique sensations to both beginners and advanced who will have their best slalom !
Most resorts offer windsurfing material and some only offer funboard and kitesurf gears.
Read more about Windsurf / Kitesurf in Maldives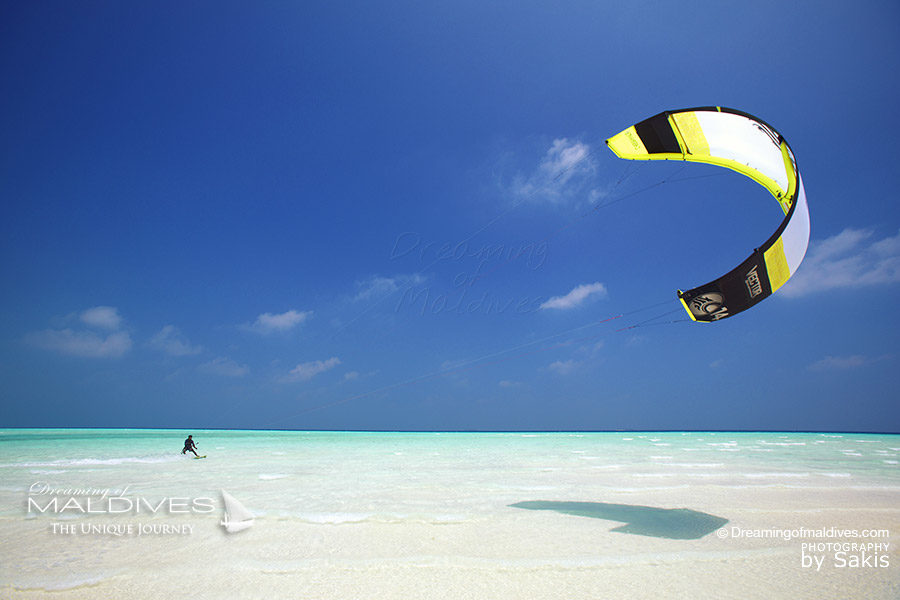 Swim with Whale Sharks
The country has 3 whale shark sanctuaries : Hanifaru Bay And Angafaru in Baa Atoll and South Ari Atoll, right around Dhigurah island.
Discover more about Whale Sharks in Maldives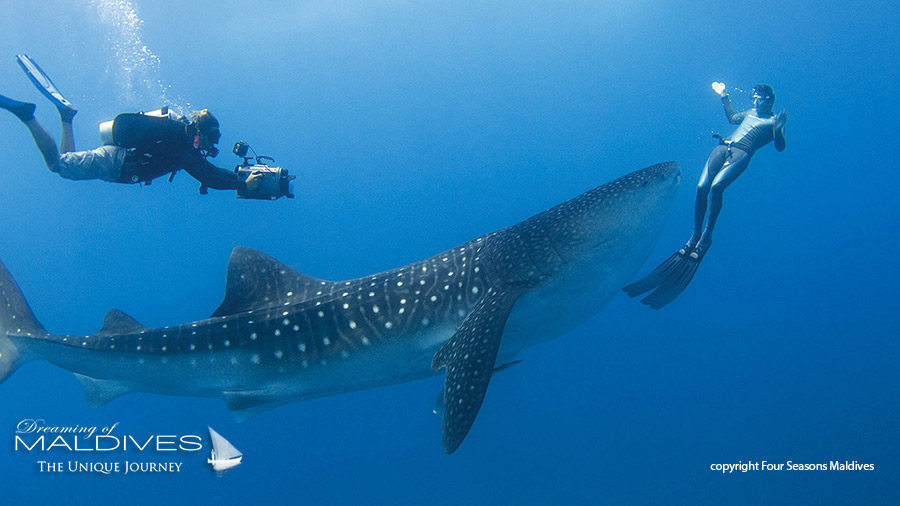 See also
Dhigurah, which means Long Island in Dhivehi, is considered as one of the most beautiful island in the Maldives. Voted in the World's…
Or…Do Nothing and Let It Be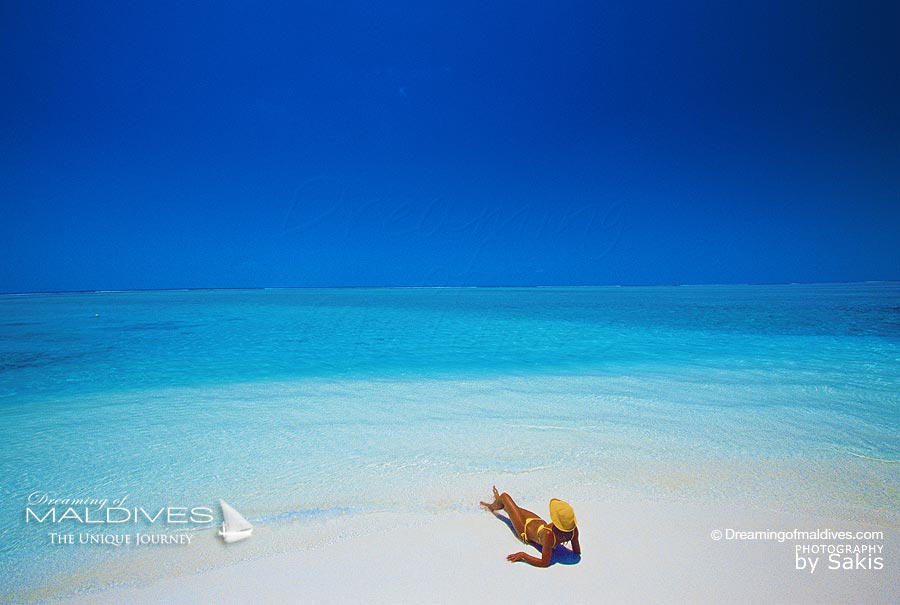 Follow us on Facebook, Youtube and Instagram 
Maldives TOP 10 Dreamy Resorts 2024
YOUR CHOICE. YOUR DREAM. YOUR VOICE