Sunset beach dinners in Maldives are extremely romantic, but when they are set up at the center of a heart made of candles, they truly become magical.
Maldives resorts master the art of creating romantic moments. They know how to create sumptuous settings to make your very special dinner unforgettable and truly beyond compare.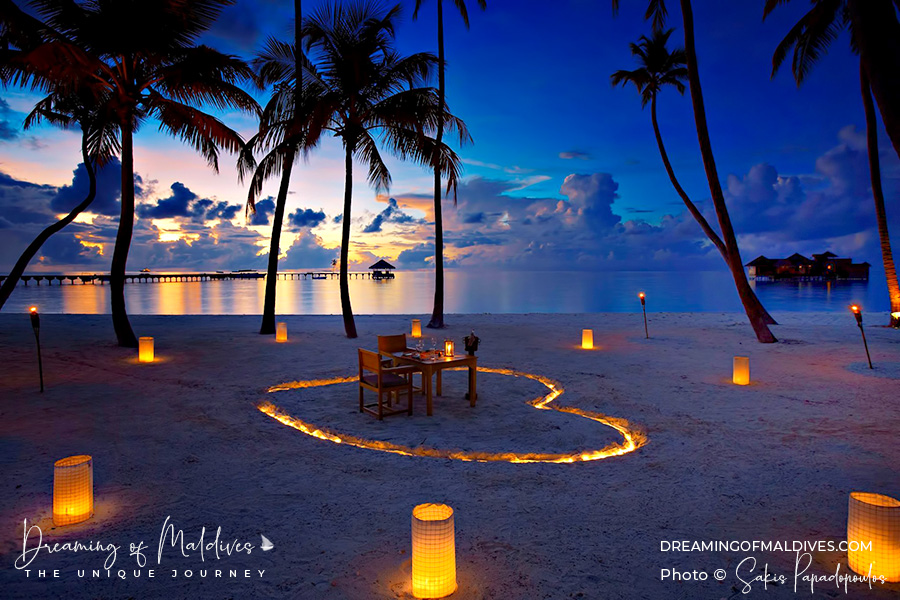 From a table immersed in the lagoon or in an infinity pool, on the beach, in your villa, in a tree, on a private sandbank, in a jungle, with a private cinema screening…romantic dinners come in many flavours in Maldives.
One of the most romantic and eye striking set up is probably the one that consists of a table, dug in the sand or traditional, surrounded by multiple candles lights installed in a way that they form a big bright heart around you.
This romantic dining experience is a feast for the senses.
The spectacular natural landscape and settings around you are accompanied by fine-dining dishes prepared by a top culinary team.

Enjoy the Maldives Sunset with these 10 Romantic heart-shaped beach dinners
I propose you here 9 Maldives resorts that make a heart-shaped romantic beach dinner set up.
Now. I would like you to dream a little bit again.
Imagine you're there.
Your partner is right by your side, the gentle breeze is lightly brushing your face and the sea is slowly licking the shores.
The Sun is slowly setting in front of you…and slowly… above you, the stars are appearing.
this magical dining experience is just for you 2.
Be ready to live one of the most romantic moment
of your life
Gili Lankanfushi Maldives
Gili Lankanfushi was among the first Maldives resort to create this dreamy heart-shaped Sunset dinner setting.
For an unconventional dining experience outside the comforts of a restaurant, the resort proposes a wide selection of dreamy locations around the island for a dinner on the beach, under the stars.
The place and setting can change according to your preferences.
Here, a traditional table is set up and surrounded by candles shaped in a heart.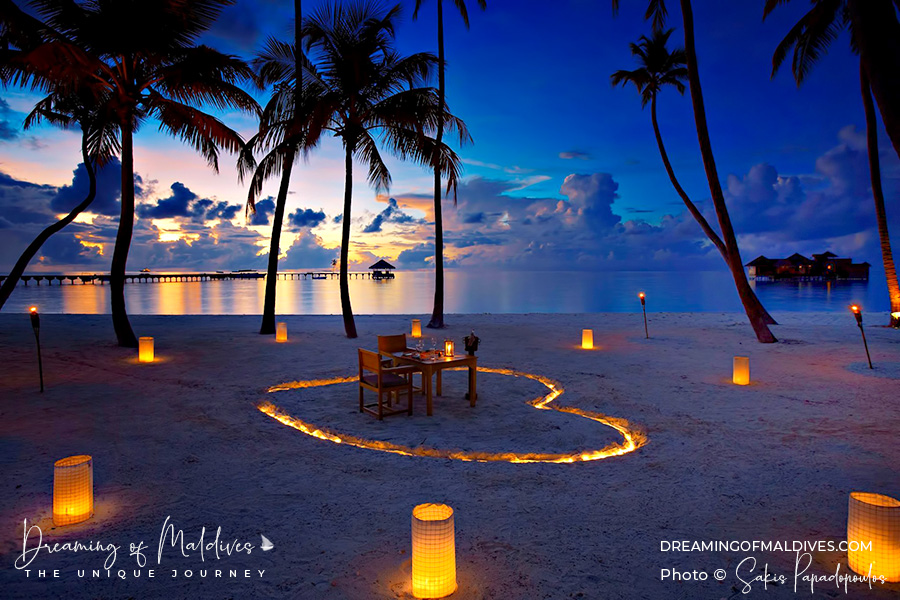 The dreamy dinner can also be set up with a table dug in the sand, like here.
We have personally stayed at Gili Lankanfushi
Ask me any question
Our Videos of Gili Lankanfushi Maldives
The Best of Gili Lankanfushi Maldives Resort #GiliLankanfushi #BestMaldivesResort #Maldives
Gili Lankanfushi Maldives Dreamy Video #GiliLankanfushi #BestMaldivesResort #Maldives
The World's Best Hotel : Gili Lankanfushi Maldives #GiliLankanfushi #BestMaldivesResort #Maldives


Atmosphere Kanifushi
Atmosphere Kanifushi offers an extraordinary All Inclusive plan. This romantic private candle-light dinner is included for honeymoon couples once during the stay (a minimum of nights apply).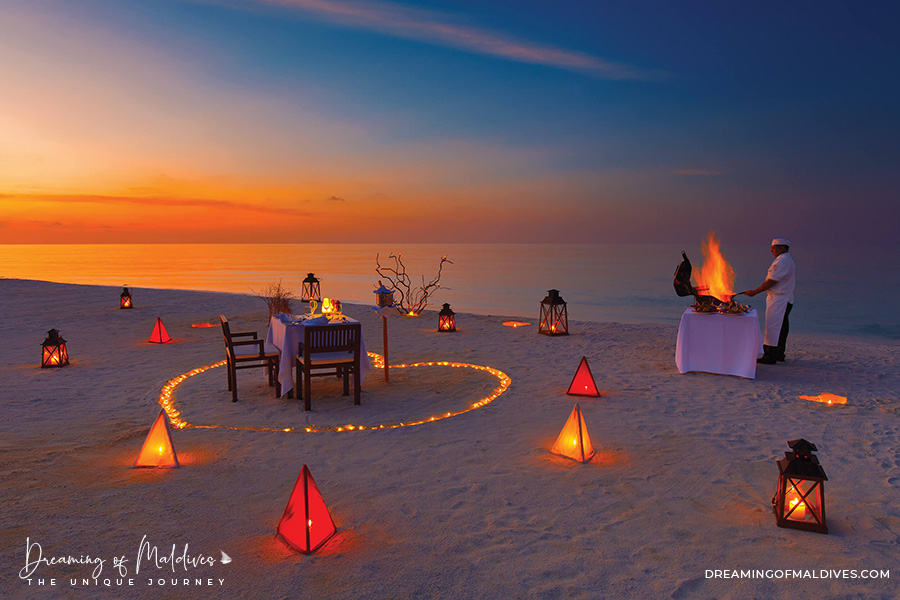 We have personally stayed at Atmosphere Kanifushi
Ask me any question
Our Videos of Atmosphere Kanifushi Maldives
Atmosphere Kanifushi Full Video. Best #Maldives All Inclusive Luxury Resort #AtmosphereKanifushi
Atmosphere Kanifushi Maldives The Resort Most Beautiful Places. #Maldives #AtmosphereKanifushi


JA Manafaru
JA Manafaru romantic private beach dinner is part of the resort special Honeymoon Escapes. This candle light heart shape set up is called The Romantic Beach Dinner and is a set menu of 3 courses proposed once per stay.
Kudadoo Maldives
One of Kudadoo many private dining options is the below candle light heart shaped dinner set on the beach. Carefully curated by the resort executive Chef, the menus feature all-time favourites as well as fine dining treats. A series of dietary requirements and preferences can be accommodated for upon request.
Centara Grand Island
Centara Grand Island private romantic dinner can be arranged on a completely deserted beach with butlers serving from a beachside mobile kitchen. The dining experience includes a 5 course menu and champagne.
Hideaway maldives
Hideaway Maldives heart-shaped candle light dinner is part of the resort wide array of private dining options. The romantic table is set on the beach where guests can compose their own prefered menu with the Chef.
We have personally stayed at Hideaway maldives
Ask me any question
Our Video of Hideaway Maldives
( before renovation )
Island Hideaway Maldives Resort Video. The Resort Most Beautiful Places. #HideawayMaldives #Maldives


Sheraton Maldives
Sheraton Maldives romantic dining experience offers a gracious set up on the beach with a heart filled up with rose petals. Meanwhile you enjoy the Sunset, the Chef will prepare you any dish you wish.
You and Me by Cocoon maldives
You And Me by Cocoon is an adult only resort where everything single moment is specially designed for lovers. From the underwater restaurant to this heart-shaped candle light beach dinner, every romantic dining is a delight.
Taj Exotica
Taj Exotica Resort & Spa romantic candle light heart-shaped dinner is part the resort 4 Private Dining Packages that include serve add-ons like this dug-out dining beach table, a 4-course dinner menu, a bottle of premium wine, two glasses of champagne and beverages and traditional Bodu Beru drums when you arrive at your Rendezvous.
More Romantic Beach Dinners in Maldives
These extraordinary sunken beach dining settings in Maldives are created for you to enjoy a magical Sunset around a gourmet dinner. Sunken…
Live your ultimate romantic Dream with these 25 spectacular beach dinners in the Maldives. Sit down, take a glass of champagne and enjoy the…
Follow us on Facebook, Youtube and Instagram
for more Maldives Dreams
Maldives TOP 10 Dreamy Resorts 2024
YOUR CHOICE. YOUR DREAM. YOUR VOICE