Here is the story of Hulhumale, Maldives mega artificial island built to unclog Maldives the overcrowded capital city of Male.
Hulhumale mega project was created for urban expansion to reduce the overcrowded capital city of Male and aims, at term, to host 240,000 inhabitants.
The new city, entirely built on an artificial island, is also aiming to fight sea level rising, the Maldives are no more than one metre above sea level.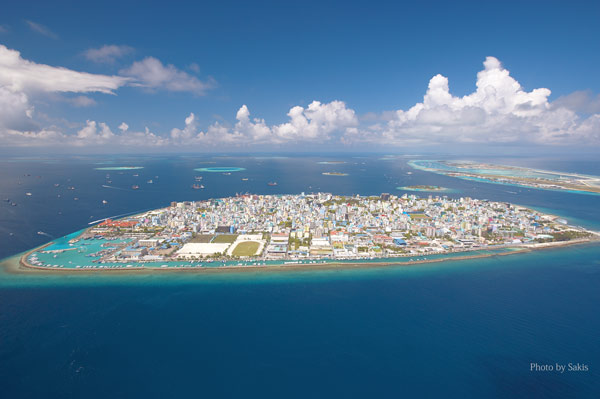 Hulhumale, a mega man-made island
The city of Hulhumalé is built by Housing Development Corporation (HDC) , is a 100% state owned enterprise formed by a presidential decree, initially established in 2001.
Started in 1997, built in several phases and still in construction, Hulhumale covers an area of 4 km2 and is currently home to approximately 100,000 people ( at the beginning of 2021).

Hulhumale construction phases in images
1997

2002

2004

2012

2015

2017

2018

Built with eco-Friendliness in mind
Hulhumalé was designed with eco friendly initiatives such as building orientation to reduce heat gain, streets design with wind penetration optimisation to reduce reliance on air conditioning.
Most citizen amenities like schools, parks and shops are located at a 100-200m walking distance of residential developments to reduce car use.
Electric buses and bicycle lanes are also part of the new city landscape.
The future of Hulhumale, the city of Hope
Hulhumale is made by Maldivians for Maldivians as a City of Hope to preserve the population way of life and help to eradicate social issues like unemployment, quality of life, space and delivery of services.
Hulhumalé aspires fostering creative entrepreneurship among the youth, stimulating economic solutions and tackling the social challenges faced by the nation.
Hulhumale final project
In essence, HDC presents a variety of its own products including community based developments; Central Park, Fehires Park, Indoor Sports Complex & Outdoor Sports Arena, Fahiveni Community Center, Fisheries Harbour, Local Market as well as commercial and industrial developments such as Green Office Building and Warehouse Shell.
Curving a welcoming path for investment, Hulhumalé Phase II, the newly reclaimed addition to the existing conurbation promises diverse development opportunities.
The city will offer diverse housing projects: from mid-range, to luxury and social housing.
Watch the incredible story of Hulhumale in video
All photos and images © HDC.
Discover more about Hulhumale on HDC website
Explore more about Maldives artificial Islands
A new artificial islands project development for tourists, called Projekt Delfin, is scheduled for 2025 in Maldives. Located in Tholhimaraa…
Follow us on Facebook, Youtube and Instagram
for more Maldives Dreams
Your TOP Best Maldives Resorts 2023
YOUR CHOICE. YOUR DREAM. YOUR VOICE
[ Official ]
Traveler's Choice
12th Edition