The finest selection of the best Maldives overwater spas with treatment rooms that offer Dreamy massages with heavenly views at the lagoon. Come in and Relax.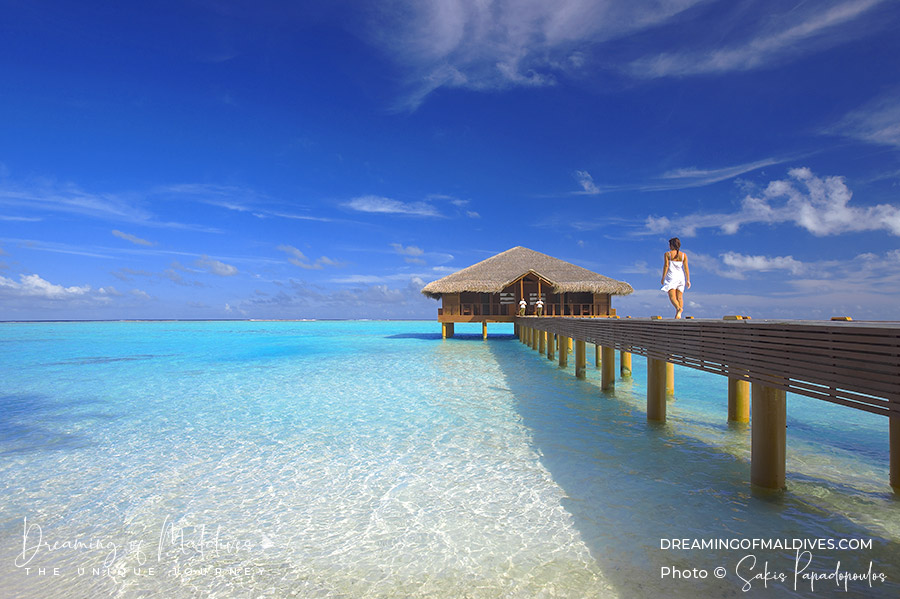 If you are dreaming of a massage overwater with heavenly views at the lagoon in Maldives, these 13 handpicked spa treatment rooms will surely fulfill your need of serenity and relaxation.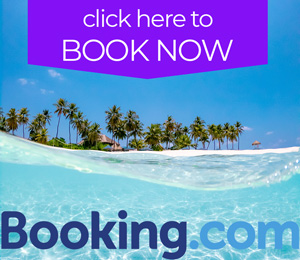 Dreaming of a Massage with lagoon views in Maldives
The Maldives are known for having some of the most beautiful spas in the world. They combine everything we can wish for to help us find back our inner peace : blue lagoons, tranquility, ocean views, sound of the sea, extraordinary sunsets…these spas offer the perfect settings for an unforgettable wellness retreat or a simple massage.
Make no mistake. The resorts do not only rely on the beauty of their natural surroundings to make you feel good.
No, they actually take wellbeing very seriously.
The finest rituals done by top therapists
Over the years, the Maldives have become a dreamy spa destination for wellness and holistic retreats.
You will receive the finest treatments and rituals all done by top therapists coming from the world's dreamiest spa destination like Bali, Thailand, Sweden, India, Sri Lanka who all master the ancient Art of Spa.
Six Senses Laamu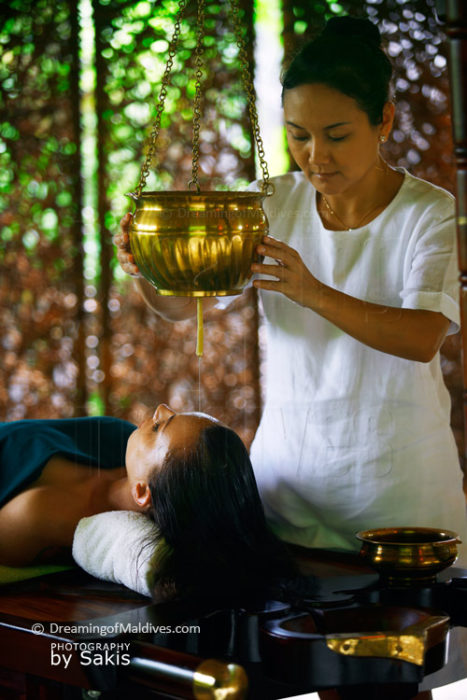 Rituals and treatments are Beyond the standards.
Some resorts go beyond what we consider as a minimum for Maldives standards. Here is what you will find on their spa menus
Spa Menus
Ayurveda
Sound healers -including the ever so relaxing Tibetan Bowls
Reiki
acupuncture
breathing specialists
Tai-chi
Chakra healing
crystal light therapy
nutritionists
detoxification programs
scent masters
hair doctors
health bars
organic restaurants…
The list of options is too long to be mentioned here. Whatever you are dreaming of, rest assured that your quest for well-being will be fulfilled, believe me.
Needless to say that your wellness retreat will be completed by yoga and meditation provided by the best teachers including Indians who share their precious knowledge in many resorts.
W Maldives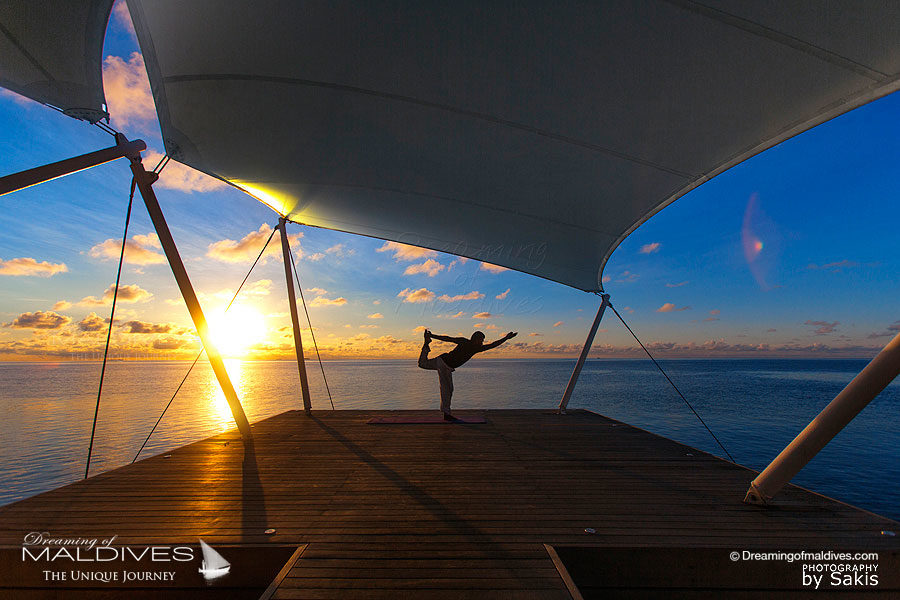 As one can expect in Maldives, all these therapies and rituals are done in beautiful spas. According to the resort, you will find a spa hidden in a tropical garden, on the beach or overwater.
The more luxurious is the resort, the more lavish and opulent is the spa.
Most of the luxury resorts offer some spa treatments in-villa.
If you want to stay in the comfort of your villa, the spa team will come to you for your treatment.
Naladhu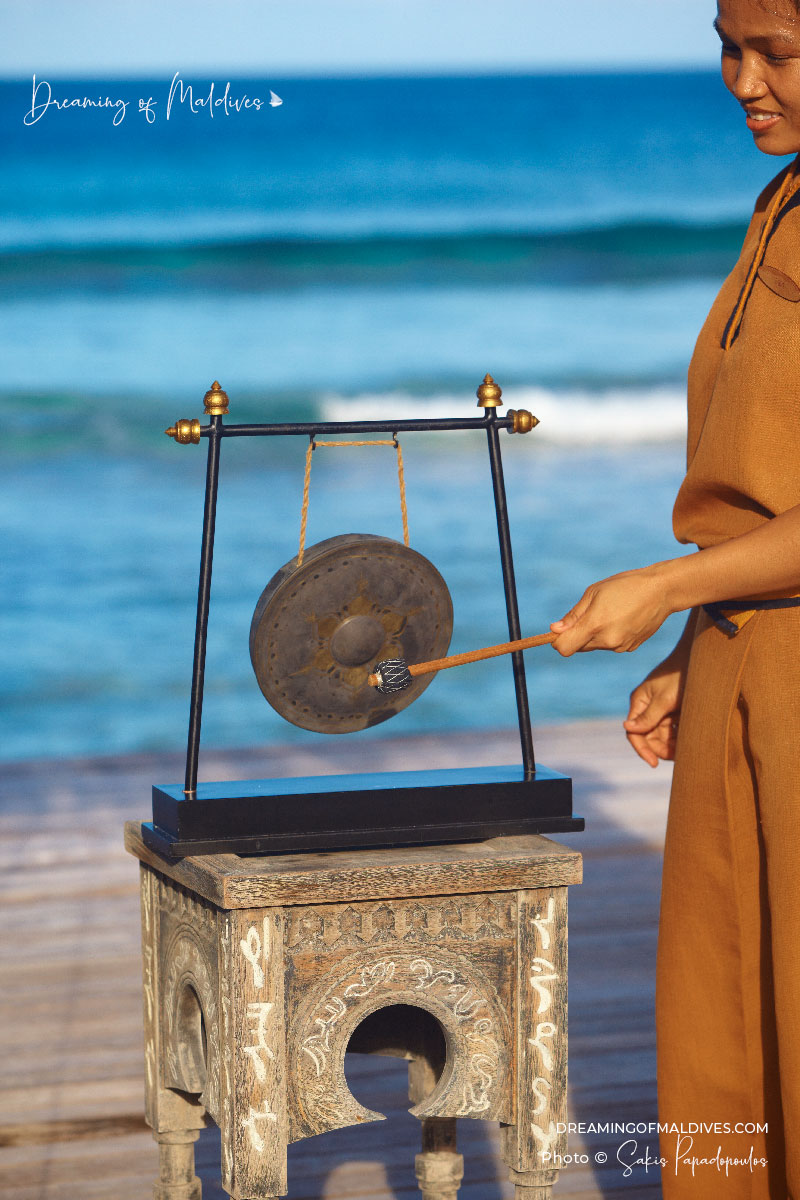 your massage : do you wish it with garden or lagoon views ?
Is it really important whether or not you have a garden view instead of a lagoon view ?
Niyama Private Islands

Well, it depends. Some like their spa experience with a jungle feeling and some others, like me, consider a view at the blue lagoon as part of the dream when I stay in Maldives.
It is a double pleasure to receive a dreamy massage and to enjoy the vistas at the blue ocean.
note : you can enjoy the vistas before and after the massage, because during the session you must keep your head inside the table face hole 🙂 .

This is why today I will solely focus on overwater treatment rooms.
I scouted Maldives resorts that have overwater spas, looked at the views from their treatment rooms and gathered them here for you.
I hand-picked these rooms for their amazing views at the lagoon.
There are more overwater spas or spas with lagoon vistas in Maldives but the rooms I selected really offer heavenly views.
A small video of Coco Spa we filmed at Bodu Hithi.

You are in the shade, protected from outside and yet it feels like you are above the water with the massage beds being so close to it.
Note : For each spa I had the extreme pleasure to get a treatment, I put you a Must Try Massage.
These overwater spas have treatment rooms that will melt your stress away and ravish your eyes.
Each of these 13 picture-perfect spa treatment overwater rooms offer the best lagoon views in Maldives. Their setting is unique, their treatments too.
Now that you know where you're heading to, please make yourself ready, put on your slippers and bathrobe and go have a massage.

It's time to purify this body and soul, open your chakras and breathe…again.
Finally.
13 Dreamy Overwater Spas with Heavenly views in Maldives
Enjoy the view at the blue ocean from your massage room.
The Spa by Guerlain at Cheval Blanc Randheli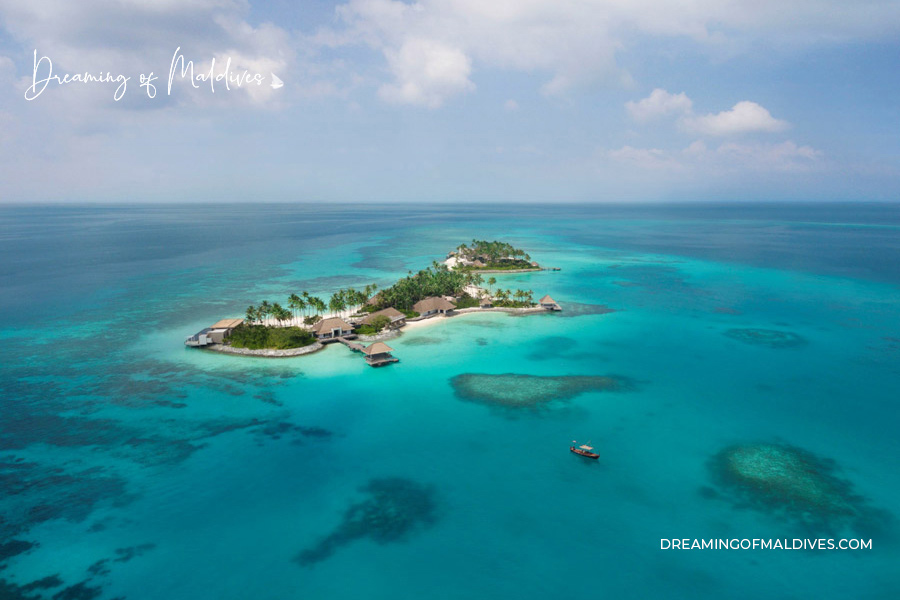 Orchidée Over Water Treatment Villa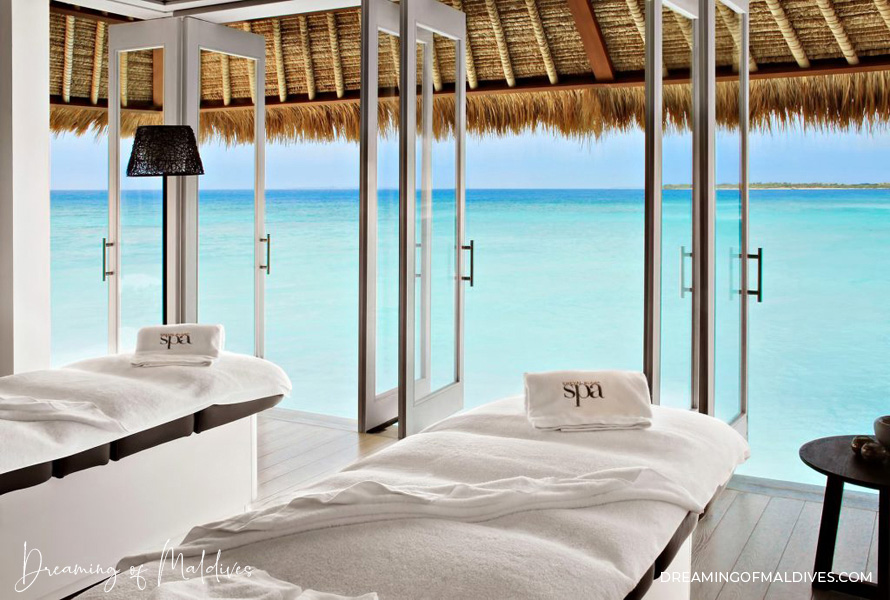 The Spa by Guerlain at Cheval Blanc Randheli is located on its own dedicated Island. The spa island has six overwater treatment villas, two hammams, a Thai and a yoga pavilion, a Guerlain boutique, a hair salon, a makeup studio, a barber shop, a detox bar, a terrace and a swimming pool.
La Maison Guerlain creates tailor-made rituals and offers four sensory trips (energizing, relaxing, enveloping or exhilarating) in one of the overvillas to start or extend your personalized experience.
Anantara Spa at Anantara Kihavah Maldives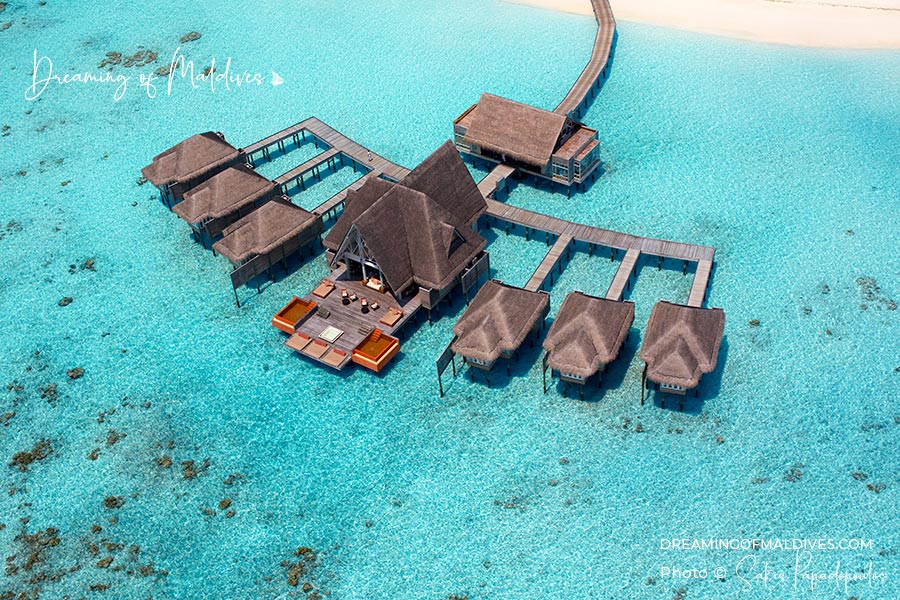 Over Water Treatment Suite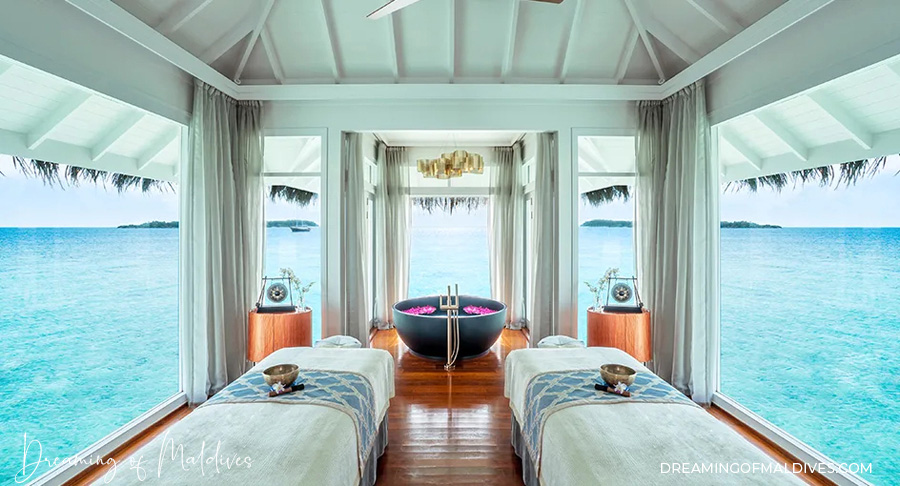 Anantara Spa is a multi award-winning spa located overwater at Anantara Kihavah. The spa has six overwater treatment suites with lagoon views.
The spa treatments marry time-tested techniques from the East with pure indigenous ingredients. You can design your spa journey choosing from body treatments and massages, facials, couple's rituals, beautifying, and multi-day wellness retreats designed to recalibrate and heal.
Before and after your massage you are invited to enjoyu the spa's facilities, including the relaxation deck overlooking the ocean, the steam rooms and the plunge pool.
We have personally stayed at the resort.
Ask me any question
Anantara Spa must try massage :
Anantara Signature Massage
A signature oil blend and purpose-designed movements stimulate circulation, promote deep relaxation and restore the flow of energy, or prana, along the meridian lines.
Massage price : 60 minutes – 220 USD / 90 minutes – 250 USD
The Overwater Spa at Conrad Rangali Maldives Island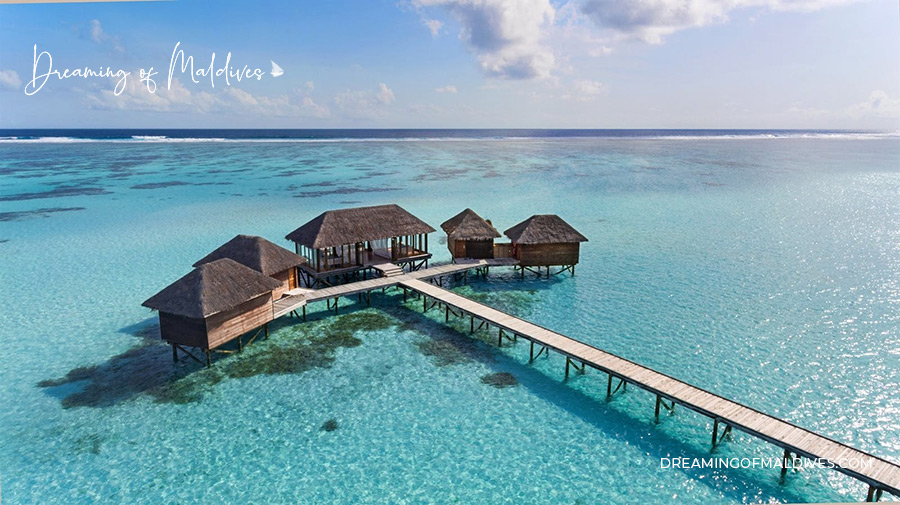 Over Water Treatment Room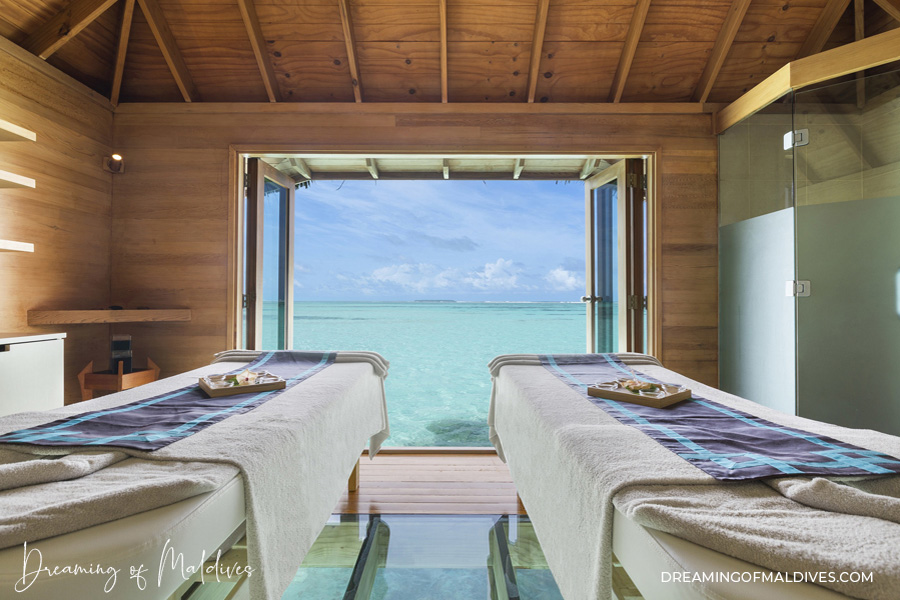 The Overwater Spa at Conrad Rangali Maldives Island is located overwater at 100 meters off the tip of the island. The luxury sanctuary offers guests an extensive range of spa treatments coupled with wellness activities for a holistic approach.
The Spa Retreat comprises nine treatment rooms, five of which feature private pavilions which house both a sauna and steam room, and either a Jacuzzi and couples' soaking tub. Facilities also include a hair spa, nail spa, relaxation lounge and retail
Elena Spa at OZEN Life Maadhoo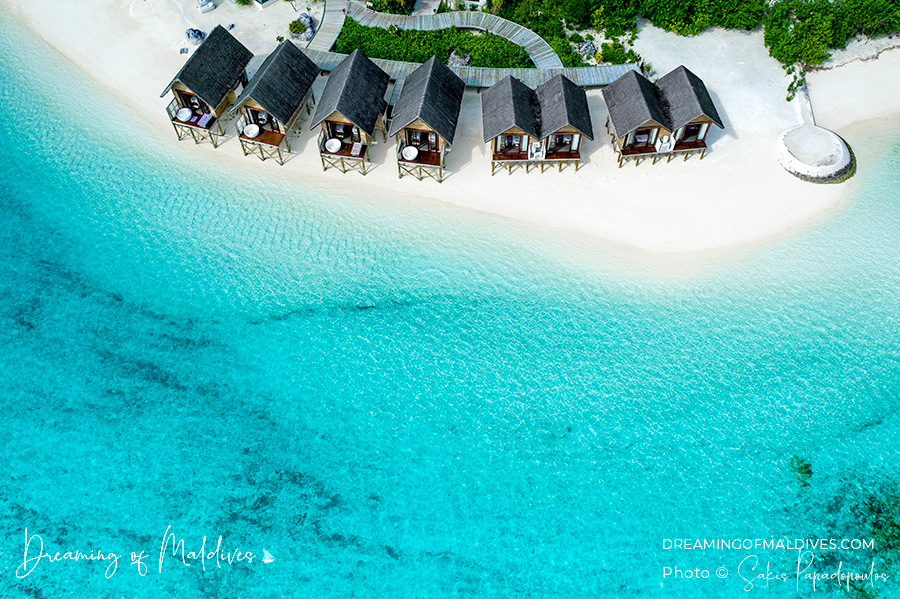 Over Water Treatment Room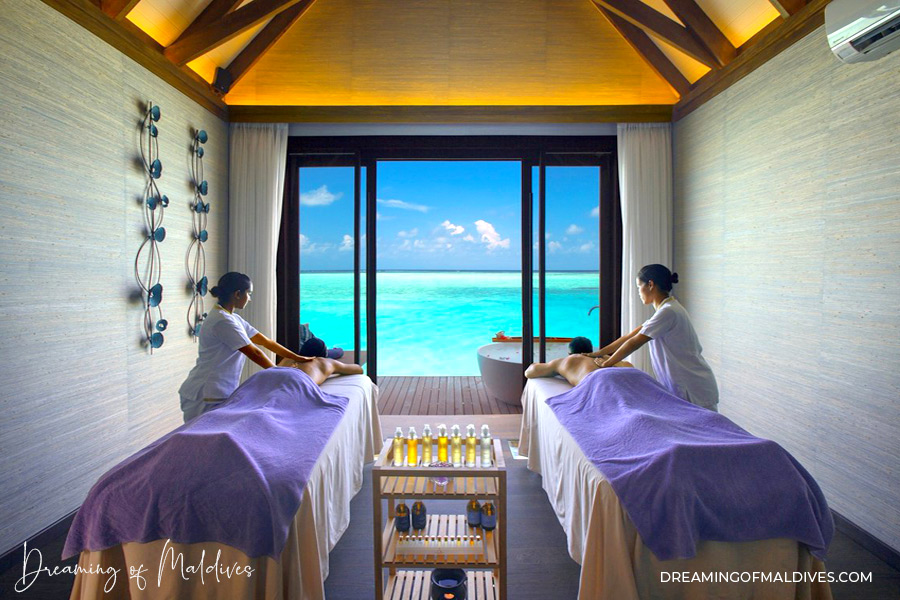 Surrounded by beautiful views, Elena Spa at OZEN Life Maadhoo his situated overwater and on the beach. The spa has 6 overwater treatment rooms, a salon and gymnasium and offers a range of treatments and therapies that include everything from deep tissue massage, meditation, detoxifying treatments to bath rituals and manicures.
The treatments concentrate on the five elements – earth, plant, fire, water, and air – to balance our core and regain a healthy mind, body, and soul.
WE HAVE PERSONALLY STAYED AT THE RESORT.
ASK ME ANY QUESTION
Elena Spa must try massage :
Reiki Healing and Body Massage
A unique signature treatment that combines Reiki, a deep body and facial treatment. During this where a light touch technique is used to release energy blocks and balance the lymphatic system. This treatment relieves stress through deep relaxation. This is a unique combination of Reiki, healing hands therapy, followed by a deeply relaxing body massage and Renew Recovery Facial. Finish with a luxury hydrating milk bath ritual.
Complimentary Massage price : The massage is included in OZEN All Inclusive Plan * from 4 nights stay.
* OZEN Life Maadhoo has the Maldives most extraordinary All Inclusive Plan. Depending on the total number of nights of stay, you can have 1 to 5 free massages of 60 Minute per person included in the Plan.
See OZEN Life Maadhoo All Inclusive Plan for more information.
AVI Spa at Intercontinental Maldives Maamunagau Resort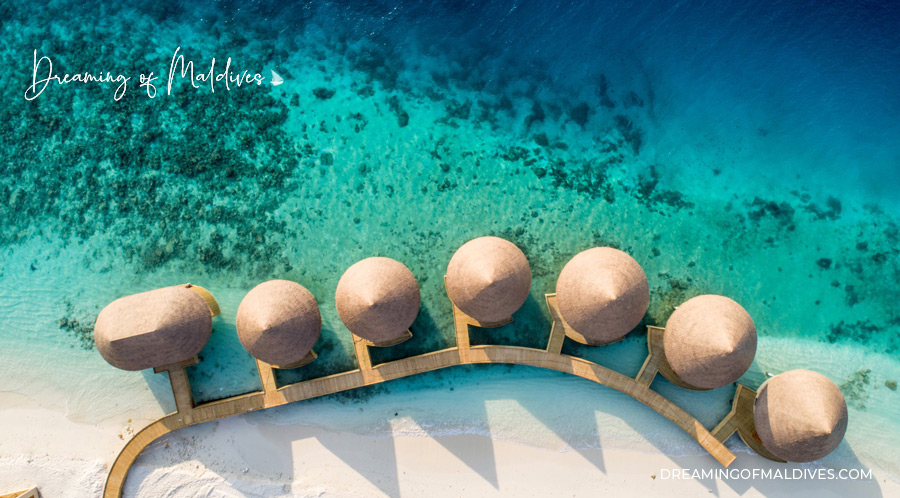 Over Water Treatment Villa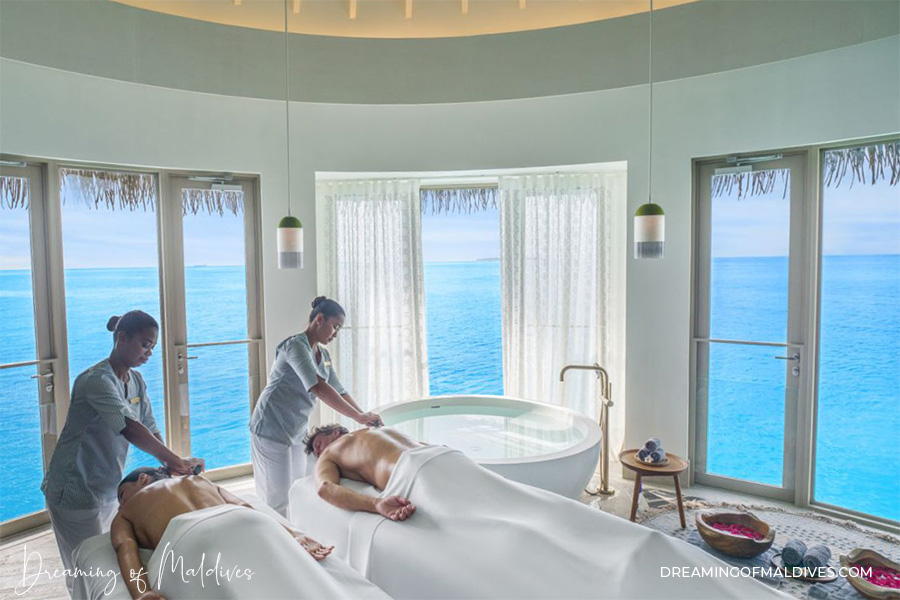 AVI Spa at Intercontinental Maldives Maamunagau couples indigenous Asian health practices with organic European botanicals. The over water spa has six treatment villas each harnessing the psychology of natural light and sound play for a deep state of relaxation. The spa also offers in-house traditional Chinese medicine doctors and acupuncturists.
AVI spa offers pure, premium, all natural treatments and exclusively uses Eminence Organic Skin Care, a world leading spa brand in organic skin products.
The Spa AWAY at W Maldives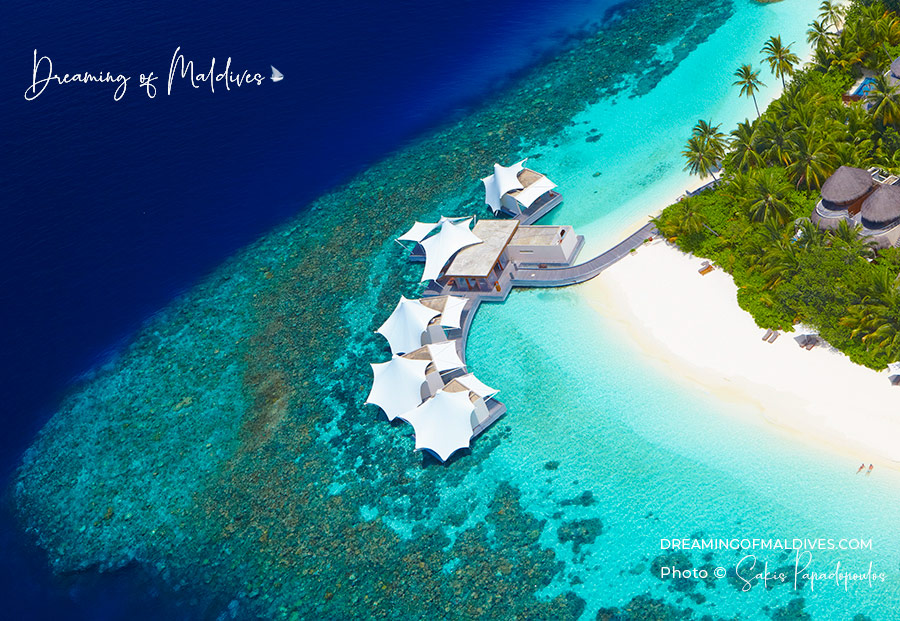 Over Water Treatment Villa
W Maldives AWAY Spa is not an ordinary spa. Inspired from a Dhoni (the traditional Maldivian boat) its eye-catching design and location are absolutely unique in the Maldives. The 66m2 of indoor and outdoor treatment areas, as well as four luxurious treatment villas majestically stand over-water on a striking part of the island house-reef.
Completely open on to the horizon and facing the sunrise, AWAY Spa proposes a wide range of massages and rejuvenating treatments with an exceptional line of products. All treatments include an aromatic steam bath, a tropical rain shower and/or a fragrant bath as well as a refreshing body moisturizing treatment.
WE HAVE PERSONALLY STAYED AT THE RESORT.
ASK ME ANY QUESTION
must try massage :
Detox Massage
A massage that reduces fatigue, releases toxins and enhances positive mood.
Massage price : 60 minutes – 165 USD / 90 minutes – 215 USD
The Spa by Espa at Joali Maldives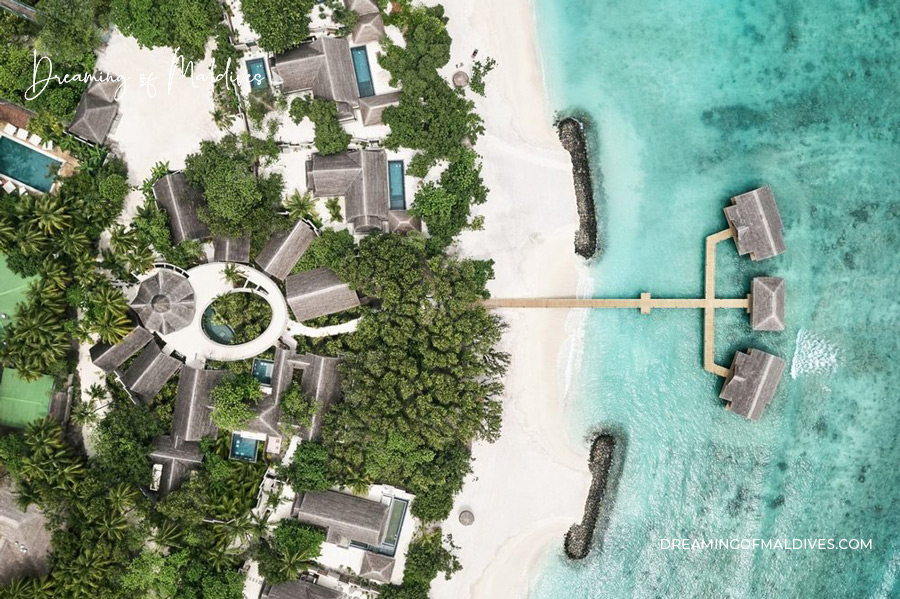 Over Water Treatment Room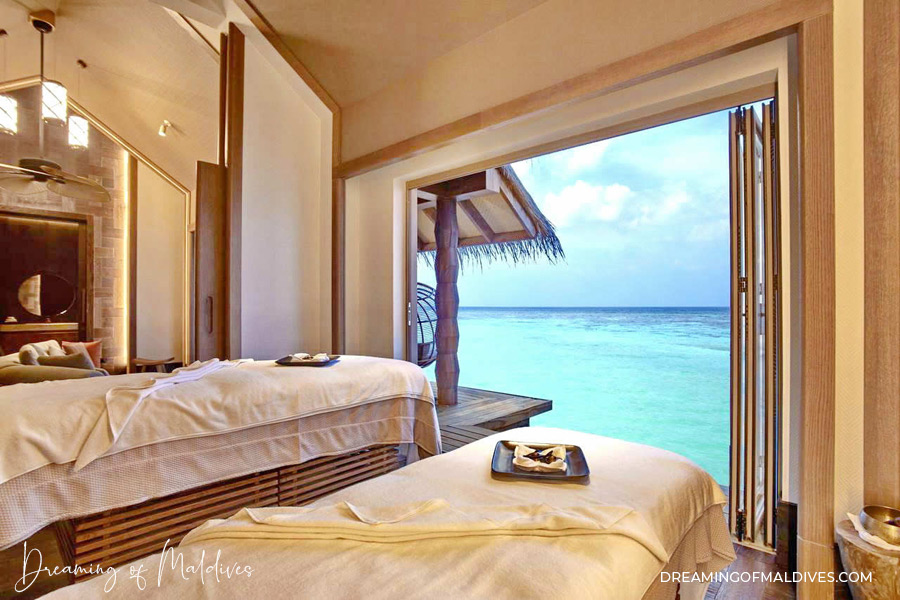 Espa Spa at Joali Maldives has 8 treatment rooms, 3 overwater and 5 in the island tropical gardens. The spa offers tailor-made treatments and unique signature treatments to the spa brand, daily complimentary yoga classes and a range of holistic and indulgent treatments to reconnect body and soul. Besides massages Joali spa features a sauna, a steam room, power showers, a hammam and a vitality pool.
Tailored experiences can include sound healing, chakra work and the use of healing crystals, while the ambience and design of the overwater rooms and yoga pavilion only serve to add to the experience.
Each signature therapy begins with a refreshing coconut water infusion and culminates with a unique culinary delight to complement and enhance the spa experience.
Meera Spa at Gili Lankanfushi Maldives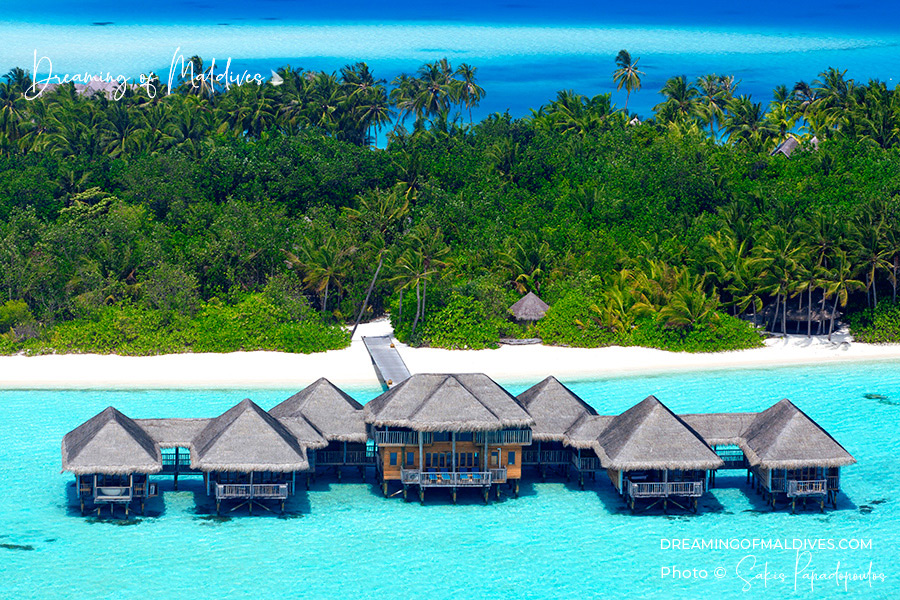 Over Water Treatment Room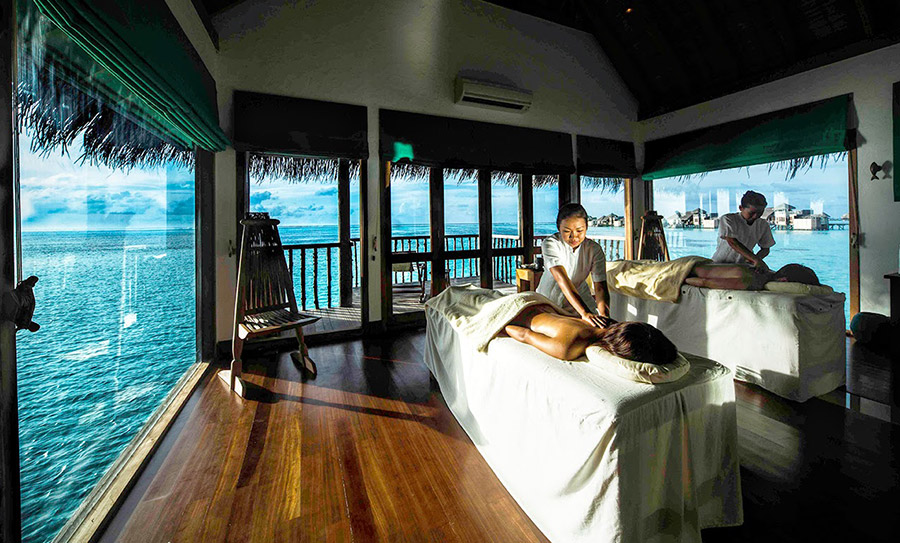 Meera Spa at Gili Lankanfushi Maldives is a member of the prestigious Healing Hotels of the World which gather the Best Spas and Retreats offering holistic health in luxury surroundings.
Located overwater, the spa is composed of several rooms for one or two persons with views at the lagoon and offers a complete list of massages and Holistic therapies such as Reiki, Yoga, meditation, Tibetan Singing Bowls and several advanced well being services with the "Masters in Residence" program.
The spa team utilizes exclusive products based on hand harvested seaweed, flower petals, organic herb and essential oils.
Each spa session begins with a mineral-rich sea salt foot scrub, letting you slip that much faster into relaxation mode.
WE HAVE PERSONALLY STAYED AT THE RESORT.
ASK ME ANY QUESTION
Meera Spa must try massage :
Meera Signature
This signature massage is a deeply wonderful fusion of global massage styles that will help reduce chronic tensions and stiffness. A Combination of several massage techniques such as Thai, Shiatsu and Hawaiian are used to release the mind and body stress. Heated sand cushions penetrate through the spine alignment to the lower back, followed by bamboo walking to unblock the Chi energy flow from the heels up to the neck and shoulders including pressure points.
Massage price : 60 minutes – 175 USD / 90 minutes – 215 USD.
You should also try a session of Tibetan Bowls.
Drift Spa at Niyama Private Islands Maldives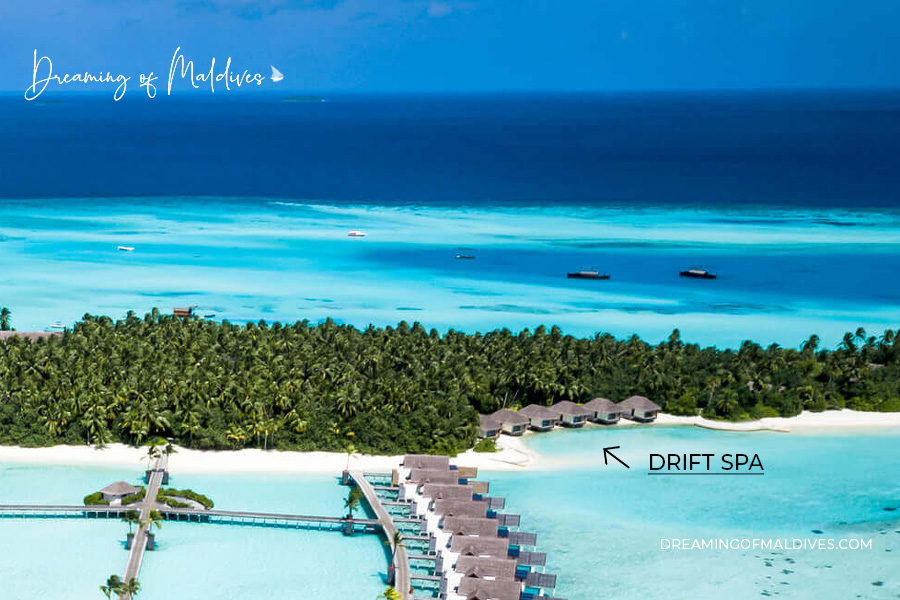 Over Water Treatment Room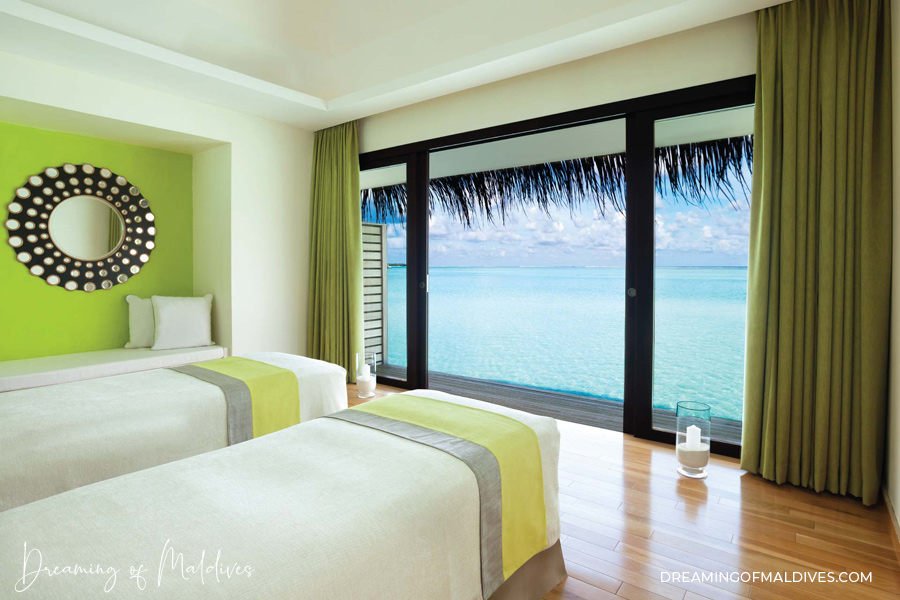 Niyama Maldives has a prestigious spa, called Drift Spa, which offers a fantastic range of treatments and rituals from around the world and bespoke therapies. A special spa menu is dedicated to pregnant women, kids, families together, divers and even surfers.
The spa has 6 over water treatment rooms with lagoon view, 2 treatment sanctuaries with private gardens, outdoor bath, rain shower and daybed Relaxation area, a tree garden with sauna and steam baths, plunge pools, Jacuzzis and a juice bar.
Drift Spa uses local ingredients like Maldivian coral sand and make its own coconut oil.
Drift Spa must try massage :
Niyama Massage
A unique combination of Hawaiian lomilomi, Japanese shiatsu and Thai traditional massage made with aroma oil to induce deep relaxation..
Massage price : 60 minutes – 155 USD / 90 minutes – 195 USD
One&Only Spa at One&Only Reethi Rah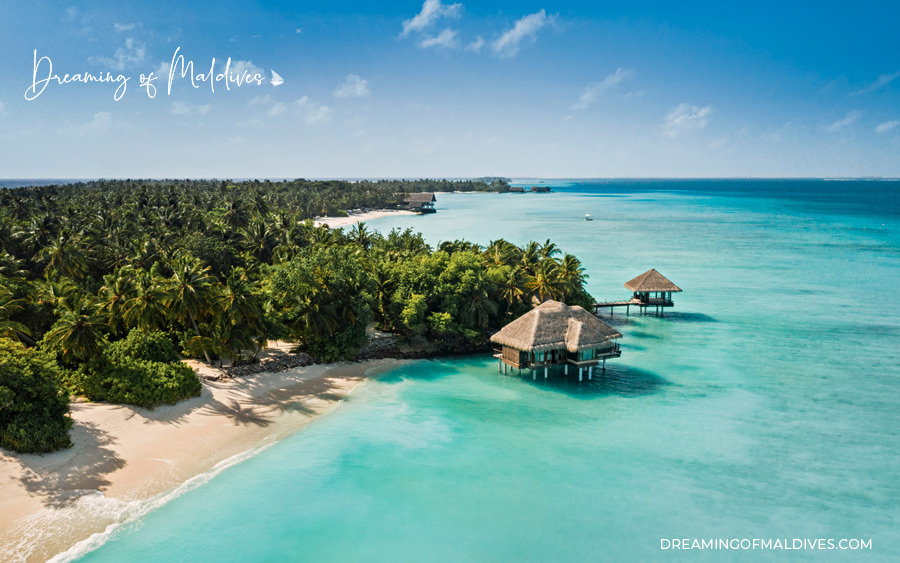 One-of-a-kind Over Water Treatment Room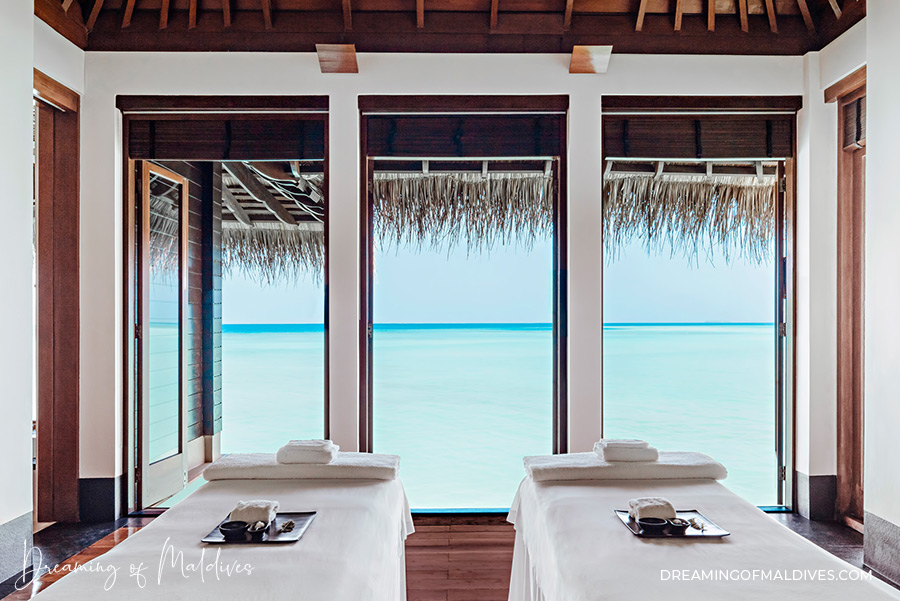 One&Only Spa at One&Only Reethi Rah is considered as one of the best and most beautiful spa in the world.
The spectacular sanctuary is nestled amongst secluded lush tropical gardens and overwater and offers therapies that combine ancient therapeutic rituals with modern day research.
The spa focuses on traditional with an Ayurvedic perspective and has eight private treatment villas with thatched roofs with ocean and garden views.
Ove two over-water couple's spa treatment suites, immense gardens with hammocks, swirling vitality pools, outdoor steam and sauna, indoor crystal steam rooms, stimulating ice fountains, tropical rain showers and relaxation pavilions.
One&Only Spa is home to the first WatSu pool in the Maldives. A form of aquatic therapy, which quiets the mind, relaxes the body and opens the heart. WatSu therapy is offered to guests who book a spa session of 60 minutes.The spa uses ESPA products featuring only the purest extracts of natural ingredients
Heavenly Spa at Westin Maldives Miriandhoo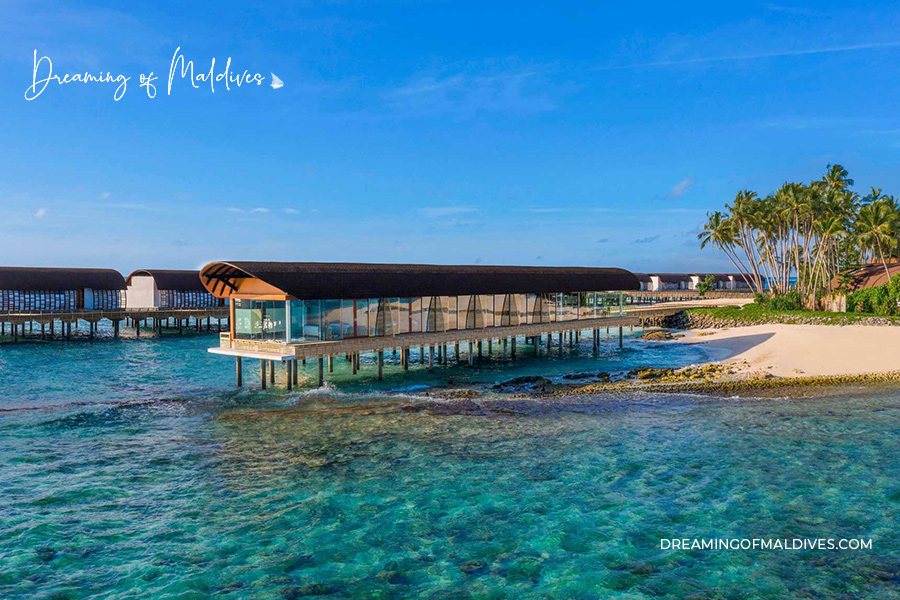 Over Water Treatment Suite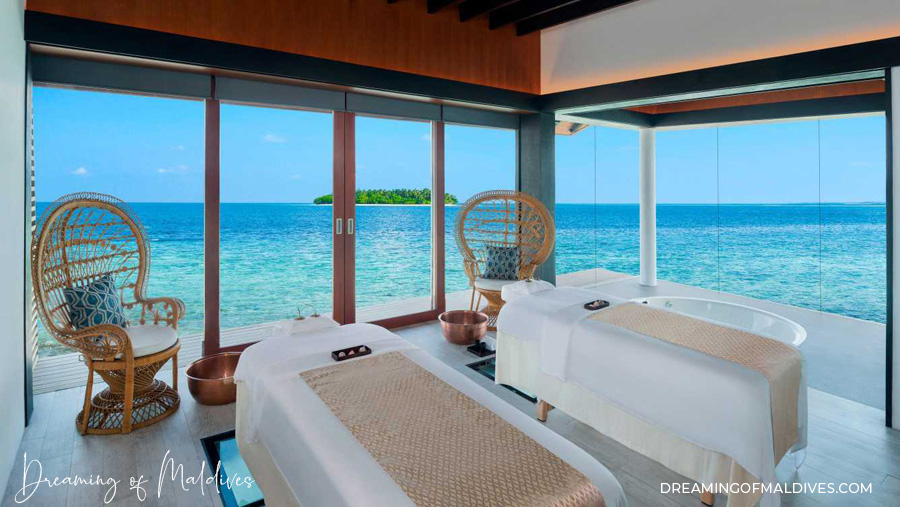 Heavenly Spa at Westin Maldives Miriandhoo is built overwater with a glass floor to enhance the sense of calm the water bring. The spa features 7 treatment suites made for one and for two, each with a Jacuzzi and panoramic ocean view.
The spa offers a wide range of holistic wellness, rejuvenation, and yoga sessions administered under the guidance of skilled therapists, instructors, and regular visiting practitioners.
Heavenly spa features the Westin's signature branded spa concept found in all Westin properties that integrates the latest innovations in beauty.
The Spa by Clarins at The Residence Maldives Falhumaafushi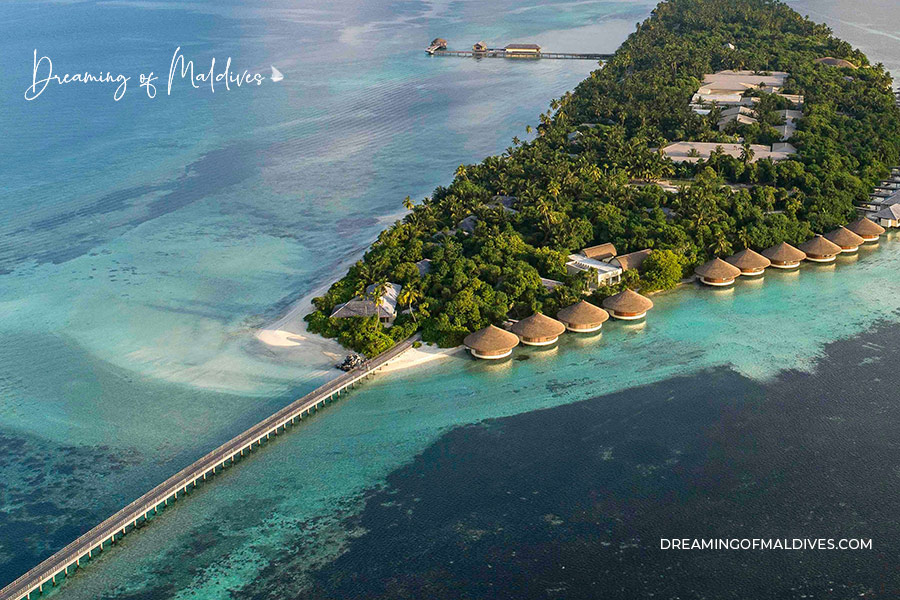 Overwater Pavilion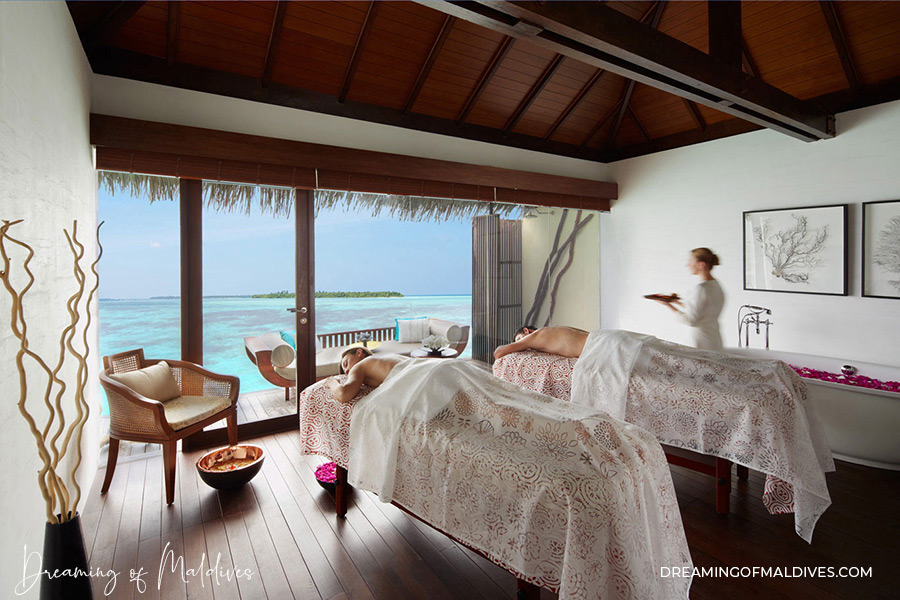 The Spa Clarins at The Residence Maldives Falhumaafushi is located overwater at the end of a jetty overlooking the lagoon. It has six separate overwater pavilions and offers an array of holistic treatments, pampering massages, hair and beauty services.

Massages and treatments blend the time-honoured Eastern traditions and latest innovative European therapies. The spa also includes a large open deck dedicated to meditation and yoga.
The french brand Clarins, internationally renowned pioneer of natural beauty known for using active ingredients from plant.
Merana Spa at Vakkaru Maldives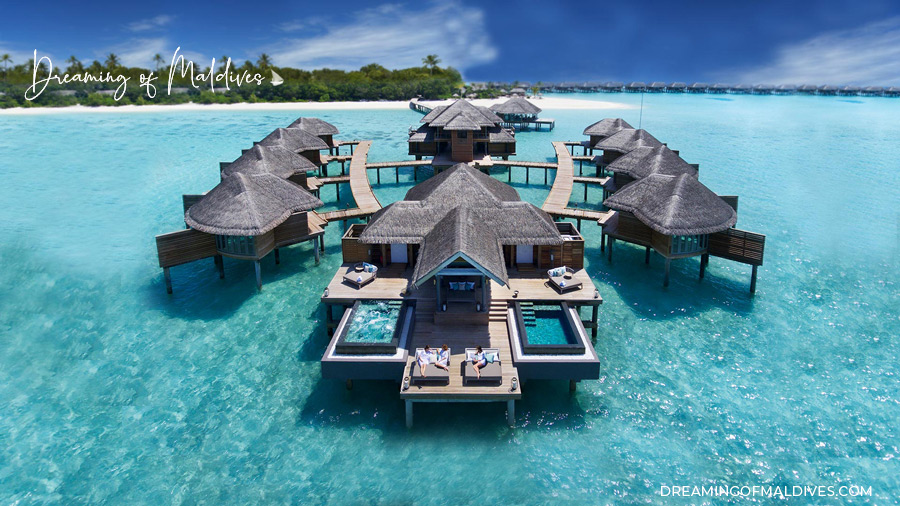 Overwater Single Treatment Room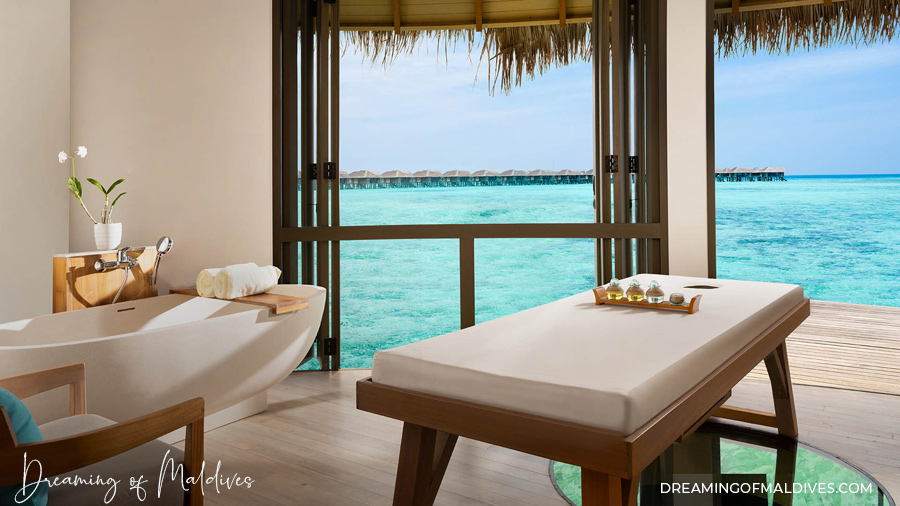 Merana Spa at Vakkaru Maldives takes a holistic approach to treatments for rejuvenation, relaxation and overall mind, body and soul balance. The spa features luxurious overwater single and couple treatment rooms, an ayurvedic treatment room, hair and nail salon and an outdoor wellness area featuring a warm whirlpool, a cold plunge pool, a sauna and a steam room.
Merana focuses on Ayurveda therapies and works in partnership with Siddhalepa, an award-winning Ayurveda brand from Sri Lanka. Every treatment begins with a personal consultation with the resort resident Ayurvedic doctor who uses all-natural products based on the 5000-year-old Indian system of alternative medicine.
More beautiful Spas in Maldives
IRIDIUM spa, the largest overwater spa in the Maldives, at St Regis Maldives Vommuli Resort.
Follow us on Facebook, Youtube and Instagram
for more Maldives Dreams