Discover the 10 best water sports you should experience in Maldives : surfing, windsurfing, kitesurfing, sailing, wakeboarding, jet skiing, canoeing…
Whatever you wish for, the Maldives will surely provide it, the island nation is a paradise for water activities and an endless playground for sea fanatics. Here are 10 of the best water sports the Maldives have to offer.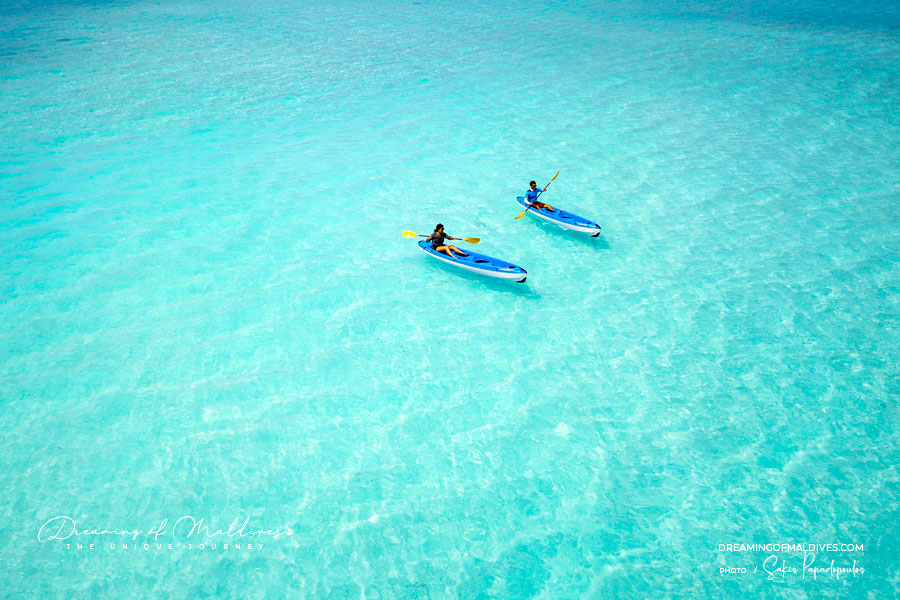 With 1% land and 99% of warm and crystalline waters, warm temperatures all year round and postcard-perfect landscapes, the Maldives are a Mecca for water sports and a paradise to play with the wind.
The 10 best water sports the Maldives have to offer
Windsurfing / Funboard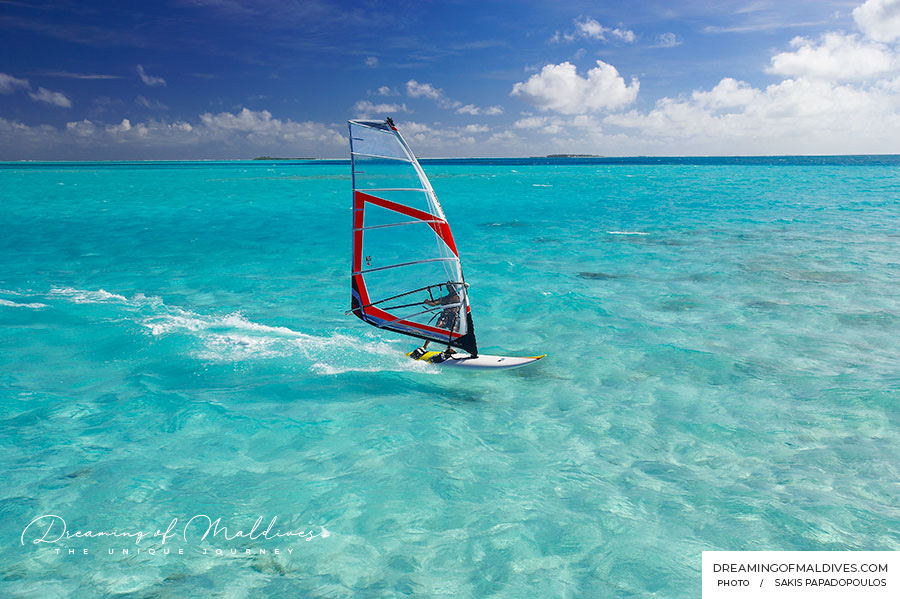 The Maldives are truly a windsurfing paradise. Sailing on their pristine lagoons is a must and will definitely offer unique sensations to both beginners and advanced who will have their best slalom !
Most Maldives resorts offer windsurfing material form the basic equipment to more recent models including funboarding.
As for windsurfing conditions, the Maldives are generally better for a smooth and fantastic slalom. The lagoon are not wavy enough to jump. Waves, which form outside the reefs, are not really rideable.
Read more : My Windsurfing Guide to The Maldives
For a higher perspective, you will prefer the next activity : Kitesurfing.
Kitesurfing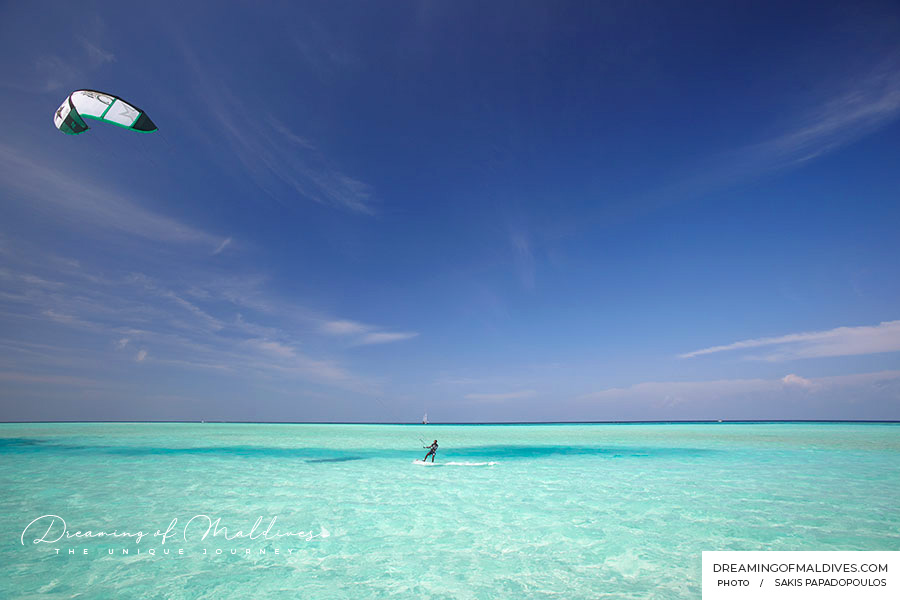 Kitesurfing in Maldives is as exciting as windsurfing. The flat lagoons are insanely gorgeous to practice this water sport. No reefs under your kite, just shallow blue waters and extremely good conditions for an optimum ride.
Many resorts offer kitesurfing lessons and equipment with extra charge.
To enjoy a free use of the material you should prefer an All Inclusive resort that offers Kitesurfing equipment included like OZEN Life Maadhoo. The resort's package includes good kite equipment (lessons are chargeable).
Read more : Kitesurfing in Maldives
Surfing & Bodyboarding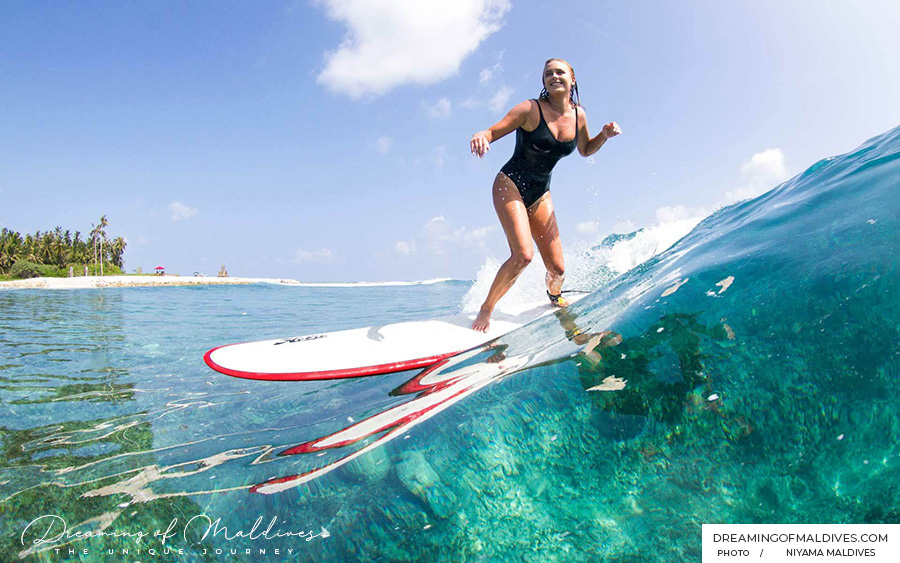 The Maldives are the perfect destination to learn surfing as well as for intermediate and advanced surfers. The island reefs are perfect for high-level surfers, intermediates and longboarders alike with several surf breaks along the archipelago including many world-class spots.
With an average water temperature of around 28-degree Celsius, conditions are good throughout the surfing season from mid-February to November.
Surfers will have several options to stay close to their surf breaks with a wide range of accommodation offered by the Maldives : Surf-Inn guests houses and hotels on local islands, resorts and luxury resorts, liveaboards…the Maldives have a place to stay for all levels and budgets.
Read more : My Surfing Guide to The Maldives. Where to Surf & Stay ?
Wakeboarding & Water-skiing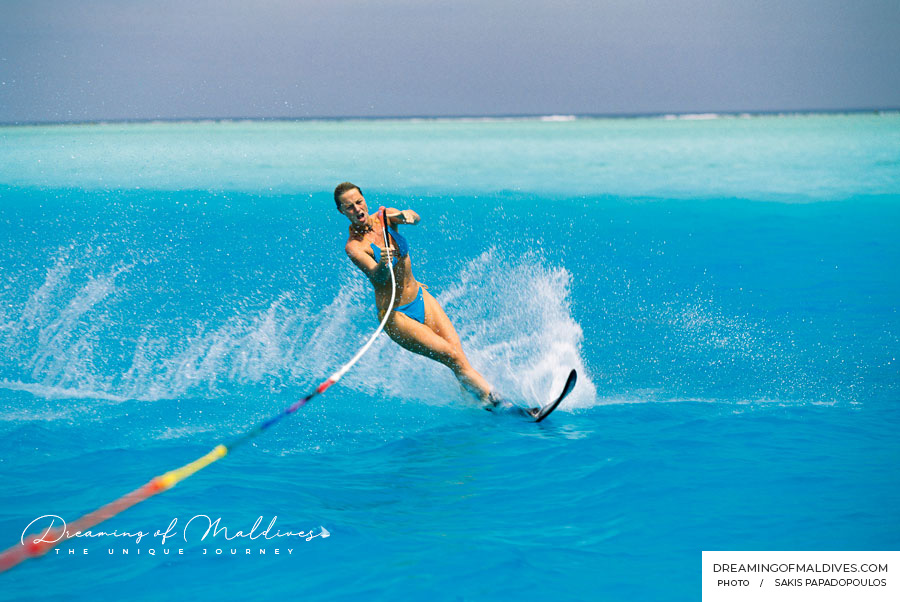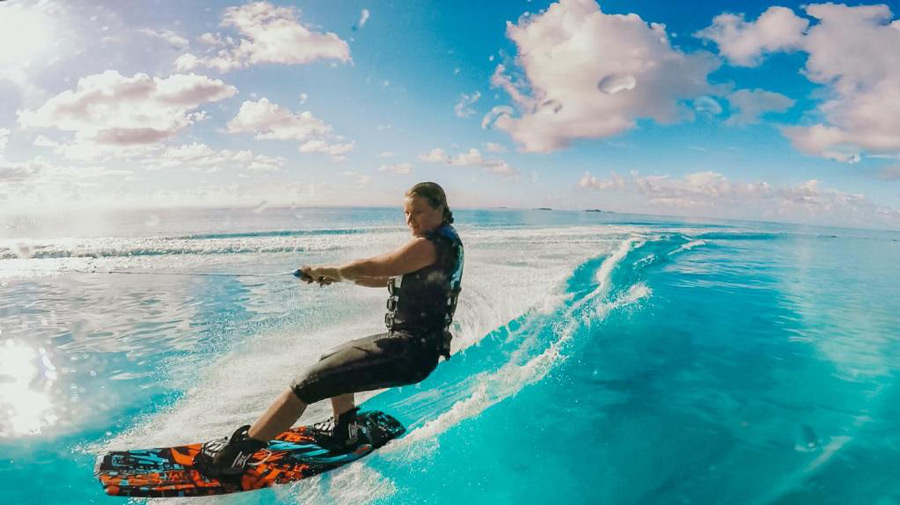 In Maldives, where flat blue and safe lagoons are everywhere, wakeboarding and water skiing are a dream. This is why most of the resorts any local island hotels offer these activities.
Wakeboarding and water skiing offer a great adrenaline rush as you cut through the blue water behind your boat.
During a good day, with no wind, above a flat blue lagoon, you will experience some of the most magical gliding sensations you ever dreamt of. It really feels like sliding on butter…
Jet Skiing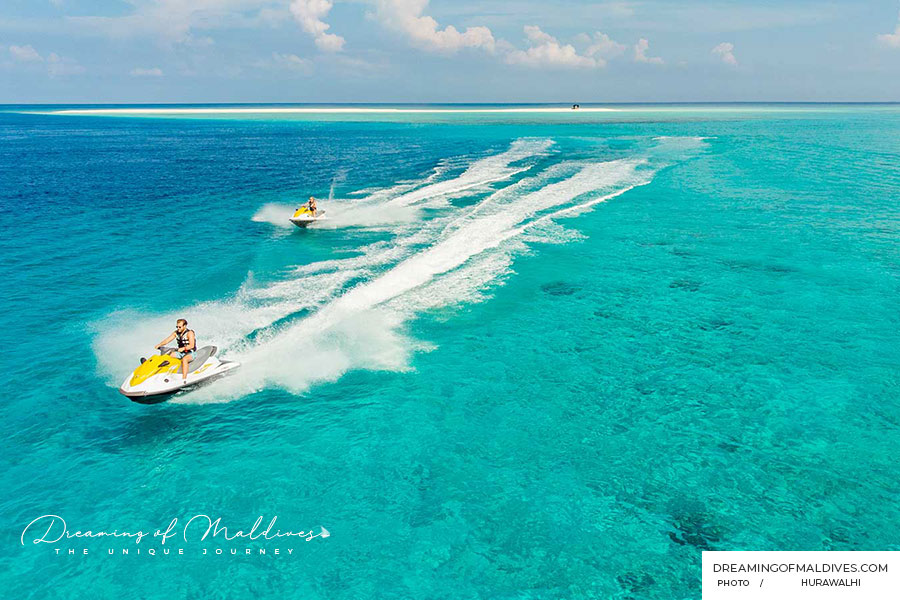 The Maldives provide you with the perfect environment to practice Jet Skiing. Despite its cost ( you will not find it neither for free nor cheap ) – count a minimum of 70 USD for 20 to 30 mns, it is worth the ride. You'll ride across turquoise waters while enjoying the scenic views and the fun of speed above water. Some resorts even organize half-day jet safari trips to desert islands and sandbanks near-by.
Flyboarding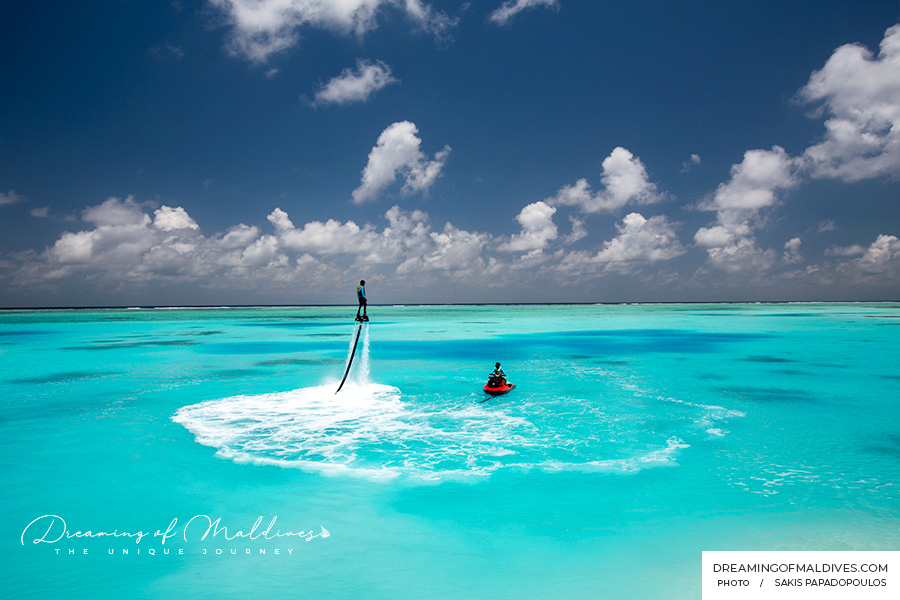 In Maldives you will also have the opportunity to discover a more recent and unique watersport : Flyboarding. Adrenaline seekers will have a blast rising up into the air surrounded by a paradisiacal landscape. This extreme activity gives you the feeling to walk above the water and feel like a super-hero. Get ready to experience an amazing sensation. Still new, it is still uncommon in Maldives. However more and more resorts start to offer this amazing experience.
See the Maldives resorts with Flyboard.
Kayaking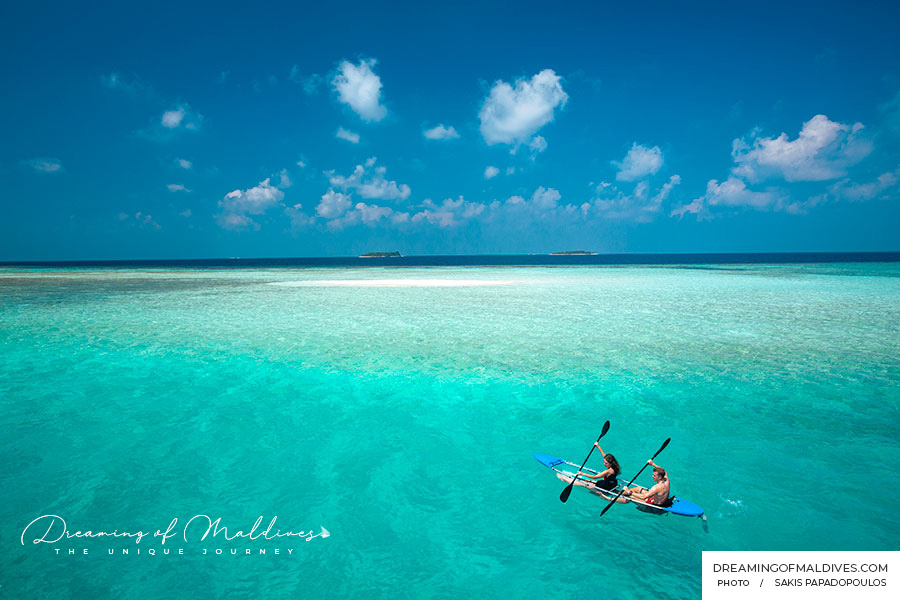 If you are looking for a more relaxed ride, kayaking is for you. In Maldives, the reefs that delight divers and snorkelers also create ideal conditions to paddle. Alone or at 2, go explore around your island to discover its surroundings and enjoy the fishes that pass by under your canoe. Many resorts have transparent canoes, like on the photo, and give them for free.
Parasailing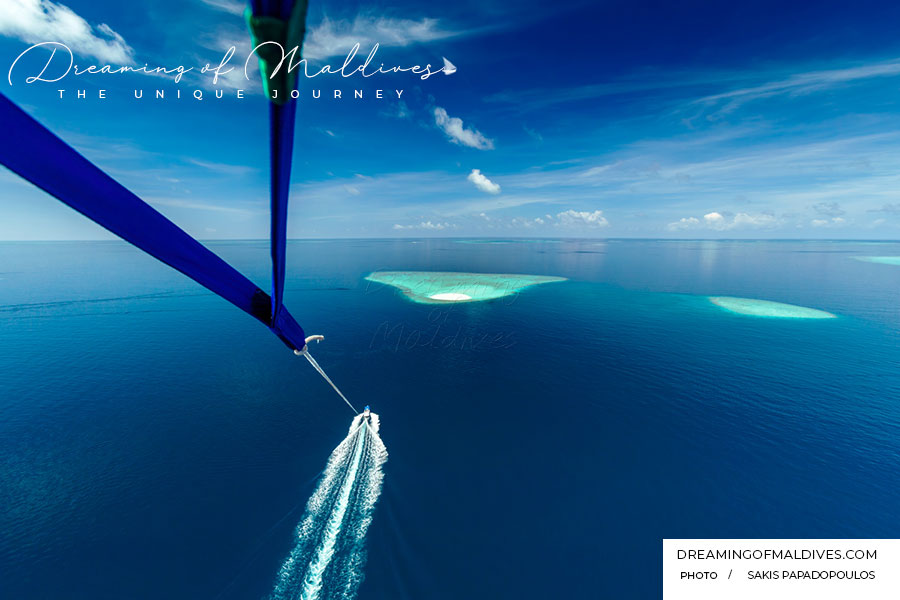 Parasailing is not only a thrill ride but also offers a great vantage points at the Maldives islands and atolls around you. Suspended in the air, gliding gently over the islands and reefs, this unique experience will bring you a great sense of calm and a lot of excitement. Fly above the most beautiful lagoons in the world and don't forget to take your camera to make beautiful Maldives aerial photos like the one above.
Hobie Cat Sailing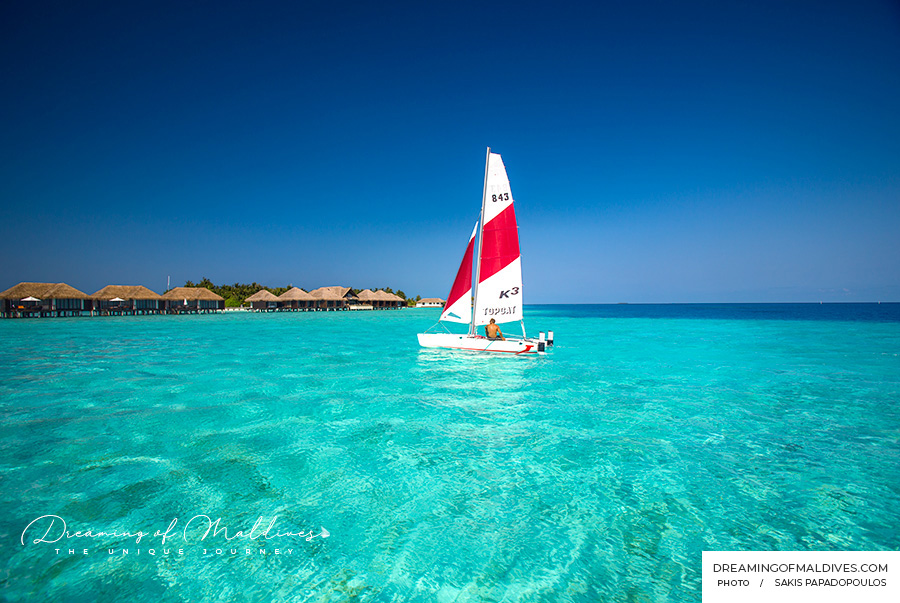 Sailing a hobie cat on the incredibly turquoise and transparent lagoons of Maldives is an absolute pleasure. Together with some days offering good winds, the conditions are perfect for a quiet ride or a more sportive one. You will be amazed by the extraordinary pristine waters that will run under your boat.
Many resorts offer free catamaran sailing for experimented guests. If you're a beginner you will however not be allowed to leave on your own, one of the water sport member will come with you ( generally at an extra costs ) to sail around and give you a taste of freedom.
Fishing

Fishing in the Maldives is more than just fishing. This activity is at the core of the island nation who depends from it as much as from tourism. Maldivians know how to to fish and they love to share their knowledge and tips.
Night fishing and big game fishing are offered by many resorts and guest houses on local islands.
If you're really curious about fishing in Maldives, you should go on a local fishing vessel to experience the line fishing that Maldivians are so famous for.
Traditional line fishing in Maldives.
Traditional pole and line tuna fishing in Maldives onboard of a Maldivian dhoni.
An ancestral method that respects the marine life.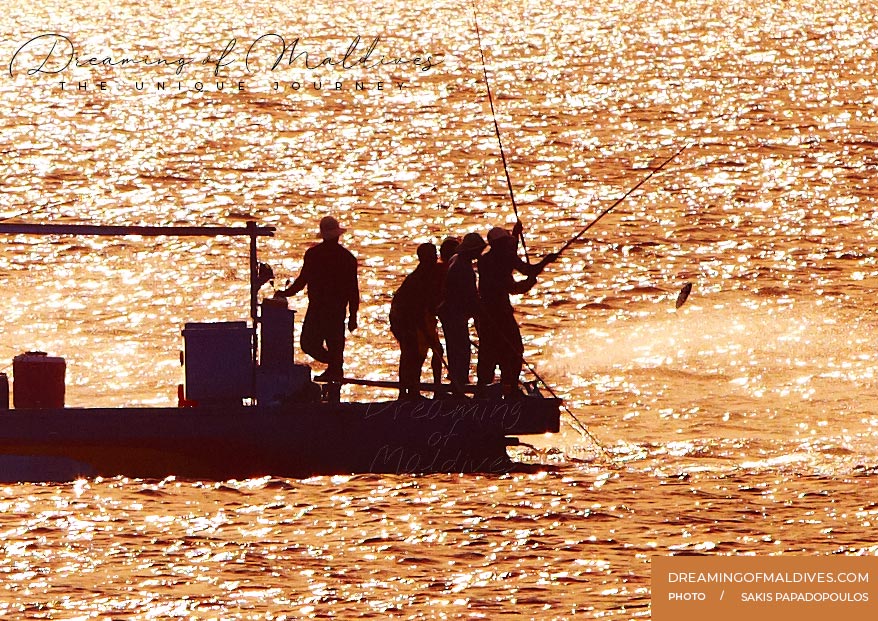 Young Maldivian line fishing on his island.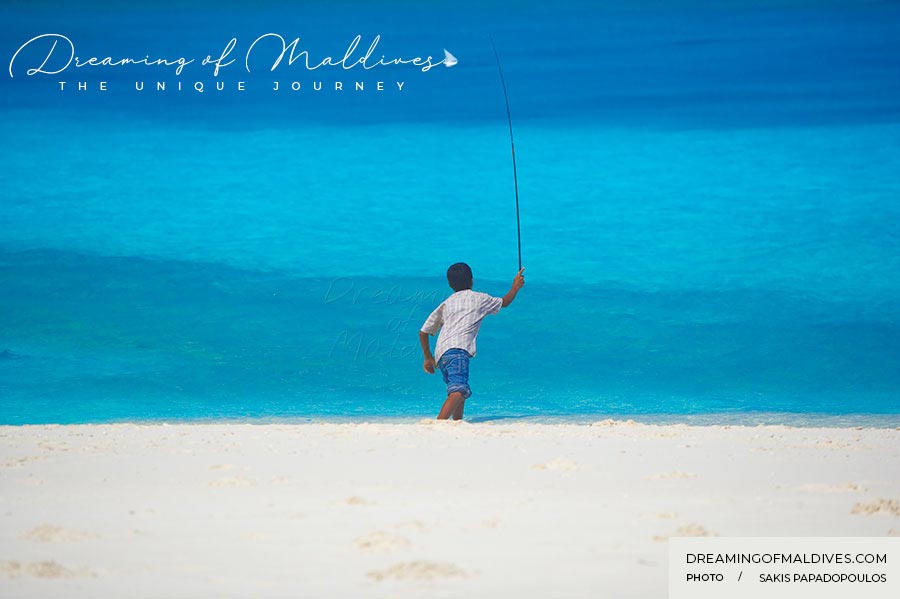 ---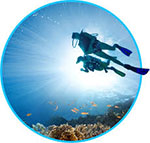 discover more activities and water sports in maldives /
Read more
This is what sailing in the Maldives looks like if you cruise the islands on a luxury sailing dhoni. Welcome aboard, sailing enthusiasts,…
The stunning Nautilus Maldives offers the possibility to swim with Manta Rays in Hanifaru Bay during a Symposium held in Baa Atoll. If you are…
Follow us on Facebook, Youtube and Instagram 
for more Maldives Dreams & Stories
Maldives TOP 10 Dreamy Resorts 2024
YOUR CHOICE. YOUR DREAM. YOUR VOICE