Welcome to Hanifaru Bay, the World's largest known aggregation of Manta Rays and a Whale Shark hotspot where each summer, the sea giants gather for their annual feeding frenzy of plankton and eventually to mate.
Located in Baa Atoll, North Maldives, the UNESCO Biosphere Reserve is a feast for these extraordinary sea creatures and an experience of a lifetime for us, nature lovers, who can swim with them.

Discover one the most spectacular phenomena to see on the planet.
Cet article existe également en Français, retrouvez ici sur mon blog FR !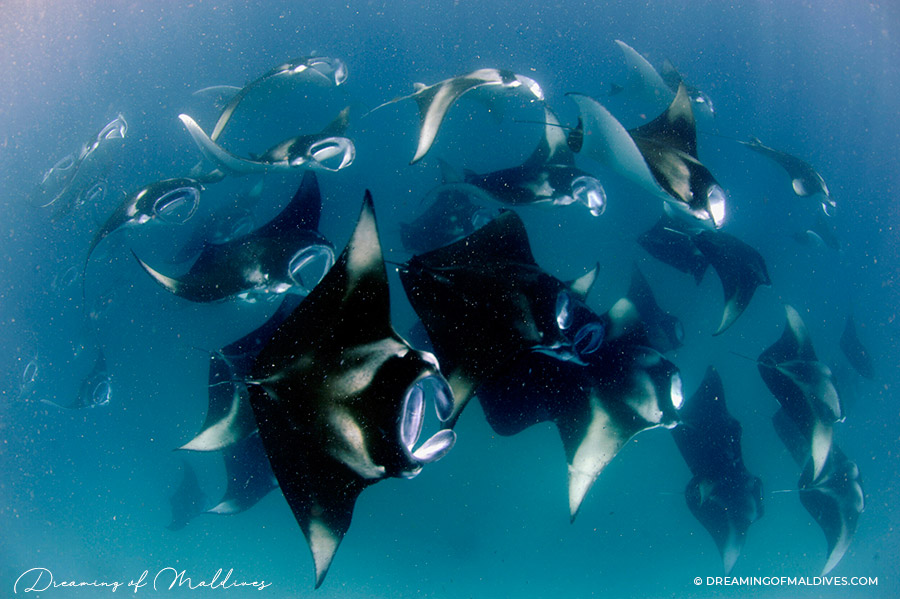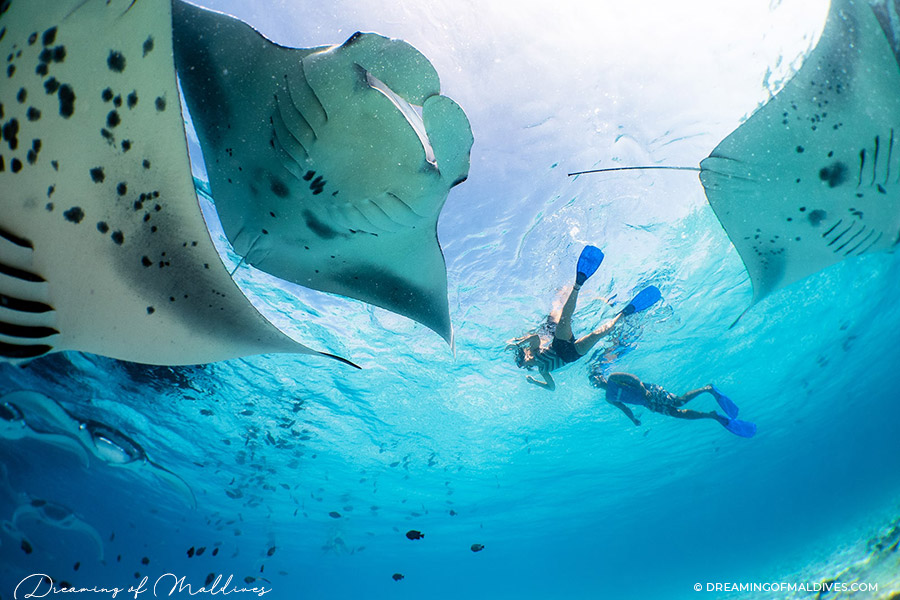 11 Interesting Facts about Hanifaru Bay
The best time to visit Hanifaru Bay is from May to November.
The surrounding areas are patrolled and closely monitored by rangers from the Environment Protection Agency.
Diving is forbidden in Hanifaru as it is a protected marine park.
Snorkeling is allowed exclusively with a licensed guide.
You have to book your experience through a licensed guesthouse, resort or safari boat.
You must keep your distance from manta rays ( and whale sharks too ) : 3 meters from head section and 4 meters from the tail.
A entrance fee of 30 USD is asked.
The total area is as big as a football field
Pictures are allowed but with NO flash
Motorized devices like Jet Ski or else are forbidden
You can Adopt a Manta with Manta Trust !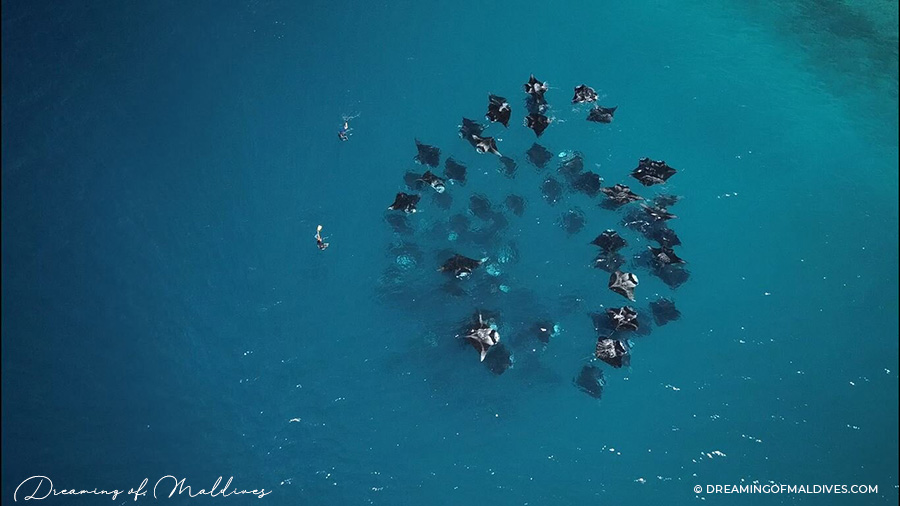 Hanifaru Bay, one of the World's top feeding Hotspots for Mantas
Hanifaru Bay is located at the south east edge of Baa Atoll, north Maldives. Covering 1,200km² – barely the size of a football field, the small area is known to be one of the world's top feeding hotspots for manta rays and to have one of the Maldives largest concentration of whale sharks.
Since 2011, Baa Atoll has been listed as a Unesco World Heritage Site as it is home to one of the largest concentration of corals in the Indian Ocean and to an incredible biodiversity.
During the summer monsoon, visitors can swim and snorkel with these extraordinary creatures.
There are other places in the world where Mantas gather to feed, but Hanifaru Bay is the only place where they, together with whale sharks aggregate in such unusually high numbers.
There are up to 200 manta rays who congregate in the bay.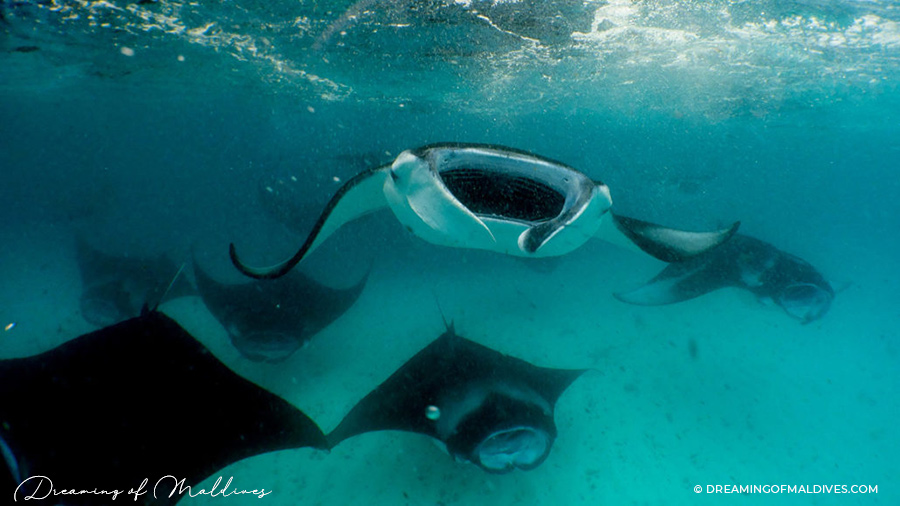 Where is Hanifaru Bay ?
Hanifaru Bay is situated on the eastern edge of Baa Atoll, At approximately 115 km / 72 miles from Male international airport.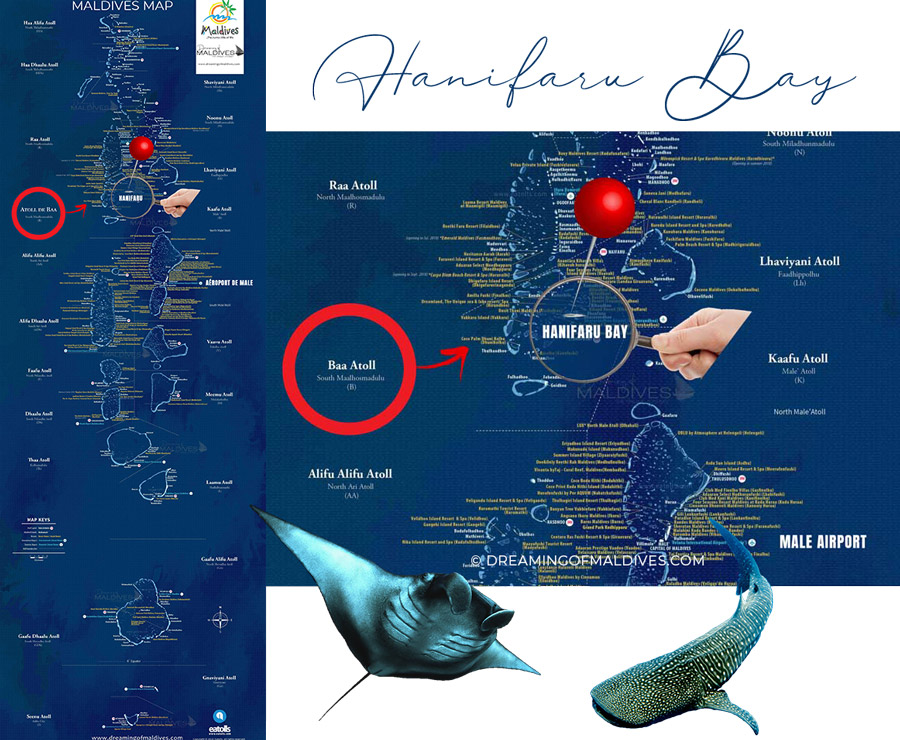 Swimming with manta rays in Hanifaru Bay, a magical experience
Swimming with manta rays and/or whale sharks is a dream for sea lovers. If this is on your bucket list, then Hanifaru is The Place to be.
It is common to see dozens of manta rays swimming around to feed on planktons as the reefs in the bay becomes a cleaning station (both species get a regular hygiene check by parasitic copepods and a variety of small cleaner fishes) during the Maldivian winter monsoon.
However, this is not a rarity in the Maldives. There are many other cleaning stations in several atolls such as Ari, Rasdhoo, North Male, Laamu…
Hanifaru has another asset and a major one : the currents acting at this time of the year push their favourite food, the plankton, towards the bay, which, due to its shape, keeps it inside.
This mass of food is an opportunity for the two species to offer each other pantagruelic meals for several months.
This is the ideal time to observe them closely, as they stay in the bay in large numbers.
Swimming with them is magical. Manta rays, like whale sharks, are very curious about humans and often approach them gracefully and peacefully.
It is NOT allowed to TOUCH, RIDE or SWIM AFTER any creature
and KEEP your distances.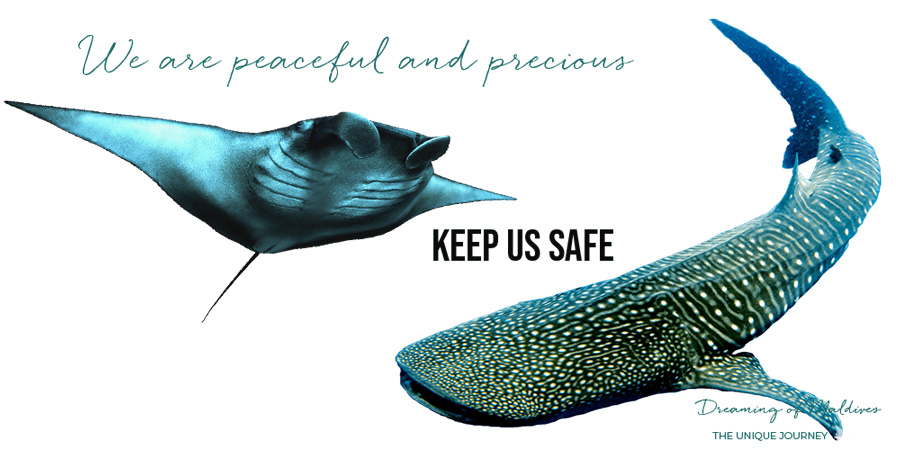 Why is it so populated with Mantas and Whale Sharks ? The details.
Because the area is full of phytoplankton and has tons of their favorite meal, the zooplankton. And it even gets better : both foods get trapped in the bay !
Beside this feast for the filters, Hanifaru is also one of the very few places in the world where whale sharks congregate to mate.
Why is it so full of plankton ?
Because the bay has a unique shape and specific currents.
The perfect cocktail to concentrate planktonic food which is called Plankton Soup.
Explanation of Hanifaru phenomenon
Winter Monsoon currents ( monsoonal currents on the map ) bring the plankton swarms towards the east of the atoll, a massive amount goes right inside the bay, and gets trapped due to its shape ( closed at the estern edge ).
Map of Hanifaru Bay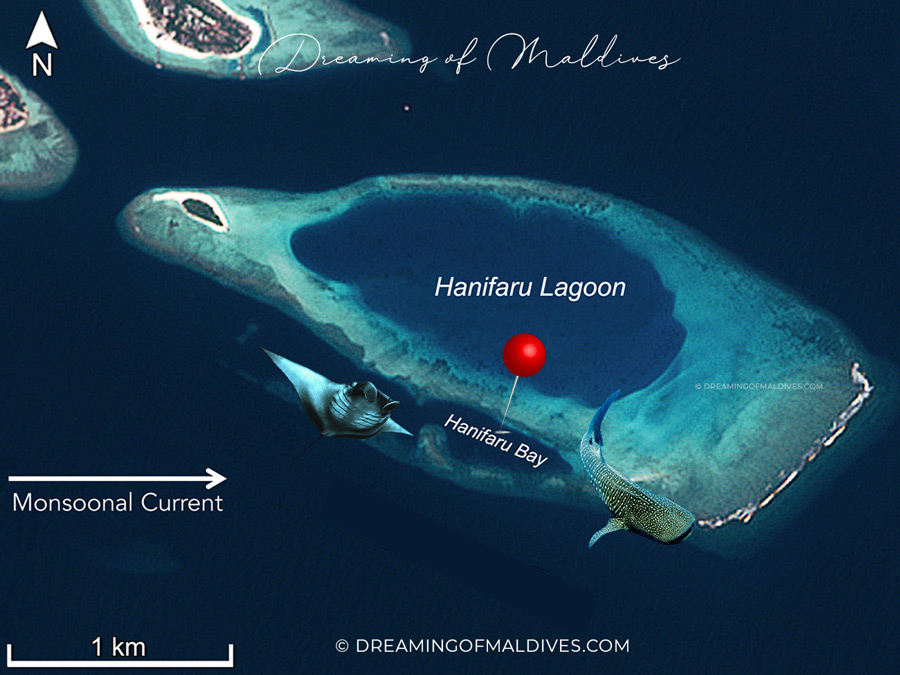 About Plankton soup…
Hanifaru is a real feast for plankton feeders. It offers both of them, phytoplanktons which are plants and zooplanktons which are animals.
The area is unique as it has a vigorous water circulation system due to the funnel-like reef shape – approximately 1,300m long and 600m wide. During the north-western monsoon (May / June to November), enormous quantities of plankton ( phyto and zoo get trapped in the bay, creating what is known as plankton 'soup', which attracts large numbers of Mantas and other filter feeding large creatures such as whale sharks who have no teeth.
Whale sharks have no teeth !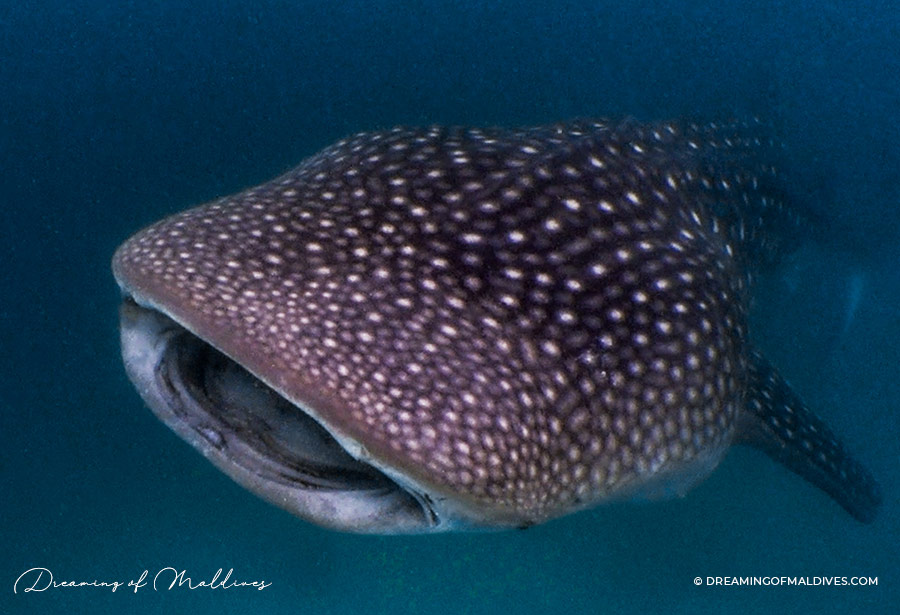 Phytoplankton VS Zooplankton
Interesting fact : zooplankton feed on phytoplankton.
Phytoplankton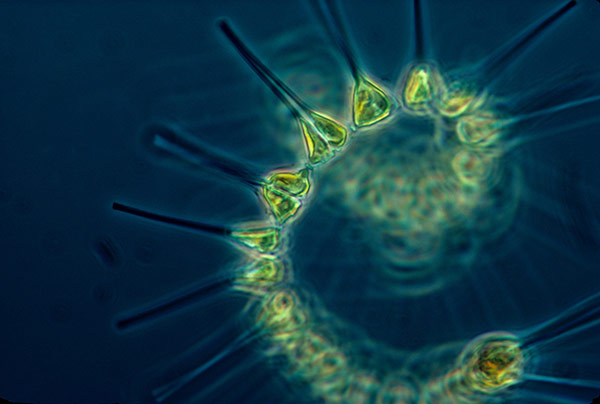 Phytoplankton are microscopic plants, which play a huge role in the marine food web. Like plants on land, phytoplankton perform photosynthesis to convert the sun's rays into energy to support them, and they take in carbon dioxide and produce oxygen.
Because they need the sun's energy, phytoplankton are found near the water's surface.
Zooplankton

Zooplankton include microscopic animals (krill, sea snails, pelagic worms, etc.). During the daylight hours, zooplankton generally drift in deeper waters to avoid predators. But at night, these microscopic creatures venture up to the surface to feed on…phytoplankton. This process is considered the largest migration on Earth; so many animals make this journey that it can be observed from space.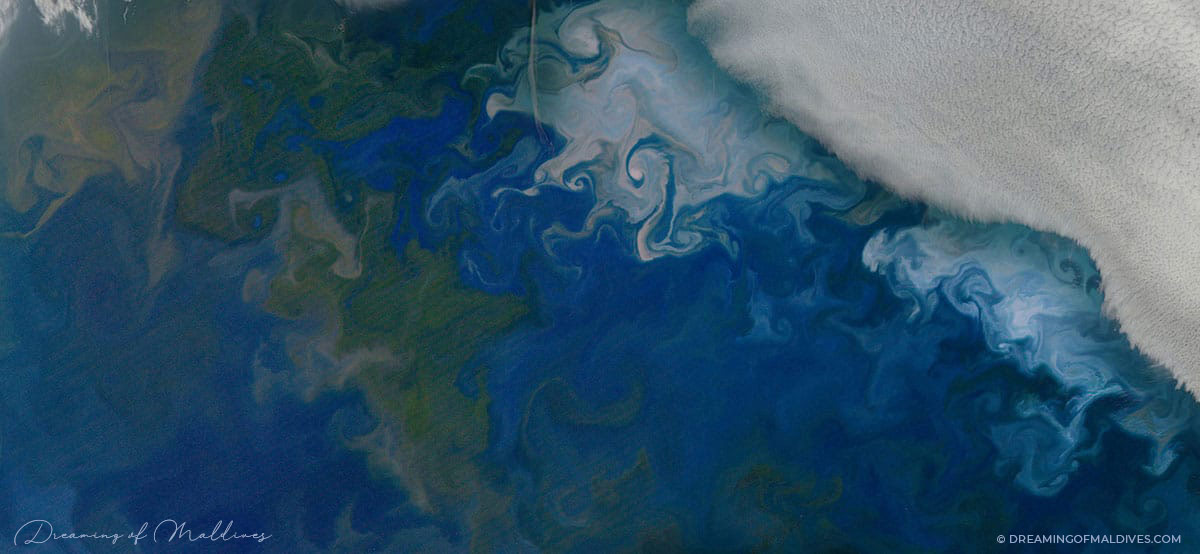 Scientific Studies about the high presence of Plankton in Hanifaru
During the summer period, plankton, normally located at a depth, rises to the surface with currents. Manta rays feed when zooplankton biomass is high, which is typically observed on the high to ebbing tide at Hanifaru Bay. Oceanographic investigations in Hanifaru suggest tidal currents draw zooplankton into the shallow reef systems of the atoll, where they become trapped inside due to a back-eddy mechanism created by the combination of the unique shape of the reef system and the currents.
When is the best time to snorkel in the sanctuary ?
The best time to visit and snorkel in Hanifaru Bay is between the months of May and November when the currents bring plankton and krill. It's also a peak for whale shark mating.
The peak season, with the highest concentration of planktons and individuals really starts from July until September.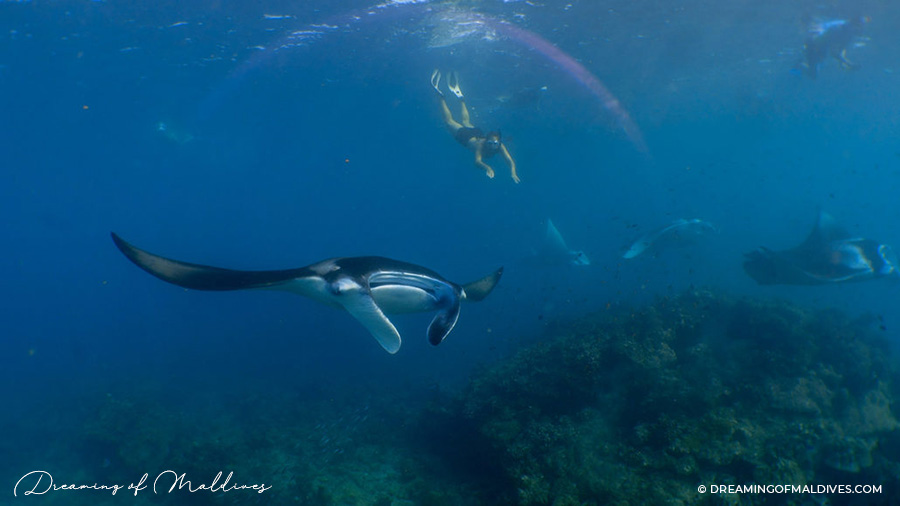 your experience in Hanifaru is limited to 45 minutes in the water as per local regulation.
About Manta Rays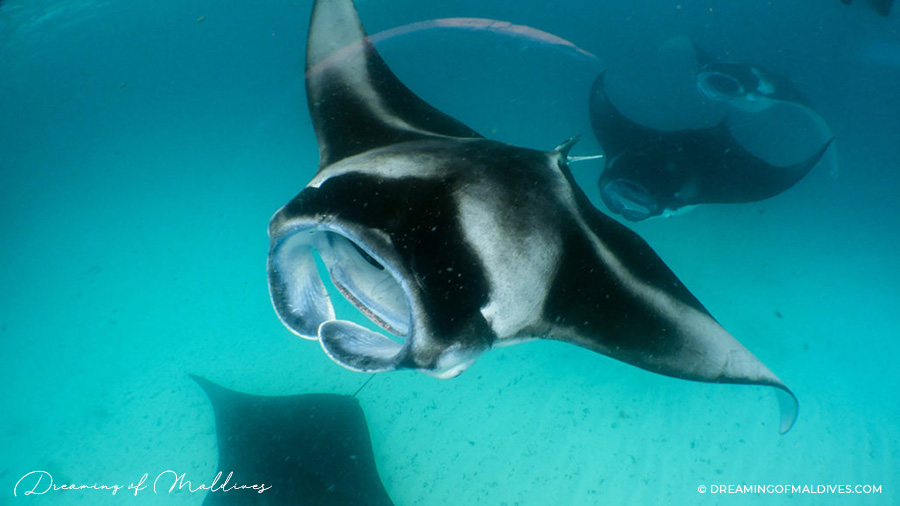 Reef manta rays, ( – scientific name Mobula Alfredi ) , are part of the Myliobatidae family, which includes most marine rays. Mobulas alfredi are also commonly known as "flying giants" because they do not swim on the sea bottom like the eagle ray for example, but rather in suspension between the bottom and the surface.
In addition, their beautiful fins look like wings. Manta rays gracefully move between a depth of 0 to 1000 m as if they were flying with wings.
Mantas are as spectacular as they are peaceful. With a wingspan that can reach an impressive 8.8 m, they can weigh up to 2.5 tons, as much as a medium sized 4X4 truck.
They congregate in a few places on the planet to feed on microscopic plankton, the most famous of which are Peru, Mexico, Hawaii and the Galapagos and of course Hanifaru Bay which is the most spectacular of all.
Mantas have long been known by Maldivians, who used to hunt them for their skins to make Bodu Beru, the traditional Maldivian drum. This is no longer done.
Fisheries also target manta rays for their branchial filter plates and cartilage for the Chinese market who use them in traditional medicine and food.
This is now fortunately forbidden in Maldives ( read further for more details on their protection ).

Hanifaru is also the Maldives second most important whale shark aggregation after South Ari Atoll.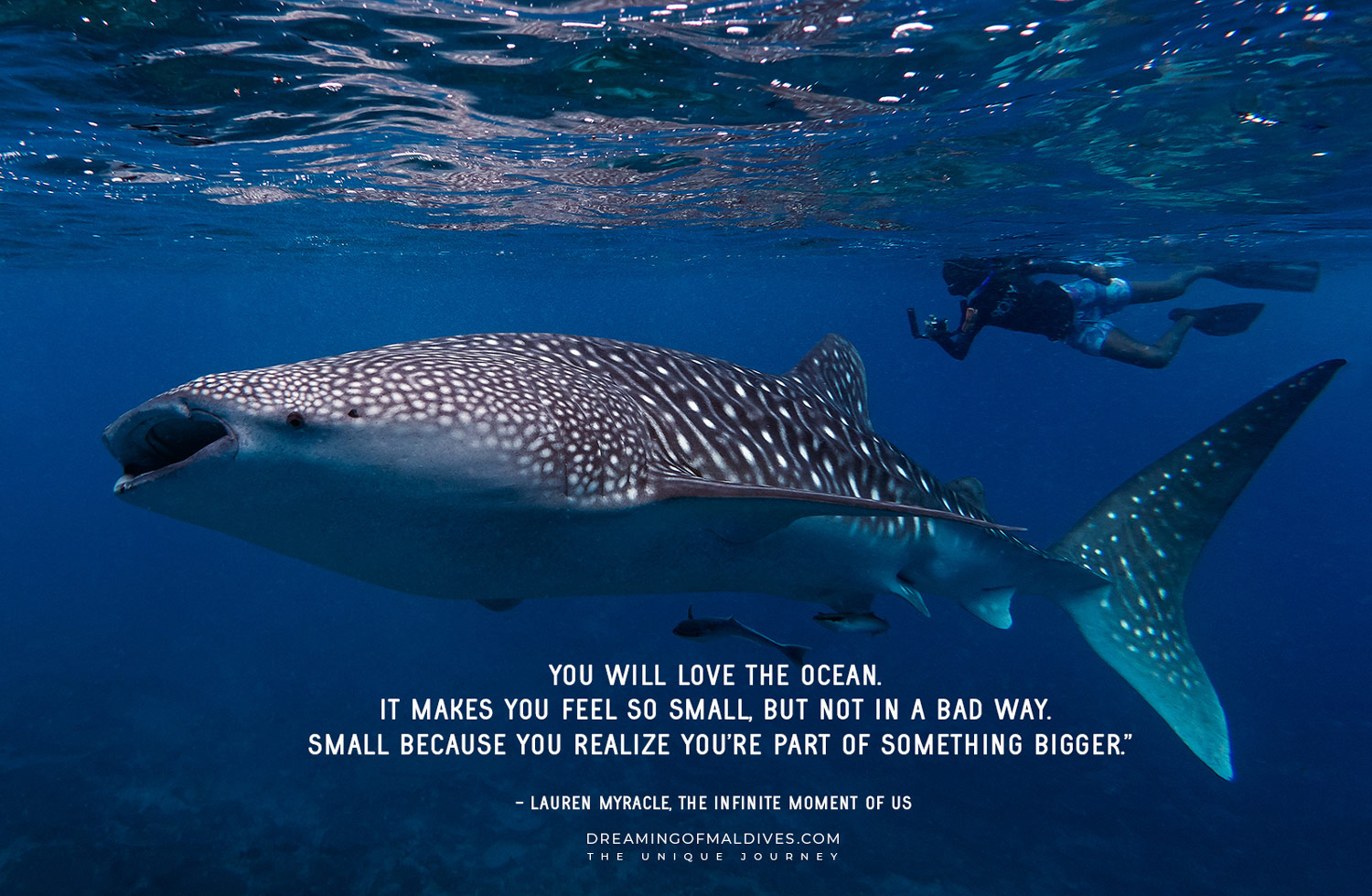 About Whale Sharks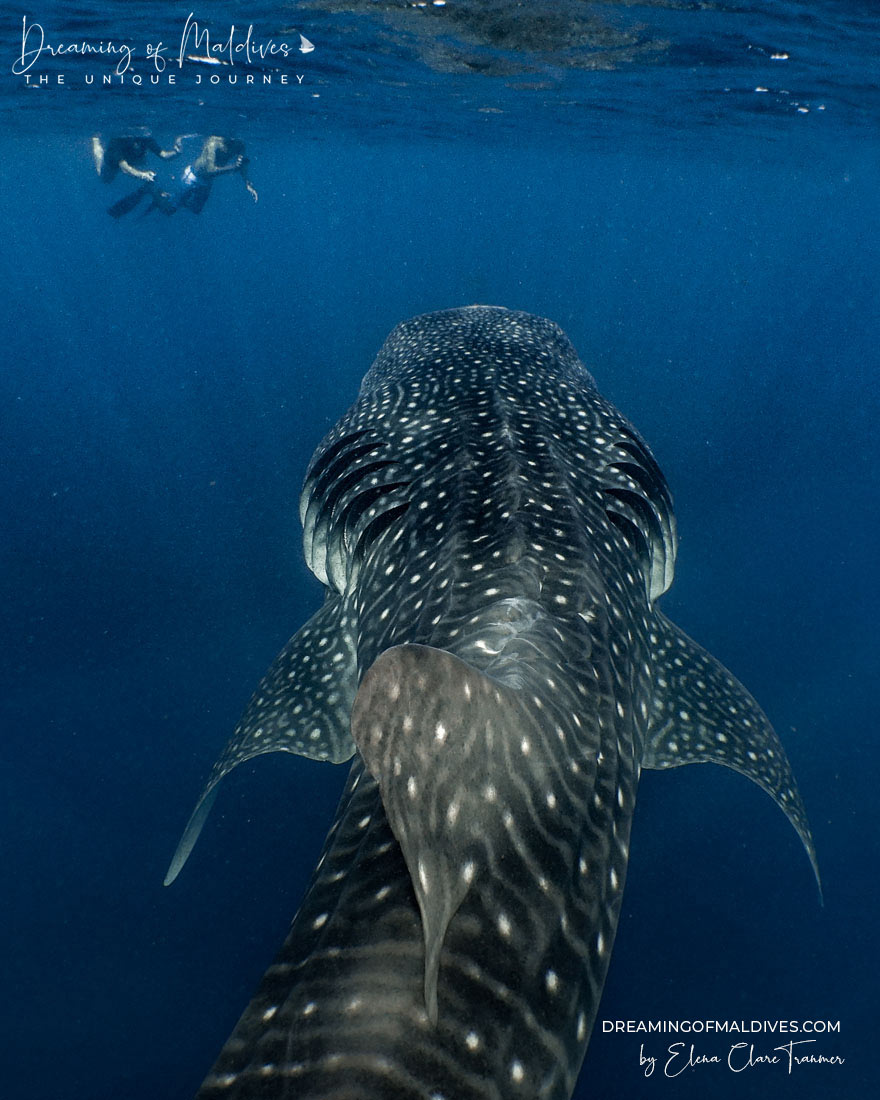 Whale sharks are the largest known fish specie and can weigh up to over 30 tons.
They are by far the largest living nonmammalian vertebrate and sole member of the genus Rhincodon and the only extant member of the family.
Whale sharks are highly migratory species and difficult to follow. However, thanks to the development of ecotourism activities around the world, their biology, distribution and movements are now more studied in various places on the planet. The Maldives are one of the most important of all.
Whale sharks are closely monitored and studied by a great local organization : The Maldives Whale Shark Research Programme (MWSRP).
Read more :
– Volunteer with MWSRP to Swim with Whale Sharks in South Ari Atoll Maldives
– SAMPA or South Ari Marine Protected Area in Maldives, the world's most unique and significant sites for whale sharks

Before being protected ( in the Maldives and a few other countries ) , they were also hunted for their skin and liver for the same purposes as Mantas.

You will love
Dhigurah Maldives, A Paradisiacal Island and a heaven to swim with Whale Sharks and Mantas.
How to enter Hanifaru ?
To enter Hanifaru Bay, if you plan to dive or not, you will have to pay 30 USD per person as a tourist and 20 USD as a local or if you hold a Maldives working permit.
All benefits go to the Baa Atoll Conservation Funds.
Payment options.
Payment options vary according to the place you stay. If you stay in a guest house and book directly with a local guide, the payment will be directly with him/her.
If you stay in a resort, your entry will already be included in the excursion fee. The same applies to safari boats.
Stay close to the Bay !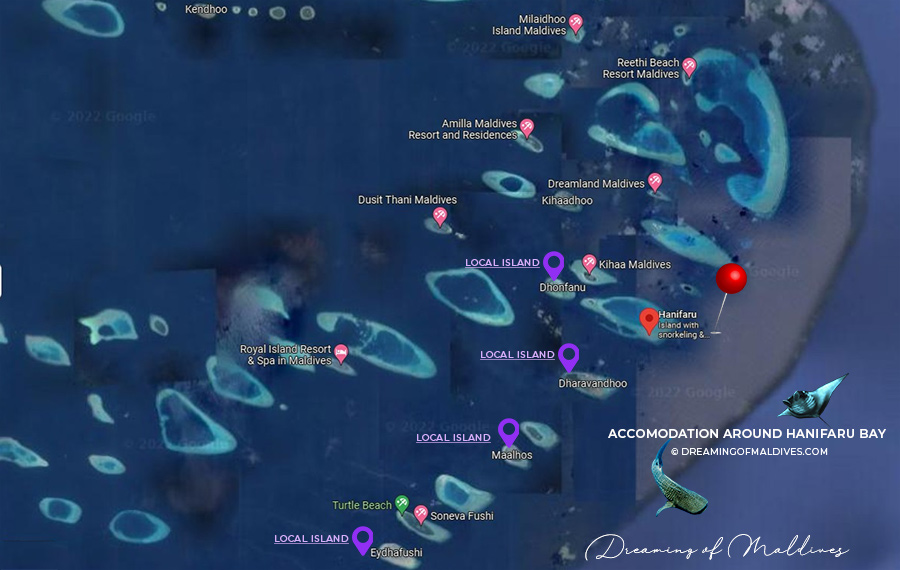 Whether you're on a budget or looking for a luxury resort to stay, Hanifaru Bay offers a wide range of accommodation for taste, from safari boats, guest houses, affordable resorts to ultra luxury retreats and private islands.
You will find several resorts and guests houses to choose from in the accommodation section further below.
From an overcrowded place to A UNESCO International Heritage since 2011
In the early 1990's dive safari boats began to visit Hanifaru Bay but soon the extraordinary area became overcrowded with boats, divers and snorkelers every day. The balance and harmony of Mantas and Whale Sharks got threatened.
In 2009, the Maldivian government finally declared Hanifaru Bay a Marine Protected Area and in 2011 it became a UNESCO International Heritage Site, which means that fishing, shipping and swimming are restricted in the area.
---
A maximum of 5 boats and no more than 80 people per day and at any given time is allowed.
---
A Pledge for protection from the neighboring resorts
The Maldives generate an estimated 8.1 million USD annually in direct revenue for manta ray tourism alone.
Resorts which are located close to Hanifaru Bay surely benefit from a prime location which attracts many visitors, but having such a wonderful and fragile area at their doorsteps is a great responsibility.
Several resorts made a pledge to protect and preserve Hanifaru and its creatures by establishing a Memorandum of Understanding (MoU) which lays out the agreed guidelines for everyone to adhere to when visiting Hanifaru Bay.
One of them is to ensure that there is always an in-water supervisor with a ratio of at least 1 guide for a maximum of 8 guests.
A conservation and Research from Manta Trust Charity Organization
Manta Trust
Manta Trust mission is to conserve mobulid rays, their relatives, and their habitats, through a combination of research, education and collaboration.
Formed in 2011, Manta Trust is a UK registered charity that co-ordinates global Mobulid research and conservation efforts. The team is comprised of a diverse group of researchers, scientists, conservationists, educators and media experts working together to share and promote knowledge and expertise.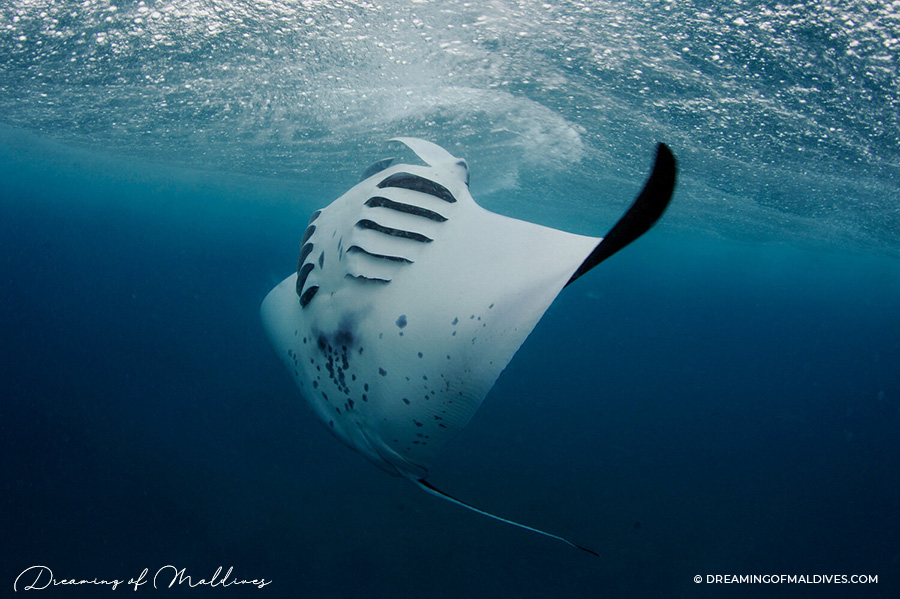 The 3 ways to help Manta Trust
As a charity, Manta Trust offers 3 ways to help them continue their programme, including the opportunity to adopt a Manta ray. Each individual has been given an absolutely brilliant name : George the Giant, Babaganoush, Spiderman, Mrs Flappy…the team obviously has a lot of fun naming them.
Donate
You can donate to Manta Trust to help them save these threatened rays from extinction. Every donation, big or small, makes a difference by supporting their core initiatives and charitable aims.
Adopt a Manta
You can adopt a Manta : Whether for yourself, a friend, or a loved one, Manta Trust digital adoption packs make the perfect gift – an opportunity to learn about these gentle giants, whilst supporting global efforts to research and protect them.
George the Giant, Babaganoush, Mr Spotty, Spiderman, Juno and many mantas are waiting to be adopted !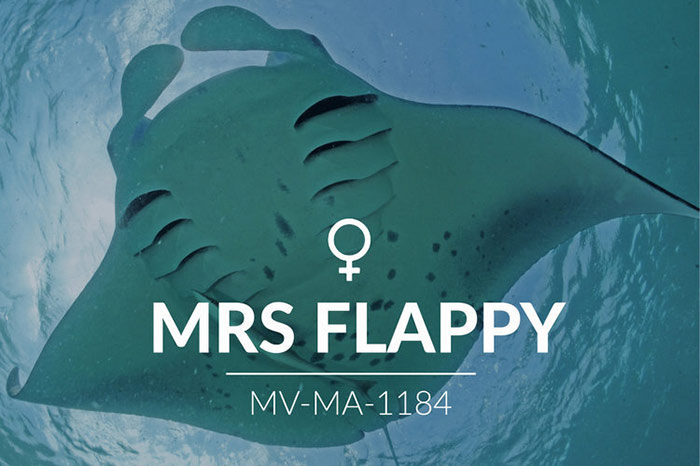 Join The Cyclone community
You can also join Manta Trust community The Cyclone, called as such in tribute to the type of move Manta make to feed ( see below ) and become part of the supporters who are invested in the conservation of the ocean's manta rays, their relatives, and their habitats. By joining The Cyclone, you'll gain a front-row seat to their global conservation efforts and be introduced to their manta family.
As a member, Manta Trust will show you the research they're doing and why they're doing it. You will be in constant contact with the team who will share with you their discoveries and successes as they happen, as well as the challenges they face along the way.
What is a Manta Cyclone ?
A Manta Cyclone is the move that Mantas do to feed. They turn together in a move that looks like a vortex.
A cyclone can be made up of hundreds of individuals.
Manta Trust community is named after this beautiful phenomenon.
How to reach Hanifaru Bay ?
Hanifaru Bay is in Baa Atoll, at about 120 kms North of Male airport. Baa can be directly reached after a 35 mns flight by seaplane or 20 mns by direct domestic flight from Male airport to Dharavandhoo domestic airport which is just at 2 kms from Hanifaru Bay.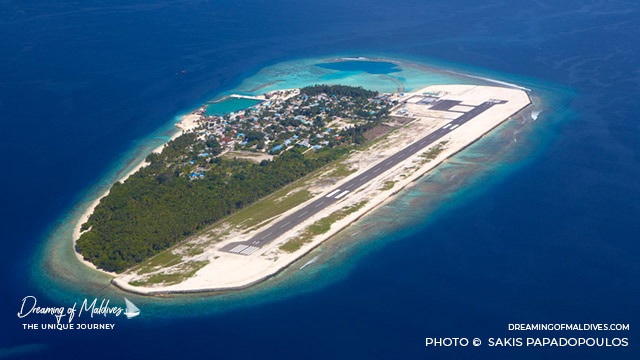 Where to stay ?
Luckily, Hanifaru Bay offers a wide range of accommodation for every budget and taste. From safari boats to guest houses, affordable resorts to ultra luxury retreats and private islands, Baa Atoll will spoil you with choices, whether you're on a budget or an exigent traveler looking for a luxury holiday.
Resorts and Private Islands that are the closest to Hanifaru
Remark : If you stay in a luxury resort you will choose your vessel and experience : leave privately with your own guide and/or marine biologist onboard or in a small group during scheduled excursions.
Resorts with prime locations near Hanifaru Bay
( maximum 10 kms / 16 miles ) :
Kihaa Maldives is a mere 5 mns away from Hanifaru.
Located at 4 km / 2.8 miles, the 5* Resort is right in front of Hanifaru Bay and is the closest of all.
Dreamland – 5 km / 3.1 miles.


Resorts located at 10 to 20 minutes by speedboat from Hanifaru :

Amilla Maldives Resort & Residences – 7.8 km / 4.8 miles
+ read more : Diving And Snorkeling In Baa Atoll At Amilla Maldives. Diver Interview
Dusit Thani Maldives – 8.5 km / 5.2 miles
The Nautilus Maldives – 9 km / 5.6 miles
+ read more : Swim with Manta Rays at The Nautilus Maldives in Baa Atoll
Milaidhoo – 9.5 km / 6 miles
+ read more : Swim with Manta Rays at Milaidhoo Island Maldives in Baa Atoll
Royal Island – 10 km / 6.2 miles
Reethi Beach – 10 km / 6.2 miles
+ read more :
– Snorkel With Manta Rays And Whale Sharks From Reethi Beach In Baa Atoll
– Diving And Snorkeling At Reethi Beach Resort, Baa Atoll, Maldives. A Diver Interview
Soneva Fushi – 10 km / 6.2 miles.
+ discover the resort latest stories : Soneva Fushi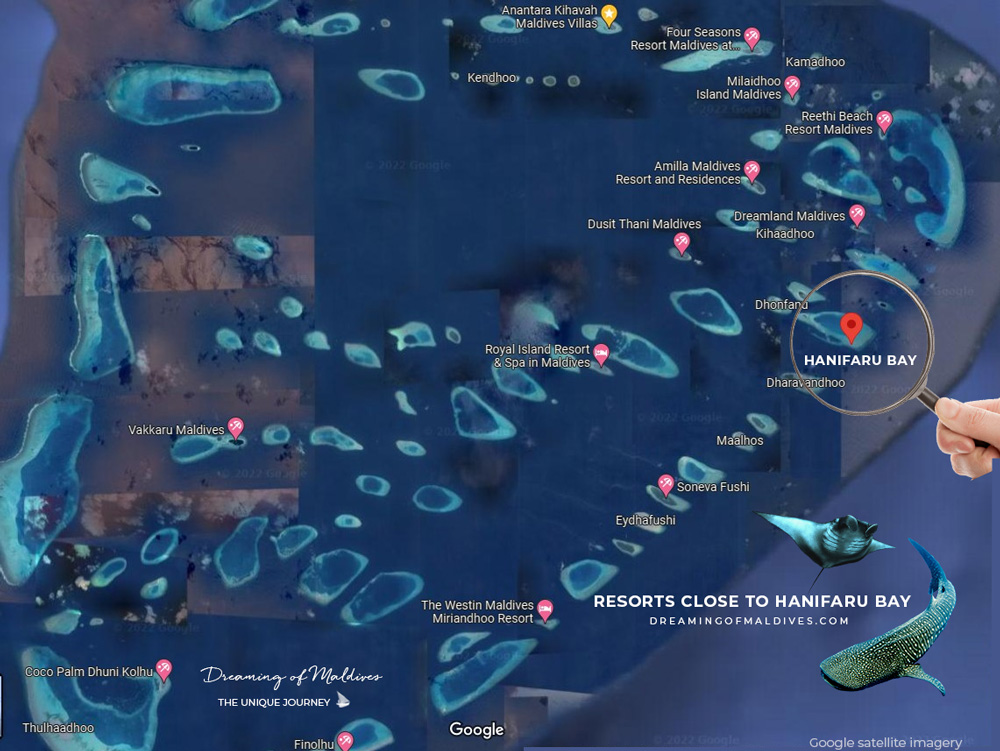 Resorts located within a 30 km radius from Hanifaru bay
Further away, within a 30 km / 19 mi radius from Hanifaru and at the southern tip of Raa Atoll, you will find the following resorts :
Four Seasons Landaa Giraavaru
Anantara Kihavah
Discover the Resort
Four Seasons Maldives Private Island at Voavah
Discover the Private Island
Coco Palm Dhuni Kolhu
Finolhu
Discover the Resort
Vakkaru Maldives
Westin Miriandhoo
Dhigufaru Island Resort


A bit further, the closest Resorts In Raa Atoll ( Baa "sibling" Atoll.) are :

The Standard Maldives
+ read more : The Standard Maldives celebrates the Manta Ray Season
Intercontinental Maldives Maamunagau
Current deals around Hanifaru Bay
Local Islands with Guest Houses located close to Hanifaru
Spread over 4 local islands, there are about 20 guest houses located at a close reach to Hanifaru. It is the cheapest way to stay if you're on a budget and Dream of Mantas !
Dharavandhoo, which is also home to the atoll airport, is the island that offers the largest amount of guest houses. Then is the small and beautiful Dhonfanu island with 1 guest house, Maalhos, at approximately 15 minutes away from the bay and finally, further away, Eydhafushi Island, Baa capital island, close to Soneva Fushi.
Besides a wide range of accommodation, you will also find several PADI dive centers with licensed guides on Dharavandhoo, Maalhos and Eydhafushi.
They all offer excellent services and equipments as well as a wide variety of PADI courses and snorkeling / diving trips.
Dharavandhoo Island
Dhonfanu Island
Maalhos Island
Eydhafushi Island
Remark : If you stay on a local island in a guest house, you will need to book a licensed tour guide to take you into the marine park. Ask your reception for recommendation.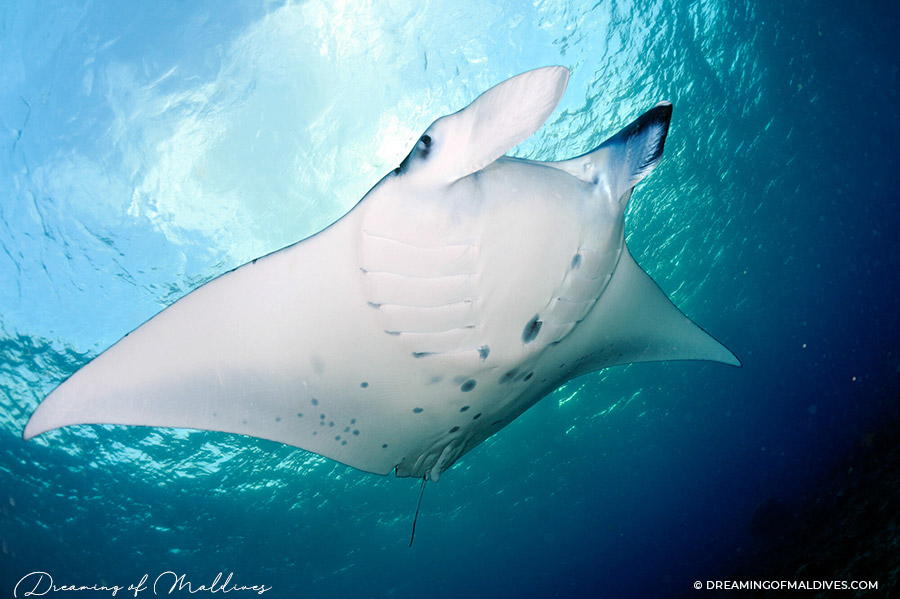 Swim With Mantas in MAldives

Dreaming of swimming with whale sharks meanwhile holidaying in Maldives ? Your dream is about to come true with this complete guide dedicated…

Milaidhoo Maldives, in Baa Atoll, invites guests to swim with manta rays, the sea giants, in Hanifaru Bay during the Manta season. In…

To experience this new Manta season The Standard Maldives launches its first-ever three-month-long 'Go Deep Blue' campaign to celebrate theis…
More resources on Manta Rays, Hanifaru Bay and Plankton.
References :
Follow us on Facebook, Youtube and Instagram 
for more Maldives Dreams & Stories