Lovers, Get a Room ! Here are 10 Sexy Villas in the Maldives to inspire you for your next romantic holiday.
Featuring grand views, inspiring interiors, hidden location, private pools, Jacuzzi's, wonderful bathtubs and inspiring spaces, some Maldives Villas are Heaven for Lovers and a Paradise for Honeymooners.
The Maldives, one of the most Romantic Place
in the World for a couple
Far away from everything and everybody, hidden in a Villa on the beach or over the water, with the fishes and birds as the only life around, very private and intimate, these villas are a perfect sanctuary for Lovers.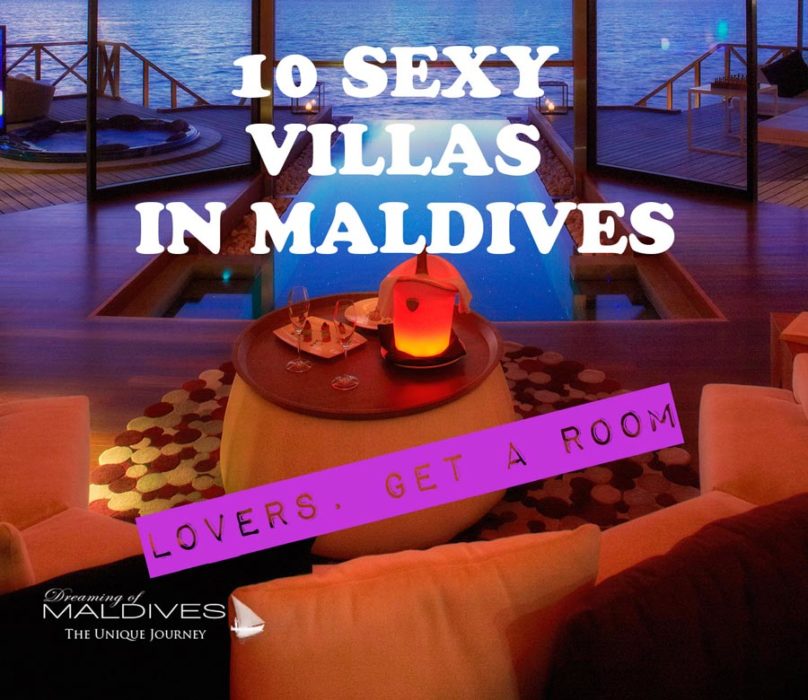 The Maldives have several thousands of beautiful Beach and Water Villas, but not all are fitted for a perfect Lover Hideaway.
Some of them really have what it takes to pretend to be and even beyond.
Far away from the island, other villas and Resort activities, their location and spaces are Heaven.
Since 1999, we've seen and stayed in many Beach Villas and Water Villas. A few ones really caught our attention.
Inspired by Valentine's Day, I searched for some of the naughtiest, sexy, inspiring Villas we've seen in the Maldives.
Here is my List of the 10 Sexiest Villas in the Maldives for a romantic stay
We have personally stayed at These Resorts
Ask me any question
Ocean Pavilion. Huvafen Fushi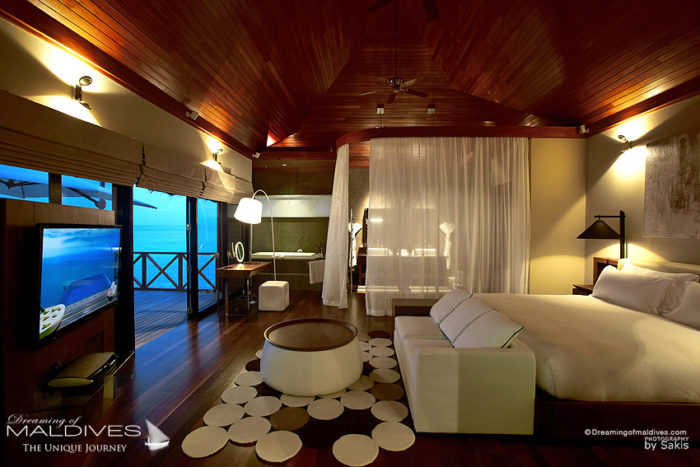 Located on the reef side, over water, far away from the Island, at the very end of a long jetty, and turned to the Sunset, the Ocean Pavilions are one of the most beautiful Water Villas ever built in Maldives.
Stylish and tasteful with an exquisite living space, the Ocean Pavilions at Huvafen Fushi are completely separated from the rest of the island by automatic fence doors living the private jetty open only to the Pavilions residents.

Our Videos of Huvafen Fushi
Complete Video of Huvafen Fushi Maldives. A superb Adult-Only Hotel #Maldives #BestLuxuryResort
Huvafen Fushi Maldives Most Beautiful Places. A Dream for Couples Only #Maldives #HuvafenFushi


The long fibre-optic lit infinity pool is built In and Out the Villa, starting from the outside wide deck and extending itself until the Lounge area inside. Another Maldives Dream for Lovers and Honeymooners.
The open plan master bedroom is extremely well decorated and very spacious with a open bathroom inside.
The second bedroom, isolated, has direct access to its own outdoor deck.
A Jacuzzi stands close to the Pool on the terrace.
EXPLORE MORE – Resort Full Review



Water Suite. Velassaru Maldives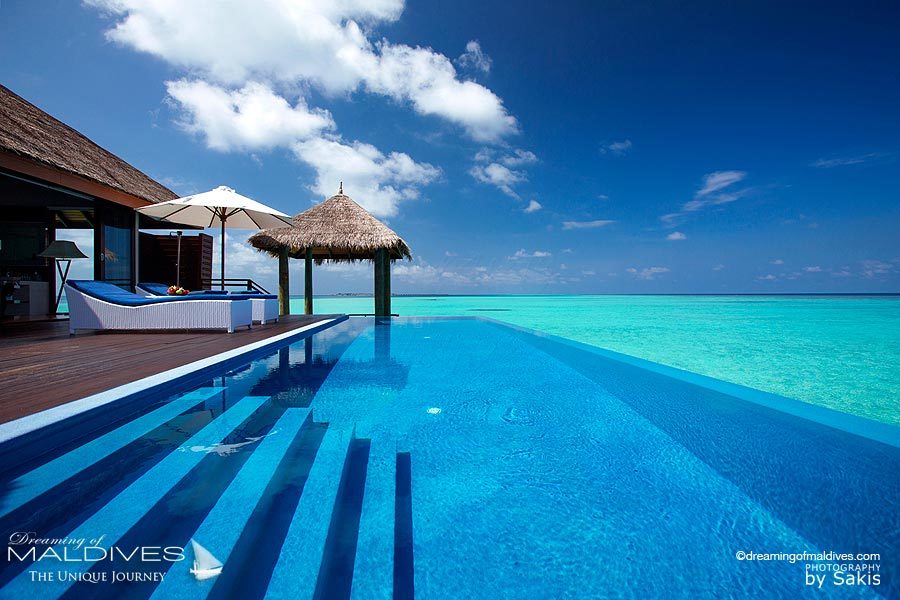 The Water Suite at Velassaru Maldives is an impressive 270 sqm sanctuary located over the resort iconic blue lagoon
Hidden on the edge of the island, the water Suite is built with privacy in mind. No neighbors, no villas beyond your deck. Just you.
Our Video of Velassaru maldives
Velassaru Maldives Full Resort Video. The Most Beautiful Resort Places !


This sexy Water Villa, perfect for Lovers and Honeymooners, offers a contemporary interior fitted with every equipment you wish for.
A large bathroom with a rounded bathtub sits beside the master bedroom and opens onto the ocean.
The villa bright interiors open on an expansive terrace with an infinity pool, dining area, thatched gazebo and outdoor rain shower to assure ultimate privacy.
EXPLORE MORE – Resort Full Review



Ocean Pool House. Naladhu Maldives
Each Pool House is surrounded by lush tropical vegetation to provide total privacy and opens on the Ocean, without any limits nor obstruction.
Very spacious, the beautifully decorated bedroom and bathroom are totally open on the outside with glass panel doors.
The bedroom fitted with a King-size custom-designed Bed and antique furniture's opens on a big open-air bathroom with garden rain shower and a 8 X 4m private plunge pool.
Our Video of Naladhu maldives
Naladhu Maldives Private Island Dreamy Video


The plunge pool offers a Glass Fiber see through window.
Located on the Sunrise side, on the reef, the Ocean Houses with Pool are also featured, as an additional pleasure, a private cabana located on the beach at a few-step from the house.
Lovers, Honeymooners…Your intimacy is Guaranteed.
EXPLORE MORE – Resort Full Review



Crusoe Residence. Gili Lankanfushi Maldives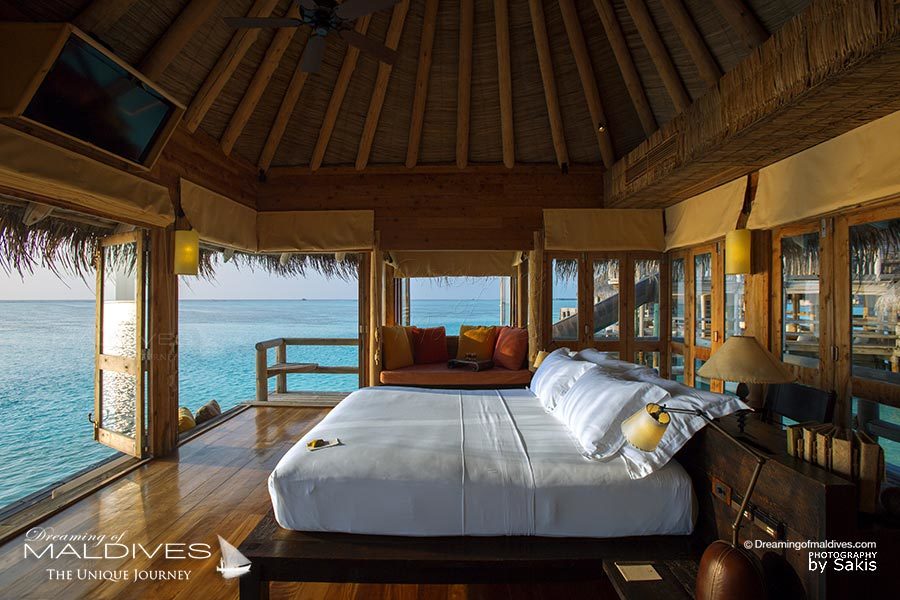 Totally separated from the main Island by…the sea, The Crusoe Residences at Gili Lankanfushi stand alone at 30 meters from each other in the middle of the lagoon and are reachable only by boat.
A private rowing boat is attached to their private deck for your own pleasure and need and a pontoon boat shuttle will come accordingly to your wishes.
Our Videos of Gili Lankanfushi Maldives
The Best of Gili Lankanfushi Maldives Resort #GiliLankanfushi #BestMaldivesResort #Maldives
Gili Lankanfushi Maldives Dreamy Video #GiliLankanfushi #BestMaldivesResort #Maldives
The World's Best Hotel : Gili Lankanfushi Maldives #GiliLankanfushi #BestMaldivesResort #Maldives


All Villas offer a large open-air living room with daybeds and dining area, a Rooftop sun deck with daybed and dining facilities, an Over-water sun deck with sun loungers and an Open-air private bathroom with separate glass walled shower area.
The master bedroom fitted with a super King Size Bed large bed totally opens onto the ocean.
These Villas are the Ultimate Dream for Crusoe's in Love.
EXPLORE MORE – Resort Full Review



Beach Pool Villa. Anantara Kihavah Villas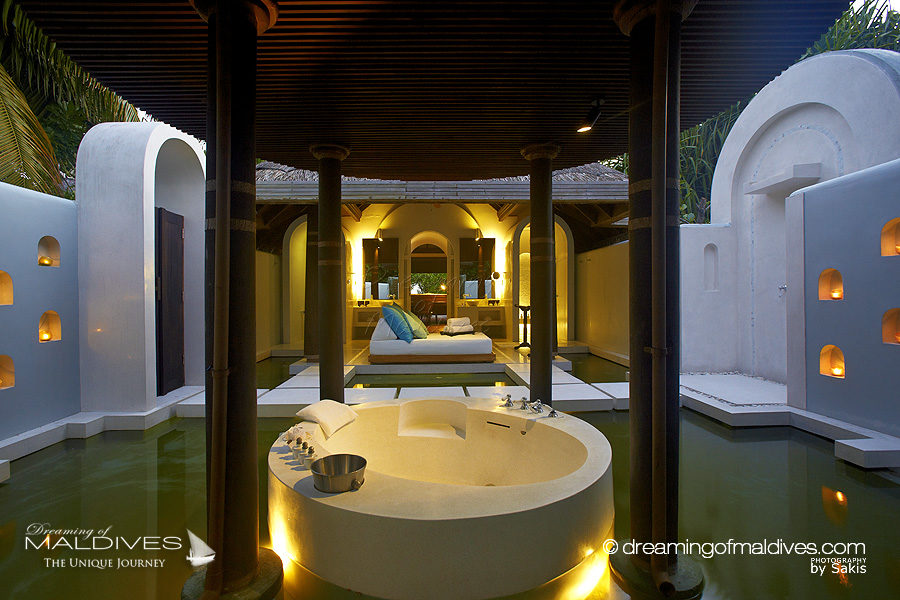 The Beach Pool Villas at Anantara Kihavah are some the most hidden place of this Honeymooner's Villa personal list.
We absolutely felt in love with this Beach Villa during our stay.
Apart from their superb design and extreme privacy, their bathroom has stunned us.
Our Video of Anantara Kihavah Maldives
Anantara Kihavah Villas Maldives The Resort Most Beautiful Places #AnantaraKihavah #Maldives #Bestof


read more about Anantara Kihavah Villas
Invitation to endless fantasies, the bathroom is a first choice in my list of The Most Extraordinary Hotel Bathrooms We've Seen In Maldives.
Each Beach villa has its own sandy garden, hidden from the world by a thick vegetation with a direct access and view and its private beach.
The villas offers a very large space and delightful furniture inspired from Asia and Maldives and a great range of amenities.
Built with extreme privacy in mind, their location and style make it one of my favorite Maldives beach Villa for Lovers and Honeymooners.
EXPLORE MORE – Resort Full Review



Water Pool Villa. Milaidhoo
Facing the Sunset or the sunrise, the sumptuous Water pool Villas at Milaidhoo are one of the most elegant Villa we saw for a lover holiday in Maldives.
The Water Pool Villas offer 245sqm of space and big opening on the wide lagoon. Located on the sunset side they offer the perfect place for both swimming and access the beautiful snorkeling spots of the Island.
The inside is almost entirely open on the large deck featured with a beautiful lounge gazebo and 42sqm LED light Pool.
Our Video of Milaidhoo Maldives Sandbank
Stunning Drone Footage of Milaidhoo Sandbank. A Dream Video for Honeymooners #MilaidhooMaldives


The bathroom is open onto the Sunset and offer unobstructed horizon views.
Milaidhoo Resort is clearly made for lovers, all special moments are solely crafted for Honeymooners.
The resort is, in my opinion, one best luxury honeymoon hotel that the Maldives ever saw.
Milaidhoo is all about you and…LOVE .
EXPLORE MORE – Resort Full Review



Wonderful Beach Oasis . W Maldives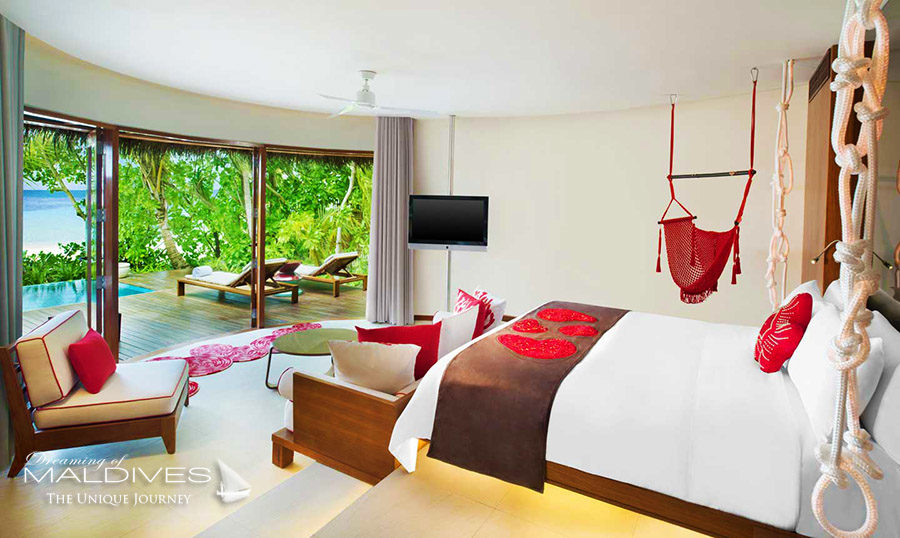 The Wonderful Beach Oasis at W Maldives are Heaven for Lovebird.
Completely hidden in the beautiful island vegetation with a direct beach access, the Wonderful Beach Oasis offer 2 levels.
On the outside, at the lower level, a spacious 118 sq deck includes a plunge pool and a circular daybed nestled within complete privacy.
Our Video of W Maldives
W Maldives Video. An Extraordinary Luxury Resort. #WMaldives #BestSnorkelingMaldives #WHotels


Upstairs, a shaded deck with lagoon view features a swing daybed, a fridge and a BBQ area beckon for private evenings.
On the inside, opened on the private deck, the master bedroom features stylish furniture and cool Design items inspired by corals. The red and white color combination provides a great contrast and a bright interior.
read more about W Maldives Design

W Maldives Retreat interiors feature a superb design called Let It Glow. The shine in the…
The surprising glowing rope lamp conceived by Paris-based designer Christian Haas and the beautiful hand knotted red ceiling hammock give this beach villa a special atmosphere.
In the back of the villa, an open-air bathroom offers a complete set of accessories, a standalone bathtub and a rainforest shower.

EXPLORE MORE – Resort Full Review

Wind Villa – OZEN at Maadhoo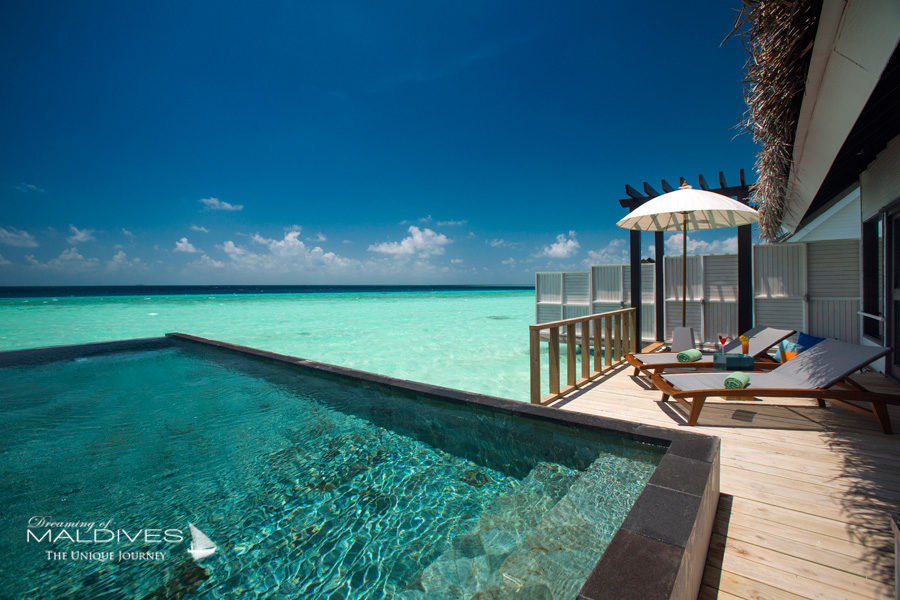 Offering the utmost privacy on the island, the Wind Villas at OZEN offer big bright living spaces, vivid colours and elegant designed interiors.
Totally private, they ensure unobstructed views on the horizon and empty surroundings.
On the inside, a large master bedroom elegantly decorated and fitted with a King Size Bed offering direct views on the deck and the Island lagoon.
The bathroom is beautifully conceived with a stand-alone ellipse-shaped bathtub facing an uninterrupted view of the horizon for delightfully sensual moments.
read more about OZEN Life at Maadhoo

Here are our new photos of the superb OZEN Life Maadhoo, Maldives most luxurious…
On the outside, protected from the rest, the deck opens onto an infinity pool.
OZEN at Maadhoo is a Luxury 5***** Premium ALL INCLUSIVE resort. Champagne is available all day long and the In-Villa Mini Bar is stocked Twice Daily with soft drinks, wines, beers knickknacks and more.
EXPLORE MORE – Resort Full Review



Water Villa With Pool – Baros Maldives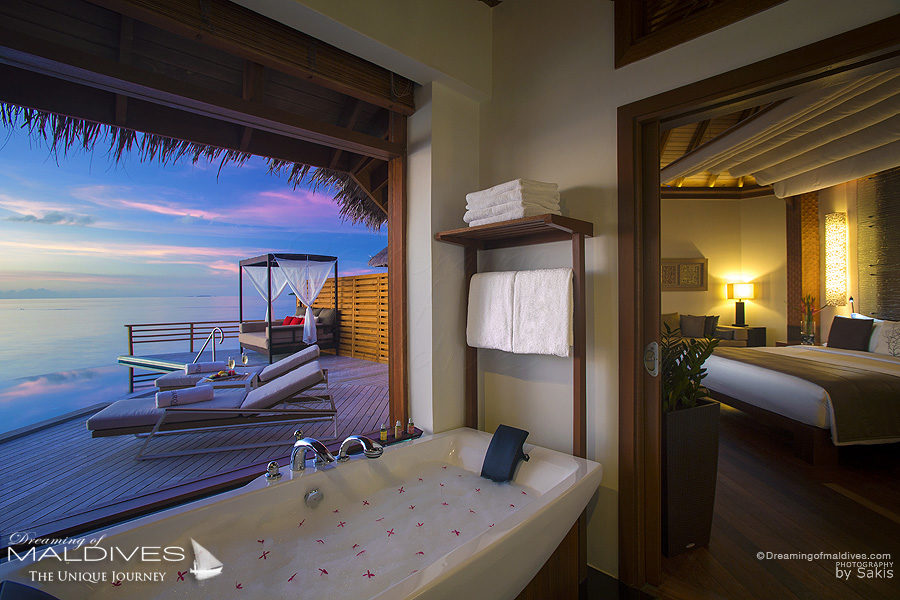 Each Water Villa with Pool at Baros Maldives is intimately exclusive and perfect for Lovers searching for a cocoon.
Absolutely Romantic and blessed with a great lagoon view, this sexy water villa has an exquisitely furnished interior with a King-size bed and a lofty canopy, a sumptuous bathroom opened on the villa deck with views over the lagoon.
Our Video of Baros Maldives
Baros Maldives Full Video. A Romantic Maldives Resort for Snorkeling Lovers. #BarosMaldives


The master bedroom is interlinked with the villas outside private deck and the bathroom.
Some Water Villas are directly facing the Sunset. Perfect with champagne and music provided by the BOSE surround system for Lovers inspiration.
EXPLORE MORE – Resort Full Review



Deluxe Beach Pool Villa – Velaa Private Island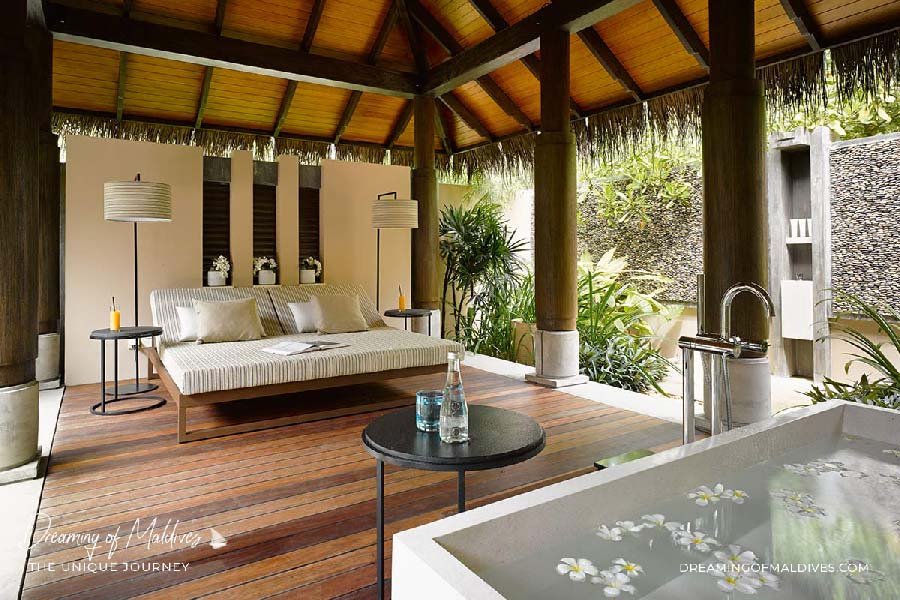 Velaa Private Island super private one-bedroom beach front villa is hidden from the rest of the Island in an impressive private garden.
Featuring a large separate living area, a spacious master bedroom opened on a private deck with a private pool, the Deluxe Beach Pool Villa at Velaa also boasts a strikingly sexy bathroom.

read more about Velaa Private Island
Welcome to Velaa Private Island, one of Maldives most exclusive Luxury Hotel. The elegant…
On the inside, natural materials, smooth colours, refined furniture, space and comfort with a suspended chair adding an element of playful refinement.
On the outside, facing the sea, a large garden in the middle of the island vegetation, surrounded by fine white sandy grounds with a private pool and direct access to the lagoon. The alfresco dining area by the pool is a fine place to finish the day during the sunset.
EXPLORE MORE – Resort Full Review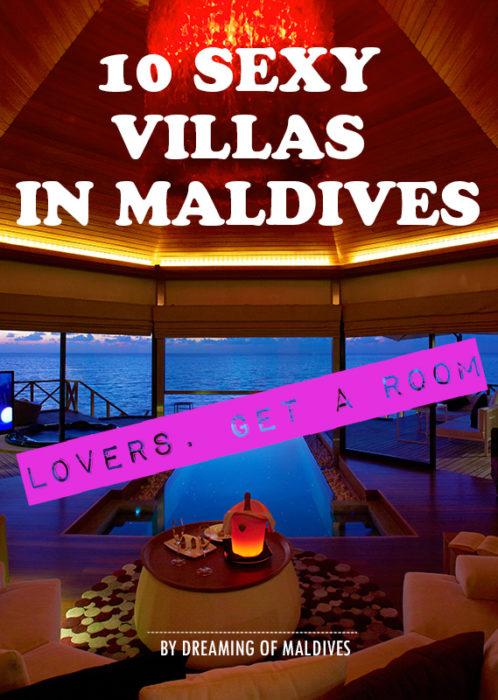 Are you Inspired ?
PIN THE DREAM
Follow us on Facebook, Youtube and Instagram
for more Maldives Dreams
Your TOP Best Maldives Resorts 2023
YOUR CHOICE. YOUR DREAM. YOUR VOICE
[ Official ]
Traveler's Choice
12th Edition