The Maldives have an incredible concentration of Amazing Places. Nowhere else in the world than in Maldives, you will see and experience such a concentration of fantasy, Art and creativity in Hotels.
Don't forget that we are on tiny tropical Islands lost in the middle of the Indian Ocean.
The Maldives have an incredible concentration of amazing places.
A Ice Skating rink on a Maldives beach, a sky observatory perched over the lagoon, a Tree house shaped like a giant Manta Ray, a luxury bubble tent on the beach, these Incredible places, and more, are all concentrated in one single ( and small ) destination : the Maldives.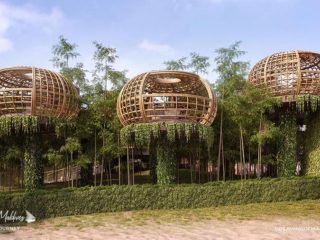 I've always been fascinated by the immense creativity that Hotel Brands bring to the Maldives. They make Dreams a Reality.
Looking back at the list, it was obvious that these resorts were in quest for the best ideas, the most breathtaking concept that would make the buzz and attract curious and exigent travelers like bees around a super honey cake.
If you follow my blog, you've surely seen that a plethora of new resorts have opened in the Maldives since then.
Far away from Bora Bora, Seychelles, Dubai or Mauritius, the Maldives host the Best Luxury Resorts in the world and have become one of the hottest holiday spots for Elites.
Luxury Brands have all open their private islands in Maldives : Cheval Blanc, Fairmont, Waldorf, Baglioni, One&Only, St Regis among others. Each of these super Luxury resorts wants to break through the medias, become really remarkable.
Resort Concept designers continuously race to bring out something never seen before, something magical that needs to be a Must See.
Along the years, this hot and extraordinary reputation has pushed Hotels brands to bring Luxury to another level. In 2019, Maldives Resorts are more than ever in need to make the difference. The need to stand out of the crowd and create something extraordinary as never been so crucial.
There are many amazing resorts in the Maldives and each one wants to be on everyone's bucket list
However, in the Maldives, where all landscapes beat one another in matter of beauty, it's not that easy, even with a big budget.
The competition is hard and many luxury Resorts and private Luxury Islands have already broken the news with their incredible settings.
How to make the difference ? How to catch attention and make a break through ?
Amazing villas, exquisite gastronomy and top services are not enough to achieve this goal.
At least, not anymore.
Before 2016, my 10 Amazing Places in Maldives list surely made you Dream.
After all, who wouldn't have ?
This hammock set in the middle of a blue sea was unreal or this real swing for 2 installed in the water was so cool, and how to react at the view of this extraordinary giant waterslide leading down to the lagoon,… all these places were incredible. Unique and never seen before.
But super-rich travelers expectations are high. They need something extraordinary, new and rare. The new and unseen has quickly become common.
On the top of it, these incredible places inspired many other resorts.
In a short time lagoon water slides, swings and hammocks have been installed in many resorts.
The wow factor is gone. A kind of Déjà -Vu.
I, personally -and thankfully, still find these places amazing and most of the Maldives travelers do as well, but they don't amaze and amuse ( anymore ) elites and VIP's.
This is why today, resorts have pushed the boundaries much further.

I closely follow Maldives Resort news and I have seen many new places, far more incredible than my previously listed ones.
It went bigger, more incredible and eventually more difficult to be copied.
Today luxury resorts want to make the difference, create something refined, expensive and absolutely unique.
Resort Key Objectives
Create the Sensation . Provoke the Wow Factor . Become Wanted . Be on people's Bucket List
To satisfy their exigent guests and make the difference, Hotel Brands have asked their Designers for new concepts, more creativity and uniqueness.
Innovation and astonishment are the keys.

I can't resist sharing these new amazing concepts with you again.
You will see incredible, unthinkable concepts.
Maldives resorts now feature Art like at Joali Maldives, who positions itself as one of the first and only art immersive hotel in the Maldives, amazing architectures like the Terra restaurant at Waldorf Astoria Ithaafushi, a Beach Bubble Luxury Room at Finolhu or even the most unexpected activity in the Maldives like Ice skating at Jumeirah Vittaveli.
Here is the ultimate list of the 10 Most Incredible Places in Maldives in 2019.
The Ice Skating Pavilion at Jumeirah Vittaveli
The Beach Bubble Tent at Finolhu Maldives
Terra Restaurant at Waldorf Astoria Ithaafushi
The Water Villa Retractable Roofs at Soneva Jani
The longest Infinity Pool in Maldives at Fairmont Sirru Fen Fushi
Ba'theli Restaurant at Milaidhoo
Sky Observatory at Anantara Kihavah Maldives
The Spa Iridium at St Regis Vommuli Maldives
The UFO shaped floating Bar at Kandima Maldives
The Manta Ray shaped Tree house at Joali Maldives
The Coralarium at Fairmont Maldives Sirru fen Fushi ( recently destroyed )
The Ice Skating Rink Pavilion at Jumeirah Vittaveli
The eco-friendly ice skating rink at Jumeirah Vittaveli, called Ice Ice Maybe, is of course a world first to Maldives
Opened in 2017, the 87 square meters ice skating beach pavilion offers plenty of space for pirouettes and small ice hockey games as well as lagoon views.
The first ice rink in Maldives was inaugurated by a Russian celebrity performance, Evgeni Plushenko, a former Olympic Gold medalist figure skater.
Ice Ice Maybe skating rink has been manufactured using Glice, a novel material from Switzerland that allows for eco-friendly ice rinks, eliminating the need to keep the ice rink cold.
How much does it cost to ice skate in Maldives ? ( I never thought I would one day write this question )
This tropical ice skating fantasy costs US$ 75 per person for 2 hours which includes rental of equipment, an ice cream sundae and a host of giveaways and souvenirs.
All following entries cost US$ 50 and include gear and an ice cream sundae. The ice rink is open for all ages, children below 8 years of age will need to be accompanied by a parent or guardian.
You can daily ice skate from 12 – 6pm.
The Ice Skating Rink at Jumeirah Vittaveli – Photo Gallery
click to enlarge
The retractable roof in Soneva Jani Water Villas

Soneva Jani retractable roof system is installed on all water villas.
You love to observe starry nights ? Look no further !
At Soneva Jani you can now stargaze right from the cozy comfort of your own bed.
The (ever) so amazing Soneva Jani Resort has brought (again) an incredible and new concept to the Maldives : A retractable roof right above the villa master bedroom in each of their 24 water villas for stargazing.
The retractable roof is remotely controlled from your bedside table and opens right onto the sky above. Raining ? Don't worry ! The sliding roof system has sensors to detect rain and automatically close.
Soneva Jani Water Villa Retractable Roof – Photo Gallery
click to enlarge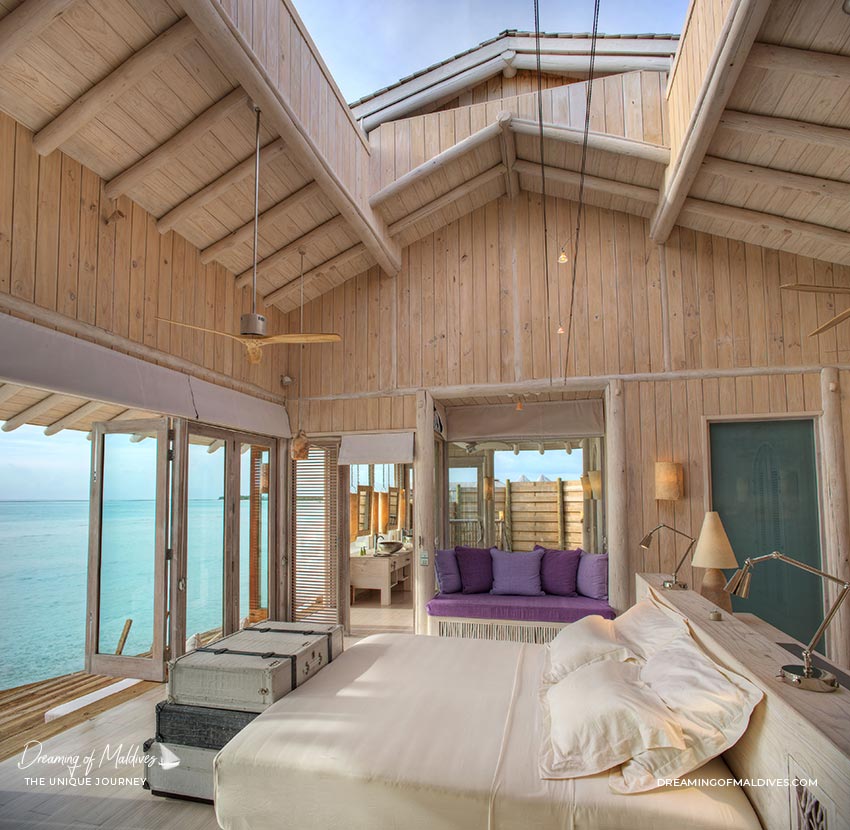 The Beach Bubble Tent at Finolhu Maldives
Looking like a human sized snow globe, The Beach Bubble Tent at Finolhu Maldives opened in 2018 and is the first of its kind in the Maldives.
The incredible Bubble Hotel Room is set on a beautiful beach and located far away from the rest of the resort activities and life on a secluded part of the island.
Finolhu Beach Bubble Tent is a bubble-shaped, transparent, inflatable tent that encloses a luxurious hotel room with wooden floor and a double bed featuring the finest bed linen and and elegant velvet lounge chair.
The experience is completed by an incredible view on the stars while listening to music.
An adjacent bubble features the bathroom, which is accessible via a zipper door from the central bubble.
As one can imagine, the bubble is air-conditioned and even has WiFi.
How much costs The Beach Bubble Tent at Finolhu Maldives ?
The Finolhu Beach Bubble experience costs US$990 per couple per night from Sunset to Sunrise and includes a private beach barbecue and breakfast.
The Beach Bubble Tent at Finolhu Maldives – Photo Gallery
click to enlarge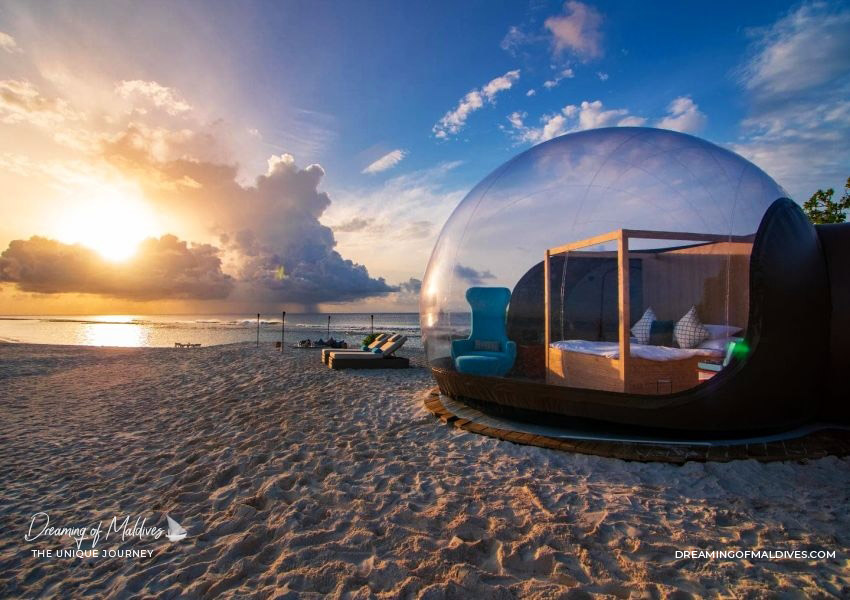 Terra Treetop Restaurant at Waldorf Astoria Ithaafushi
Opened in 2019, the new Waldorf Astoria Ithaafushi has made a big impression with its incredible TERRA Treetop Restaurant.
The 7 treetops bamboo nests are located inside the island jungle, facing the beach shores, and offer unrivalled views on the Ocean due to their high elevation. Reaching 6 meters heights, Terra Restaurant is the highest point on the island.
This designer dream is divided into a series of platforms with vast island views, cat-walk entrance and semi-private dining cocoons hidden within the dense bamboo forest.
Treetops restaurants and villas are not new in the Maldives, but Terra outpasses any designer dreams as well as food lovers exigences.
The restaurant features the world's finest ingredients, such as Miyazake Wagyu Beef and Alba White Truffle, complemented by an extensive collection of premium wines and the resort's signature Krug Champagne handpicked by the first Maldives' Krug Ambassador.
Terra Treetop Restaurant at Waldorf Astoria Ithaafushi – Photo Gallery
click to enlarge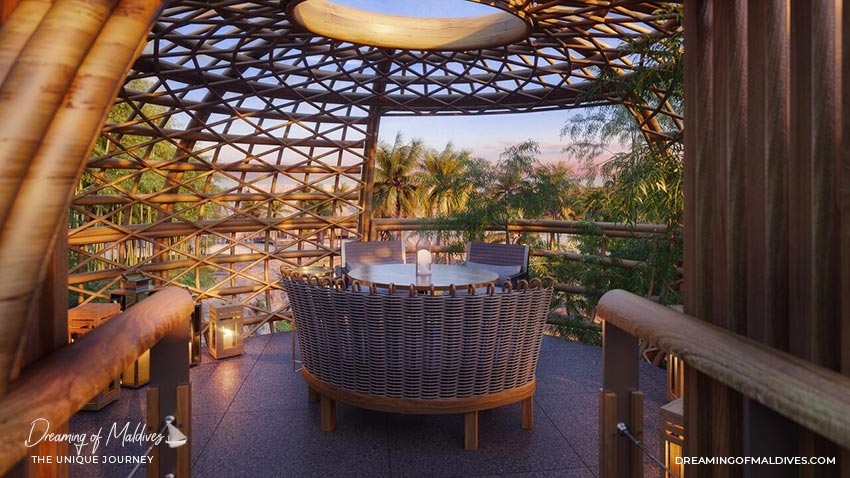 The Coralarium at Fairmont Maldives Sirru fen Fushi
Probably the most incredible place of this list is the Coralarium at Fairmont Maldives Sirru Fen Fushi
Created by renowned underwater naturalist and artist Jason Decaires Taylor, the incredible Coralarium is (*) was a semi-submerged art gallery filled with nearly 30 sculptures.
Weighting 200 tons and standing in the middle of the resort lagoon, the Coralarium opened in July 2018 and was announced as the world's first semi-submerged art gallery, opened as a Museum to snorkelers and dedicated to act as a habitat for coral and other marine species.
The eerie gigantic cube, made from pH-neutral marine steel to reflect the sky and lagoon colors, took 9 months to be installed. The Coralarium had walls cut in organic marine forms, to allow underwater creatures to explore and settle inside and around it.
The sculptures themselves are were inspired from hybrid forms, mixing human, plants and coral shapes.
Inside, the sculptures are were scattered across three levels :
– At the top, sitting on the roof, were black human figures reaching for the sky.
– Inside the gallery, other sculptures, appearing or disappearing according to the tides.
– Underwater, constantly and totally submerged, other sculptures.
Both the middle and underwater levels are were colonized by marine creatures. Dead coral was used to ornate some of them.
The Coralarium. Video by Artist Jason Decaires Taylor.
UPDATE on the Coralarium. / Total Destruction.
(*)The Coralarium is not anymore. It was unfortunately destroyed by Maldivian Government Officials MNDF on 2018 September 21st, on the orders of Maldives previous President Abdulla Yameen.
The Coralarium, destined to be a beautiful homage of contemporary environmental art to our oceans, was judged by the Maldives Supreme Court as an outrage to Islam for its sculptures considered as idols of worship of other religions, which is strictly prohibited in Islam and in Maldives.
The announcement on the Coralarium Facebook page stated
"The Maldivian Government ordered to destroy the Coralarium at Fairmont Maldives, a globally relevant art work by Jason deCaires Taylor, world famous environmental artist.
On 21 September 2018 the entire artwork was destroyed by MNDF Military, Police and Law Enforcement with pick axes… "
"..It was decided by the current President to demolish the entire artwork to "maintain the five pillars of Islam†since the sculptures were considered as idols of worship of other religions … "
This act of destruction was a huge misunderstanding and ignorance of Art. The Coralarium was a place of preservation, conservation and education.
Sculptures were not idols, just humans, plants and corals. Nobody was worshipping them, there were just home to marine species to develop. A place to be visited like a Museum by snorkelers and an incredible artistic representation of nature condition.
Nothing more. Nothing less.
The Coralarium – Photo Gallery. Photos Jason DeCaires Taylor
click to enlarge
The longest Infinity Pool in Maldives at Fairmont Sirru Fen Fushi
Built as the starting point of an invisible path leading to the Coralarium is the longest Maldives Infinity Pool at Fairmont Sirru Fen Fushi.
The 200 meters ( 650 feet ) long swimming pool stretches from one side of the island to the other. The incredible pool is also one of the island's best spots to watch Sunset.
Fairmont Sirru Fen Fushi Infinity Pool – Photo Gallery.
click to enlarge
Ba'theli Restaurant at Milaidhoo
Milaidhoo Ba'theli Floating Lounge & Restaurant consists of 3 Maldivian Dhonis all linked to each by small bridges.
Borned from the dream of Milaidhoo's Maldivian owner, Ba'theli opened at the end of 2016. Located over the lagoon with its bows facing the Sunset, Ba'theli restaurant and lounge Dhonis are docked to the island by 2 elegant jetties.
Ba'thelis's unique and beautiful design is based on the shape of Dhonis, the beautiful Maldives Traditional Boats. The boat exact reproduction is an incredible place to be for a Romantic Maldives Dinner or a Drink.
Ba'theli is one of finest gastronomic restaurant in the Maldives with culinary dishes inspired by the spice route where Maldives were standing 5000 years ago.
Island influenced menu of locally inspired and sourced dishes are served by a team of creative Top Chefs.
At Ba'theli, fine dishes are created and based on the epicurean delights of the old Spice Routes using only the finest ingredients, blending herbs and spices to enhance natural flavours.
Guests dine on the deck of the restaurant where, underneath starry night skies
There's also indoor seating in air-conditioned comfort where you can watch the sea-life below through glass floors. Expect to find seafood and traditional local flavours intelligently reinterpreted for the 21st century.
Ba'theli Restaurant is open for dinner daily from 19.00 to 22.30.
Ba'theli Lounge is open from sunset until late.
Bathe'li Restaurant and Lounge at Milaidhoo – Photo Gallery
click to enlarge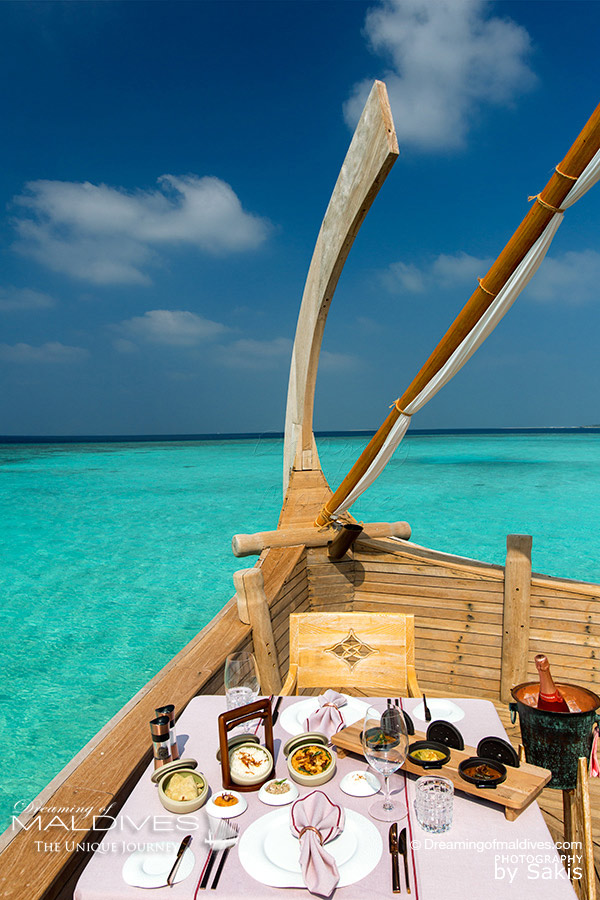 The Overwater Sky Observatory at Anantara Kihavah Maldives
SKY is the Maldives' only overwater and biggest star observatory.
SKY is located at Anantara Kihavah Villas Maldives, already known for its gorgeous underwater restaurant.
The incredible observatory was opened in 2018 and replaced SKY lounge bar, which was already beautiful.
The rooftop observatory consists of a circular bar that stands as the centrepiece and a custom-built ash-dome observatory sitting on the roof deck of the all structure.
The first and only overwater observatory in the Maldives ( Soneva Fushi offers a sky observatory too, but inland ) combines a cocktail bar and Maldives largest telescope : a research-grade 16″" Meade LX200 telescope mounted on a super-giant field tripod, remote controlled with a 360″ movement.
Anantara's proposes star gazing experiences lead by sky guru and resort resident Maldivian astronomer Ali Shameem (who previously worked with astronomer Dr. Massimo Tarenghi who headed the ALMA observatory in Chile).
Guest astronomers will be able to view the Milky Way Omega Centauri or Messier 13, a globular cluster of over 300,000 stars in the constellation of Hercules.
How much costs a stargazing session at SKY Observatory ?
Stargazing comes in various flavors.
1 hour will cost you USD$95 per person, each Mondays, Thursdays and Saturdays at 7pm, including a glass of champagne.
– Couples can also book private stargazing sessions for USD$250 per pair, including a full bottle of champagne. – Anantara Kihavah also proposes as special Honeymoon Stargazing option, for the cost of USD$450 per couple. Just like at Milaidhoo, brides and grooms can name a star after their betrothed.
SKY Overwater Observatory Video by Anantara Kihavah
The Overwater Sky Observatory at Anantara Kihavah Maldives – Photo Gallery
click to enlarge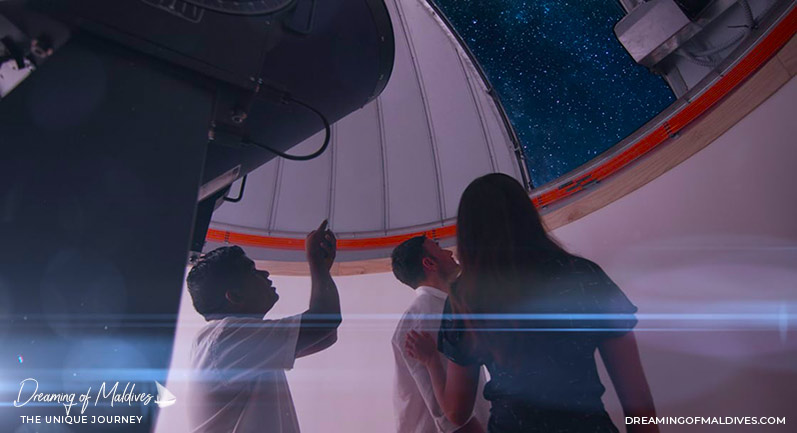 The Spa Iridium at St Regis Vommuli Maldives
The incredible IRIDIUM spa stands overwater at St Regis Vommuli Maldives.
Open in 2017, the impressive 1,850-square-meter spa looks like a lobster from the sky.
At its end, overlooking an endless horizon, Iridium Spa boasts the largest hydrotherapy sea water pool in the Maldives, the expansive Blue Hole Pool, which can accommodate up to 12 persons.
The overwater luxury spa features typical Maldivian thatch roofs on the outside and cutting-edge design fitted with plush furnishings on the inside.
Iridium Spa at St Regis Maldives features single treatment rooms and couple's treatment suites as well as two Ayurvedic suites with private steam rooms, several saunas and cold-drench showers.
At the menu, guests can enjoy Balinese and Thai massages, body treatments, skin care, nail services and treatments designed specifically for men.
An array of yoga and wellness classes are also available.
Iridium Spa at St Regis Vommuli Maldives – Photo Gallery
click to enlarge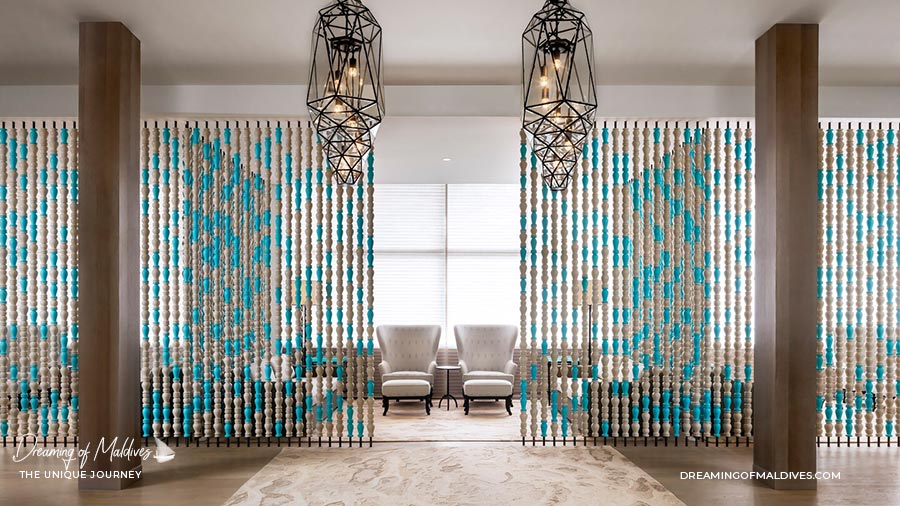 The UFO shaped floating Bar at Kandima Maldives Beach Club
Open in 2017, this UFO shaped floating bar is part of the Kool Beach Club at Kandima Maldives.
The 2 overwater platforms are located on the southern tip of Kandima island resort and separately linked to the beach by a wooden jetty.
Designed in a perfect rounded shape, each floating platform, white and blue colored, serves as a chill place during the day and as party & drinking lounge place at night.
Fitted with rounded benches and big blue pillows the incredible UFO floating bar is perfect for a relaxing time during the day.
At night, meanwhile the DJ plays on the beach, it becomes a strange bright blue disk with its blue lights reflecting in the lagoon, just like it was almost ready to take off.
The UFO shaped floating Bar at Kandima Maldives – Photo Gallery
click to enlarge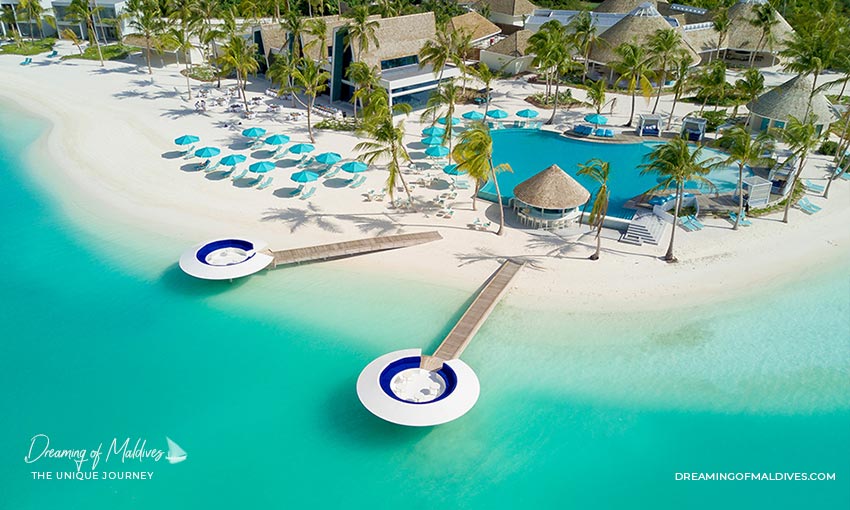 The Manta Ray shaped Tree House at Joali Maldives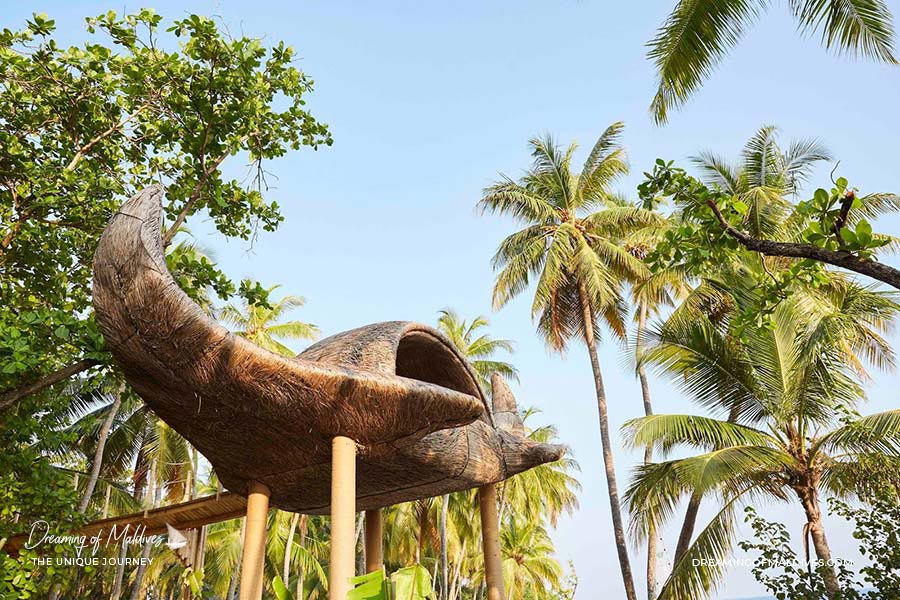 True piece of Art of this list, The Manta Ray Tree House at Joali Maldives was designed by Porky Hefer.
Located in the island jungle and facing the resort beach, the Manta Ray tree House stands at 5 meters high and has a wingspan of almost 15 meters.
The 50m tail of the manta is a suspended walkway used as a suspended jetty to lead guests up to the body which can seat up to 10 people.
The incredible Tree House is one of the several Art creation designed by Porky Hefer VERNACULAR ARCHITECTURE & DESIGN, one of South Africa most awarded creative designer.
Inspired by the huge Manta Rays which are found all over the Maldives, the tree House is installed as a Art Master piece amongst the many pieces * featured at Joali Maldives.
The Manta Ray Tree House is built with a steel structure on the inside and surrounded by wood and local palm.
Perched in the air, inside the Manta Ray body, guests can enjoy a relaxing time with views on the lagoon, comfortably laying on big pillows or enjoy a Gourmet Signature menu at Sunset.
*About Joali Maldives Art permanent Exhibition : JOALI Maldives is surrounded by interactive and experiential eco-inspired artistic pieces that incorporate the island surrounding nature.
Discover more Object and Installations at JOALI Maldives
More about Porky Hefer Animal Art Design and Creations
The Manta Ray shaped Tree House at Joali Maldives – Photo Gallery
Don't miss
More Amazing Places in Maldives
Follow us on Facebook, Youtube and Instagram
for more Maldives Dreams & Stories