This is the Ultimate and most complete Guide for a Family Holiday in Maldives. Since 2007, we've stayed in more than 20 resorts with our son. I share here with you our most memorable experiences and information you may need to help you find your dream resort for you and your family in the beautiful Maldives.
ENJOY !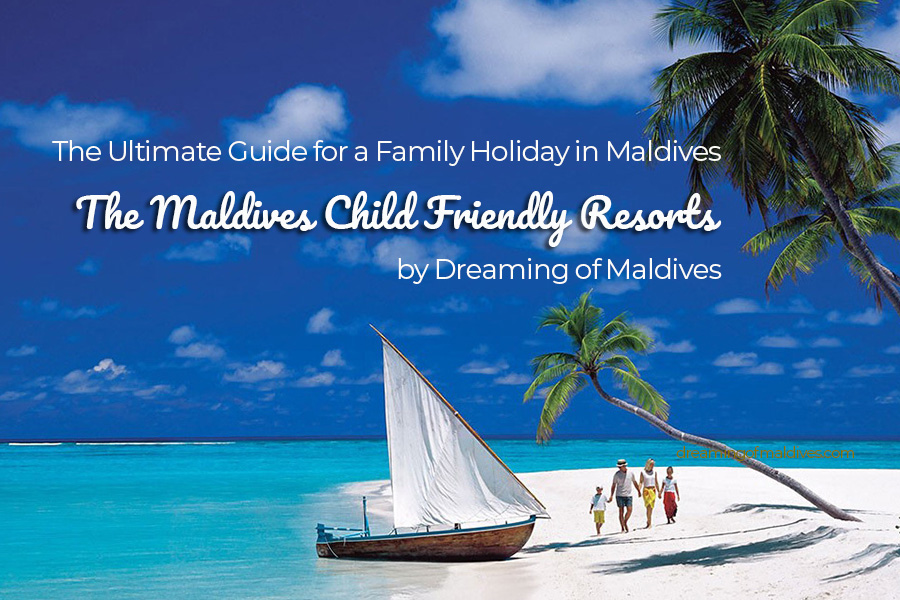 Are you Dreaming of Family Holiday in Maldives ?
YOU'RE AT THE VERY RIGHT PLACE !
La Version Française est ici !
The Ultimate Guide for a Family Holiday in Maldives
PART 1. INTRO. The story.
( The part 2 is now separated in another post )

Our son has always come to the Maldives with us since he was 2,5 years old .
He is now a teenager...
I've put you some photos from my personal album at the end of the second part of this article.
They are simple yet great moments of happiness we had along the years with our "little one".
Remark : You can now discover all the featured Family friendly Resorts here. I had to create a separate article dedicated to the resorts and their Kids Clubs.
This year, besides the usual kids club programs and activities, I've also added more photos of the listed resorts, some kids menus, photos of family Villas and everything I estimated important to chose the best resort for you and your family.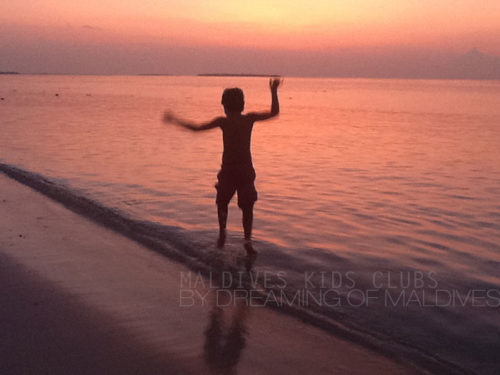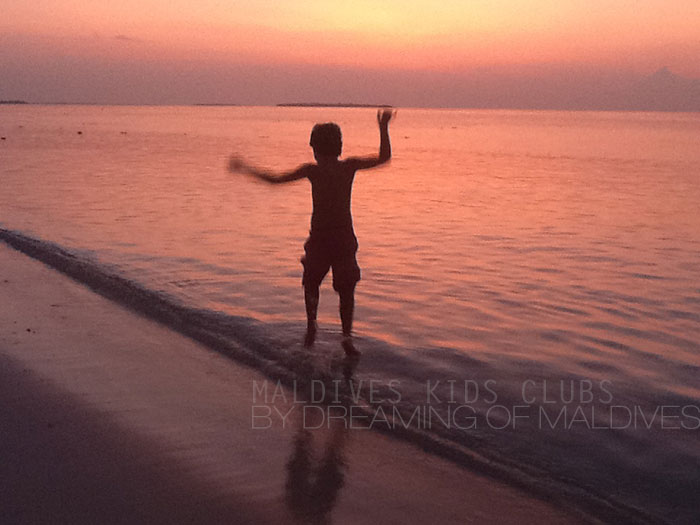 You will find in this essential list the following Resorts :
. Update . May 2020

This post was getting too long after so many years.
You can now discover all the featured
Family friendly Resorts here
Kandima
OZEN at Maadhoo

Centara Grand Resort
Sun Aqua Vilu Reef
Six Senses Laamu
Atmosphere Kanifushi Maldives
Sheraton Full Moon | Kuramathi
Shangri-La's Villingili
Lily Beach Resort and Spa 
The Sun Siyam Iru Fushi Maldives 
Dusit Thani Maldives
Soneva Fushi
Four Seasons Kuda Huraa
Four Seasons Landaa Giraavaru
One & Only Reethi Rah
…the list constantly evolves
Photos & Souvenirs of our various stays…
I've added some more photos from my personal album at the end of the second part of this article 🙂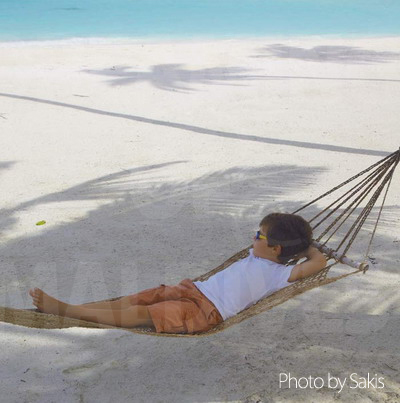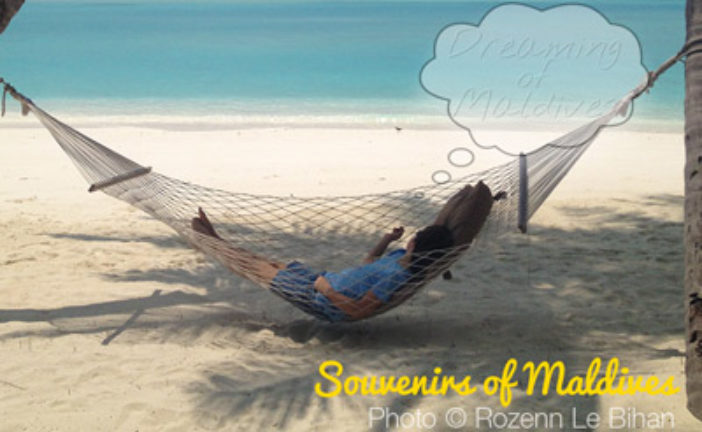 Here is Everything You Need To Know for a Family Holiday in Maldives.
It all started in 2007, here on Dreaming of Maldives…
….
I was receiving a lot of requests from parents asking where to stay with children in Maldives…and what are the (most) child-friendly Resorts.
So, instead of answering individually, I thought it would be a good idea ( for me and for you 🙂 ) to give you on Dreaming of Maldives blog an updated list of all the child-friendly Resorts of the archipelago.
I wish to say, before sharing the "Graal" with you, that we have visited many of them, but most important, that our son who stayed many months with us in Maldives since he was 2,5 years old has been pampered and entertained in most of them.
We keep on discovering new Kids Clubs each time !
______________________________
Which Resort should you choose with your children and according to your budget ?
Important note to our readers: Choosing the perfect holidays is a very personal affair.
I am dedicated to helping you find the best Maldives resort for you and your children, but I am not able to present you a list of resorts as everything depends first on your budget, you and your personal requirements ( apart from the kids club of course )
Here is how I can help you :
I suggest you to first submit our list online or to your favorite travel agent and see where and when you could stay with your budget.
– Be aware that some agents and/or websites have different prices, so do not hesitate to compare.
– Once you've got a first "selection", come back to me via the comments and I will guide you to make it really perfect. This said, enjoy !
If you are an independent traveller and wish to organise your family trip by yourself, you will find some Selected Maldives Family Holiday Packages.
______________________________
Parents, read carefully what follows as today I will guide you through an idyllic journey into the romantic but still family-friendly Maldives !
After all, isn't it a Dream ?
Kids Clubs in Maldives ? Wait, no too fast. It deserves a bit of history first…
There was a time, not so long ago, when we use to go to the Maldives with no children…at all….
The destination was far to be family-friendly for various reasons : the absolute Romantic atmosphere, the strong Equatorial Sun, the distance from Europe, but the main one was the complete lack of activities ( excepted for snorkeling ) for the little ones.
The structures and leisure choice of the Maldives resorts were dissuading most of us to travel with our children, leaving us with an exciting feeling of real intimacy but sometimes tainted with bitterness and nostalgia.
The perfect balance
For years, Maldives Resorts have received many unsolvable requests from their guests who wanted more than a Baby sitting – a service that was not always available, outrageously expensive or had to be booked days in advance -.
As traveller's exigencies were continuously increasing, Resort Managements had to face an inevitable challenge : combine and maintain the tranquillity, the intimacy and the Romanticism of the Resort with the presence of children.
The challenge was not that easy, considering the legendary concept of the destination.
How to satisfy everybody ?
Honeymooners, couples, families and children themselves ?
How to preserve the Magic ?
The answer lies in a creative and thoughtful idea : to make stylish, fun and surprising Kids-Clubs.

The challenge is nowadays accomplished.
Today, our children can also enjoy the Maldives dream, parents can finally enjoy some romantic holidays and Honeymooners and couples still embrace the complete feeling of being on a private Hideaway.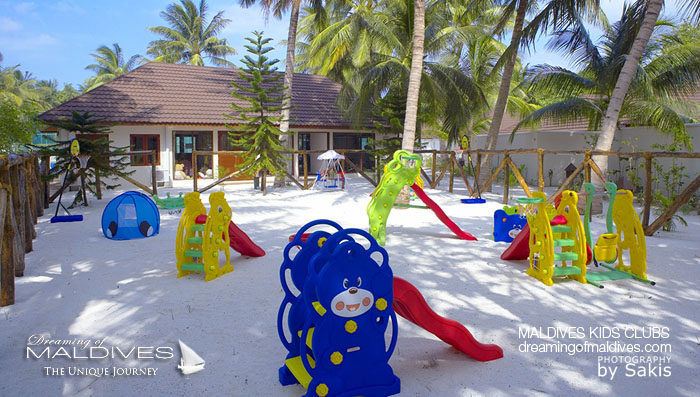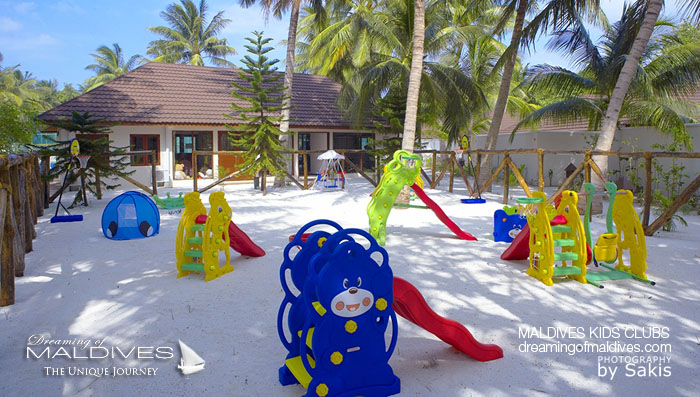 It is important mentioning that even though these kids clubs are magnets to many holidaying parents, none of the resorts will ever look nor feel like a kindergarten.
Kids-clubs and Kids activities are always managed separately and discretely so that they do not interfere with the serenity and ambiance of the island.
The first Kids Club were first introduced by 5 Stars Luxury Resorts, around 2009, which is relatively new for a tourist destination of 40 years !
Luckily, today, many 4 Stars Resorts also provide their guests with this cool service.
Perfect Places for our kids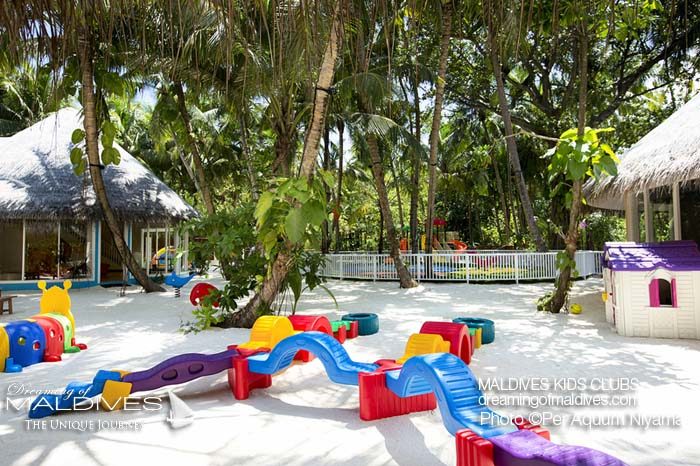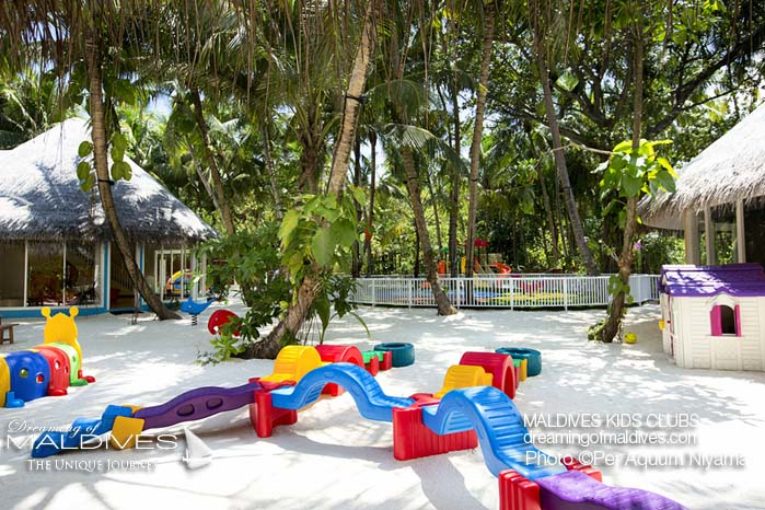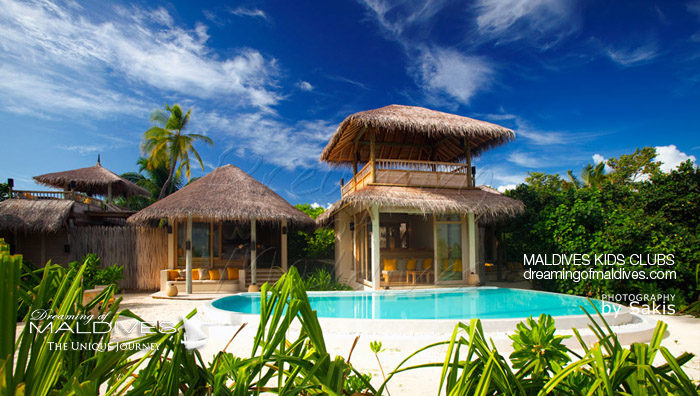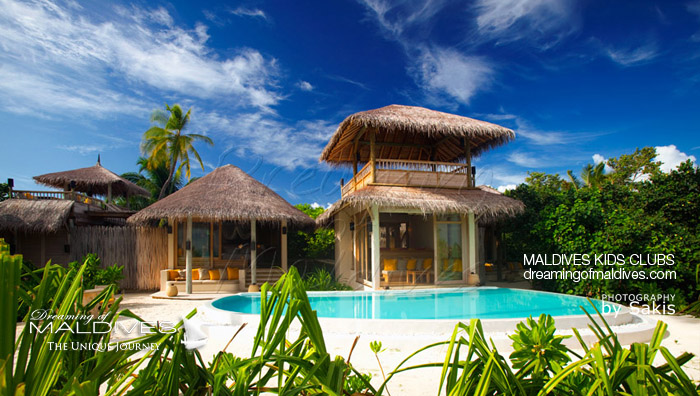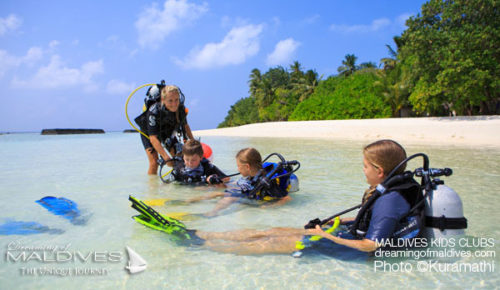 Kids Activities in Maldives
Unlike many kids clubs available around the world, the small structures of the kids clubs of the Maldives Resorts allow your children to have access to extraordinary activities :
The TOP 10 Things To DO that Maldives Kids Clubs have to offer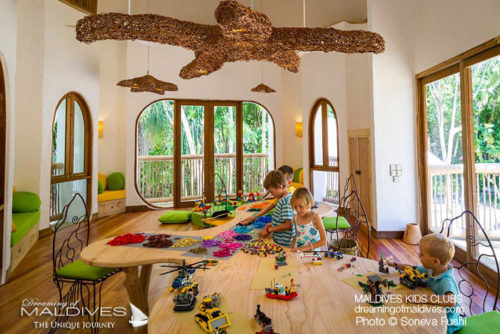 Cooking with a Chef
Being a Marine Biologist
Private excursions on board of dhonis
Learning Maldivian Nature with adventures and discovery of the island in small groups
Learning Maldivian Culture with songs and dances
Art and crafts made from local items (sand,coconuts) to develop children's creativity
Yoga
Spa treatments
Treasure Hunts
Theater
& so much more…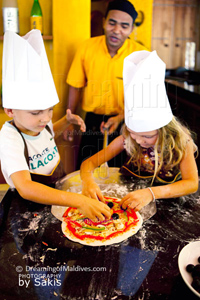 Besides usual kid's activities, kids clubs also offer great fun : treasure hunts, outdoor and indoor sports and games, playgrounds, sand castle building, shell finding, crab races, PlayStations, TV, books, films etc…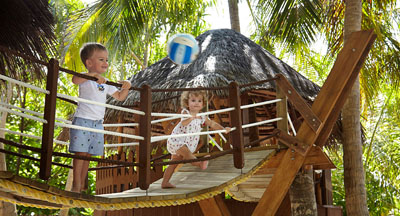 Some Kids-clubs also propose lunches and/ or diners to the children, giving the parents the opportunity for a Tête-à-Tête.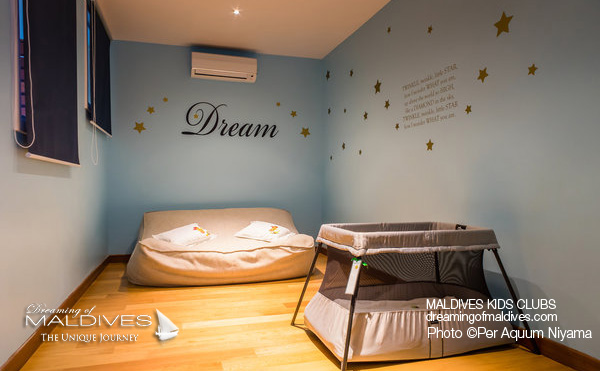 More and more, in a constant search for Guest satisfaction, Resorts keep their Kids-Clubs open until 9.00 pm or even 10.00 pm. How late it can appear, this opportunity can be very useful in case of a night-diving or snorkeling…
The ideal time will be at around 7.00 pm, giving couples the pleasure to enjoy the dreamy Sunset time starting around 6.00 pm.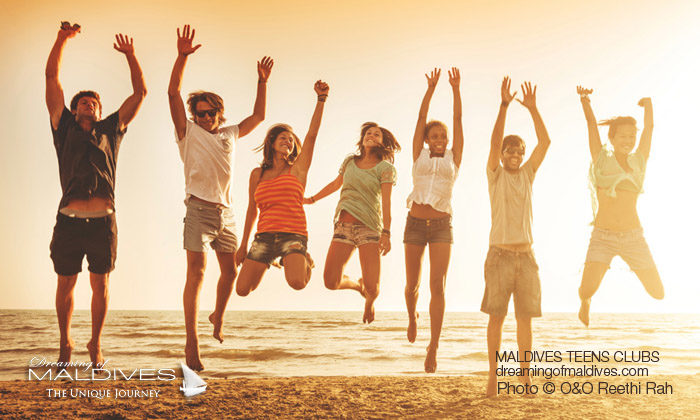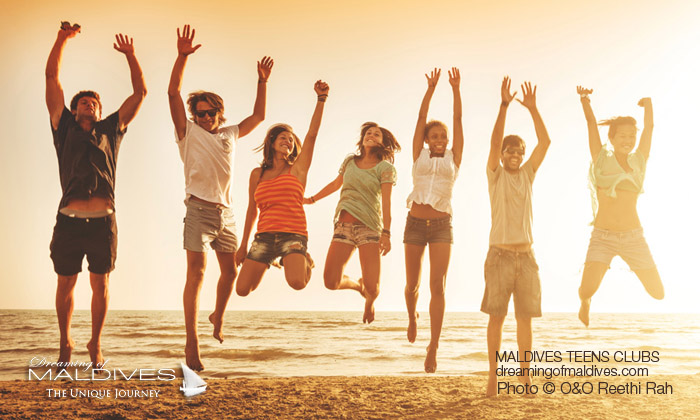 Family Holiday in Maldives The Best Kids Clubs – THE LIST
You can now discover all the featured Family friendly Resorts here
I had to create a separate article for all the Kids Clubs.

Family time. My Personal Photo Album
My Personal Album. 12 years in Maldives in a few photos 🙂
Personal Photos
First A Photo from my personal Album in answer to Emna, Sarah, Prasad, Martha… and to all parents who wish to spend a holiday in Maldives with their little ones… Maldives are great for them too.
Maldives open their mind and awakens their senses. It's also wonderful time to discover Nature.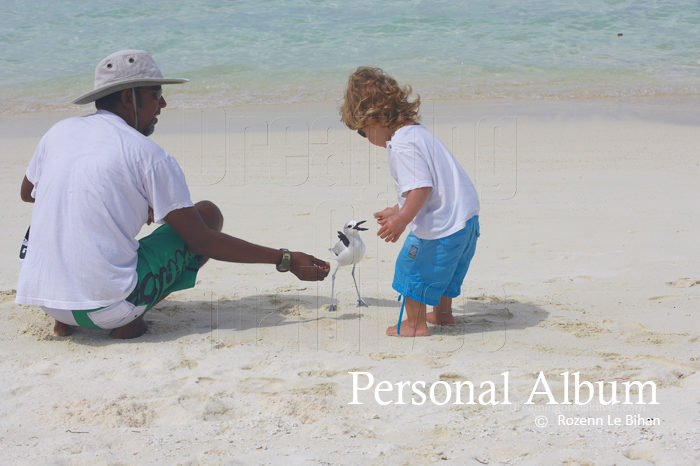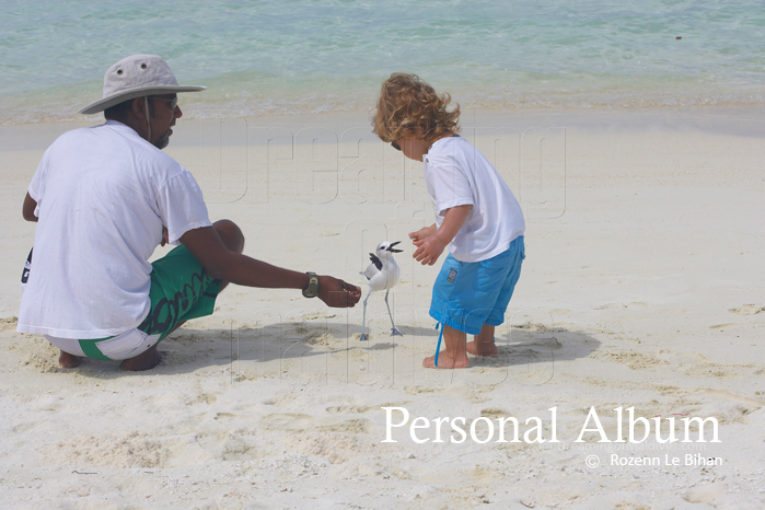 Happiness in Maldives along the years…
These photos were shot during various stays in Maldives. Along the years, our son has learnt to enjoy any moment. From a very special bike ride to cruises on my beloved Dhonis, time is fun, time is unforgettable but always close to nature.
Last note : some resorts do not have Kids Clubs, but they are still a great place to stay with our kids 😉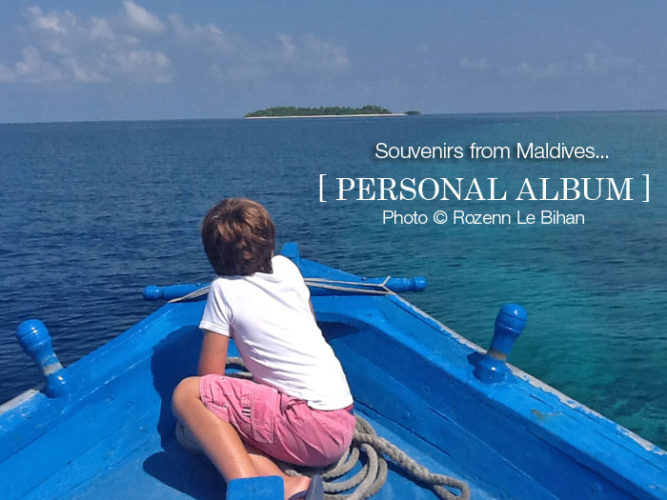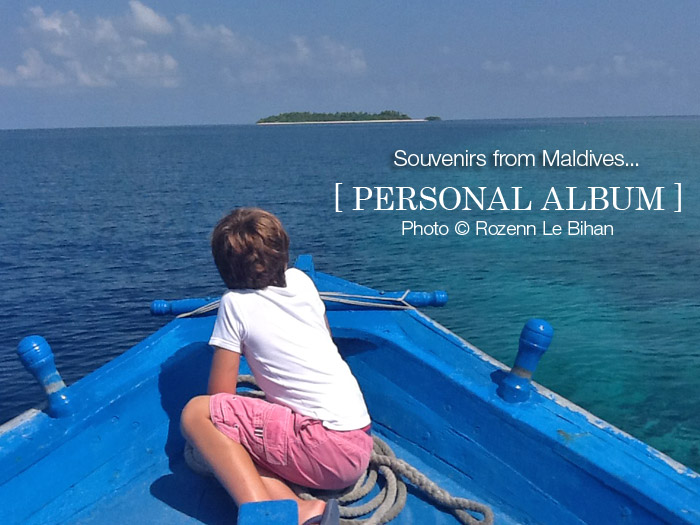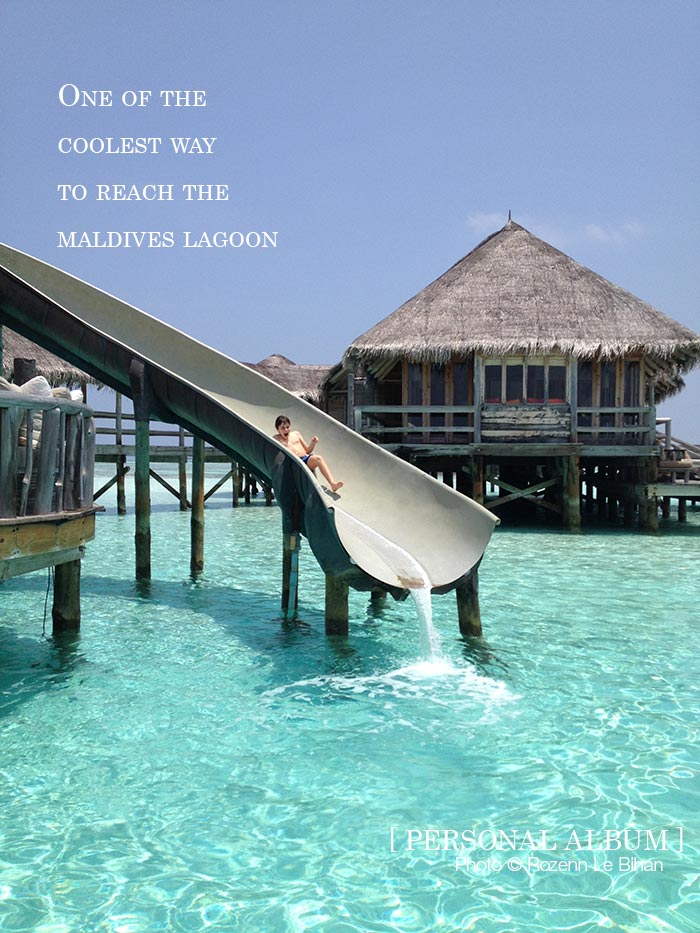 A VERY COOL BIKE RIDE AT GILI LANKANFUSHI MALDIVES ! there is no Kids Club BUT, it's a fantastic resort for kids and family time ! Mr or Mrs friday can take care of your child with many activities like snorkeling, watersports, cooking lessons, sport, spa, marine biology…you name it 🙂

PS : YOU WILL NOTE THE COOKIE IN HIS HAND…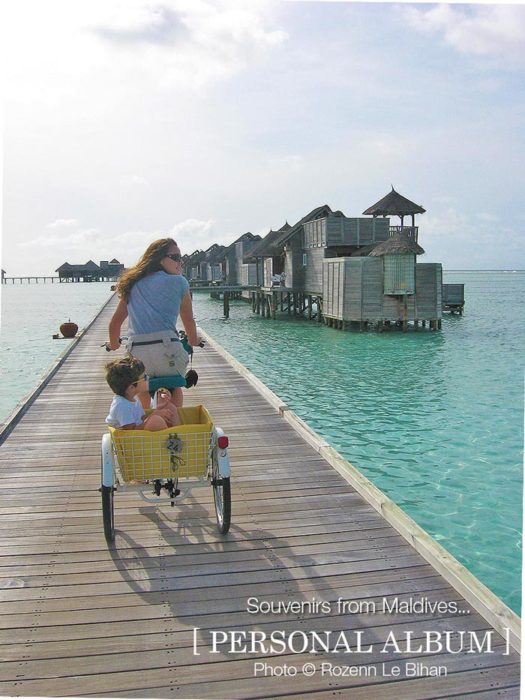 OUR BIKES AT SIX SENSES LAAMU. EACH BIKE HAS OUR INITIALS !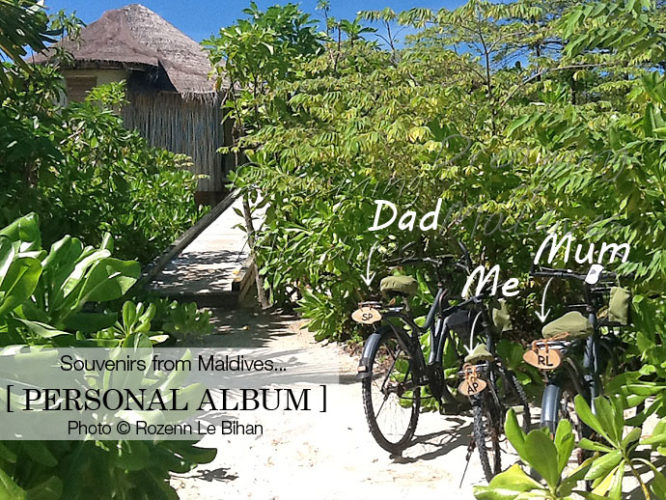 Some resorts provide everything for our kids like bathrobes, shower and beach slippers…
They look super classy !
Here, our son contemplates the Dreamy view from his deck thinking about the busy program that awaits for him at the kids club. Life can be so difficult sometimes …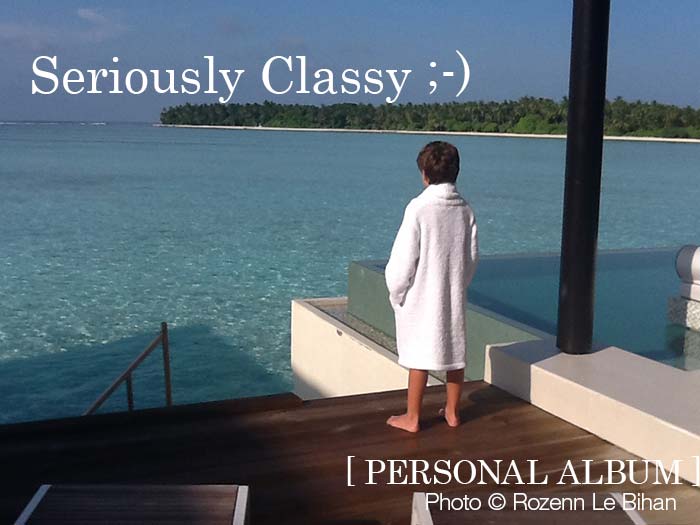 Learning to Dive at 8 years old . Even saw reef sharks ! How cool is that ??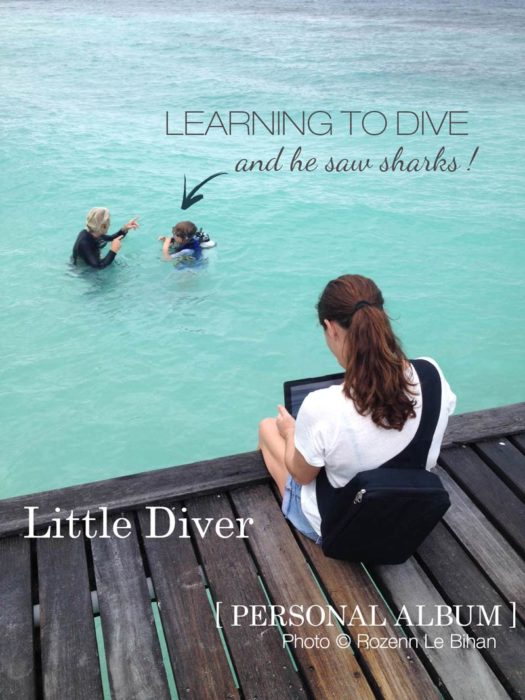 FASCINATED BY SEAPLANES…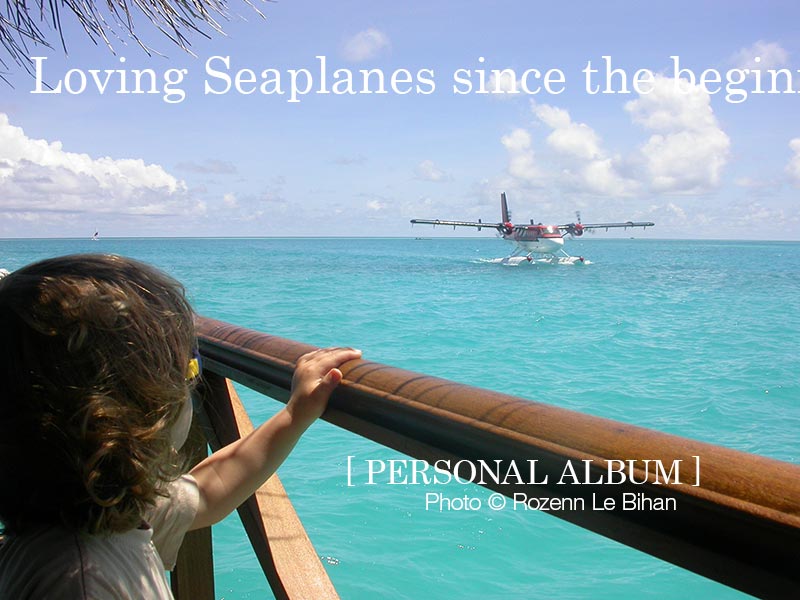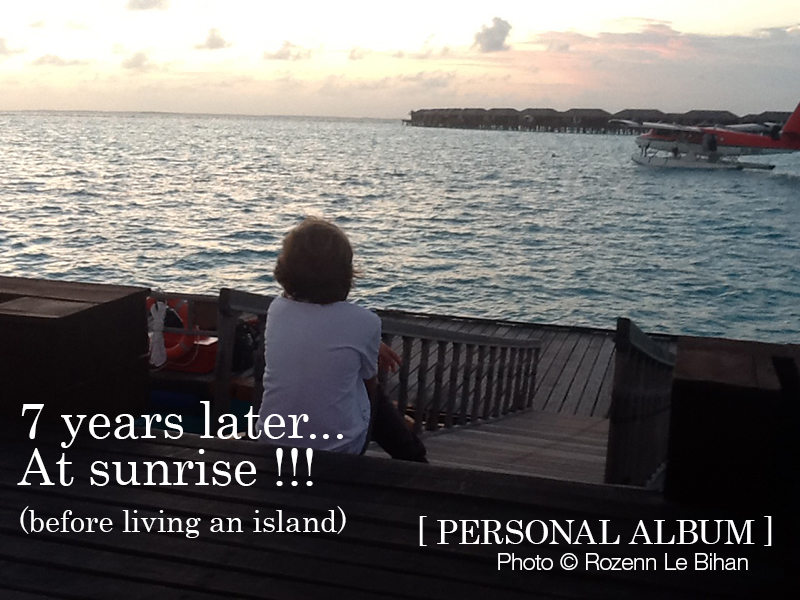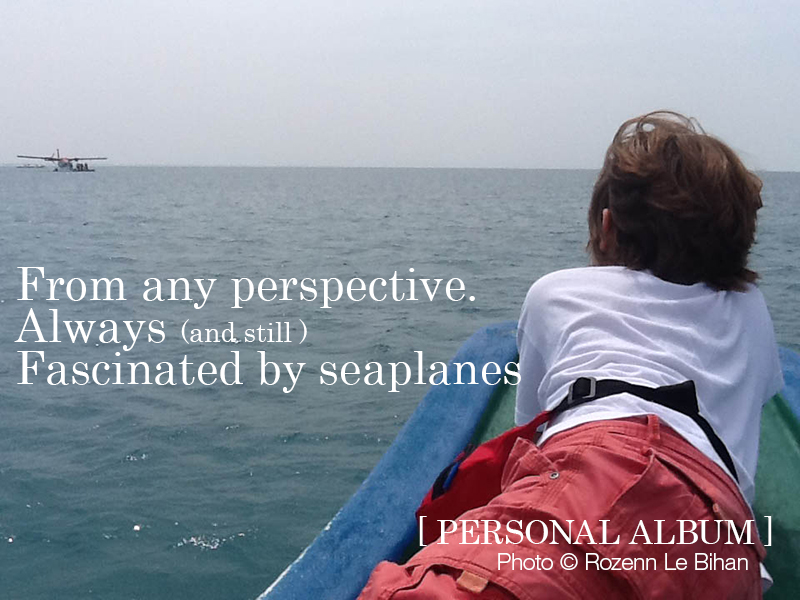 UNTIL ONE DAY…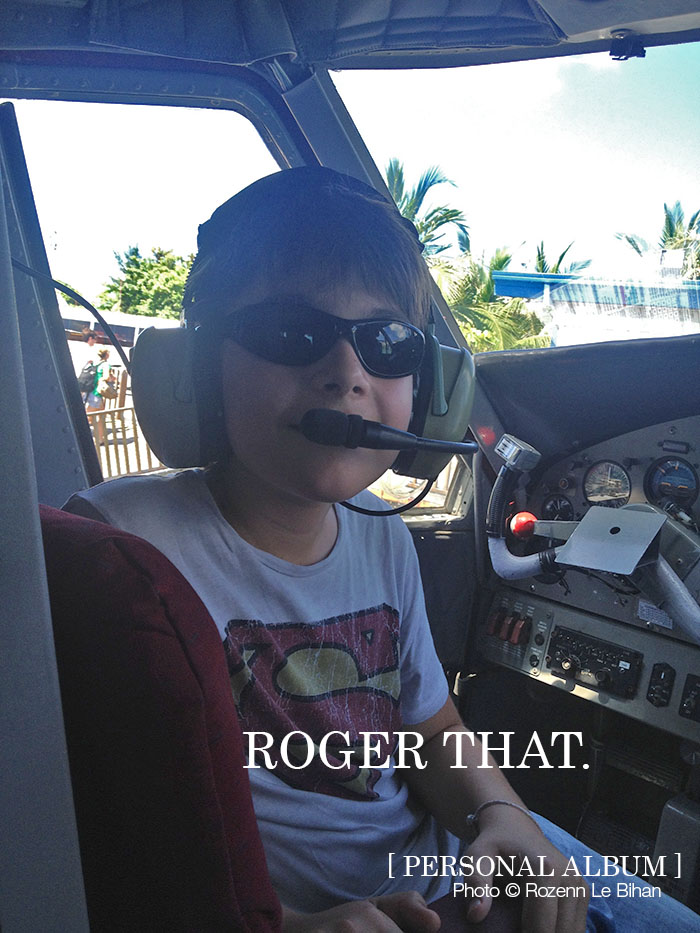 Continue reading
In the second part of this Family Friendly Resorts you will find most of the Maldives Resorts that offer a Kids Club with all essential information.

More and more resorts offer a kids club and facilities for kids.
I've added them hereunder for your reference.
Click on a resort to explore more.
Hideaway Maldives
Kihaad Maldives
Holiday Inn Kandooma
Bandos
Angsana Velavaru
Conrad Maldives Rangali Island
JA Manafaru
Constance Halaveli
Maafushi
Finolhu
Furaveri
Outrigger
Konotta
Loama
Olhuveli
Cocoon
© Dreaming of Maldives 2007 – 2022

Follow us on Facebook, YouTube and Instagram for more Maldives stories.