Who has never dreamt of practicing Yoga in Maldives ?
At Sunset or at Sunrise, on a beach or overwater, the Island Nation is full of idyllic settings to reset our minds and heal our bodies.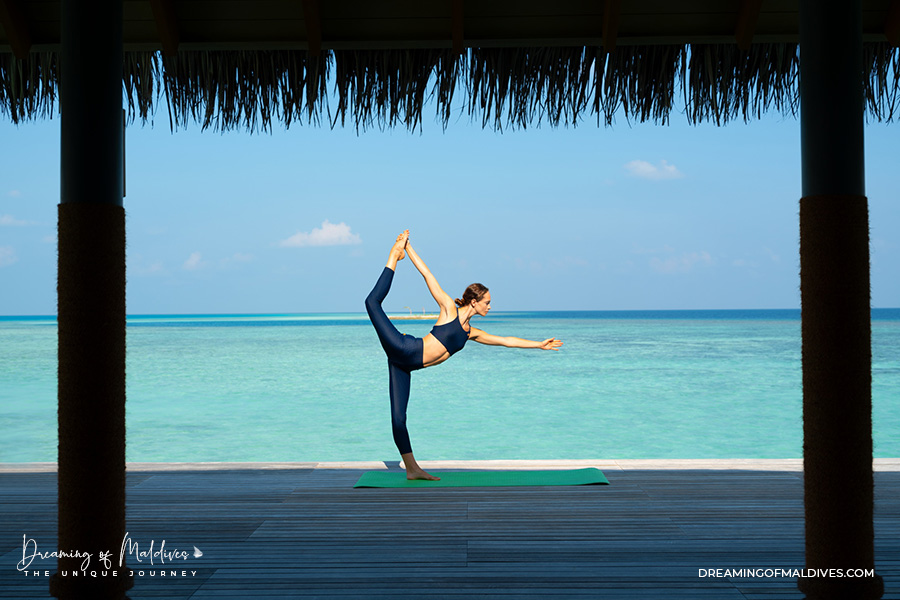 I have selected for you some of the most beautiful places for meditation and yoga in the Maldives to inspire you for your next Maldives Yoga Retreat.
The most beautiful places for yoga in the Maldives. Table of Contents
Show
Breathe and Do Yoga. You're in Maldives
The following Yoga Asanas ( postures ) are done in various Maldives Resorts by world-class resident Yogis who teach all kinds of Yoga like Vinyasa, Hatha, Ashtanga and latterly, aerial Yoga.
Milaidhoo Island
At Milaidhoo, complimentary daily yoga or meditation sessions are proposed at the over-water yoga pavilion. Private lessons are proposed according to your wishes around the island, like here on the resort superb sandbank at Sunset.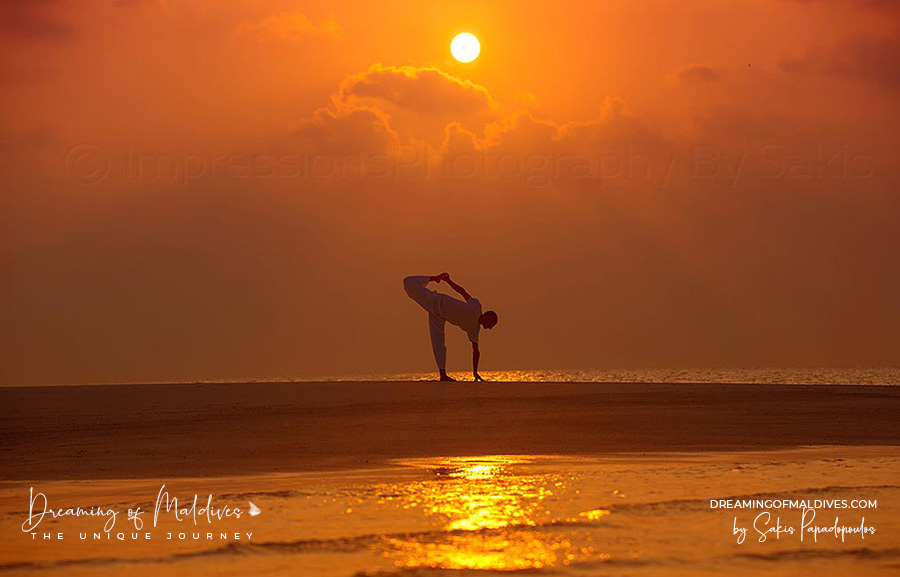 Morning practice at the over-water yoga pavilion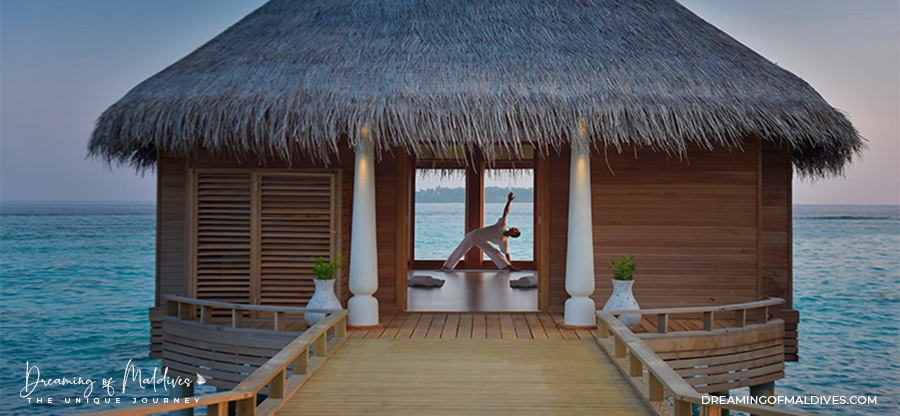 W Maldives
At W Maldives you can practice your asanas or learn your first postures on the beach or in your villa. One of the resort most beautiful remains the Yoga pavilion located at the overwater spa, above the island's coral reefs. Here you can practice yoga and meditation on the advice of experienced yogis mostly from India.
W has one of Maldives most extraordinary Spa location. Discover it here.
The photos of Yoga postures below are taken under one of the Spa tent that serves as a Yoga and meditation pavilion.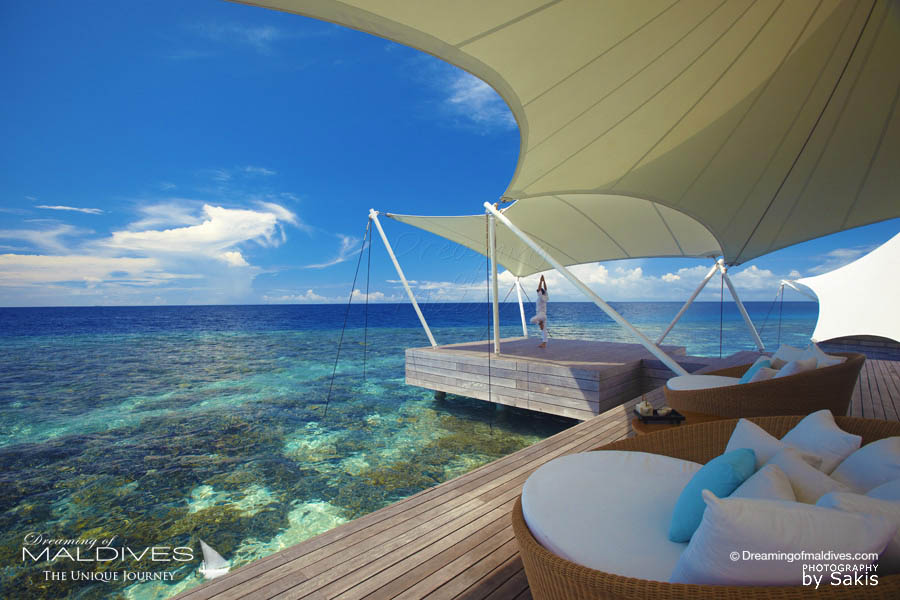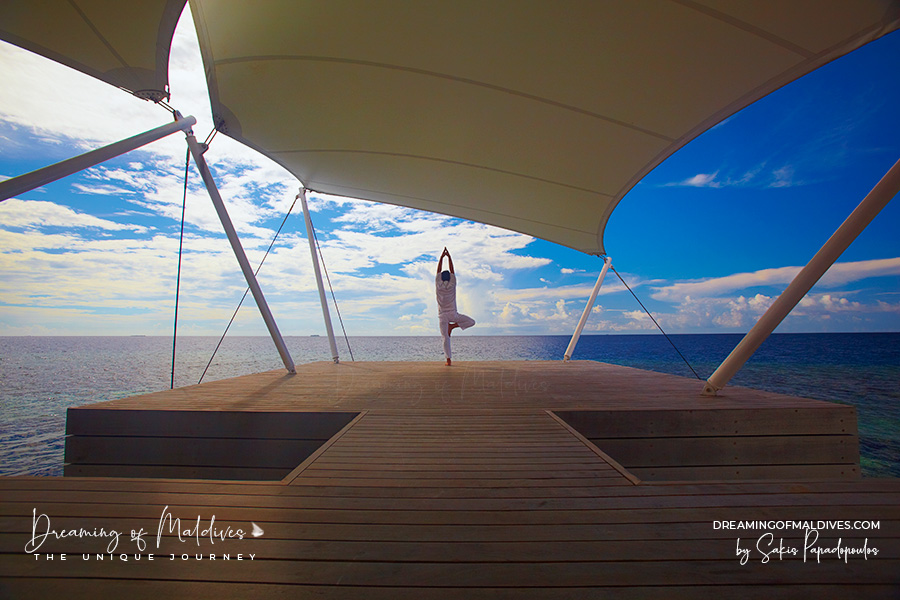 Velassaru maldives
Velassaru Maldives defines itself as a Spa resort where a variety of yogic disciplines are proposed on a daily basis, in group session or in private. This posture executed at the edge of the resort infinity pool is not the regular location for Yoga lessons which are generally given at the spa or on the beach. Complimentary Sunset Yoga classes are given three times a week.
Besides its stunning infinity pool, Velassaru Maldives has also an XXL spa pool. Discover it here.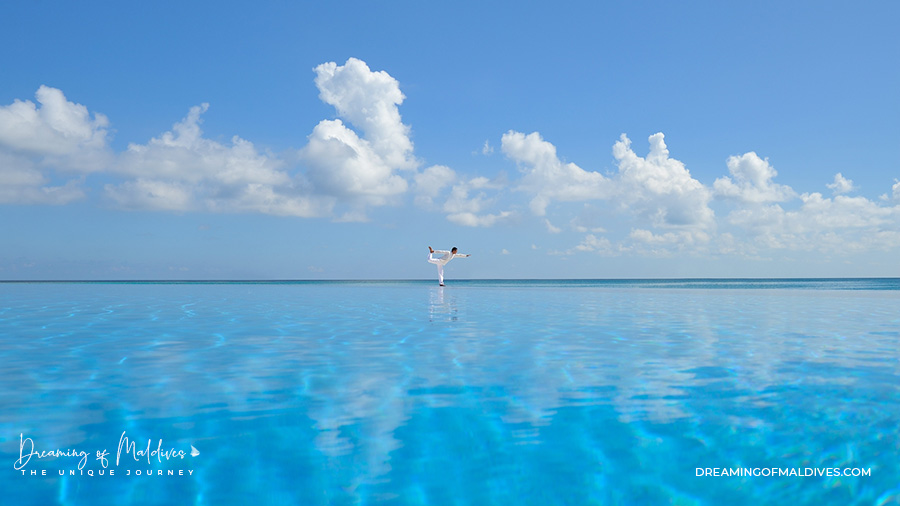 Mövenpick Resort Kuredhivaru
Mövenpick Resort Kuredhivaru offers Sunrise and Sunset Yoga classes in a beautiful overwater sala located at the spa.
Mövenpick Resort Kuredhivaru also features overwater villas with Stunning Lagoon Views. Discover them here.
Kuramathi maldives
At Kuramathi Maldives, some yoga classes are proposed in group for free on one of the island jetties like here on this photo. Private lessons are proposed in your villa, at the spa or on the beach with an extra charge.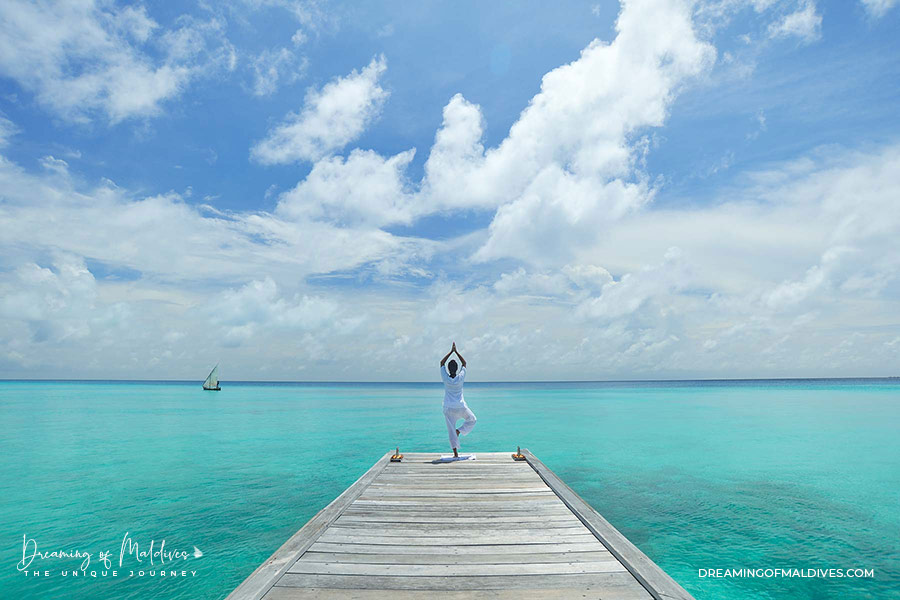 Dhigali Maldives
At Dhigali Maldives, 2 complimentary daily Group Yoga sessions are included in the resort Premium All Inclusive Plan in various locations. Choose to practice at Sunrise or at Sunset like here at Haali bar when the Sun sets at 06.00 pm, a magical time.
Discover our photo gallery of Maldives Sunsets here.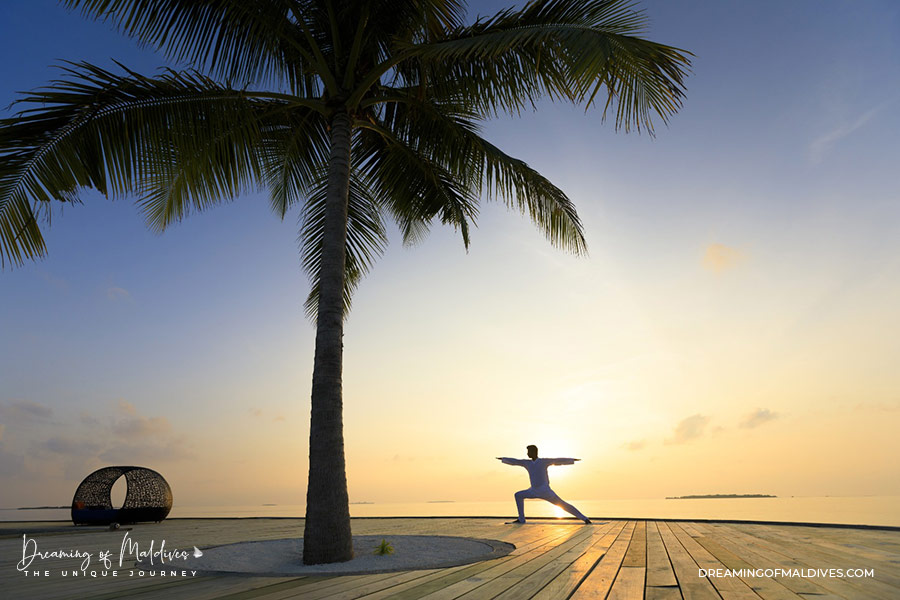 Hideaway maldives
Hideaway Beach Resort & Spa offers private or group yoga and meditation classes. Two of the most beautiful places for a yoga session are undoubtedly the private garden of the beach villas, as here, on this photo and at Sunset on the beach, below.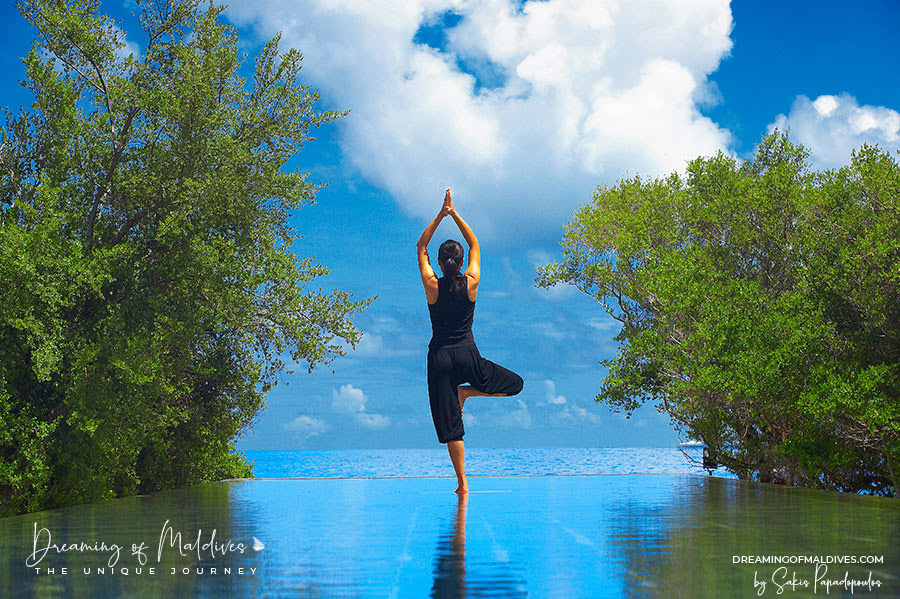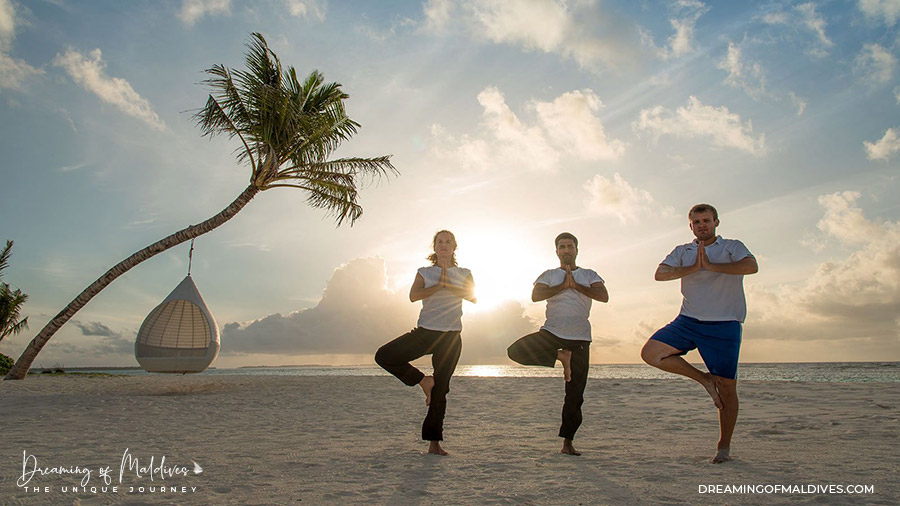 COMO Cocoa Island
At COMO Cocoa Island complimentary group yoga sessions are also conducted five days a week at sunrise on the resort sandbank. Hatha, Vinyasa and introductions to meditation are also given at the Yoga pavilion, or on the island beach. Family Yoga and private lessons are also on the resort program.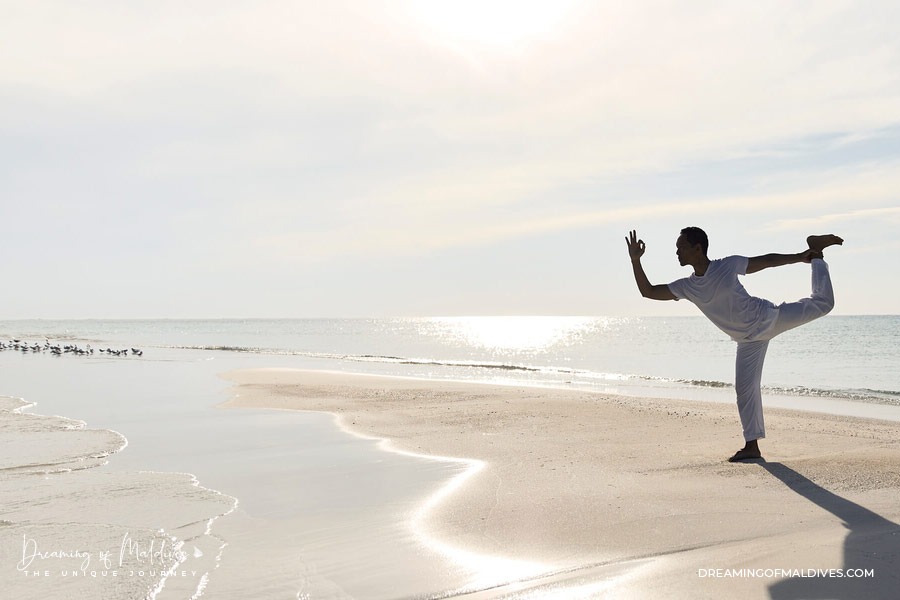 Dreaming of more Places to practice Yoga in Maldives?
You Will Love this
Breath and Practice Yoga at Vakkaru Maldives with the resort newly appointed teacher Anju Rathi. Namaste Dreamers. Vakkaru Maldives just…
JOALI Being is the new and latest Maldives wellness resort which will open late 2021. The immersive wellbeing island retreat is a one of its…
Soneva Fushi in Maldives, will host a long Yoga retreat from December 1, 2021 to May 31, 2022 with several teachings and workshops of Yoga,…
Follow us on Facebook, Youtube and Instagram
for more Maldives Dreams