Today, I decided to show you 10 Amazing Places in Maldives. You know it well by now I always try to make you escape ! It's a kind of tradition here at Dreaming of Maldives.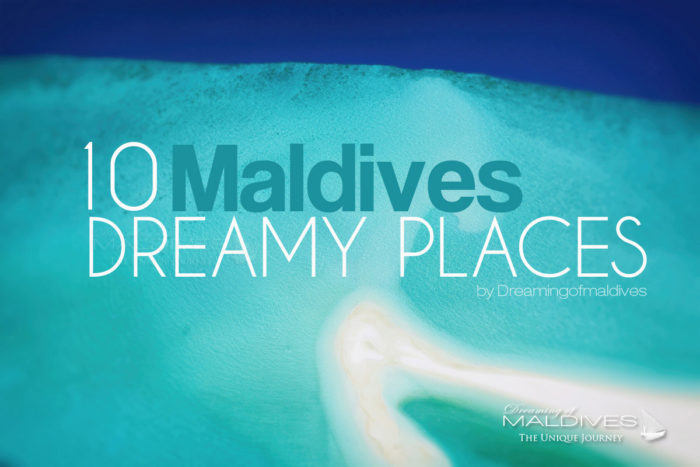 Maldives resorts are always aiming to create amazing Places to make their guests Dream and experience incredible moments.
There are surely many and the list is long, but here, I really wanted to focus on amazing small and big features that some of them have to offer.
Some of these places are simple, others are much more elaborated and challenging to build.
They are Dreams come true, that only Maldives Resorts can offer
10 Amazing & Dreamy Places in Maldives
The Swinging Nest At Coco Prive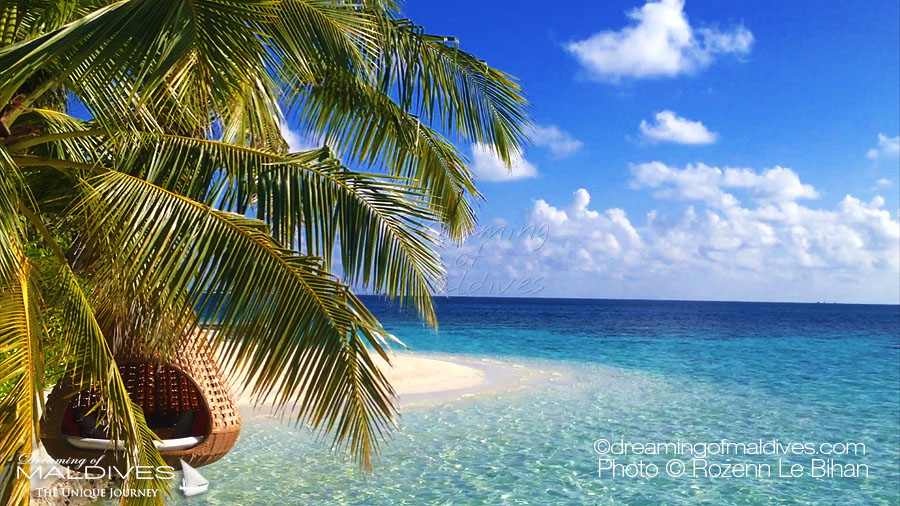 Coco Prive is the Most Exclusive Private Island in The Maldives.
This Swinging Nest, fitted with comfy pillows hangs from a coconut Tree and swings at almost 2 meters above the lagoon.
The Floating Saltwater Pool at Per Aquum Huvafen Fushi LONU VEYO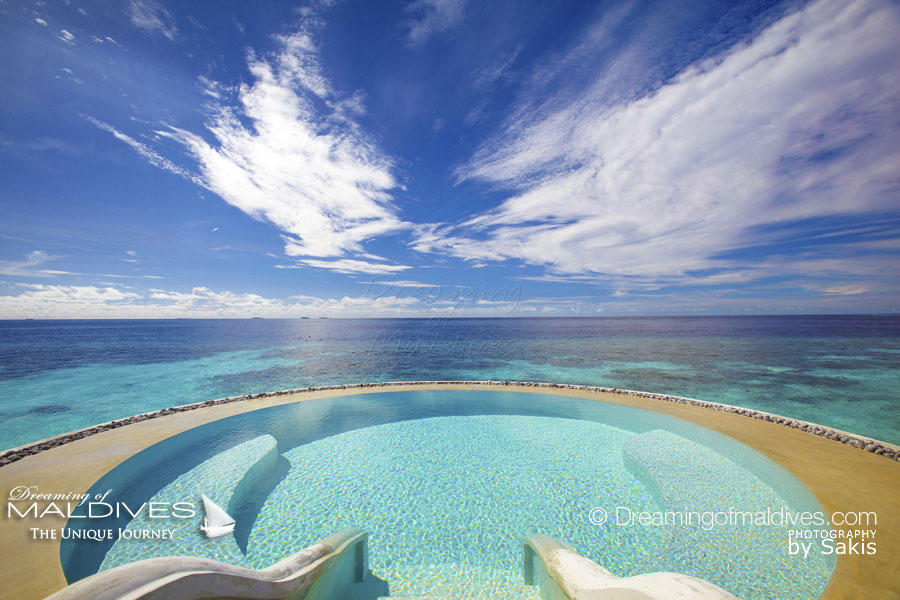 Per Aquum Huvafen Fushi is a hip-chic Luxury Resort tailored for a high-end clientele looking for special experiences.
Settled above the lagoon, LONU VEYO is filled up with sea water and offers endless views on the Ocean.
The Astronomical Observatory at Soneva Fushi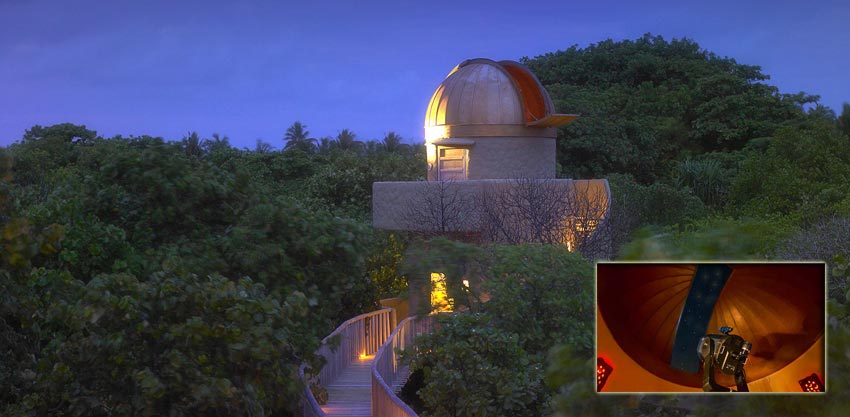 The clear skies of Maldives are a dream for star gazers and astronomers.
Soneva Fushi, the Dreamy Eco-Chic Resort, offers a unique chance to live this magic moment.
Built at 12-metre high above the Island Jungle, Soneva Fushi (real) observatory uses the exact same technology and optics as NASA's Hubble Space Telescope, Ritchey-Chretien. The fully-automated dome offers coma-free, wide-angled views of the heavens above.
The telescope is linked to a plasma screen in the library downstairs.
The Swing for 2 in a Giant Blue Lagoon at Anantara Dhigu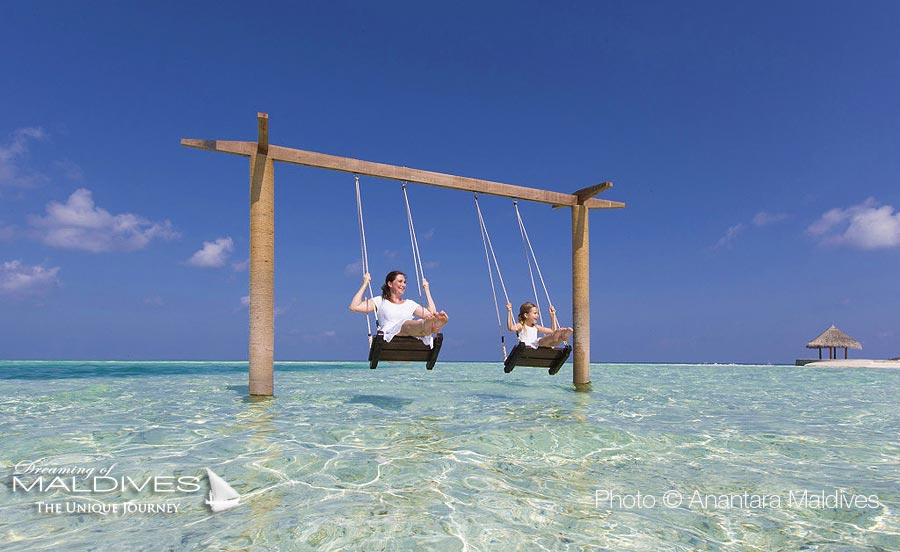 Anantara Dhigu Maldives offers a perfect combination of Romantic and family holidays.
The Luxury Resort enjoys an exceptional location in one of the largest lagoon in Maldives.
This amazing swing for 2 is installed right in the middle of it !
The Floating Chill Deck at Gili Lankanfushi Maldives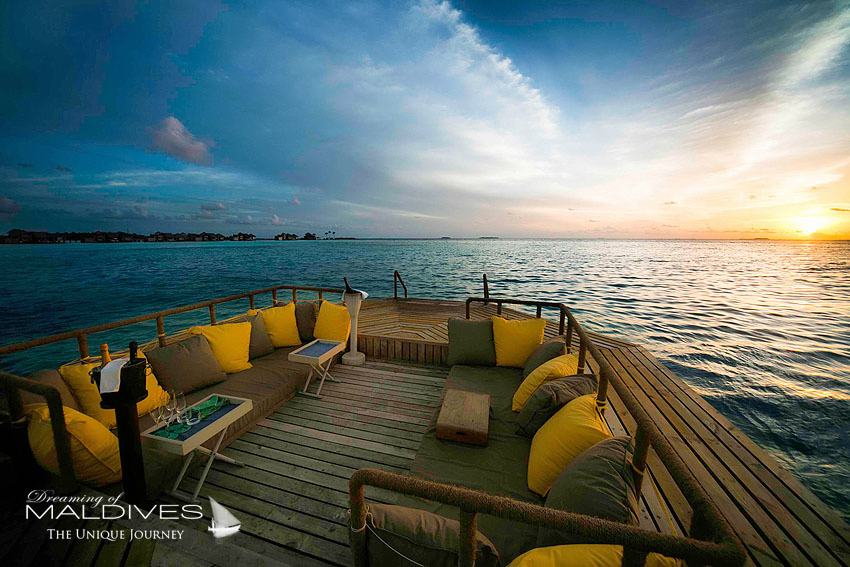 Nominated Best Hotel in The World in 2015, Gili Lankanfushi Maldives is a Dream Come True for all Water Villa Lovers and Eco-Luxury Retreat seekers.
Reachable only by boat, this outstanding Chill Deck is large enough to accommodate up to 10/15 people.
Floating in the middle of the resort big blue lagoon, it is fitted with with big lounging beds and huge cushions.
The Chill Deck is a fantastic place to relax for a break meanwhile you windsurf, snorkel or ride your canoe.
At Sunset it becomes one of our favorite place for a cocktail. Enjoy it at 2 or with family & friends.
The Lagoon Volley Ball Field at Angsana Velavaru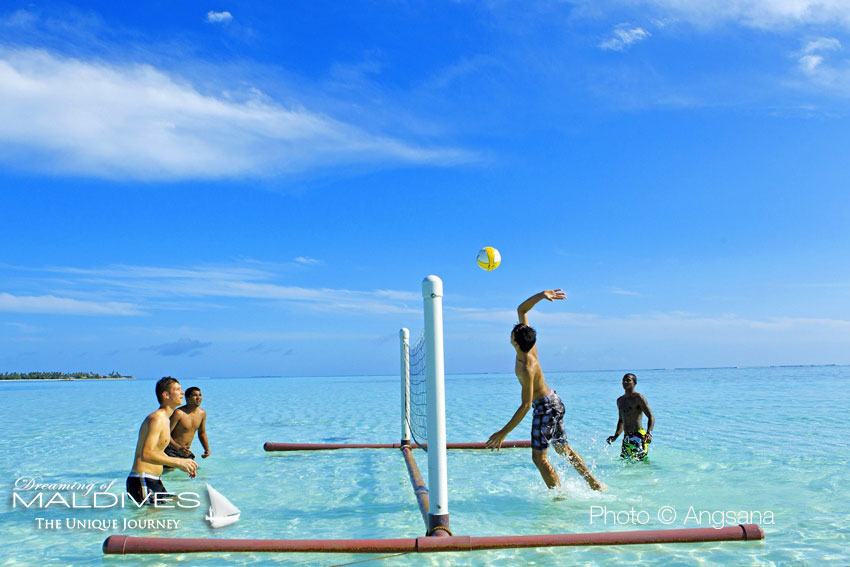 Angsana Velavaru is known for the beauty of its beaches and the quality of the surrounding diving spots.
This dreamy Volley Ball field is installed in blue transparent waters at a few steps from the island shores.
The Giant Water Slide at Gili Lankanfushi Maldives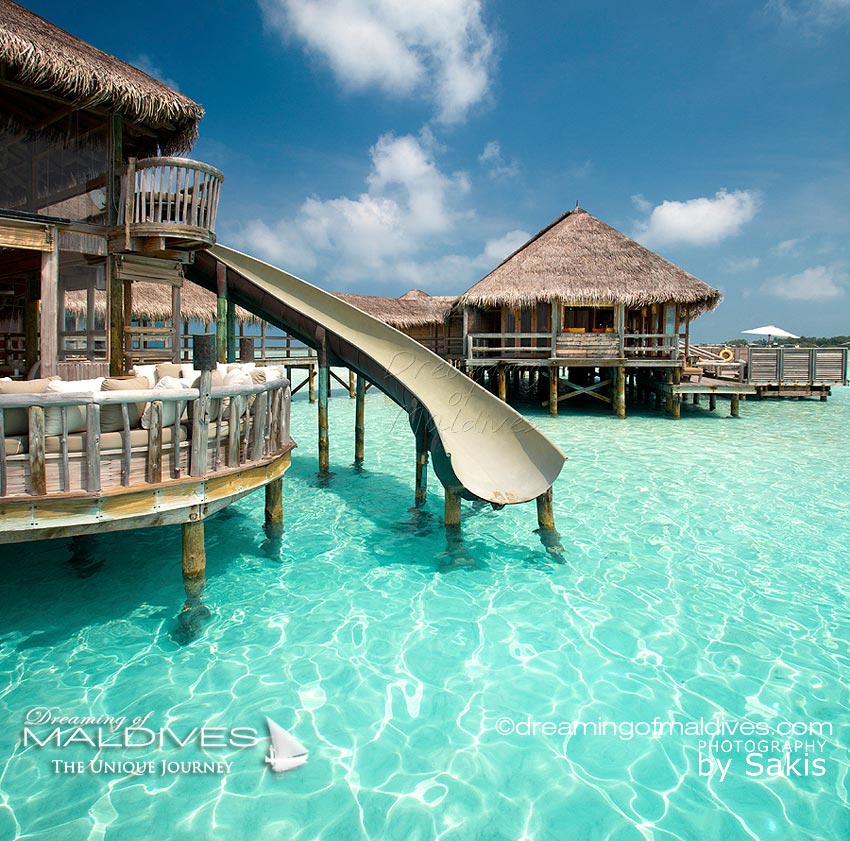 World's Largest Water Villa, The Private Reserve at Gili Lankanfushi Maldives is a 1400 square meters 2 storey Water Villa set independently in the lagoon.
Located at 500 meters from the island, the Private Reserve is accessible only by private boat. It is surrounded by a gigantic blue lagoon with unobstructed 360 panoramic views and complete privacy.
From upstairs, starts a giant Water Slide with running-in water that lets you slide down right in the middle of the lagoon.
The Golf at Velaa Private Island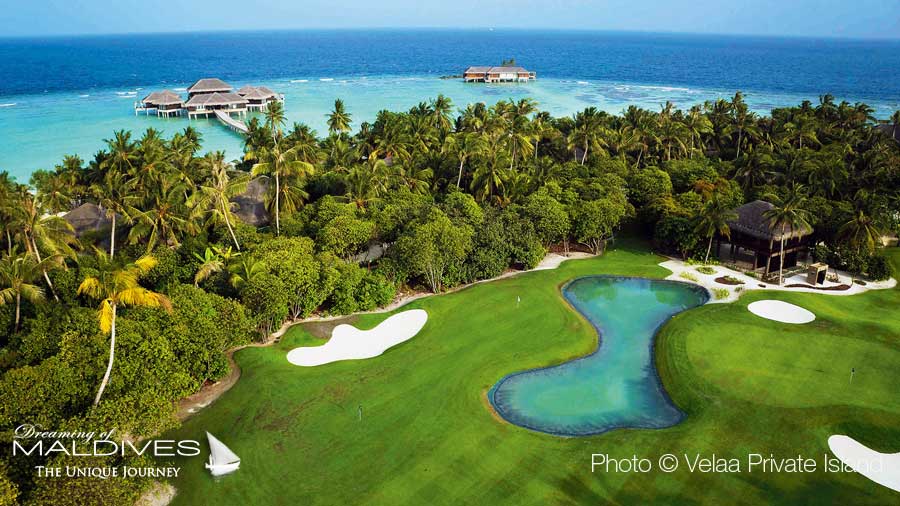 Velaa Private Island is a small Island covering just 20 hectares dedicated to Luxury, Privacy and Extraordinary.
The Golf is set in the middle of this tropical Island with nine different tees, six greens, seven bunkers, and a turquoise lake in the middle.
Velaa Private Island also hosts a Golf Academy. This beautiful and unique Green in the Maldives was designed by Jose Maria Olazabal.
The Hammock in the Lagoon at Gili Lankanfushi Maldives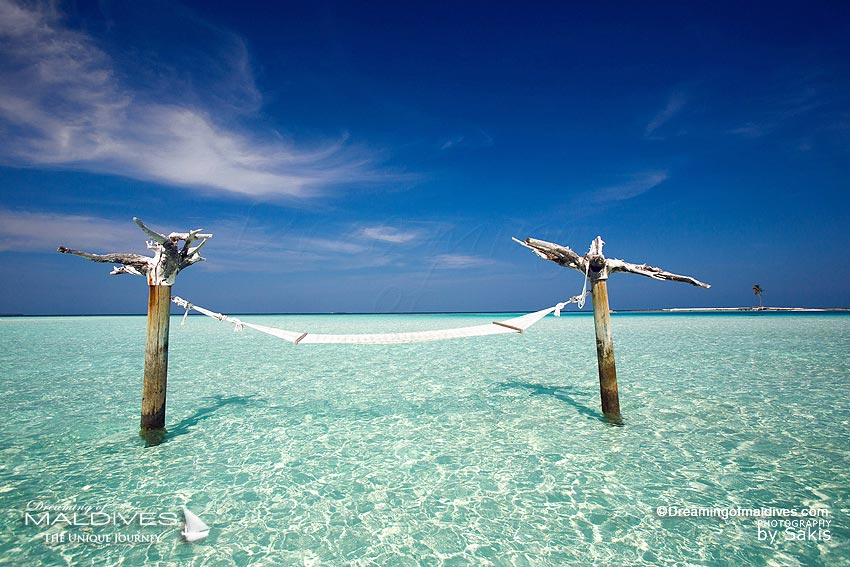 Just swim or take a canoe to reach this beautiful swaying hammock that stands right in the middle of the resort perfect pristine lagoon. It is one of the best place to relax !
At low tide the lagoon uncovers a sandbank…
The Piano Deck at Baros Maldives
Baros Maldives is an idyllic island for a romantic getaway. Small and very intimate, this haven of tranquillity is renowned in Maldives for its romantic charm.
The Piano Deck is set just off the Island of Baros Maldives far enough for total privacy but close enough for a view of the resort.
Reachable only by boat, it is a Dreamy Place for a Romantic moment at breakfast, lunch or dinner.
The Piano Deck can also be transformed into a floating Yoga and Meditation Place for a Private session or for a wedding just like one of our reader.
If you've experienced one or several of these places, you can share your memories and emotions in the comment section below.
Follow us on Facebook, Youtube and Instagram
for more Maldives Dreams & Stories