These essential Maldives travel tips might help you to organize your next holidays : how to choose your resort and find the right villa, manage your budget, the weather, the transfers, the all Inclusive plans, the snorkeling and more…
Here are my 10 Essential tips to know before you go to the Maldives !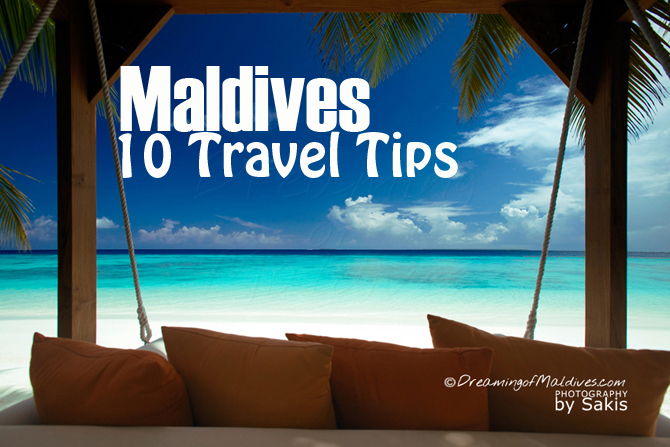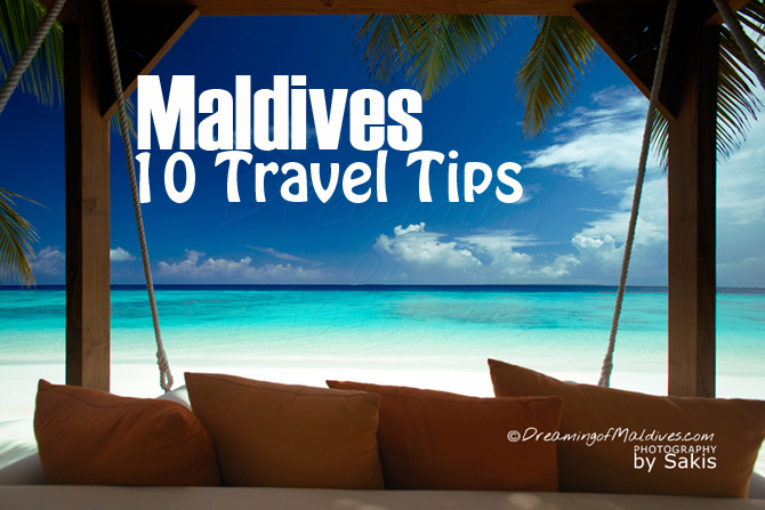 Greetings Maldives Traveler !
Let me help you prepare your next Maldives Trip with some quick and essential tips
I recently have already shared with you some important Travel information about the Maldives, including a set of Facts as well as Weather tips.
Let's look a bit deeper into it with some more Maldives Insider's Tips to help you Manage your budget on location, Choose your Resort, Find the right Villa and Help you understand better about Resort Transfers and Maldives Climate in general.
There are more but this might be a good starter. Additional tips will be listed in the future.
I've gathered up again a few bits of more knowledge that I hope will help you better plan your Maldives Holidays.
Message to regular Maldives Travelers :
If you have more tips to give, please share them in the comment section at the end. The best of them will be included in the next list.
My 10 Essential Tips to Know before you go to the Maldives
Maldives. When Budget on location matters…
If you don't stay in a All Inclsuive resort, be aware that you will have to pay (much) more than expected.
TIP #1 / Extras and Taxes
Extras can be very expensive in Maldives and not only in Luxury Resorts.
Food and Drinks have to be shipped from abroad to Male (the capital Island) and then from Male to the Resorts.
Be aware that 3 and 4 stars Resort prices are often the same and sometimes higher than 5*****.
On the top of their prices, each resort has to apply 2 taxes :
– A 10% service charge.
– A 8 % Goods and Services Tax. ( note : This tax is constantly rising and at a very fast pace. )
Meanwhile some resorts include them on their public prices ( on menus for example) some other mention it at the bottom of their price lists.
These taxes apply to everything you will use or consume on the island including activities, rentals, Spa etc….
TIP #2 / The All Inclusive formula…What does it exactly include ?
All inclusive Resorts have become very popular the past years. Depending on the resort, you will be able to chose from one to a couple more of options.
Be aware that all Inclusive formulas are not equal in matter of quantity and quality.
Before chosing and booking, ask the following questions to start with and do not hesitate to add your own if needed.
The questions you should ask before choosing your Ideal Maldives All Inclusive Resort
– Are espressos, Caffe Latte, cappuccinos and other special delights included ?
– Traveling with kids ? Is the hot chocolate included ( think about the breakfast ! )? Is there anything special for them ?
– Are there some activities, equipment or excursion included ?
– How much will you have to spend if you want to dine in one of the A-La-Carte restaurants instead of the main one. Is it fully charged or is there any discount ?
– Is the mini-Bar included ?
– Are cocktails included ?
It might make a difference when you plan your Holiday budget.
Does your Maldives resort provides you with Wi-fi and is it Free ?
Some resorts have limited connection to Internet. Sometimes it is only available at the lobby or designed areas.
TIP #3 / Need to stay connected ? Check the Wi-Fi connectivity and costs
The Maldives are perfect to forget about the "real" World and some of us wish to be totally "disconnected" from this daily life.
But in some cases, either it is for pleasure or work, some others need to be connected during holidays.
Be aware that some resorts offer free Wi-Fi services and that some others charge for it.
Wi-Fi prices can reach up to around 150 USD per week and 8/10 USD for one or two hours. You might find various packages, but overall, they are all expensive.
Please also keep in mind that the connection speed can be very slow. Consequently and according to your needs, you will probably need more than 1 hour to achieve what you need to do.
Finally, if you like to be connected in a comfortable way, check if Wi-Fi is available in your room, in all public areas or just at the lobby, in all bars or just the Main bar.
About The Snorkeling and the Equipment at your resort.
If you want to snorkel in Maldives, a MUST, check carefully the following quick tips, otherwise go to tip #5
TIP #4 / Love Snorkeling ? Check the Resort situation and prices
The Maldives are all about Snorkeling and Diving. Some Resorts benefit from a close-by reef and some others don't, like the ones surrounded by big lagoons.
In such cases and if you intend to snorkel on a daily basis, be aware of the following :
– Various reefs and fishes can be seen after a short swim directly from the beach or your villa. In such case, your ability to swim will make the difference. Keep also in mind that the quality of the spots and the amount of fishes might not reach your personal expectations.
– The reefs and the fishes are too far to be reached. In such case, a snorkeling trip will have to be booked. Some resorts include it in their All Inclusive formulas or as a courtesy for their guets and some others charge for it. So, if you're a regular snorkeler, check for the price list.
Finally, remember that some resorts charge for snorkeling equipment. Most of the time it will cost around 8 USD + taxes for 1 person/ per day. It might be a good idea to make some space in your suitcase for your own.
Extra note : The best being, according to me, what I usually call the "Dreamy Duo" : Coral Reefs on one side and a big blue on the other.
Be ready to check-out FROM YOUR MALDIVES RESORT Like a Pro
Be Stress-Free for Check-Out !
TIP #5 / Avoid bad surprises at Check-Out.
I always have advised the following tip to travelers that I met on various locations :
If you are tight on budget, check at least 1 time your bill during the middle of your stay ( or several, it's up to you ) to avoid surprises at your final check out before departure. It will ease the process and avoid stress at the end of your stay.
Maldives. Find the right Villa
About Comfort on location…
TIP #6 / Villa location and tranquility
This is an important point to get the best of your Holidays on your little paradise.
– If you can, during your booking process, check with your travel agent or directly with the resort about your Villa location on the island :
– Avoid to be located close to the transport / diving jetty(ies), generators, restaurants and Bars.
– Check for the nicest part of the beach ( some islands suffer from erosion according to the monsoons ) and if you're a snorkeler, check the Reef locations.
– If your privacy matters, try to ask for the most hidden / protected (Water) Villa.

Need help ? :
– Check our Resort Map collection here.
– Our Resort and general Aerial Photo Galleries here
Maldives. Transfers between Islands and Airports
Remember ! One Resort…One Island.
Each Resort is located on a single Island. That is the beauty of the Maldives. BUT you must know the following :
TIP #7 / Arriving and Leaving your Resort Island
If your international flight arrives at Male International Airport – Velana after 04.00 pm and according to your resort location and policy, you will need to spend the first night in Male or at the Hotel located on the Airport Island.
You will be then transferred to your resort the following day.
Either by boat or by seaplane, if your departure flight is late in the night, you might have to leave your resort much before and consequently stay several hours at the airport.
Depending on the time you will have, you will be able to go for an excursion to Male.
According to your Resort location, for safety measures, some boat transfers will leave at 17h00/17h30 maximum.
This applies to Seaplane transfers too.
Seaplanes cannot fly before and after dawn. They start operating at Sunrise and stop before Sunset.
Only "Maldivian" and "Fly Me" fly at night but with different kind of planes. These carriers are used to reach both the North and South parts of Maldives as well as various airports of the archipelago.
Extra Note : According to the Resort situation, domestic flights schedule and status, transfers can be at Sunrise even if your International flight is much later in the morning.
Transfers are generally organized with an extra window of time for the purpose of preventing you to miss your flight.
Please be informed that all transfers are confirmed one night before your departure. Resorts receive the final list after 18h00 and will not be able to deliver your departure time before.
TIP #8 / Boat Transfers. Not always Dreamy…
Be aware that boat transfers can be longer than scheduled in case of bad weather.
When the Maldives waters get rough, transfer time might be doubled and very uncomfortable (particularly between Atolls or in wide Atolls).
Besides sea sickness, back pain could be an issue. If your back needs particular attention, this point has to be considered in your choice too.
A Resort with seaplane transfer or located the closest as possible to Male airport could be a better option.
Extra Tip : If you should find yourself in the middle of such a situation, take one of the rear seats. The swell will be smoother.
And Please note that bad seas don't only occur during the rainy season but might happen all year round.
TIP #9 / Flight delays : Know your rights before living.
Besides usual delays due to unfavorable weather conditions, international flight delays or technical problems, the recent merging of both seaplane Companies, TMA and MAT (which now does not exist anymore), brought out some more occasional delays. Since this merger, the company has been operating under the TMA brand and is the single one operating in the Maldives today.
Passengers might have to fly to 1 or 2 more resorts before reaching their final destination. The increasing amount of mixed passengers is causing more delays that can lead to further problems like missing your international flights.
Check carefully your rights and Carrier responsibility with your Travel Agent or with your insurance / Credit Card insurance if you organize your trip alone.
Maldives. The Weather
Maldives weather forecasts are not what they used to be…
...And surely not what we can read in brochures or on the Internet.
TIP #10 / The Weather
Finally, to avoid any disappointment, be aware that Maldives weather patterns are not as simple as what you usually read in brochures or on the Net. Yes, the "Dry" season can have some bad days. Rains, cloudy skies and strong winds might disrupt your stay. Monsoons are very complicated in this region of the world. They change each year and are themselves subject to inner cycles.
The all territory covers almost 850 KM from North to South. The weather can be radically different according to your geographic location in the archipelago
Note : We just spent 1 month in Maldives. Our stay was from mid-December to mid-January and we got rains, clouds and winds during the half of the stay.
– Please read this section dedicated to Weather & Climate for more.
What about you ?
Do you have anymore tips to share with our readers and future Maldives Travelers ?
Follow us on Facebook, Youtube and Instagram
for more Maldives Dreams
Your TOP Best Maldives Resorts 2023
YOUR CHOICE. YOUR DREAM. YOUR VOICE
[ Official ]
Traveler's Choice
12th Edition