Dhigurah, which means Long Island in Dhivehi, is considered as one of the most beautiful island in the Maldives. Voted in the World's Best Beaches, it is also a heaven to swim with Mantas and Whale sharks.
A night at Dhigurah will cost you around 100 USD. A dream in Maldives.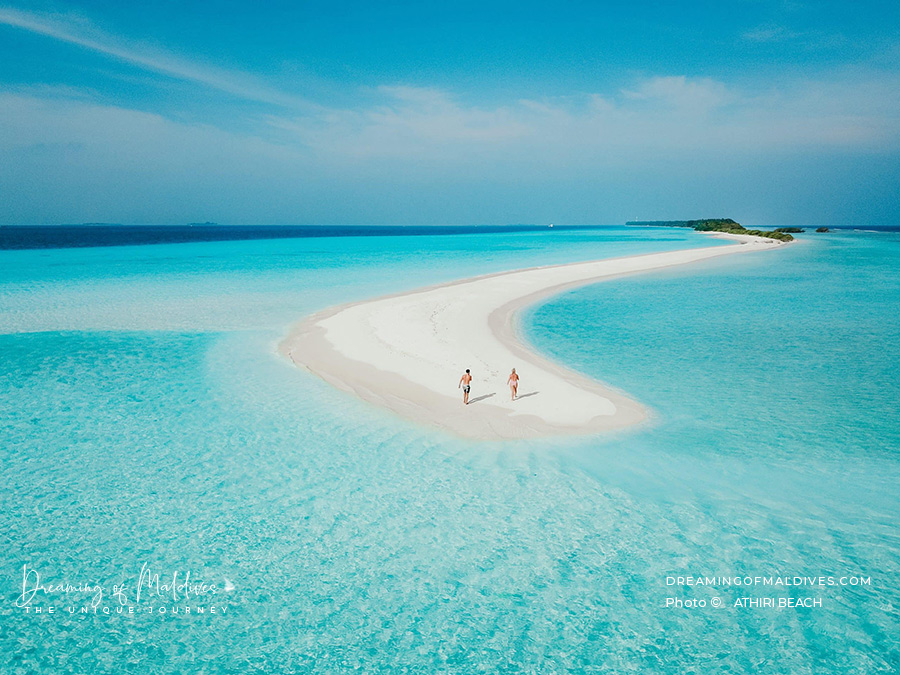 Dhigurah is considered as one of the most beautiful island in the Maldives both by locals and tourists. Famous for its long beaches ( named amongst the 50 World's Best Beaches in 2017 ), its big blue lagoon and endless sandbank, Dhigurah is also known to be a snorkeling and diving paradise to swim with mantas and whale sharks. The island is full of excellent hotels and guest-houses at a very affordable price. This little paradise on Earth has everything to make us Dream.
Dhigurah is a true piece of paradise
Dhigurah Island is A Natural Wonder
Dhigurah is a local island located in South Ari Atoll. The long and fascinating sandbank pictured here is the southern tip of the island where approximately 600 people live.
Dhigurah's beaches were voted in the World' 50 best beaches in 2017.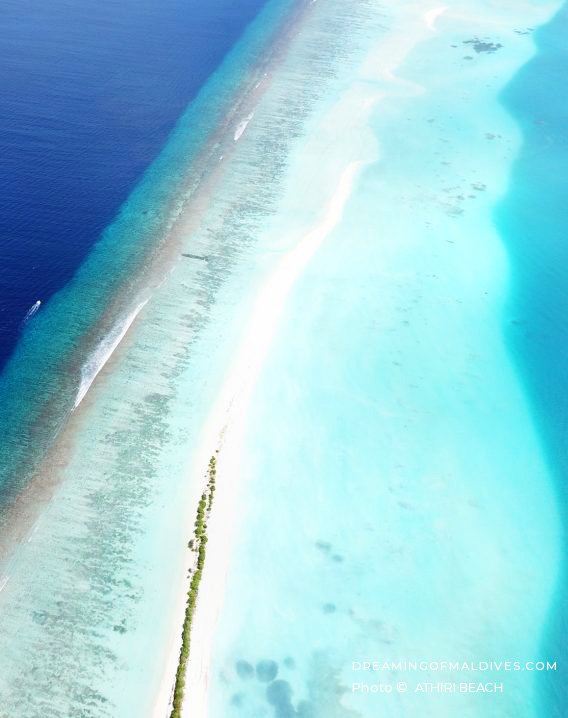 This extraordinary and unique island is known for its unparalleled natural beauty, its unique topography and exceptional natural environment.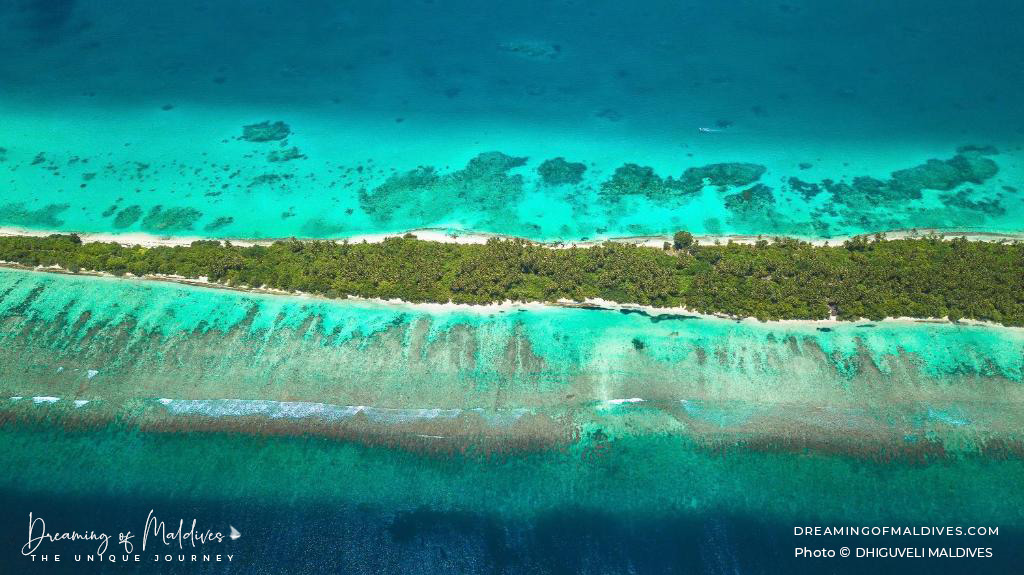 It is one of the best place to swim with Mantas and Whale sharks in the Maldives

Snorkeling with Mantas around Dhigurah
© Athiri Beach Hotel
And Whale Sharks…
© Bliss Dhigurah Hotel

On its northern side, the main part, you will find the local fishing village and its inhabitants and on the south, a very long and very narrow sand tongue which measures almost 3 kms in length and just a couple of meters in width.
Dhigurah island in its entirety is about 4 kms long, which is pretty long in the Maldives.
At the top of the image, Dhigurah island village and its vegetation and further down its extraordinary sandbank.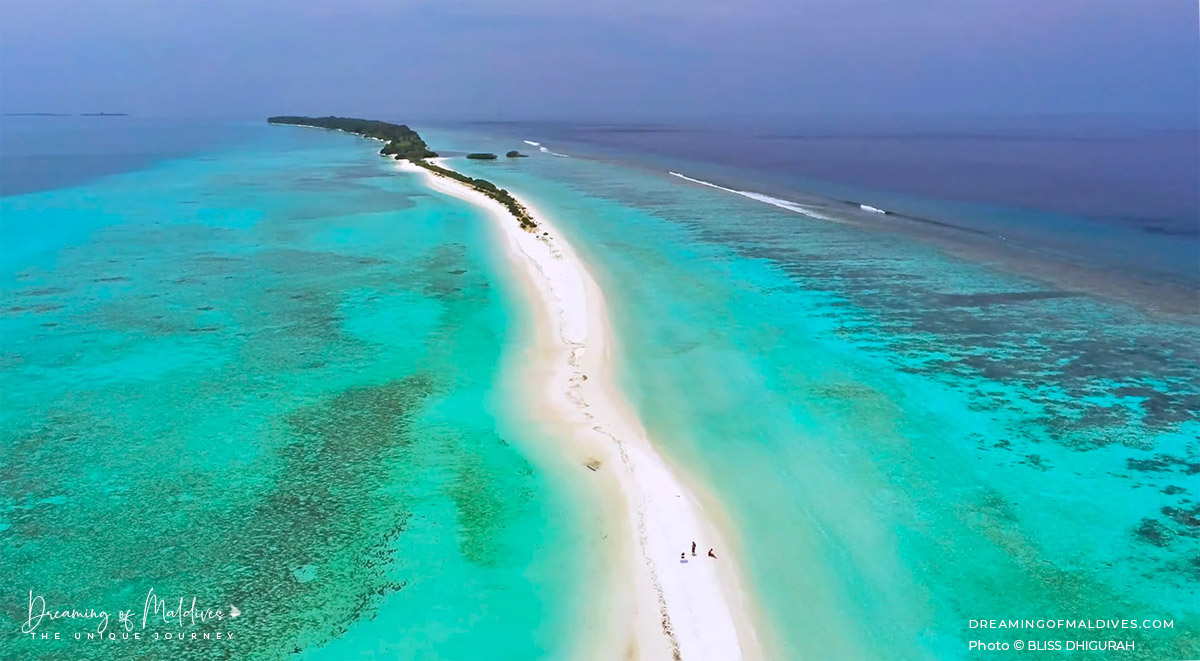 If you walk all along Dhigurah's sandbank, you will almost arrive at LUX* South Ari, a luxury resort. Both islands are only separated by a small and crystalline shallow lagoon.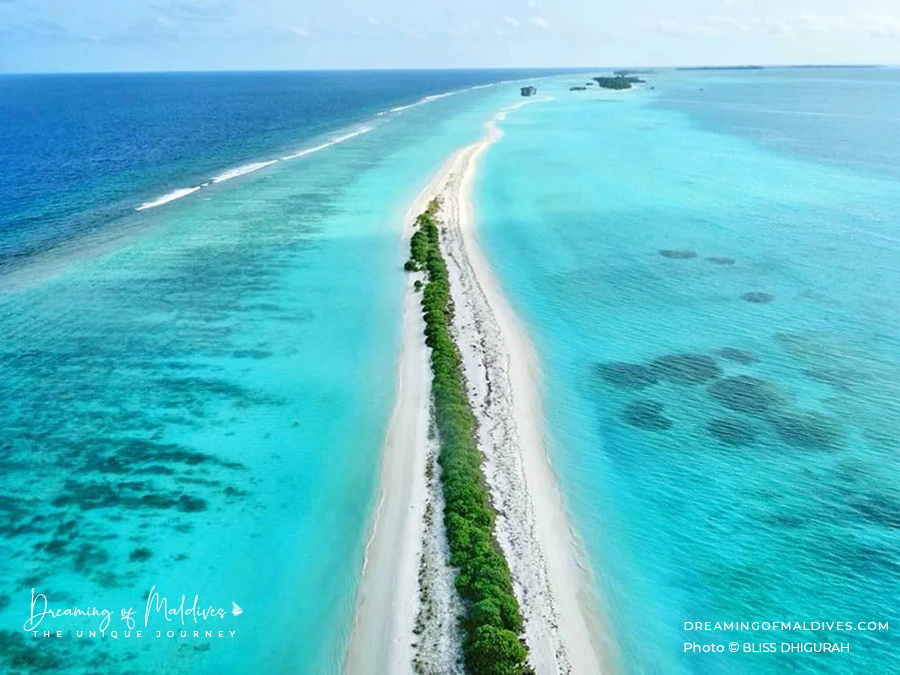 The end of Dhigurah's sandbank as seen from the island side leading up to LUX* South Ari resort, where the water villas are located.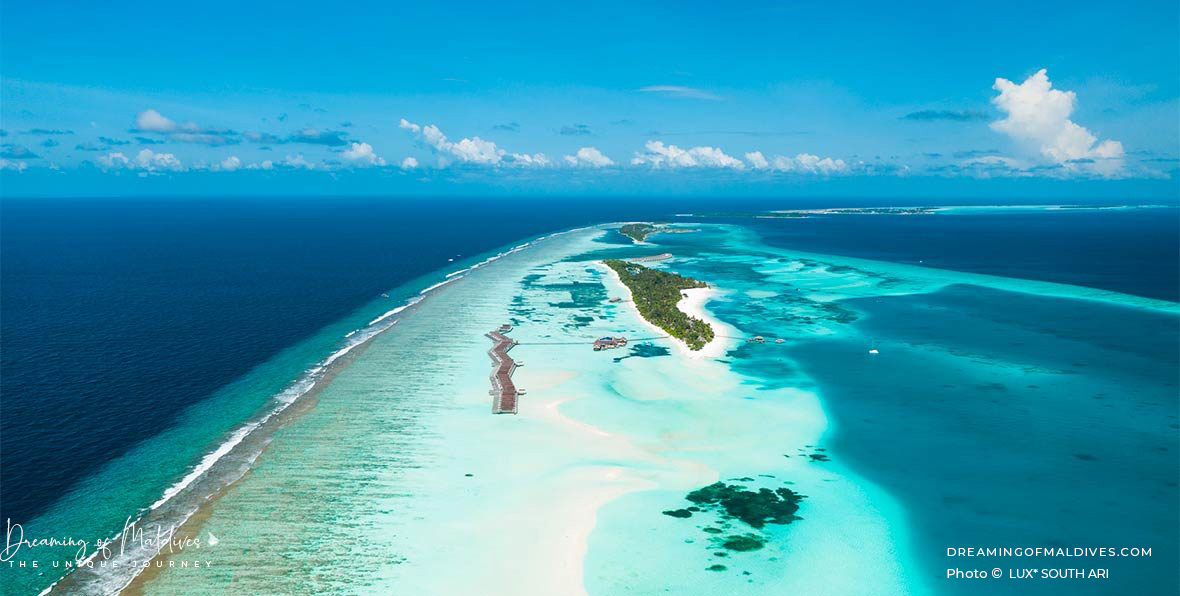 Dhigurah and the Environment
The island takes environment protection at heart and is really proactive.
Its beaches are absolutely pristine.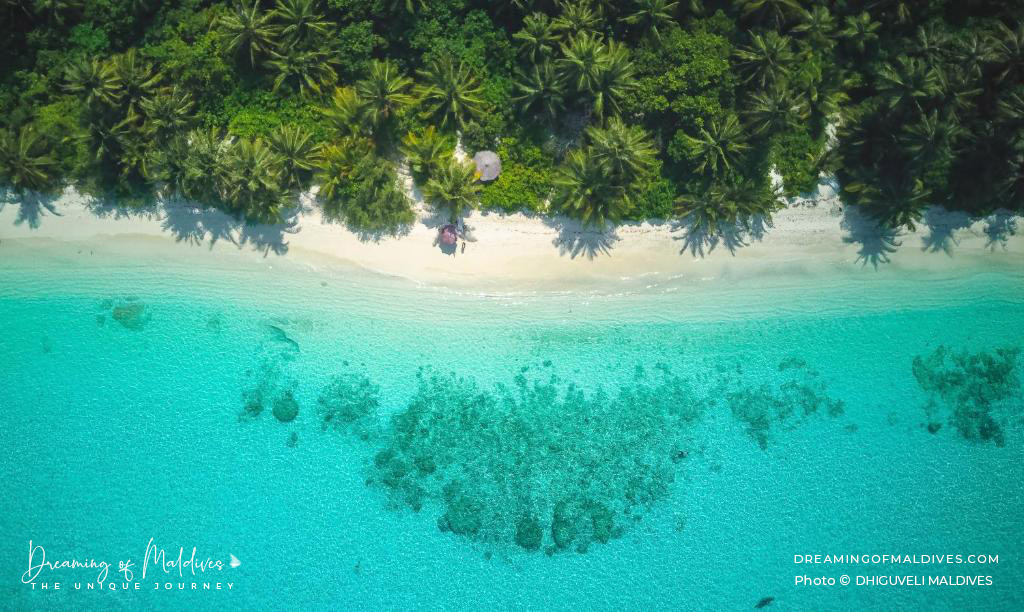 The all village is engaged into it, pays for waste management and follows a daily routine :
Each morning waste food is collected from all the houses and hotels and turned into compost for island and also sold to other islands.
Each afternoon, all the other waste is collected and sorted into items which can be recycled and these are sent to Male each week. Only what's left is burnt.
The Parley initiative
Dhigurah is also one of the few local islands who have signed up to the Parley initiative, a global movement helping to protect our oceans. Any plastic that may have landed on its beaches is removed and safely sent away to be converted into Adidas trainers.
Dhigurah is a snorkeling and diving paradise
Dhigurah is a snorkeling and diving paradise, it is one of the best place in the Maldives to swim with mantas and whale sharks which can be seen all year round in the island vicinity.
The island is also surrounded by an abundance of marine life and top diving spots at a finger tip.

Divers will have the opportunity to explore 15 pinnacles ( called a Thila in Dhivehi ) which are located between Dhigurah and its neighboring island as well as one of the Maldives most famous dive site : Kudarah Thila at 15 minutes away and the Kudhimaa Wreck, a 50m long cargo ship lying on a sandy bottom at around 30 meters depth.
Dhigurah is one of the best place to swim with Mantas and Whale sharks in the Maldives
There are 2 atolls in the Maldives where you can swim along and observe mantas and whale sharks : in Baa Atoll, north Maldives, which has 2 hotspots : the famous Hanifaru Bay and Angafaru area, and here, in South Ari Atoll, right around Dhigurah island.
Both atolls are natural wonders and hotspots to meet and swim with these extraordinary creatures.
South Ari Atoll is the number #1 place to see whale sharks, meanwhile Baa Atoll is number #1 for mantas. Both atolls rank number 2 for the opposite species.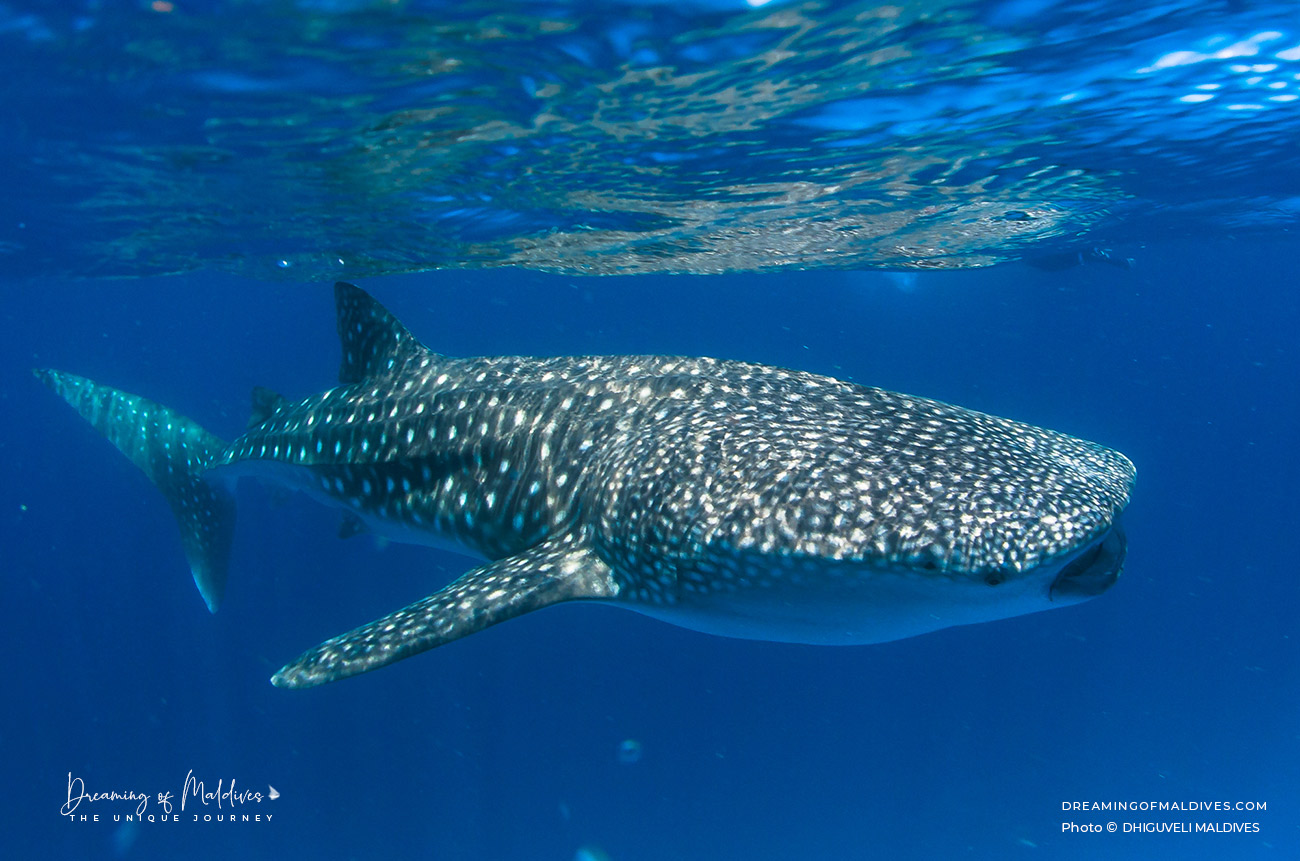 The Island area is a Whale Shark Sanctuary
Dhigurah is one of the Maldives 3 whale shark sanctuaries together with Hanifaru Bay and Angafaru, both located in Baa Atoll.
This part of South Ari Atoll is so highly populated by the ocean giant that the island is the home base of the Maldives Whale Shark Research Programme (MWSRP) which carries out whale shark research and advocate for their conservation policy in the Maldives.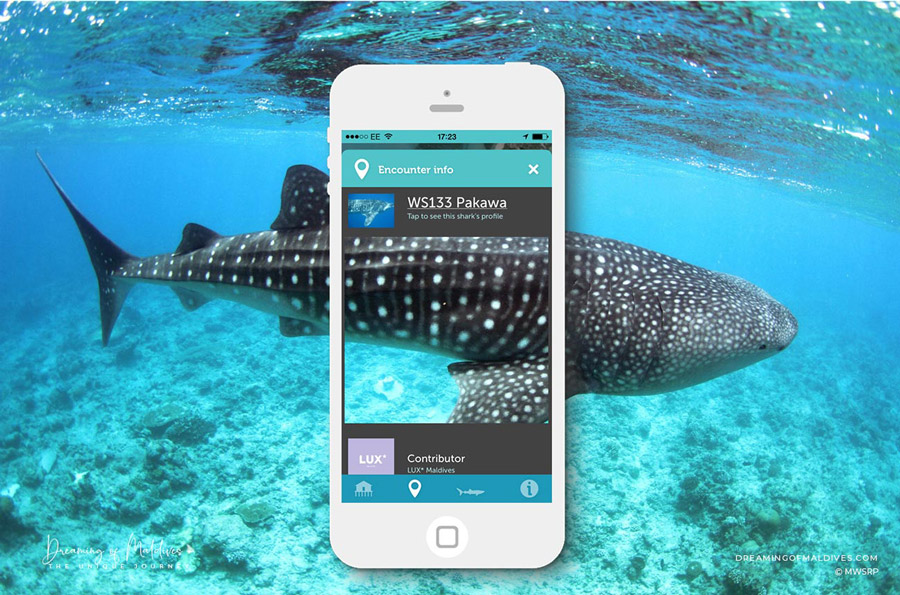 Dhigurah is unique in the world for its high concentration of whale sharks all year round. It is simply the best island to stay in Maldives to see and swim with them.
South Ari Atoll seems to have the perfect conditions for the shark : a massive presence of phytoplankton all year round and ideal temperatures for their needs to grow until their mature age which is around 30 years.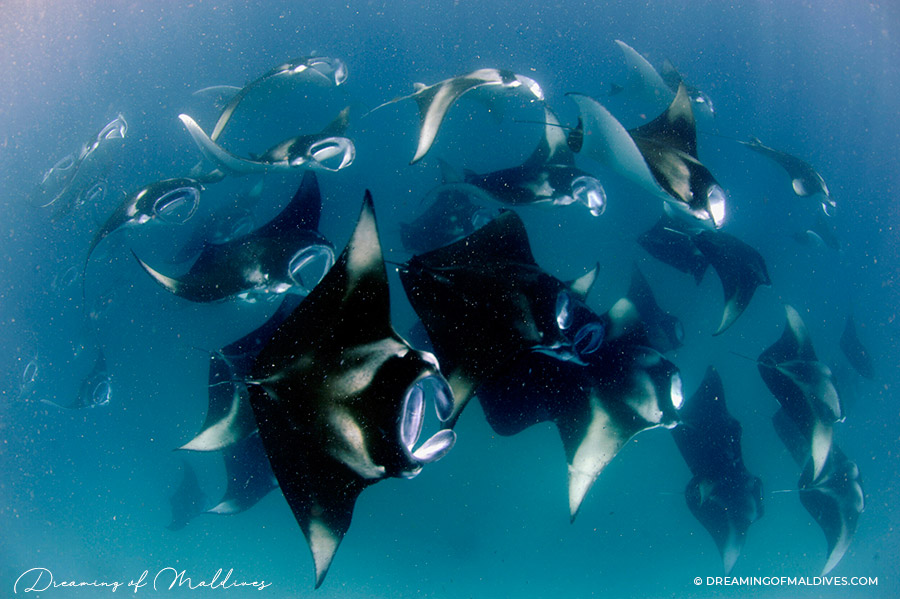 You will love
Everything you Need To Know About The Extraordinary Hanifaru Bay.
The World's largest known aggregation of Manta Rays.
According to MWSRP, over the last decade until mid-2021, a total of 8022 whale sharks have been encountered in South Ari Atoll. 527 of them spotted and registered in the area of Dhigurah.
Any guest staying on the island will certainly have the chance to see them on a clear and calm day, even from a boat.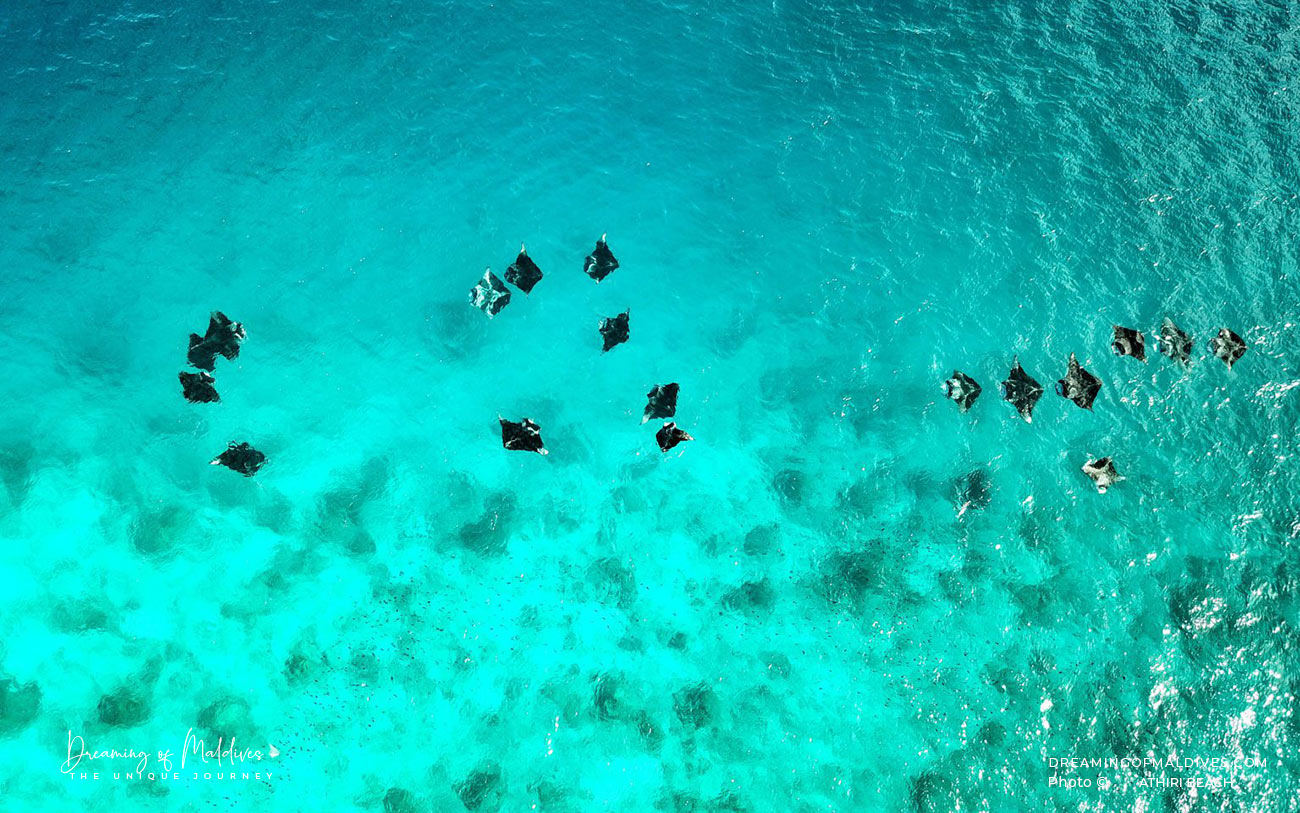 Dhigurah is close to Manta Point, Maldives second best place to see Mantas
On the top of being a whale shark hotspot, Dhigurah is also very close to the famous Manta Point ( or Madivaru Manta Point ) , where Mantas come to feed on plankton during the north east monsoon, which is approximately between January and April.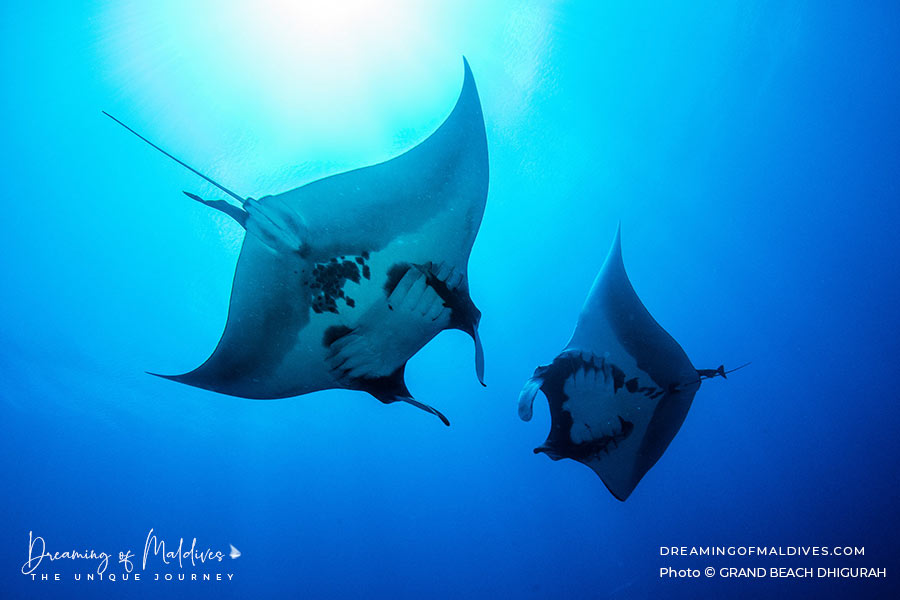 Hop on a boat from the island and, if seas are not too rough ( for good visibility ), you will be able to observe them from your boat or to swim with them after a jump in the water.
This unforgettable snorkeling experience is proposed from many guest houses at Dhigurah, so you have plenty of choice.
Whale sharks and Mantas are not the only regular hosts at Dhigurah, you will also see turtles, dolphins, large corals, morays, wrasse and many other tropical fishes around the island.
What to Do at Dhigurah Island ?
Besides these amazing encounters, Dhigurah also offers many activities and exciting experiences, even for kids.
Spa treatments, romantic dinners on the beach, fishing excursions, Maldivian cooking classes, sandbank picnics, Jet Ski, wakeboard, water skiing, SUP's … You will not get bored.
The island watersport centre also offers various lessons and welcome children !
Wakeboard on Dhigurah's magnificent blue lagoon. A dream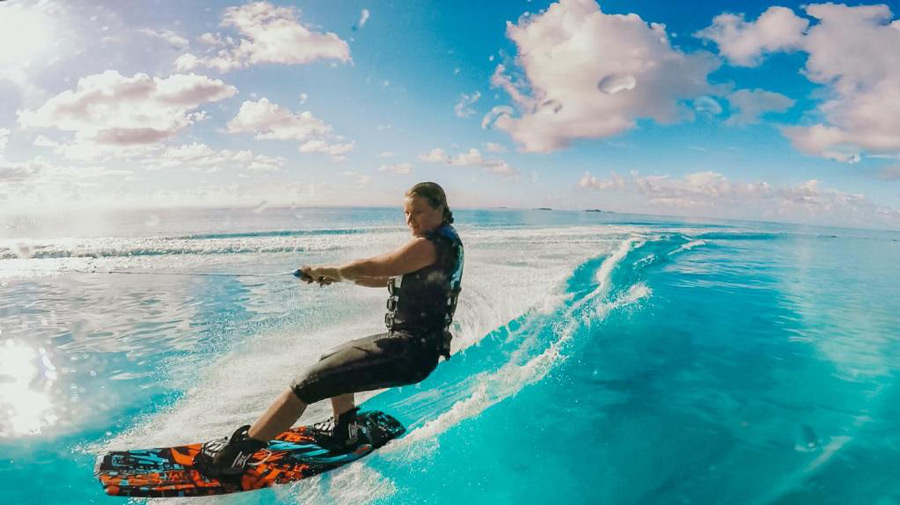 Divers staying at Dhigurah can also enjoy PADI services with several excellent dive centres located directly on the island.
During your stay, you will be able enjoy an extensive range of daily dive trips on many top diving spots, as well as a PADI courses for beginners and experienced divers.
One of Dhigurah's PADI centres : BB DIVE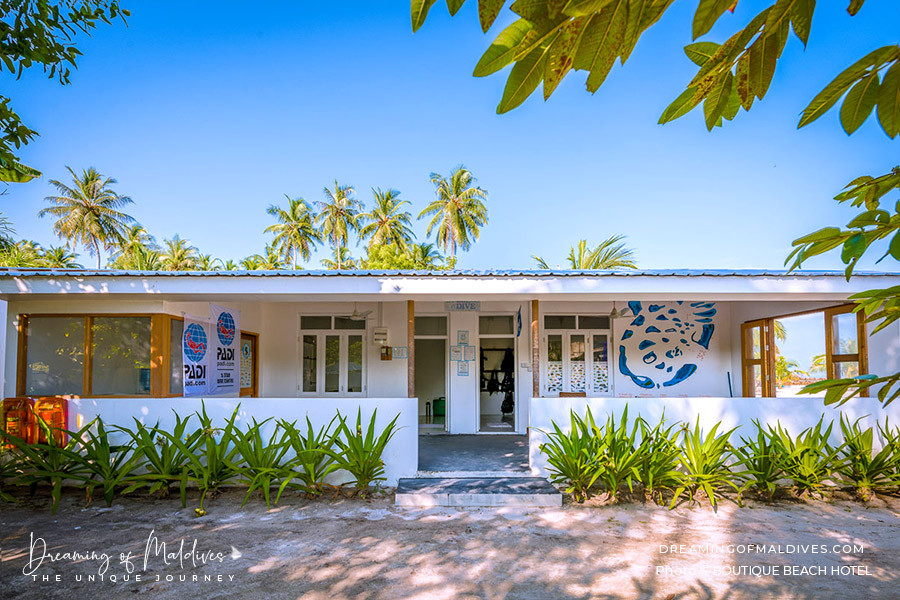 Island Divers Diving Boat for group and private diving excursions.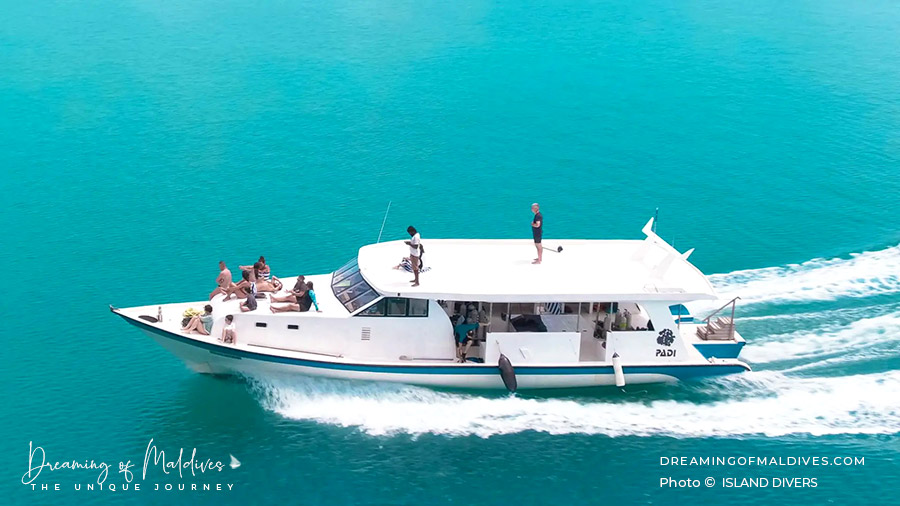 Where to stay at Dhigurah Island ?
There are many excellent guest houses and hotels at Dhigurah. You can live this Maldives dream for a low budget with nights starting at around 80 USD in low season up to approximately 200 USD in high season.
Remember, staying on a local island is not like in a resort, there are local traditions just like everywhere.
The Maldives are a Muslim country, thus there is no alcohol on local islands.
Please respect the local rules : wear at least shorts and a T-shirt for walks in the village and behave respectfully.
Remark : you can walk in swimming-suit on the island sandbank.
Enjoy the Maldivian life. The people there are very welcoming, happy and curious to talk to visitors.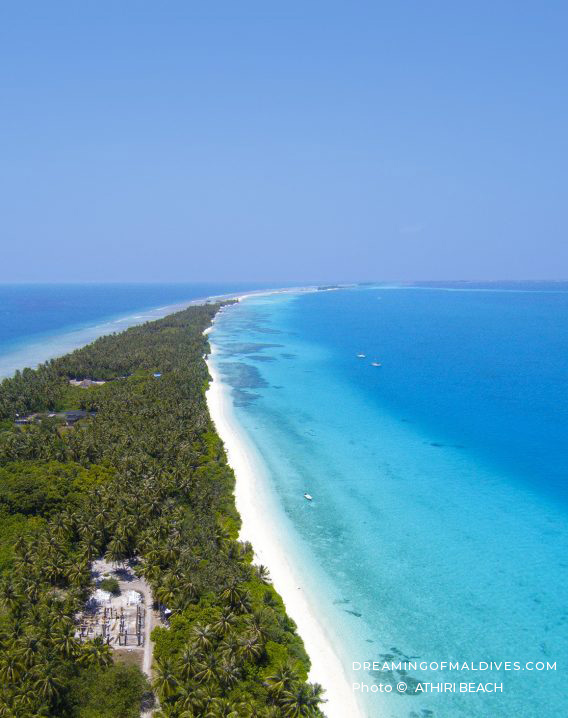 Dhigurah Best Hotels & Guest Houses. traveler's favorites
If you wonder where to stay at Dhigurah, here are some ideas to start with and to give you a better idea of what the island has to offer.
The hotels and guest houses listed below offer excellent services, good food quality, comfort and many activities. It's just an overall view, there are many more.
Discover them in details : TOP 5 Best Hotels & Guest Houses to stay for Whale Sharks on Dhigurah Island
Bliss Dhigurah Hotel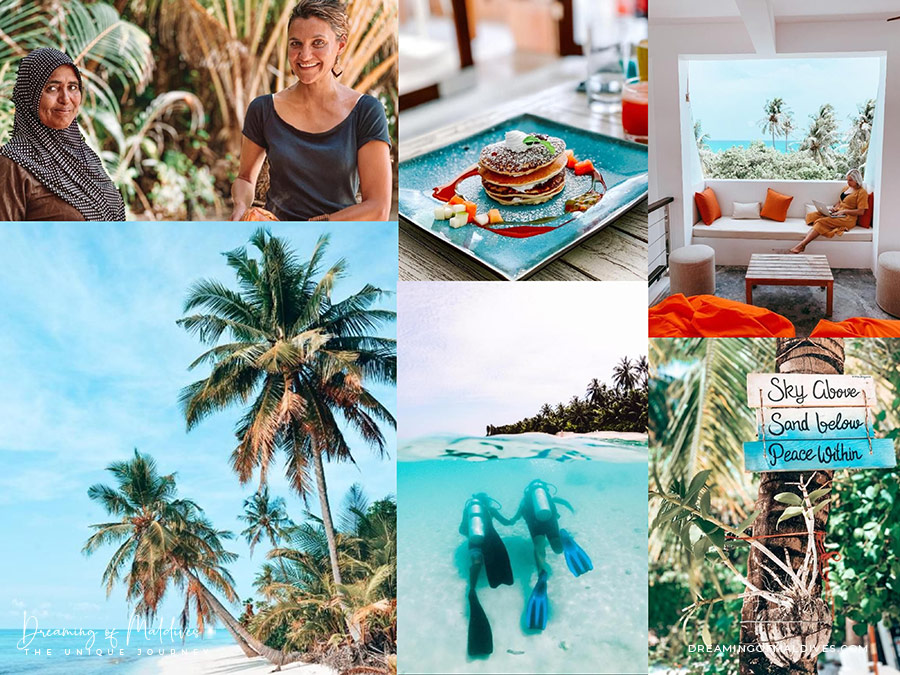 Boutique Beach All Inclusive Diving Hotel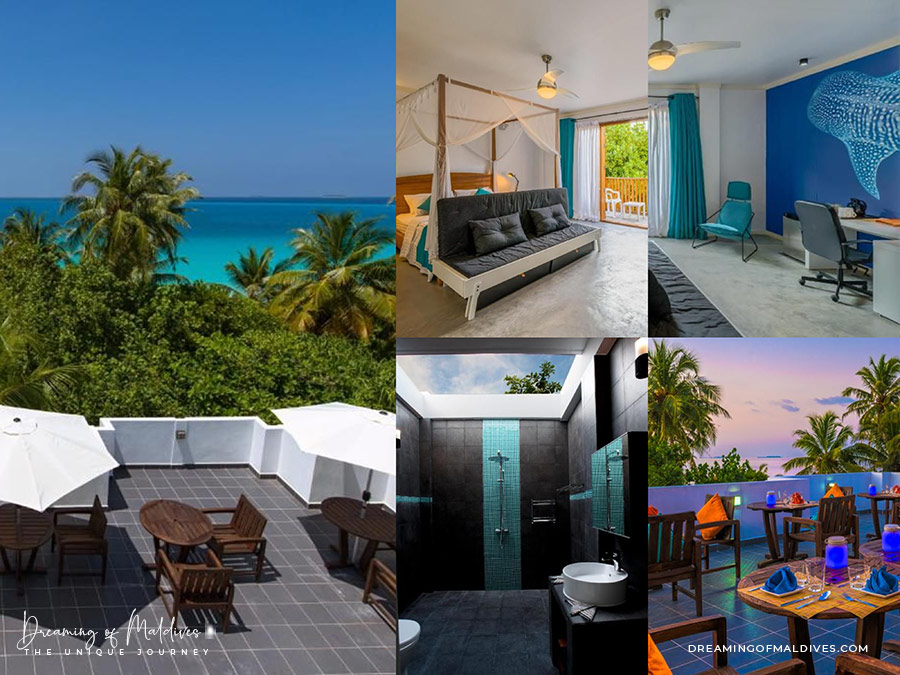 Dhiguveli Maldives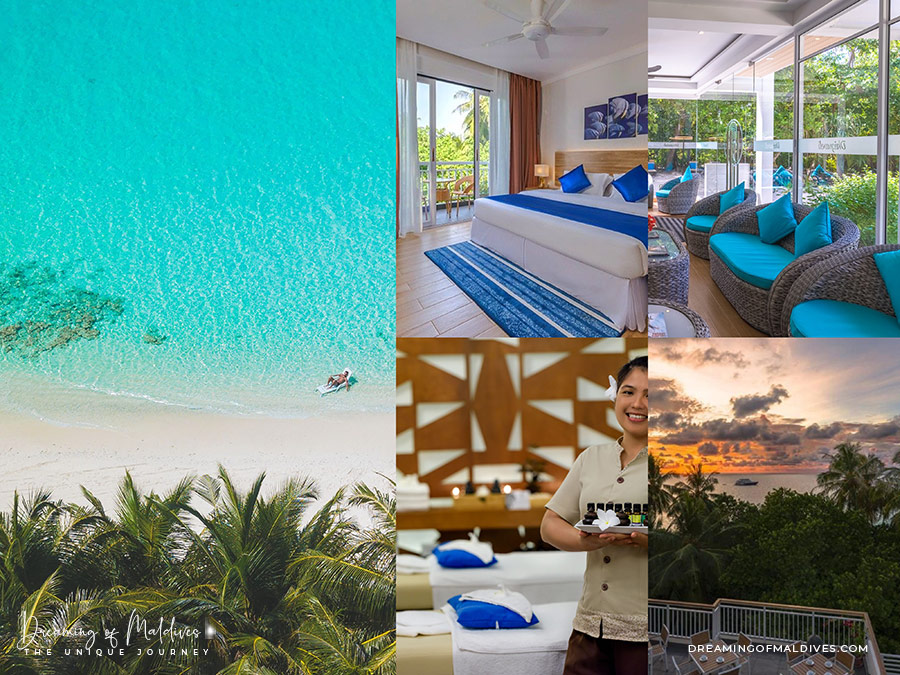 Grand Beach Dhigurah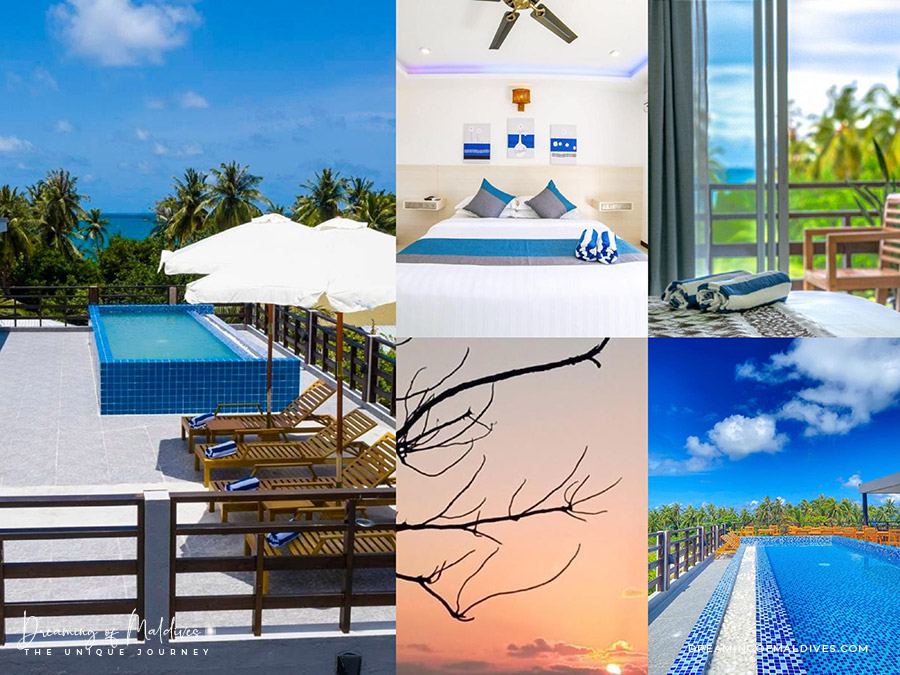 Athiri Beach Maldives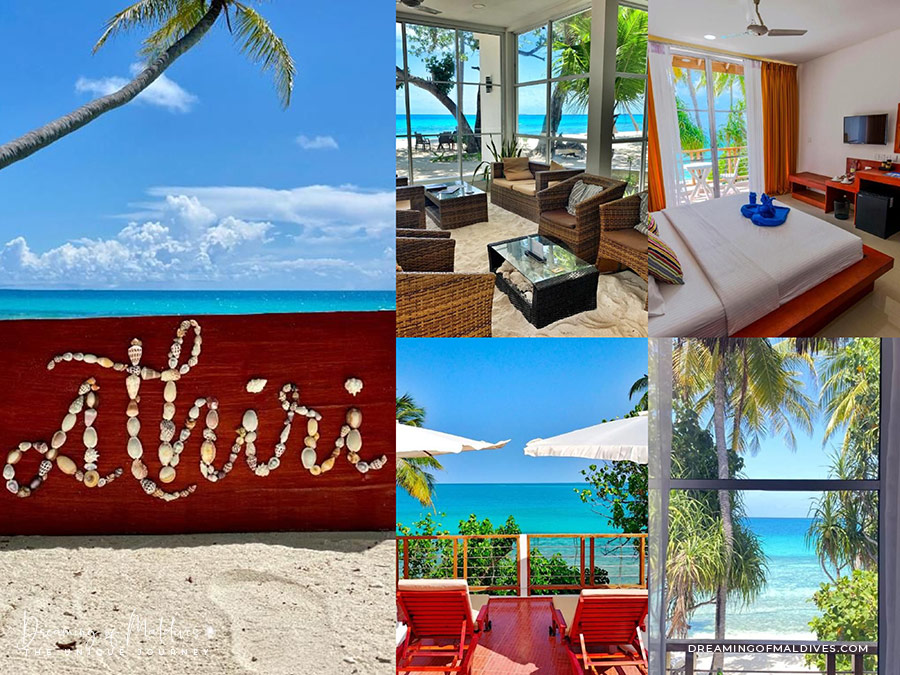 Current Deals at Dhigurah
How to reach Dhigurah ?
Dhigurah island is very well deserved by speedboat transfer within 2 hours or by domestic flight to Maamigili airport in 20 minutes, followed by 20min speedboat ride to the island.
Transfer costs by domestic flight + speedboat : app. USD 140.
Transfer by speedboat from the airport : app. USD 60 / from Male : app. USD 50.
Available on all days. Prices are for one-way.
Snorkeling in Ari Atoll, Mantas and Whale Sharks

The Maldives islands are a destination where snorkeling is outstanding everywhere. With 26 Atolls, you are sure to dive on countless beautiful…

To experience this new Manta season The Standard Maldives launches its first-ever three-month-long 'Go Deep Blue' campaign to celebrate theis…

Here is a selection of the best resorts to swim with whale sharks. in South Ari Atoll, Maldives. In South Ari Atoll you can swim with Whale…

The Maldives is home to over 25 species of sharks, including the magnificent whale shark. There are several species you will often encounter…
Follow us on Facebook, Youtube and Instagram
for more Maldives Dreams & Stories