Today I hope to make you feel good with some of our photos of the best places we've seen to do Yoga in the Maldives.
The following photos of yoga sessions in Maldives were taken during our different stays in various resorts. They were made possible by the wonderful fantastic resident Yogis we met who performed various asanas ( poses ) in beautiful places for us.
Here they are in photos.
Yoga Or Meditation In Maldives. The Absolute Dream
The Maldives are ideal for a Yoga practice. Many resorts offer classes led by excellent yogis directly at their spas and in superb locations around the islands.
Several resorts propose free group meditation and yoga sessions.
Usually done on the beach, they can also be done at the spa or in pavilions specially designed for this purpose.
If you already practice Yoga & meditation, you will have 1000 and 1 places to do it in Maldives.
The Best Places to practice Yoga in the Maldives in 13 Photos
We have personally stayed at the below resorts
Ask me any question
Most luxury resorts also offer private guided meditation, yoga or pranayama (breathing) sessions directly in your villa, on your beach or on a sandbank if the resort has one. It's up to you.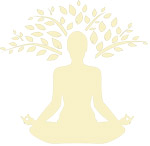 Meditation

on the Beach

at Rihiveli
On Rihiveli's beach, everything was perfect. The blue and white landscape, the endless unobstructed horizon and the sound of the sea licking the beach shores have greatly contributed to relaxing me during this sitting posture.
Photo : Lotus Pose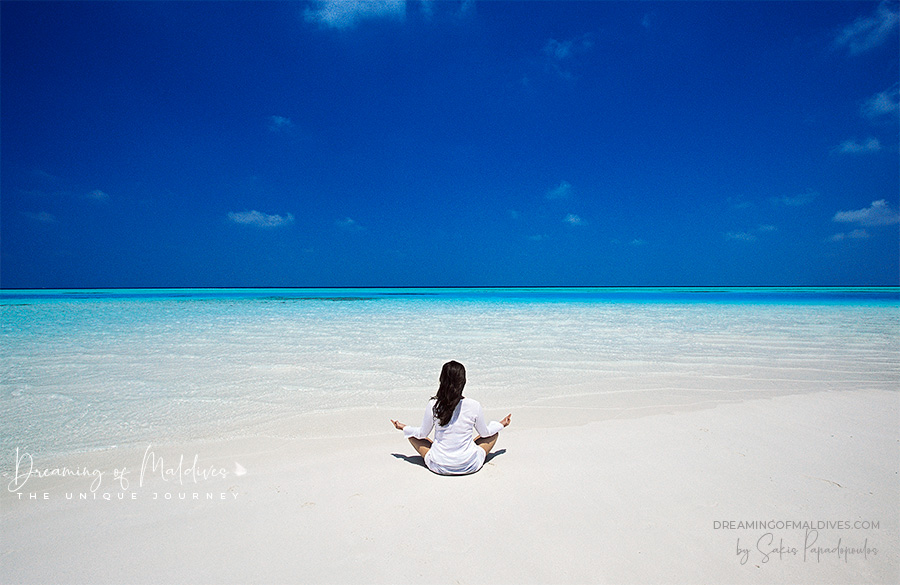 Yoga

on the Piano

at Baros maldives
At Baros Maldives, the most beautiful place for a yoga or meditation session is probably on The Piano.
The Piano is an overwater shaded deck which is totally isolated in the middle of the magnificent resort lagoon, above the island house reefs.
The Piano and Baros Maldives from above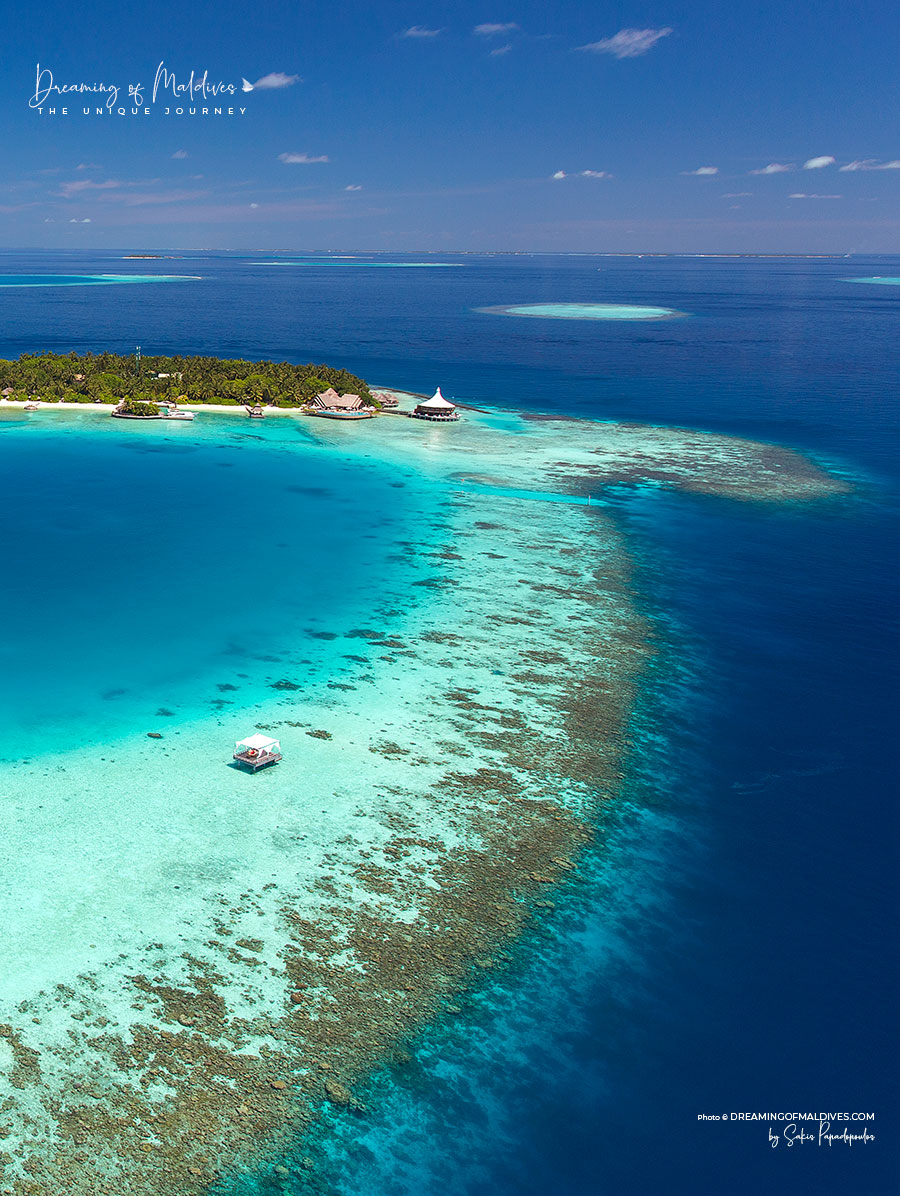 Private yoga and meditation sessions are available at The Piano upon request.
Known to be one of Maldives best Yoga Retreat, Baros Maldives also offers free sessions and classes on its beach.
Nothing else than you and the Blue
Photo : Virabhadrasana or Warrior pose by Baros Maldives resident Yogi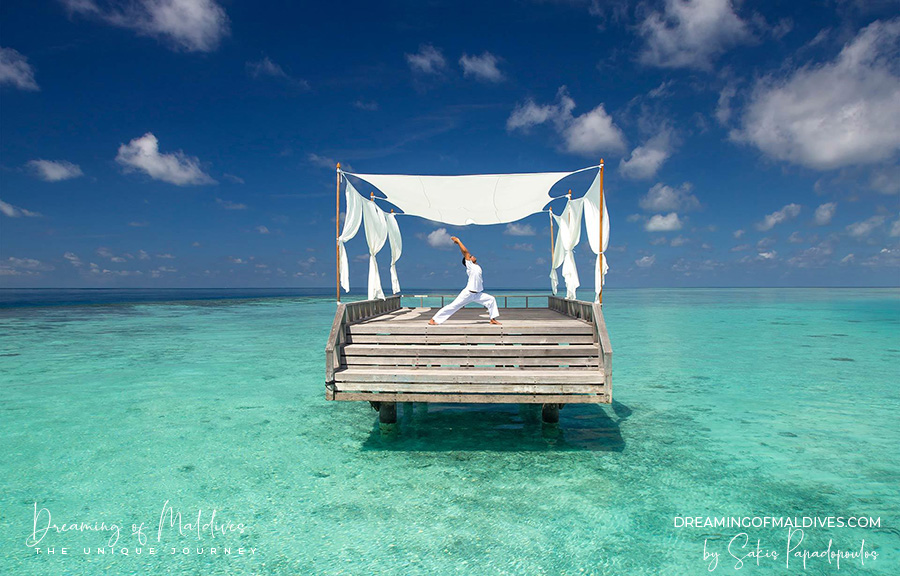 See aLso
And aLso
My Snorkeling Guides in the Maldives
---
Yoga at W Maldives Spa
At W Maldives you can practice your asanas or learn your first postures at the resort's superb overwater spa set on the island's coral reefs. Here you can practice yoga and meditation under the guidance of an experienced yogi.
W Maldives Spa from above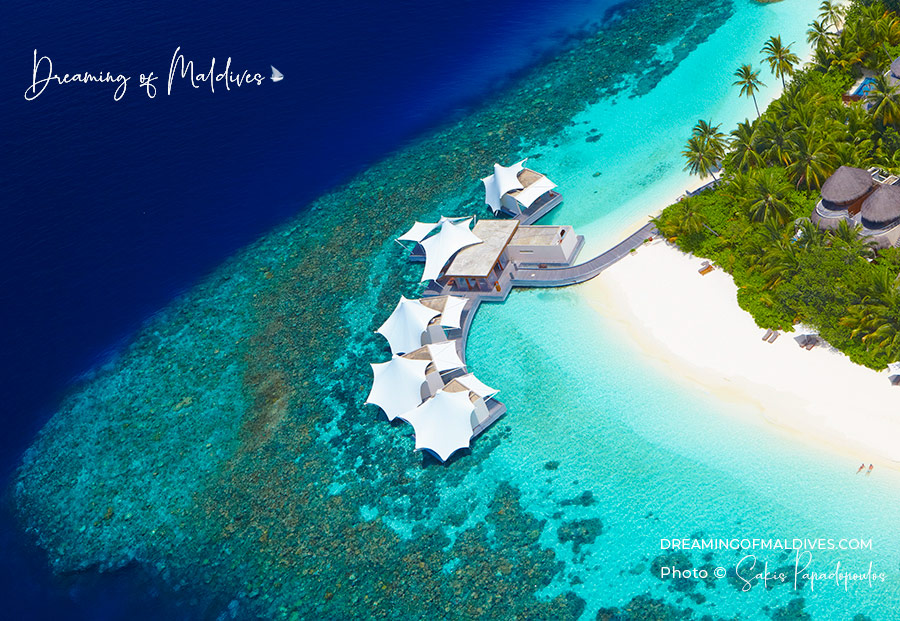 The below photos of various asanas are taken under one of the spa tents that serves as a Yoga and Meditation Pavilion.
Photo : Natarajasana or Dancer pose at Sunrise by W Maldives resident Yogi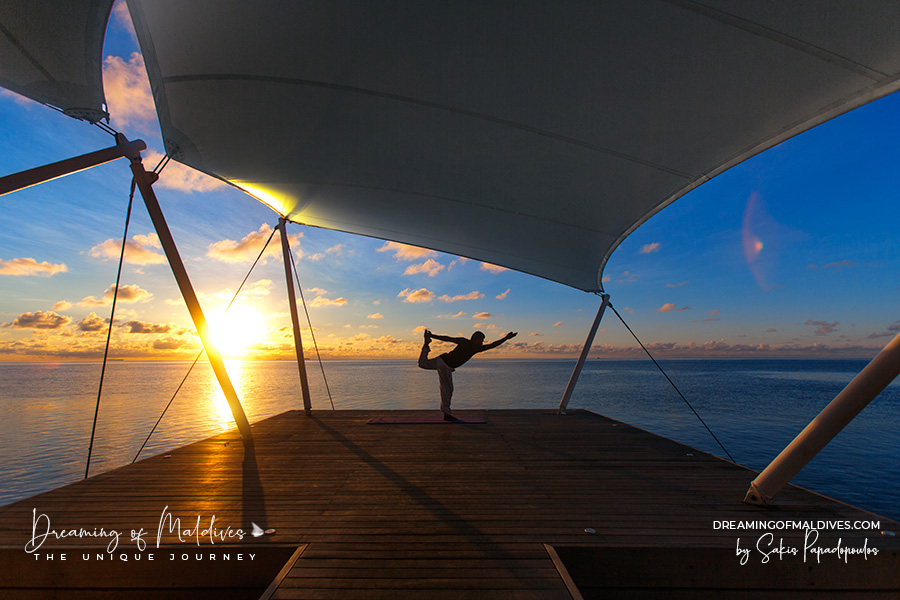 Photos : Vrksasana or Tree pose by W Maldives resident Yogi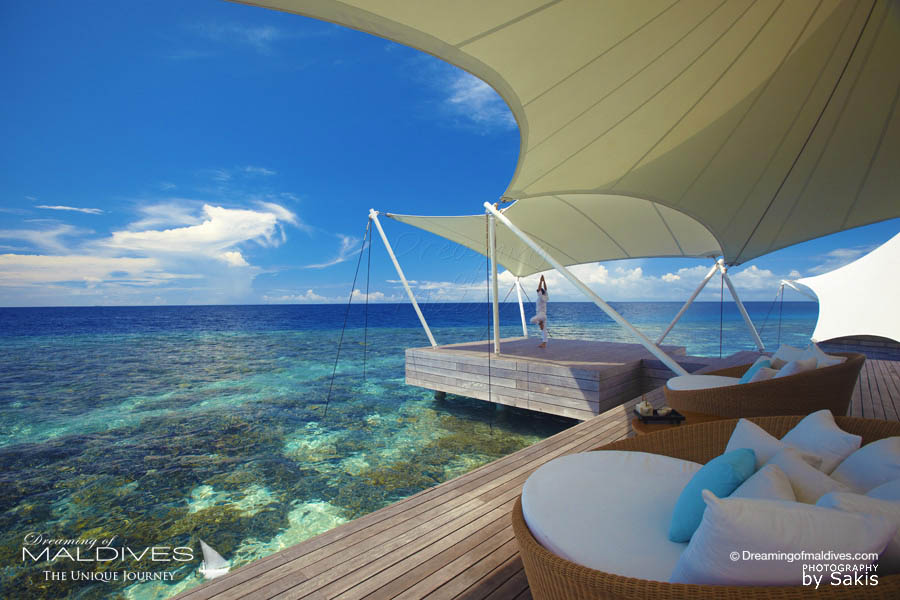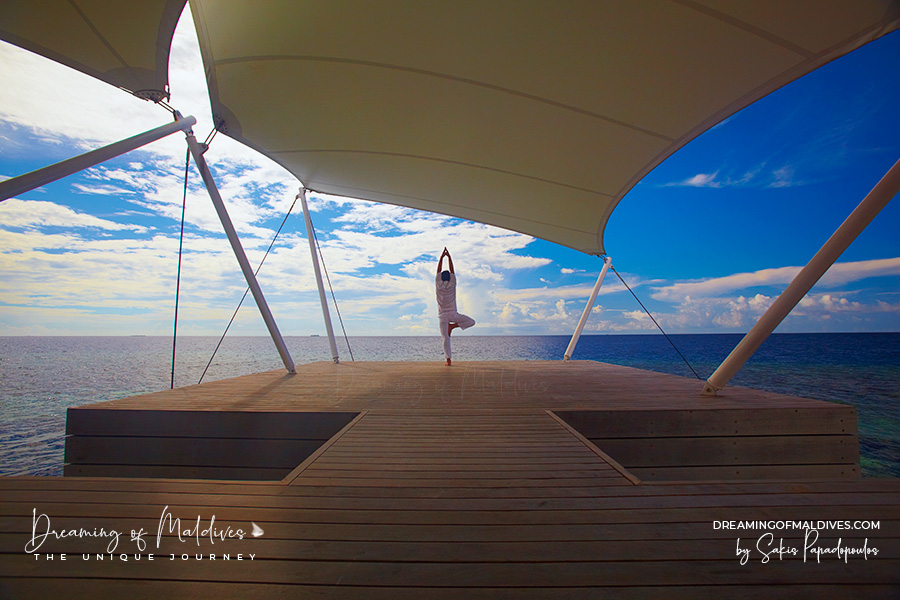 Morning Yoga & Meditation at Gili Lankanfushi's

Beach Yoga Pavilion
At Gili Lankanfushi Maldives, yoga is practiced everywhere on the island. Excellent mats are also available in your water villa.
The resort beautiful overwater spa has a beach yoga pavilion where private and group yoga and meditation sessions are daily given by the resident Yogi.
If you are tempted by a holistic holiday, Gili Lankanfushi is actually one of your best choice. Member of the very exclusive "Healing Hotels of the World", the resort's spa offers a complete program for the body and mind with Tibetan bowls, Ayurveda, Tai-Chi, health and health & wellness workshops and events as well as an excellent choice of massages from all over the world.
Photo : Natarajasana or Dancer's pose by Gili Lankanfushi's resident Yogi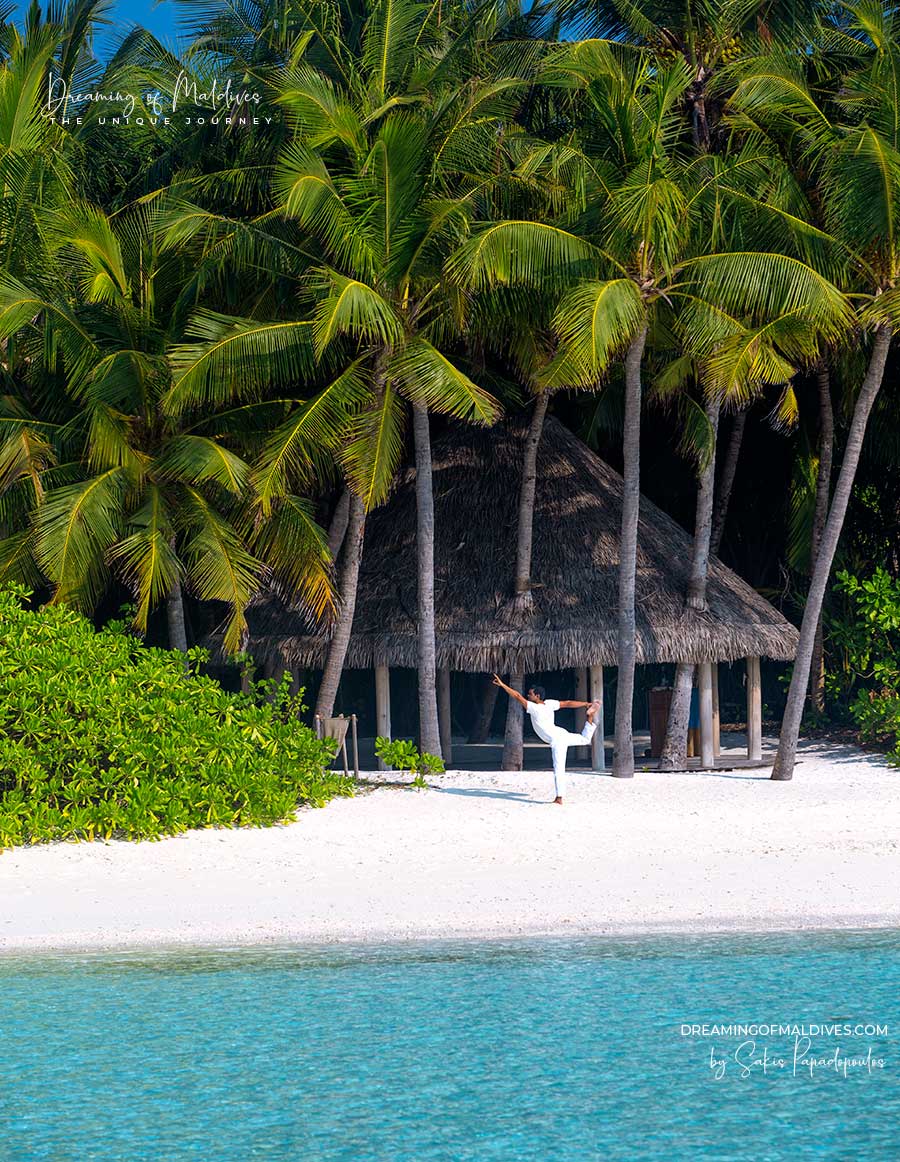 Photo : Dev, Gili Lankanfushi's resident Yogi meditates for a while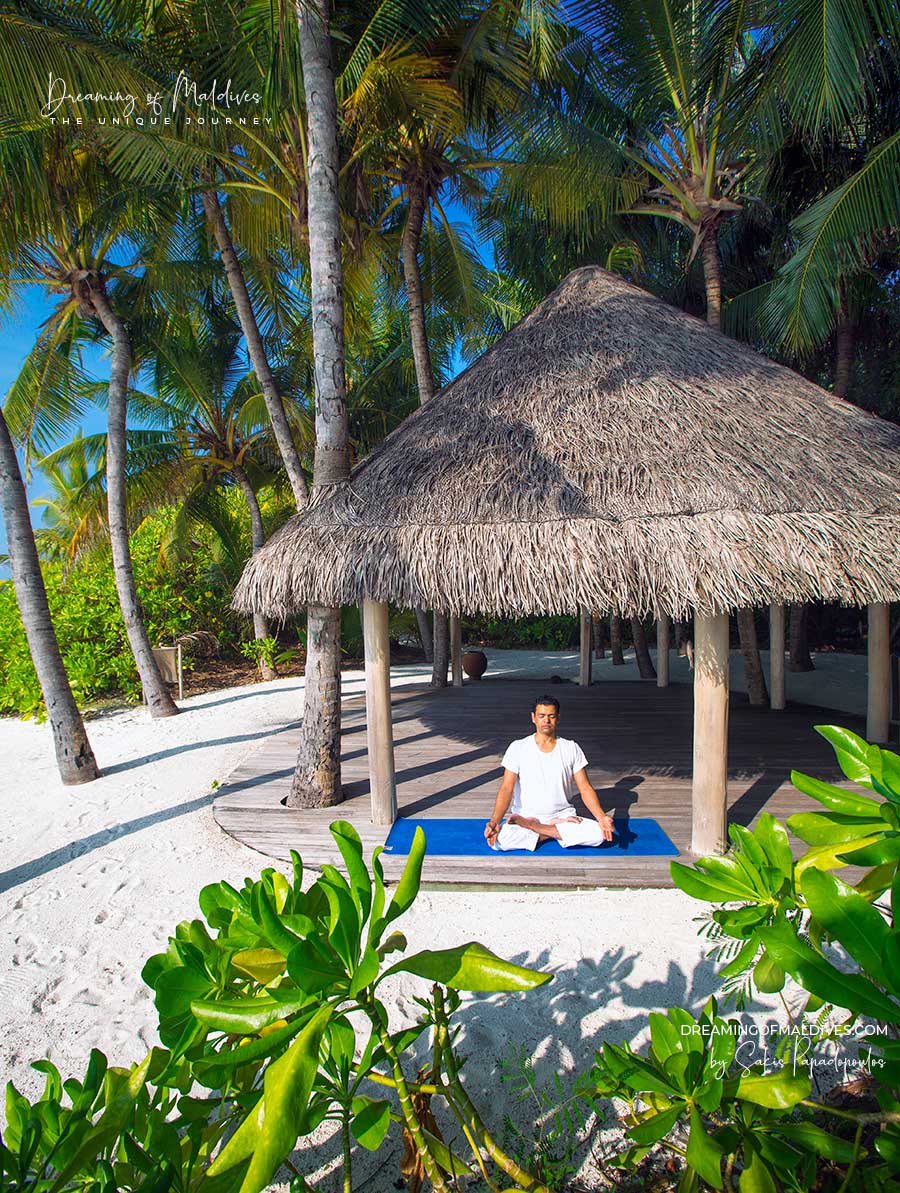 Yoga

on the beach

at Anantara Kihavah Maldives
At Anantara Kihavah, yoga is completed by holistic programs guided by excellent teachers and practitioners.
Yoga is available in various parts of the island, including the resort's beautiful overwater, in your villa or on the beach, like here.
Photo : Utthita Trikonasana or Triangle pose by the resort resident Yogi and one of his student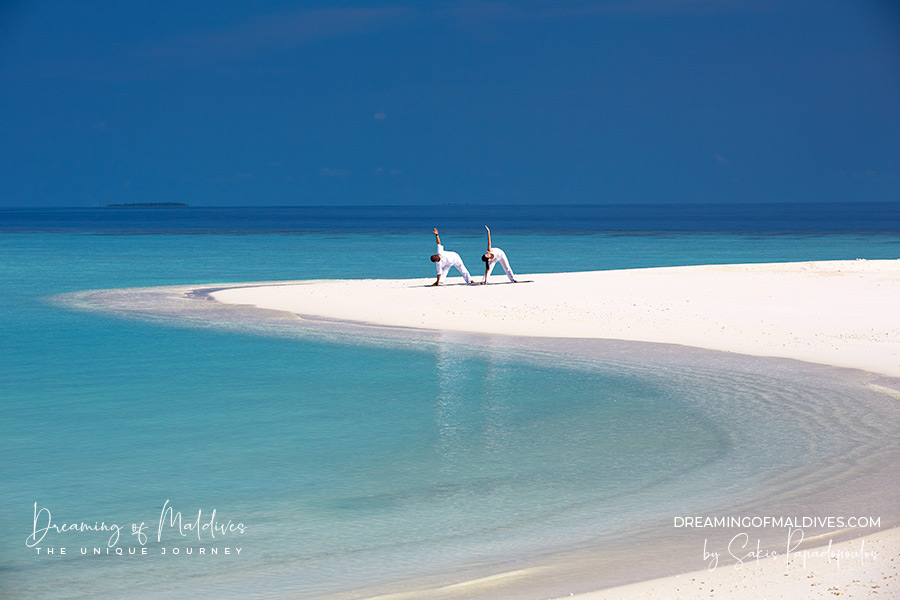 Yoga

in your Villa

at Hideaway maldives
Hideaway Beach Resort & Spa offers private or group yoga and meditation classes. One of the most beautiful places for a yoga session is undoubtedly the private garden of the resort beach villas, in front of the sea, like here on this photo.
Photo : Vrksasana or Tree pose by W Maldives resident Yogi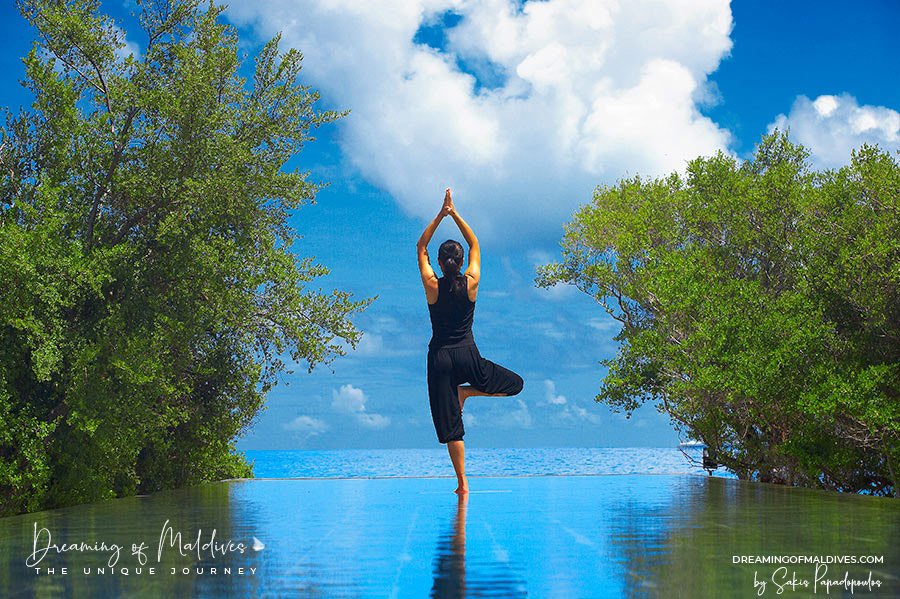 Yoga & Meditation at Huvafen Fushi's

Overwater Yoga Pavilion
One of Huvafen Fushi's most beautiful place to practice yoga is probably the yoga pavilion, located close to the resort superb spa located both over and underwater.
Photo : Utthita Trikonasana or Triangle pose by the resort resident Yogi and a beginner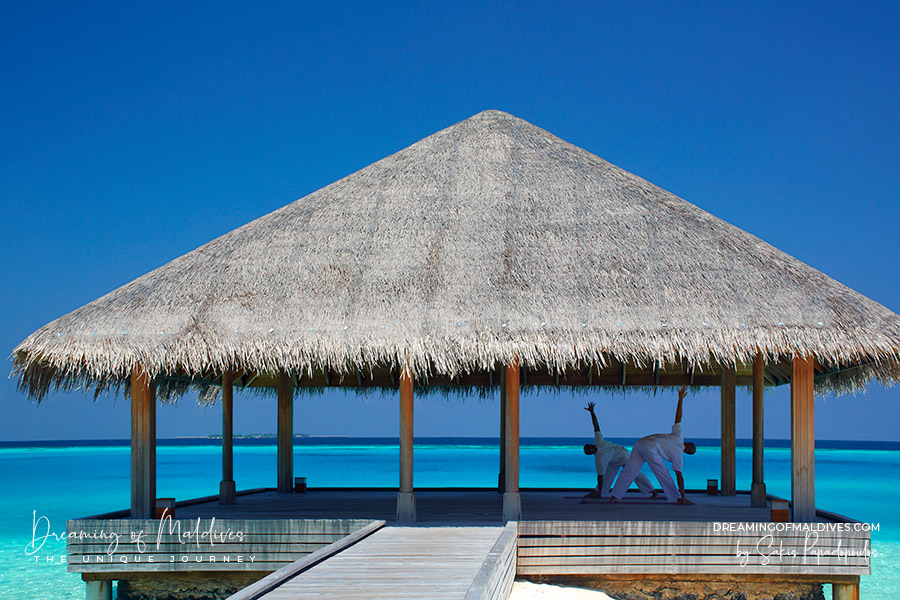 Photo : Huvafen Fushi's resident Yogi teaches meditation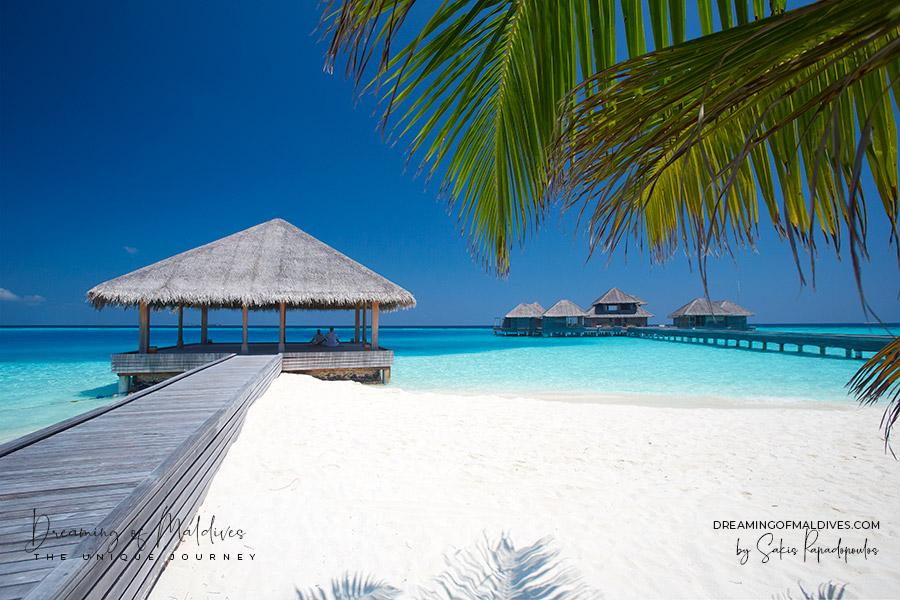 Sunset Yoga on Milaidhoo's

Sandbank
Milaidhoo Island offers different types of yoga in various beautiful locations, including its spa of course.
The resort's most beautiful place to practice is its sandbank, like here at Sunset.
Photo : Natarajasana or Dancer's pose ( variation for beginners ) by Milaidhoo's resident Yogi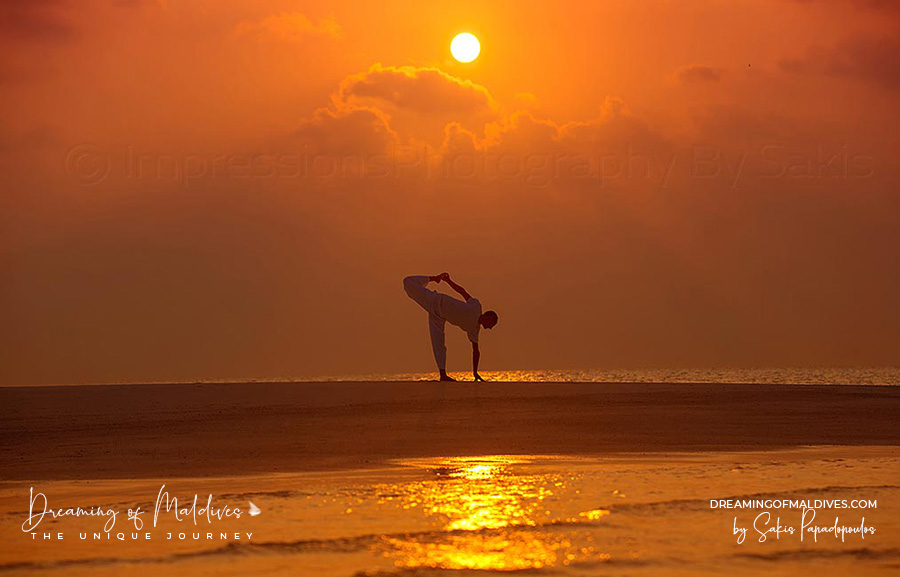 See aLso
Meditation

on a Jetty

Coco Bodu Hithi
Coco Bodu Hithi has one of the most beautiful spas we have seen in the Maldives. Set overwater above a spectacular lagoon, the spa offers yoga and meditation sessions on the beach, in your villa or on its jetty like.
The Indian resident Yogi kindly granted us a meditation session on the spa jetty. Here she is in this photo.
Photo : Coco Bodu Hithi's resident Yogi meditates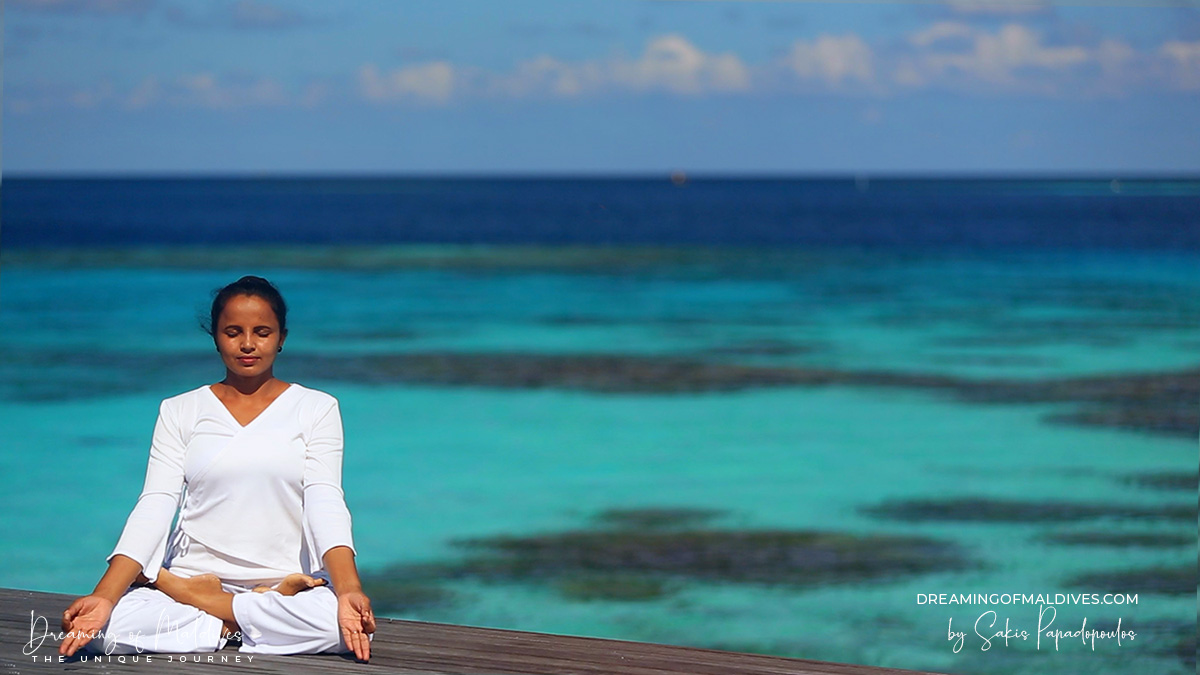 For your eyes only : Coco Bodu Hithi Overwater Spa' Jetty in a small video
Discover more about Yoga in Maldives

Breath and Practice Yoga at Vakkaru Maldives with the resort newly appointed teacher Anju Rathi. Namaste Dreamers. Vakkaru Maldives just…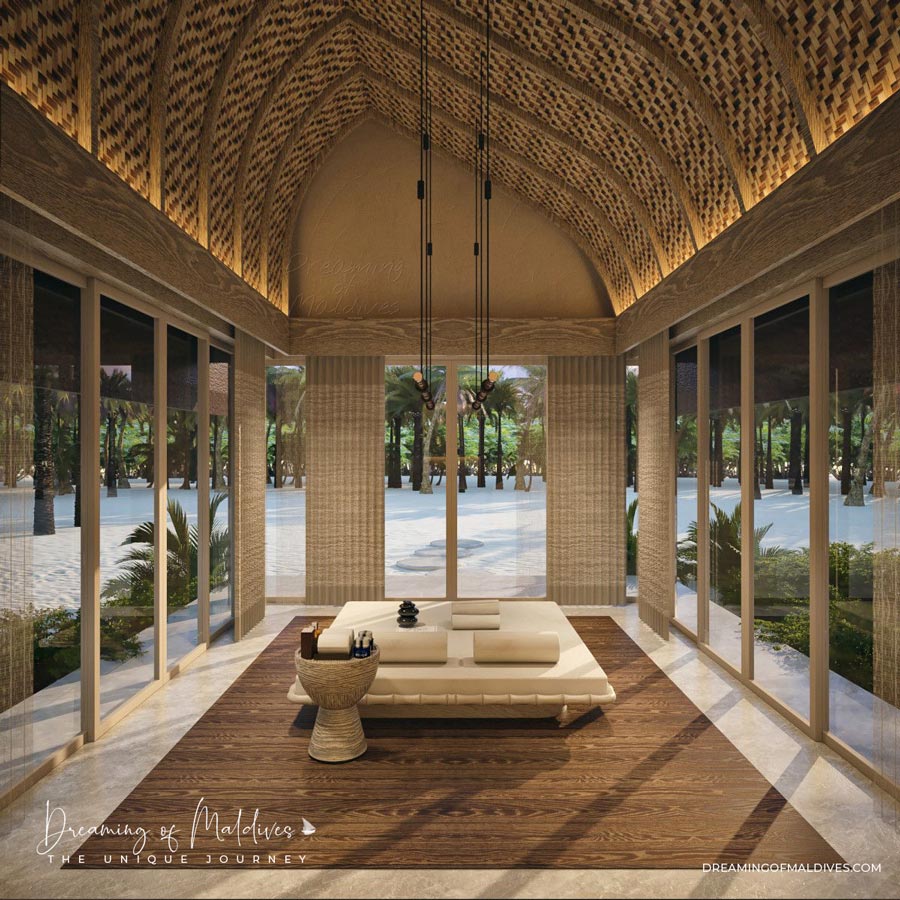 JOALI Being is the new and latest Maldives wellness resort which will open late 2021. The immersive wellbeing island retreat is a one of its…
Follow us on Facebook, Youtube and Instagram
for more Maldives Dreams
Your TOP Best Maldives Resorts 2023
YOUR CHOICE. YOUR DREAM. YOUR VOICE
[ Official ]
Traveler's Choice
12th Edition