The Maldives offer some of the world's coolest open air cinemas that let you watch a movie under the stars.
Located on the beach, in the jungle of an island, on the rooftop of your own villa or even overwater, this extraordinary experience is offered by a few resorts only. Here are the best of them.
Cet article existe aussi en Français ici.
The Maldives offer some of the world's coolest open air cinemas that let you watch a movie under the stars.
In the warm tropical evenings, nothing beats an outdoor cinema experience. Complemented by spectacular surroundings, it is truly extraordinary.
Located on the beach, on the roof top of your own penthouse, in a tropical jungle or even overwater, it is one of the best thing to in Maldives. A must-do.
However, this dreamy experience is available in some resorts only.
Some hotels organize it on a regular schedule, on the beach or in the jungle of their island. Bonus : popcorn is generally on the house.
Some others do it on request. You can ask for your own private movie screening with the options you wish : cocktails, champagne, canapés, a simple snack or a gourmet dinner. It's up to you.
Where can you watch a movie under the stars in Maldives ?
If you dream of watching a movie under the star in Maldives, here are the resorts that currently offer an outdoor cinema :
Soneva Fushi, Soneva Jani, Six Senses Laamu, Gili Lankanfushi, One&Only Reethi Rah, Sheraton Maldives Full Moon Resort & Spa, The Nautilus Maldives, Constance Moofushi, Centara Ras Fushi Resort & Spa Maldives, Anantara Kihavah, Anantara Veli, Jumeirah Olhahali, The St Regis Maldives Vommuli Resort,
Angsana Velavaru, Raffles Maldives Meradhoo Resort, Sun Siyam Vilu Reef, Ayada, Outrigger Konotta, Amaya Kuda Rah, Coco Bodu Hithi, Conrad Maldives Rangali Island, Mirihi, OZEN Life Maadhoo, Fiyavalhu Maldives,

and probably more soon…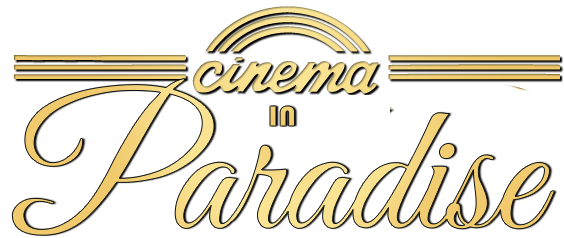 I've selected here the Maldives resorts that offer the most beautiful settings.
---
Enjoy you movie experience at these dreamy open-air cinemas in Maldives

Soneva Fushi emblematic Cinema Paradiso
Soneva Fushi. Where it all started.
It has, since then, inspired plethora of hotels & resorts.
Among other extraordinary things to do, Soneva Fushi was the first in Maldives to offer guests the chance to watch movie under the stars, on the beach in a superbly designed open-air cinema called Cinema Paradiso.
This name is now a classic.
Cinema Paradiso offers guests an exceptional outdoor cinema located between the island jungle and the beach where you can indulge yourself as you lounge under the stars and experience old-time classic movies. At Cinema Paradiso, popcorn are offered and chilled cocktails are on request. Perfect for foodies, Soneva Fushi also offers a chef-crafted menu during cinema screenings, so you can treat yourself to the best comfort food the Maldives has to offer ! Read more…
Soneva Jani Overwater Cinema Paradiso
One of the most extraordinary outdoor cinema of this list is at Soneva Jani. The giant screen is located overwater meanwhile guests are comfortably installed on a hammock with blue tooth headphones. With your beloved one, your family or your friends, you'll be able to watch classic films with complimentary ice cream and popcorn in this new kind of Cinema Paradiso made by Soneva of course ! Read more…
Gili Lankanfushi Open-Air Jungle Cinema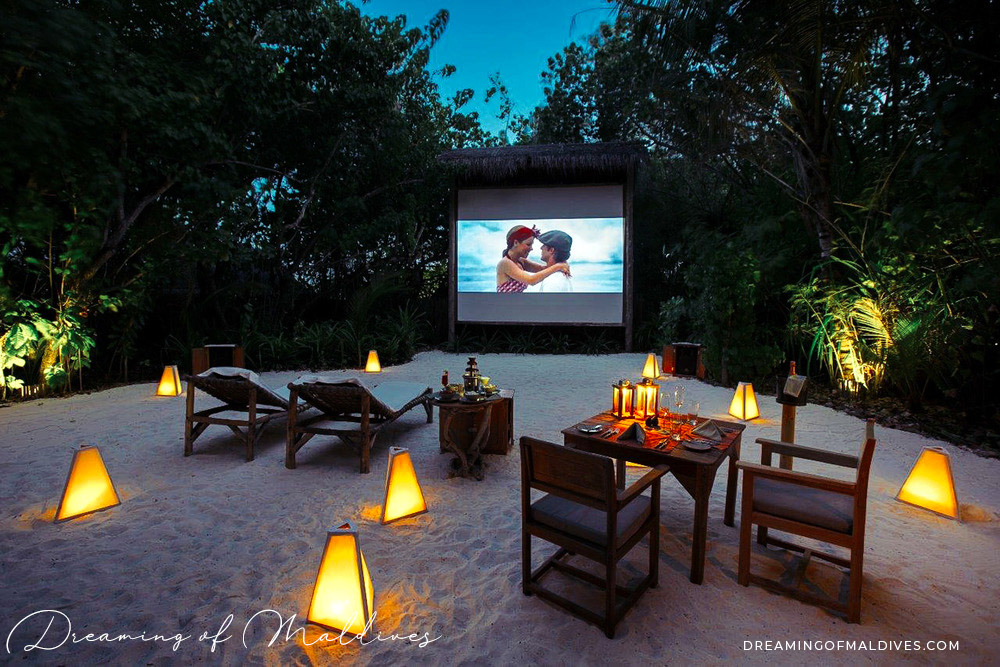 Gili Lankanfushi has a screen that stands in the island jungle, called the Jungle Cinema where guests can recline in a luxury sunbed, snack on a bowel of freshly popped popcorn and catch a classic film under the stars.
A private screening can be organized with a menu inspired by the film you choose to watch. Read more…
The Jungle Cinema at Six Senses Laamu
Six Senses Laamu offers scheduled screenings three times a week at its Jungle Cinema where you can relax on a sun lounger under the stars and enjoy a movie with a state-of-the-art surround-sound system, along with homemade popcorn. Should you wish to have a more private experience, screenings can also be arranged for couples, families or groups. Read more…
One&Only Reethi Rah Private Beach cinema at The Grand Sunset Residence
Guests staying at the iconic One&Only Reethi Rah can enjoy the resort's superb signature Private Beach Cinema experience, a stunning dining / movie setting located at the resort Grand Sunset Residence, the resort most exclusive villa. Read more…
The Nautilus outdoor cinema on a sandbank
At the Nautilus Maldives your own private screening is set up on a distant sandbank under starry skies around a bespoke private dinner with your loved ones or in tête-a-tête. Read more...
Cinefushi, Constance Moofushi Beach cinema
At Constance Moofushi you can choose your film from a selection of more than 100 to watch on a private screen, with the sound of waves gently lapping against the shore and soft powder sand beneath your feet.
Called Cinefushi, the beach cinema has loungers or beanbags ( it's up to you ) where guests can enjoy a myriad of delicacies : popcorn, ice cream, canapés, sparkling wine, beers, soft drinks, all served to you on the beach.
Anantara Kihavah Private Cinema under the Stars
Anantara Kihavah private cinema is located in the jungle, in a completely secluded part of the island where guests can enjoy classic movies after a gourmet dinner under the starry night. Read more…
Movie Night on Jumeirah Maldives Olhahali's Penthouse rooftop
At the newly rebranded Jumeirah Olhahali, ( previously known as LUX North Male ), you can enjoy a private movie screening under the stars with a candlelit dinners on your penthouse rooftop deck. Read more…
The St Regis Maldives Vommuli Resort Jungle Cinema
At The St Regis Maldives Vommuli Resort, you will enjoy popcorn and your all time favorite movie a the resort Jungle Cinema. You can reserve your own private romantic screening with a gourmet or have the place for your all family and friends under the twinkling sky. Read more…
Cinema Under the Stars at Velassaru Maldives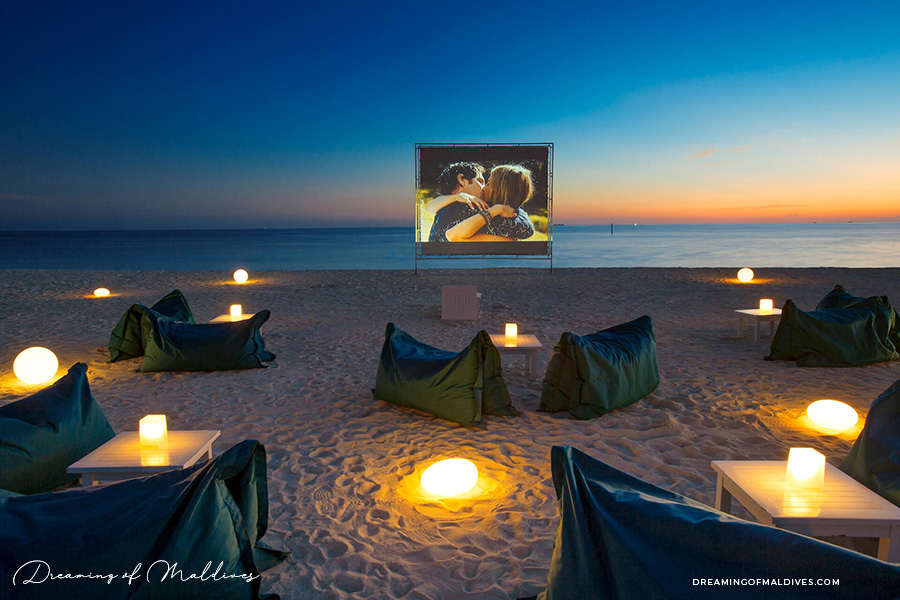 Watch a movie on the beach, surrounded by the milky way, at the outdoor Cinema Under the Stars at Velassaru Maldives. Once a week, the resort features a screening with popcorn on its white powdery beach where guests can relax on plush bean-bags and drinks. Read more…
Your own vision of a Cinema on the beach at Sheraton Maldives Full Moon Resort & Spa
Sheraton Maldives Full Moon Resort & Spa lets you create your own vision of what a perfect movie screening should look like. The resort long beach is one of the best setting for an ephemeral cinema. Read more…
An adults-only Beach Cinema at Centara Ras
Centara Ras Fushi, an adults-only getaway resort, recently opened its own beach cinema for couples only. This under-the-stars movie experience can be organized after a romantic dinner or with a glass of Champagne and canapés.
Cinema Paradiso at LUX* South Ari
LUX* South Ari outdoor cinema setting is up to you. Tempted by a movie under the stars on the beach or in our tropical garden ?
Just ask and the resort will create your very own Cinema Paradiso. Read more…
Movie Under The Stars at Anantara Veli
Anantara Veli has a new open-air cinema called Movie Under The Stars located inside the island where you can chill on oversized beanbags for two under the bright stars of the Indian Ocean sky. Watch a movie with complimentary popcorn, or order a selection of gourmet snacks and beverages to share.
The Starlight Cinema at Angsana Velavaru
Angsana Velavaru has a beautiful cinema on the beach called Starlight where you can sit back on a comfy lounger and watch a classic movie while sipping your favorite cocktail. Popcorn is offered !
Movie Night Under The Stars at Raffles Maldives Meradhoo
At Raffles Maldives Meradhoo, a Movie Night Under The Stars comes in different flavors. Guest can either relax in a beautiful oriental dinner table setting or, if you're planning to make a dream proposal, around a sunken dinner setup dug in the sand.
Extraordinary Places in Maldives

Kudadoo Private Island Maldives' sustainability model is a masterpiece of eco-conscious architecture. Powered by 984 solar panels and…

Soneva Secret unveils the Castaway, an extraordinary floating villa reachable only by boat, which can be moved to any location based on guest…

If you're on the search for a tropical destination where to appreciate modern architecture, design and art and you're a Maldives lover like…
Follow us on Facebook, Youtube and Instagram 
for more Maldives Dreams & Stories
Maldives TOP 10 Dreamy Resorts 2024
YOUR CHOICE. YOUR DREAM. YOUR VOICE