Here are the most beautiful places and resorts for a Yoga retreat in the Maldives. If you dream to do yoga in superb surroundings at sunrise or sunset, to meditate or practice aerial yoga on a paradise beach, over a blue crystalline lagoon or you simply prefer a private lesson with your teacher on the deck of you villa, breathe and relax, because you will surely find your perfect Dream Yoga Retreat in the Maldives.
Being an Ashtanga practitioner, I must admit that the Maldives have some of the most beautiful places I've ever seen for a yoga practice.
The islands offer stunning surroundings and quietness that highly increase the incomparable feeling of relaxation that yoga naturally brings.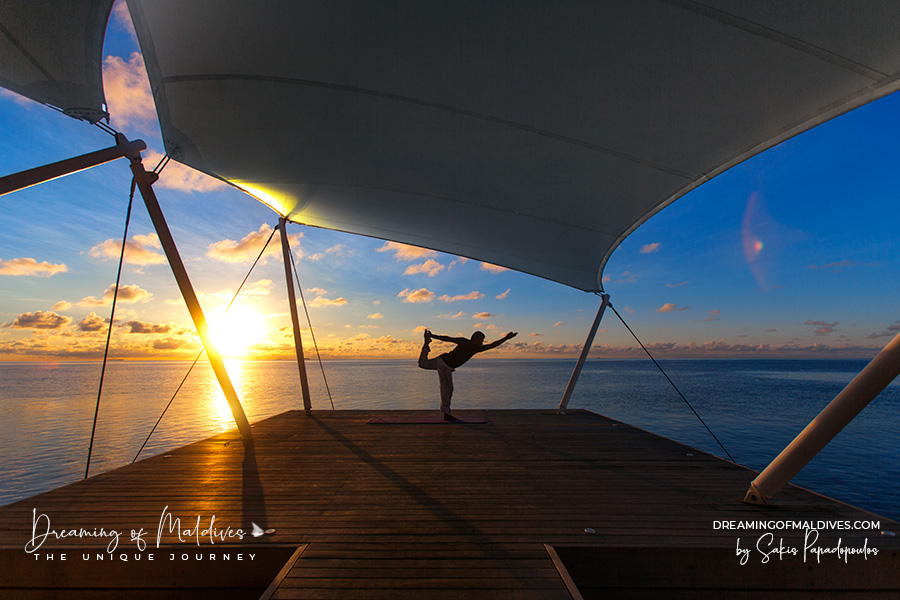 The Island Nation prides itself with some of the World's most outstanding places to learn and practice Yoga with dozens of resorts offering excellent yoga retreats and classes lead by world-class resident Yogis who teach all kinds of Yoga like Vinyasa, Hatha, Ashtanga and latterly, aerial Yoga. Pranayama is also offered in some resorts.
Here are the most beautiful places to practice Yoga in the Maldives
You can practice different forms of Yoga in so many beautiful places in Maldives.
From the classical Hatha to deep Pranayama on the beach, facing the blue lagoon or the sunset, practice on a sandbank, stand under the shade in a beautiful overwater yoga pavilion. You can also choose a jetty or stay at your villa and practice on the deck of your terrace.
There are countless beautiful places to practice yoga in the Maldives
You can also go beyond the ordinary by isolating yourself in the middle of the Indian Ocean like here on The Piano at Baros Maldives.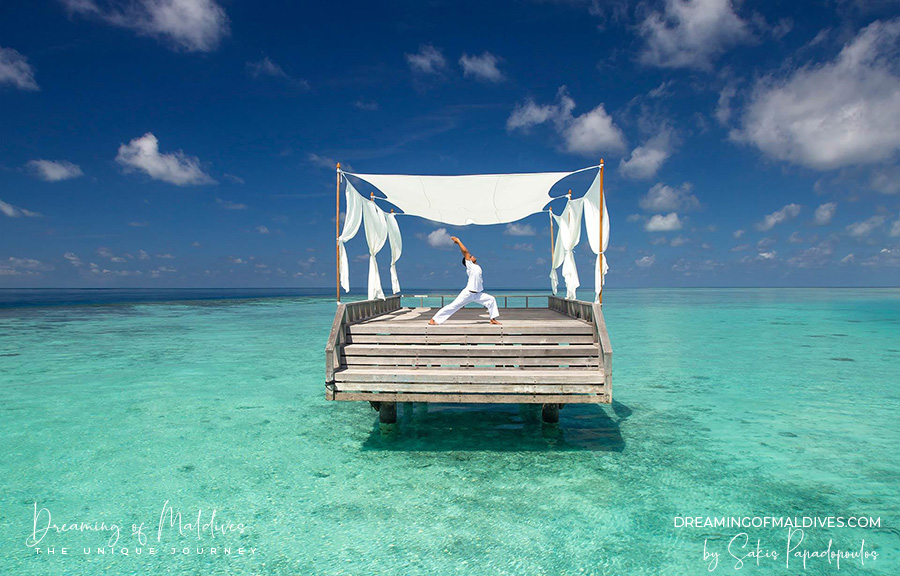 Anywhere, anytime you will choose to practice, you will reach another level of relaxation. It is just beyond any dream.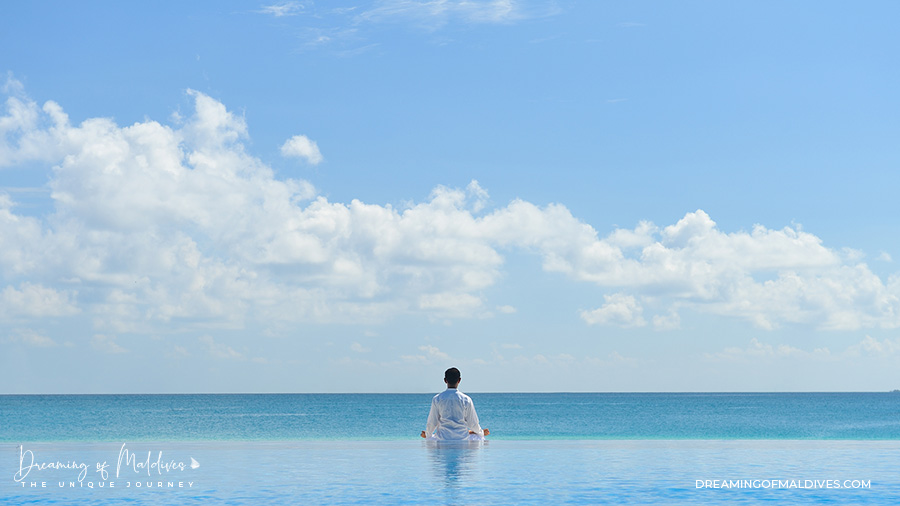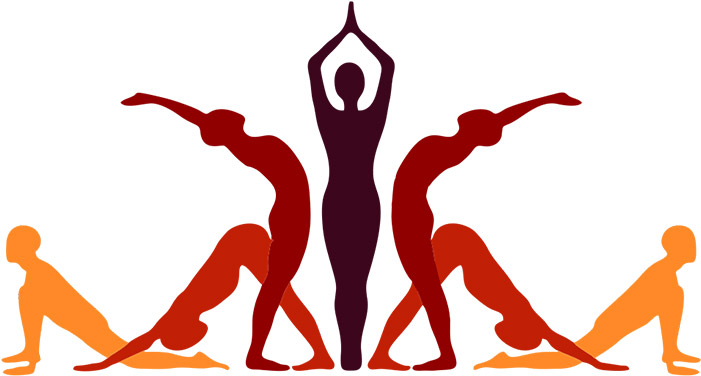 About Yoga
Yoga comes in many forms. Whatever the type of practice you chose you will benefit from many health and mind improvements. Yoga not only improves your strength, balance and flexibility, it also helps back pain relief, blood circulation, stimulates the heart, fluidify your blood, help you sleep better, gives you energy, bright mood and so much more.
Yoga just makes you feel better.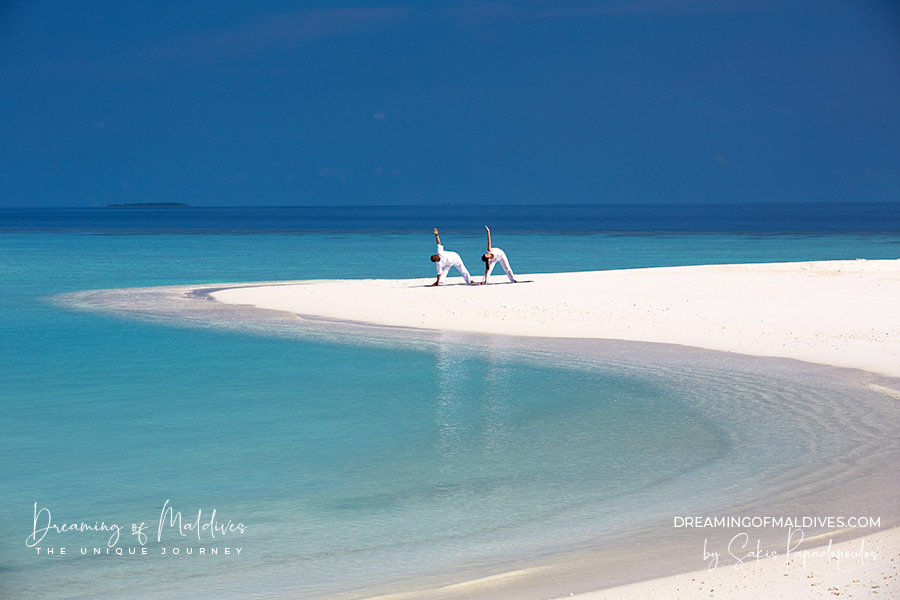 The finest resorts to practice Yoga in the Maldives
Most of the Maldives resorts propose yoga classes led by world-class resident yogis.
If you want to have a lesson, pay a visit to your resort spa where group meditation and yoga are often proposed to guests as a routine activity to increase their holiday benefits.
The spa team will tailor unique programs for the duration of your stay with a wide range of Asian-inspired therapies ( Ayurvedic is one of them ).
Private Yoga Session vs Group Yoga Class
There is a plethora of Maldives resorts that offer both yoga sessions.
Practiced as a group or in private with a teacher, your yoga session generally doesn't differ much in term of Asanas ( postures ).
The difference between both teachings relies in the amount of personal adjustments and advices given by your teacher who has, with one student, more time to give individually.
During a private lesson, the rhythm will also be entirely set to your level, contrary to a group session where you will need to follow the pace.
Best Group Yoga Class Locations in Maldives. Resort Selection
In Maldives like anywhere else, group Yoga classes are a great way to practice. The collective energy that exudes is a fantastic booster.
Group Yoga classes are generally free of charge, so go and enjoy !
Wherever these classes are given, you can rest assured that you will always practice in superb surroundings.

To illustrate my words, I selected hereunder some beautiful group Yoga classes given on various beautiful places and resorts.
Group Yoga classes organized in various Resorts
One&Only Reethi Rah. On the resort sandbank
Here at One&Only Reethi Rah, a group is practicing yoga on the resort private sandbank.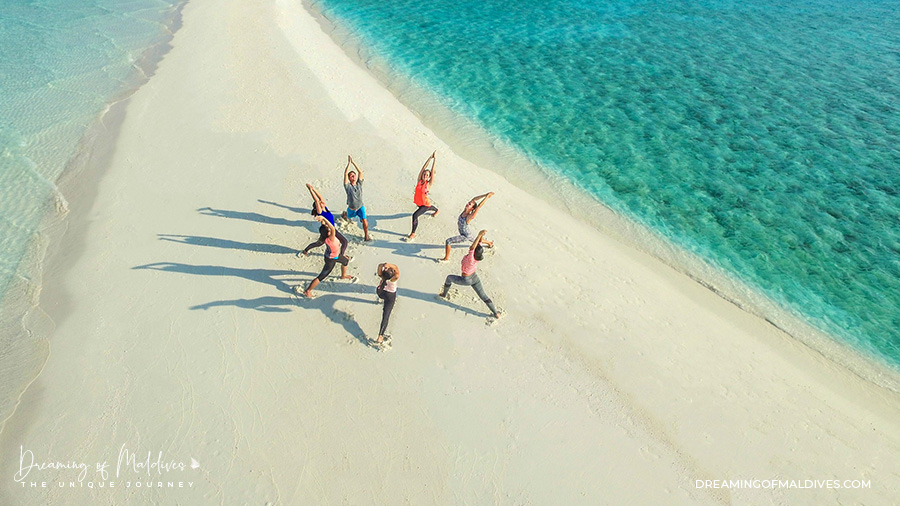 Vakkaru Maldives. Morning Yoga On the Island beach
At Vakkaru Maldives, free group Yoga classes are given daily on the resort beach each morning. The resort also offers a wide array of Yoga practices including Ashtanga and Vinyasa.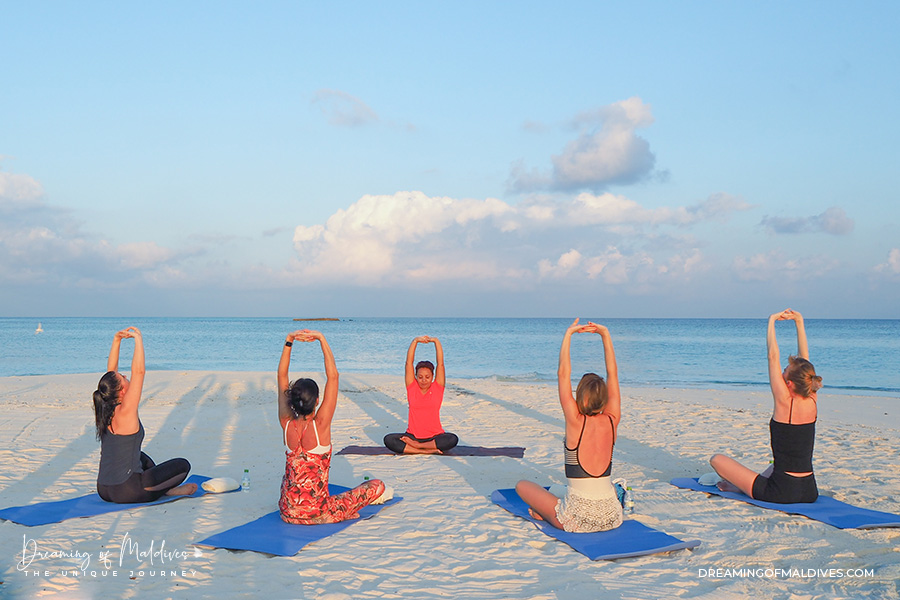 Hideaway Maldives. On a Jetty, above the blue lagoon
Hideaway Maldives has several long jetties around the island which are absolutely perfect for group yoga lessons at Sunrise and Sunset.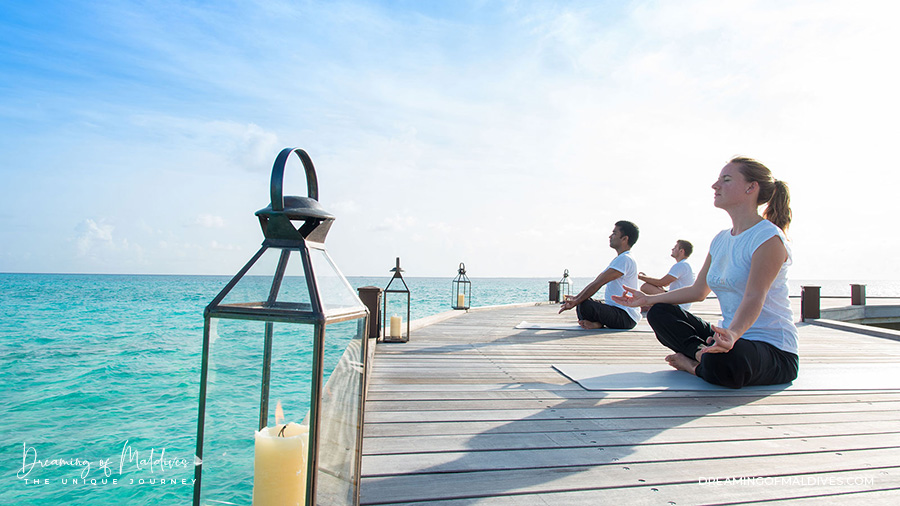 Kurumba Maldives. Sunset Yoga On the Island beach
At Kurumba Maldives, daily Sunrise and Sunset group Yoga are organize on the resort beach.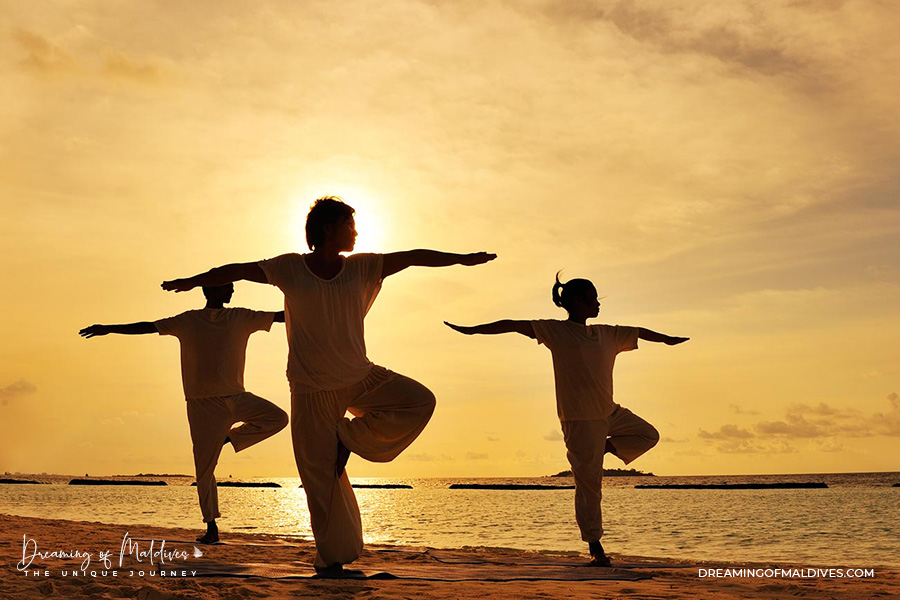 Yoga underwater at Hurawalhi
One of the most fascinating place for a group yoga session is at Hurawalhi Maldives, underwater, at the resort underwater restaurant, transformed into a Yoga studio for the occasion.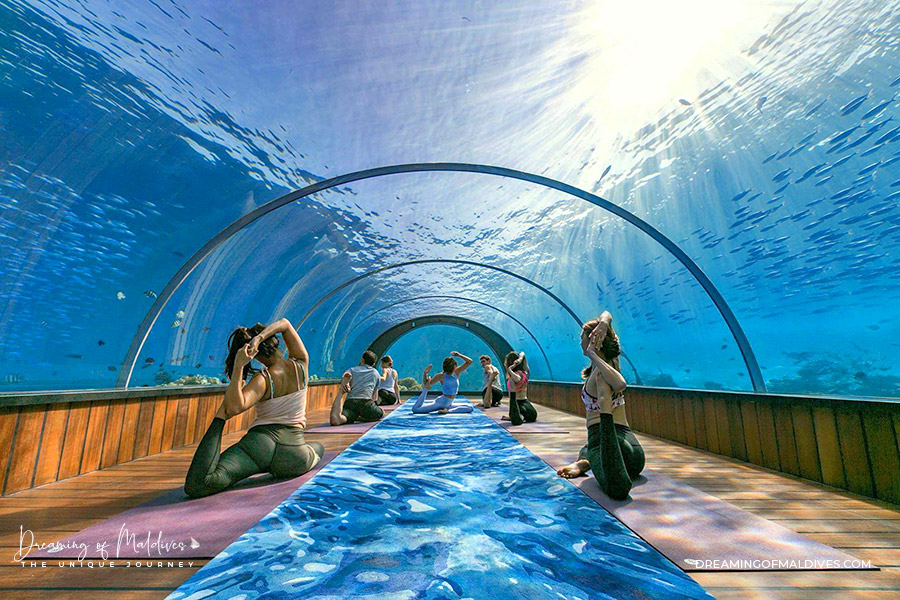 Best Private Yoga Session Locations in Maldives. Resort Selection
If you don't like to do yoga with a group, if you're a beginner or you need to improve your practice, a private yoga session is perfect for you.
In Maldives, several luxury resorts propose one-on-one yoga classes with private yoga instruction. A teaching that you just can't get in a group class.
A private yoga lesson is specially designed to meet your needs and rhythm.
You will be given appropriate adjustments and asanas to help bring your body into a state of optimal health and balance.

Private Yoga classes organized in Various Resorts
Anantara Kihavah Villas Maldives
At Anantara Kihavah private Yoga lessons are proposed everywhere you wish among a selection of stunning locations around the island, at the resort spa or directly in your villa.
Here, on the photo, a private yoga session is given on the resort beautiful beach.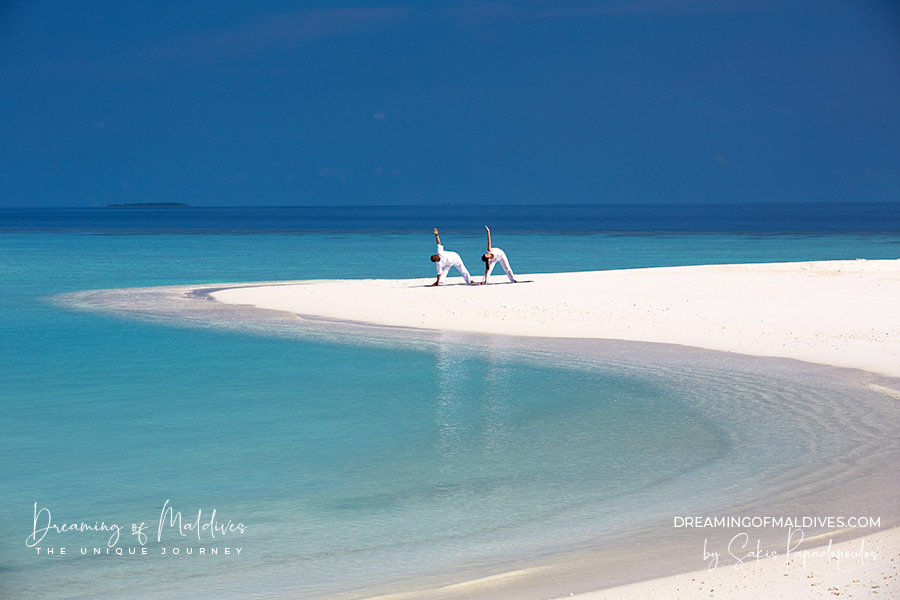 Our Video of Anantara Kihavah Maldives
Anantara Kihavah Villas Maldives The Resort Most Beautiful Places #AnantaraKihavah #Maldives #Bestof


Huvafen Fushi
Huvafen Fushi offers various private yoga classes and tailored programmes mastered by professional instructors. One of the best place to practice is probably the yoga pavilion, located close to the resort superb spa located both over and under the sea.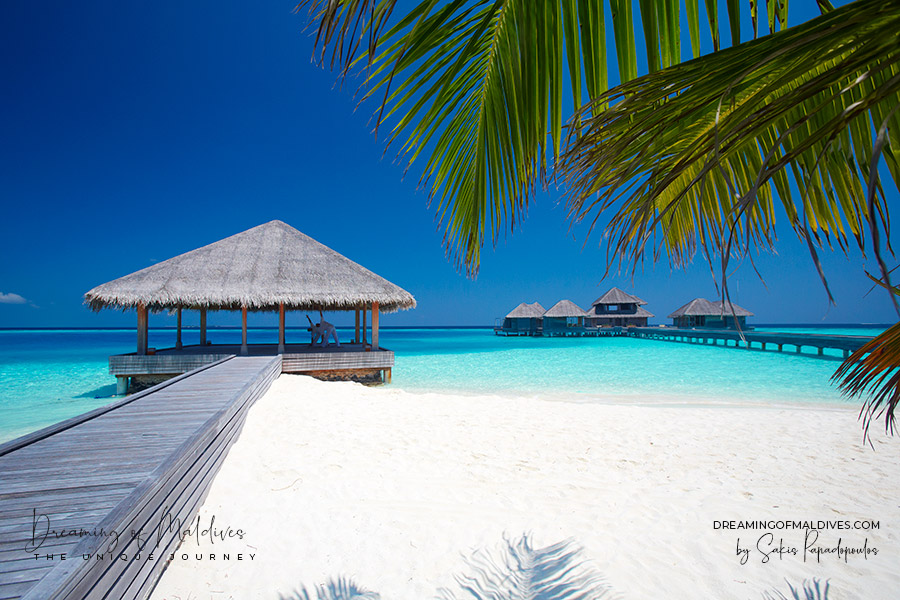 Our Videos of Huvafen Fushi
Complete Video of Huvafen Fushi Maldives. A superb Adult-Only Hotel #Maldives #BestLuxuryResort
Huvafen Fushi Maldives Most Beautiful Places. A Dream for Couples Only #Maldives #HuvafenFushi


One&Only Reethi Rah
One&Only Reethi Rah is one of the most extraordinary Maldives resort for a luxury and complete Yoga retreat. The resort spa is a treat for a yogi and the senses with a fabulous range of yoga classes proposed in some of the dreamiest places on Maldives like here at Chi Pavilion located overwater.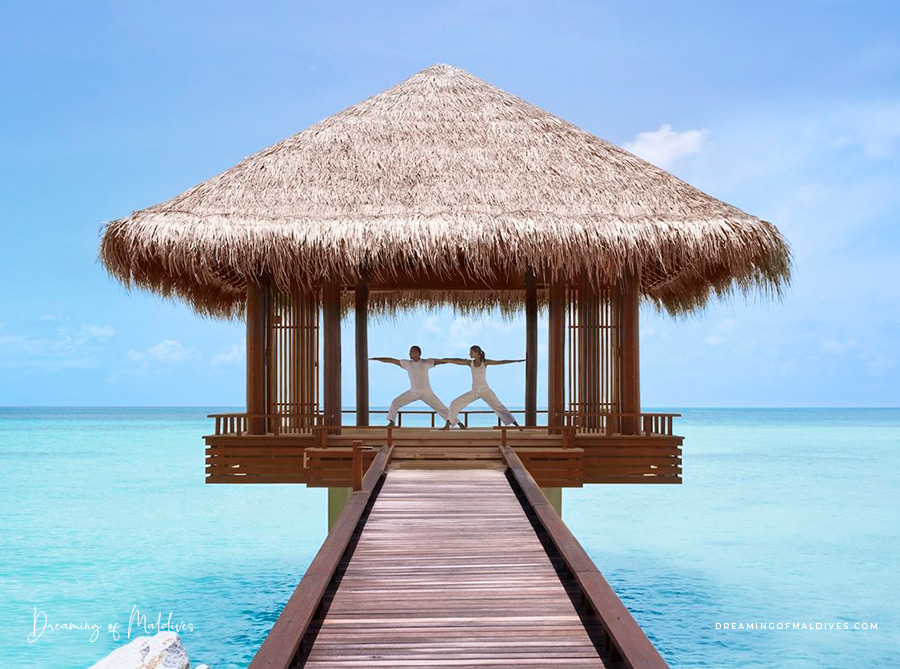 Waldorf Astoria Maldives Ithaafushi
Waldorf Astoria Maldives Ithaafushi spectacular overwater Yoga pavilion is one of the most beautiful place for a Yoga practice. At day your session will be completed by a 360 ̊ views at the resort blue lagoon and a full show at the Sunset at the end of the day.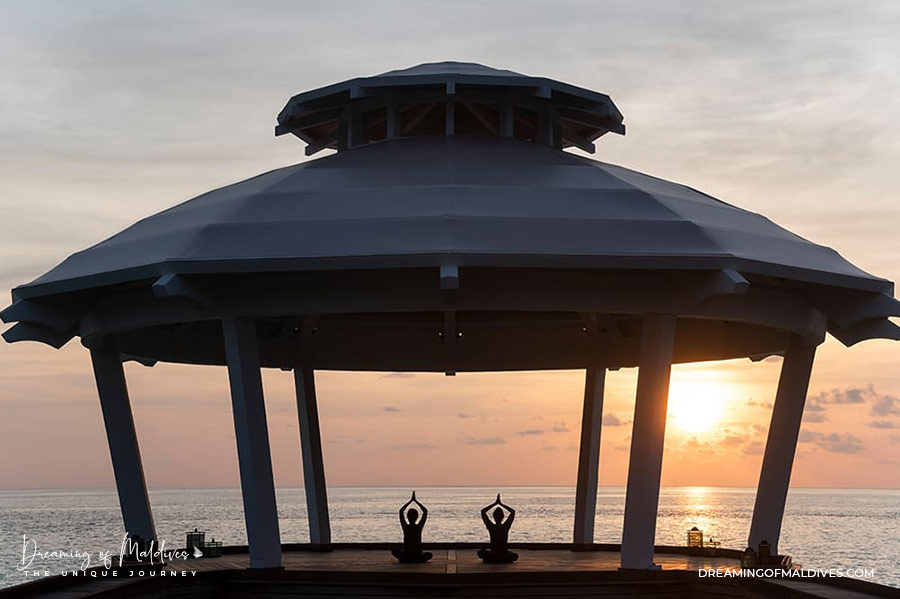 Four Seasons Resort Maldives at Kuda Huraa
At Four Seasons Maldives Kuda Huraa, private Yoga lessons are one of the countless options offered by the resort who gives to wellness a very special space with an entirely separated island solely dedicated to spa and wellbeing.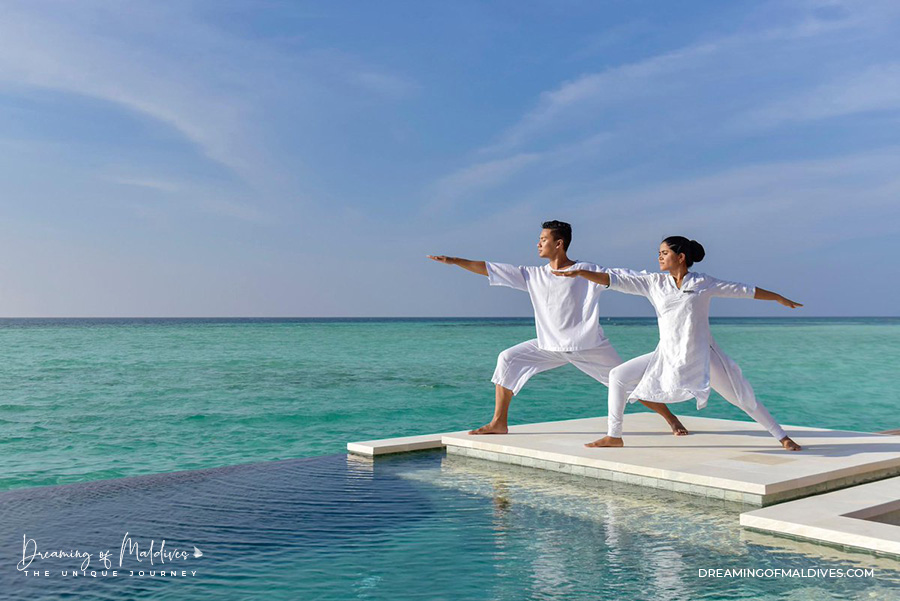 Four Seasons Resort Maldives at Landaa Giraavaru
Four Seasons Maldives Kuda Huraa features a Spa & Ayurvedic Retreat and Yoga Therapy Centre. Named "Most Meaningful Experience" in the Condé Nast Traveller Spa Awards 2020 , Landaa Giraavaru is one of Maldives best Yoga retreat offering an extraordinary range of practices including AntiGravity Yoga, Chakra Blessings, Yoga Energy Trail as private lessons.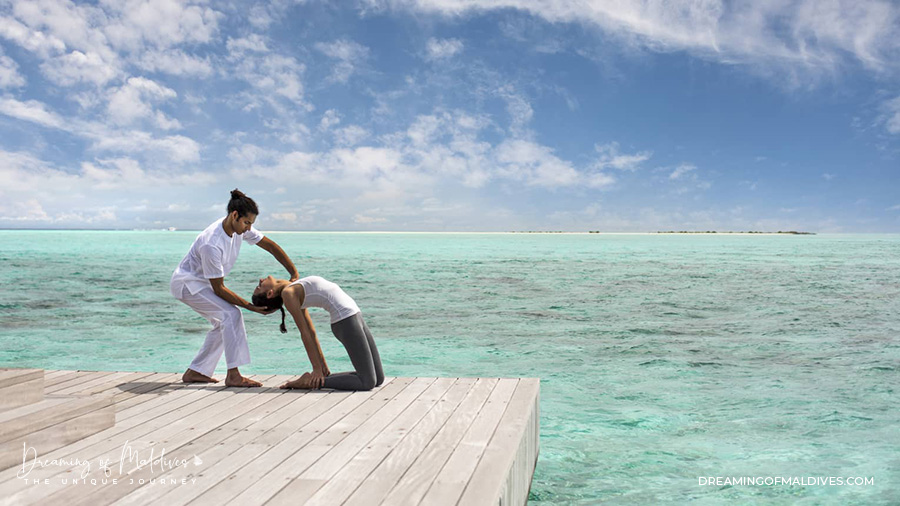 Finolhu maldives
Besides its Yoga Pavilion located in the island, Finolhu Maldives proposes private yoga sessions on its dreamy beach, like here during a morning sessions with the resident Yogi.

Aerial Yoga in the Maldives
In Maldives you will find all kinds of Yoga practices are proposed in Maldives but you will find aerial Yoga in some resorts only.
Six Senses Laamu, The St Regis Maldives Vommuli, One & Only Reethi Rah or Cheval Blanc Randheli are the most offer excellent aerial yoga classes in beautiful locations.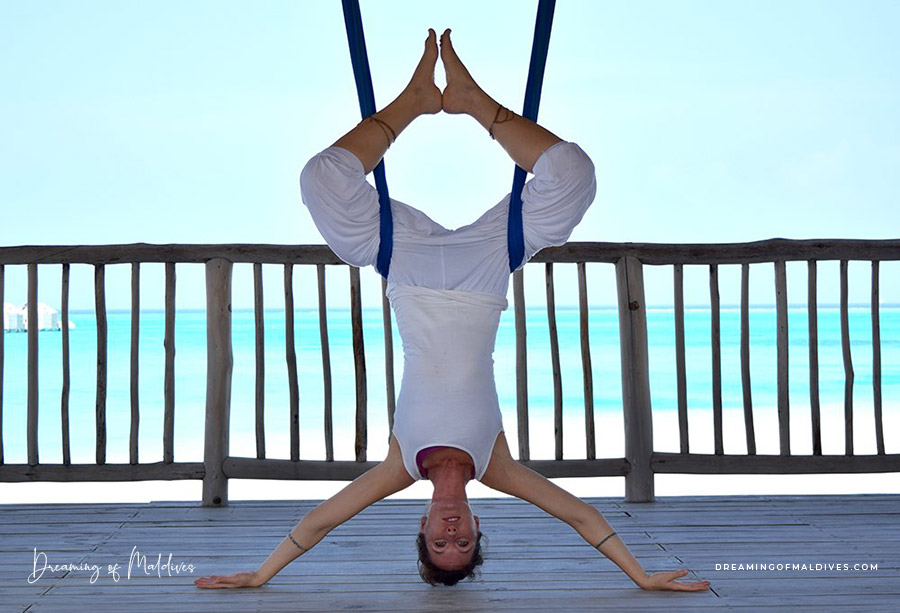 What is Aerial Yoga ?
Aerial yoga consists of being suspended in the air meanwhile maintaining various positions and breathing. This form of yoga releases tension on the bones and muscles and allows to go deeper into yoga practice.
Where to practice Aerial Yoga in Maldives ? Resort selection
Cheval Blanc Randheli
This Aerial Yoga location at Cheval Blanc Randheli is also one of the most beautiful place you will find in the Maldives for a good practice. The luxury resort has a Spa Island dedicated to wellbeing with several Yoga teachings. Aerial Yoga is proposed among a fantastic choice of practices ( one the most complete range in Maldives ) like Ashtanga, Hatah, Vinyasa, Therapeutic, Power Yoga, meditation sessions and several breathing practices including Pranayama.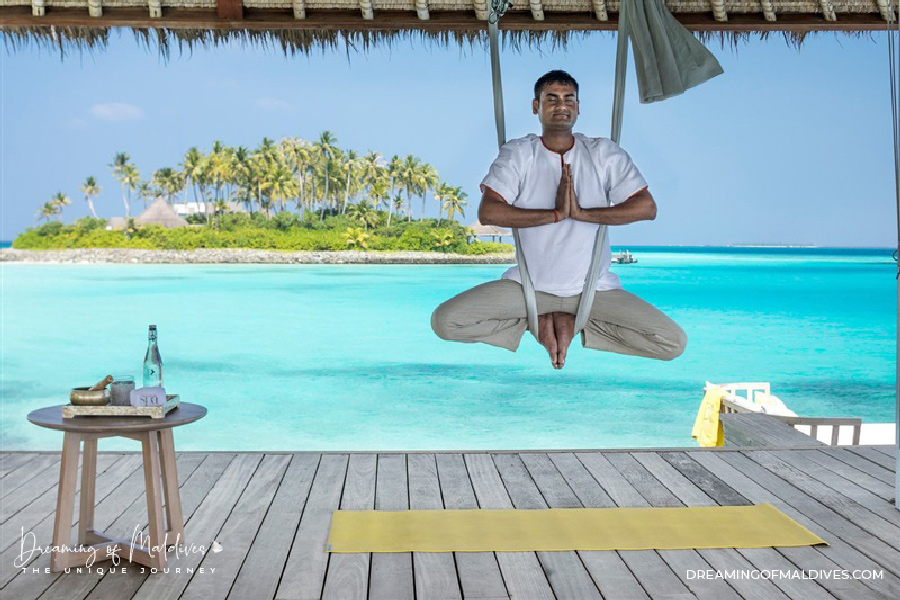 One&Only Reethi Rah
As we saw earlier, One&Only Reethi Rah is a Dream for any Yogi. Aerial yoga is proposed in various beautiful places at the resort like at the fitness Pavilion located on the beach or at the Chi Pavilion located overwater.
Aerial Yoga at One&Only Reethi Rah superb fitness Beach Pavilion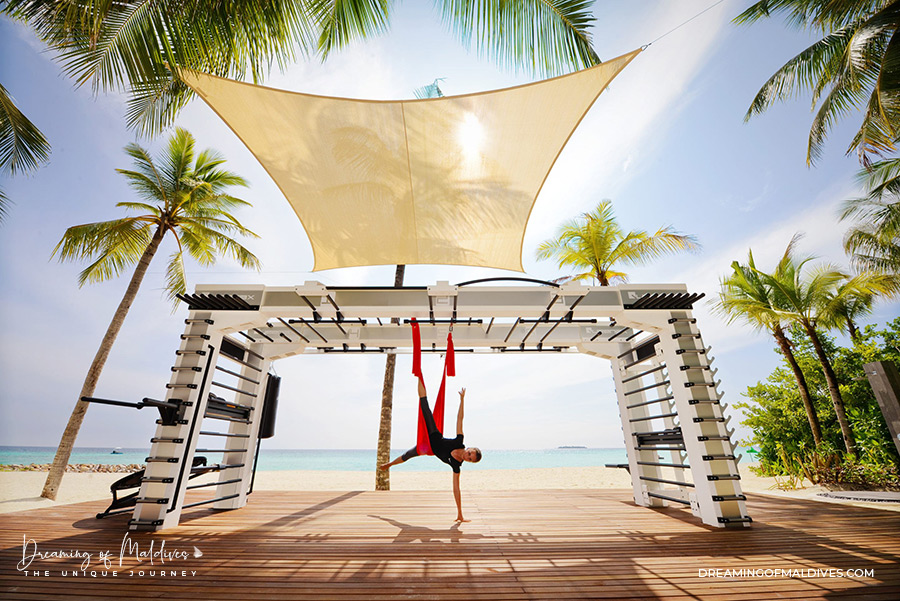 Aerial Yoga at One&Only Reethi Rah Chi Pavilion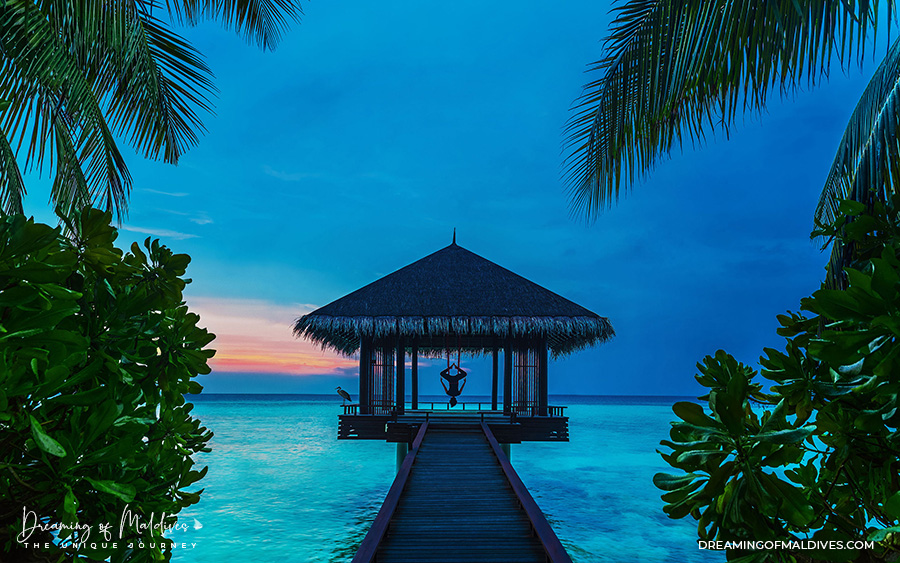 Six Senses Laamu
Six Senses Laamu is also one of Maldives finest resort for Yoga and Wellness in general. The prestigious multi awarded Spa is one of my favorite resort to practice Yoga ( combined with the Spa excellent Ayurvedic treatments, it is even better ) with a superb and immense covered deck facing the resort dreamy blue lagoon where aerial Yoga lessons are given on a daily basis. The place is also open to single practitioners and group alike.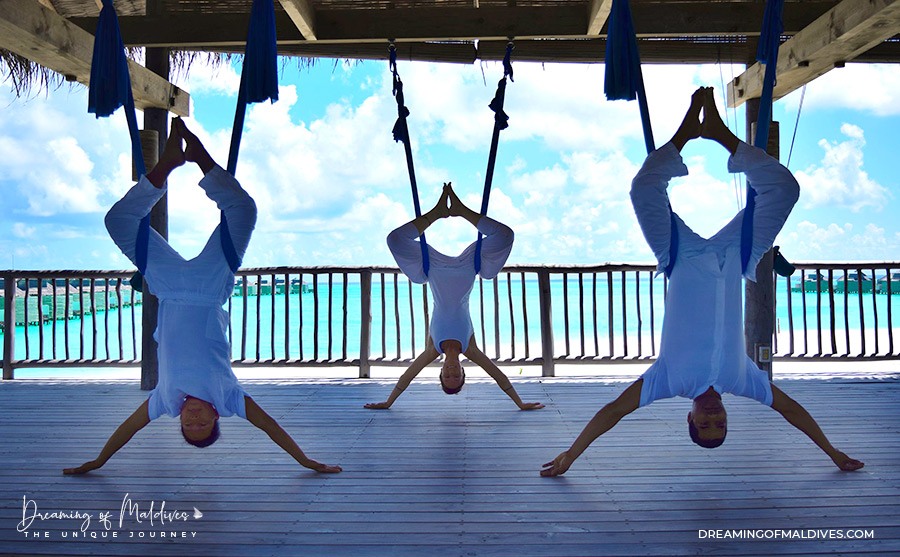 Our Video of Six Senses Laamu
Dreaming of Six Senses Laamu Maldives. The Resort Most Beautiful Places. #SixSensesLaamu #Maldives


Kandima Maldives
The dynamic Kandima Maldives offers aerial Yoga in its multi-activities fitness centre BURN where various events are regularly organized and led by featured guests. Located on the beach and entirely opened onto the resort beautiful lagoon, BURN is also a very cool place for an anti-gravity yoga session.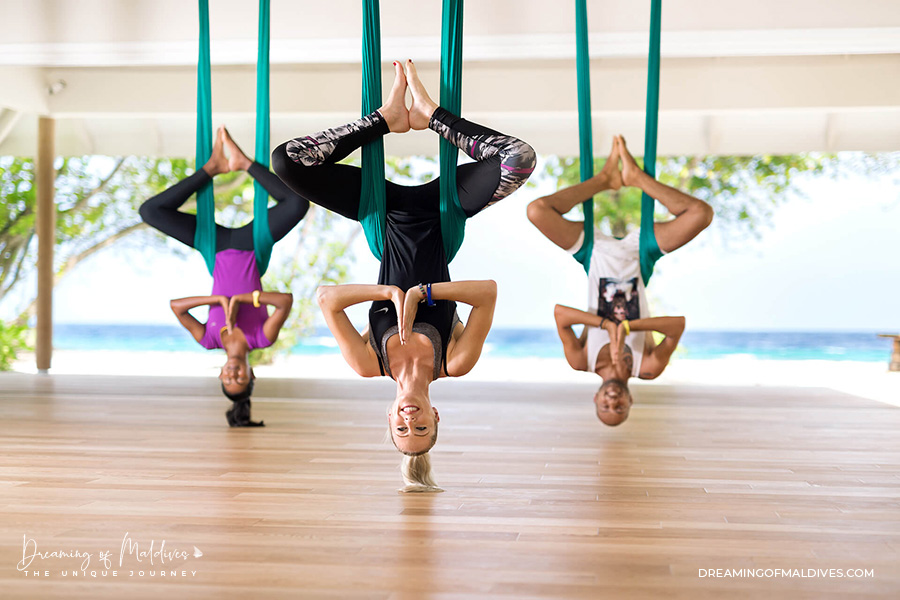 The St Regis Maldives Vommuli Resort
Unlike the previous resorts presented above, The St Regis Maldives Vommuli Resort has a closed space for aerial Yoga ( with A/C ). The studio is hidden inside the island tropical vegetation at The Vommuli House, the resort stunning activity centre.
Its state-of-the-art facility and beauty of design makes it one of a kind to be featured in this list.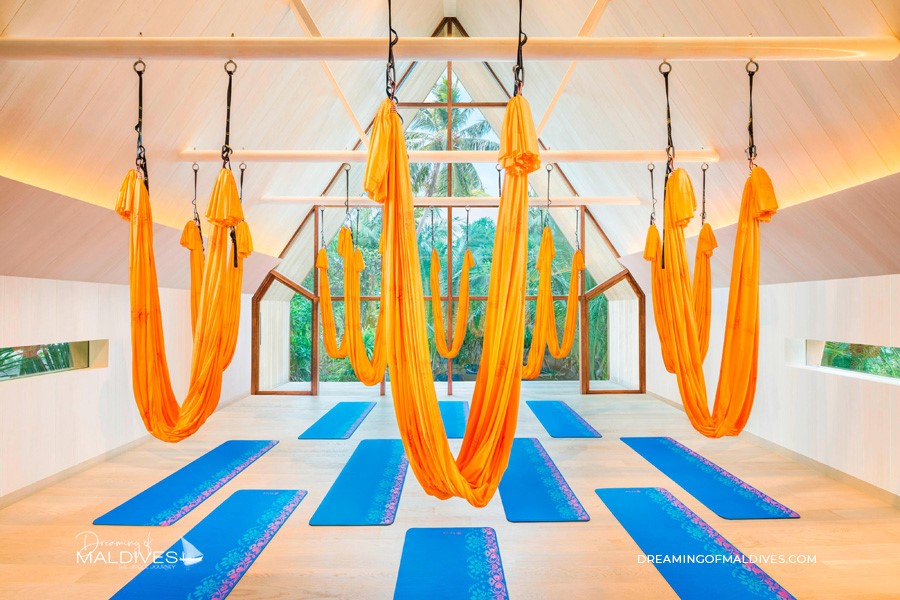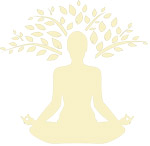 Meditation in Maldives
Many resorts listed above and more also offer meditation sessions in group or in private. Meditation is often proposed on the beach, however some resorts also have dedicated Yoga pavilions located overwater or on the beach.
In luxury resorts you will also be able to have private meditation and breathing sessions directly in your villa, on your deck. Probably one of the best place place to be for a mindful or a relaxation practice.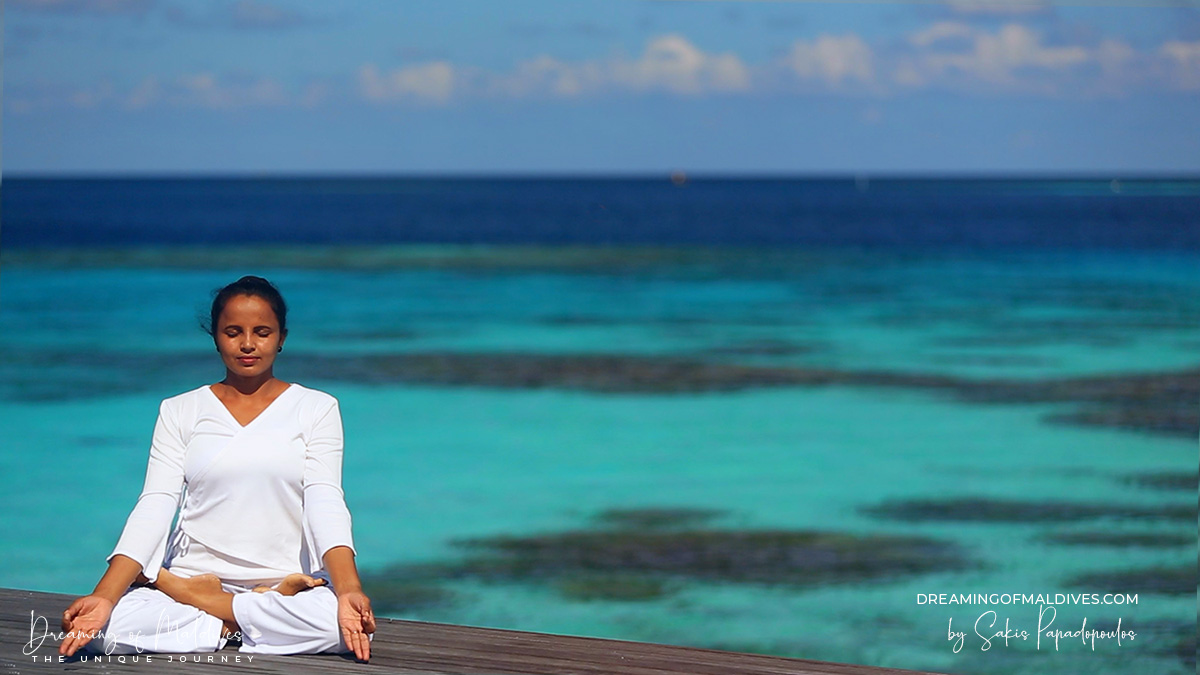 What is meditation and what are its benefits ?
Meditation can be practice as such or after Yoga to deepen your practice. Its main purpose is basically to bring a wild mind back to a quiet place by sitting and focusing your mind onto your breath and let your thoughts flow.
Meditation benefits is studied for many years by neurologists who not only felt its benefits on themselves but also detected variations in the brain with areas of activity in the cortex region (the seat of positive emotions), as well as an increased production of gamma waves.
About gamma waves : gamma waves are 1 of the 5 waves known in the brain. They play a major role in elevating mental abilities, like memory, attention, and perception. Recent studies show that increasing gamma waves reduces Alzheimer's-related proteins and slows neurodegeneration associated with the disease.
Meditation benefits
Meditation has so many benefits and effects on us that it is still studied by neuroscience.
Some of them are, for example :
Better control of blood pressure.
Improved heart function.
Strengthening the immune system.
Improved concentration and attention.
A slowing down of aging.
Decreased symptoms in gastrointestinal illnesses (irritable colon syndrome, Crohn's disease, etc.).
Improved symptoms of certain skin diseases (psoriasis, eczema).
An effective way to relieve some pains.
…
Originally borned in India ( based on ancient Yoga scriptures ) meditation is practiced for thousands of years. The knowledge and practice later spread around Asia and was introduced in Western societies about 40 years ago together with Yoga.
Practice or Learn Meditation in Maldives. Resort and location Selection
If you practice meditation already, you won't need a special place as you can meditate almost anywhere, in Maldives or at home will not make any difference. Your mind will be set anyway.
Here I chose to simply seat on the beach for a meditation time. Surrounded by blue and white colors with the sound of the sea licking the shores were absolutely fabulous.
In Maldives, the horizon line is so perfect that a simple glimpse at it automatically brings your mind in a quiet state.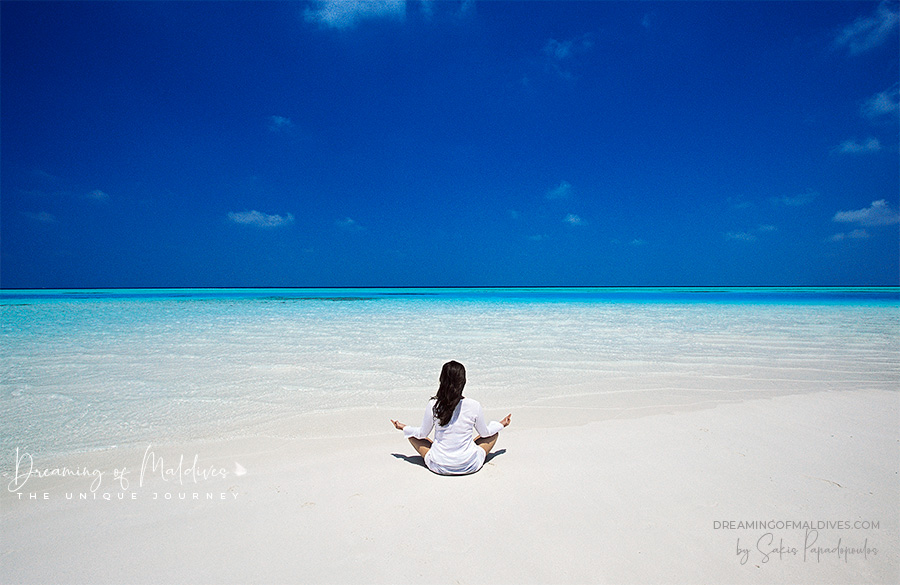 But if you want to learn to meditate and plan to spend a holiday in the Maldives, you should consider it as a Dreamy opportunity to start and practice.
You will not only be guided by highly experimented teachers, you will also practice in some of the most beautiful and extraordinary places in the world.
Here are some beautiful places to meditate with excellent teachers in the Maldives as an example.
Gili Lankanfushi Maldives
Gili Lankanfushi is also one of Maldives best retreat with various healing practices including the Tibetan Bowls. With Dev, the resort resident Yoga master, you will not only practice a very good Yoga but also meditate in group each morning, for free, at the beautiful Yoga pavilion located on the beach. Private sessions are also available with an extra charge.
Morning meditation at Gili Lankanfushi's Yoga pavilion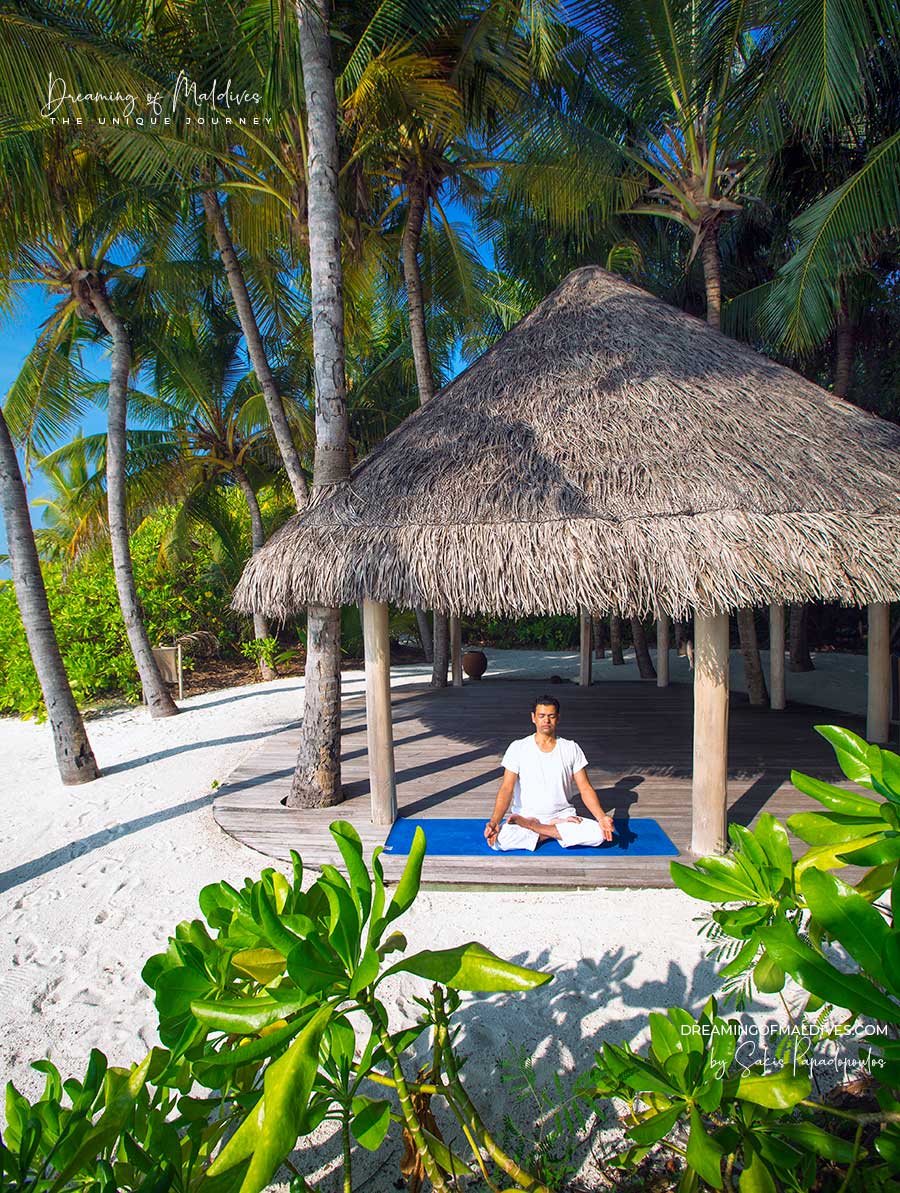 Our Videos of Gili Lankanfushi Maldives
The Best of Gili Lankanfushi Maldives Resort #GiliLankanfushi #BestMaldivesResort #Maldives
Gili Lankanfushi Maldives Dreamy Video #GiliLankanfushi #BestMaldivesResort #Maldives
The World's Best Hotel : Gili Lankanfushi Maldives #GiliLankanfushi #BestMaldivesResort #Maldives


Soneva Fushi
Soneva Fushi is a major pioneer in wellness in Maldives. The resort regularly welcomes visiting practitioners who bring holistic therapies and healing hands. During your stay, according to the event calendar, you can take part in world class meditation training and yoga classes too.
Meditation and Yoga classes are proposed on various beautiful places around the island. Besides the resort jungle spa, you will love breathing on Soneva's beach with the sound of the sea that will naturally guide your practice.
Or with the jungle sounds in the background on the deck of your Beach Villa with Pawan, Soneva Fushi's resident Yoga Guru who regularly organizes complete Yoga retreats.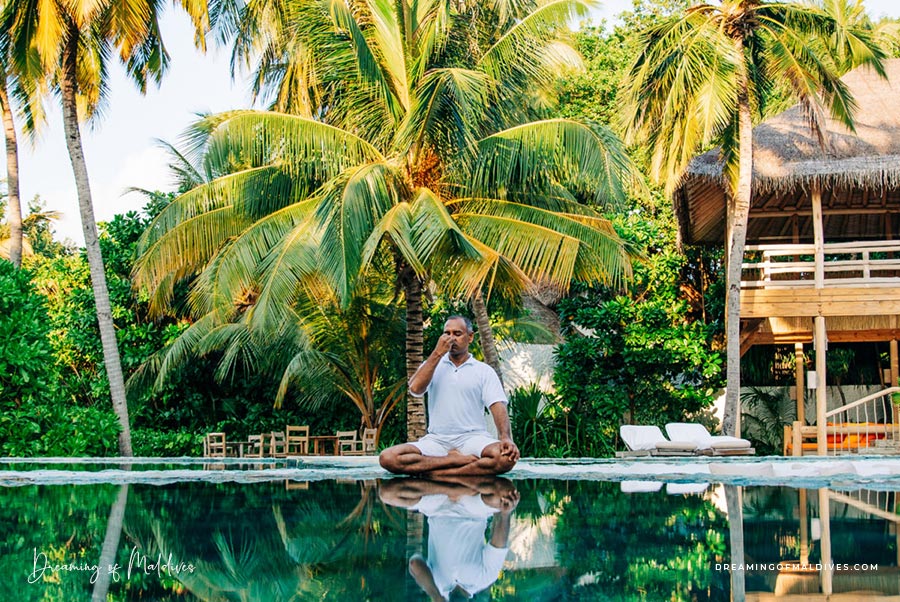 Hurawalhi maldives
Hurawalhi Maldives underwater restaurant called 5.8 hosts special events such as weddings, meetings and Yoga & meditation sessions with the resort's Guru and yogi.
Under his guidance, you will undoubtedly fill your mind space with the serenity of the sea and breathe in the calming power of the blue.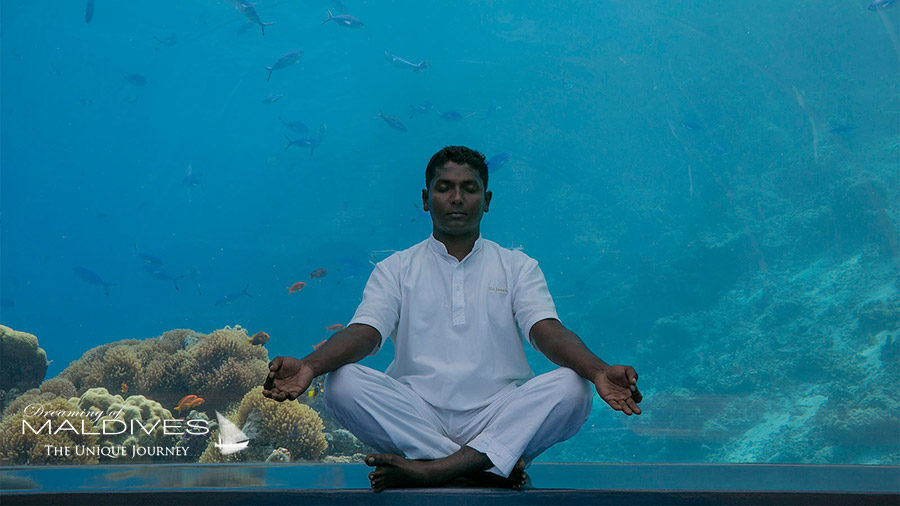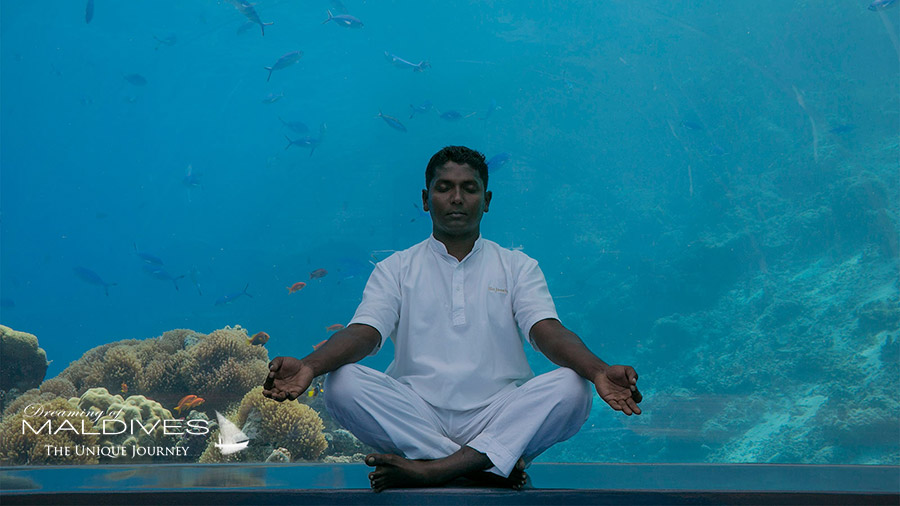 More photos of Dreamy Yoga practices in Maldives
Dreaming of more Wellness Retreats and Spas in Maldives ?
You Will Love this

Who has never dreamt of practicing Yoga in Maldives ?At Sunset or at Sunrise, on a beach or overwater, the Island Nation is full of idyllic…
Enjoy Surf and Spa at Four Seasons Maldives Kuda Huraa during the Four Seasons Maldives Surfing Champion Trophy 2023. Attention all surf…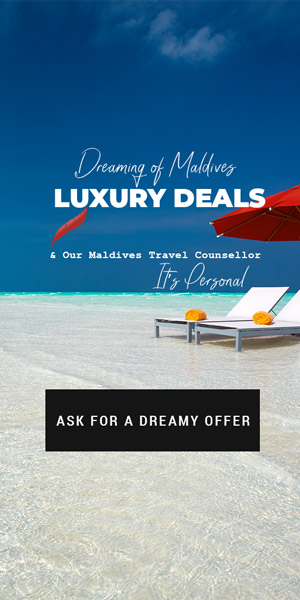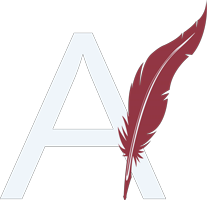 In association & our Trusted Travel Counsellor in Maldives
Follow us on Facebook, Youtube and Instagram
for more Maldives Dreams