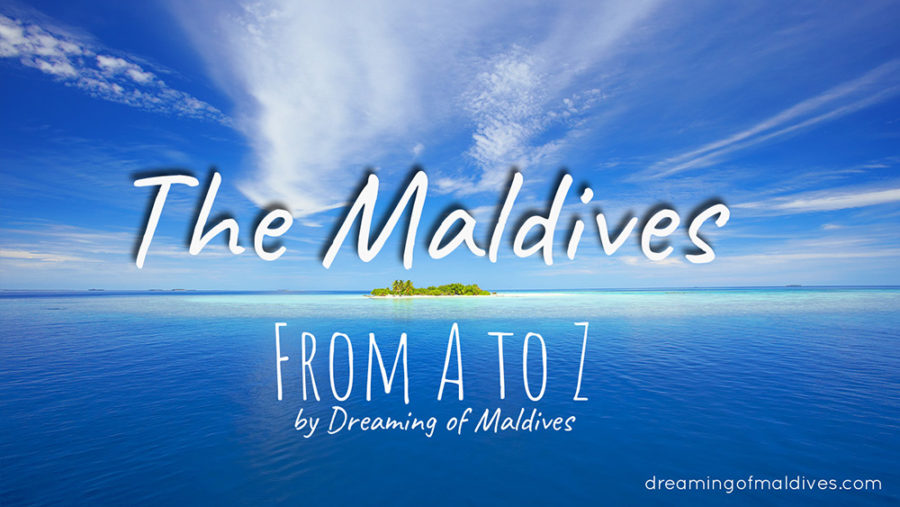 The Maldives from A to Z
The Maldives from A to Z. A Complete Guide for Travelers
In this glossary, I've gathered all the things (small and big) I know about Maldives, together with official travel and general information to make you an alphabetical tour of the Maldives.
Take it as a glossary of the destination, a useful guide for your next trip.
I tried to make as complete as possible. I could have go on and on but I had to focus on the most essential and useful information.
If you think that some information is missing, you are welcome to let me a comment and I will include the most relevant tip !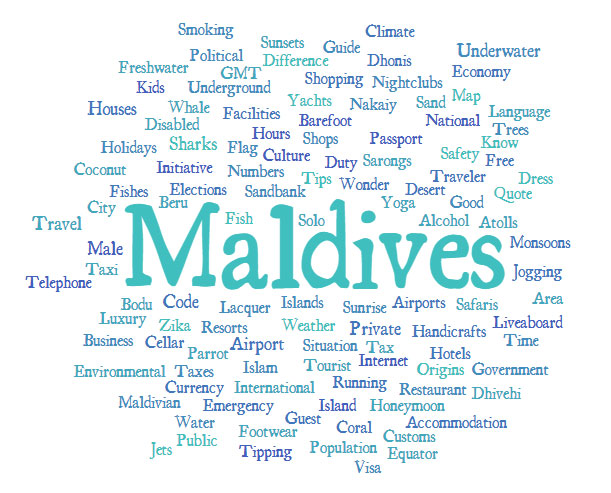 THE MALDIVES from A to Z . My Guide to The Island Kingdom
A
Alcohol
Alcohol consumption is strictly forbidden and only allowed to foreigners in resorts and on board of tourist boats.
Airports
Maldives have 12 Airports.
4 International Airports : the main one : Velana International Airport ( prev. Ibrahim Nasir International Airport ).
Velana International Airport is located on Hulhule Island, close to Male, the capital. Shuttle ferries come and go each 10 mns from the airport to Male. A new bridge ( opened on sept. 2018 ) now links both islands.
Velana airport, once very simple, now offers a spa, a pharmacy, a post office, mobile companies, a bank, an ATM, a left luggage office, coffee shops and restaurants. Duty free shops are ated at the gates.
Hanimaadhoo International Airport, Gan International Airport, the second main one after Velana and Villa International Airport.
8 Domestic Airports : Dharavandhoo Airport, Fuvahmulah Airport, Ifuru Airport, Kaadedhdhoo Airport, Kadhdhoo Airport, Kooddoo Airport, Dhaalu Airport and Thimarafushi Airport.
Area Code
The area code for Maldives is 00 960 +
Accommodation
To be able to stay in Maldives you must book your accommodation before your arrival to ensure a place to stay and the address of the place you stay must be entered on the Immigration form.
Nowadays, the maldives offer 4 types of accommodation : Resorts, Hotels, Guest Houses and Liveaboard Vessels.
Atoll
Maldives have 26 Atolls. The word Atoll ( Atolhu in Dhivehi ) means circular groups of coral islets.
Fuvamulha in the south of the archipelago is the smallest Atoll with only 4.5 km width.
Gaafu is the largest Atoll of Maldives and also one of the largest Atoll in the World with 3152 km².
Business Hours
Working from Sunday to Thursday Maldives general Business Hours are :
Banks: 08:00-13:30 hrs. Government: 08:00-14:00 hrs. Private Sector: 08:00-17:00 hrs. Saturday: 08:00-14:00 hrs.
Friday is the week free day ( and not Sunday ! )
Bodu Beru
The drum-based traditional music, Bodu Beru ( meaning big drum) is a reminder of Maldives long relations with East Africa a few centuries ago. Bodu Beru music is very rhythmic and can be perceived as transcendental.
Customs
It is prohibited to import Religious materials offensive to Islam, idols (for worship), pornographic material, narcotics and psychotropic, living plants and animals, chemicals, pork and pork products plus the international items such as weapons and explosives of course !
Currency
The Maldives currency is the Maldivian Rufiyaa (MVR). Non-convertible it is only available in the Maldives. US dollars is the second currency. All major credit cards and currencies such as Euro and British Pounds are also accepted in tourist resorts.
Approximate main exchange rates :
1 GBP = 23 MVR.
1 EUR = 15 MVR.
1 USD = 15 MVR
Maldives coins are ornated with cowry shells. Cowry shells were used as units of money during medieval times. This is why nowadays shells commonly ornate modern money.
Some bank bills are ornated with fishes.
Climate
The Maldives Climate is Tropical equatorial.
Average temperatures : 25.9 to 31 °C ( 78.62˚-88˚ F ).
Maldives have 2 seasons called Monsoons :
– The Southwest monsoon from May to October also called the rainy season.
– The North-East monsoon, the dry season, from October to April.
Read more about Maldives Climate.
Children
Nowadays, many Maldives resorts offer Kids Clubs and some of them even have teens Clubs.  Most of them have babysitting services.
Some resorts do not accept children under eight years old or 13 years old.
Read my complete focus on the Best Kids Clubs in Maldives.
Coral Houses
Maldivian used to build their houses in coral. This traditional housing is now forbidden since Coral Reefs are worldwide protected. Many coral houses still can be seen in Male and local islands.
Dress Code
In Resorts : Summer Casual. General trend is quite relaxed…but Island Chic style is welcome and even required in some Resorts, mostly in the evenings. No swimwear allowed in restaurants.
In Male and Maldives local Islands : Women and men should keep their thighs and shoulders covered. No transparent clothes.
More generally avoid synthetic fabrics and prefer cotton. It's very hot and humid !
Dhonis
Dhonis are Maldives Traditional Boats. Mostly built in Raa Atoll, their construction follows ancestral guidelines transmitted orally from one generation to another.
Traditionally made of coconut wood, the Maldives most common tree, trusted for its incorruptibly and solidity, the Dhoni shape was very probably inspired from the ancient Arabian sailing dhow, which was commonly used as a trading ship in Indian Ocean around the 11th Century AD.
Read more in my complete Focus about Dhonis
Desert Islands
Precious little Islands…
There are approximately 1200 islands in Maldives.
Around 700 of them are still uninhabited, 200 islands are populated, about 150 host Hotels and Resorts. The rest of the islands are used for airports, agriculture, picnics, governmental or other industrial activities.
Desert islands unfortunately tend to disappear for resort constructions.
Disabled Facilities
Disabled guests are welcome on most resorts who will provide wheelchairs. Arrange wheelchairs will be provided at airport if required. In Resorts, public areas might have ramps. Inform yourself carefully with your Travel Agent or directly at the resort to be sure you have a Dreamy Holiday !
Duty Free Shops
Recently renovated and refurbished, Maldives main Airport now offers several duty free shops selling high end products, top brands and local souvenirs. 
Economy
Maldives economy is mainly based on Tourism, Fishing and some Shipping activities.
Equator
Maldives are located close to the equator.  The South part is crossed by the equator line between Fuvahmulah and Gaafu Dhaalu Atolls.
Emergency Telephone Numbers
Police 119.
Fire 118.
Coast Guard 191.
Ambulance 102.
Main Hospitals :
ADK Hospital – 313553 &
Indira Gandhi Memorial Hospital – 336658.
Flag
The Maldives flag has various symbols and symbolic colors : Green for peace and the national Coconut Tree, a White Crescent for Islam and Red for the blood of their fights for independence.
Fishes
Maldives Biodiversity is amazing and so abundant that it is impossible to name them all here.
Beginners and experienced divers and snorkelers can see them all. Dangerous fishes at the Maldives are a few but exist !
The main dangerous species that you might encounter are Lionfish, Moray, Stingray, Sharks, Sea Urchin, Triggerfish and some corals.
Footwear
Bring your flip flops and forget your hills !
Apart from Male and local Islands, footwear is generally not the ideal, sand is everywhere, so be prepared to be ALWAYS barefoot.
Guest Houses
The Maldives have recently focused on guest houses.
They can be found by hundreds, everywhere from North to South of the archipelago.
Located in Male, the capital, or on local Islands, they can be a room or 2 in a Maldivian home or in a dedicated establishments. Simple and generally chosen by travelers on a budget, their prices are quite cheap compared to Resorts or Hotels.
Guest houses offer the basics such as a dedicated reception area, bedrooms with or without attached bathrooms and some with air-conditioning.
If you stay in a guest house, you will be able to discover a lot more about the real Maldivian life with local cuisine and daily routines on local islands and homes.
Some guest houses are located on islands with beaches.
In some of them, Watersports and diving can be arranged.
Maldives guest houses are perfect to touch paradise at a low cost, however, beachwear is quite restricted everywhere, modest dress code applies and alcohol is strictly prohibited. To have a serious drink, you will have to go on a safari boat or in a resort if available around.
Government
The Maldives is a Republic since 1968.
Governed by a President (elected every five years from candidates nominated by political parties) and a parliament of 85 members called Majli's elected by universal franchise.
Hotels
The vast majority of Hotels are located in Male, the capital.
Very few can be found elsewhere and none on a single Island such as resorts.
More comfortable than guest-houses, they offer basic amenities, sometimes a bit more like a spa but none will serve Alcohol, excepted the Airport Hotel, Hulhule Airport Hotel, close to the International Airport.
No bedding suit is allowed in their public areas.
Handicrafts
Traditional handicrafts mostly include weaving, embroidery and lacquer. Each Island or Atoll has its own work.
Mats (called kunaa) woven from dried reeds, rope making, coconut crafts of leaves and shells, feylis, a black sarong with two white stripes. The exquisite lacquer pieces, are the most precious Maldives items Maldives have to offer.
Mostly produced on Thulhaadhoo Island in Baa Atoll, they are crafted in wood and always painted in red, black and gold.
Internet
Internet is today available in all Hotels and Resorts and almost everywhere from North to South of the country. This service is chargeable or free according to the Resorts.
Islands
Maldives name comes from the word "Maladiv", given by the first Indian merchants and literally means "Garland of Islands" in Sanskrit.
The Maldivian refer to their country as "Dhivehi Raajje" which means in Dhivehi, "The Island Kingdom".
The Maldives have some of the smallest islands in the World with no more than a few square meters size. The largest island barely reaches 6 kms long  !
The largest Island reach more than a kilometre. Male, the capital, with 1.5 km or others, like Gan, the largest, located in the Southern part of Maldives, in Laamu Atoll, with 7.8 kilometres long and 3.4 kilometres wide.
Islam
Maldives were Buddhist for almost 1400 years and was converted to Islam in the 12th Century AC.
Arab traders who were legion at this time.
The King of Maldives embraced the religion and converted to Islam under the name of Muhammed Ibn Abdulla instead of Sri Tribuvana Aditiya.
Buddhism slowly disappeared afterwards and Maldives became a Sultanate.
The Maldives are today 100% Sunni Muslim. No other religion or cult is tolerated.
Jogging
If you like running a lot, you will make a lot of rounds on your little Island.
Joggers should enjoy a good run early in the morning or late afternoon to avoid heat.
Kilometers
Total Superficy : 90,000 square kilometres.
Length and Width :
– North to South : app. 820 km (512 miles)
– East to West : between 80 km and 120 km ( 50 to 75 miles).
Most of the resorts barely reach an average of 400 meters and home of the largest resorts include Atmosphere Kanifushi, Kuredu, Meeru, Kuramathi and Sun Island whose lengths are between 1 to 1.7 kms.
Maldives total land area is approximately 298 square kilometers ( 500 miles ). The country has one of the highest population density with app. 1200 people per square kilometer.
L
Liveaboard
There are more than 140 boats cruising in the Maldives.
Dedicated to Diving and Surfing or both, safari boats are perfect for such activities as they will bring on the best spots everyday. Most safari boats are quite simple but you can also cruise on luxury vessels.
Languages
The Maldives language is Dhivehi.
English is widely spread and learnt as second language at a young age.
Some Dhivehi basics for a starter !
THANK YOU
Shukuriyaa pronounce: ( with the u as input ) Shukureeya
HOW ARE YOU ?
Kihineh ? pronounce: Kee-Hee-Nay. Mostly used.
HOW ARE YOU DOING ?
Haalu kihineh ? pronounce : Haalu-Kee-Heenay. Formal.
I FEEL GOOD
Ran'galhu pronounce: Raangaalu
Hello written in Dhivehi ( Thaana Characters ) ހެލލޮ
See here my Dhivehi – English Lexicon  to learn basic words before your holidays !
Luggages
Pack light.
No need to bring lots of clothes. You'll mostly need beachwear, casual cotton clothes, hats, t-shirts for snorkeling, sun lotion and a few fancy clothes to be chic in the evening.
Location
The Maldives are located in the Indian Ocean, astride the Equator, in both the Northern and Southern hemispheres.
700 Km (435 mi) South-West of Sri Lanka and 400 Km (250 mi) South-West of India. Coordinates : 3°15 N 73°00 E.
Explore my Maldives Map
Male
The capital of the Maldives is Male, one of the smallest and most populous city in the world. Heart of the Maldives, it is the place for business, politics and happenings.
Male city is very small, overcrowded, noisy and bustling with people, cars and motos.
Built with high buildings, it is surrounded by a lagoon and hundreds of boats and ships.
Mobile Phones
SIM cards are available at the airport from mobile shops and pre-payment can be made for local & international calls and data usage.
Medical Care
The largest hospitals are located in Male. Dispensaries are spread around the country. Some resorts have resident doctors and a few have decompression chambers for Diving accidents.
Nightclubs
Nakaiy
For centuries, Maldivians have used their own weather pattern calendar. Maldives 2 monsoons ( Iruvai and Halhangu ) have each a distinct wind system.
The so-called Nakaiy in Dhivehi divides the year in 26 periods each comprising 14 days.  Maldivians organize their lives around the Nakaiy periods, some being good for fishing or not, for weddings, celebrations and other local life events.
Nakaiy Calendar is a serious way of predicting the weather and is based on centuries old wisdom.
Read more about Maldives Weather & Climate
O
Origins
Maldives origins are likely to be the reminiscence of a chain of sunken volcanoes formed around 60 millions of years ago. Recent studies suppose that coral reefs atolls have formed over hundreds of thousands of years on their sinking remains.
P
Public Holidays
Maldives Public Holiday dates change according to the Islamic calendar.
Biggest holiday dates are :
1 January, New Year
May- Labour Day + First day of Ramadan
June- Eid ul Fithr
July- Independence Day
September- Eid ul Al'haa + Hajj Day
November- Victory Day + Republic Days + National Day
December- Prophet Mohamed's Birthday + The day Maldives embraced Islam
Passport
A passport of a minimum of 6 months is obligatory. Note that regulations vary according to countries of origins. All information are available with your travel agent and / or Maldives immigration authorities.
Population
At today, approximately 450 000 inhabitants live on about 200 Islands.
Numbers are not precise, but an estimated number of 70 000 expats live there.
The maldives are one of the most densely populated nation in the world with approximately 1,100 people per square kilometer.
Private Yachts & Private Jets
Maldives are the perfect hideaway for celebrities and VIPs, so private jets are legion. Velana International airport is regularly (over)crowded with several of them.
The same is for Private Yachts.  Many luxury vessels cruise the Maldives.
Both National and International Companies offer this service.  If you own your own private yacht, you must follow specific Customs regulations.
Before cruising around, you will have to dock at one of Maldives national port and check with customs. Custom ports are located in Male City, at the airport, at Hanimaadhoo International Airport, Kulhudhuffushi Regional Harbour, Gan International Harbour and Hithadhoo Regional Harbour.
Parrot fish
Parrot fishes are huge contributors to the beauty of Maldives beaches. Their fine coral sand is the result of undigested corals they eat.
We estimate that an adult parrot fish can produce around 1 ton of sand per year !
Q
Quote
Could not find any word and again this letter is open to any suggestion of yours.
Awaiting for your suggestion, I will choose Q for Quote, and my favorite is : Never Stop Dreaming !
R
Resorts
One resort = 1 Island. All resorts are designed in tropical island-style with villas settled on the beach, overwater or both.
Each resort is different such as each island. But you will find comfort everywhere.
Amenities and design will extensively vary according to the category.
All resorts have in common international cuisine (often served as buffets), many activities, a spa, bars and entertainment and each has a diving center.
Romantic
The Maldives are considered one of the most romantic destinations in the world and many couples choose the Maldives as their honeymoon destination.
The destination is SO couple orientated that some resorts start to propose adults-only holidays.
Honeymoons, Vow renewals or weddings, the Maldives are the place to Be for a Romance.
S
Sand
Maldives islands are of coralline origins. Their amazing sand is white and extremely fine. Coralline beaches are rare, they represent less than 5% of the World beaches, the rest of them are mostly made of quartz.
Sandbank
In Maldives, some island shapes can be modified by nature. Their sand is moved away and eventually brought back by seasonal currents during monsoons. Some sandbanks disappear and some new ones emerge.
Smoking
It is forbidden to smoke inside public areas. In resorts there is no restriction for smoking excepted in some restaurants.
Shopping
Male is the perfect place for shopping. The capital offers more and more great places to shop for everybody. Electronics, souvenirs shops, surf shops, perfumes, local shops and supermarkets.  The STO supermarket has many items for tourists and expats. However it is quite expensive.
Do not miss the local market and the fish market in Male !
Local Islands have mini markets for basic and local food. The ones close to resorts have also souvenirs shops with imported items and locally made objects.
All resorts have souvenir shops and according to their respective category they also sell luxury items.
Safety
Resorts are a very safe place. The biggest danger are the sea currents and the Sun. During boat transfers you will be asked to wear a safety jacket.
Male city, like many capitals, can be unsafe at night depending on the location.
Sustainable
Solo
A few years ago, solo travelers were rare or…rich. Nowadays with the opening of many guest houses, the Maldives can be discovered solo with an increasing numbers of resorts and hotels that are making room for solo travelers and travelers on a budget.packers.
Solo female travelers can travel safe on local Islands and resorts. Maldives have no crime reports for tourists.
Sharks
First and Foremost : YES, there are many sharks in the Maldives and NO, there are no accidents nor shark attacks in the Maldives.
The Maldives seas host many dangerous and aggressive shark species : Hammerhead sharks, Bull sharks, Tiger sharks but no White shark as far I know.
You will see them, meet them have the great chance to observe them.
Enjoy, keep your distance and feel the Luck that you have at this right moment.
Shark observation is an unbelievable experience.
Read more about Sharks in Maldives
Sunrise and Sunset
According to the period of the year
the Sunrise in Maldives is from 05.45 am to 06.15 am.
The beautiful Maldivian Sunset is from 05.45 pm a 06.15 pm.
Browse our Maldives Sunset Photo Gallery
T
Taxes
The Maldives have several taxes to be paid by tourists and locals.
In resorts all prices are subject to taxes, so don't forget to include them in your budget.
Currently the taxes on your stay and during your stay will be as below :
Tourism Goods and Services Tax / 12%
Service Charge / 10%
+ Green Tax – USD 6 / per night / person
Note that an airport tax of 12 USD is already included in the price.
You will not have to pay it again. Before we had to pay this tax at a small counter at the airport ( the waiting line was terrible ).
For locals and expats, there are taxes too.
Expatriates working in Maldives would need to pay 3% remittance tax for the money they send home from their salary.
Income tax is not applicable for locals, salaried class or even expatriate / foreign workers in Maldives.
Exceptions are made for Indians and other nationalities.
Time
The Maldives are GMT +5 hours 
Trees
There are not many varieties of trees in Maldives. A few fruit trees can be found on local islands or some resorts such as mangos or papayas.
The coconut tree is the most common and one of the symbols of the Maldivian emblem. National tree of the islands and only natural shade protection of Maldives beaches, coconut trees can grow up to 30 meters and reach the age of 100 years. Their wood is used to build Dhonis.
Tipping
Tipping is not obligatory but very common and appreciated.
While a service charge of 10% is added to restaurant bills, a minimum ( above is better ) of 1US$ / 0.63GBP£ / 0.80€ / per day for the room boy + the same amount for waiters is advised. The same amount to your luggage porter at arrival and departure.
Butler services in luxury Resorts are generally more rewarded with sometimes up to several hundreds of USD.
Taxi
Taxis can be hailed everywhere in Male. They are also available in Hulhumale, Gan and other major inhabited islands.
Time Difference
JET LAG in Maldives
UK – Maldives : Plus 4 hours in Summer time / Plus 5 hours in Winter time
NYC. USA – Maldives : Plus 9 hours in Summer time / Plus 10 hours in Winter time
LA. USA – Maldives : Plus 12 hours in Summer time / Plus 13 hours in Winter time
V
Visa
Tourists have a 30 days free tourist visa to stay in Maldives. Your passport must have at least six-months validity and you will need to have a ticket to return from the Maldives. No One Way ticket !
You also need either funds to cover your stay or confirmation of a reservation at a resort or hotel.
Working Visa are delivered only on behalf of a local company that will handle all necessary administrative procedure for you.
People visiting Maldives for other reasons, especially journalists or photographers, should apply for a visa much in advance with the immigration.
W
Water
1% Land, 99% Water, you know the words. In Maldives there is plenty of water. BUT salted water only. No fresh water.
Despite having the sea, Maldives are in a very tragic situation when it comes to fresh water. Foreign vessels are sometimes coming with tons of fresh water.
There are no permanent rivers or streams on any of the islands. Very few have ponds and 2 or 3 have a lake.
Some local islands are depending only on rain water collected in special tanks. Nothing more. And amounts are few, rains are not enough. Some islands do not have enough water and the population has to buy bottled water, an extra cost that is sometimes too much for some Maldivians.
The only way to have fresh water in Maldives is to desalinate sea water.
The city of Male has its own desalination system and most big islands too. But not all.
However, all island resorts are equipped with a water desalination plant which is, in some cases, bottled into glass bottles.
Note : drinking tap water is not advised.
Weather
Maldives weather is ruled by 2 seasons called Monsoons :- The Southwest monsoon from May to October also called the rainy season.
– The North-East monsoon, the dry season, from October to April.
The climate is Tropical equatorial with Average temperatures from 25.9 to 31 °C ( 78.62˚-88˚ F ).
read here for my complete Focus on Maldives Weather & Climate
Whale Sharks
The World's biggest fish has its official sanctuaries in Maldives with 3 places along the archipelago.
The Maldives are one of the few places on Earth where whale sharks can be encountered all year round. They tend to move 2 a year from west to east to follow planktons.
Wellness
Maldives is all about feeling relaxed. Most resorts offer massage and Spa treatments.
Fitness rooms, private sport instructors, swimming, watersports, yoga, meditation, tennis and so much…the list is long enough to please everybody, at any age.
Read my special Focus on 40 Things To Do In Maldives
X
There is nothing here…Any suggestion ?
Y
Yoga
The Maldives are a Dream location for Yoga.
You will find experienced teachers in most of the resorts. Some resorts have resident teachers who come from every corner of the world including, and mostly, from India !
In some luxury resorts, yoga retreats are organized with renowned yogi's and guru's.
Among many yoga's you will mostly find Hatha, sometimes Vinyasa and more rarely Ashtanga.
Besides Yoga, guests can enjoy sessions of Pranayama, meditation, Ayurveda treatments, Reiki, Tai Chi and other soul related activities.
OM.
Z
Zika
Even if not widely spread, Zika Virus exists in the Maldives.
Protect yourself with mosquito repellent, mostly at dusk and at night.