This is the TOP 10 Best Maldives Resorts 2023 voted by Maldives travelers at Dreaming of Maldives. This ranking is voted each year by travelers and Maldives lovers who answer the following question :
We have finally compiled the results and it's now time to submit them to you. The following ranking is a combination of your votes.
The Best Maldives Resorts.
Your TOP 10 2023
. OFFICIAL .
12th Edition

THe TOP 10
Maldives Best Resorts 2023
In Video
Your TOP 10 Maldives Resorts 2023 are :

No. 1 – The Nautilus Maldives
No. 2 – Hurawalhi Island Maldives
No. 3 – Soneva Jani
No. 4 – Niyama Private Islands Maldives
No. 5 – Pullman Maldives Maamutaa
No. 6 – One&Only Reethi Rah
No. 7 – Amilla Maldives Resort & Residences
No. 8 – Gili Lankanfushi Maldives
No. 9 – Vakkaru Maldives
No. 10 – Milaidhoo Island Maldives
We don't give Awards . You do
The TOP 10 Best Maldives Resorts 2023 as Voted by YOU


No. 10
Milaidhoo Island Maldives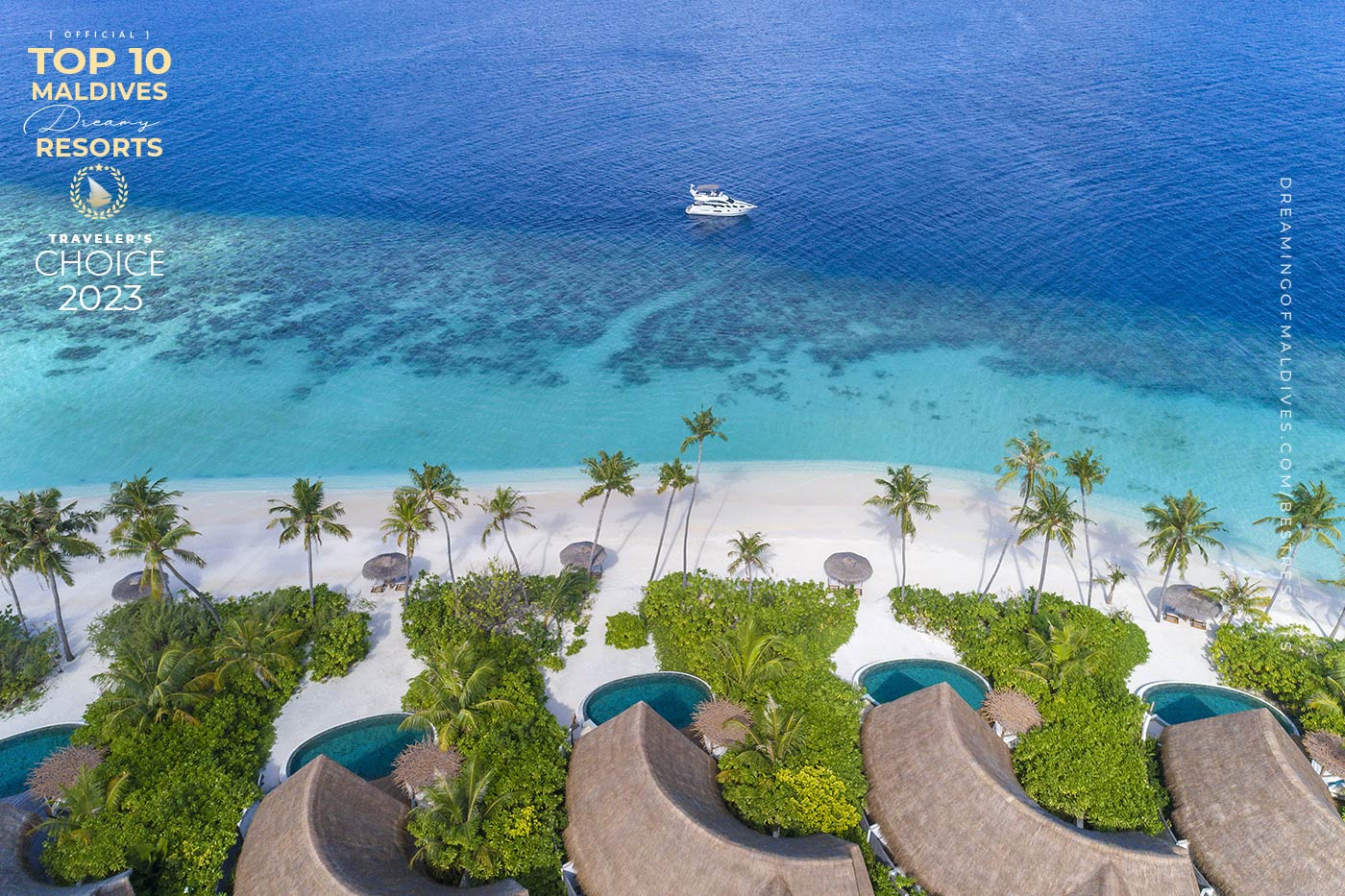 Milaidhoo Island Maldives is located in Baa Atoll UNESCO Biosphere Reserve at a 35 mns seaplane flight from Male.
Naturally beautiful, the tiny private island ( measuring only 180 metres by 300 metres ) is gifted with a stunning house reef and a beautiful tropical vegetation. Milaidhoo is a return to a classic, relaxed and stylish Maldivian holiday.
All catered by a Personal Island Host, the 50 spacious pool villas located over-water and on the beach offer a 180-degrees view on the outside and the blue lagoon and are decorated with fine art from the Maldives…
Milaidhoo is all about Love, the Maldives… and You.
Discover Milaidhoo Island Maldives latest stories.

Our Video of Milaidhoo Dreamy Maldives Sandbank


No. 9
Vakkaru Maldives

Vakkaru Maldives is a 5-star luxury resort located in the UNESCO Biosphere Reserve of Baa Atoll.
The luxury resort is nestled on a beautiful lush tropical island surrounded by a stunning house-reef thriving with marine life.
Vakkaru Maldives boasts 113 spacious luxury beach and overwater villas and suites, with or without pool, designed in a tropical chic style.
Five restaurants and two bars serve cuisines from Europe to Asia.
Vakkaru Maldives boasts several dreamy activities. Among them are its overwater spa, one of the most beautiful in Maldives,
excellent Yoga retreats, a pro tennis club and excellent snorkeling close to its beach shores.
Discover Vakkaru Maldives latest stories.



No. 8
Gili Lankanfushi Maldives

Gili Lankanfushi Maldives is an exquisite luxury retreat standing in the heart of an infinite blue lagoon, just a quick speedboat ride away from Male airport. The luxury resort embraces the "No News No Shoes" philosophy and offers exceptional luxury and services.
One of Gili Lankanfushi dreamiest concept resides in its accommodation with 45 Water Villas impressively floating above the lagoon and its Private Reserve, the World's Largest Water Villa, covering 1700 sqm.
Crafted in a rustic-chic style and built with natural and noble materials, all water villas offer the ultimate feeling of living by the water's edge. The designer's idea behind the concept is clear : to get the best of the blue from wherever we stand.
Gili Lankanfushi is a Dream for water villa lovers and eco-luxury retreat seekers.
Discover Gili Lankanfushi Maldives latest stories.

Our Video of Gili Lankanfushi Maldives


No. 7
Amilla Maldives Resort & Residences

Amilla Maldives Resort and Residences is one of the Maldives finest resort located in the sublime Baa Atoll UNESCO World Biosphere Reserve in the Maldives. Glamorous and edgy, the luxury retreat offers seclusion on a beautiful and long island spanning over 23.5 hectares of lush vegetation surrounded by one of the best house reef in Maldives.
Amilla offers a chic minimalist and unmistakable design with 67 Mediterranean style villas, Treehouse Villas and Miami-esque Residences each with its own pool and spacious outdoor garden or terrace.
There's gourmet dining across the island, a luscious spa, top diving, a great range of watersports and plenty for the kids to do at the resort kids club.
Its stunning house-reef and prime location to Hanifaru Bay make Amilla Maldives Resort & Residences one of the finest Maldives luxury hotel to stay to dive and snorkel in style.
Discover Amilla Maldives Resort & Residences latest stories.



No. 6
One&Only Reethi Rah

One&Only Reethi Rah is the quintessence of luxury. Inspiring in many ways, Reethi Rah, which was designed by Jean-Michel Gathy, epitomizes elegance, luxury and opulence in a true Maldivian style with unrivalled level of style, choice and personalized exploration.
The resort 130 sophisticated villas and Residences, each attended by a butler, spread along the island 12 beaches.
The resort celebrates the virtues of oriental culture and exoticism with an exquisite choice of cuisine ranging from Japanese to Middle Eastern, Asian to Mediterranean served at 6 elegant dining venues.
One&Only Reethi Rah is full of extraordinary spaces and activities including a beach club, two championship dreamy tennis courts, one of the most exquisite spa in the Maldives, a PADI National Geographic dive center, a climbing wall, a Watsu (WATer ShiatSU) pool and any customized discovery or activity you might wish for.
Bound to impress, One&Only Reethi Rah is one of the most exquisite luxury resort in the Indian Ocean.
Discover One&Only Reethi Rah latest stories.



No. 5
Pullman Maldives Maamutaa

Blessed by nature, Pullman Maldives Maamutaa is surrounded by lush vegetation, a natural lake and sun-kissed beaches, plus one of the region's largest and deepest lagoons. Located in an untouched part of the archipelago, Gaafu Alifu Atoll, the resort offers one of the best all-inclusive plan in the Maldives with excellent services, a wide range of activities and a complete variety of culinary delights available at six outlets across the island.
The resort boasts 122 beautifully designed villas, including two exclusive Aqua Villas featuring underwater bedrooms.
Discover Pullman Maldives Maamutaa Resort latest stories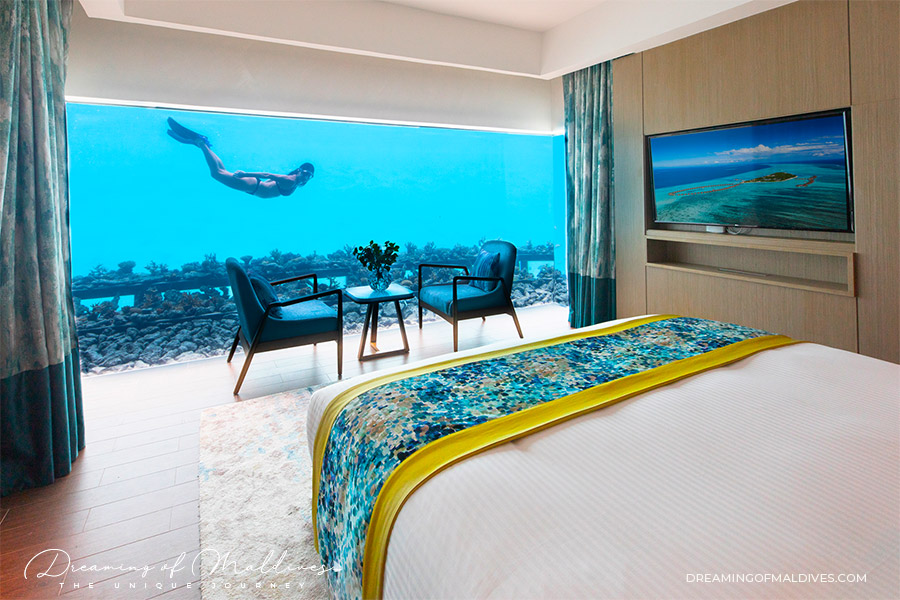 No. 4
Niyama Private Islands Maldives

Niyama Private Islands spreads on 2 beautiful natural islands linked by a bridge and called Chill and Play Islands.
The first one is designed for tranquility and relaxation. It features overwater and beachfront villas, a beautiful Spa, and a great range of dining options including fine dining outlets. The second one, Play, is more dynamic with a focus on watersports and surfing.
The main island boasts 134 contemporary villas and pavilions located on the beach and overwater proposed with or without pool. Chill Island, known for being one of the best spots for surfing in the Maldives, also features 48 Villas.
The resort features 7 Restaurants including a floating restaurant located in the middle of the lagoon, an underwater restaurant – bar and night-club called Subsix, 4 Bars and 1 grab-and-go gourmet snack and café.
Niyama Private Islands is a dream for travelers seeking for a active & hip holiday all while enjoying the Maldives quietness and lagoon beauty.
Discover Niyama Maldives latest stories.

Our Video of Niyama Private Islands Maldives
Niyama Maldives Video - Discover the Resort Most Beautiful Places. #NiyamaMaldives #MaldivesResort



No.3
Soneva Jani

Soneva Jani is located in Noonu Atoll, at 45 minutes by seaplane from Malé International Airport.
The chic eco-retreat is mostly known for having some of the world's most impressive water villas. Decorated and built in a rustic-chic style they are all fitted with a private pool opening onto their own stretch of lagoon, with some villas featuring water slides going directly from the top deck into the lagoon below.
Every water villa offers extravagant spaces with the smallest measuring 400 sqm and the largest 1800 sqm. One of the main highlight of the villas is the retractable roof in the master bedroom, which slides back at the touch of a button so that guests can lie in bed and stargaze.
Soneva Jani features an overwater cinema, the Maldives most beautiful and largest Kids Club called The Den, a star-gazing observatory, a meditative labyrinth, a lush spa, 9 restaurants and bars serving everything from raw dishes, Japanese cuisine to Italian delicacies. Various destination and specialty dining experiences are also available at The Gathering, an impressive three-storey overwater structure, with a cool bar fitted with a water slide, the spa, the library, a shopping center and the wine cellar.
Favorite destination of many VIP's, Soneva Jani is a unique luxurious playground for grownups and children.



No. 2
Hurawalhi Island Resort

Hurawalhi Island Resort is located in Lhaviyani Atoll, northern Maldives, on a beautiful island surrounded by a big turquoise lagoon, an excellent house-reef and long stretches of white, sandy beaches.
The luxury resort boasts 90 private, comfortable and spacious villas designed in a Maldivian style, fitted with or without a pool and located on the beach or overwater.
Designed in a cool and contemporary fashion, Hurawalhi has 3 restaurants and bars and offers the possibility to take a generous all-inclusive plan.
The 5* resort is known for having the world's largest all-glass underwater restaurant called 5.8 and a dreamy sandbank called Dream Island which exclusively reserved for couples.
Hurawalhi Maldives has an adults-only policy. Only teens aged 15 and over are welcome ( and they will find plenty of activities too ! ).
Read Hurawalhi Maldives latest stories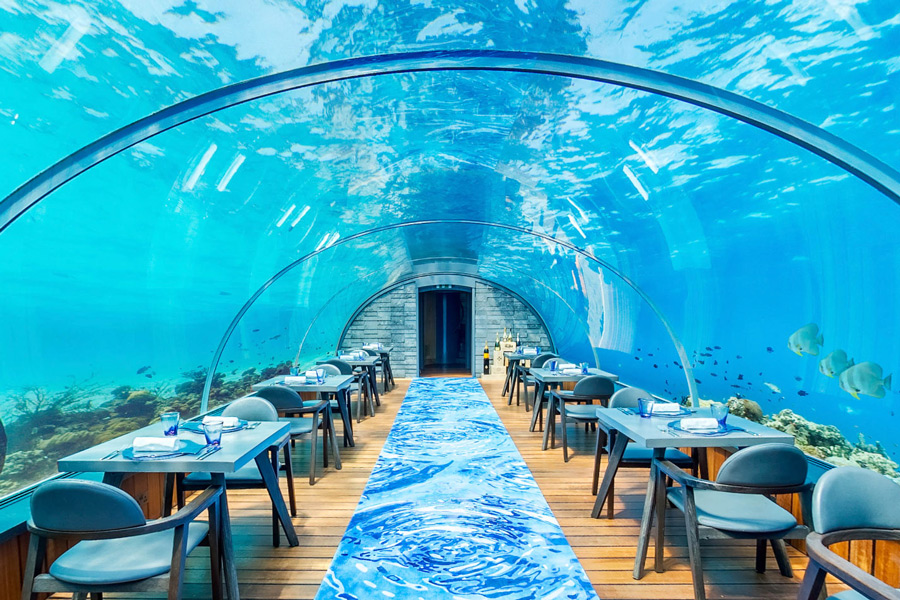 No. 1
The Nautilus Maldives

The Nautilus Maldives is a luxury bohemian hideaway located in Baa Atoll, Maldives UNESCO biosphere reserve, at 30 minutes by Seaplane from male international airport.
The highly personalized and very private small and round island offers 26 beach and ocean villas and residences that are more like exquisite houses with a separate living room, a private pool and a personal butler, ready to embody any wishes.
The Nautilus concept consists of absolute freedom for its guests, who enjoy no rules, no dress codes, no set restaurant hours, no fixed menu choices.
The resort is a paradise for snorkeling and diving with a house reef located at a few meters from its shore and an access to more than 30 world-class spots in the immediate vicinity. The Nautilus Maldives is also close to the famous Hanifaru Bay where you can swim with Mantas.
Standing at the top of guests lists for a tropical paradise getaway The Nautilus Maldives can also be rented as a private island.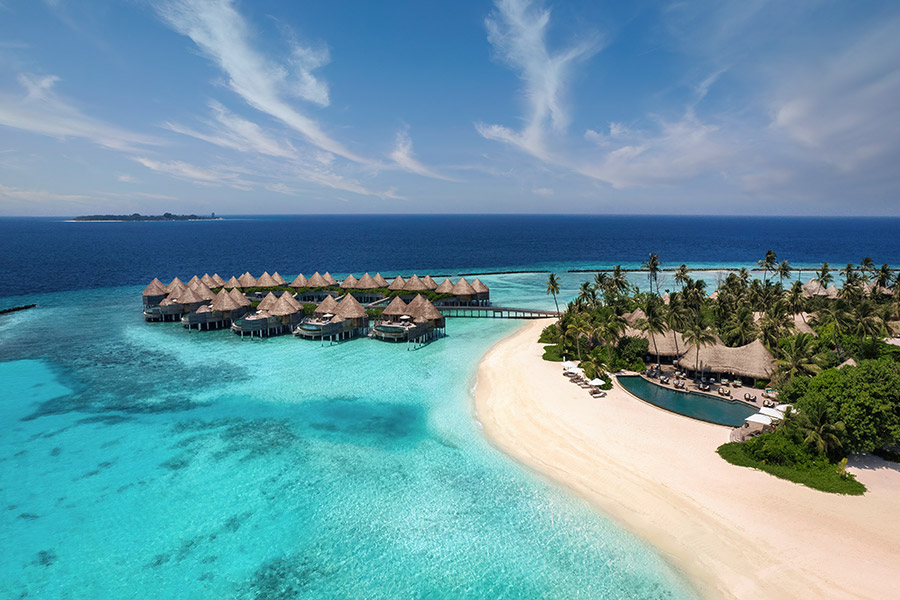 ---


This TOP 10 is YOUR choice and does not necessarily reflect ours.
or search for your Dream Resort
CURRENT VOTING
Follow us on Facebook, Youtube and Instagram
for more Maldives Dreams & Stories
Maldives TOP 10 Dreamy Resorts 2024
YOUR CHOICE. YOUR DREAM. YOUR VOICE