The 2018 Maldives new Presidential elections make big International titles again and it can be confusing without knowing exactly what is happening and who is who.
Focus On Maldives Presidential Elections
Who are the candidates, what is the situation in Maldives ? Focus on the Presidential election.
The Maldives are a very young Democracy. The transition begun after former president Gayoom autocratic regime in 2008.
Like all new Democracies, the process is slow and painful since then.
Each election has brought riots, political scandals, police arrests and other forceful events.
3 days ago, followed by the all international community, new presidential elections went on in Maldives.
2 candidates presented themselves :
Current Maldives leader the past 5 years, President Abdulla Yameen and new runner-up for Presidency, Ibrahim Mohamed Solih, chief of the opposition party called MDP ( Maldives Democratic Party )
Who is Abdulla Yameen ?
Abdulla Yameen is the half brother of former President Maumoon Abdul Gayoom ( depicted as a dictator ) who governed Maldives for nearly 30 years.
Abdulla Yameen won the presidency in a disputed poll in 2013, one year after the country's first democratically elected leader, Mohamed Nasheed, was forced to quit the office in what his supporters describe as a coup. The news went international and the world stood behind Nasheed.
Yameen is locally depicted as ruthless.
During his presidency, several news reported social unrest in Male. State of emergency was declared ( again ) in Maldives in Feb. 2018 due to brutal riots in the country.
Former President
Abdulla Yameen
Pro-China Yameen has developed strong relationship with China, leading to lots of business deals closed throughout his presidency.
A Chinese embassy, a new airport air terminal, the China-Maldives Friendship Bridge between Male ( the capital ) and Hulhule Island ( the airport Island ) and an agreement for chinese Army to enter Maldives territory among other agreements.
Who is Ibrahim Mohamed Solih ?
56 old Solih is a co-founder of the Maldivian Democratic Party (MDP) and was a main figure in the Maldivian political change between 2003 and 2008. Solih became the MDP's presidential candidate when a majority of its members were either imprisoned on exiled by Yameen's government.
Ibrahim Mohamed Solih ( also called Ibu ) actively and officially came in politics as a Majili ( Parliament member ) at the age of thirty.
Depicted as calm and low-figure of Maldives Politic landscape, Solih is a close friend of former Maldives President Mohamed Nasheed ( currently still ineligible to run for president and in exile ).
New Maldives President


Ibrahim Mohamed Solih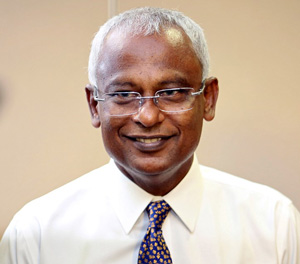 Pro India ( like former President Nasheed ) and not China ( like former President Yameen ), Solih fought his campaign on accusation of frauds and corruption, lack of freedom for Maldivians from Yameen government and aim to reinstall a real Democracy in the Maldives.
New runner-up for Maldives Presidency Ibrahim Mohamed Solih. Credit MDP
Maldives elections local and international reports
Maldives pre-elections were tough and led to several political and economical scandals.
International press was not invited to cover the event and a few international observers could follow the event on location.
What we know for the essential.
Nearly 90% of the registered 262,000 voters were queuing to vote. Individuals witnessed holding up to 6 hours to vote this last Sunday 23rd september in Maldives. Many Maldivians live abroad, queues were seen in Malaysia and Sri Lanka too. The voting process was heavily scrutinized by international observers.
Voting took an extraordinary turnout with 3 extra hours polls after opposition claimed they could not freely vote.
Several local news and observers reported troubles in the main Maldives cities, Male and Gan, including a raid from the police at the opposition main campaign office in Male, based on illegal activity allegations from Yameen party. Nothing was reported found.
Maldives 2018 Presidential elections the results
As difficult it was looking, on Monday 24th September the runner-up candidate Ibrahim Mohamed Solih won the elections and became the new Maldives President for the next 5 years.
Reports and numbers show that he took the presidency with a 134,616 voters (58.3 % ) against 96,132 voters for Abdulla Yameen.
Abdulla Yameen accepted the results and conceded defeat announcing a smooth transition.
Male was the scene of huge crowds of supporters of candidate Ibrahim Mohamed Solih who celebrated their victory.
The new elected President Solih should take over the country on November 17th 2018. Maldives now hope that the transfer of power will be smooth and without new crisis.
But today's news from Maldives report a change in Yameen will. According to Human Rights Watch : "Yameen seems reluctant to step down.
Officials from Yameen's Progressive Party of the Maldives have reportedly used social media to direct their supporters to immediately submit complaints to the Election Commission to delay the scheduled September 30 announcement of the final result."
The situation is apparently not settled yet and hopefully everything will happen smoothly.
What is really the situation in Maldives for tourists ?
Are the Maldives safe ?
Elections were conducted all over Maldives. BUT main events happened in Male the Capital and Addu, the second country main city located at 480kms from Male, South Maldives.
Tourists will not face any events, excepted if staying in Male and Addu, the election "hotspots" if something should happen.
Follow us on Facebook, Youtube and Instagram
for more Maldives Dreams
Maldives TOP 10 Dreamy Resorts 2024
YOUR CHOICE. YOUR DREAM. YOUR VOICE