Originally opened as a night club, the first underwater clubbing spot in the world at this time, Subsix is located nearly 20 feet ( 6 meters ) below the Indian Ocean.
SUBSIX, the stunning underwater restaurant and Bar at Niyama Maldives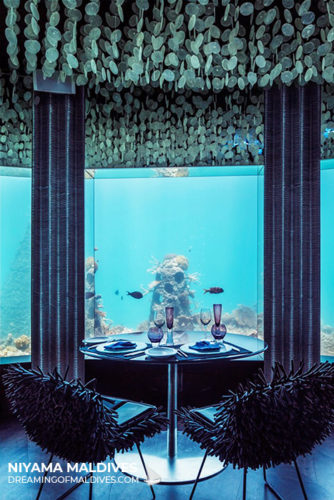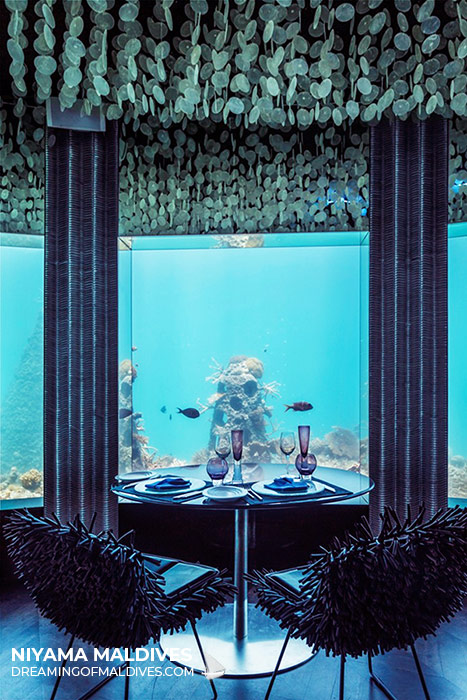 It is now an underwater playground opened for lunches, special events and parties.
Guests reach Subsix via speedboat, skipping over the reef to its 500-metre offshore location.
Upon arrival, the underwater revellers descend a dramatic three-tier staircase.
Overhead, Italian-designed abstract chandeliers illuminate the descent like shining coral or white stars sparkling through the sea's surface. Brancusi cabinetry and mirrors line the path.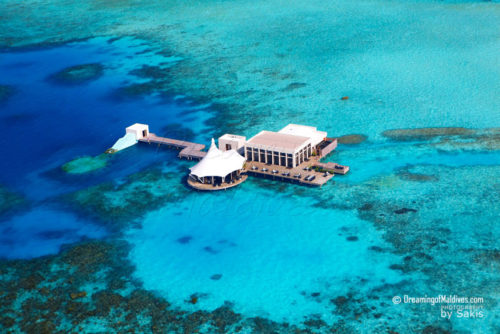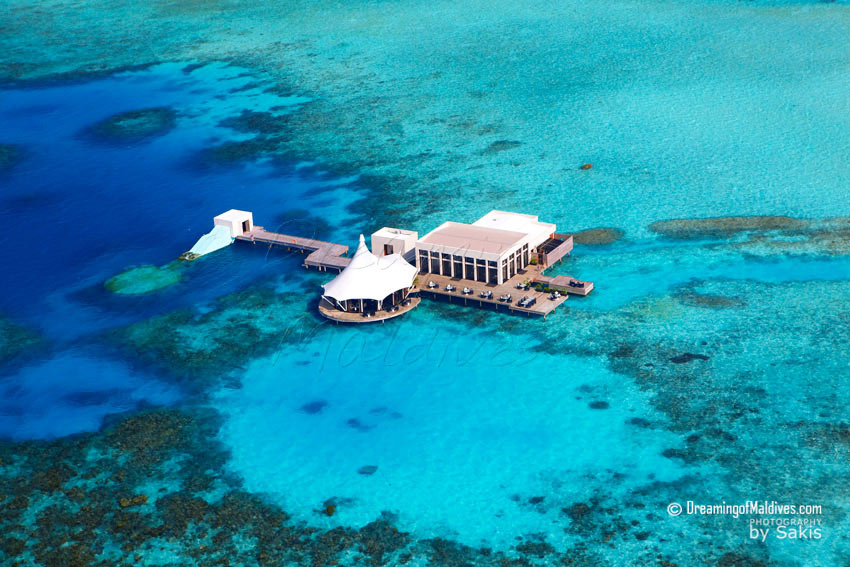 Located more than 500 meters off-shore Niyama main island, Subsix is only accessible by boat from the resort.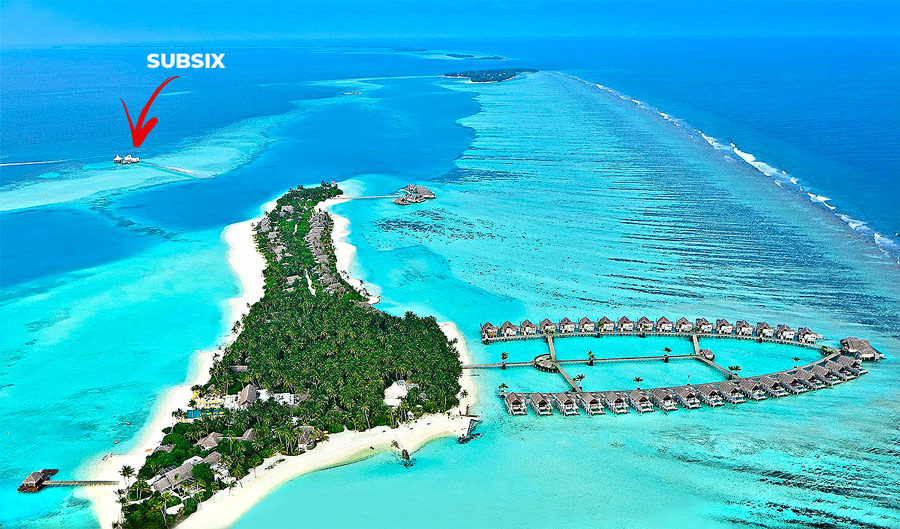 Subsix was revamped in 2014 and is visually outstanding.
Decorated around the sea theme, everything reflects the ocean.
Coral-like chandeliers, ocean blue lighting, mirrors reflecting the surrounding marine life, anemone-inspired chairs massage guests with rubber fingers, capiz shell ceiling arrangements remind of undersea jungle…the all space is almost entirely tricking our senses.
In the centre of the room, a huge clam-inspired bar strikes an imposing form, its fibreglass shell glowing with Subsix's mood lighting that shifts throughout the day from pure white mornings to a lavender dinner setting to late-night blues.
SUBSIX Underwater Bar is an immersion into aquatic life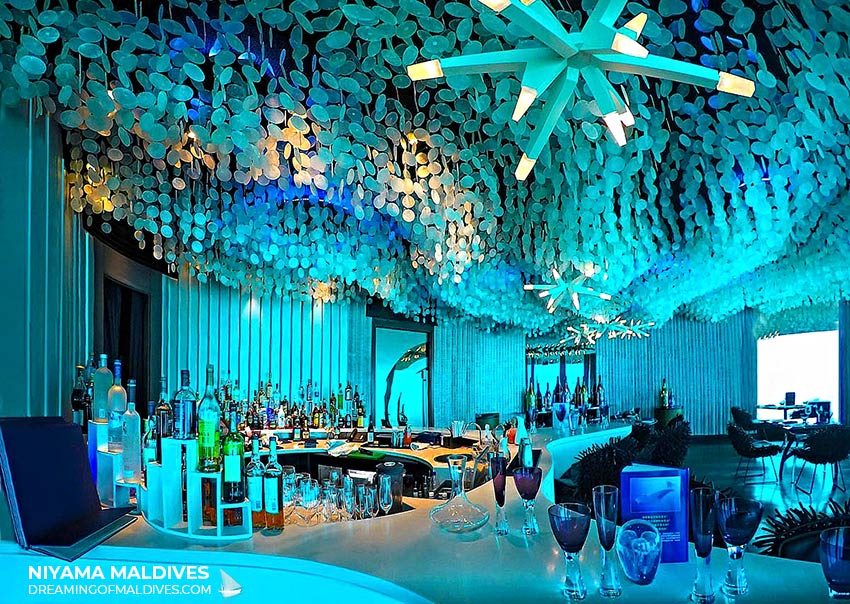 Among the many activities hosted by Subsix, marine biologist-led immersions into aquatic life give guests an expert's insight into the rich environment and its secrets. Other highlighted activities in the restyled venue include subaquatic lunches, gourmet dinners, weddings, hosted events, wine tastings, a weekly Glow Party and DJ nights carrying on the tradition of its birth as a pioneer-of-the-deep club.
Underwater Glow Parties are organised each Wednesdays and Saturdays, from 9:00 pm.
Video Subsix Underwater night-club before redesign
DRESS CODE : Cool Chic
Cuisine : Seafood, European
Subsix underwater restaurant and Bar prices
Prices start at 200 USD per person for a 3-course Lunch including including 1 alcoholic drink per person.
Beverages start at 14 USD for a cocktail or a glass of wine or 24 USD for a glass of Champagne.
3-course Lunch Menu at Subsix underwater restaurant
FIRST COURSE
Wagyu Beef Tartare
Crispy Parmesan, brown bread, slow cooked egg yolk
or
Local Lobster
Orange segment, pomegranate, vanilla oil, bisque espuma
—-
MAIN COURSE
Barramundi
Saute calamari, caramelize onion, bouillabaisse reduction, tamarind coulis
or
Lamb Chop
Parsley & garlic crumb, edamame, cauliflower puree, rosemary sauce
—-
DESSERT
Exotic Delight
Coconut parfait, garden fruit minestrone, crumble, mint mango sorbet
—-
Petit Fours
Illy coffee and selected teas
Indulge your taste buds with complimentary
Glass of house select white or red wine
Free flow juices and soft drink
Subsix Underwater Restaurant and Bar Photo Gallery
Subsix is Decorated around the sea theme, everything reflects the ocean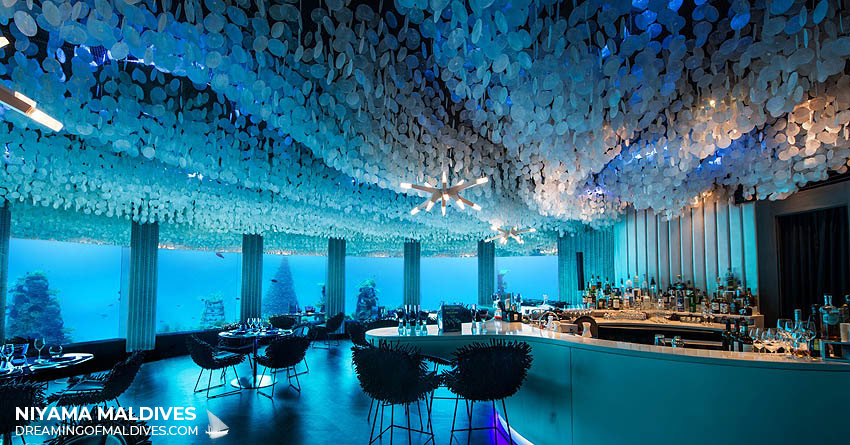 SUBSIX anemone-inspired chairs massage guests with rubber fingers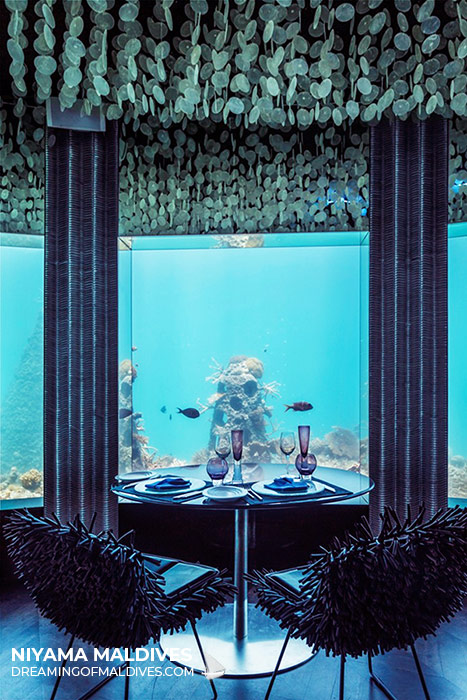 EDGE Bar and Restaurant located above the sea and Subsix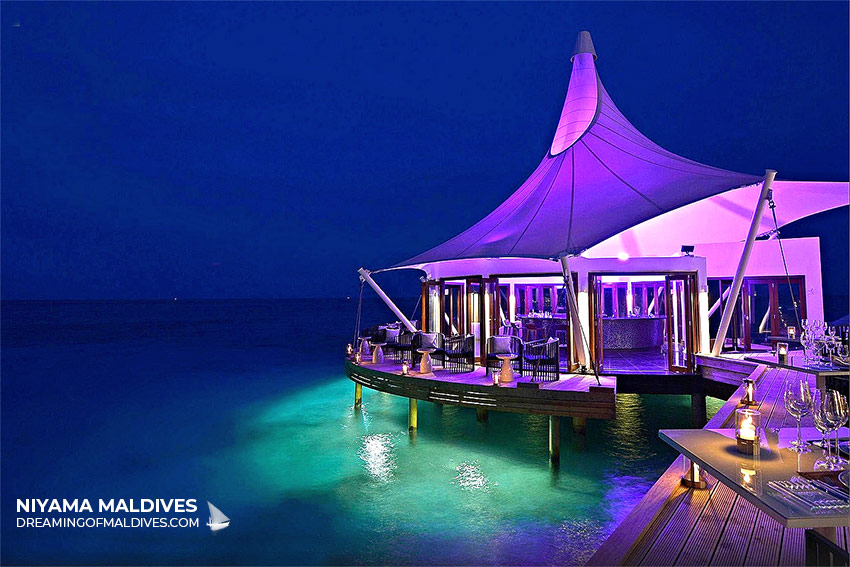 SUBSIX Temporary Underwater Photo exhibition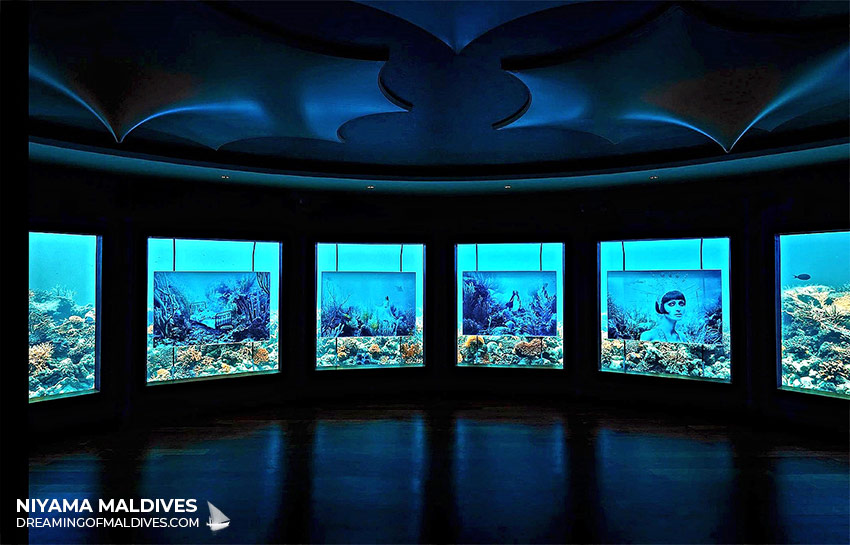 SUBSIX huge clam-inspired bar strikes an imposing form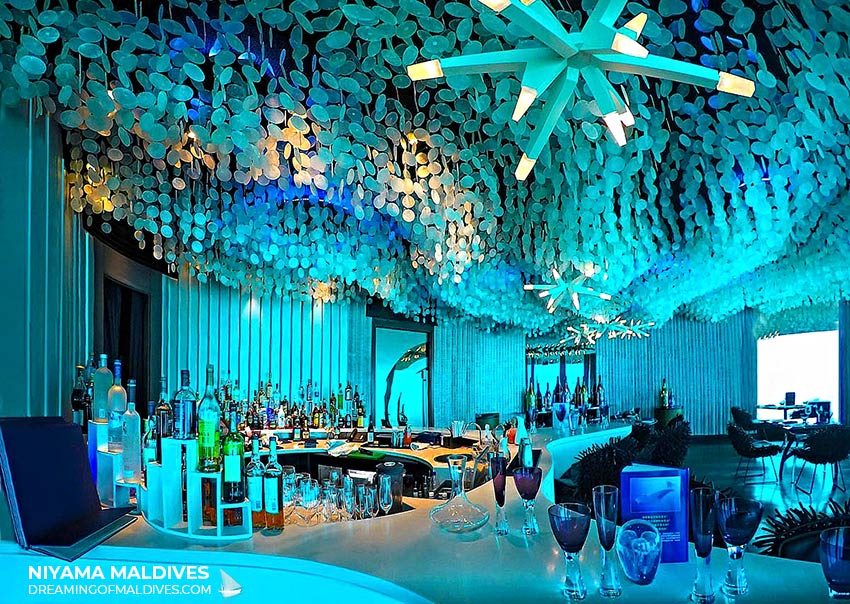 Subsix Aerial View with SUBSIX in the background on the upper left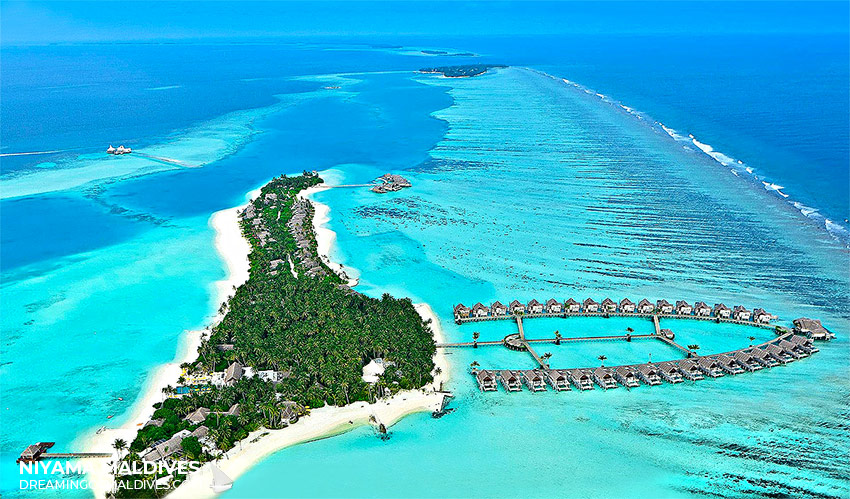 About Niyama Maldives
Ultra-modern & exclusive, romantic, active & very fun, relaxing and Family friendly all together, Niyama Maldives features an unprecedented blend of Holiday Lifestyles in a superb environment.
Nominated Best New Sensation at the Tatler Travel Awards 2013, Niyama Maldives, is located on a superb and long island in the virgin Dhaalu Atoll, South Maldives. The small sister of the Iconic Huvafen Fushi Maldives, boasts 134 contemporary Beach and Over water Pavilions and Studios spreading around the Resort 2 islands.
Spacious and luxurious, all Villas are equipped with High-End amenities and fun gadgets and are proposed in various categories as well as with or without pool.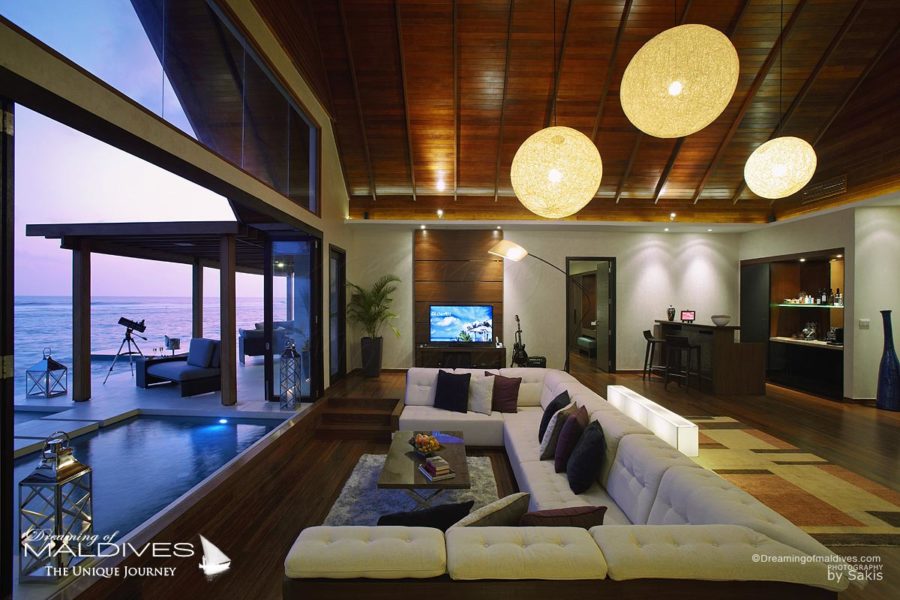 The Resort features 7 Restaurants including a floating restaurant located in the middle of the lagoon and a underwater restaurant located at 6 meters below the lagoon, 4 Bars, 1 grab-and-go gourmet snacks, Butler services, DJ sessions, a Garden Spa, Yoga and a great range of water activities, including Surf and Body Board spots close-by.
Niyama is the ideal Resort for travellers seeking a Modern and Hip Holiday
Niyama Maldives Resort Video
Niyama Maldives Complete Resort Video #NiyamaMaldives #Maldives #MaldivesResort
Follow us on Facebook, Youtube and Instagram
for more Maldives Dreams
Your TOP Best Maldives Resorts 2023
YOUR CHOICE. YOUR DREAM. YOUR VOICE
[ Official ]
Traveler's Choice
12th Edition