Have you ever heard the Maldives traditional drums called "Bodu Beru" beating under the moonlight ?
If you like World Music and have curiosity for foreign cultures, you will surely experience this moment during your holidays in Maldives. The Bodu Beru, heart of the Maldives music Soul, is played during each Maldivian night, once a week, in almost all resorts together with a delicious Maldivian dinner.
Bodu Beru, Maldives traditional Drum Music
These nights are the perfect – and often the only – occasion to discover an important part of the Maldivian culture.
What is Bodu Beru ?
Literally meaning " Big Drums " in Dhivehi – "Bodu" for Big and "Beru" for Drums, the Bodu Beru is a reminder of Maldives multi-ethnical influences with strong roots from East Africa.
Bodu Beru can take various forms and set up.
At the resorts, generally 5 to 7 men will seat on the floor / sand in a particularly studied position: the half of the drummers will often face the other half, all standing in a row and in front them, randomly placed will stand several dancers ( 3 to sometimes 10 of them ).
The drum master will seat in the center, with a big drum giving the tempo and leading the rest of the musicians. During celebrations around the islands, Bodu Beru set up and dances will vary according to the occasion it is played for.
The performance begins on a slow and mellow tempo and increases until a very fast pace is acquired, while the dancers move all around an improvised stage, in a very ample way, turning and twisting their bodies, moving their arms up, looking at each other or not, entering in some kind of dance that some could perceive as a trance. The moves all come together in response to the beating of the drums.
Along with the drums, dancers slowly starts to sing a slow dhivehi song in a very languorous vocal that will progressively rise and speed up.
As the rhythm of the drums takes the night, we must say that the scene and the music can quickly become hypnotic.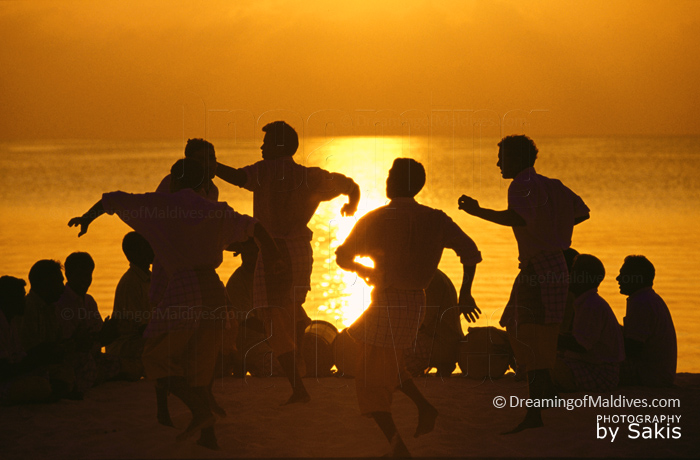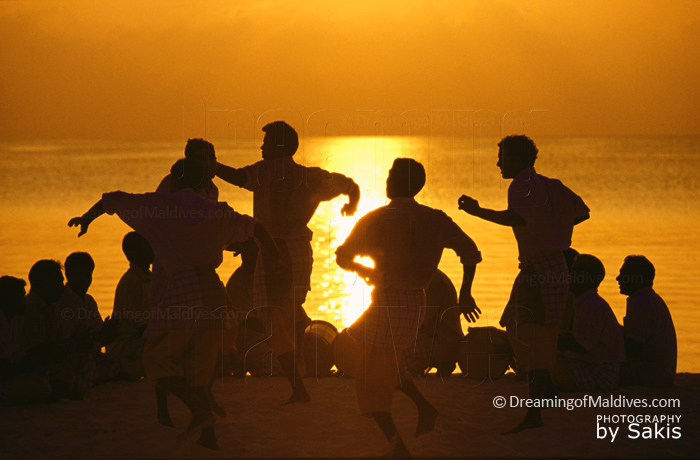 Sometimes composed of some men of the resort team, musicians and dancers can also come from one of the resort neighboring Island.
The origins of Bodu Beru
Although the exact period of the first drums arrival is still not clearly defined, Maldivian historians have estimated it around the 11th or 12th Century AD, with the arrival of African brought by the Arabs seafarers on their route to Asia. Many West Africans arrived and settled in Maldives where they have let a strong musical influence amongst others.
The tradition has survived the centuries and modern influences. These impressive "Big Drums" are widely played everywhere in the Maldives and can often be heard from far away, from island to island.
Songs are sometimes very old, transmitted from generations to generations on the islands during festive nights.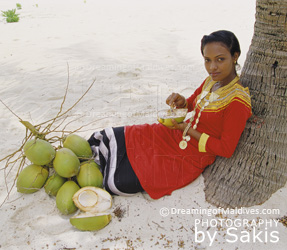 Lyrics are based on stories and tales of fishermen, love, life moments-happy or not (after all it is the same story everywhere) and can be sometimes funny or improvised.
More generally, dances can vary, adding more moves and strange faces to the dancers. Drums are executed by men and dances can be executed by woman too. The Music rythm will however become smoother and slower when performed by women.
If Bodu Beru is widely played around the archipelago for celebration or pleasure, by elders and young people, it is played only by certified drummers.
Bodu Beru has several tempos and rules that need a long time before being mastered. ( note: Having myself lived in West Africa where drums are kings, I personally find Bodu Beru more complex in matter of beats ).
The Drums…or "Beru"
Generally based on a deep bass sound, the barrel is, alike most of island drums around the world, made of coconut wood for its wide presence and sound quality.
The head is almost similar as African Djembes.
Originally, drum heads were made of rays and Manta rays skins, they are today generally made of goat skins. The skin will be more or less tighten up to produce a higher or lower beat. Smaller barrels and tightened up skins are used for higher beats.
Listen and dance on Bodu Beru during your stay in Maldives
With very rhythmic and pounding beats, the Bodu Beru music is an invitation to dance.
Bodu Beru is a pleasure to discover as it brings us a bit closer to the Maldives heart, that still has so much to tell us.
It is one of the few moments where we can enjoy a piece of the Maldivian culture.
Most of Maldives resorts organise a Maldivian night with local food and Bodu Beru songs.
During these Maldivian nights, do not hesitate to move and clap your hands. According to the resorts, the dancers might come come to invite you to join them.
Otherwise just listen to their beats and enjoy the Maldivian dancers expressing themselves under the moonlight.
It is really a special and great moment to share with the Maldivians and will give you a lot of fun.
Note: In some resorts, Bodu Beru lessons are proposed to the guests and/ or the kids.
Listen again to this Bodu Beru recorded at Baros Maldives during a Maldivian night and performed by some of the Island team. You might listen to them differently now…
Note that the rythm is speeding up at 4.09.
Bodu Beru. Photo Gallery
Your TOP Best Maldives Resorts 2023
YOUR CHOICE. YOUR DREAM. YOUR VOICE
[ Official ]
Traveler's Choice
12th Edition