Discover The St Regis Maldives Vommuli Resort, one of the Maldives finest address and a design masterpiece. Conceived by the Singapore based agency WOW Architects and Warner Wong Design, the resort boasts multiple iconic architectural venues.
On Vommuli Island, refined yet contemporary design blends effortlessly with local craftsmanship and an appreciation for its ecological environment. Impeccably crafted dishes from all over the world are cooked to perfection, and every possible luxury can be found at this exquisite Maldives retreat.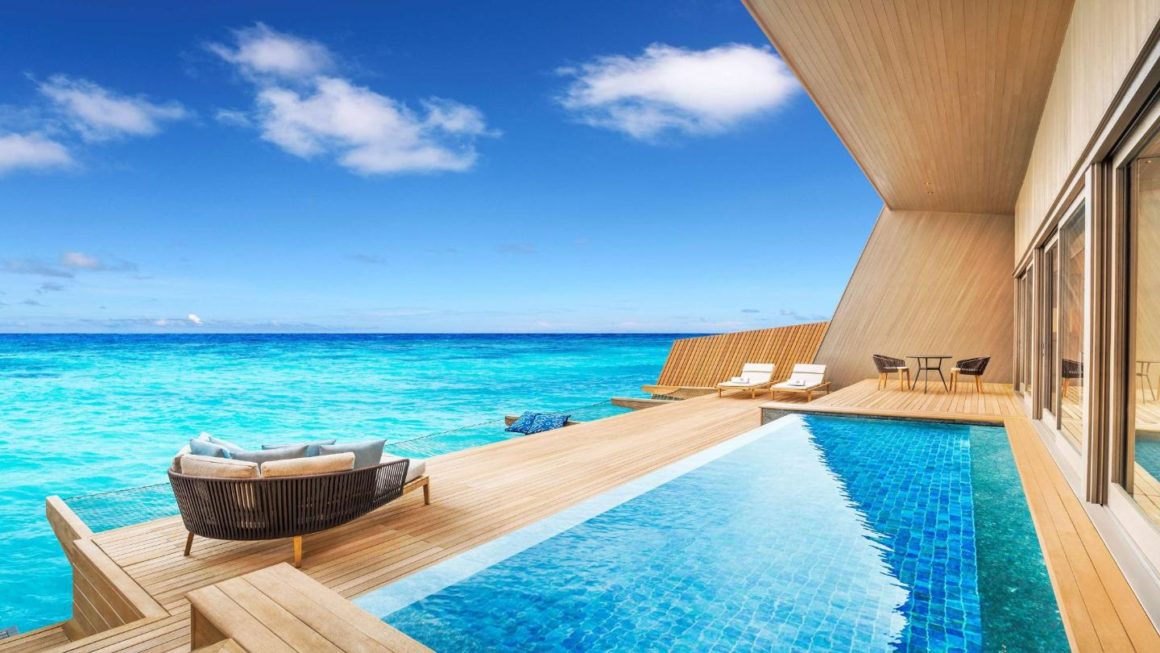 Dreaming of

The St Regis Maldives Vommuli Resort
The Island
The St. Regis Maldives Vommuli Resort is located on beautiful round island in Dhaalu Atoll at 45 minutes by seaplane from Male International Airport. The resort is nestled in 22 acres island in the middle of lush tropical gardens and surrounded by close-by house reefs at vicinity at some parts of the island. The total Island size is 450 m by 250 m.
A Design Masterpiece.
The St Regis Maldives Vommuli Resort design was inspired by Maldives underwater beauties and possesses unforgettable locations.
The resort exceptional design features, created by the Singapore based agency WOW Architects and Warner Wong Design, has made an early and immediate sensation with its multiple iconic architectural venues.
Vommuli Resort boasts an award-winning architectural design inspired by marine life and the local Maldivian culture with remarkable facilities such as the Whale Bar, with a design inspired by the whale shark, and the Iridium Spa, inspired by the lobster.
The Resort design
Stunning and unique, The St. Regis Maldives Vommuli Resort has received several prestigious awards for its outstanding facilities and architectural design 1 year after its opening.
The resort design master pieces include a lobster shaped overwater spa, a bar designed in a whale shark shape and a library in a shape of a giant conch shell to name a few.
St. Regis Butler Service
For over a century, St. Regis Butler Service is a treasured hallmark of the St. Regis experience. From the airport, the personalized service of the St. Regis Butler ensures that each guest's preferences are known and understood at the resort. No request is too small or unattainable, no matter the hour of the day.
The St. Regis Maldives Vommuli Resort Villas, Suites and Private Estates
Designed to be ecologically friendly, The St Regis Maldives Vommuli offers 77 inspired accommodations, including 44 overwater villas and 33 located on the beach.
Each designer villa features a state-of-the-art Bang & Olufsen BeoVision entertainment system, a private sparkling pool and complimentary high-speed Wi-Fi. From their arrival at the airport, guests enjoy the dedicated attention of a 24-hour dedicated and discreet St. Regis Butler.
The 77 villas are divided into four zones
– Lagoon, Beach, Jungle and Coastal zone –
and each villa interior reflects its location.
The 77 villas, divided according to these zones, have direct access to unique activities.
The lagoon zone boasts a water amphitheater and a signature spa; the beach zone spotlights two signature beachfront restaurants; the jungle zone houses a recreational area and a popup restaurant; and the coastal zone provides a dive center and a signature bar.
An art trail threads them all together with seasonal work from artists in residence showcasing pop-up installations using found objects and locally sourced materials.
Garden Villas and Beach Villas & Suites
Island Inspired
1 Bedroom + 2 Bedroom Villas and Suites located on the beach or in the Island jungle
Vommuli's Overwater villas and Suites
Inspired by Manta rays
1 Bedroom and 2 Bedroom Villas and Suites located over the lagoon.
The Estates
The Epitome of Sophistication
The St Regis Maldives Vommuli boasts 2 stunning luxury Estates on the beach, The Carolina Astor Estate and overwater, The John Jacob Astor Estate.
John Jacob Astor Estate. A 1540 sqm Floating Palace
1540 sqm / 16570 sqft
The John Jacob Astor Estate is one of St Regis Vommuli's highlight.
The two-storey villa showcases an impressive infinity swimming pool, a home theatre with state-of-the-art surround sound and a private wellness centre and 3 bedrooms, located each in their villa.
Located at the extreme west of the island lagoon with Sunset views, the floating palace offers an exterior design that reminds of Manta rays.
The vast interior is decorated with exquisite classic modern and mid-century pieces, as well as furniture styles that have vernacular sources from the Indian Ocean cultures.
Carolina Astor Estate. St Regis Beachfront Mansion
Three-Bedroom Beach Suite with Pool
620 sqm / 6671 sqft
The Carolina Astor Estate is an exquisite and lavish Beachfront Mansion ideal for a group of friends or family looking for a private escape.
Each room features a twin-size signature St. Regis Bed, with a 55-inch LCD television promising the latest entertainment. Meanwhile, each marble bathroom, complete with walk-in closet, exhibits meticulous design. A private wooden deck houses the outdoor shower with dual shower head, complemented by an indoor glass-enclosed rainforest shower.
A separate deep soaking bathtub elevated by luxury bath amenities ensures unsurpassed pampering. Marble double vanities are enhanced by a 20-inch mirror-embedded LCD television and burnished fixtures.
The Iridium Spa
Offering a holistic approach to wellness and rejuvenation, IRIDIUM spa treatments are enhanced by Natura Bissé products, hand selected for their therapeutic benefits.
Spanning 1,850-square-meter, the impressive and already iconic Iridium Spa takes a holistic approach to relaxation and rejuvenation.
With six overwater treatment rooms including 2 dedicated to healing Ayurvedic treatments, Iridium Spa offers a customized spa experience such as treatments from authentic rituals to the luxury caviar treatments.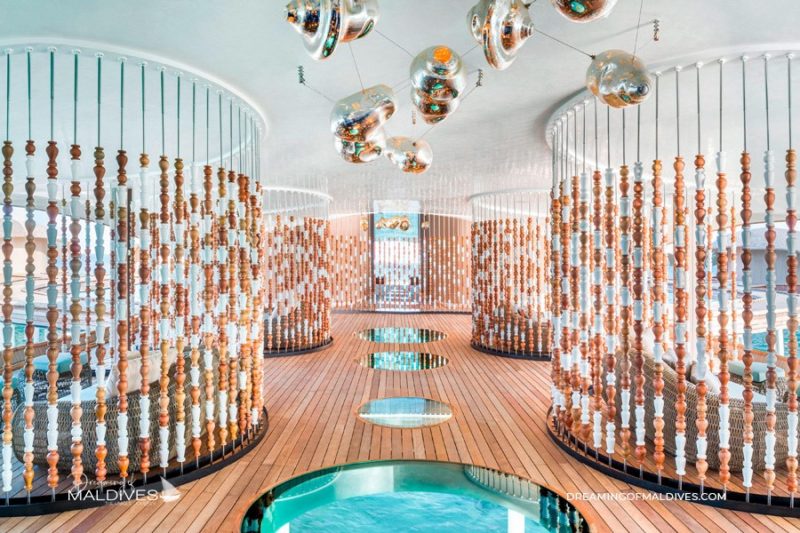 Sliding glass doors allow guests to admire the sea from their spa beds, while private terraces with soaking bathtubs ensure relaxation enhanced by fresh ocean breezes.
Situated on a covered terrace, the Blue Hole Pool is one of the most expansive hydrotherapy pools in the Maldives. Heated seawater and an array of whirlpool jets melt away tension while offering curative benefits for both the mind and body.
The Blue Hole Pool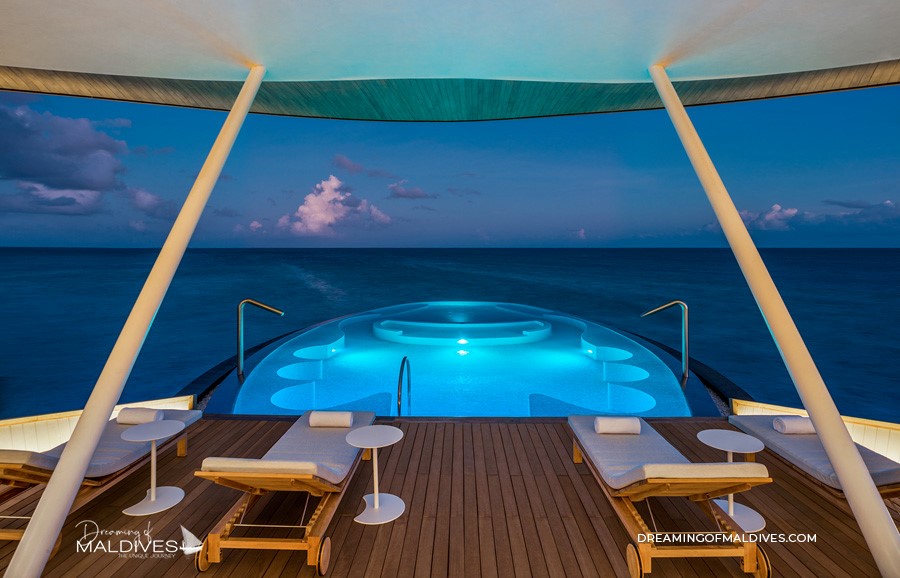 Culinary Experiences & Bars
The St. Regis Maldives Vommuli Resort boasts six distinct dining venues, including an Asian specialty restaurant, a modern Italian restaurant that features a grand staircase, an underground wine cellar restaurant, a shack style restaurant, a signature overwater bar that rolls out stunning views of dramatic sunset, and a pop-up restaurant in the middle of the resort.
Whale Bar
St Regis Vommuli Leisures & Activities
The Resort offers a wide range of leisures and activities. The island fun and cultural hub is located at the stunning Vommuli House Discovery Center.
Focal point for activities, at the resort, the discovery center caters to people of all ages from young to old, and focuses on learning and health for group and self-improvement.
With eco awareness in mind, the contemporary eye striking building has branching arms that each contains various activities from a nature library to child friendly playrooms, a culinary school, a yoga studio, a gym, and an acupuncture clinic.
Watersports and Beach Activities
The Vommuli Dive and Water Sports Center offers great Diving options, snorkeling, windsurfing, deep-sea fishing, glass-bottom kayak tours, private yacht rental, sea bobs to name a few.
Diving & Snorkeling at St Regis Maldives Vommuli resort
Snorkeling
The St Regis Vommuli offers some snorkeling in some parts of the island shores. You will preferably chose the west part of the island for more corals and life.
Diving
The Resort features a 5-Star PADI IDC Dive Centre offering tailored programs for all abilities and specialty courses on some of the best Atoll spots.
Diving packages are inclusive of equipment, manuals and PADI certification. For those who prefer an intimate diving setting, private guides offer exclusive experiences.
Kids aged 8 to 9 who wish to discover the wonders of the ocean can follow PADI Bubblemaker course under the guidance and safety of diving experts.
St Regis Vommuli Kids Club & Family Life
St Regis Maldives offers a great Kids Club, the Children's Club, fun-filled with activities for the whole family.
The Kids Club is open for kids between 4 and 12 years old.
Led by a team of highly trained childcare professionals, kids are shown the rich culture and spectacular natural beauty of the island, as well as given a chance to enjoy some high-energy sports and outdoor activities, ranging from art classes and treasure hunts to snorkeling and yoga lessons.
Families can also enjoy unforgettable expeditions such as dolphin cruises and traditional sunset fishing excursions.

All Photos © The St Regis Maldives Vommuli Resort
Do you have questions about The St Regis Maldives Vommuli Resort or your next trip to the Maldives ?
I will answer you via our form on the contact page.
You can also contact me via our Dreaming of Maldives Facebook page. Click on "Like the page" and submit your question.
I will answer you within 24 hours maximum.
Follow us on Facebook, Youtube and Instagram
for more Maldives Dreams