Which resorts have the longest hotel pools in the Maldives ? 2 resorts hold the record : Fairmont Sirru Fen Fushi and Kuda Villingili Maldives Resort.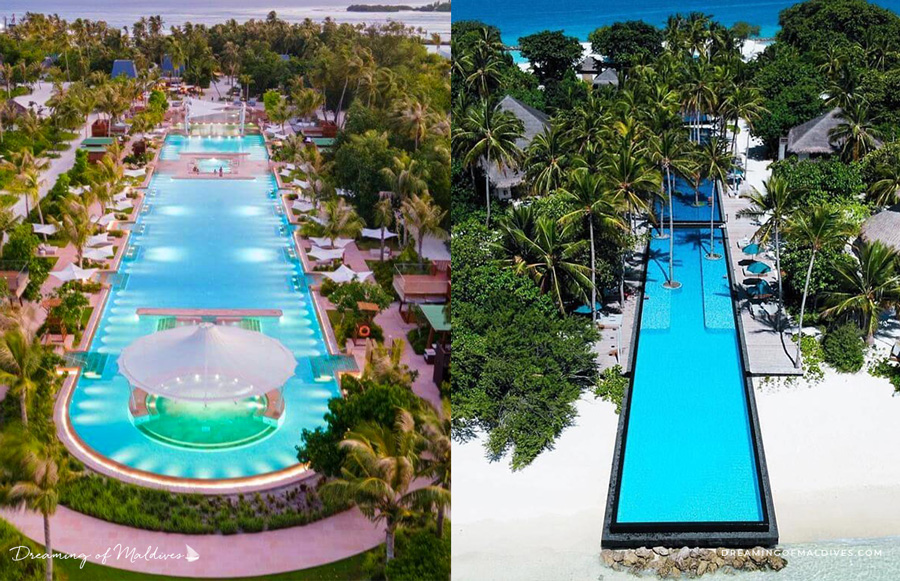 Fairmont Sirru Fen Fushi. Maldives longest Pool
Fairmont Sirru Fen Fushi pool size : 200 meters.
Fairmont Sirru Fen Fushi infinity pool is the Maldives longest hotel pool of the archipelago with 200 meters ( 650 feet ) in length.
The immense pool stretches from one side of the island to the other. The pool is also one of the island's best spots to watch Sunset.
About Fairmont Sirru Fen Fushi
Opened in 2018, Fairmont Maldives Sirru Fen Fushi is located in Shaviyani Atoll, north Maldives. Known to have the Maldives longest infinity pool and the Coralarium, destroyed since then, the ultra Luxury property features 120 luxury villas located on the beach, overwater and in the jungle with extraordinary jungle tented villas. Besides bespoke services, Fairmont Maldives offers an outstanding barefoot chic design which perfectly harmonizes with its surroundings. The property features an impressive and flavorful choice of restaurants, a superb spa and an excellent range of activities.
Kuda Villingili Resort Maldives second longest Pool
Kuda Villingili Resort Maldives pool size : 150 meters.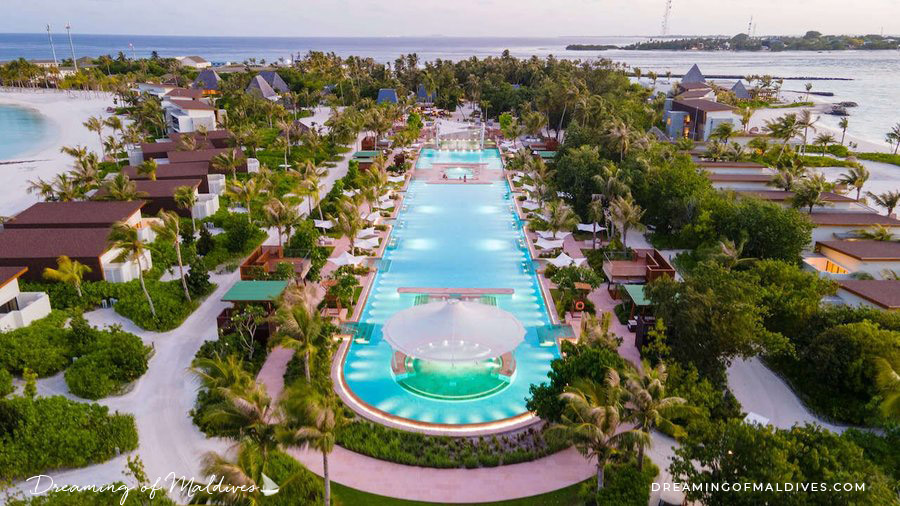 Recently opened, Kuda Villingili Resort Maldives has now the second Maldives largest hotel pool with 150 meters ( 492 feet ) in length. Surrounded by lush nature, the pool is lined with sunbeds and private, shaded cabanas, a jacuzzi and a separate, child-friendly pool.
About Kuda Villingili Resort Maldives
Opened in June 06th 2021, Kuda Villingili Resort Maldives is located in North Male Atoll. The luxury property offers a wide array of activities catering to different types of travelers, looking to reconnect with loved ones and meet like-minded people in a laid-back environment. The 5* Resort features 95 villas overwater and on the beach, world-class dining venues, sporting competitions including tennis tournaments on US-championship standard courts, surfing, well-being sessions and great diving. The new resort combines relaxation with activities and adventure in 5* Maldivian luxury environment.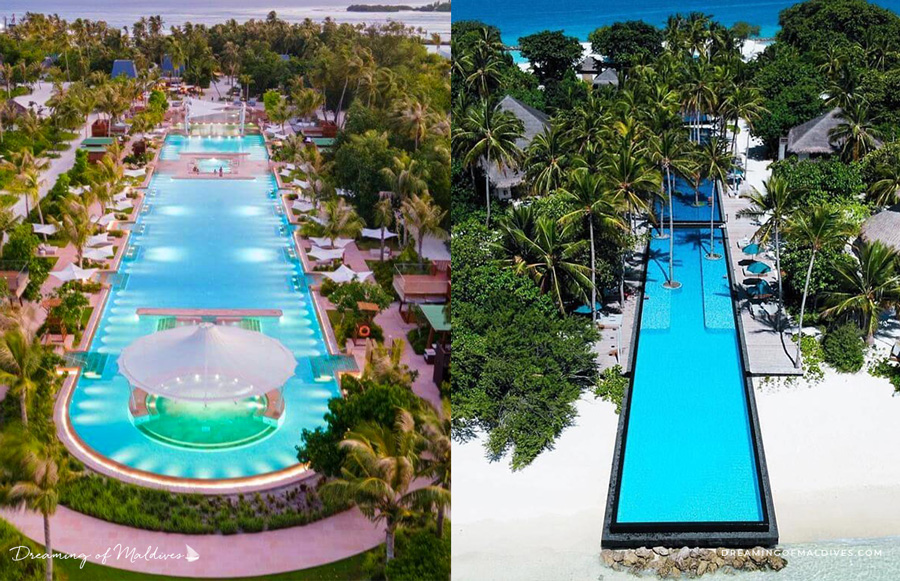 Which hotel will be next in the list ?
Stay tuned.
Follow us on Facebook, Youtube and Instagram
for more Maldives Dreams & Stories
Your TOP Best Maldives Resorts 2023
YOUR CHOICE. YOUR DREAM. YOUR VOICE
[ Official ]
Traveler's Choice
12th Edition