Review of one the Best Maldives Water Villas we've seen: The Over Water Pool Villa at Anantara Kihavah Maldives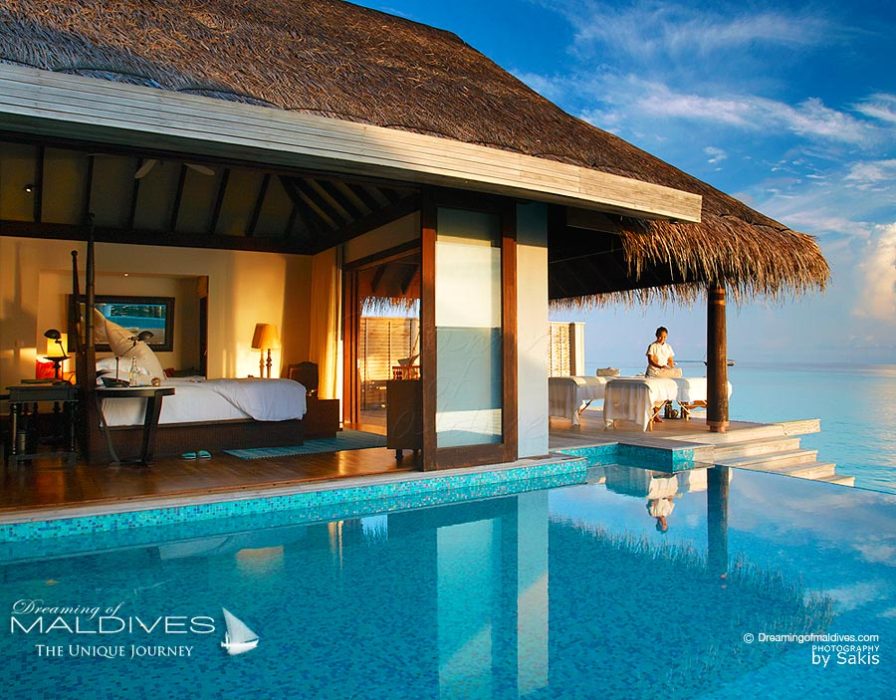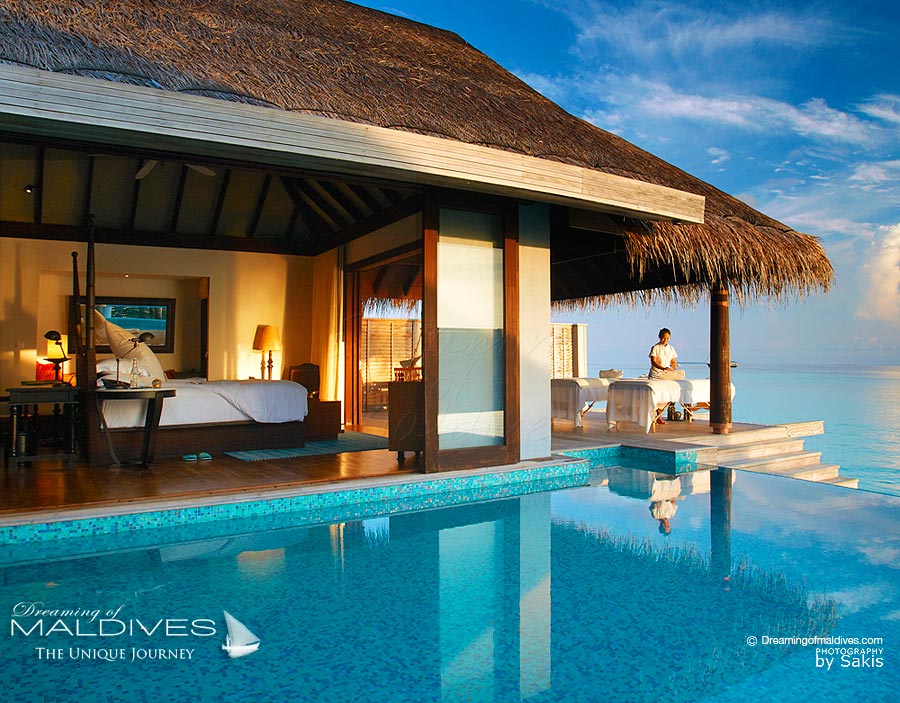 Our Video of Anantara Kihavah Maldives
Anantara Kihavah Villas Maldives The Resort Most Beautiful Places #AnantaraKihavah #Maldives #Bestof


note : since our visit, Anantara Kihavah has released new photos. You will find them in the gallery.
Anantara Kihavah Villas Maldives is located in Baa Atoll, at a 35 minutes seaplane flight from Male. The resort is nestled on a beautiful typical Maldivian Island.
My Review of Anantara Kihavah Over Water Pool Villas + Why I Love this resort
1 / Anantara Kihavah is The Perfect Maldives Island Dream :
Round, full of vegetation and surrounded by an amazing house-reef.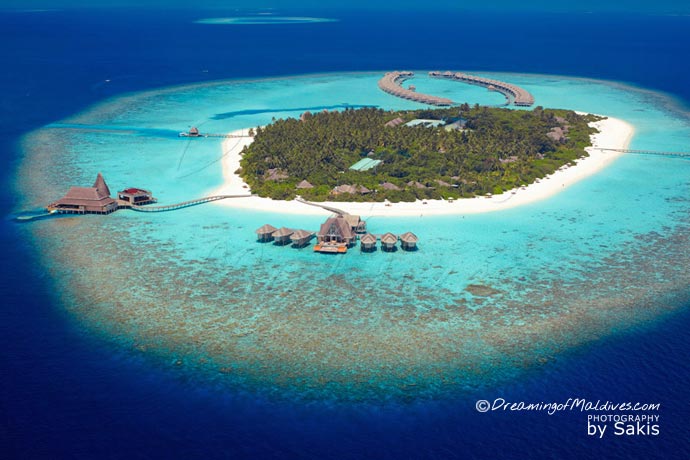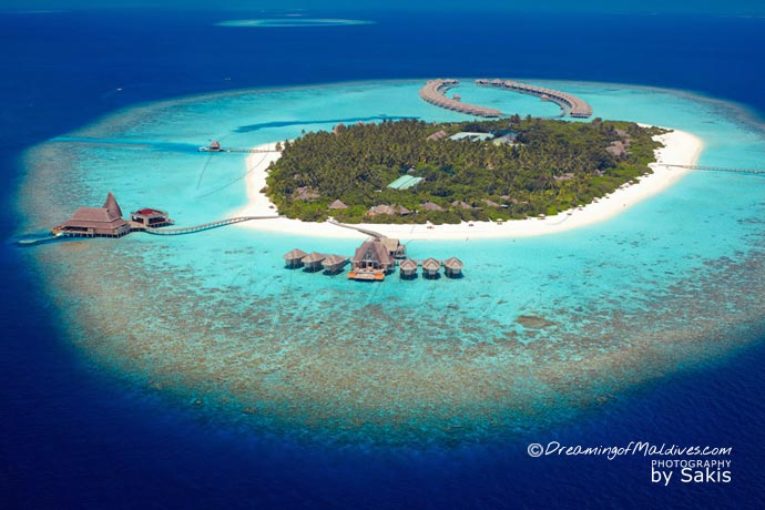 The Resort is the latest Luxury property of the Company Anantara Hotels & Resorts in Maldives. Anantara Kihavah was created in the perfect tradition of its older sister Islands, Anantara Dhigu and Naladhu Maldives : always elegant, luxurious, intimate and beautifully conceived.
Dreaming of Anantara Kihavah Villas in Video
The Villas
Anantara Kihavah has 79 private pool villas located on the beach or overwater.
There are 40 Over Water Pool Villas and 2 Two-bedroom Over Water Pool Residences. We stayed in a Beach Villa ( we had our son who was very young at the time so he could not stay in a water villa but we had plenty of hours to photograph Anantara Kihavah Water Villas.

Anantara Kihavah is a hotspot for celebrities like Ronaldo Luiz Suarez and Roger Federer who love the Resort.
The Over Water Pool villas offer complete privacy and have a real feeling-like-home atmosphere.
Completely secluded and spaciously set over the gorgeous lagoon of the resort, they offer an endless and unobstructed view of the ocean and access to 2 dreamy assets : snorkeling on the island house reefs and a big lagoon.
Anantara Kihavah Snorkeling
is one of the best we saw in Maldives
The island is blessed with a fabulous house reef,. Anantara Kihavah is one of the Maldives best resort for snorkeling with extraordinary underwater creatures at a few steps from the villas.
It is definitely one of the best snorkeling environment we saw in Maldives.
On the outside, each Over Water Pool Villa offers a wide private deck with a big ocean-view swing seats and sun loungers, where you can have your own private massage.
Anantara Kihavah Villas Maldives Over Water Pool at night for a massage on the private deck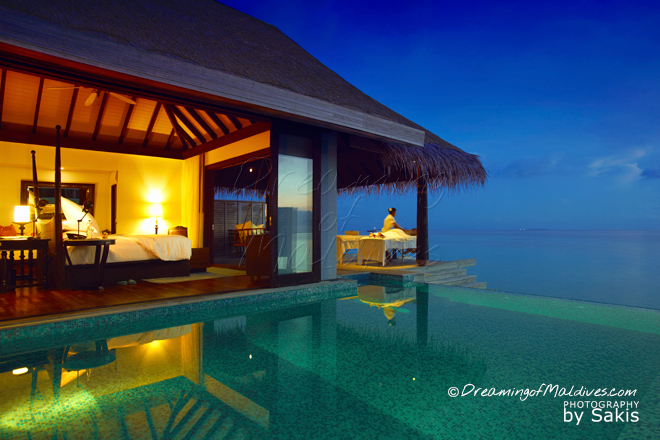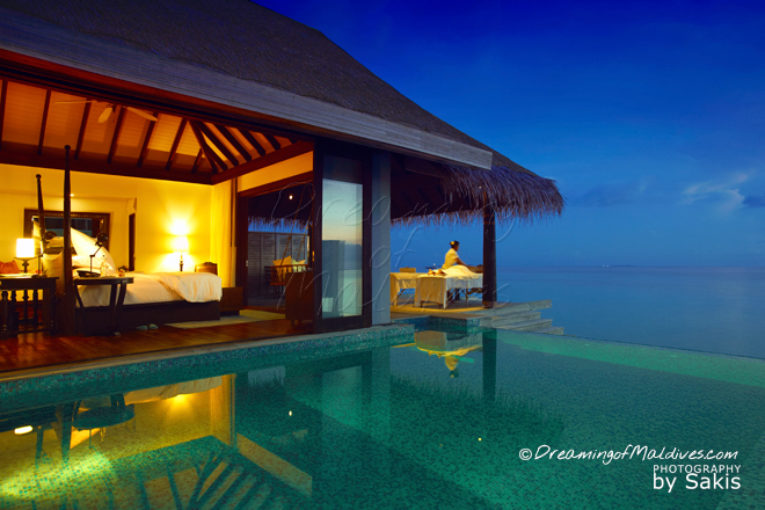 All Villas are built out of groove-lined timber, with high ceilings and hardwood floors completely open to the outside with floor to ceiling sliding glass doors.
On the inside, an over-sized bed made up with the finest Egyptian cotton bed-linen stands right in the middle of the bedroom and faces right at the sea.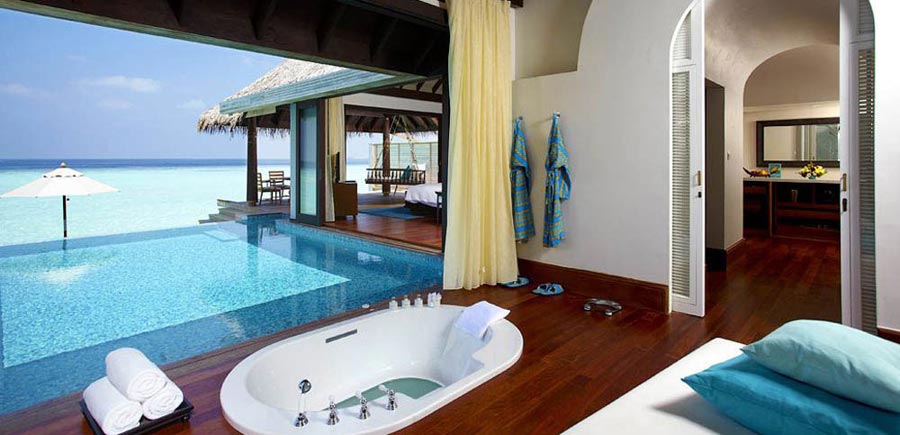 A sunken glass-bottom bathtub is set in and out with open view on the sea and the infinite swimming-pool.
The Bathrooms are absolutely Dreamy
Each Over Water Villa offers a dreamy bathroom with a glass bottom bathtub, exquisite furnitures and superb views at the lagoon
The sunken glass-bottom bathtub in the Over Water Villa bathroom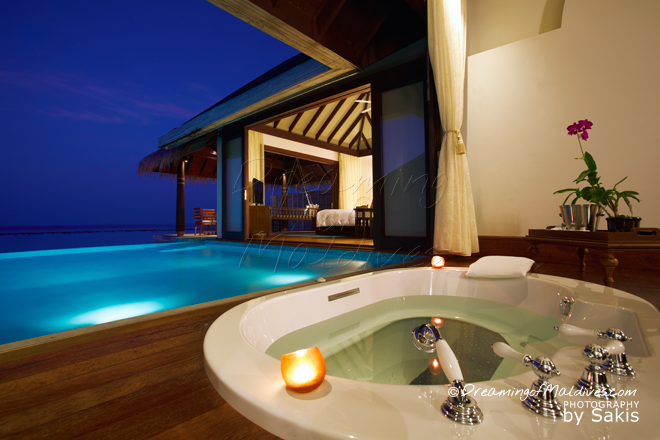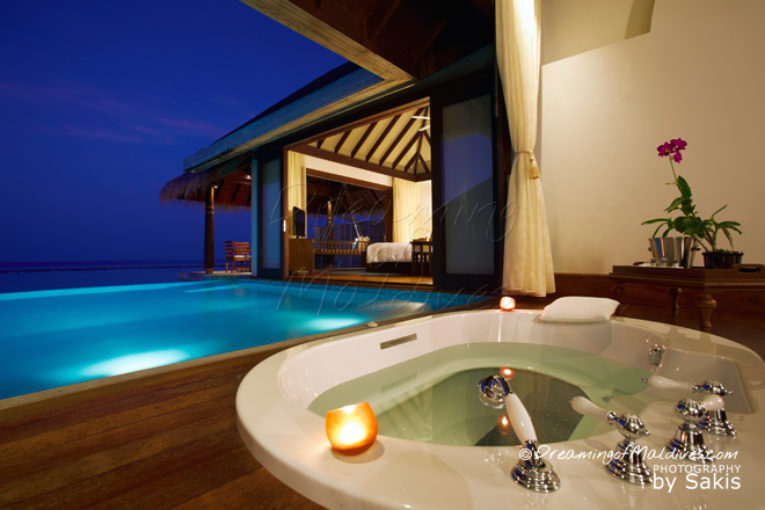 The view from the bathroom
Anantara Kihavah Over Water Pool villa Key Features and Assets
Villa Size : Over Water Pool Villa. 259 sqm
Number of Villas : 40.
Bedding & Capacity : 1 KING Size Bed and two twin beds. Up to 4 persons.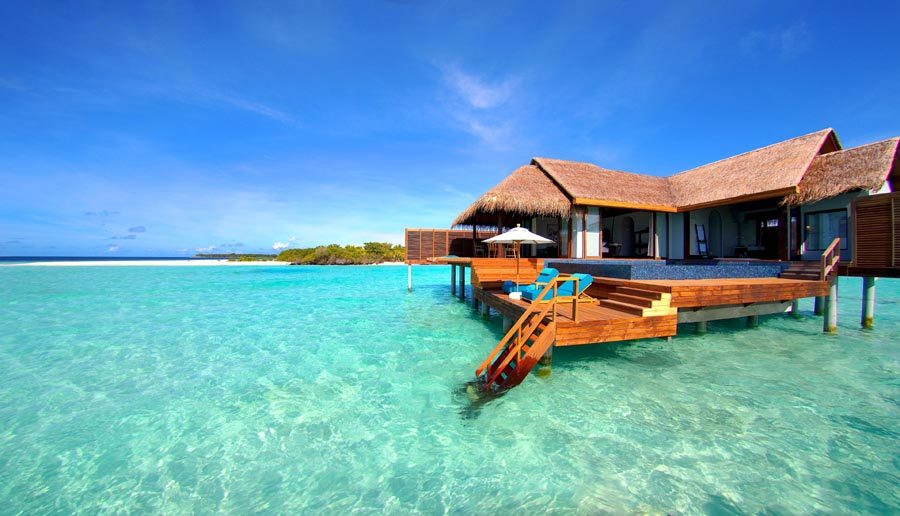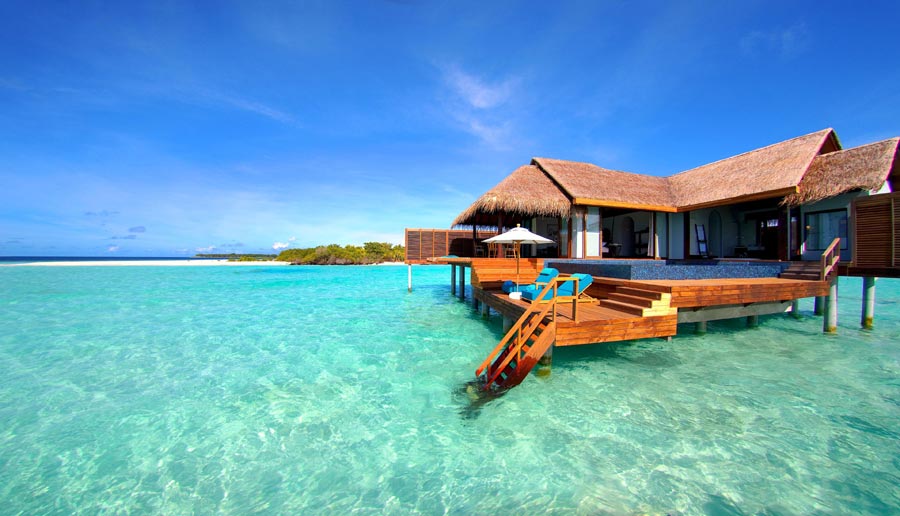 King sized beds with the finest cotton and a pillow menu
Expansive bathroom with outdoor shower
Bath and rain shower
His and hers walk-in dressing rooms
Private swimming pool and sundeck
Daybed
Dining pavilion
Complimentary high speed wireless internet access
ipod docking station
Satellite TV with LCD screen and DVD player
Selection of reading materials and board games
In-suite bar
Wine chiller
Espresso machine and tea making facilities
OVER WATER POOL VILLA – FLOOR PLAN
Why We Love Anantara Kihavah Villas Maldives ? Overall opinion
The Resort Stunning environment
Set on a beautiful typical round Island, Anantara Kihavah boasts extraordinary underwater marvels at a few steps from your villa.
The island is blessed with a fabulous house reef, the Resort is one Maldives best resort for snorkeling. The reef can be reached from the island shores in a few steps and offers, at the first steps, a rich underwater life. A must.
Each of the 79 villas are featured with private Pools. Anantara Kihavah also offers several Luxury Villas and Residences ideal for families.
For each villa, a Villa Host will attend to every guest needs and exigencies.
The quality of the restaurants is extraordinary
The Resort unique gastronomic experiences is an extraordinary highlight with a stunning Over and Under Water Dining Complex.
The unique overwater pavilion consists of 4 distinct Signature restaurants
Sea, one of the few underwater wine cellars in the world offering exceptional vintages and rare bottles and its underwater restaurant serving seafood delicacies
Salt, the Fine Asiatic Restaurant serving some of the rarest salts of our Planet
Fire, the Grill and Teppaniaki Lounge.
Sky, the bar located on the roof top offering panoramic view over Baa Atoll beauties.
On the rooftop of the restaurants, you will find SKY, Anantara Kihavah superb observatory.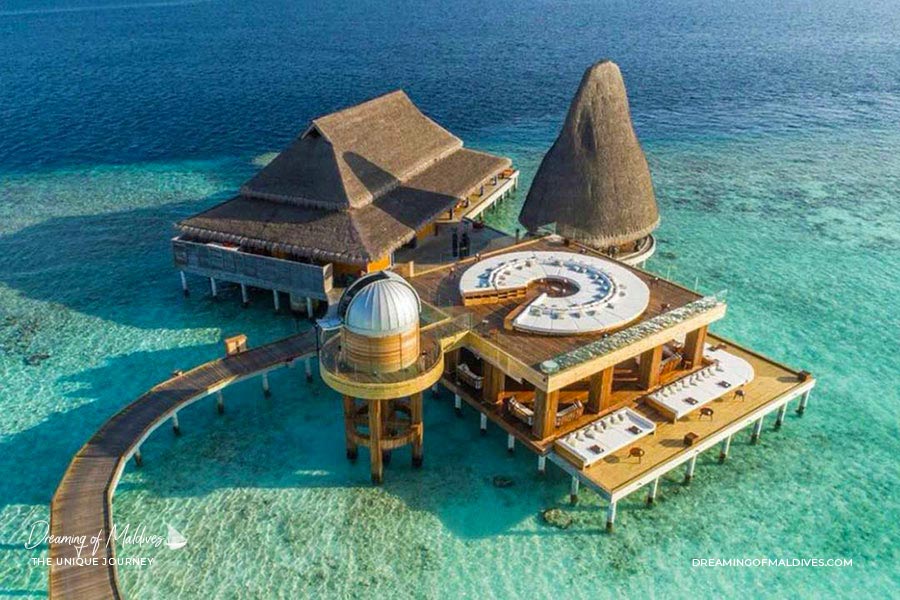 The Spa is superb and offers wonderful treatments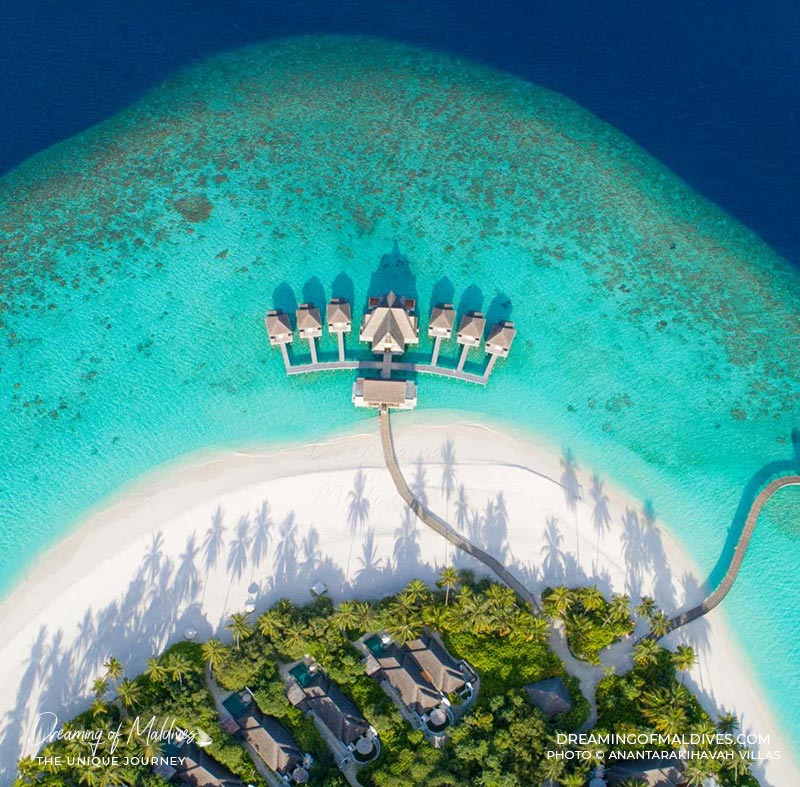 Superbly perched over water, the Spa, managed by the excellent Anantara Spa provides ( as in all Anantara properties) the ultimate spa experience offered by highly trained therapists.
Anantara Kihavah is a wonderful child-friendly Resort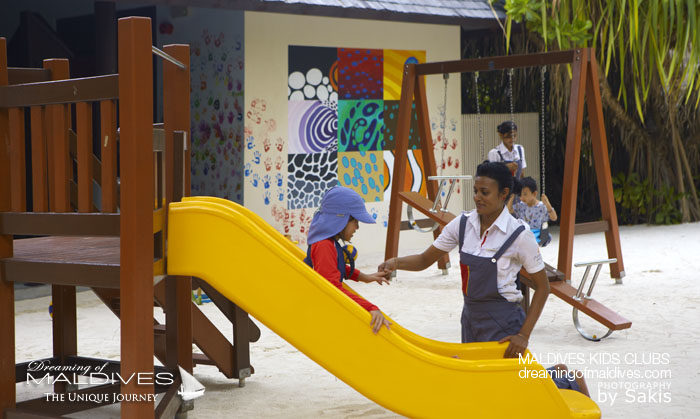 Families with children will love the family villas and the Kids Club (from 3 to 12 years old).
The resort kids club provides a great range of activities to the small ones meanwhile you peacefully go to enjoy your own time. Located in the center of the island with plenty of activities and a big playground, the little ones enjoy a rich weekly schedule wich includes : art & crafts, theater acting, snorkeling, camp nights, video games, star gazing cooking classes and so much more !
The resort has wonderful opportunities for Diving
Located in Baa Atoll, UNESCO Biosphere and Voted Best Diving Luxury resort in 2015, Anantara Kihavah is a Dream for Divers with a quick access to some of the Best Diving sites in the World.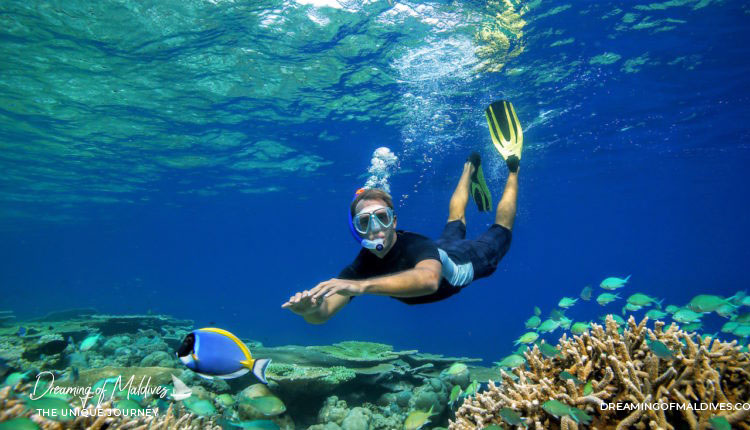 Anantara Kihavah has an Incredible House reef
The resort incredible house reef and abundance of marine life around makes it another top class snorkeling site to be discovered directly from the island shores.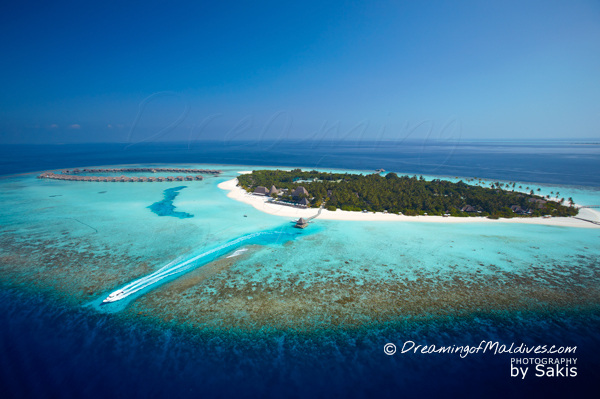 More about Anantara Kihavah
10 Amazing Places in Place : SKY Observatory
8 Amazing Underwater Structures in Maldives. SEA Underwater Restaurant
To see more of our photos taken at Anantara Kihavah, explore the Photo Gallery on our main website.
Follow us on Facebook, YouTube and Instagram for more Maldives stories.
Anantara Kihavah Over Water Pool Villa Dream score
The Overwater Pool Villas at Anantara Kihavah Review by Dreaming of Maldives
Review of one The Best Maldives Water Villas We've Seen : The Over Water Pool Villa at Anantara Kihavah Maldives . Why We Love it ?
A complete and Dreamy review of The Overwater Pool Villa at Anantara Kihavah Maldives. One The Best Maldives Water Villas We've Seen. By Dreaming of Maldives
Total Score
i

The Over Water Pool Villa at Anantara Kihavah Maldives
Where are the Water Villas located ? Privacy and Views

Water Villa design, amenities, comfort and living space

The resort house reef is stunning but is not immediately down the stairs of the villa. You need to swim 5 to 10 mns to access the island house-reef.

Lagoon beauty around the villa. How beautiful, big and dreamy is the lagoon around the water villa ?

Being a paradise for snorkeling, Anantara Kihavah offers a fairly large lagoon. The Over water Villa is surrounded by a classical and beautiful blue Maldives lagoon but not endless.
The Positive
The Location
The Privacy
Spacious & Elegant Design
The View
The Infinity Pool
The Bathroom
The Negative
No immediate access to snorkeling
Your TOP Best Maldives Resorts 2023
YOUR CHOICE. YOUR DREAM. YOUR VOICE
[ Official ]
Traveler's Choice
11th Edition