Welcome inside the World's largest all-glass underwater restaurant 5.8 at Hurawalhi Maldives. Come beneath the lagoon for a Dreamy visit.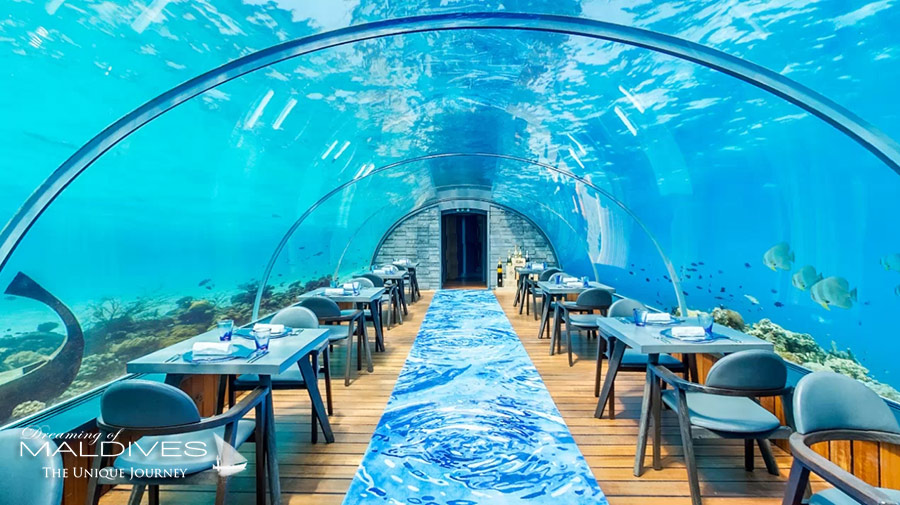 The search for the elusive gastronomical heaven appears to be over : the spectacular 5.8 underwater restaurant dazzles and delights diners with a multi-course tasting extravaganza, garnished with a state-of-the-art location.
5.8 Restaurant is located at 5.8 meters below the sea
Named after its depth ( 5.8 meters below the sea ), the underwater restaurant has panoramic views from he dome shaped restaurant entirely made with glass walls and ceiling offering a almost 360 views on the lagoon and hundreds of sea creatures.
A sunken Dhoni ornates the landscape, reminding of accessories put in home aquarium.
5.8 is as much a fine dining culinary delight as it is an extraordinary design masterpiece. You can sate your appetite and dive into the pleasure of having a view that but a few restaurants in the world afford.|
The stunning sunken dining venue is accessible via the resort's jetty and down a spiral staircase going into the reef below.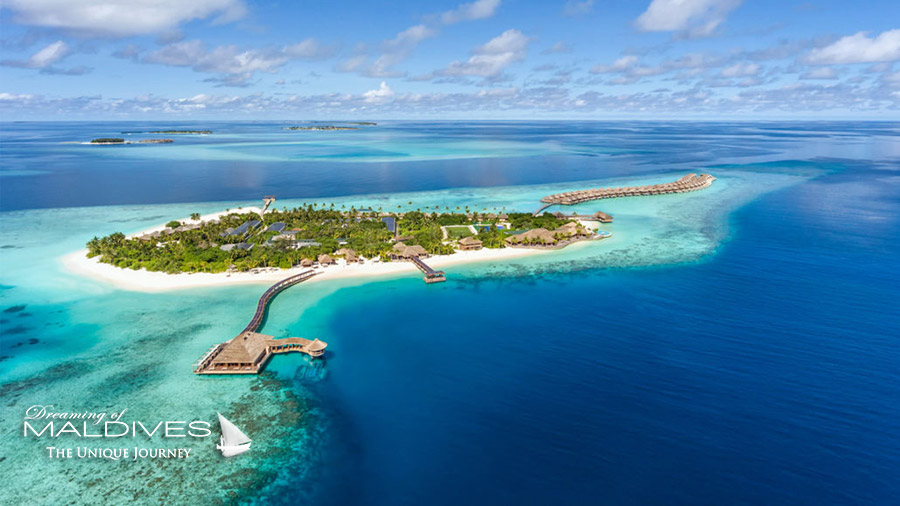 The space inside 5.8 has been designed for intimate conversations, accommodating no more than 10 couples.
Dress code at 5.8 Underwater Restaurant is smart casual and barefoot !
The restaurant is a barefoot venue and all guests are required to take off their footwear at the entrance of the restaurant.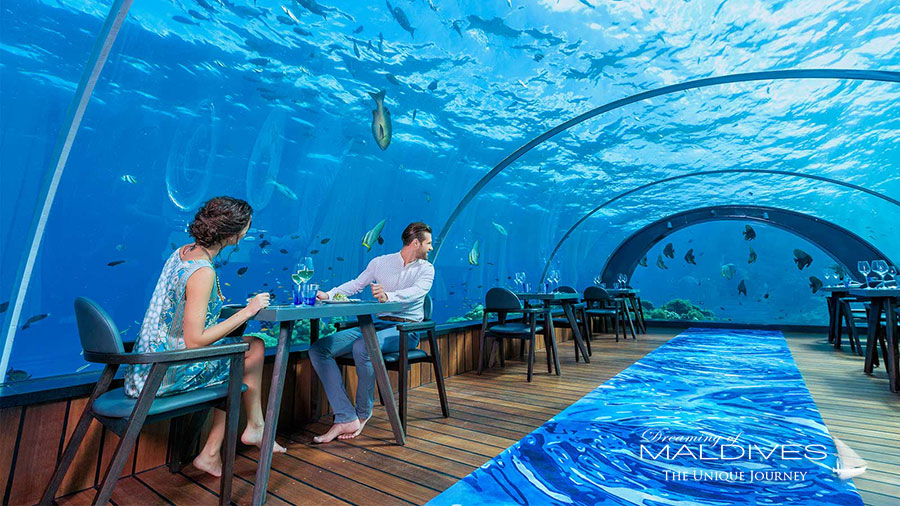 Can you experience the underwater venture if you stay somewhere else than Hurawalhi?
If you will be staying at another Resort and want to try this experience, you will have to contact Hurawalhi for an enquiry.
Is it possible to visit 5.8 Restaurant without dining ?
No. If you want to visit it, you will have to book a meal or an event.
DRESS CODE : Casual and Barefoot Policy
Cuisine : Seafood, European, International, Fusion
Special events can be hosted at 5.8 such as weddings, meetings or Yoga & meditation
Wedding Underwater at restaurant 5.8 Hurawalhi Maldives
At Hurawalhi you can also consider celebrating your relationship by renewing your wedding vows 5.8 meters below the sea, inside the restaurant.
5.8 offers a remarkable opportunity to express your deep love for one another in a way that will surely set your hearts racing.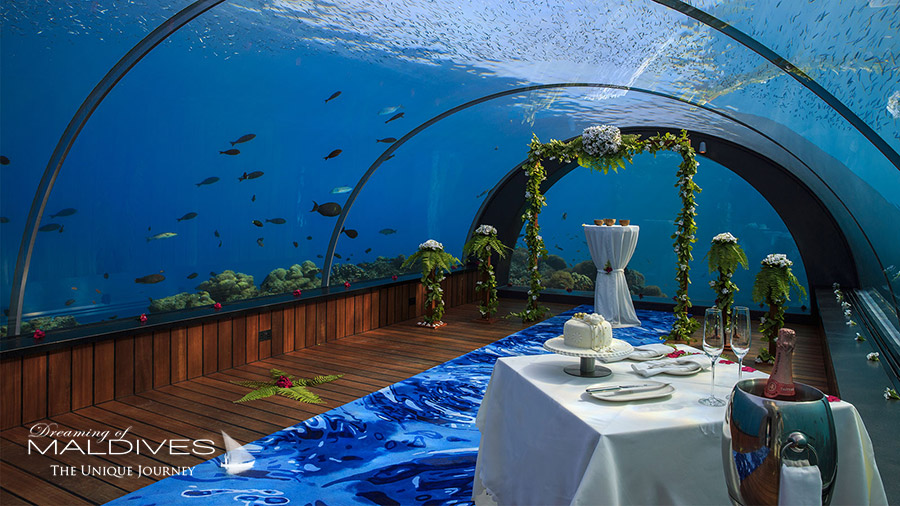 The resort will plan your day to perfection: from bridal make up, floral bouquet, cake and sparkling wine to any unique touches you may wish to add.
Just so you know, no matter what time of the day you choose for the occasion, spectators from the nearby reef are always in their hundreds!
Meditation and Yoga Underwater at restaurant 5.8 Hurawalhi Maldives
Hurawalhi's 5.8 Undersea Restaurant organizes meditation sessions with their very own meditation guru and yogi, Sojeesh.
Under Sojeesh guidance, you will undoubtedly fill your mind space with the serenity of the sea and breathe in the calming power of the blue.
1-hour guided meditation sessions take place every first Tuesday of the month at 8.00 am. Price: $95 per person. A minimum attendance of 4 is required.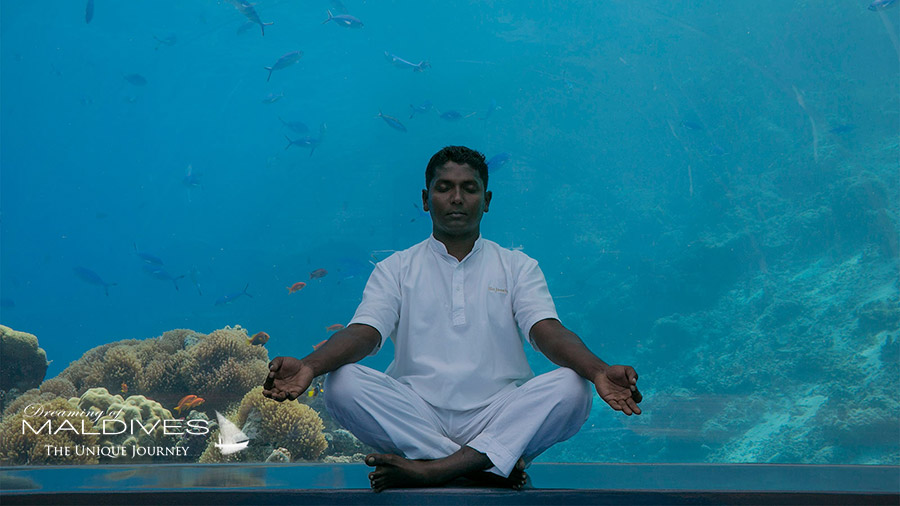 Lately, Vinyasa Yoga classes were organised during a short period by a renowned teacher.
The first underwater Board meeting was held at 5.8 undersea restaurant for Trans Maldivian Airways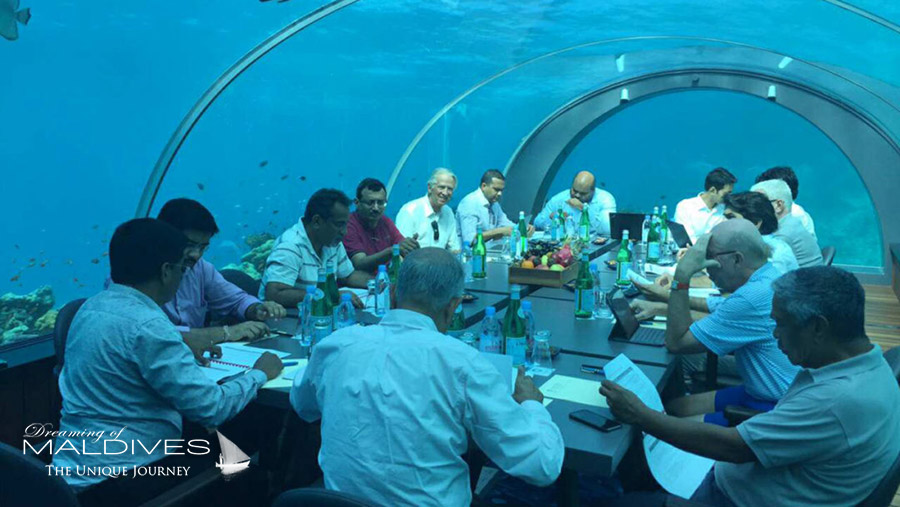 The Restaurant is also available for a Private Champagne Breakfast upon request.
5.8 underwater restaurant prices
Prices start at 225 USD per person for a 5-course Lunch.
Dinners start at 280 USD per person for a 7-course menu
Menu at 5.8 underwater restaurant.
5-course Lunch
TUNA TARTARE
– seasoned wakame – wasabi sorbet – avocado puree
SEARED SCALLOP
– scallop ceviche – pickled zucchini- prawn coconut bisque – wasabi avocado mousse
RED MULLET
– lobster bisque with lobster confit – fennel & vanilla bean foam
POACHED CANADIAN LOBSTER
– lobster claw emulsion beurre blanc – smoked trout beet ravioli –
cucumber yuzu & galangal foam – truffle caviar
or
SEARED WAGYU TENDERLOIN WITH WAGYU CHEEK CONFIT
– truffle almandine herbed pommes – asparagus spears – baby carrots – truffle jus
MANGO CHEESECAKE
– cocoa cracker soil – mango ganache – coconut ice cream –
– rolled mango – wild berries – honeycomb tuile –
About Hurawalhi Maldives
Hurawalhi Maldives is located in Lhaviyani Atoll on a beautiful island surrounded by a bright turquoise lagoon, an excellent house-reef and long stretches of white, sandy beaches.
The resort boasts 90 private, comfortable, spacious villas with or without a pool located on the beach or overwater.
Hurawalhi has an adults-only policy, with only children aged 15 and over. Teens are welcome and will find plenty of activities
Hurawalhi Resort Aerial View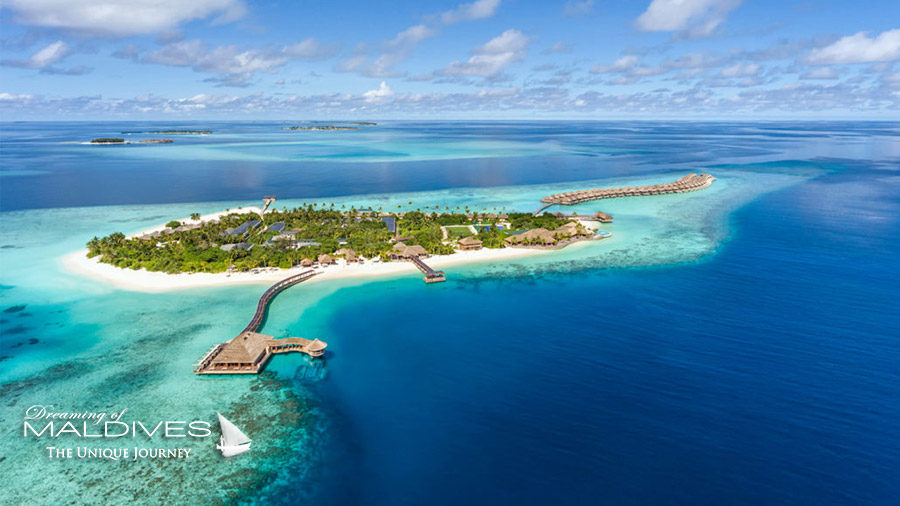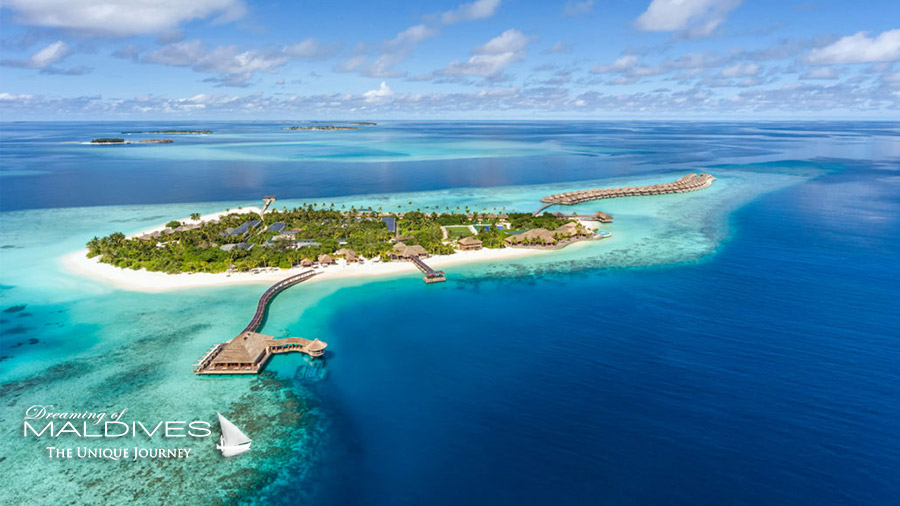 Designed in a cool and contemporary fashion, Hurawalhi has 3 restaurants and bars and offers the possibility to take a generous all-inclusive plan.
Hurawalhi Beach Villa
Hurawalhi Water Villa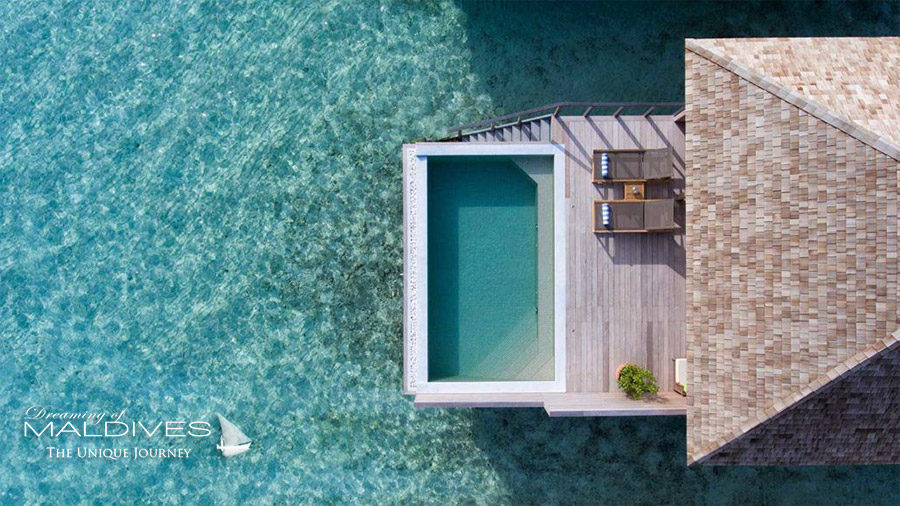 Hurawalhi Maldives latest Stories & News
Cast your vote for Hurawalhi Island Resort for the TOP 10 Maldives Best Resorts 2024 – 13th Edition. The TOP 10 Maldives Dreamy Resorts…

Here are the 22 Maldives hotels nominated for the TOP 10 Best Maldives Resorts 2022. We Do Not Give Awards . You Do The Maldives Best Resorts…

This is the TOP 10 Best Maldives Resorts 2023 voted by Maldives travelers at Dreaming of Maldives. This ranking is voted each year by…
Follow us on Facebook, Youtube and Instagram
for more Maldives Dreams
Maldives TOP 10 Dreamy Resorts 2024
YOUR CHOICE. YOUR DREAM. YOUR VOICE