Soneva Fushi in Maldives, will host a long Yoga retreat from December 1, 2021 to May 31, 2022 with several teachings and workshops of Yoga, meditation and mindfulness practices led by Pawan, the resort highly experimented Yoga teacher.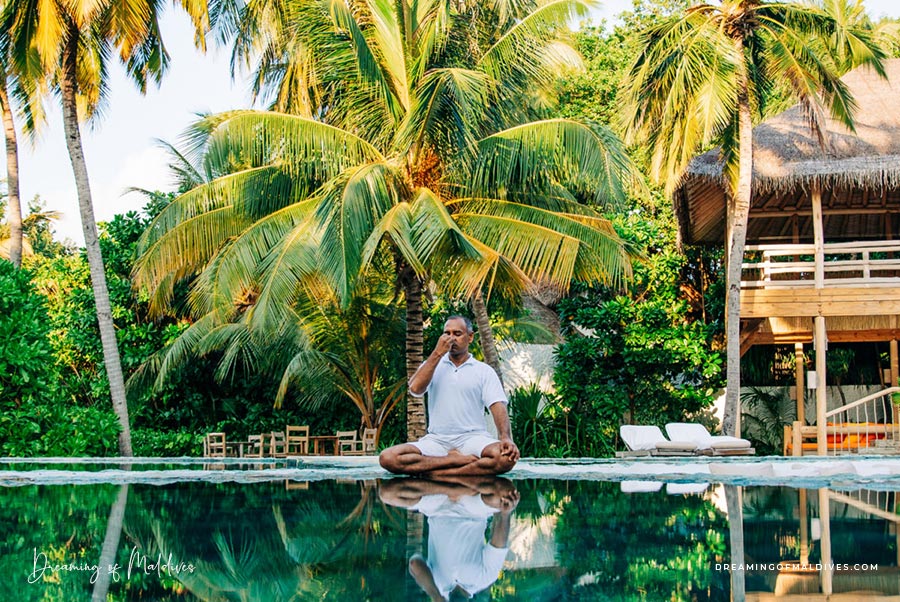 Practice Yoga at Soneva Fushi with Pawan
Soneva's yoga guru Pawan guides you through sequences that connect to your breath, leaving you feeling calm and mentally centered. His calm guidance will help your mind, body and spirit feel refocused and energised.
Pawan's Yoga practices in videos
Watch several yoga and meditation classes led by Pawan at Soneva Fushi here. Yoga with Pawan.

Through his extensive training, Pawan is qualified in Traditional Hatha Yoga, Advanced Yoga (classical yoga poses), Vinyasa Yoga, Mantra Yoga (chanting), Pranayama (breath regulation and control), Meditation (traditional Vedic and mantra meditation), Shat Karma (yogic detoxification practices).
At Soneva Fushi you can do Yoga in several beautiful places
Soneva Fushi is full of Dreamy places. At the resort you can do Yoga in several beautiful locations.
Like here, on the deck of your Water Retreat
Pawan practicing on the deck of a Water Retreat ( also featured with a Water Slide for some )
About Pawan and its views at Yoga
Pawan comes from a traditional Hindu family in the Himalayan region of India. Since childhood, he was brought up surrounded by spiritual practices and teachings. He studied yoga in across numerous ancient Indian ashrams and with yoga masters in the Himalayas. With the divine blessings of the yoga masters, Pawan uses his practice in a bid to help heal humanity and spread the awareness of yoga as a lifestyle choice around the world.
Or here, at the Jungle Spa
Soneva Fushi Spa is located at the heart of the island, hidden in the jungle vegetation. here Pawan is practicing on one of the deck with a huge and superb Banyan tree behind.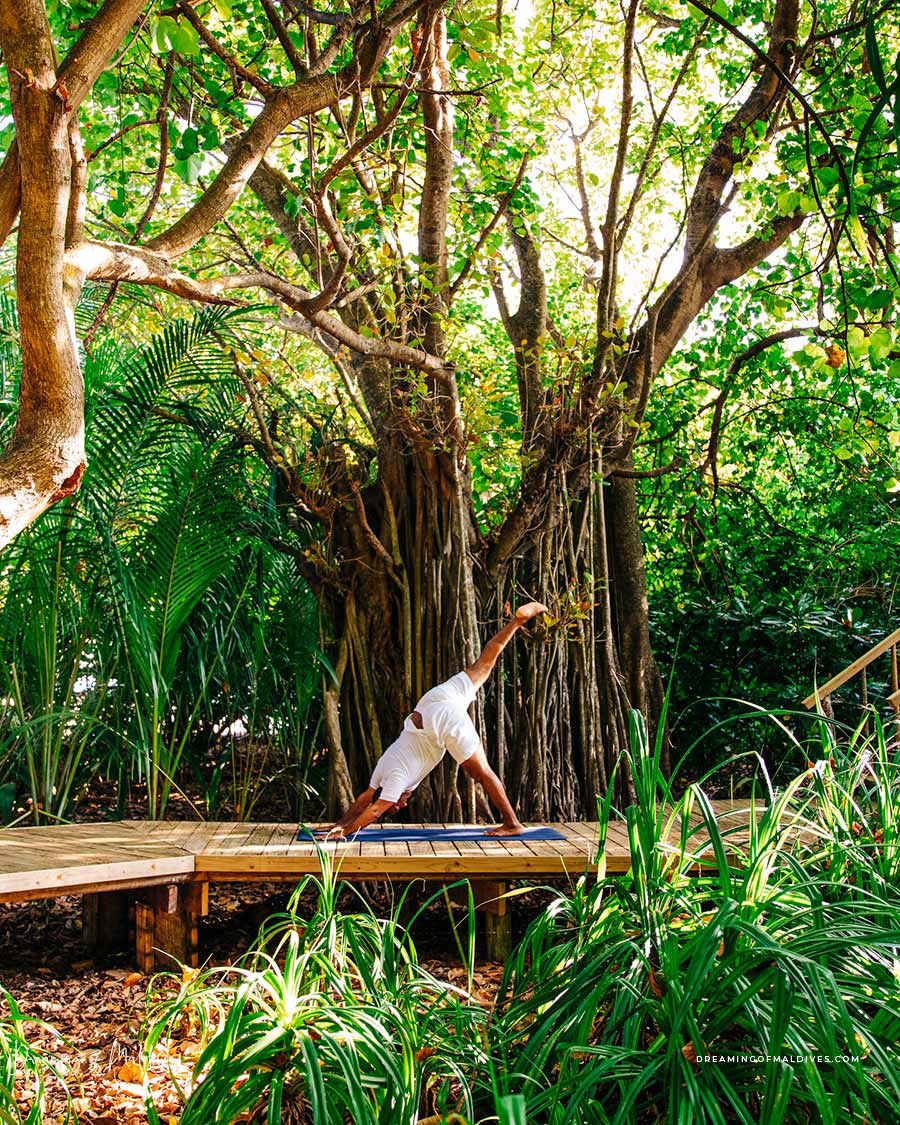 Pawan views yoga as a science, a form of disciplined life, and as a practical system of self-culture. It is a discipline of the mind, the senses and the physical body. Yoga helps its students attain concentration of their thoughts and feelings, ethics, moral excellence, and spiritual calmness. It is the key that unlocks the realms of peace, bliss, mystery and miracles.
I believe in living a divine life, which does good to others, be selfless, be kind and compassionate. Practicing yoga and meditation is my way of life.

– Pawan
Or here too, on the resort beach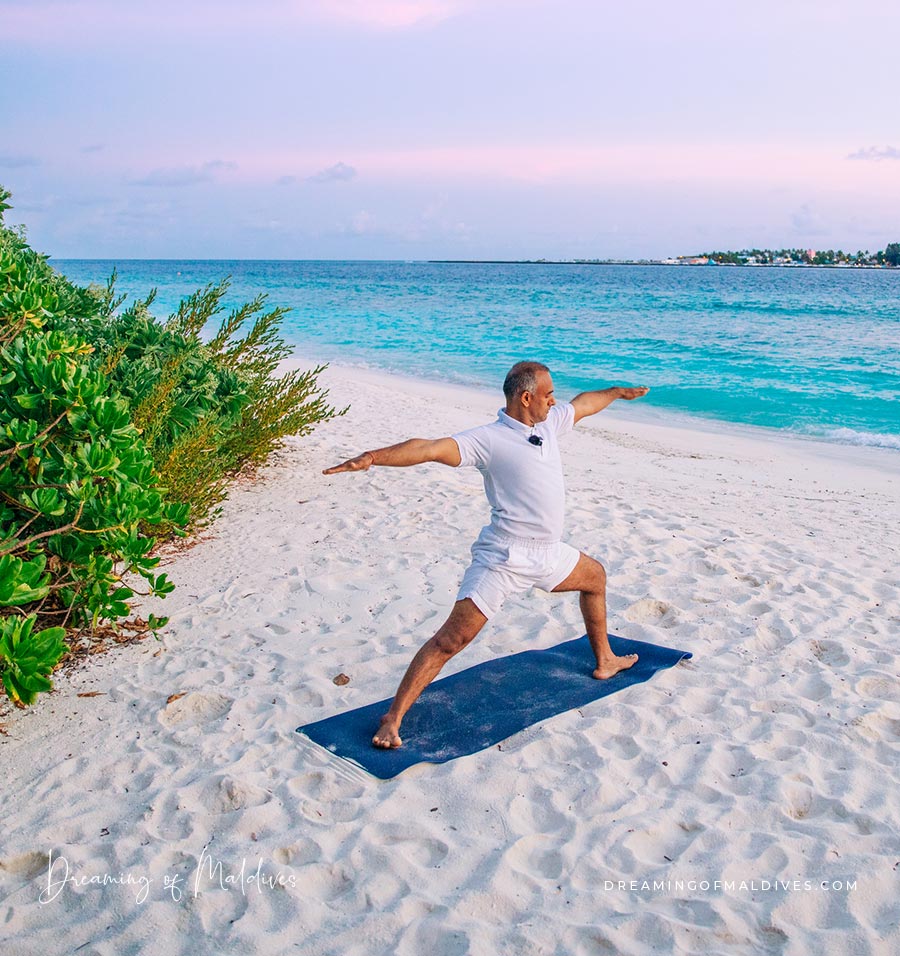 More Yoga Retreats in Maldives
There are countless beautiful places and resorts to practice Yoga in the Maldives. Discover them here.
Discover More about Soneva Fushi
Soneva Fushi provides one of the most exquisite setting in the Maldives for a wedding. The Maldives' original desert island hideaway is a true…

The Maldives in Virtual Reality. These 2 words put together are so dreamy ! If you are a VR lover like me, you are absolutely going to love…
Follow us on Facebook, Youtube and Instagram
for more Maldives Dreams
Your TOP Best Maldives Resorts 2023
YOUR CHOICE. YOUR DREAM. YOUR VOICE
[ Official ]
Traveler's Choice
12th Edition