The Spa & Ayurvedic Retreat and Yoga Therapy Centre at Four Seasons Resort Maldives at Landaa Giraavaru has been named "Most Meaningful Experience" in the Condé Nast Traveller Spa Awards 2020.

Condé Nast Traveller is a luxury lifestyle magazine with more than two decades of exploration under its belt.
Recognising quality and excellence, the annual Spa Awards represent one of the industry's highest accolades for the world's leading spas, retreats, medi-clinics and more.
Four Seasons Landaa Giraavaru Spa & Ayurvedic Retreat
Landaa's Spa & Ayurvedic Retreat occupies a 1.2-hectare (3-acre) setting that extends from a jungled spa garden into one of the largest lagoons in the Maldives' only UNESCO Biosphere Reserve. Founded on the ethos that planetary and human wellbeing go hand in hand, its grounding and heart-centred wellbeing treatments meld with Ayurveda and yoga to offer a tri-fold immersion into natural healing.
Our approach has always been to offer connected and transformative spa experiences…

Director of The Spa & Ayurvedic Retreat Dr. Shylesh Subramanya
"To be recognised for bringing meaning into guests' lives is of particular significance to us as we take great pride in engaging with guests on a holistic level and providing them with relevant and useful knowledge that they can take home to continue their wellbeing journey long after they have left us." Dr Shylesh continued.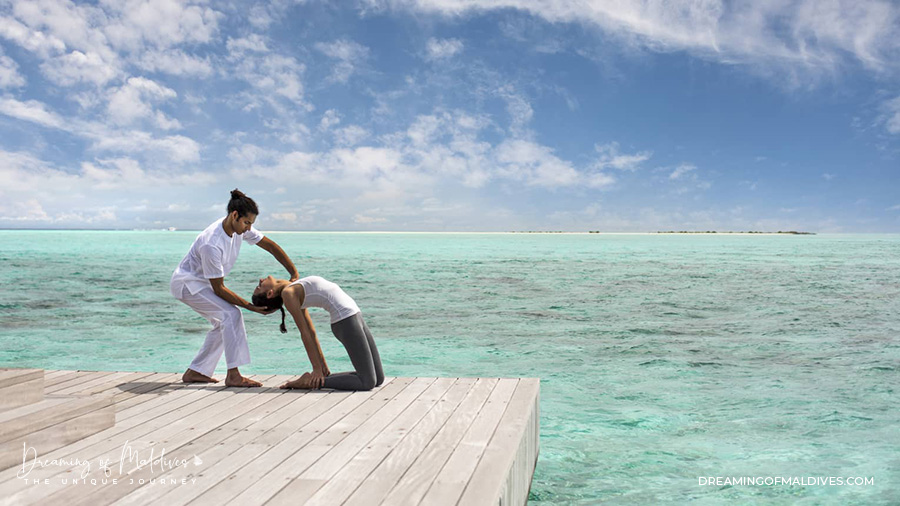 Nowhere is this better exemplified than in the Resort's Yoga Therapy Courses: personalised condition-targeting programs devised in conjunction with S-VYASA, global pioneer of yoga therapy through scientific research. Ranging from Men's and Women's Health to Stress Management, Spinal Care, Thyroid Health, Diabetes, and Addiction Management, guests work one-to-one with the Resort's yogis to take back control of their wellbeing and lay the foundation for lifelong home-based care.
Yoga is at the heart of Landaa's Spa
Other highlights include AntiGravity Yoga, Chakra Blessings, Night Spa sleep rituals, a Yoga Energy Trail and tailored Ayurvedic programs that redress the body's delicate balance of vital energies and channel a profound sense of inner and outer wellbeing.
None of this would be possible, however, without The Spa & Ayurvedic Retreat's heart-centred staff. "Our work isn't a job to us," concludes Dr. Shylesh. "It's a duty of care born out of passion and intent. We all genuinely want to do whatever we can to make a difference to our guests' lives, whatever form that may take. Nothing makes us happier."
Follow us on Facebook, Youtube and Instagram
for more Maldives Dreams
Your TOP Best Maldives Resorts 2023
YOUR CHOICE. YOUR DREAM. YOUR VOICE
[ Official ]
Traveler's Choice
12th Edition