Cheval Blanc Randheli Maldives is a striking Design Hotel and a living gallery to explore, touch and contemplate. Conceived by the architect Jean-Michel Gathy from Denniston, a very cutting edge and oh-so-chic Malaysia-base architectural firm, the Ultra Luxury Resort is imagined and created in a loft spirit with spectacular living spaces adorned with a collection of works of art, emblematic of The Maison.
Let's discover the Dream that Cheval Blanc Randheli promises to offer.
Cheval Blanc Randheli is an exceptional resort and a masterful architectural achievement.
The Resort 46 loft Villas and Private Island were designed in synergy with the lush vegetation of the island and the lagoon views. An expert team of alchemists makes themselves an ambassador of the French art of receiving and creates a myriad of bespoke activities, unforgettable experiences and personalized surprises for each guest. Diving with a guide, moonlit yoga, family expeditions, Guerlain wellness rituals taught in the idyllic setting of the Spa Cheval Blanc island or cruises at sunset. Cheval Blanc Randheli will make every dream come true.
Cheval Blanc Randheli opened in 2013 and made an immediate sensation in the world of luxury hotels with its striking design and elegance. Since 2006, the French Luxury Brand La Maison Cheval Blanc by LVMH has developed several ultra luxury properties. Randheli is the 5th one with Courchevel, Paris, St Tropez and St-Barth Isle de France in the Caribbean.
Who is LVMH ?
The LVMH Group is the world's leading luxury industry.
Created in 1987 by the merger of Louis Vuitton and the Moët Hennesy group, the group is today under the direction of Bernard Arnault who brings together more than 70 houses that share the responsibility of creating high quality products. The group is the only player present in all 5 major areas of luxury : wines and spirits, fashion and leather goods, perfumes and cosmetics, watches and jewelry and selective distribution.
LVMH is one of France's flagship companies in the luxury industry and a wonderful ambassador of French elegance and sophistication.
Discover Cheval Blanc Randheli, the Hotel and the Private Island.
Dreaming of

Cheval Blanc Randheli Maldives
The Island(s)
Cheval Blanc Randheli is located in Noonu Atoll, north Maldives, at 40 minutes by seaplane from Malé International Airport. The Resort spreads on 5 small islands including a private one for exclusive seclusion.
From the sky, the island is divided into five emerald pearls set in the famous turquoise gradient, typical of the archipelago.
All 5 Islands have access to a Dreamy Duo : a big blue lagoon for swimming and watersports on one side and long house reefs for snorkeling on the other.
Cheval Blanc Randheli Design & Architecture
The Resort is a living gallery to explore, touch and embrace. Designed by Jean-Michel Gathy ( also behind the superb One&Only Reethi Rah), Cheval Blanc Randheli is imagined and created in a loft spirit with spectacular living spaces adorned with a collection of works of art emblematic of The Maison Cheval Blanc.
The Resort Signature Interiors and Art Objects
Cheval Blanc Maison colors ( white, taupe, oyster grey and pop yellow ) are found throughout the resort. This unmistakable vivid palette of colors also ornates the resort private seaplane and private airport lounge.
Cheval Blanc Randheli private airport terminal and seaplane boats the Maison unmistakable color Palette
Bespoke design elements and a residential-style medley of artwork can be contemplated on the 5 islands.
Contemporary yet graceful, the Resort offers a graphic architecture complemented by stylish interior design furnished with materials from the Indian Ocean and natural textures – teak, rattan, bamboo, thatch, stone and coconut shell.
Art Objects
A collection of 45 exclusive and unique sculptural colour dots called Couronne by artist Vincent Beaurin can be found in several villas and various outlets around the islands.
The Resort Architecture
Jean Michel Gathy is the designer and architect behind Cheval Blanc Randheli remarkable features. The ultra talented Belgium creator and his team at Denniston are the minds behind some of the world's most iconic luxury hotel and resort designs like One&Only Reethi Rah in Maldives and several brands around the world like St Regis, Capella, Aman Hotels, Viceroy, Park Hyatt to name just a few.
Cheval Blanc Randheli boasts a striking design at every corner of the 5 islands. The eyes are immediately caught by the architecture clean straight lines, games of light and shadows and sophisticated perspectives.
A Question of Perspective
The Arrival at Randheli
The art of receiving is at the heart of the Cheval Blanc philosophy. At Malé Seaplane terminal, Randheli welcome guests in the resort private lounge to relax and refresh before taking the resort seaplane branded for Cheval Blanc.
Cheval Blanc Private Seaplane
Onboard of Cheval Blanc Randheli private seaplane, for a comfortable flight, Philippe Starck helmet, slippers and scented towels delicately perfumed with Island Chic are offered to passengers.
After a 40 mns flight, at the arrival jetty, guests are welcomed by their "alchemist", Cheval Blanc butlers, ambassadors of the House and taken to their villa.
Arrival at Cheval Blanc Randheli Maldives by Seaplane. The View at the Resort 5 Islands.
The Service
The Villas
Great attention has been given to the privacy of guests to give a feeling of space.
Each Villa offers a spectacular sense of space, the finest materials, exclusive Art pieces, state-of-the-art refinements, cathedral ceilings and immense doors that reach 7 meters (23-foot).
Cheval Blanc Randheli loft Villas are enhanced by the resort vivid palette of colors and surrounded by a lush vegetation with open views at the lagoon. All Houses boasts a stylish interior furnished with tropical textures such as bamboo, mother-of-pearl and rattan. Nestled in abundant vegetation, each villa has an intimate atmosphere and offers a unique residential experience, with its dedicated Alchemist.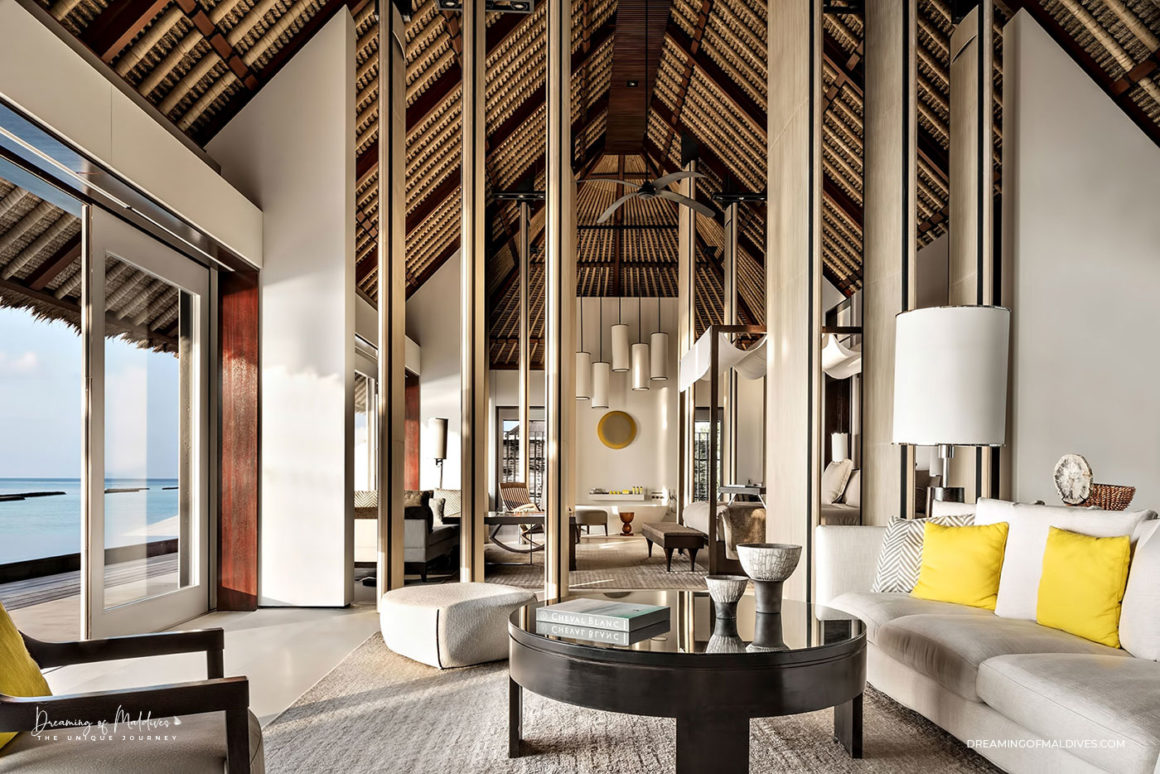 The 46 villas are divided into 3 main types divided in 6 categories. : Island Villas, Overwater Villas and Overwater Garden Villas that offer one or two bedrooms (300 m² + gardens) with private bathrooms and independent entrances. They all have an outdoor dining room and, depending on their location, an exotic garden or a private beach. High-tech equipment, a la carte bed linen, small and well-targeted attentions, and a butler's kitchen.
Each house features a 12.5 m private infinity pool, private beach and dedicated gardens.
On the Beach
Island Villas
The 15 Island Villas are proposed in 2 categories : one or two-bedroom. All Island Villas are located on Randheli main island at the heart of the island vegetation and offer each a private beach and a garden. The two-bedroom Island Villas include a second bedroom with a dedicated private entrance.
Set within luxurious garden and ranging from 240 to 300 sqm, the Island Villas are particularly suited for families.
On the Beach & Overwater
Cheval Blanc Randheli boast unique villas that offer the particularity of being both on the water and on the beach.
The Garden Water Villas and Lagoon Garden Villas
The Garden Water Villas and Lagoon Garden Villas are similar in space and design. Perched over the blue lagoon, they open out onto a lush private garden.
Each of them offers overwater decks with dining and lounge areas, a 12.5-metre-long infinity pool and a private garden with a dining area.
The Lagoon Garden Villas are located between the island beach and the lagoon.
Overwater
Lagoon Villas
The lagoon villas stand overwater with views at the lagoon. They offer large living spaces on the inside, an infinity pool and generous decks dotted with a dining pergola on the outside.
Water Villas
Similarly designed as the Lagoon Villa, the Water Villas offer 2 types of views : lagoon view and Ocean view.
Dining with endless pleasures for the eyes and buds at Cheval Blanc Randheli

Cheval Blanc Randheli offers various experiences for the pleasure of the eyes and taste buds with an exquisite choice of dining options and bars. The resort 5 restaurants are orchestrated by Haute Cuisine Master Chefs carefully selected by The Maison Cheval Blanc, who, assisted by an international experimented team, will concoct dishes originating from several countries. For a romantic moment, with friends or family, for a chic picnic or a private dinner on the beach, the culinary experience brings each visitor for a rich and delightful taste bud journey across the globe.
The culinary team also proposes a Carte Blanche service that allows guests to have any meal wherever and whenever they like : breakfast on their villa deck, an escape on a private yacht or a romantic dinner on a traditional dhoni… nothing is impossible !
For those returning from fishing, the Chef will cook the guest catch according to their desires and for picnic lovers on an isolated sandbank, he will fill the Vuitton trunk with delicate bites. For lovers sailing on the dhoni at sunset, the Chef prepares a chic aperitif and, for children, he even offers cooking workshops.
Wine lovers will adore the rich cellar where several Grand Cru, prestigious Vintage bottles and the finest spirits are proposed at The WIne Museum & Cigar Lounge.

The Restaurants
The Dyptique & Teppanyaki Table
The Dyptique is a tribute to oriental cuisine offering the finest Asiatic cuisine and live cooking spectacle where Chefs interact with guests. The restaurant is split into two areas : the East Asian on one and the Japanese on the other.
For an alfresco dining experience, guests can choose to sit outdoors on the beachfront, overlooking the sea.
Teppanyaki Japanese Table for the senses
The Deelani
Located overwater, The Deelani serves Mediterranean cooking with fresh ingredients. The restaurant invites its guests for a culinary journey to Spain, France, Italy, Turkey, Greece and Morocco.
Throughout the day, homemade gelato, sorbets and granita can be enjoyed on the sundeck, before the restaurant transforms itself into a cocktail bar at Sunset followed by a dinner made of fresh seafood, Mediterranean Mezze, homemade pizzas and various tapas.
The 1947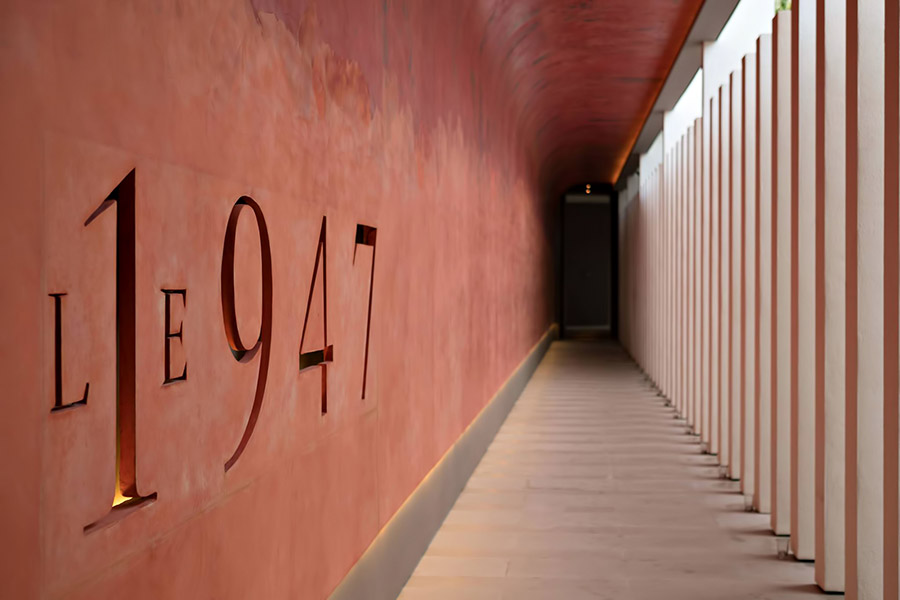 Cheval Blanc Randheli Signature Restaurant, The 1947, is named after Château Cheval Blanc's most sought-after Grand Cru, loved by Bernard Arnault. Here the Chef revisits French culinary know-how with local inspiration with a 9-course tasting menu that evolves on a weekly basis and is a truly unexpected gastronomic experience in the Maldives.
The White Restaurant
The Bars
The White Restaurant and the White Bar are both a pleasure for the eyes and the palate. When one offers breakfast and deluxe brasserie cuisine, the other invites you to enjoy light snacks by the pool, or to sip a delicious cocktail at night in a superb surrounding.
Leisure and Activities
Cheval Blanc Randheli offers several activities : guests can enjoy day and night Snorkeling on the island reefs, fishing or watching the sunset from a private yacht or dhoni. You can also choose to go to the nearby island of Maakurandhoo to play on its private tennis courts or explore the crystal clear waters of its untouched beaches.
For families and active travelers, the resort offers a multitude of water sports, catamaran cruises, diving, snorkeling adventures, private yacht cruises and Atoll discoveries.
The wellbeing of families is another key element of Cheval Blanc's "Art de Recevoir", with a dedicated team ensuring that children are completely catered for, from specially-designed linen to carefully crafted mini-furniture, tailored food and drink menus.
The Carrousel Kids Club and its nanny polyglotte team takes care of the little ones while teenagers have their hideout at the Paddock.
Cheval Blanc Private Yacht
Cheval Blanc Randheli, The Art of Spa
Cheval Blanc Randheli has dedicated an entire Island to Well-Being.

The Spa island is located at the northern west part of Randheli on a small isolated tropical island. There are six treatment villas, two hammams, a Thai pavilion and another dedicated to yoga, a Guerlain boutique, a hair salon, a makeup studio, a barber shop, a detox bar, a terrace and a swimming pool.
The island is exclusively accessible by a small dhoni, Maldives traditional boat.
Spa and Well Being are at the heart of the Maison, starting with the jet lag treatment offered to any new guest at the Guerlain spa where exclusive treatments have been exclusively designed for Cheval Blanc Randheli.
To complete the treatments, a range of Leonor Greyl hair products will be offered for a tailored treatment. A makeup studio and a traditional barbershop complete the beauty stop. The spa also has a traditional hammam and relaxation rooms dedicated to Yoga, Pilates and meditation.

Yoga & Meditation
Cheval Blanc Randheli offers one the most complete range of Yoga in Maldives with several disciplines including Ashtanga, Hatah, Vinyasa, Aerial, Therapeutic and Power Yoga as well as meditation sessions and breathing practices including Pranayama.
Cheval Blanc Randheli Private Island
Cheval Blanc Randheli has another island, located 3 minutes away from the main island, entirely private and only accessible from a private jetty.
The Very Private Island is the epitome of lush modern island living, with exceptional private spaces, a dedicated team and exclusive facilities including its own spa, a stunning 25-metre-long swimming pool, pristine beaches, exotic gardens and a private boat.

The Island boasts a superb four-bedroom villa called the Owner Villa where guests can enjoy the freedom of an utterly private home, with all the services of the Maison.
The beachfront mansion has 4 bedrooms, large indoor and outdoor living areas including an outdoor dining pergola and a cinema for private screenings, or a family photo slide-show, courtesy of the Maison's photographer.
Overseen by a dedicated team – available 24/7 and housed on premises – guests will be surprised and delighted by tailor-made activities and unforgettable experiences, that are made to measure to meet every individuals' wishes. The Cheval Blanc Randheli Private Island offers the ultimate holiday experience for families and friends to enjoy the very best of Cheval Blanc Randheli in blissful privacy.
The Private Island and The Owner Villa in 6 Photos
Cheval Blanc Randheli Maps and Villa Floor Plans
click to enlarge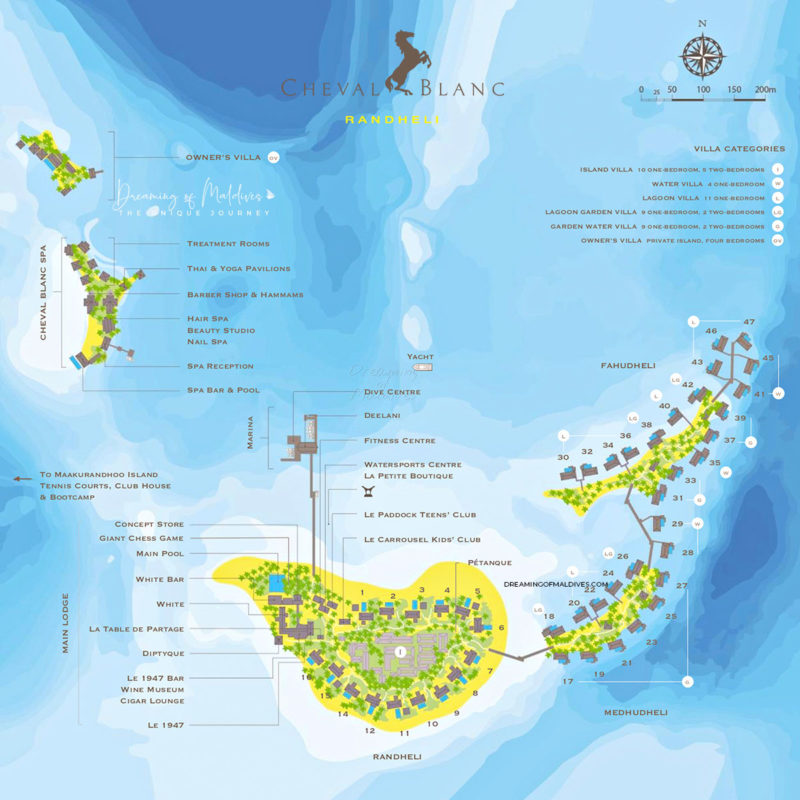 All Photos Copyright Cheval Blanc Randheli
Do you have questions about Cheval Blanc Randheli or your next trip to the Maldives ?
I will answer you via our form on the contact page.
You can also contact me via our Dreaming of Maldives Facebook page. Click on "Like the page" and submit your question.
I will answer you within 24 hours maximum.
Follow us on Facebook, Youtube and Instagram 
for more Maldives Dreams & Stories