The incredible IRIDIUM spa, the largest overwater spa in the Maldives, is located at The St Regis Maldives Vommuli Resort.
Open in 2017, the impressive 1,850-square-meter spa looks like a lobster from the sky.
Iridium Spa is one of Maldives Most Amazing Spa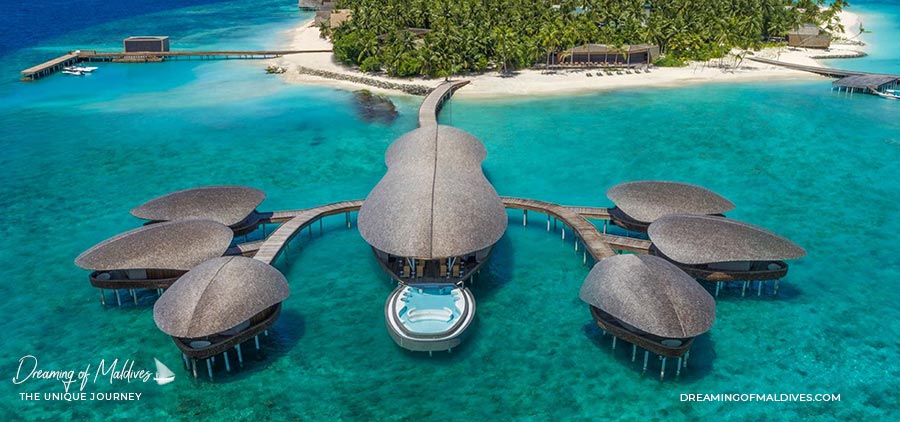 The St. Regis Maldives Vommuli Resort Iridim Spa was voted Maldives' Best Resort Spa 2018', 'Indian Ocean's Best Resort Spa 2018', 'World's Best Resort Spa 2018', and 'World's Best Spa Signature Treatment 2018 for its Caviar Journey' at the World's Spa Awards.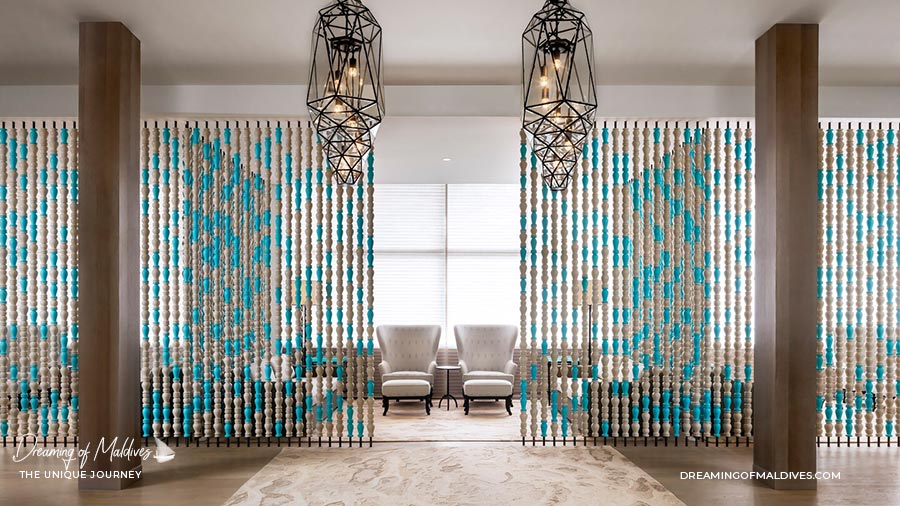 The overwater luxury spa Iridium at St Regis features cutting-edge design fitted with superbly designed furnishings and boasts single treatment rooms and six couple's treatment suites as well as two Ayurvedic suites with private steam rooms, several saunas and cold-drench showers.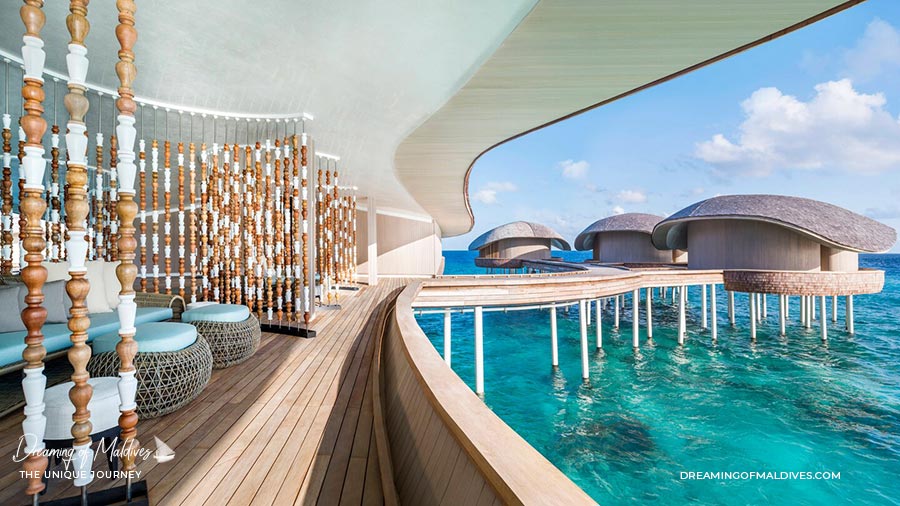 Each treatment room boasts glass bottom portholes with views on the sea life below during treatments.
Iridium Spa boasts The Blue Hole Pool. The largest Hydraulic Pool in Maldives
At its end, overlooking an endless horizon, Iridium Spa boasts the largest hydrotherapy sea water pool in the Maldives, the expansive Blue Hole Pool, which can accommodate up to 12 persons.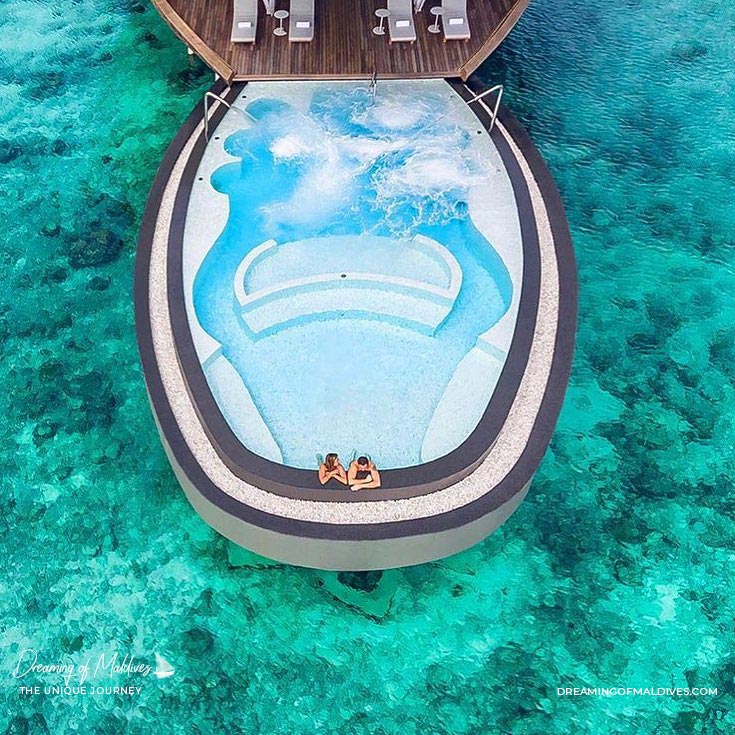 The Blue Hole Pool hydrotherapy uses heated seawater and a multitude of hydromassage jets to provide more effective therapeutic physical and psychological advantages.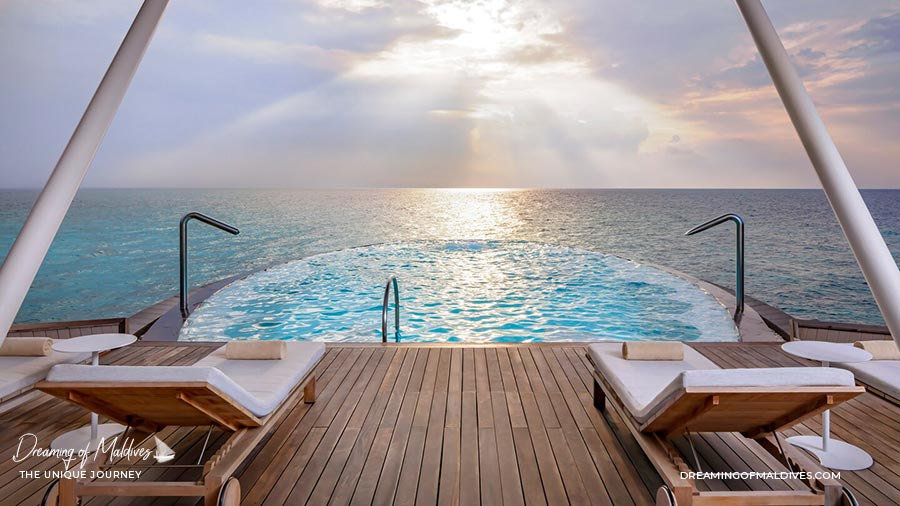 The Blue Hole Hydraulic Salted Pool at day.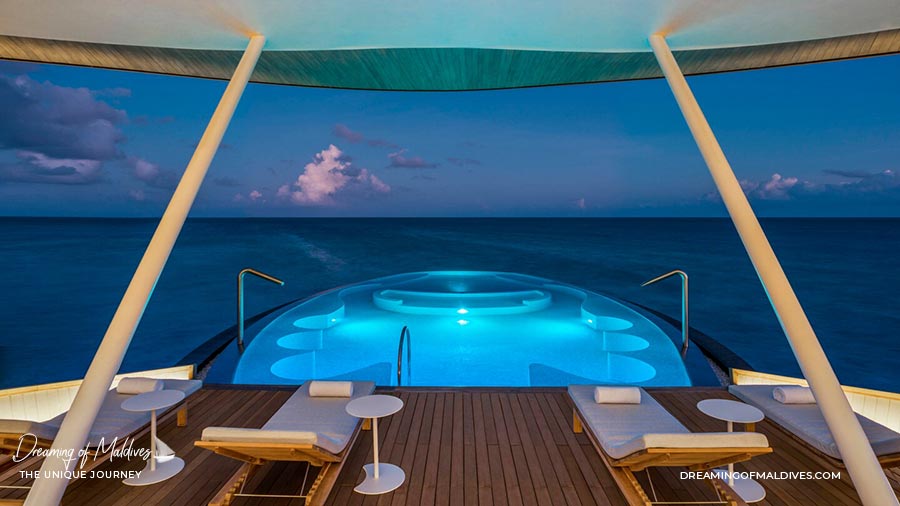 The Blue Hole Hydraulic Salted Pool at night.
Iridium Spa Menu and Prices
At the menu, guests can enjoy Balinese and Thai massages, body treatments, skin care, nail services and treatments designed specifically for men.
Ayurvedic treatments are given by a dedicated Ayurvedic practitioner with consultations and customized spa programs during guests stay.
Iridium Spa also has its own yoga master who leads anti-gravity yoga sessions.
IRIDIUM SPA Massages and Treatment prices
A 90-minute "Iridium Signature Touch" massage costs US$245
A 90-minute "Deep in the Tissue" massage costs US$225.
The Iridium Blue Hole Experience costs US$60 for 120 minutes or US$350 for a private 60-minute experience.
A 120-minute Ayurvedic Shirodhara treatment that includes four hands massage and a focus on specific Chakras points costs US$330
CLICK TO VIEW IRIDIUM SPA MENU and PRICES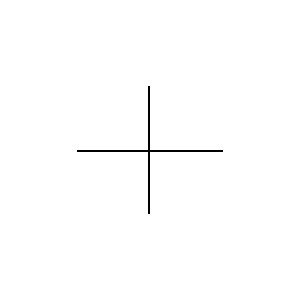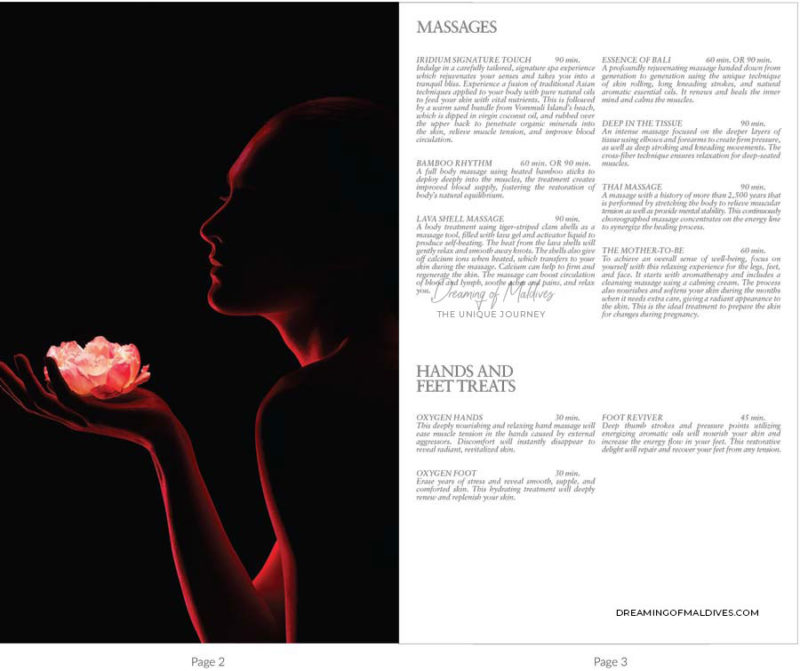 Sliding-glass doors allow guests to admire sea vistas from their spa beds, while private terraces with soaking bathtubs ensure relaxation enhanced by the fresh ocean breeze.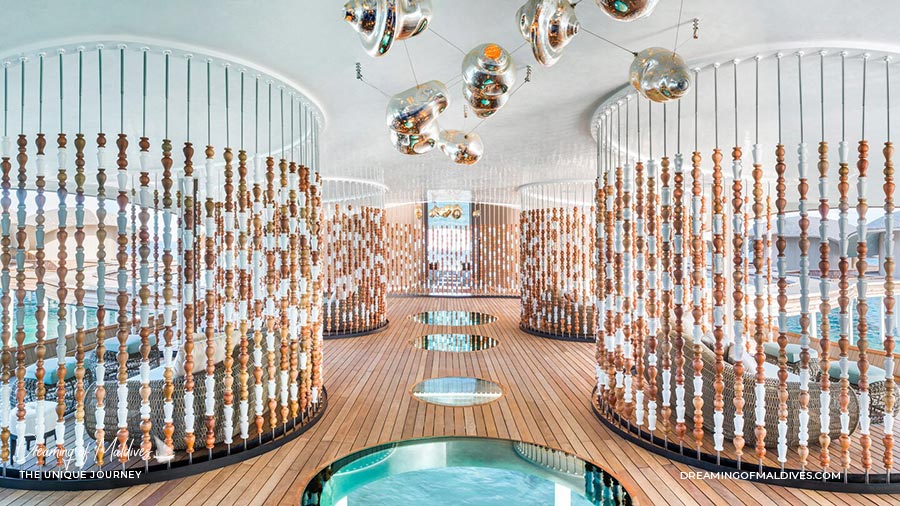 Iridium Spa. Video by St. Regis Maldives Vommuli Resort.
IRIDIUM SPA @ THE ST. REGIS MALDIVES
All Photos and Video Credits The St. Regis Maldives Vommuli Resort
Follow us on Facebook, Youtube and Instagram
for more Maldives Dreams
Your TOP Best Maldives Resorts 2023
YOUR CHOICE. YOUR DREAM. YOUR VOICE
[ Official ]
Traveler's Choice
12th Edition