Here is my selection of 10 of the best family beach villas in Maldives. These family villas offer swimming pools, a minimum of 2 bedrooms, beautiful design, butlers and excellent services.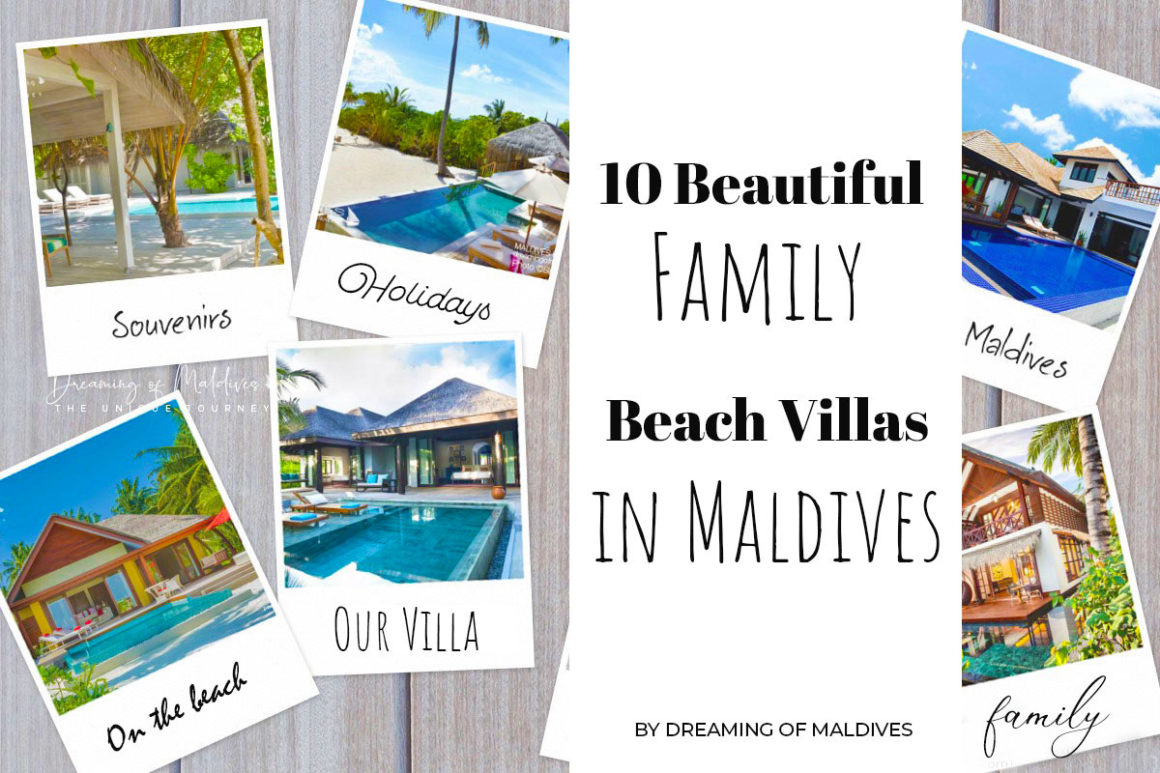 Tropical hideaway for many, surrounded by white powdery beaches and crystal clear turquoise waters a few steps from your bed, a family beach villa in Maldives is like being in paradise. The archipelago boasts some of the most beautiful Family Beach Villas in the world. The choice is wide and tempting.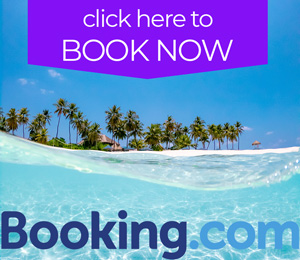 Traveling with children in Maldives can be a real pleasure, especially since many resorts offer today many activities for teenagers, excellent kids clubs, as well as beautiful family villas on the beach or overwater.
These dream villas offer luxury, tropical atmosphere, privacy and spaces for the whole family.
But which one to choose ?
Follow the guide.
Some time ago I introduced you 10 beautiful beach villas in the Maldives where we stayed.
Most of these villas, as beautiful as they are, were mostly for families for couples with 1 child sleeping on a sofa bed or an extra rolling bed. Don't get me wrong, they are truly wonderful, we experienced them all, but privacy is not the same.
For several years now, the Maldives have become a perfect destination for a holiday with our children, young, toddlers or teenagers.
The best way to spend a Dreamy vacation with the all family is to stay in a family Villa.
The choice is large and very tempting.
These family villas offer swimming pools, a minimum of 2 bedrooms, amazing designs, countless luxury amenities, gorgeous locations and excellent services.
About Family Villas located overwater.
For safety reasons, overwater family villas are not ideal (this is only my opinion) for children and especially small ones. They are featured in some resorts but due to their location above the sea, they will be more suitable for families traveling with young teenagers.

If you Love Water Villas Don't Miss
Therefore, I will only present you here family villas located on the beach in selected resorts that offer great services and amenities.
Discover beautiful Maldives resorts that offer exquisite family beach villas
These villas offer all the necessary comfort to meet the needs and requirements of families and couples traveling with children.
All of the following resorts you will discover offer a wide variety of fun activities for little ones with excellent kids clubs.
Families traveling with toddlers can also find some good resorts in Maldives that offer baby clubs ( if not, baby-sitting is available almost everywhere ), meanwhile families with teens will enjoy a great range of activities specially tailored for them.
If you want to know more about the best Maldives Kids Clubs, don't miss my flagship article written after spending several months in the archipelago with our son ( from age 2,5 until 14 ) : The Ultimate Guide for a Family Holiday in Maldives. The Best Kids Clubs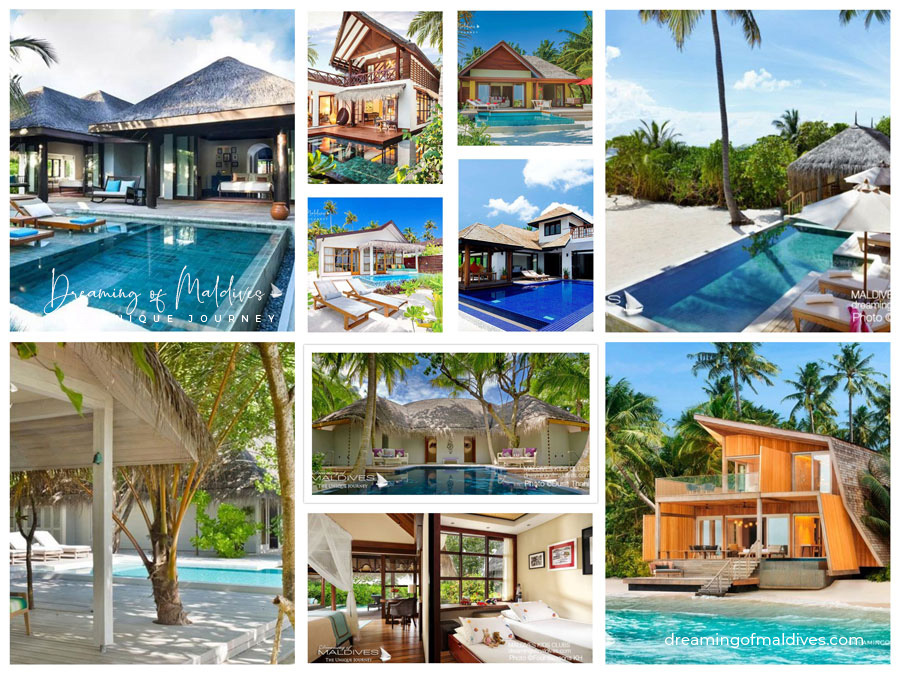 Here are 10 Luxury Resorts offering beautiful family villas on the beach in Maldives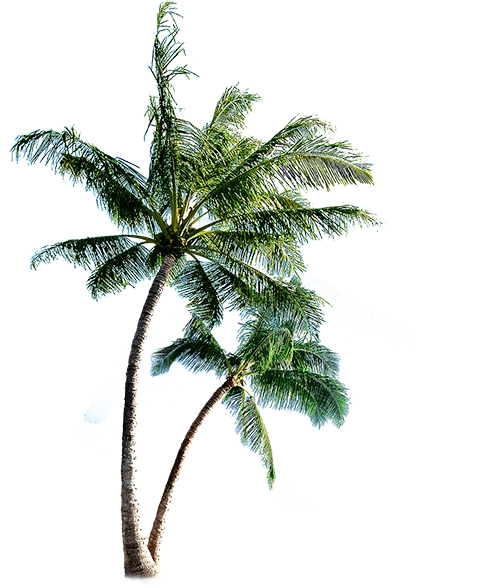 OZEN RESERVE BOLIFUSHI. Ultra Luxury All Inclusive
Boasting extensive leisure and wellness facilities, OZEN Reserve Bolifushi – LUXURY All Inclusive is an ideal resort for families looking for space and luxury family accommodation in the Maldives with a kids club and teen activities.
OZEN Reserve Bolifushi (formerly Jumeirah Vittaveli) has been designed to appeal to couples, groups, and also families with stunning family beach villas with swimming pools.
SUNSET EARTH POOL RESERVE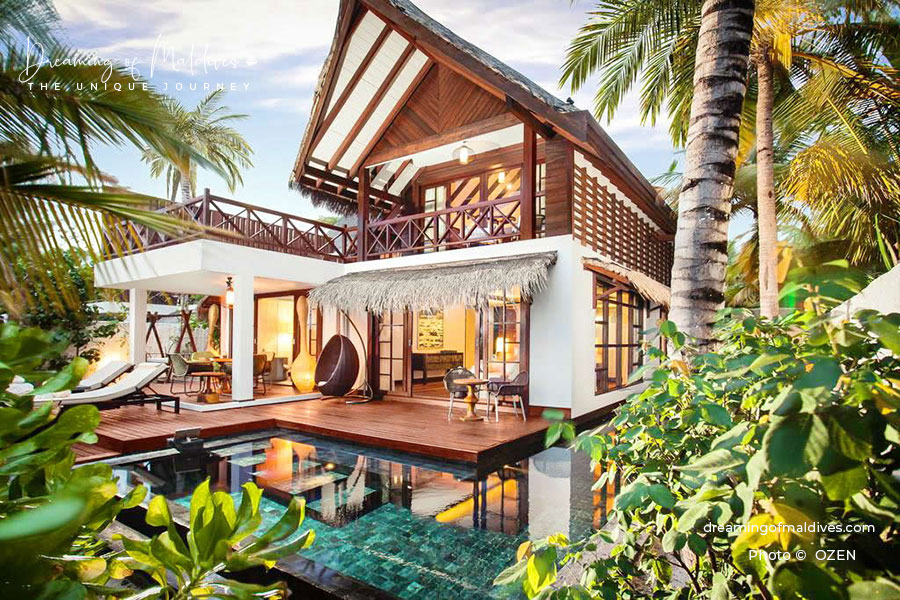 A spacious family villa located between the beach and tropical gardens
Surrounded by beautiful tropical gardens, this spacious 2 bedroom family villa, called Sunset Earth Pool Reserve, is located on the beach and is built on two levels. This beautiful beach villa offers an en-suite bathroom to each bedroom and has a beautiful open and shaded terrace with a large private L-shaped swimming pool.
OZEN Reserve Bolifushi's kids club, Sinbad's, is open to children from 3 to 12 years old. Children under 3 must be accompanied by a parent or babysitter, which can be arranged by your butler. This service is also available outside the mini-club. The teen club called Teen Lounge welcomes teens from 12 to 16 years old.
Featuring an elegant and traditional Maldivian architecture, OZEN Reserve Bolifushi is also ideal for honeymooners, who will find complete privacy in the overwater villas. Families who want to stay overwater with teens will love the resort amazing water water villas with water slides !
Located just a 20-minute speedboat ride from Male Airport, while preserving a secluded island feeling, OZEN Reserve Bolifushi offers guests a laid-back, ultra-luxurious vacation with wide open spaces, stunning beaches and a very nice gastronomic choice in its All Inclusive Plan.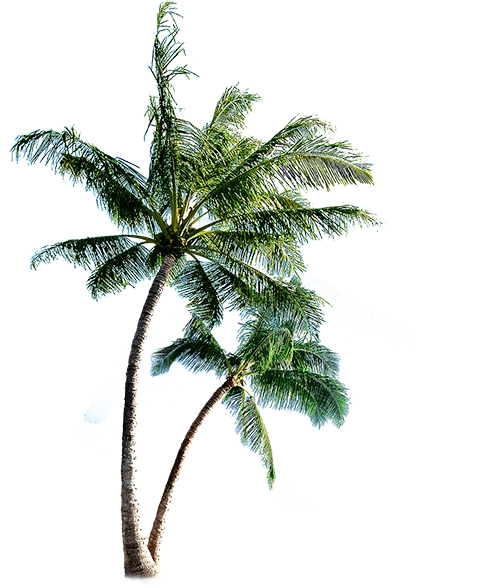 SIX SENSES LAAMU
Six Senses Laamu is located in the South of Maldives in the pristine Laamu Atoll. The Eco-Chic Resort is harmoniously built in the heart of a totally unspoiled and wild nature and benefits from both a huge blue lagoon and a superb house reef.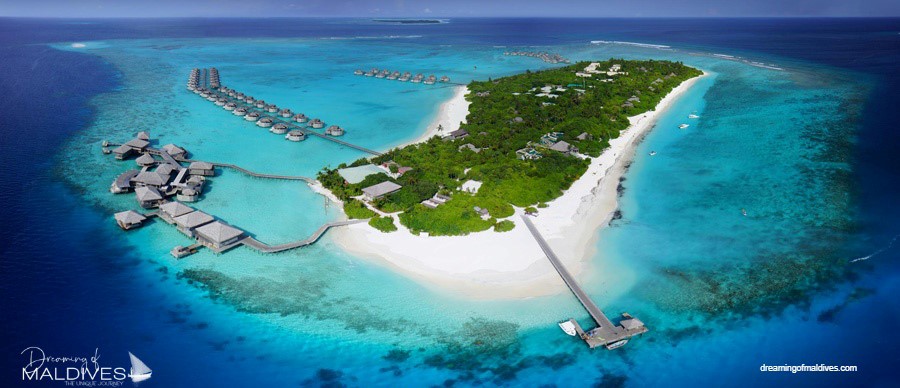 Six Senses Laamu offers 3 categories of family villas. One of the most notable is the Two-Bedroom Lagoon Beach Villa with Pool featured hereunder.
TWO-BEDROOM LAGOON BEACH VILLA WITH POOL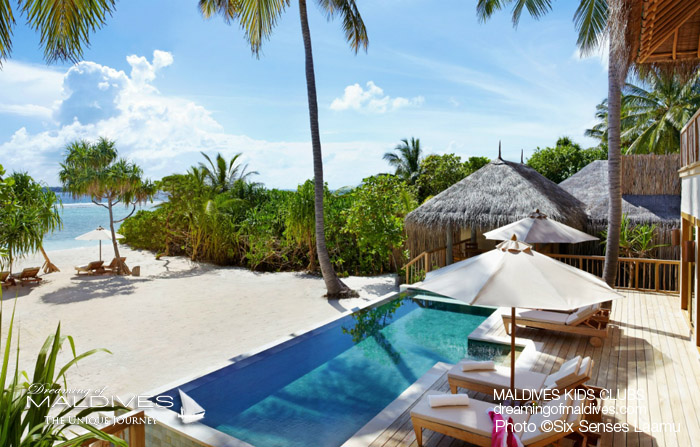 This stunning family beach villa with pool, called Two-Bedroom Lagoon Beach Villa with Pool , can accommodate a large family of 6. Hidden in the lush tropical vegetation of the island and facing the beach, it is ideal for large families or friends.
Six Senses Laamu family villas are located in lush greenery facing the sea. Ideal for families, the two-bedroom beach villa boasts 2 adjacent bathrooms, 2 bedrooms and a swimming pool just a few meters from the seafront. The master bedroom offers a direct view of the swimming pool.
Elegant, innovative, discreetly luxurious but sensational at the same time, it is undoubtedly one of the most beautiful resort we have seen in the Maldives.
Six Senses Laamu has 97 chic Robinson-style Villas, set on the edge of a fine sandy beach and hidden in greenery or on stilts, in the middle of a shimmering blue lagoon.
Six Senses Laamu offers Dream Villas for lovers of the genre. Beautifully built in a Robinson chic style, they mostly mix wood – such as driftwood, bamboo, coconut wood or teak, thick cottons, ropes, eco-friendly linen and bright colors.
Harmonious and perfectly integrated into the island vegetation with large volumes dispatched on several levels, the superb family villas of Six Senses Laamu offer total privacy through their layout and concept.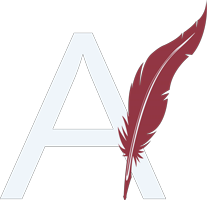 In association & our Trusted Travel Counsellor in Maldives
Six Senses Laamu Family Offer
| up to 40% OFF |
Min 05 nights stay.
Valid up to 02 Children (below 12 years) travelling with parents, per room
All the taxes applicable
Black out Dates may apply.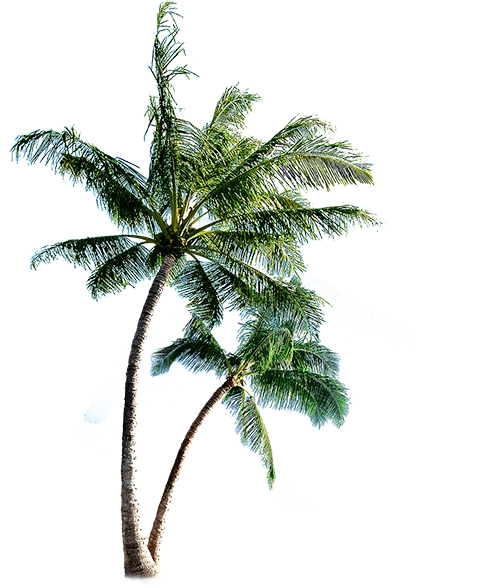 THE ST REGIS VOMMULI RESORT MALDIVES
The St. Regis Maldives Vommuli Resort is located on a medium-sized round-shaped island in Dhaalu Atoll, at a 45-minute seaplane ride from Male International Airport.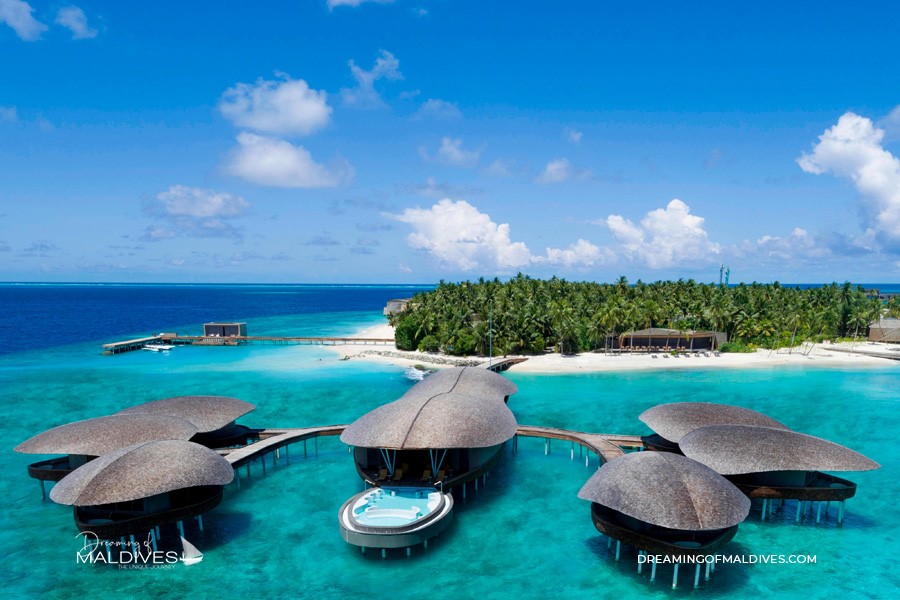 Attention to detail, authenticity and elegance are keys to the St. Regis brand found again throughout the all island in its villas, suites, mansions, stunning Iridium spa and all facilities.
TWO-BEDROOM FAMILY BEACH VILLA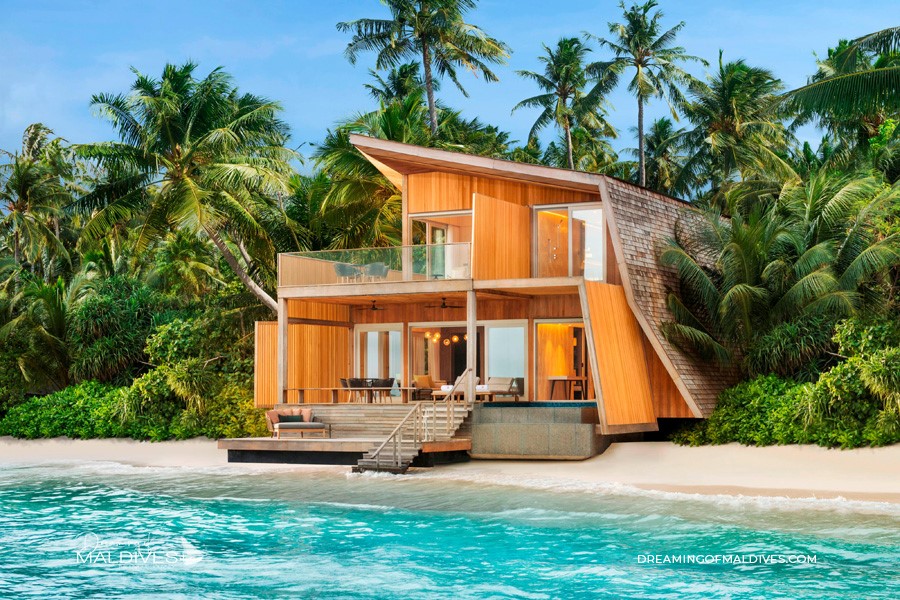 A 2 bedroom family villa
On the beach with stunning lagoon views
The St Regis Vommuli offers several 2-bedroom villas including a family beach villa with swimming pool named Two-Bedroom Family Beach Villa.
Overlooking the beach and offering a breathtaking view at the lagoon, this beautiful villa offers a terrace with a swimming pool and sofa lounge, deckchairs and a dining area that can accommodate four people.
On the ground floor, there is a living room and a bedroom with a bathroom and upstairs, a master bedroom with panoramic views from a large terrace.
Designed with respect for the environment, The St Regis Maldives Vommuli offers 77 Villas including 44 overwater and 33 on the beach.
Each villa has a state-of-the-art Bang & Olufsen BeoVision system, fine furniture and objects, a private swimming pool and terraces with lagoon views.
Each villa is complemented by the dedicated attention of a discreet 24-hour St. Regis Butler.
The St Regis Vommuli also has one of the largest overwater villas in the Maldives, the John Jacob Astor Residence, a floating palace of 1540 m2 composed of 3 villas, with large private terraces open to the ocean and 3 swimming pools.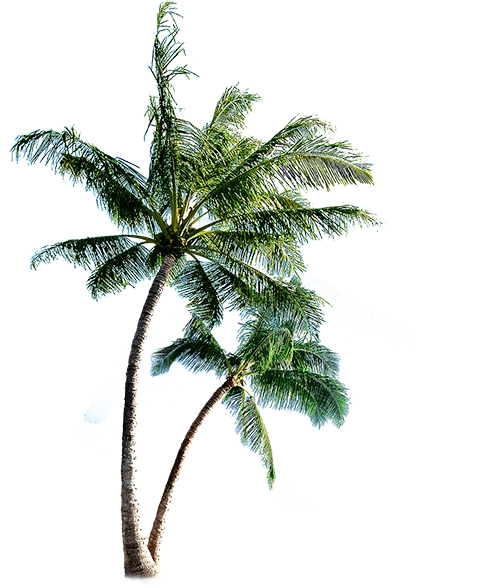 DUSIT THANI MALDIVES
Dusit Thani Maldives is located in Baa Atoll, the first and unique UNESCO Biosphere Reserve in the Maldives. The resort offers lush vegetation and a fantastic 360-degree house reef offering one of the most beautiful snorkeling in the Maldives.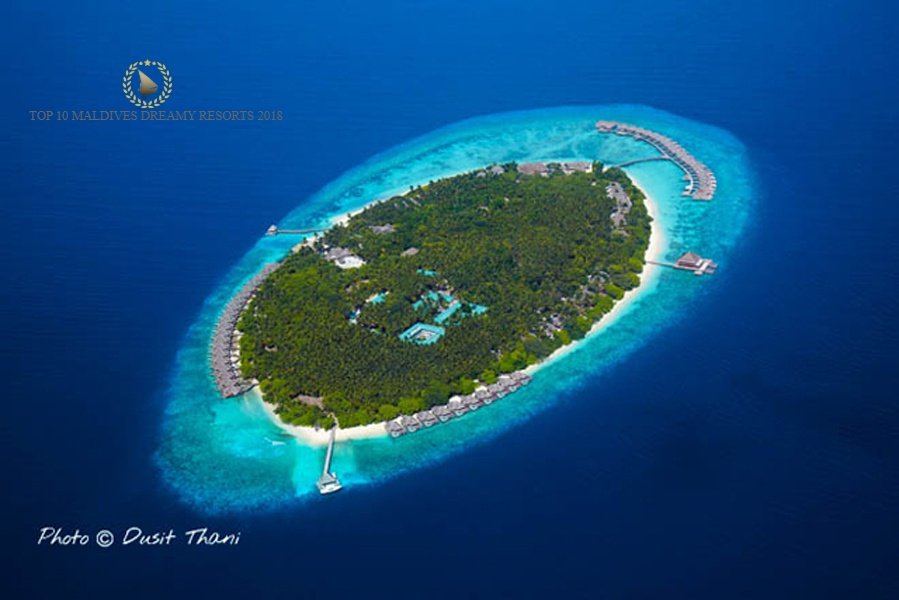 The resort has a chic yet relaxed atmosphere and mixes Thai and Maldivian influences with its architecture and interior design.
Dusit Thani Maldives offers 108 villas located on the beach or over the lagoon, excellent food, a great kids club, a large infinity pool and a spa in the trees.
TWO-BEDROOM FAMILY BEACH VILLA With Private Pool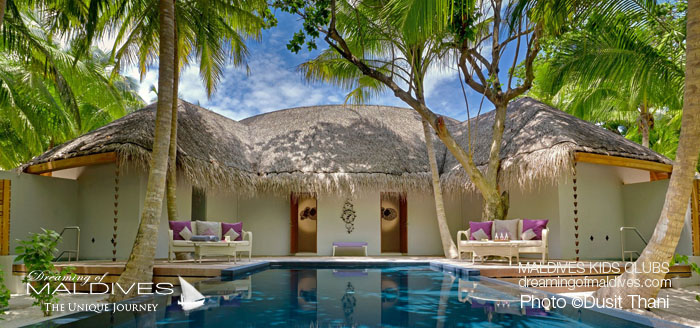 An elegant villa offering luxury and privacy for the whole family
Set in a beautiful tropical garden, this elegant villa offer luxury and privacy for the whole family. The Two-Bedroom Family Beach Villa With Private Pool at Dusit Thani Maldives offers a total area of ​​1,625 m² and includes two bedrooms, a dining pavilion, a large patio, a private swimming pool and the beach within a few steps.
The resort offers an excellent kids club , free snorkeling equipment, canoes, daily yoga classes, two tennis courts, gym and water sports center for diving and sailing, Thai cooking classes and many other activities for all ages.
The Devarana Spa (which means "garden in paradise") offers signature spa treatments combining bath, body scrub and massages in an elevated nest located in the trees. Dusit Thani distinguishes itself by the quality of its services and the friendliness of its staff, always attentive and discreet.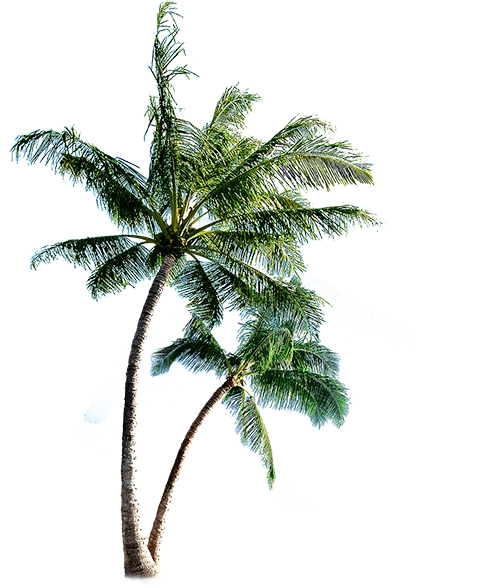 FOUR SEASONS RESORT MALDIVES AT KUDA HURAA
Four Seasons Resort Maldives Kuda Huraa Island is a dream island for a luxury family getaway in the Maldives.
Located at a short boat ride from Malé Airport, this idyllic hotel offers upscale accommodation, great amenities, multiple activities including surfing ( a few resorts offer this activity ) , 2 huge swimming pools ( including one for children ), a water sport center, a fitness room and a luxurious spa.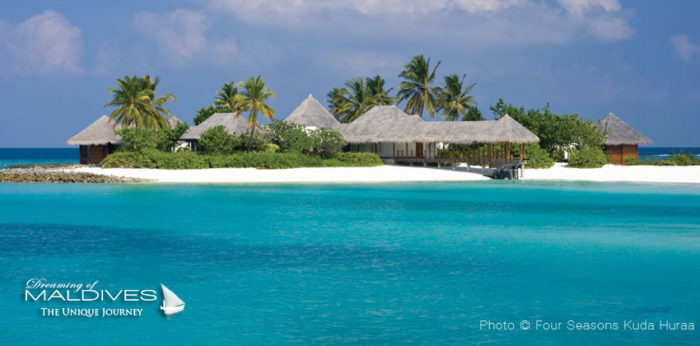 Kuda Huraa is the most isolated of all Four Seasons hotels in the Maldives (the brand owns 3 Resorts including an Ultra Private Island to Rent called Voavah ) with 96 villas and suites built in a tropical chic style offering five-star comfort.
Sunrise FAMILY BEACH BUNGALOW WITH POOL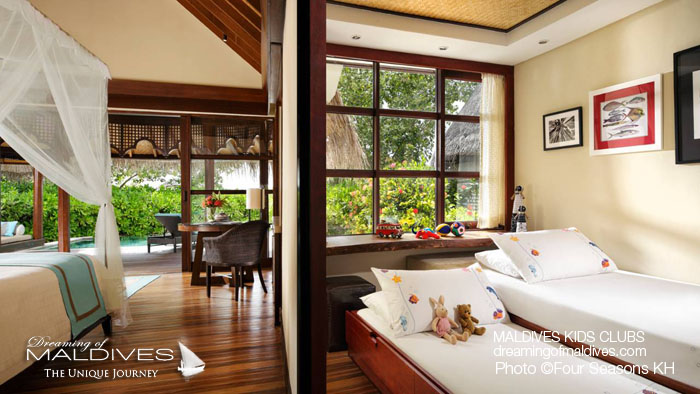 This large family villa is a luxurious 2 bedroom pavilion
This large family villa called Sunrise Family Beach Bungalow with Pool is a 2 Bedroom Villa with swimming pool located on Kuda Huraa beach.
This spacious family beach haven, located at a few steps from the sea, has two bedrooms each with en-suite bathrooms ensuring privacy and space. Located in superb tropical gardens, it offers a large swimming pool and a wide shaded terrace with dining patio.
The architecture of Four Seasons Kuda Huraa was created by Maldivian artisans with local materials and techniques handed down over centuries.
Dreamy and heavenly for a family vacation in the Maldives, Four Seasons Kuda Huraa offers beautiful diving sites, numerous land and water activities, a fabulous kids club, several gastronomic restaurants, a sublime spa and impeccable service.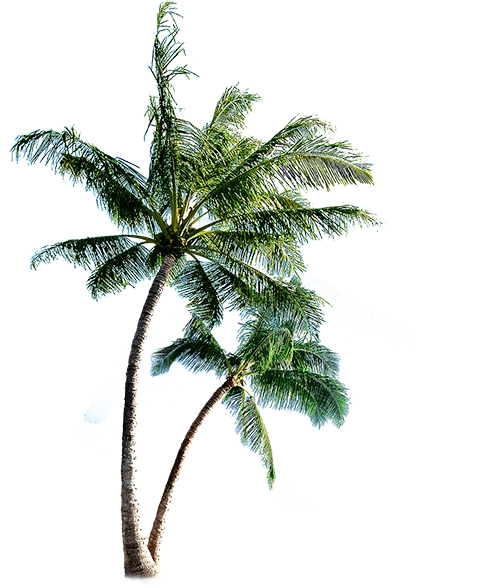 HIDEAWAY MALDIVES
Hideaway Beach Resort & Spa at Dhonakulhi is one of the most remote Resort in Maldives.
Located in Haa Alifu Atoll, at the extreme north of the archipelago, the island benefits from an exceptional environment.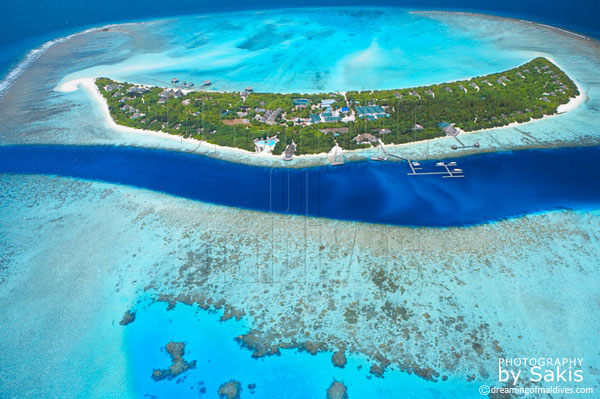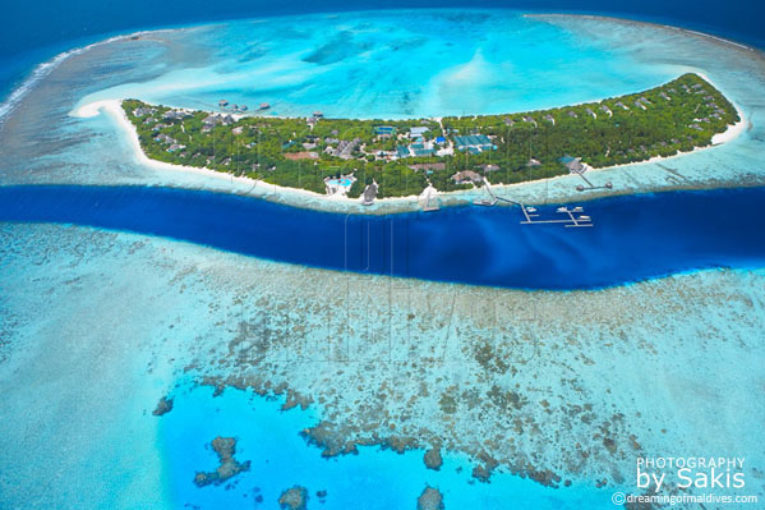 With very long, pristine white sand beaches, a magnificent turquoise blue lagoon on one side and great snorkeling on the other, Hideaway Maldives is one of the most beautiful islands we have been to. It is impossible to forget its infinite lagoon rich in underwater life and shades of blue.
Hideaway Maldives offers luxury, space and privacy with some of the Maldives largest villas including large family beach villas with pools hidden in big private gardens.
FAMILY Beach VILLA WITH POOL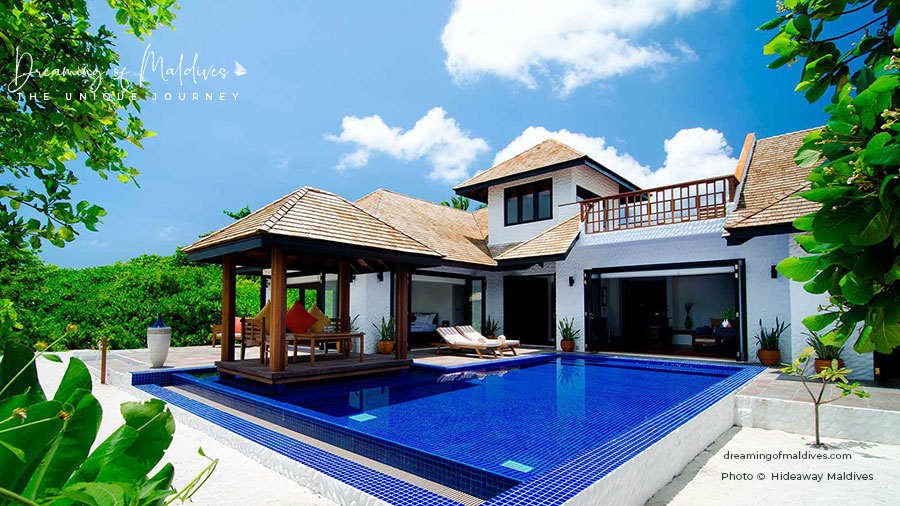 A large Villa designed like a house.
Hideaway offers several categories of beach villas for a family vacation. With 440m2 of living space and an extremely comfortable and well-thought-out interior layout, the Family Beach Villa with Pool is designed like a home.
The villa offers plenty of space, a large private beach just in front, an infinity pool, a pergola with separate seating area and a panoramic rooftop terrace to admire the landscape by day or watch the stars by night.
This 2 bedroom family villa can accommodate families or a small group of friends. A lockable master bedroom offers complete privacy.
A personal butler is available 24 hours a day.
The 103 luxury villas and residences of Hideaway Maldives are divided into ten categories located on the beach or overwater on a 1.4 km long island.
Hideaway Maldives is surrounded by amazing diving and snorkeling sites nearby. The resort offers an extensive wellness program, an excellent Kids club with many activities, several dining options, an All Inclusive Plan and one of the largest spas in the Maldives.
Large, beautiful, natural and suitable for couples and families alike, Hideaway Maldives can be reached in 65 minutes by seaplane or 45 minutes by domestic flight from Malé airport followed by a 20-minute speedboat ride from Hanimaadhoo domestic airport.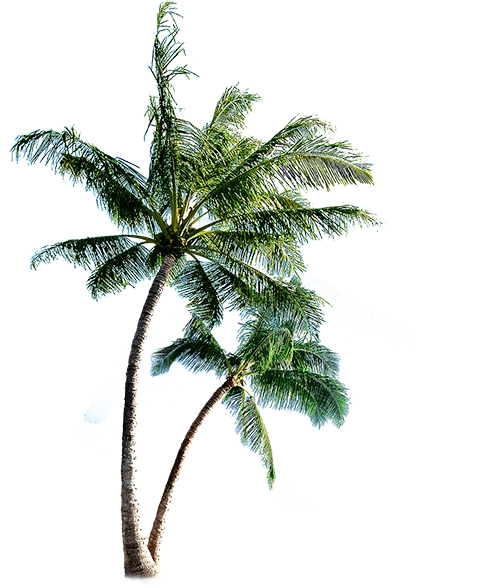 NIYAMA PRIVATE ISLANDS MALDIVES
Niyama Private Islands Maldives is located in Dhaalu Atoll, south Maldives at 40 minutes by seaplane from Malé airport.
The resort is nestled in a beautiful vegetation on 2 long islands surrounded by a very large blue lagoon.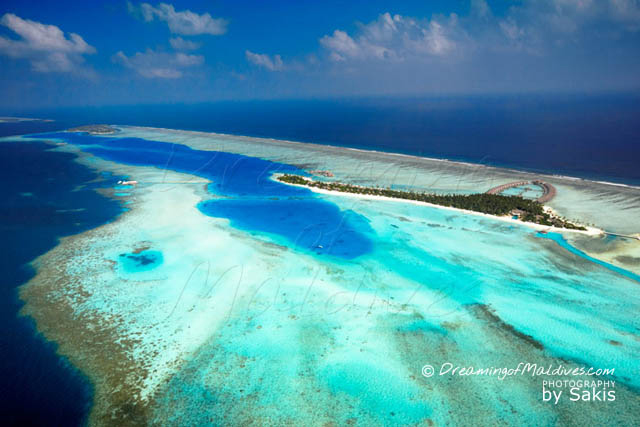 We love Niyama for its chic and relaxed style, its multiple activities, its concept and its innovations, including the very first underwater nightclub in the world which has now become a restaurant, the sublime Subsix .
FAMILY BEACH POOL VILLA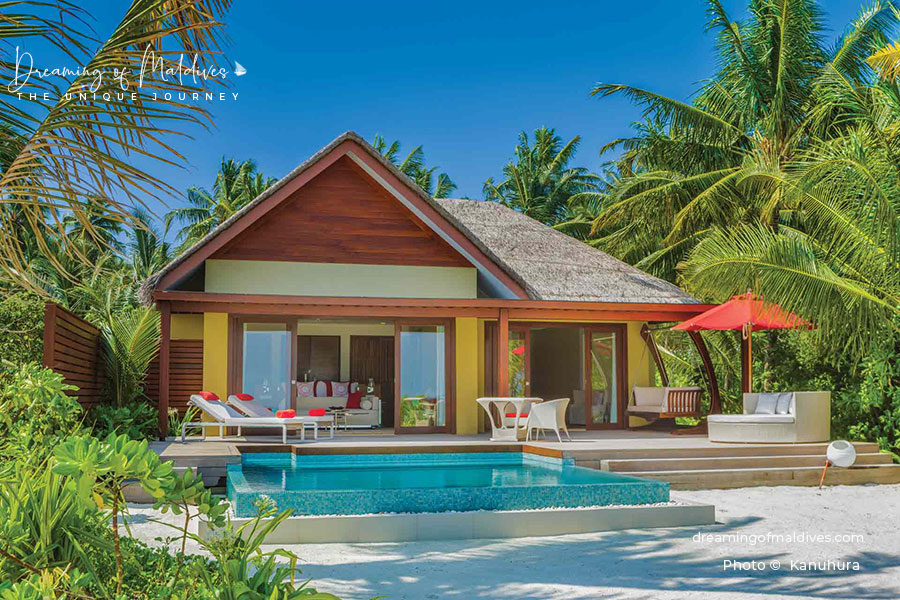 Families will love this Modern villa
Families will love this beach villa with its pool, space and its modern design. The Family Beach Pool Villa opens directly onto a powdery beach with a view at the spectacular blue lagoon unique to Niyama.
The large living room is transformed into a bedroom with 2 beds for 2 children.
Niyama also offers one of the best Kids Club in Maldives, Explorer , for children up to 12 years old on Play Island and a Baby club for toddlers (from 12 months old, rare in the Maldives) in the same area.
For teens and adults, Active Center on Chill Island offers a great range of activities with Wii, Play Stations, Xbox, simulators, table tennis and billiards.
Niyama offers 134 Villas and Suites, on 2 separate islands, overwater or on the beach, with or without swimming pool and are offered in several categories ranging from very luxurious and spacious "Pavilions" to smaller villas called "Studios", which also offer beautiful spaces and design for a first category of villa.
Built in a Tropical Maldivian style with their palm thatched roofs, they all offer a luxurious and very chic contemporary interior design.
The 3 islands offer a excellent choice of gastronomy with 6 restaurants, 2 bars, several snack bars and 1 Coffee-Shop.
Niyama has also a superb Spa called Drift, located between tropical gardens and the lagoon with 6 overwater treatment rooms offering lagoon views and 2 garden sanctuaries boasting and outdoor bath, a rain shower and deckchairs.
Ultra-modern, Chic, active, fun, romantic and family friendly at the same time, Niyama Maldives is a multifaceted island that stands out as a must-stay resort in the archipelago. One of our favorite of all time !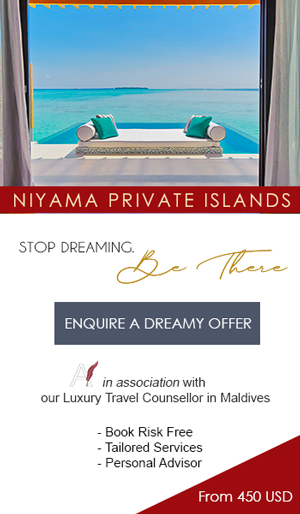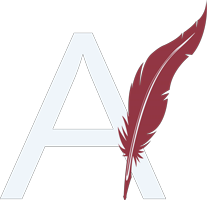 In association & our Trusted Travel Counsellor in Maldives
Niyama Private Islands Family Offer
| up to 50% OFF |
+ Kids stay and eat for free
Min 03 nights stay.
Complimentary Kids menu in all restaurants (only) for Breakfast, Lunch and Dinner.
Valid up to 02 Children (below 12 years) travelling with parents, per room
All the taxes applicable
Black out Dates may apply.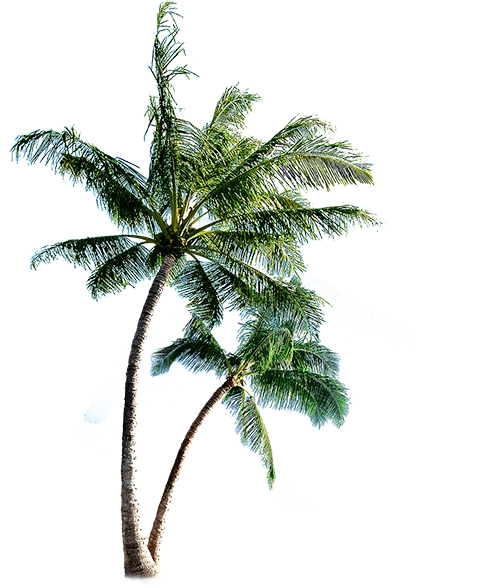 KANUHURA MALDIVES
Located in the north of Maldives in Lhaviyani Atoll, at 35 mins by seaplane from Male International Airport, Kanuhura is located on three islands – two desert islands and Kanuhura itself.
Kanuhura has been considered one of the most iconic bohemian-chic hotels in the Maldives since its opening in the early 90s. Recently renovated, the resort continues to offer excellent services, a stunning design and has become more beautiful than ever .
RETREAT Grand BEACH POOL VILLA
One of the most beautiful Villas of this Series for family vacations
Located on the Resort big private beach, the Retreat Grand Beach Pool Villa at Kanuhura Maldives is one of the most beautiful family villa in this series.
True luxury retreat, it offers enough space for large families of 8 people with three bedrooms (two interconnected and one separated) each with adjacent bathroom, a spacious living room and a generous outdoor garden with private terrace and a swimming pool, all protected by a surrounding wall offering complete privacy.
The villa can accommodate 6 adults and 2 children or 4 adults and 4 children
Despite its size, Kanuhura Maldives only offers 80 villas spread around the island and over its big blue lagoon, promising complete privacy.
All Kanuhura villas, bungalows and suites offer plenty of space and a beautiful design mixing natural materials, furniture and chic objects. Their high-tech equipment will delight families with teenagers and some adults too.
Kanuhura is one of the largest islands in the Maldives with 1.4 km in length. Surrounded by a huge and pristine lagoon, it is also known to be a paradise for water sports enthusiasts.
Discover Kanuhura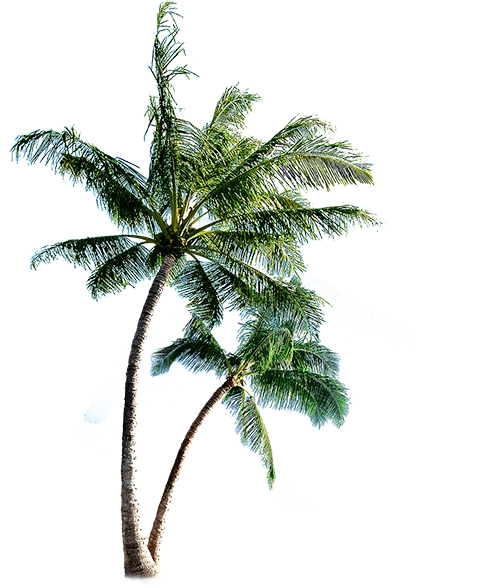 ANANTARA KIHAVAH MALDIVES
Located in Baa Atoll, Anantara Kihavah is located at 35 minutes by seaplane from Male on a sublime jewel island. The Ultra Luxury Resort offers multiple assets, both in terms of services and natural environment.
Anantara Kihavah is a dream for chic travelers, families, couples and snorkelers.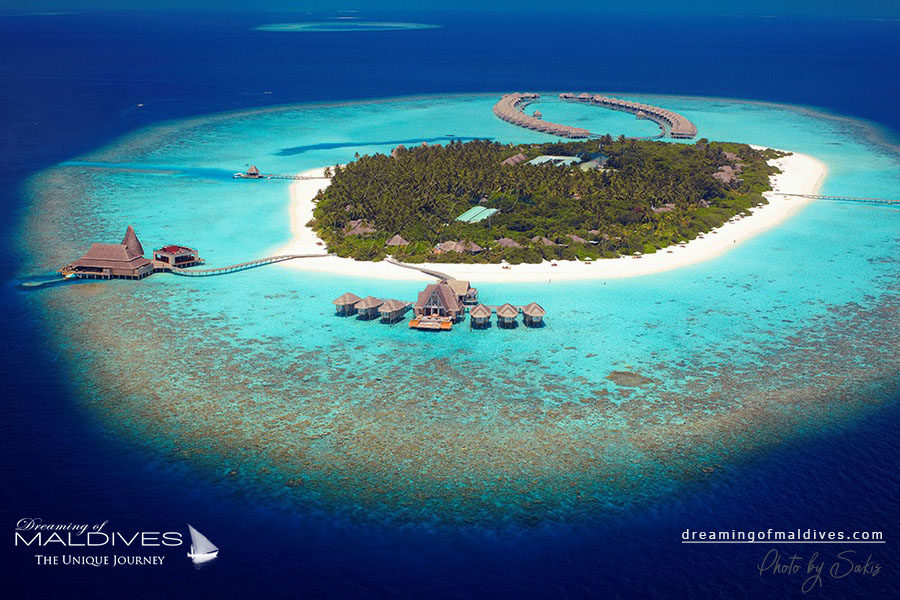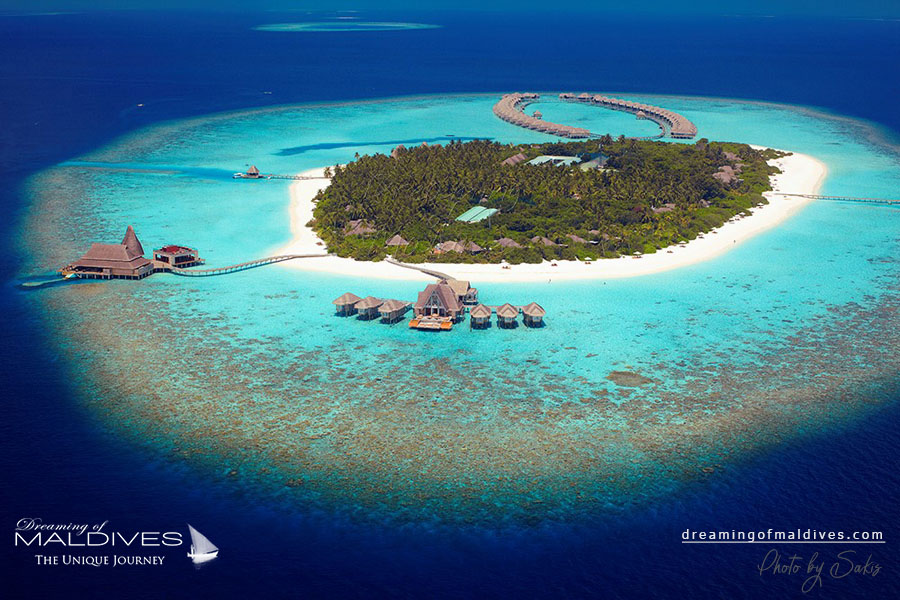 Very luxurious, peaceful and intimate, Anantara Kihavah is one of the most beautiful hotels of the Thai company Anantara , established for several years in the Maldives with Dhigu and Naladhu . The island is one best we saw for snorkeling.
FAMILY BEACH POOL VILLA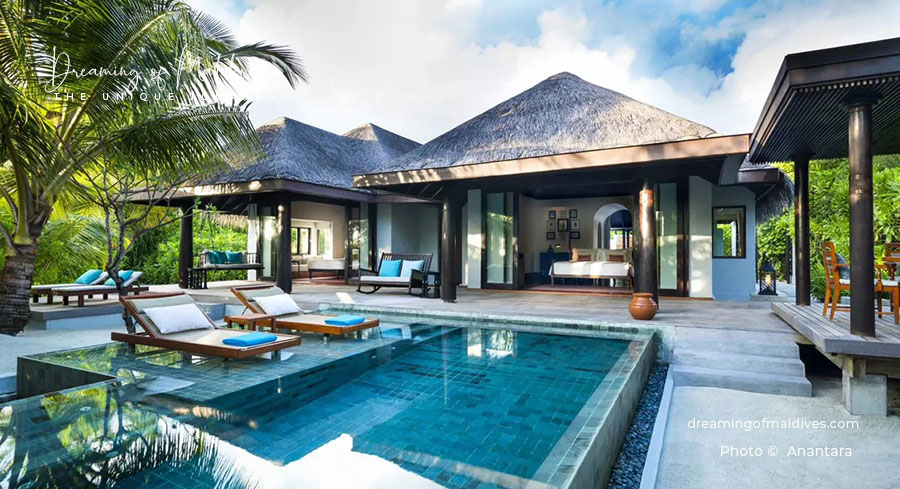 Anantara Kihavah Family Villa consists of 2 interconnected villas
The Family Villa called Family Beach Pool Villa at Anantara Kihavah consists of two interconnected villas with a terrace and a shared pool on the beach.
This 412 m2 villa offers enough space to accommodate a family of 5 or 6 people of 3 adults and 2 children or 2 adults and 4 children. The master bedroom bathroom has an open-air tub, while the children's bedroom bathroom features indoor and a outdoor rainfall shower, as well as specially designed and thoughtful amenities for children.
Anantara Kihavah Villas is a fairly large island but only offers 78 Villas in total.
Completely immaculate, it is surrounded by a beach of very fine and blond sand, a translucent blue lagoon and breathtaking reefs populated with vibrant underwater life.
Whether on the beach or on the lagoon, all villas total tranquility and privacy.
Slow or dynamic, days spent at Anantara Kihavah are going on in a voluptuous atmosphere between lazying on the superb beach, hidden in the comfortable Villas, at the Spa with treatments promulgated according to the Thai philosophy, above or under the sea with an excellent choice of water activities and breathtaking reefs.
Follow us on Facebook, Youtube and Instagram
for more Maldives Dreams