Discovering Joali Maldives is like stepping in an open-air modern tropical Art gallery. With its immersive Art Lifestyle experience and distinctive design, the resort introduced its own benchmark to a destination where Luxury Resorts and Boutique Hotels have multiplied in every corner in recent years. Follow me for a guided tour of a unique and so chic Boutique Hotel.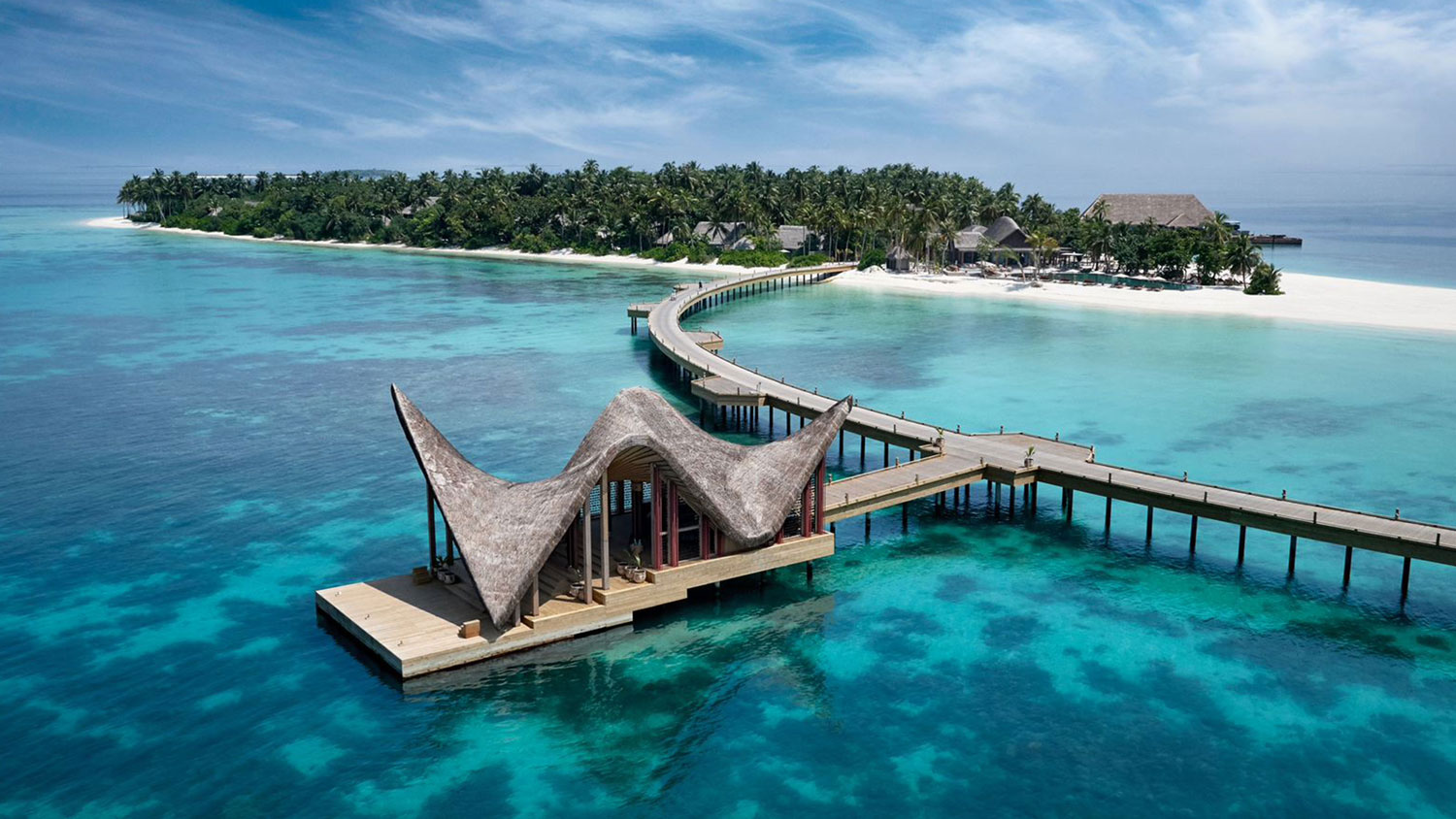 Distinguishing yourself as a prestigious establishment in the Maldives is no easy task.
However, this is what the ultra-luxury resort has been able to accomplish since its opening in 2018 with an Immersive Art Lifestyle experience, a new and exceptional concept first to be seen in Maldives.
Immerse Yourself at the heART of Joali Maldives
Dreaming of

Joali Maldives
The Island
Joali is located on the island of Muravandhoo, in Raa Atoll, north Maldives, at 45 minutes from Male airport by seaplane. The island is surrounded by a big lagoon and a preserved tropical vegetation. The resort has heavily invested in protecting this ecosystem leaving over a thousand trees spared during its construction.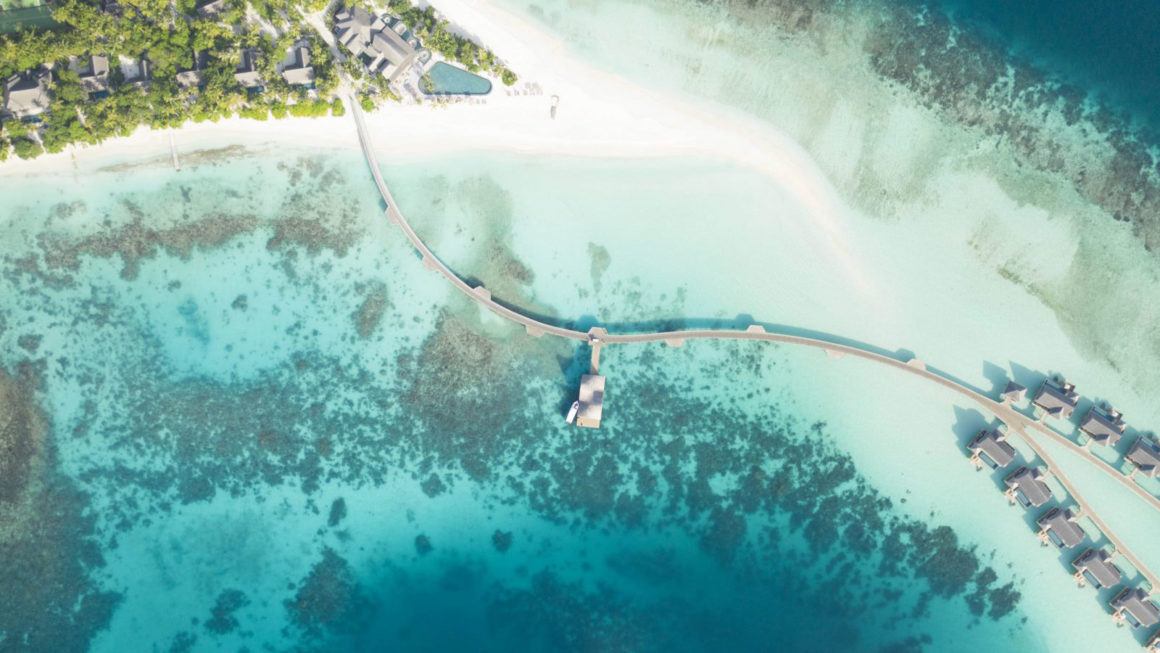 Who owns Joali ?
Joali is owned by a turkish group called Gürallar Group. Gürallar Group has several investments in glass tableware and glass packaging manufacturing, roof tile manufacturing and machinery. The group also invested in Tourism with Ali Bey Hotels & Resorts in Turkey.
The US $99 million resort is the wish come true of Esin Güral Argat, Gürallar group Vice President and daughter of its chairman Rıza Güral, who felt in love with Maldives back in 2000 during her first visit.
Inspired by the beauty of the Island nations and the iconic Luxury Resorts she stayed at, she decided to make her own Dream Island.
This fall-in-love-with-the-Maldives story reminds me of Sonu and Eva, owners and founders of the fabulous Soneva Resorts and Jiri Smejc, the Czech billionaire owner of Velaa Private Island.
Joali Maldives exudes femininity in its design and branding. From the interior colors and decorative details, to the exterior round and smooth lines, the "Joy-of-Life" spirit – Joali's motto, to the illustrations on the resort website, Joali clearly embodies a woman and what she likes.
To make her dream come true, Esin Güral Argat surrounded herself by Autoban, an Istanbul based multidisciplinary design studio and the Japanese interior designers Studio Glitt, who both worked with hundreds of craftmen to make Joali as unique and beautiful as possible.

The Resort design
Joali is An Ultra Luxury Resort designed to awakens emotions and curiosity
Joali Maldives is surrounded by interactive and experiential artistic pieces that incorporate the island's surrounding nature. Several objects and ornaments are also in display in several villas.
Guests can explore the resort's art collection with an exclusive Art Map following the journey with an array of original works of art and dynamic designs from 13 different artists coming from many countries around the world.
Porky Hefer is the artist behind the fabulous Manta Ray Tree House and the Heron Head Swing, 2 very distinctive and memorable art pieces at Joali.
The impressive Manta Ray shaped tree house by Porky Hefer
The Heron Head Swing by Porky Hefer
Art pieces were created for the resort with Maldives nature in mind by young artists, including Misha Kahn, Nacho Carbonell, Porky Hefer, London-based Studio Glithero, Zemer Peled, Chris Wolston, Doug Johnston and Ardmore.
Joali Various Objects / permanent exhibition
The Art permanent exhibition is everywhere in and out. Several pieces decorate the villas and the restaurants.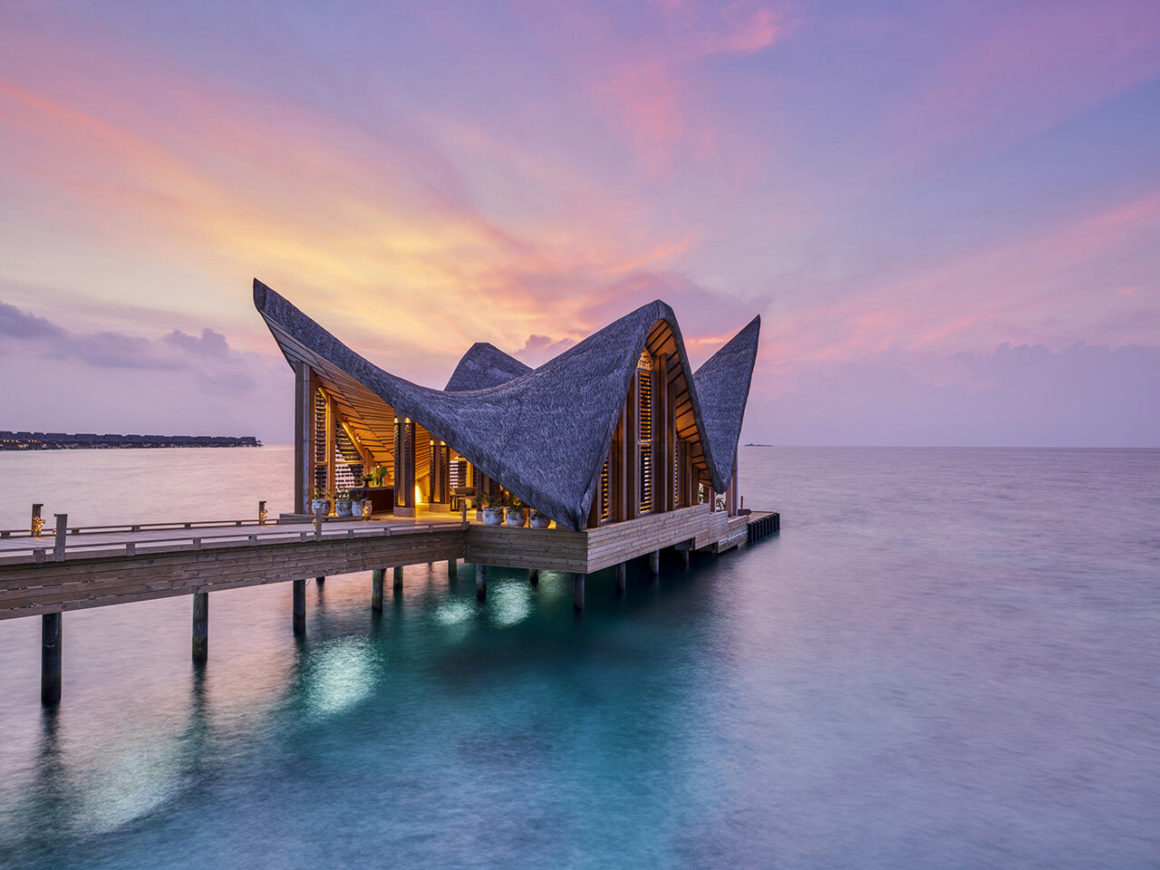 Joali, the Resort in details…
The Villas
Joali Maldives boasts 73 villas, many of which are overwater. The villas are proposed in 1 up to 4 bedrooms spread throughout the island and its lagoon. Each Villa has its own private infinity pool overlooking the blue lagoon or the deep ocean.
Stays are under the discreet care of a butler service.
Several villas offer stunning views to sunrise. The rooms with even numbers offer the best view of the sunset. Each villa interior system is controlled by an iPad and a synchronized opening of curtains to allow you to admire the ocean while waking up.
With stunning views at Sunrise or Sunset, JOALI's Villas offer dreamy vistas from every decks.
The residences on the beach are a more accessible and safer option than the water villas for those traveling with their families ( kids will love the kids club ! )

On the Beach
The Beach Villas and Suites
1 Bedroom Villas and 1+1 Suite are located on the beach, completely hidden from the rest of the island in a lush vegetation.
The first category of Joali Beach Villas is a lavish 108 sqm one room villa, called Beach Villa With Pool, that can accommodate up to three people comfortably. The villa features handpicked accents, a private beach garden, a bathroom with spa amenities and coveted toiletries and an infinity pool overlooking the lagoon.
Joali Luxury Beach Villa with Pool offers more space with 117 sqm and can easily accommodate up to 4 people comfortably. This dreamy beach suite boasts high ceilings, handpicked items and wellness amenities, elegant tropical chic furnitures and a private pool with lagoon views.
This tropical family Villa, ideal for 4 persons, has 2 big bedrooms each with en-suite bathroom and two pools making it perfect for families. With plenty of green space for all, this villa caters for small groups and families with ease. The suite offers an infinity pool on the bach and one at the back of the villa, a private beach garden and a beach outdoor terrace with dining area.
The 2 bedroom Family Beach Villa offers a separate living room and two bedrooms that can accommodate up to 5 people comfortably. Designed with families in mind, this beach villa is ideal to stay together under one roof with utmost privacy.
The Beach Residence
Joali Four Bedroom Beach Residence is the largest beach villa. This 500 sqm four bedroom grand two-story tropical mansion is ideal for big families and group of friends.
With four bedrooms each with their bathroom, it can accommodate eight people without having to sacrifice space or privacy. A separate butler room allows for round the clock service on premise. For all your potential excursions around the island, a buggy and a driver is at your service.
Above the lagoon
The Overwater villas
1 Bedroom Water Villas with Pool and a 3-Bedroom overwater Residence are located along a long jetty and face the Sunrise or the Sunset.
This one bedroom Water Villa With Pool can accommodate up to 3 people and offers a spacious sundeck with infinity pool.
Accommodating up to 3 people this 108 sqm Luxury Water Villa With Pool offers breathtaking views from every corner. In addition to the tropical amenities, a state-of-the-art home and lighting system offers an enchanting experience over water, day and night.
The Overwater Residence
Joali also boasts a superb overwater Residence, located at the end of a long jetty and offering 3 bedrooms for big families and group of friends. The Three Bedrooms Ocean Residence With Two Pools spreads on 400 sqm and offers two living rooms and two swimming pools. Proposed with a private boat service and its very own butler, the Three Bedrooms Ocean Residence with 2 pools is a perfect Luxury Hideout to be isolated from all.
The Bars and Restaurants
Joali Restaurants are made for Epicurean and all palates.
Joali will definitely satisfy the most exigent Epicurean traveler with its four restaurants providing fine world cuisine, a wide selection of healthy dishes, including a a liquid nitrogen ice cream corner, an Italian restaurant and a State-of-the-art Japanese overwater restaurant.
Guests with special dietary needs can inform the resort's managers of their requirements beforehand.
Bellinis restaurant. The Italian
Mura, the snack Bar with a view
Vandhoo. Joali main restaurant
Saoke. The State-of-the-art Japanese overwater restaurant
Her Kitchen. The Joy of cooking with chefs
Joali Spa
Joali's guests are offered personalized wellness experiences based on relaxing and rejuvenating treatments and wellness programs. Each stay includes two fitness sessions, one in the morning and one in the afternoon.
The spa offers 8 treatment rooms hidden in the island jungle or with lagoon views.
Joali Spa stands out with a splendid marble hammam and a sauna located overwater with lagoon vistas.
Exclusive therapies signed Espa can be provided by a therapist depending on your wellness needs.
Among the treatments offered are sound healing, chakra work and the use of healing crystals. The atmosphere and design of the stilted rooms and yoga pavilion increase the overall well-being effect…
Leisure and Activities
Wellness is at the heart of Joali with a with an excellent program of Yoga and fitness available in group or individually.
Joali also offers an exciting program of activities. This includes parasailing, night diving to discover underwater life, swimming with dolphins and a Pro Tennis academy.
Joali Kids Club
Mura Mas Kids club welcomes children from 4 – 12 years old from 10am to 6pm daily.
Joali kids club has a kids pool with water slide, indoor and outdoor play areas and activities. Kids will also enjoy treasure hunts, cooking classes, a children's spa and several other weekly activities.
The kids club also offers a baby corner with a beautiful sleeping bedroom for the small ones. Babysitter service is chargeable and available upon request.
Getting to Joali

To reach the resort, you must either take a private charter or share a seaplane with other guests… The seaplane allows you to travel between Muravandhoo and Malé airport in 40 minutes. Not so bad.
You can reach Joali in 3 ways.

Option 1 – Fly on board of a shared Seaplane
A 40-minute seaplane flight takes you from Male directly to the Muravandhoo Island. You will be greeted by a private JOALI lounge at the Male Airport where you can relax before your flight – and even enjoy a special greeting, offered for pre-arranged transfers.
Option 2– Fly on board a shared Domestic Flight + speedboat
A 35-minute flight takes you from Male International airport to Ifuru domestic Airport. Then, you hop on the speedboat for a 15-minute speedboat ride to Muravandhoo.
Option 3 – Fly on board your own Private Seaplane.

…by the way, a Joali is a typical relaxing hammock chair in Maldives.

All Photos Copyright Joali Maldives
Do you have questions about Joali or your next trip to the Maldives ?
I will answer you via our form on the contact page.
You can also contact me via our Dreaming of Maldives Facebook page. Click on "Like the page" and submit your question.
I will answer you within 24 hours maximum.
Follow us on Facebook, Youtube and Instagram
for more Maldives Dreams