Here is a video of the Sun Salutation sequence executed by a Yoga expert at Waldorf Astoria Maldives where we just stayed.
We wanted to make you dream and have a taste of what could be your next Yoga session in Maldives.
Open your speakers and enjoy the lesson !
Video of The Sun Salutation at Waldorf Astoria Maldives
WARNING. The Yoga sequence presented in this Video was conducted by a Highly Yoga expert. Please consult a healthcare provider and/or a practitioner before undertaking any practice featured in this video.
Our Video of The Sun Salutation at Waldorf Astoria Maldives
Practice the Sun Salutation in Maldives. Yoga Asana in Maldives


Practice YOGA in Maldives
Known to be one of the most exclusive hideaway in the world, the Maldives are also the ultimate destination to practice Yoga with splendid surroundings and true professionals in the field.
Some of the most luxurious Resorts of Maldives offer a wide choice of Yoga activities, ranging from the unique session to the complete and tailor-made daily program for an ultimate experience. Private lessons are also available in most of them.
Professional to highly experimented Yoga instructors are at your disposal to ensure a very serious, studied and genuine Yoga.
Yogis (beginners and advanced) will be able to start their days with early guided meditation sessions, organized in open-air (facing the infinite lagoon is a Must) or in dedicated spaces.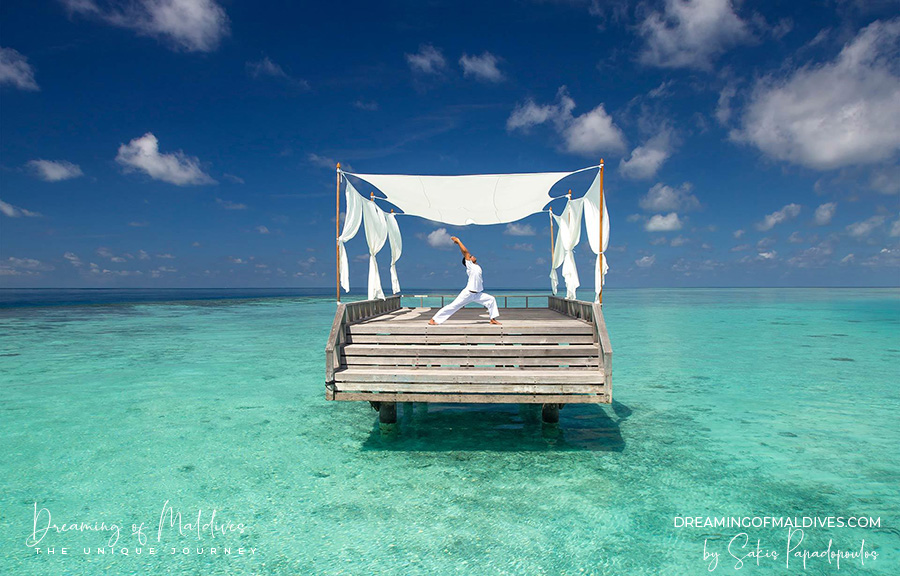 A few Resorts also offer Reiki as a complement for an even better Energy re-balancing.
The Yoga retreat will be ideally combined with Spa treatments and/or Ayurveda.
In order to be sure to choose the right Resort and to be well informed about the various Yoga programs and events that Resorts have to offer, I advise you to ask your Travel Agent or the Resort for a detailed list prior you departure.
Discover more about Yoga in Maldives
Breath and Practice Yoga at Vakkaru Maldives with the resort newly appointed teacher Anju Rathi. Namaste Dreamers. Vakkaru Maldives just…

JOALI Being is the new and latest Maldives wellness resort which will open late 2021. The immersive wellbeing island retreat is a one of its…

Here are the most beautiful places and resorts for a Yoga retreat in the Maldives. If you dream to do yoga in superb surroundings at sunrise…
© Dreaming of Maldives
Follow us on Facebook, Youtube and Instagram
for more Maldives Dreams
Your TOP Best Maldives Resorts 2023
YOUR CHOICE. YOUR DREAM. YOUR VOICE
[ Official ]
Traveler's Choice
12th Edition