One & Only Reethi Rah. The Resort in a few words…
One & Only Reethi Rah is a truly exceptional hotel. Located in Male North Atoll, at 45 minutes from Male Airport by speedboat, the island is 6 kms in circumference making it one of the largest in Maldives.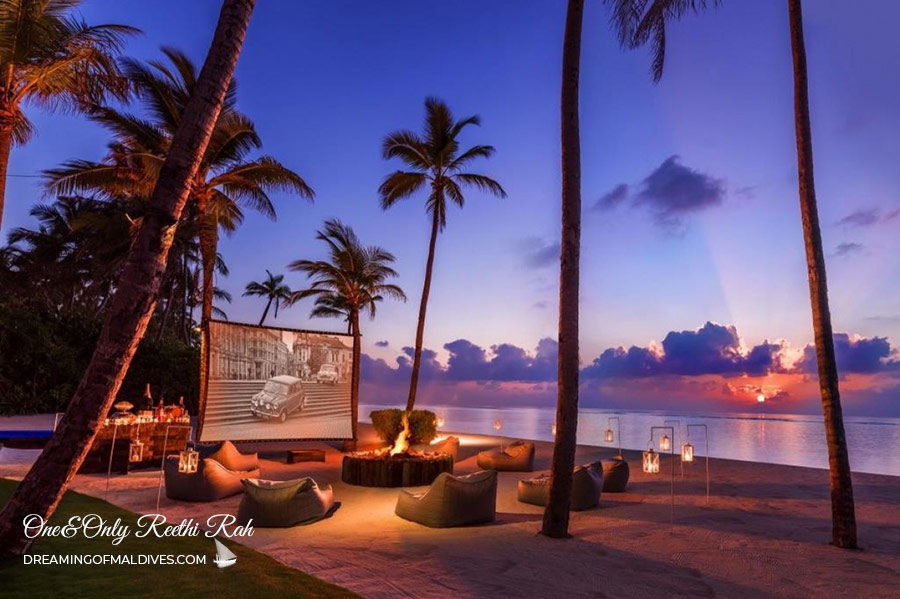 The resort 130 villas stretch along the beaches of one of the largest island in North Male Atoll.
The island has been enlarged and more than doubled in its area to reach this high number.
The villas have been completely renovated in November 2016.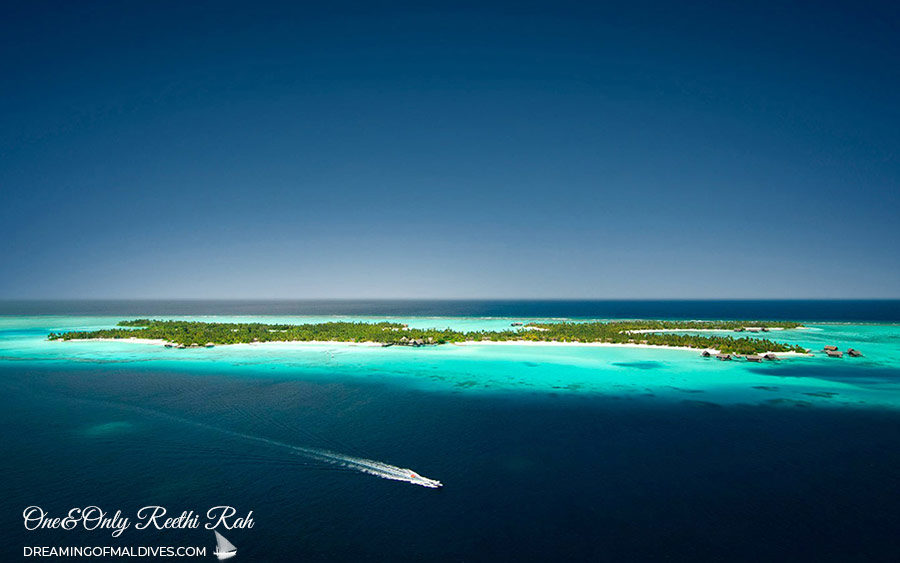 One & Only Reethi Rah was Voted in the TOP 10 Best Maldives Resorts 2017
TOP 10 Best Maldives Hotels Resorts
Spacious and elegant, the villas are dressed in minimalism and play the card of modern comfort.
Connected by direct access to the sea, the stilted Ocean Villas look out towards the Maldivian horizon and throw a veil of romance on this island of sweetness.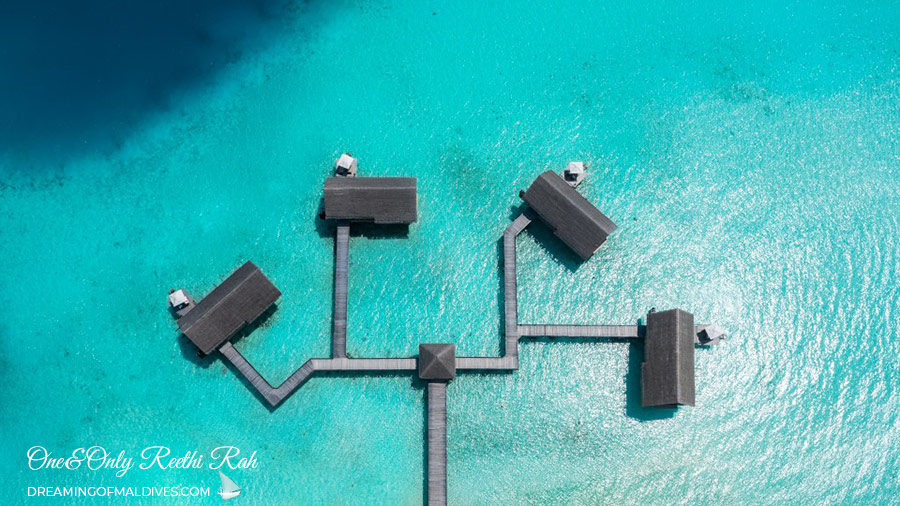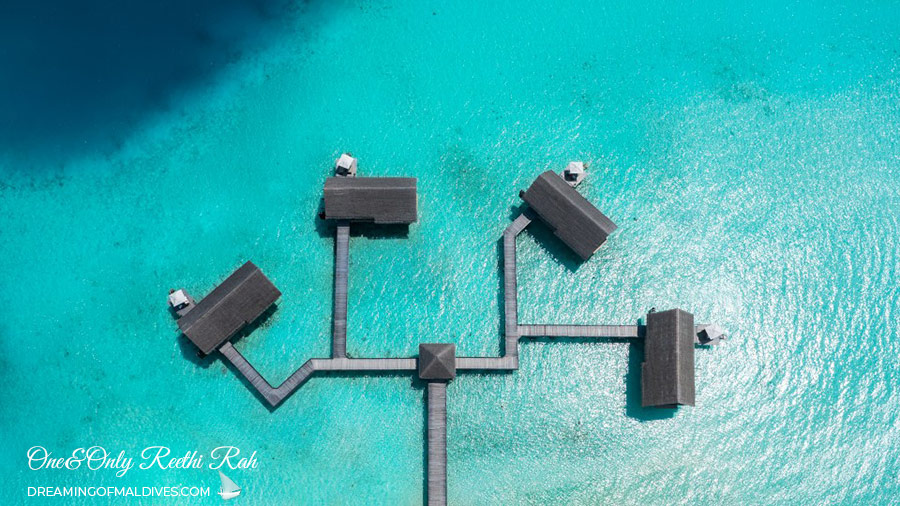 From the spa lounges to the tables of the Lebanese restaurant Fandihta, One & Only Reethi Rah celebrates the virtues of oriental culture and exoticism.
One & Only Reethi Rah
The Icone of Luxury in the Maldives
One & Only Reethi Rah Maldives The Villas
The 130 villas offer huge spaces. Their surface ranges from 139 m² to more than 2400 m².
In order not to distort the landscape, they were all built with the aim of being in perfect harmony with the natural scenery.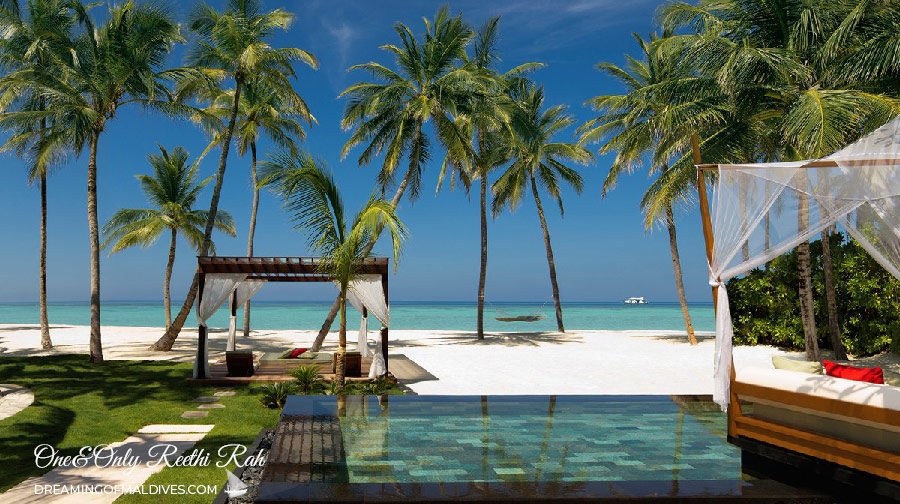 All villas offer a thatched roof and high ceilings that give a feeling of spaciousness. They are all tastefully decorated in a simple and elegant style so that one feels quickly at ease.
The In/Out bathrooms are truly beautiful, with large showers and a bath that can easily accommodate duo baths.
One & Only Reethi Rah. The Beach Villas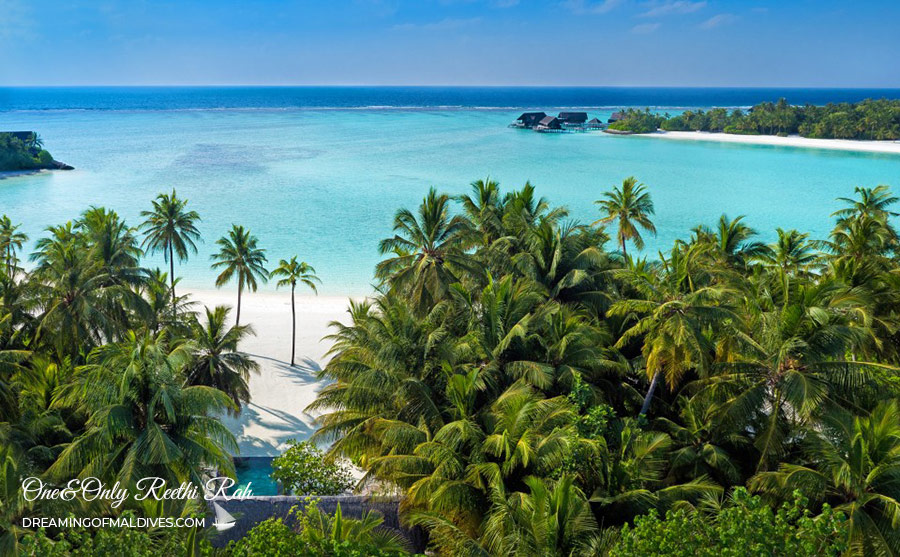 All Beach Villas have large verandas, some are also equipped with private pools.
A Sensation of luxury and space
Decorated in Southeast Asia, pronounced Balinese trend, all villas have Tiled floor and wood, carved wood paneling, beautiful dark wood furniture, large bed with Egyptian cotton sheets, tasty furnitures and accessories, all under very high ceilings.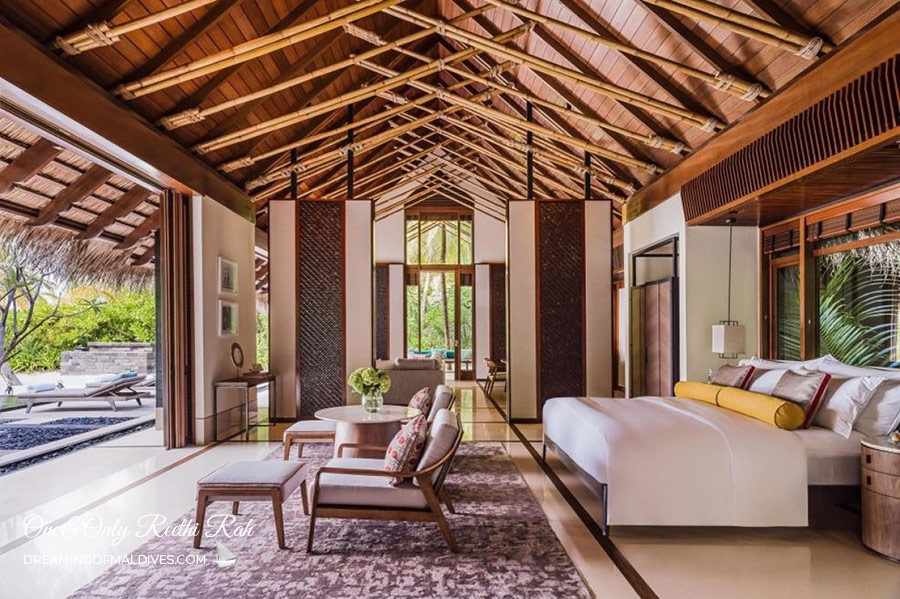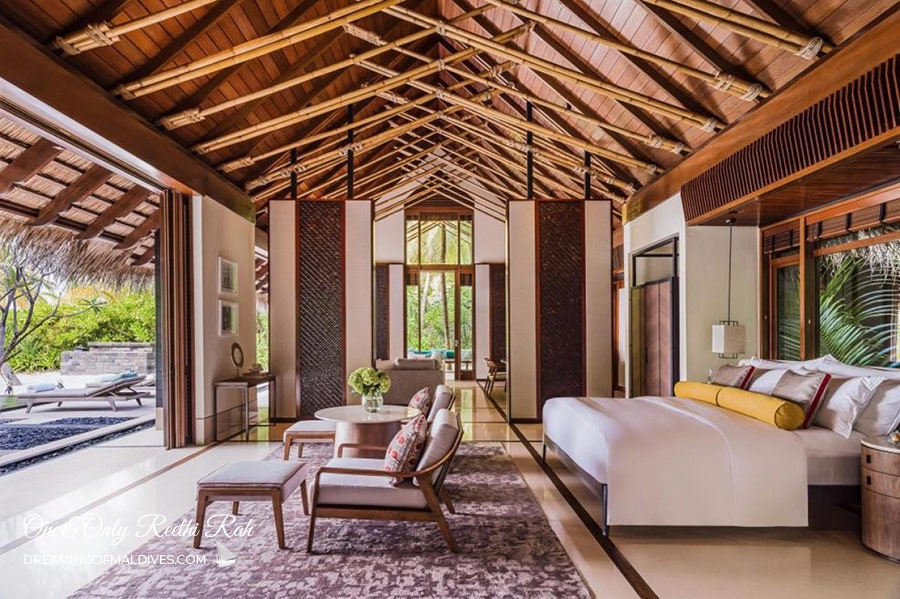 From the bed we see the beach. Pretty cushions and bedspreads bring the note of warm color.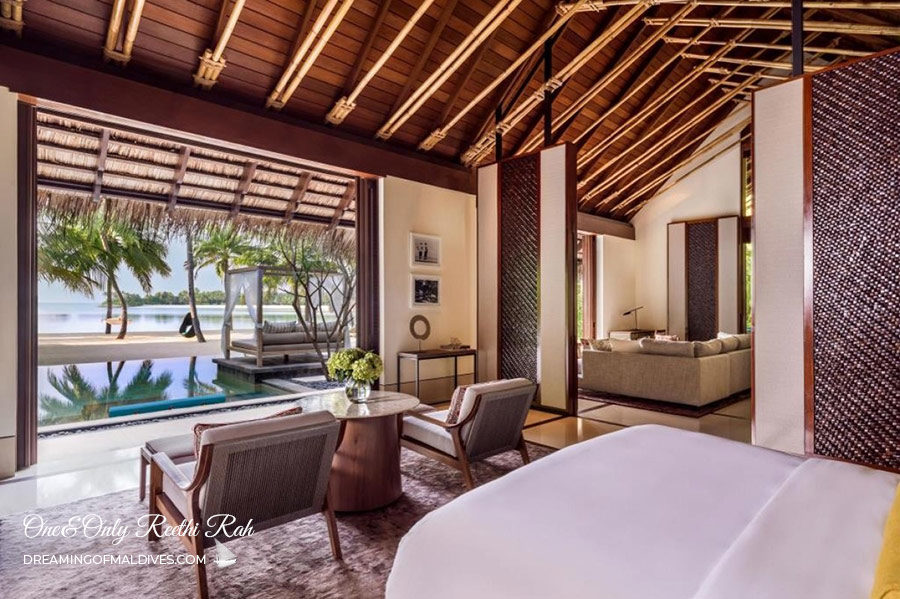 The bathroom is beautiful, separated from the bedroom by sliding doors, with a large bathtub embedded in the floor. It is easy to bathe at two. This is probably done for that ….
2 modern washbasins designed by Starck on black stone serve as ultra chic sinks. A dressing table and mirror occupy the back of the room. The toilets are separated. Comfort is as expected : air conditioning, plasma TV, DVD player, stereo, minibar, Nespresso machine (free capsules), free internet access, bathrobes, slippers and even flip flops.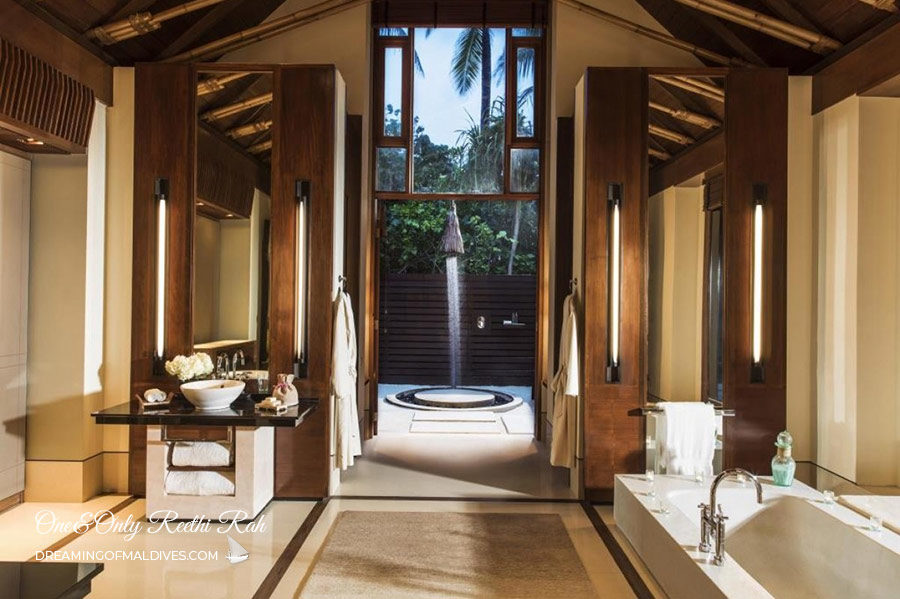 Some Beach Villas, equipped with 2 Queen size beds, can accommodate 2 adults and 2 children – 12 years old.
2 bicycles are assigned to each villa.
One & Only Reethi Rah. Grand Beach Villas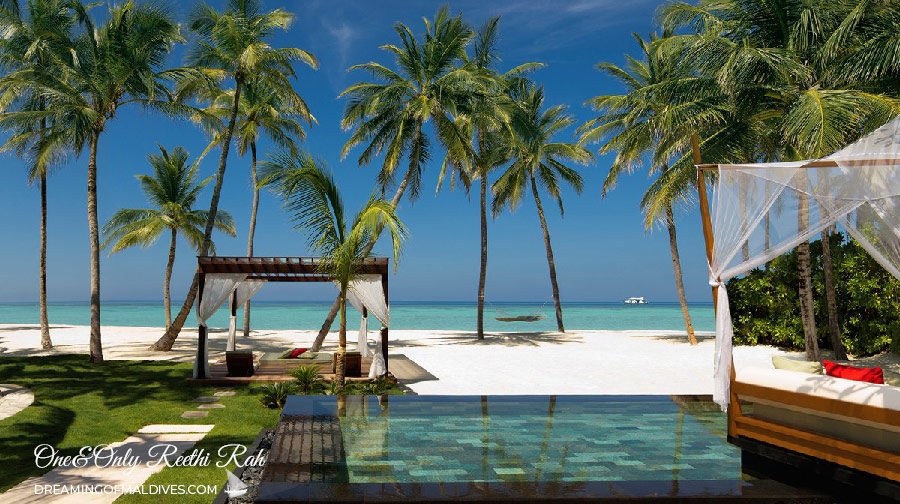 One & Only is not only for lovers and celebrities, the resort offers everything for families too with and a great kids-club. The Grand Beach Villas are perfect for them !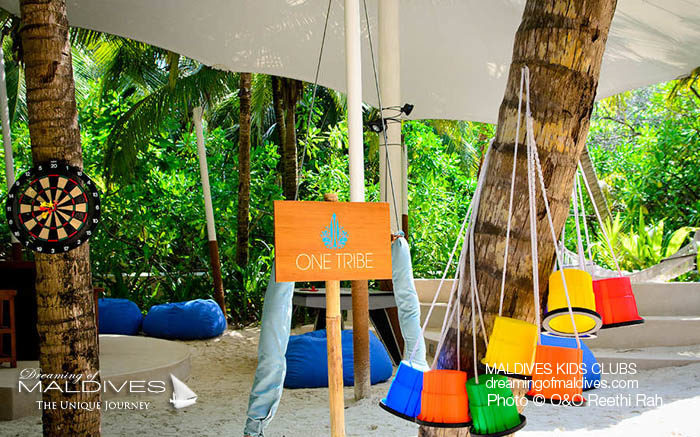 The Ultimate Guide for a Family Holiday in Maldives
The Grand Beach Villas cover 179m2.
They offer 2 bedrooms ( a master bedroom (King size bed) and a bedroom with 2 Queen size beds) 2 bathrooms and toilets, a dining-living room, a large outdoor veranda with sofa, table and a large private pool of about 8 meters length by 3 meters width, pools which have a bed that moves in the middle of it.
They are delivered with bike and buggy.
Grand Beach Villas can take up to 4 children in addition to 2 adults
One & Only Reethi Rah. Water Villas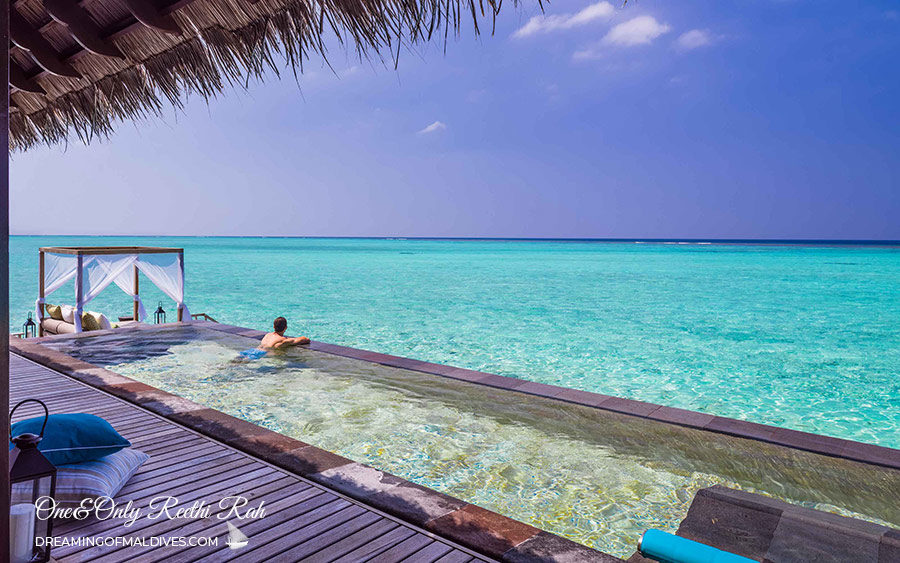 The Water Villas are all dotted with large terraces on two levels and direct access to the ocean.
Designed in the same elegant style as the Beach Villas, they are attached to the main island by wooden walkways.
Large spaces, beautiful outdoor terrace on 2 levels with deckchair, umbrella…
Extra small luxury : a net-hammock stretched over the ocean awaits you for a delicious nap!
The lucky ones will also have at their disposal a swimming pool, in addition to the Ocean!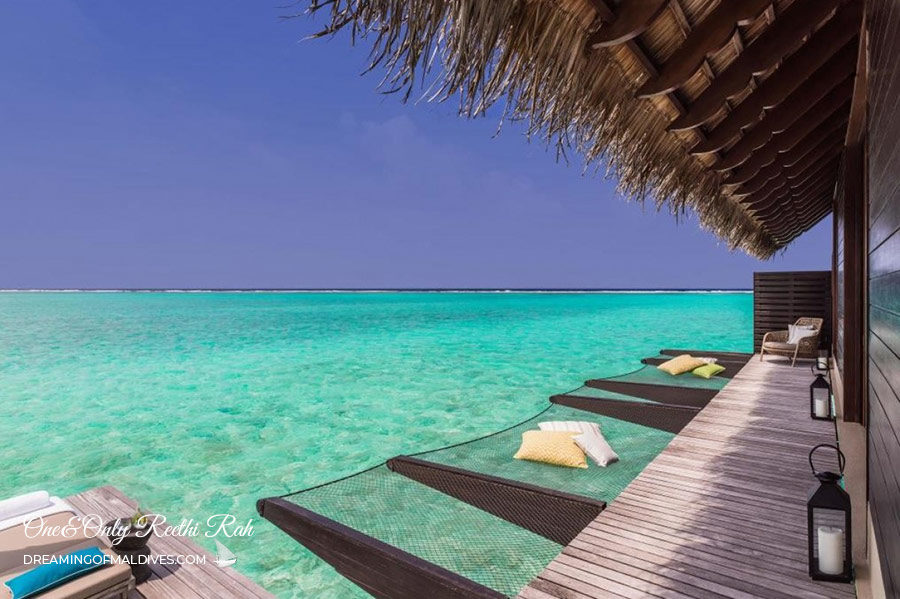 Water Villas also exist in XXL super Luxury format in the Grand Water Villas, with even more services, amazing spaces and items .
One & Only Reethi Rah. Bars and Restaurants
Bar Lounge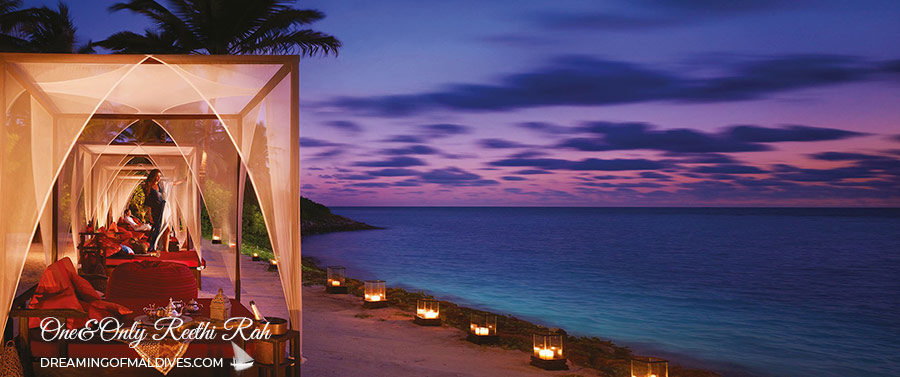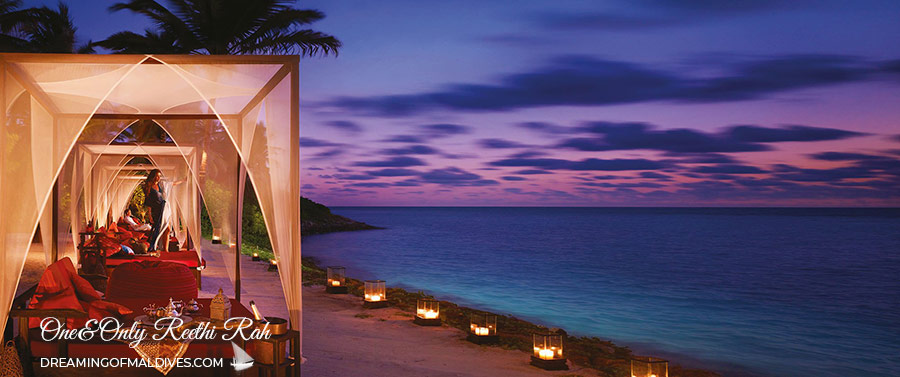 The Resort boasts 2 bars and 3 restaurants spread at idyllic spots around the island.
Reethi offers Asian and Mediterranean cuisine in a refined setting, Tapasake combines sea views and divine Japanese recipes, and finally the wonderful Lebanese restaurant, the Fandihta, embellishes with its sweet scents the north of the island and offers a typically oriental charm.

In the heart of the island, a restaurant with organic concept, the latest opened, "Le Botanica" offers a new cuisine where vegetables, herbs and other are freshly picked from the garden. Local products and catch of the day are honored.
Botanica Restaurant at Only Reethi Rah Maldives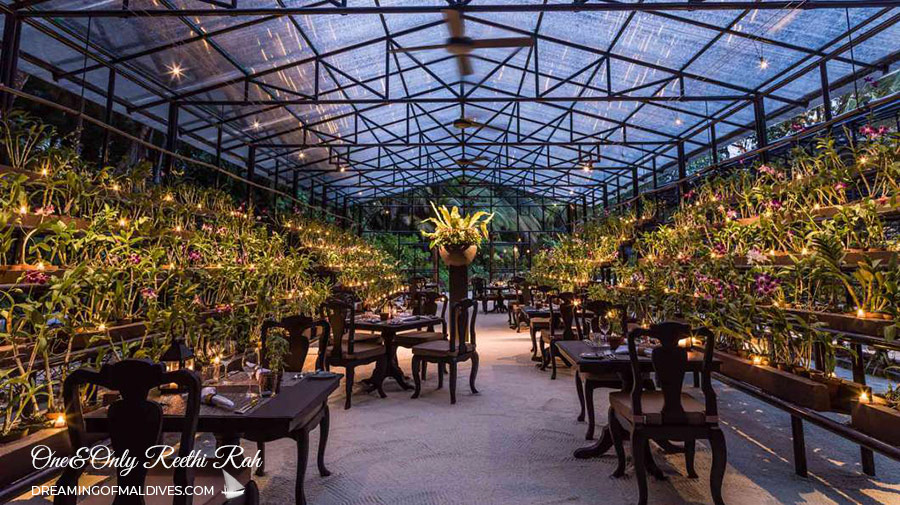 For lunch, 2 options are possible: light lunch (grilled meats, salads …) feet in the sand at the "Beach Club" or lunch at the Italian restaurant "Rabarbaro". This one offers a selection of fresh pasta, risottos and pizzas over a wood fire.
One & Only Reethi Rah. The Spa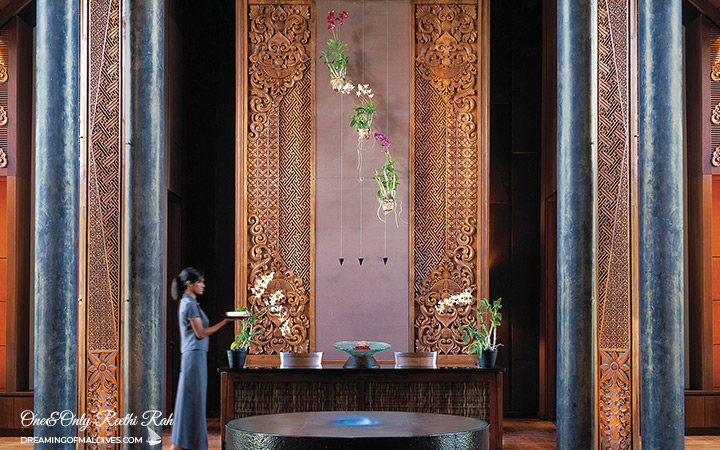 Voted "Best Overseas Hotel Spa of the Year" for 3 consecutive years, One & Only Spa, spreading over 13,000 m2, enjoys spectacular ocean views and boasts eight treatment villas each nestled under its own thatched roof.
Two overwater suites (double cabin) are ideal for couples. The expert hands of the staff offer moments of intense relaxation, as does its steam room and Jacuzzi.
The hotel's two pools and their misting and lending service are also part of the luxury of the place.
The Spa offers personalized treatments based on Ayurvedic traditions. You will also find a spa pavilions by the beach to complete the trip. At your disposal, an Hairdresser and barber for men will take care of the final touch.
One & Only Reethi Rah Photo Gallery
The Beach in front of the beach Villas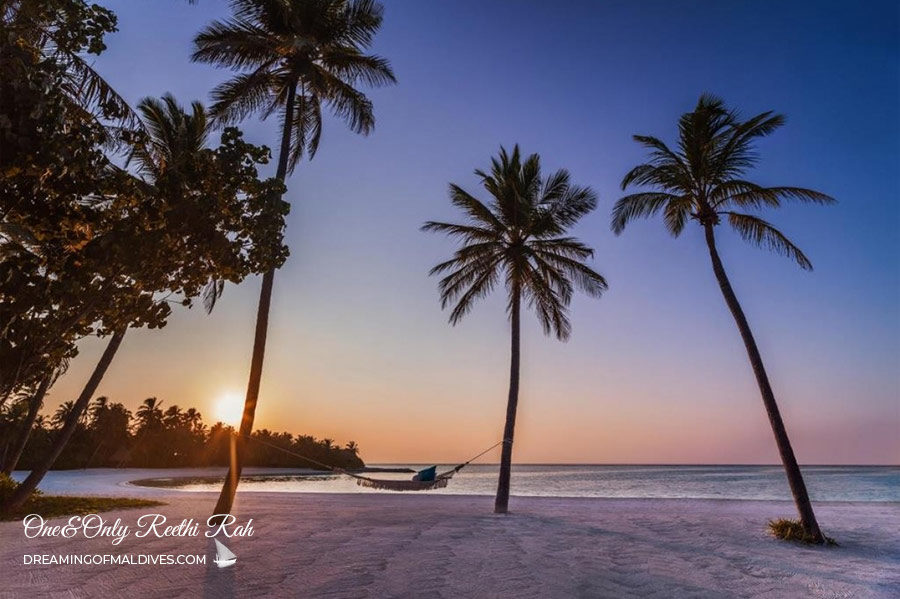 Water Villa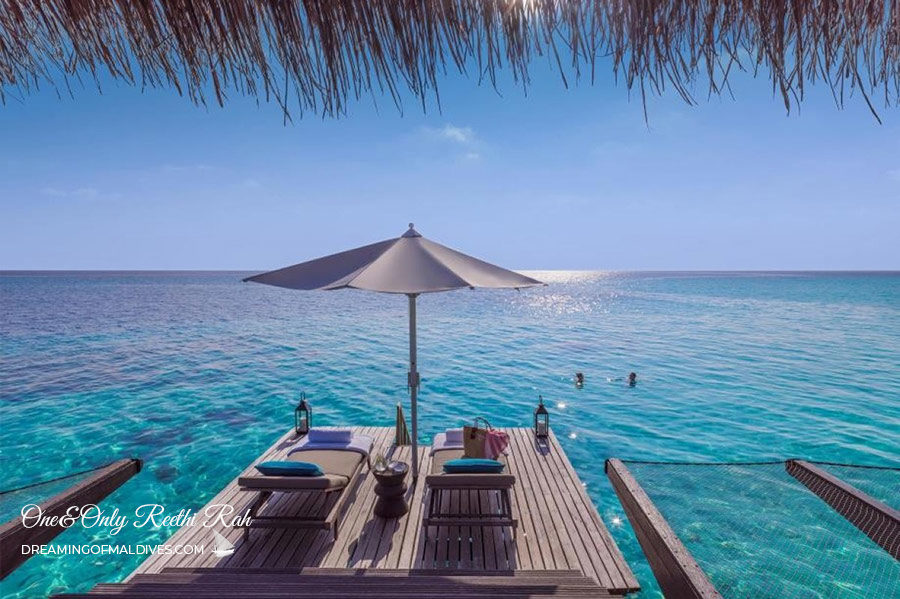 Grand Beach Villa with Pool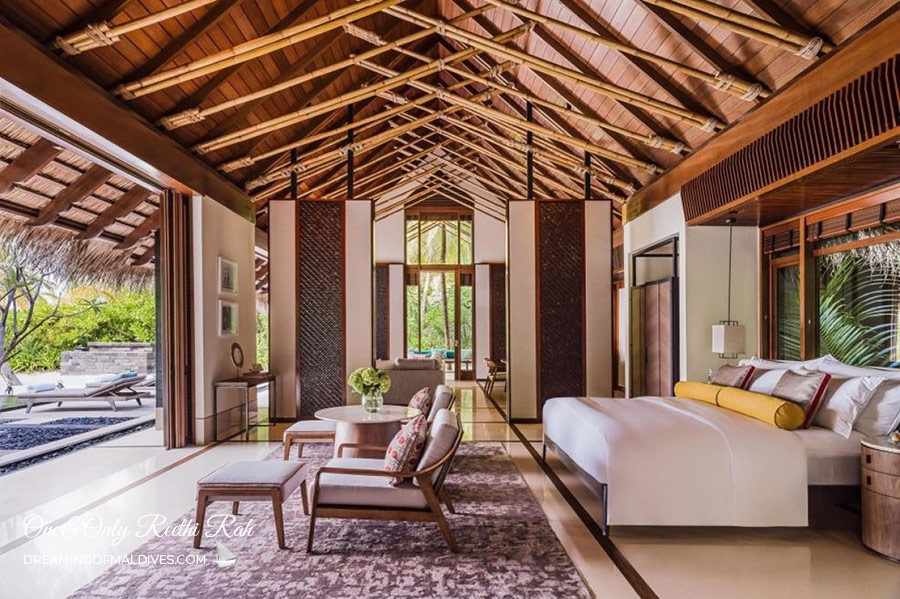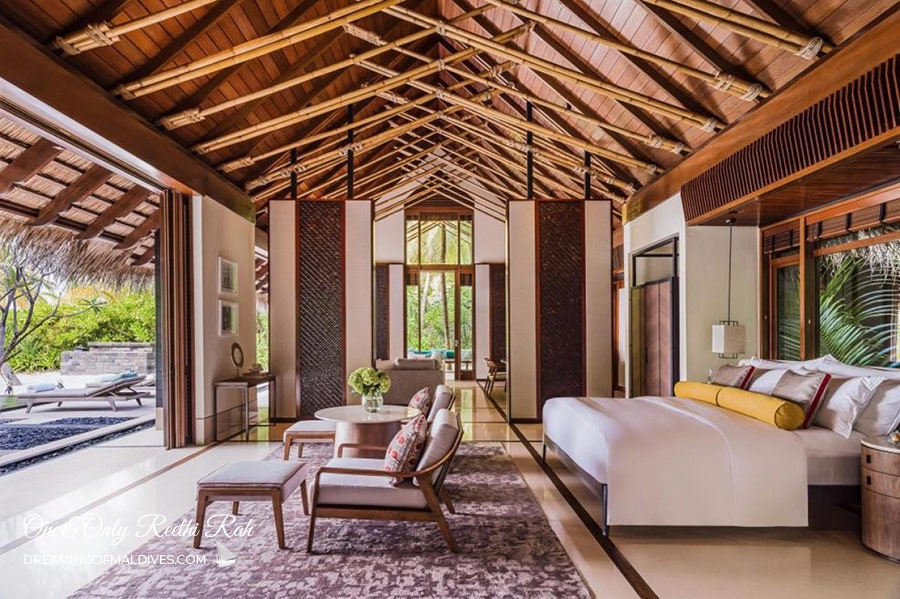 Reethi Restaurant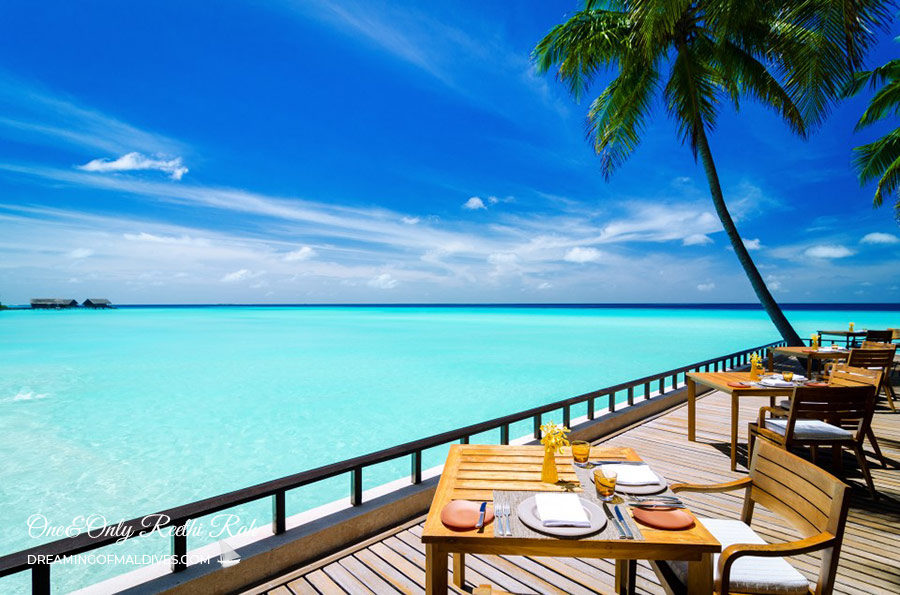 Grand Water Villa with Pool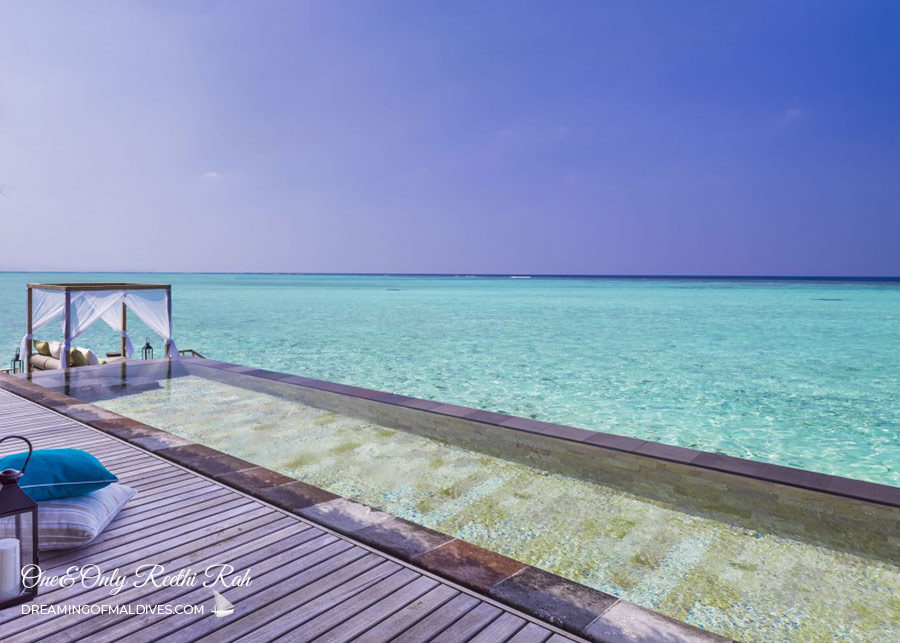 Villa Bathroom
Fitness on the beach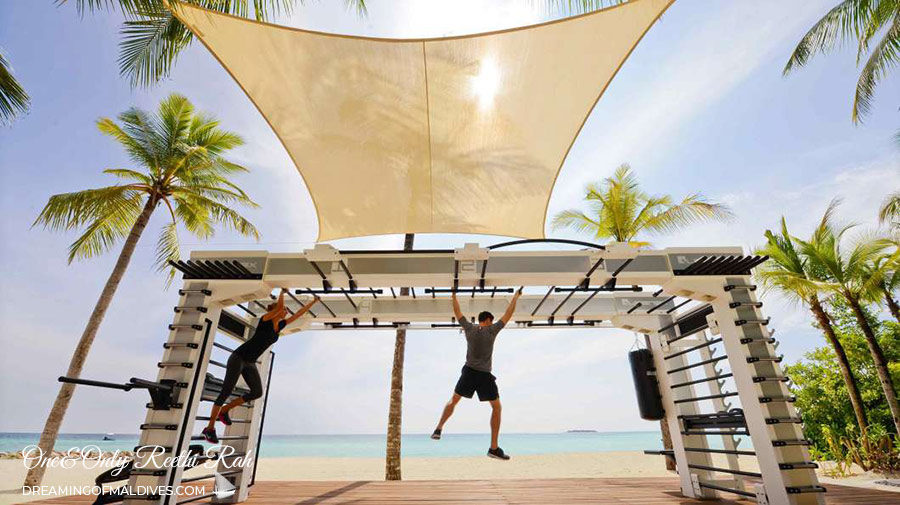 Botanica Restaurant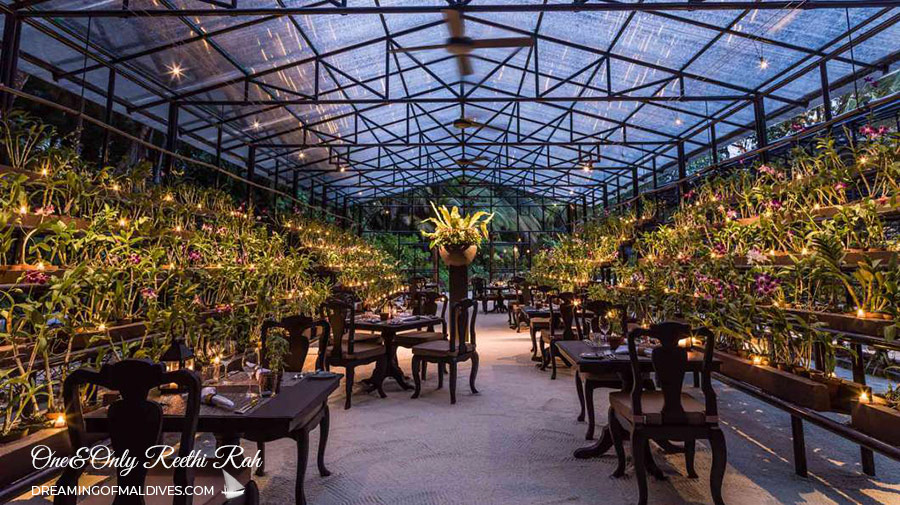 Grand Sunset Residence at One & Only Reethi Rah Maldives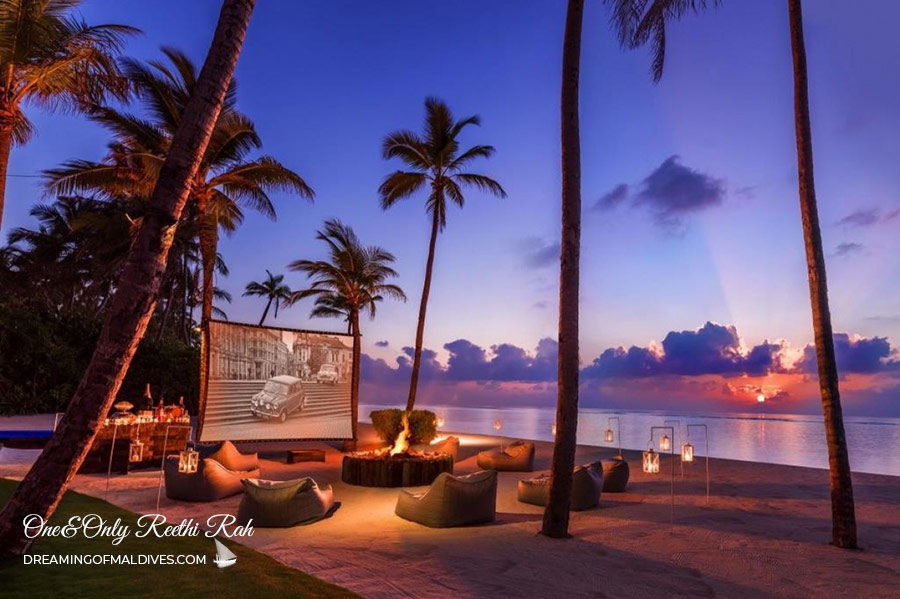 CLICK TO ENLARGE