For those who are wondering if it is safe to travel to Maldives during Covid, I give you here a complete view at how it is to travel today to the Island Kingdom with everything you need to know about cancellation fees, on-site measures, flexible reservation policies offered by hotels, health protocols, PCR tests, arrivals and departures and everything in between…
Maldives Hotels & Resorts, Airport and local authorities follow a long list of safety rules to make the destination a safe place to travel.
---
LATEST MALDIVES TRAVEL NEWS \ feed
. The Maldives have been removed from the UK's quarantine list
UK travelers don't need to stay in quarantine anymore since October 25th 2020.
. Tourists can now split their stay between resort, hotels, guest houses and live aboard boats, with prior approval as per split-stay procedure/ guideline by Ministry of Tourism.
---
The destination has been welcoming tourists for 2 months now.
As the situation is changing fairly quickly and favorably thanks to these numerous safety rules and travel options, the Maldives stand as a very safe place to travel.
Let's take a full look at the events, on-site protocols and measures.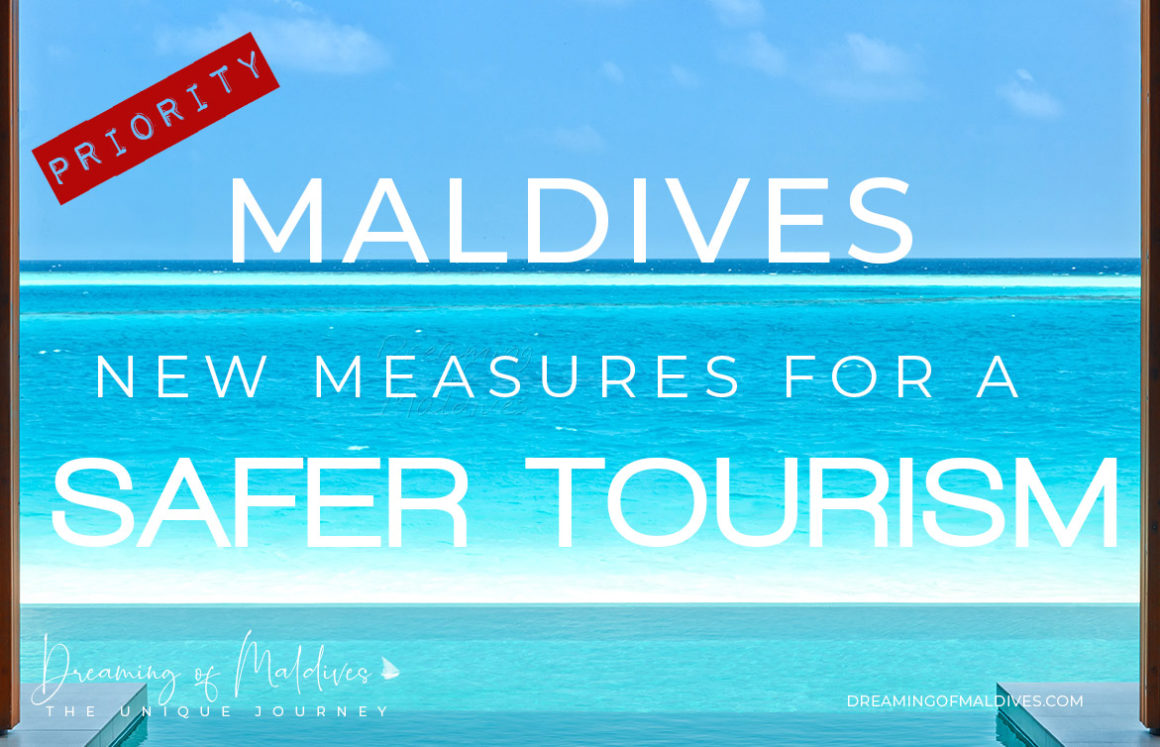 In response to the Covid-19, the Maldives have implemented new protocols and measures together with the major International Health and Tourism organisations as well as Airline Companies. At the same time, many resorts are offering flexible cancellation and change policies, just as commercial airlines have done.
In a COVID-19 world, until a permanent solution can be found, traveler expectations have been forever changed.
There has never been mass tourism in the Maldives, and in this time of Covid, isolation is more than ever absolute and total.
Guest privacy is a top priority, therefore space, seclusion and exclusive services are just "basics" already applied for years.
YOU WILL FIND USEFUL LINKS AT THE BOTTOM OF THE PAGE.
Travel safely to the Maldives. A Complete guide on the new standards and on-site measures
The Maldives, whose economy relies primarily on tourism, have been hit hard by travel restrictions due to COVID-19. A safer tourisme is a priority for the destination.
Since the beginning of the crisis, the Maldives have worked very early on implementing various measures to safely coexist with the virus in order to restore traveler confidence .
1 / Strict protocol measures.
Hygiene Protocols are mandatory for all tourist establishments in the Maldives.
The Maldives have implemented a series of strict protocol measures.
Hotels and guest houses have worked closely with local authorities to define rules and measures based on the guidelines of the WHO (World Health Organization) and UNWTO (World Tourism Organization) .
In conjunction with these tourism security guidelines, a long series of measures aimed at tourist establishments and travelers have been put in place from the beginning of July 2020.
During this long period, hotels, guest houses and safari cruise ships had to fully adapt to these various measures in order to be able to claim to reopen after government approval.
2 / The Maldives officially stamped as Safe to Travel
The Maldives have been added to the list of the 40 safest countries to travel during Covid-19.
To date, only 40 countries have received the Safe Travels Label. The Maldives were added to this list on September 18th 2020.
The World Tourism and Travel Council (WTTC) recently recognized Maldives efforts to implement health and safety measures in accordance with their global protocols on traveler safety. The Maldives have been recently stamped as a Safe Destination for Traveling with the new Safe Travels Label in effect all over the world.
Safe Travels Label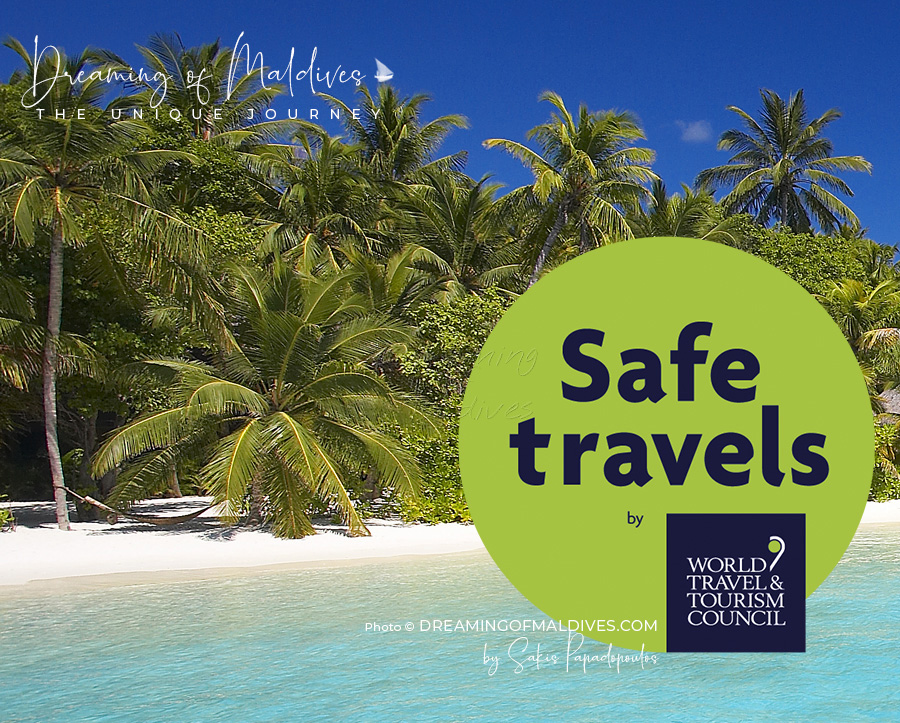 With this new label, the Maldives are added to the list of the 40 safest countries to travel during the Covid-19.
Read the Maldives Safe Travels Label for more information.
3 / The control of Maldivian authorities for any tourist establishment reopening
Hotels Resorts and Guest House reopenings are only authorized after verification by the local authorities.
In Maldives, no tourist establishment is allowed to reopen if it does not receive an authorization from the government. This is valid for resorts, hotels, guest houses and safari boats.
Each establishment has had to rethink its mode of operation and adapt its standards.
Among many basic and mandatory measures such as wearing a mask and applying the rules of distancing in the different parts of the structures, each establishment had to include rigorous disinfection procedures, train its staff to learn the new equipment and protocols, have a resident doctor… the list is long and exhaustive.
Read the full list of measures taken in the Maldives for more information.
For months, the Maldivian government has been visiting each establishment to verify and ensure the implementation of this new protocol.
An authorization to open is granted if and only if the entire protocol is followed to the letter.
List of establishments authorized to reopen after inspection by the Maldives Ministry of Tourism and authorities. This list is constantly evolving.
+ CLICK ON THE DOCUMENT TO SEE THE COMPLETE LIST (PDF)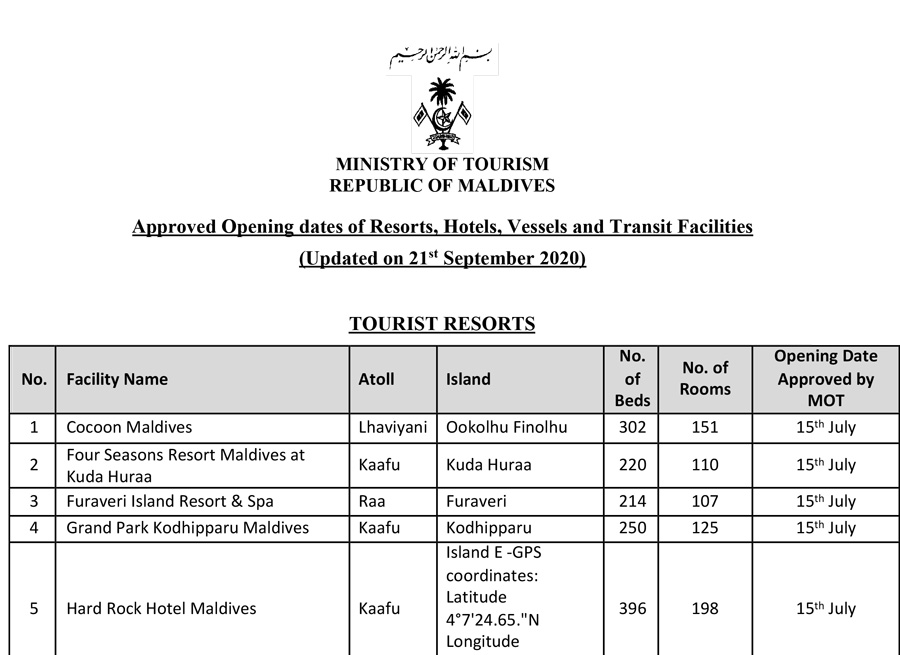 With more than 160 Resorts, hundreds of safari boats and guesthouses, it is not hard to see why this process takes time.
See the list and chronology of reopening dates of all Maldives Resorts for more information.
4 / A Partnership Strengthening with airlines flying to Maldives
Safer arrivals on Maldives territory
Airlines have also modified and adapted their measures before taking-off and onboard with strict health conditions monitored by IATA (International Air Transport Association).
Special covid hygiene kit given to all passengers before boarding an emirates flight at Dubai airport.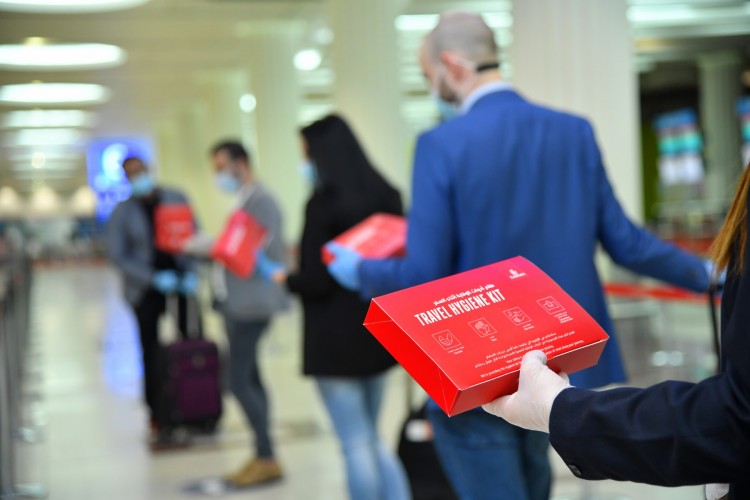 The International Civil Aviation Organization (ICAO) has closely worked with many governments to adopt a common and harmonious global approach to control the health system.
The Maldives have also helped to make arrivals on the territory safer and more fluid.
The new health and safety measures at Velana airport in 3 photos.



IATA measures
At the beginning of the pandemic, IATA quickly implemented a series of measures aboard aircrafts and at airports, the main measure being :
A health declaration on arrival at the airport
Passenger temperature controls
Mandatory mask at the airport and on board
Distribution of prepackaged food to limit contact
Disinfection of the aircraft
Limitation of the number of cabin baggage and expedited baggage delivery.
A very effective air filtration system in aircrafts which catch 99.99% of particles, including viruses like COVID-19.
Read my article on How is to fly with Qatar Airways and Emirates to the Maldives with the new rules onboard to find out more.
Visit Maldives general information before flying to Maldives and at airport arrival.
Which airline Companies fly to the maldives during covid?
As a result, after 3 months of closing their borders, the Maldives once again welcomed their first travelers on July 15th with a Qatar Airways flight from Doha, followed the same day by another commercial plane from Colombo, Sri Lanka.
Today, if the number of international flights has not yet reached the pre-COVID era ( will it again one day ? ), many international airlines arrive every day in the Maldives, bringing thousands passengers per month.
The main and first airlines offering flights to the maldives
Qatar Airways and Emirates remain the major airline companies flying to the Maldives with almost daily flights from Doha and Dubai.
Qatar Airways on the tarmac at Velana airport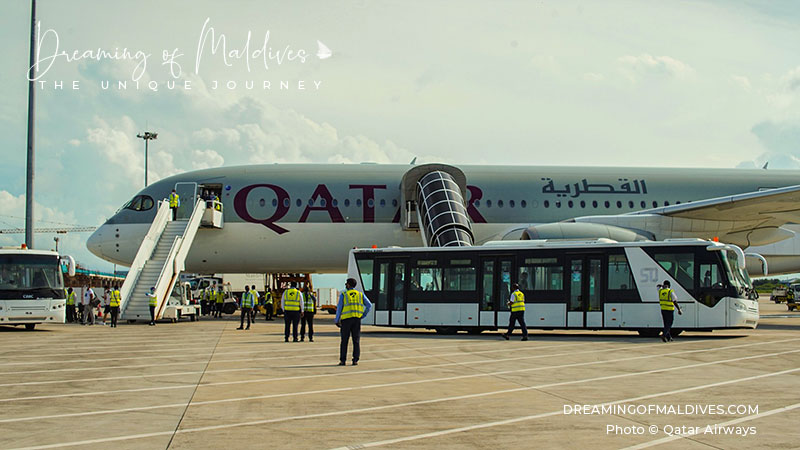 Other airlines have resumed their flights too ( mostly with a stopover in Doha) to the Maldives such as Iberia, Finnair, British Airways , for the main ones.
Air India and S7 Airlines (from Russia), have also resumed their ( direct / non-stop ) flights.
Edelweiss (Switzerland) relaunched their flights with a non-stop trip between Zürich and Malé this past sept, 26th.
Other airlines will follow from October like Flydubai announced to cfly again to Maldives on October 27th.
The list will continue until the end of the year and beyond.
5 / Airlines offer flexible ticket cancellation and modification conditions
If you want to travel to the Maldives but are wondering about the validity of your ticket and the penalties applied in the event of cancellation or modification, be at ease.
The majority of airlines now offer adapted conditions for ticket cancellation or modification.
You have now more flexibility to reschedule your trip when you are ready to travel again.
If you fly with Emirates and Qatar Airways you can:
Keep your ticket option.
Request a travel voucher
Be fully refund
Read Cancel or Modify Your Maldives Trip Without Worries to learn more.
Before you arrive in the Maldives. What you must Know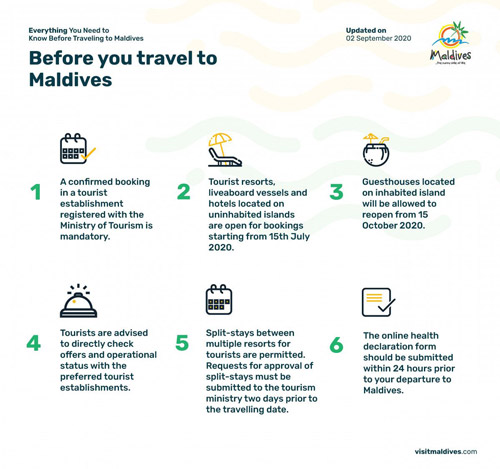 Departure from Maldives. What you must Know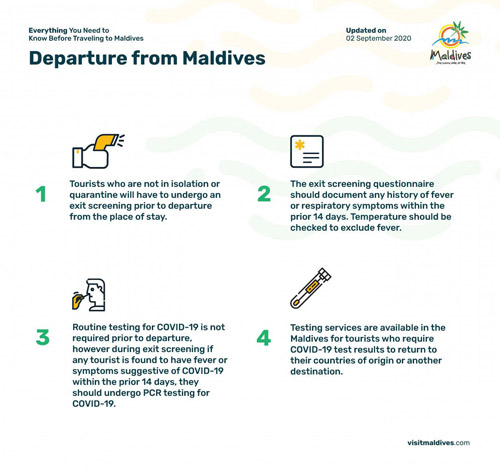 6 / a mandatory health declaration and negative PCR test before arriving in maldives
A NEGATIVE Covid-19 test is mandatory to travel to the Maldives
The Maldives Ministry of Tourism announced on September 02nd that all tourists and short-term visitors should present a negative COVID-19 test upon arrival at the airport.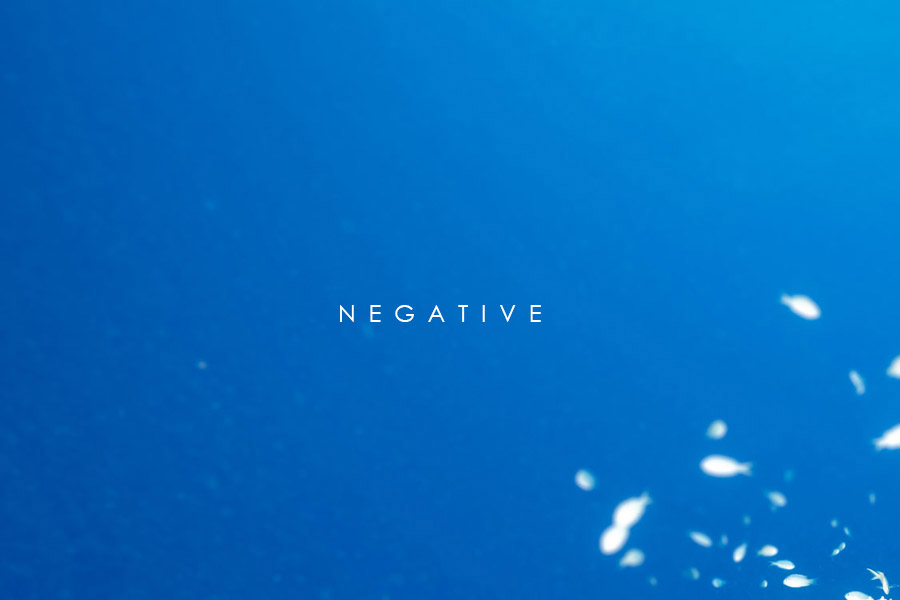 This measure, as complicated as it is due to the short time limit (72 hours maximum before arrival on the territory) is an additional protection to the spread of the virus in the Maldives.
Read the News : The Maldives require to present a negative test for COVID-19 at arrival to find out more.
A mandatory health declaration to be completed before leaving for the Maldives
Do not forget to complete your health declaration form with the Maldivian authorities by completing the online document which is also mandatory.
The Online Traveller Health Declaration form to be filled up before your arrival in Maldives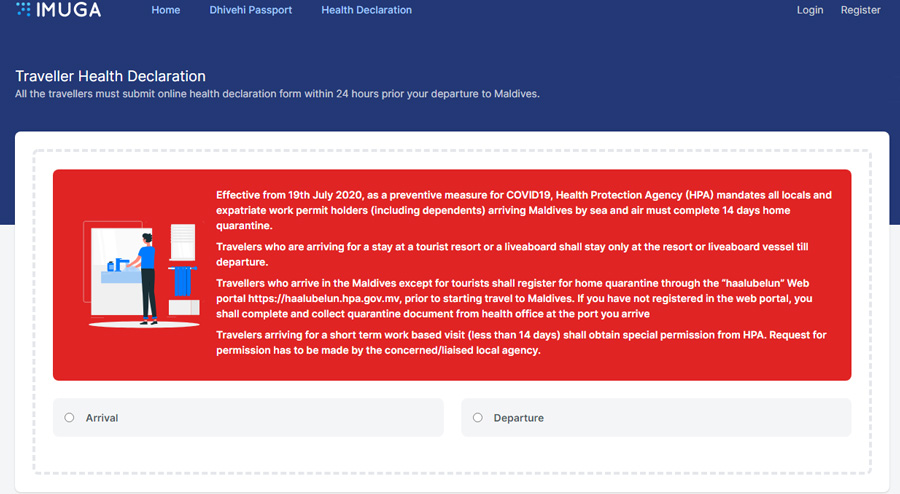 Read the official announcement from the Maldives Ministry of Tourism for more information.
What Hotels do to make Maldives a safe destination to travel.
All resorts offer near-autonomous villas fitted with butler, in-villa meals, spa treatments, Chef on request and basically whatever you wish for.
There, you can live in complete seclusion and isolate yourself from the rest of the world.
The Maldives are scattered over the ocean, isolated from each other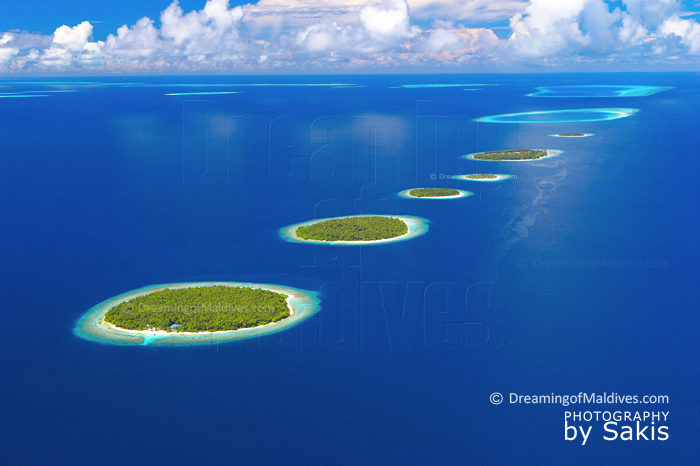 More than ever before, luxury resorts make sure that guest arrivals and departures at Velana International Airport are as secure and sophisticated as possible. Procedures and services have also been completely redesigned.
Soneva's Privatized Seaplane in Maldives

The St Regis Vommuli Bentley limousine service at airport insures the transfers for guests staying in of the resort Mansions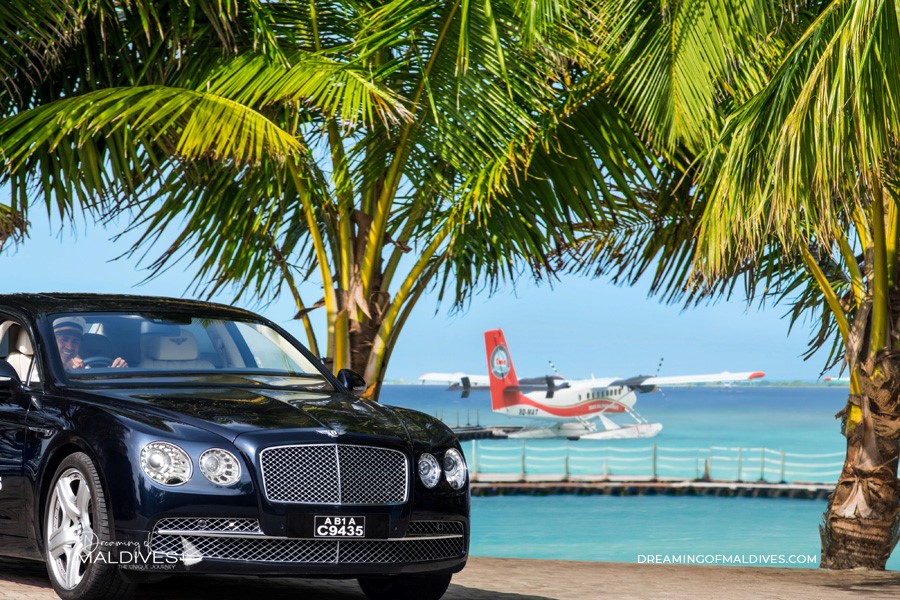 A long stay in Maldives, far away from everything and everyone…
In Maldives guest privacy is a top priority. Therefore, space, seclusion and exclusive services are just the "basics" applied. Exceptionally secluded and private, these villas are perfectly designed for long stays.
Interiors are spacious and equipped with a kitchen, several bedrooms, one or living rooms and bathrooms, sometimes a cinema, a gym, a spa…
Read more : The most exclusive Maldives resorts for total isolation.
The Maldives boast some of the most extraordinary Mansions and Residences in the world designed in various architectural styles for all tastes : Miami Modernist architecture, Robinson Crusoe style, signed by international designers, tropical style…
Stay in a secluded Residence
The perfect example of ultimate seclusion is Gili Lankanfushi's Private Reserve, the world's largest water villa with its 1,700 m2, located at 500 meters away from the island and accessible only by private boat.
The World's largest Water Villa : The Private Reserve at Gili Lankanfushi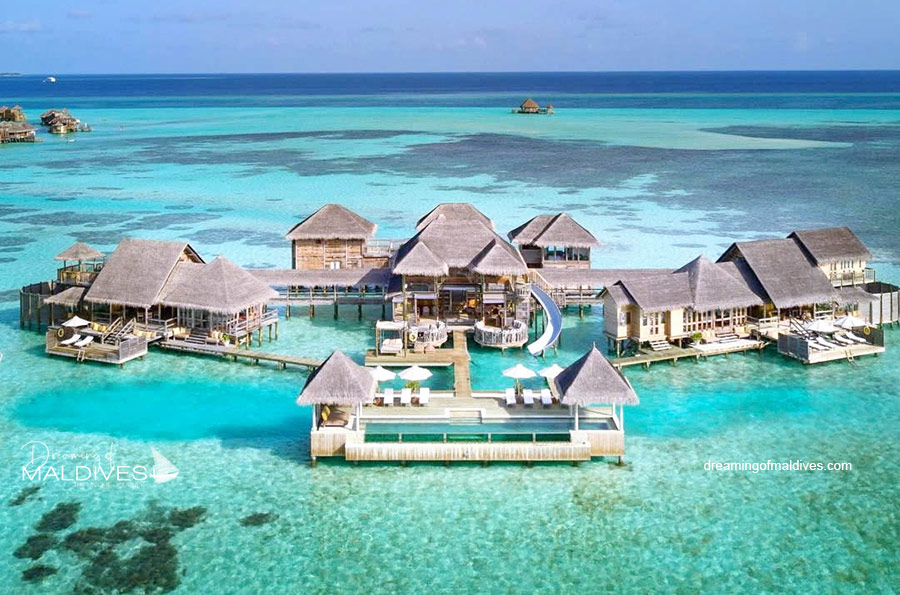 Rent a Private ISland
If these Residences still do not meet your requirements and needs for isolation, the following options will surely make you Dreams come true.
In Maldives, you can also rent an island and make it entirely private.
Coco Privé Private Island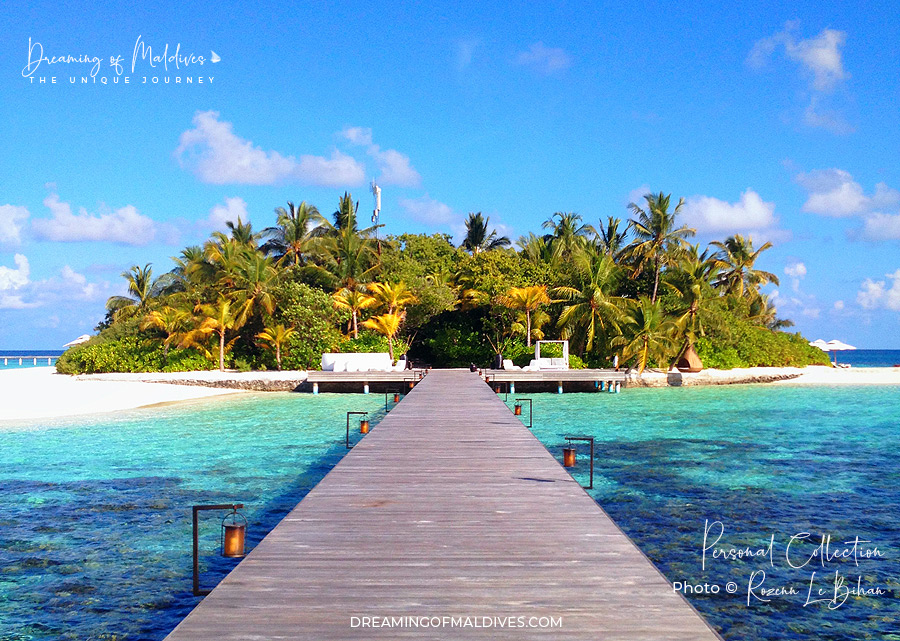 Discover Coco Privé Private Island
Four Seasons Voavah Private IslanD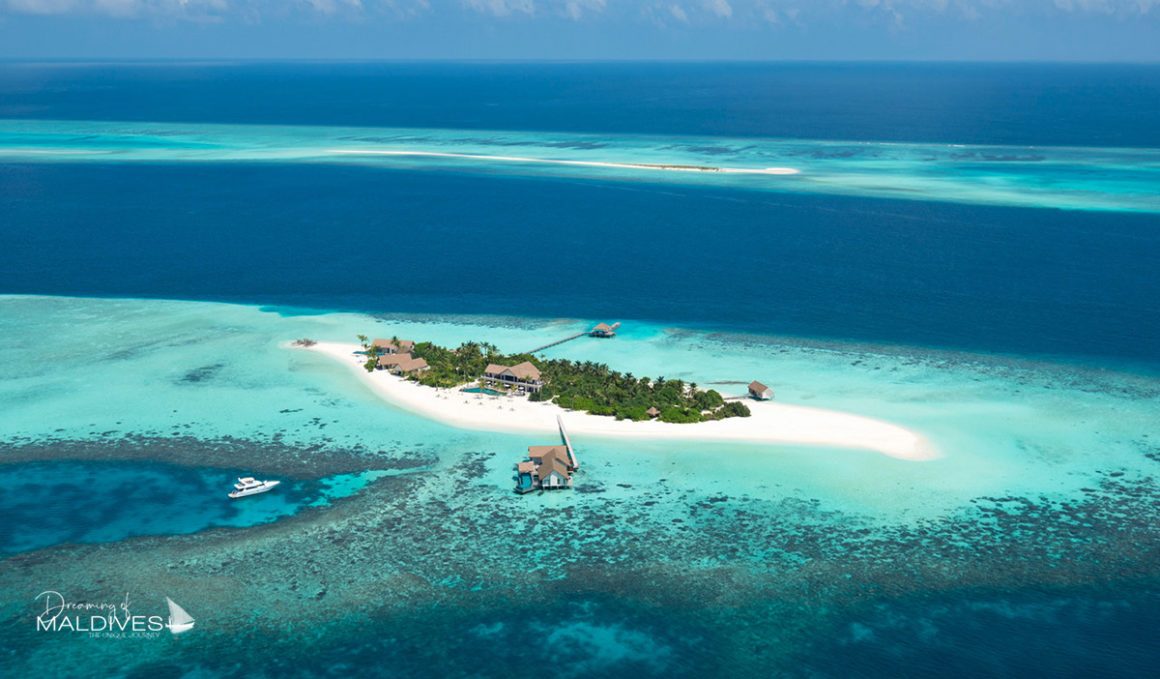 Discover Four Seasons Voavah Private Island
You can also privatize an island if you want to organize your wedding in Maldives.
Hard Rock Hotel Maldives and SAii Lagoon at CROSSROADS Maldives recently started to offer this option to provide total safety and privacy to the married couple and their guests.
Learn more about Renting an island in Maldives to get married.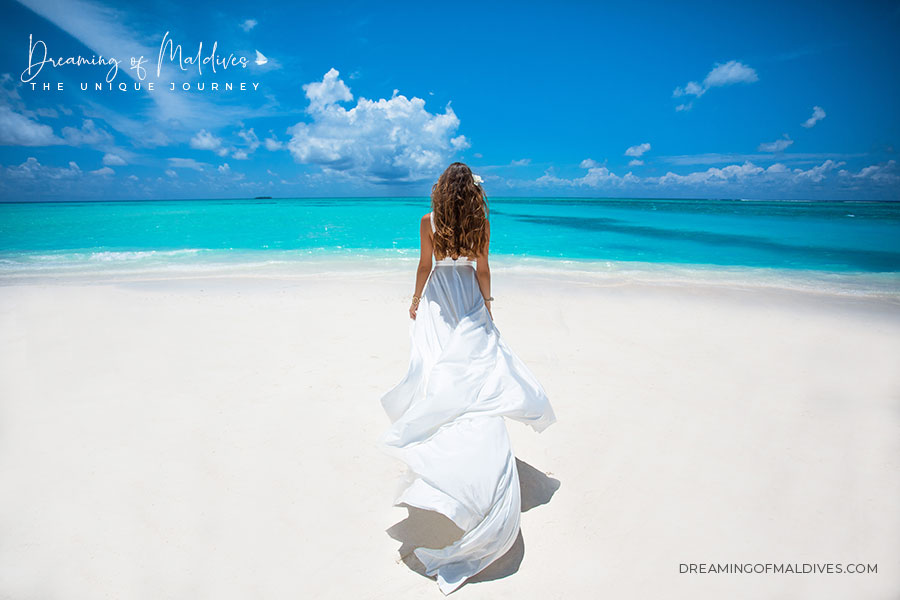 Resorts offer Safety for guests and staff
Maldives resorts make every possible effort to ensure that their guests live a peaceful and safe stay by providing health checks to everyone, strict protocols and flexibility in their booking policies.
These resorts require all their employees to undergo regular temperature checks, such as Milaidhoo or Amilla Fushi . This measure is in the process of being extended to many hotels.
Discover Amilla
The Nautilus offers free PCR testing to all of its customers and staff. The resorts helped funding a Covid test center on Dharavandhoo Island in Baa Atoll.
Guests can get there in 20 minutes aboard the resort luxury yacht. This service ( the PCR test included ) is completely free of charges.
The Nautilus Maldives luxury yacht will take you to be tested for free on another island located 20 minutes away from the resort.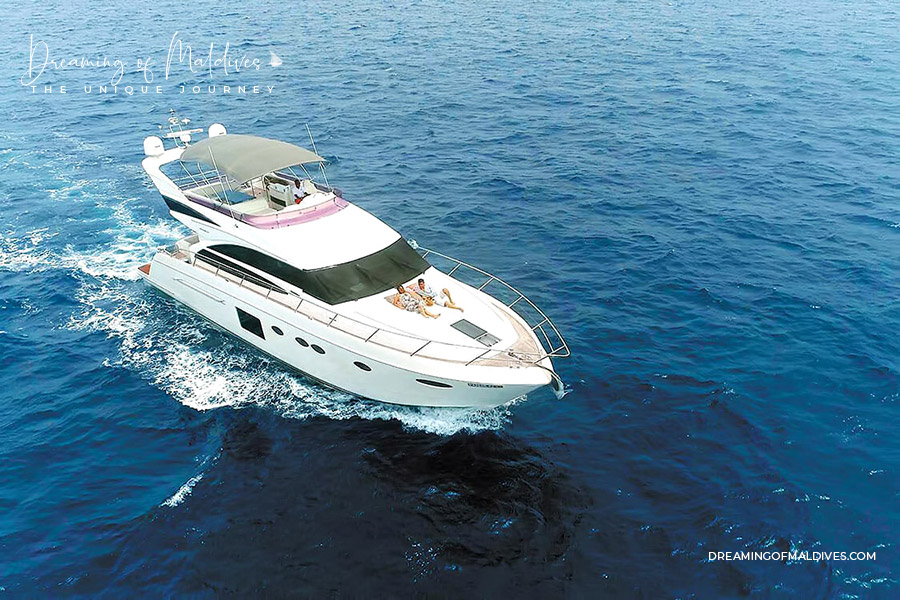 Adapted cancellation and modification fees for customers are now applied
In order to allow travelers to plan their stays with confidence and serenity, some resorts (not all of them and that's a pity) have adapted their booking policies with flexible cancellation and modification conditions for all stays.
Flexible reservation and cancellation policies have ( finally ) been put in place to book hotels and resorts with confidence and serenity.
Please note that these risk-free cancelation policies are not wide-spread yet and offered by some resorts only.
To date, the resorts that offer risk-free reservations are for example and to name a few : W Maldives, the St Regis Vommuli, Raffles Meradhoo, Coco Island by COMO…
Finally, most Maldives resorts, including the most luxurious ones, offer discounts throughout 2020 and sometimes until 2021.
Safe Travels to you dear Dreamer.
© Dreaming of Maldives
Stay informed about the latest and essential Maldives news
Subscribe to my newsletter
To be informed of the latest and essential Maldives Travel news, subscribe to Dreaming of Maldives newsletter. It's free !
To register, enter your e-mail address below and click on "Subscribe":
Contact me
Do you have questions for your next trip to the Maldives ?
I will answer you via our form on the contact page.
You can also contact me via our Dreaming of Maldives Facebook page. Click on "Like the page" and submit your question.
I will answer you within 24 hours maximum.
Useful links
Online health declaration form for your arrival in the Maldives here
General information on the Maldives during the reopening and during the Covid-19 here on the Visit Maldives website
New security measures at Velana airport here