Let's see what Maldives Resorts do to make the destination a safe place to stay during Covid. Welcome to one of the most isolated island destination in the world.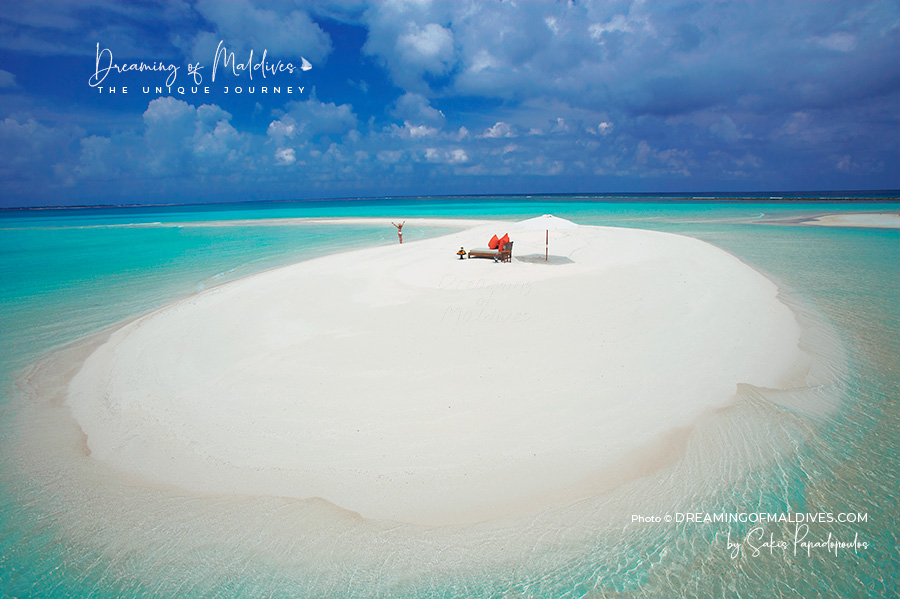 From VIP services to complete isolation, Private Islands and PCR tests, discover what Maldives Resorts do to make your stay the safest as possible.
The Maldives is one of the most isolated destinations in the world. They are secluded by nature.
Is it (still) safe to travel to the Maldives during Covid ?
The answer is definitely yes and here is why.
The Maldives are scattered over the ocean, isolated from each other
The geographical dispersion of the Maldives with resorts located on their own islands, present a naturally protected environment for traveling in a post COVID-19 world where social distance takes priority above all.
For decades, the Maldives have been the perfect image of isolation. A modern Robinson's destination offering ultra luxurious services with some of the world's most exclusive hotels.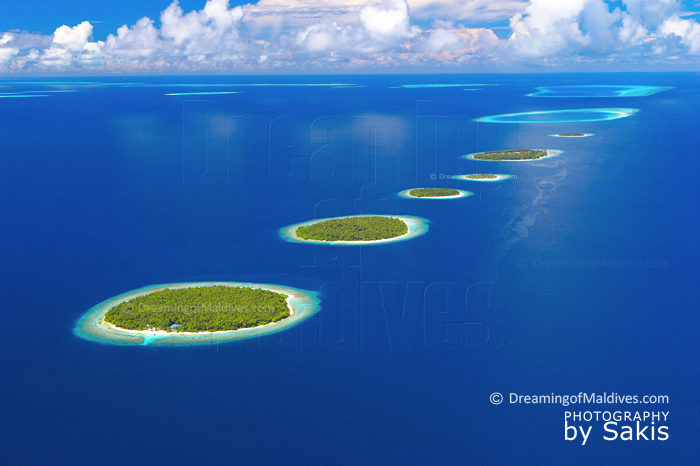 In Maldives, isolation is total.
All resorts offer near-autonomous villas fitted with butler, in-villa meals, spa treatments, Chef on request and basically whatever you wish for.
There, you can live in complete seclusion and isolate yourself from the rest of the world.
What Resorts do to make Maldives a safe destination to travel.
General standards
Guests safety and privacy are guaranteed with a sophisticated service upon arrival at Velana airport. All resorts must follow a strict protocol at arrival. Distanciation, masks, hand sanitization.
Luxury resorts standards
More than ever before, luxury resorts make sure that guest arrivals and departures at Velana International Airport are as secure and sophisticated as possible. Procedures and services have also been completely redesigned.
Secure Welcoming at the Airport and transfers
For example, if you are staying at Soneva Fushi or Soneva Jani , you will be greeted by a member of their airport team and escorted to the company private Lounge. Soneva airport lounge is also equipped with a PCR machine to perform COVID-19 tests.
Distance and masks are mandatory for all staff and travelers.
Soneva's Tesla is disinfected between each passenger arrival and will take you to the seaplane terminal.
Soneva's Privatized Seaplane in Maldives

VIP Services
These ultra-secure transfers are provided by most luxury resorts.
A VIP service is also available on request with a special Meet & Greet service at arrival. Passengers are separately welcomed at the exit of the aircraft and directly escorted to the airport/resort private lounge. A concierge team member assists travelers with baggage handling and immigration procedure.
The St Regis Vommuli Bentley limousine service at airport insures the transfers for guests staying in of the resort Mansions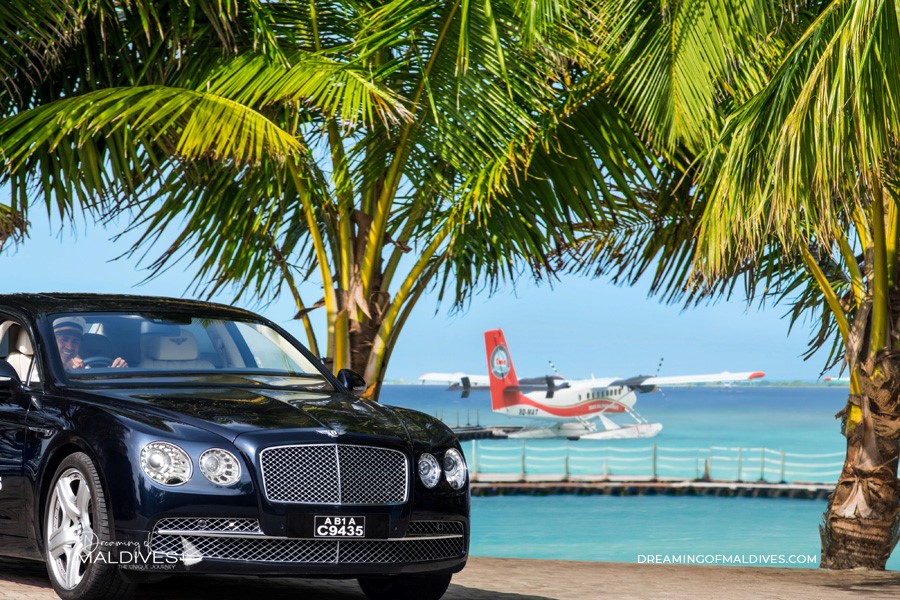 The Possibility to stay in the most secluded Villas.
In Maldives guest privacy is a top priority. Therefore, space, seclusion and exclusive services are just the "basics" applied. Exceptionally secluded and private, these villas are perfectly designed for long stays or holidays with a big family or a group of friends wanting to make a real escape.
Theses Residences feature spacious outdoor areas for dining and relaxation where travelers can truly enjoy the feeling of privacy, luxury, service and seclusion in a safe environment.
Interiors are spacious and equipped with a kitchen, several bedrooms, one or living rooms and bathrooms, sometimes a cinema, a gym, a spa…
Inside the Private Reserve at Gili Lankanfushi Maldives. The dining-room.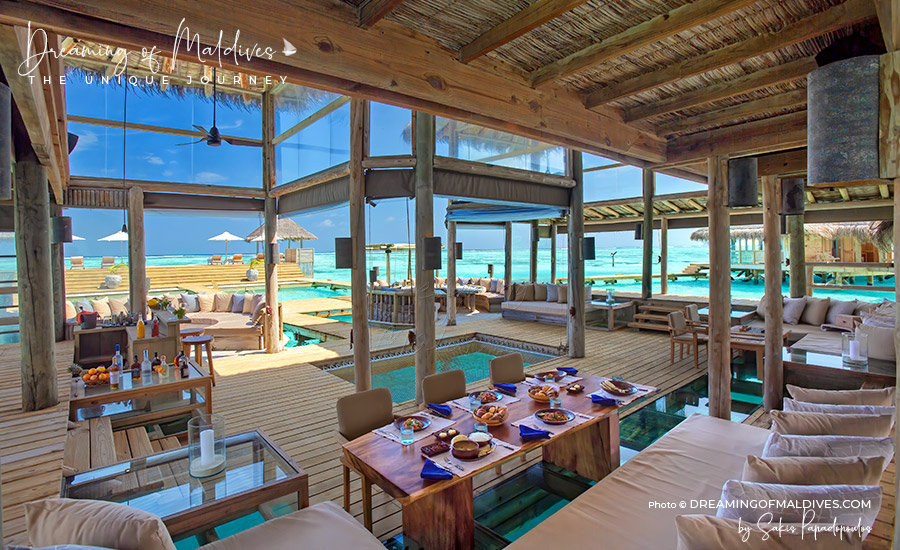 Some of The most exclusive Maldives resorts to stay for total isolation
The Maldives boast some of the most extraordinary Mansions and Residences in the world designed in various architectural styles for all tastes : Miami Modernist architecture, Robinson Crusoe style, signed by international designers, tropical style…
The Miami style Amilla Estate Residence at Amilla Maldives offers ultra luxury features for a perfect hideout in Maldives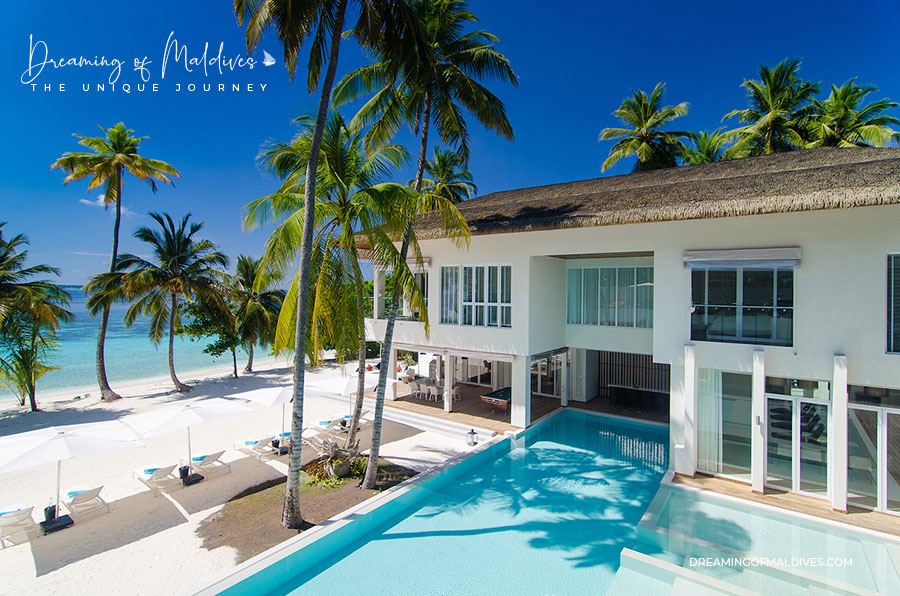 A tropical 3 Bedroom MAnsion at The NAutilus MAldives.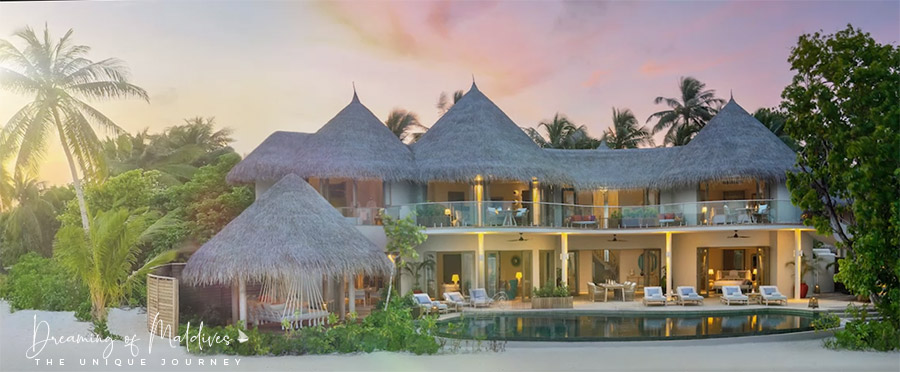 Soneva Fushi Private Reserve, a giant Robinson Crusoe style BEach Villa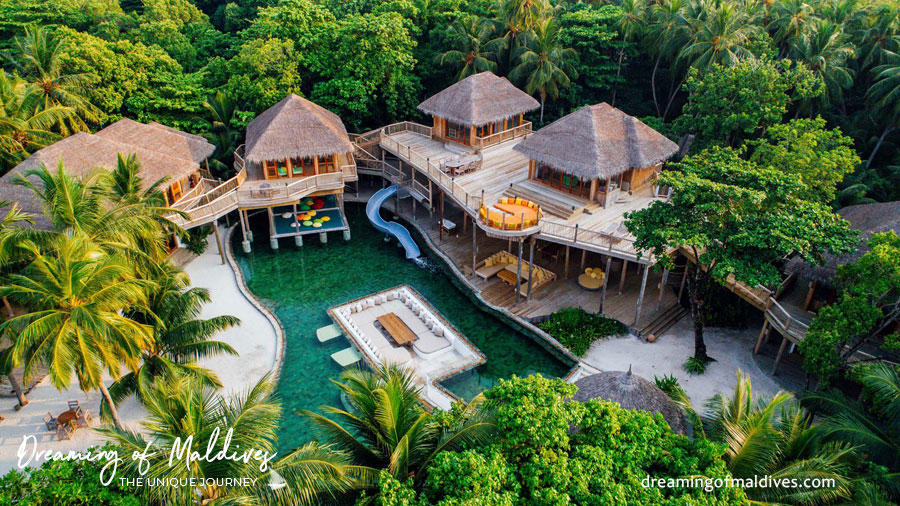 Villa Nika at Velaa Private Island Maldives. A 4 bedroom Designer residence signed by Patricia Urquiola.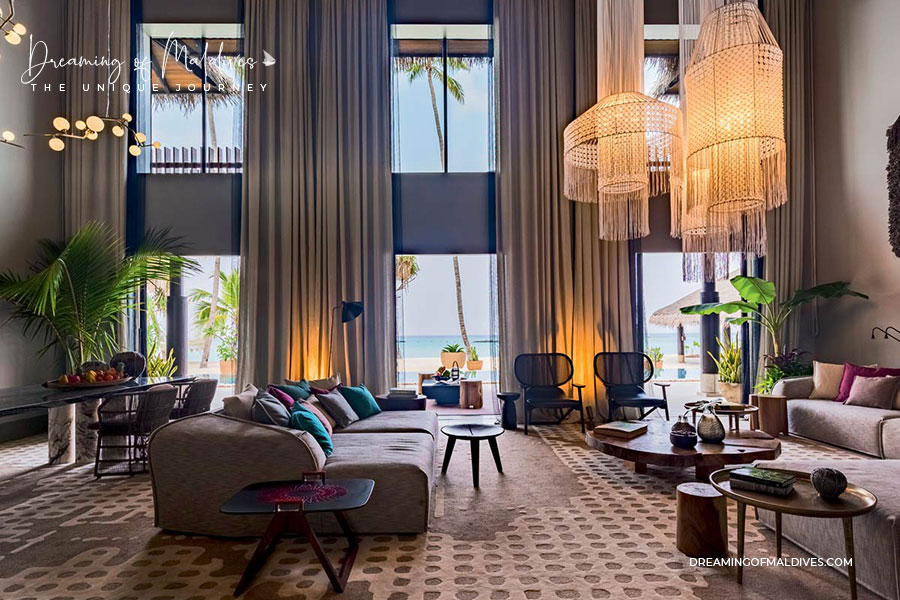 The John Jacob Astor Estate overwater Mansion at The St Regis Vommuli Resort Maldives.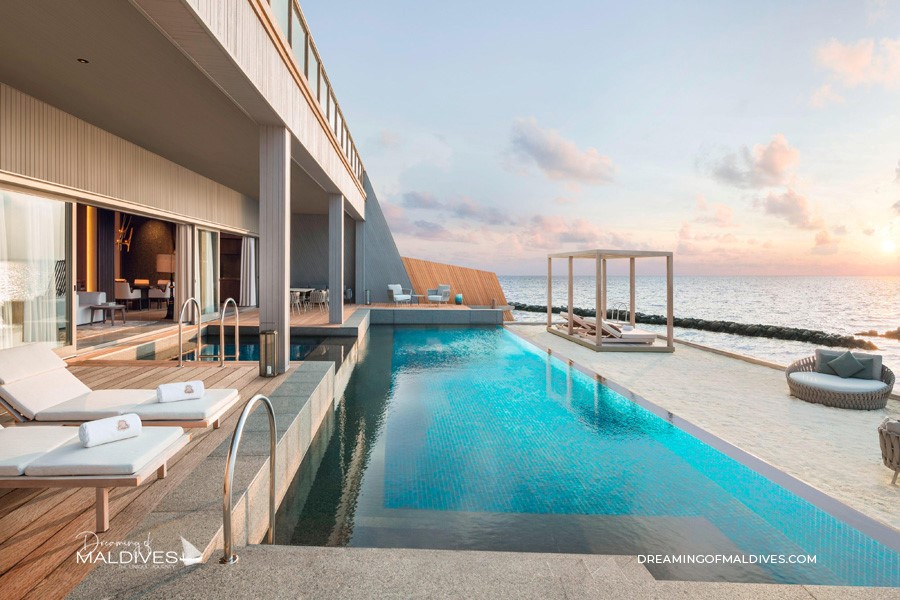 The perfect example of ultimate seclusion is Gili Lankanfushi's Private Reserve, the world's largest water villa with its 1,700 m2, located at 500 meters away from the island and accessible only by private boat.
The World's largest Water Villa : The Private Reserve at Gili Lankanfushi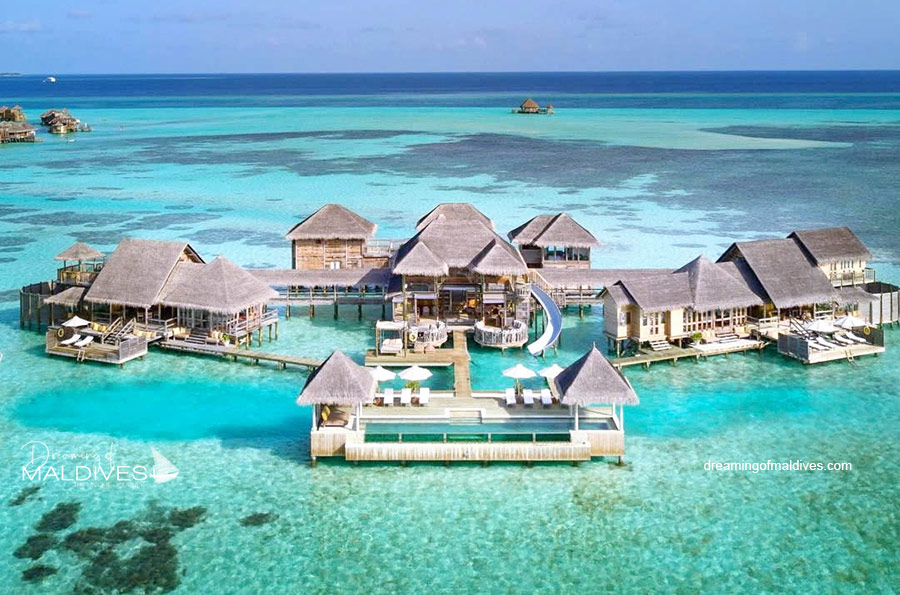 Stay on a Private Island
If these Residences still do not meet your requirements and needs for isolation, the following options will surely make you Dreams come true.
In Maldives, you can also rent an island and make it entirely private.
In Maldives, you have 2 options : Rent a Private Island or transform an island into your own.
Rent a Private Island in Maldives
The first type is a Private Island by Essence. 
The island can only be rented as such and is not open for sale to other guests. Usually very small, it is made up of 1 Master Villa and several separate suites for friends and family. 
Quintessence of the experience, these private islands are ideal for couples, Sophie Turner (aka Sansa Stark in Game Of Thrones) recently chose Coco Privé Private Island for a romantic getaway, or for a small group of 10 to 12 persons maximum.
Four Seasons Voavah Private Island, Coco Privé Private Island or Cheval Blanc Randheli are the dreamiest examples of Private Islands.
Four Seasons Voavah Private Island, Coco Privé Private Island and Cheval Blanc Randheli. 3 private islands for rent in the Maldives in photos
Maldives Private Islands
Kudadoo Private Island is bigger and can be rented for up to 30 people. A Dreamy Place for a group.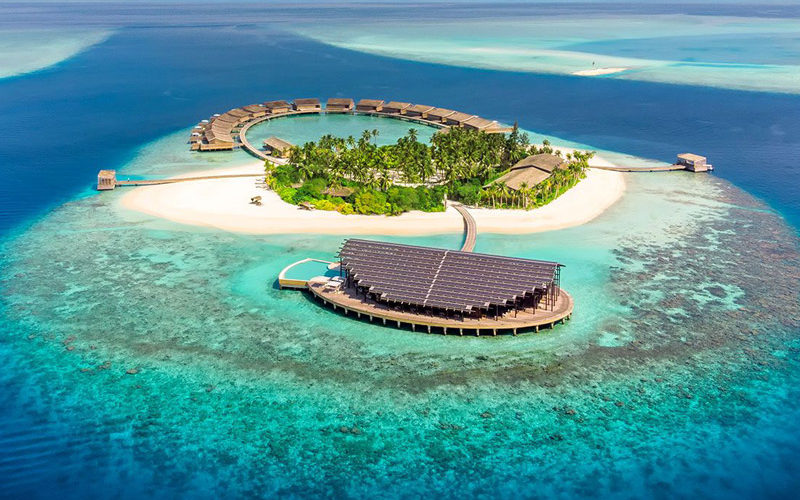 Make an Island totally private
The second is a classic island Resort with several villas which can be fully privatized for you.
Some resorts offer this option like Velaa Private Island or Naladhu Private Island. They both receive usual guests but can also perfectly adapt themselves to a super customized private island experience.
Resorts apply Strict Health protocols
Maldives resorts make every possible effort to ensure that their guests live a peaceful and safe stay by providing health checks to everyone, strict protocols and flexibility in their booking policies.
Hotel staff temperature checks and free pCR tests for guests are provided
Resorts require all their employees to undergo regular temperature checks. The government made it a mandatory measure for all hotels and resorts. This measure is in the process of being extended to many hotels.
Guests do not wear masks
Guests do not need to wear a mask.
With a negative PCR test mandatory at arrival, guests are not obliged to wear a mask once at the resort. From the moment they step in on the hotel jetty, masks can be removed.
Resorts organize exclusive moments to make your Isolation a Dream come true
Small islands like Milaidhoo, one of the smallest ultra luxury resort in the Maldives, limit the number of guests on the island.
Being alone and away from it all on a sandbank in Maldives is surely the most extreme way to isolate yourself.
To be sure that you are isolated from the rest of the world, sleep on a sandbank !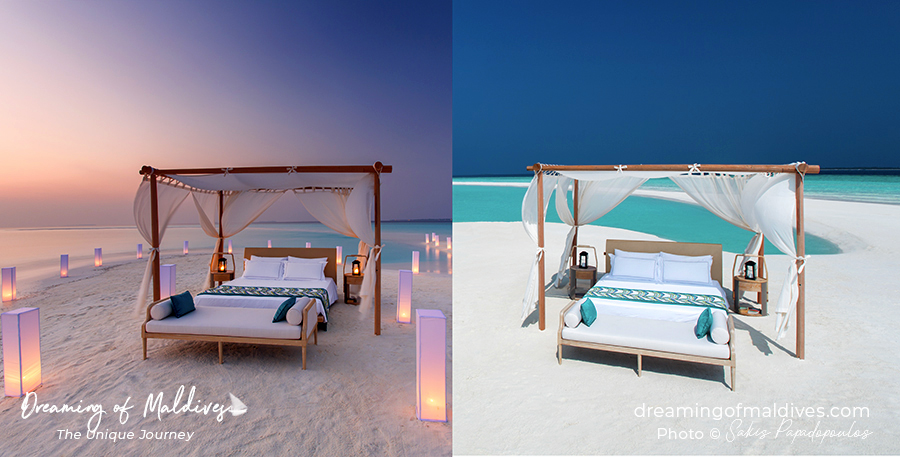 Adapted cancellation and modification fees for customers are now applied
In order to allow travelers to plan their stays with confidence and serenity, Maldives resorts have adapted their booking policies with flexible cancellation and modification conditions for all stays.
Covid-19 in Maldives. Latest posts
Subscribe to my newsletter
To be informed of the latest and essential Maldives Travel news, subscribe to Dreaming of Maldives newsletter. 
To register, enter your e-mail address below and click on "Subscribe":
Follow us on Facebook, YouTube and Instagram for more Maldives stories.
Your TOP Best Maldives Resorts 2023
YOUR CHOICE. YOUR DREAM. YOUR VOICE
[ Official ]
Traveler's Choice
12th Edition