Are you Dreaming of a Luxury and Hip Hideout in Maldives for your friends and family ? Amilla new Residences might be the right place to hide right now. Designed in a superb Miami-esque Beach style, the stunning beachfront properties are some of the biggest and most isolated luxury villas in Maldives.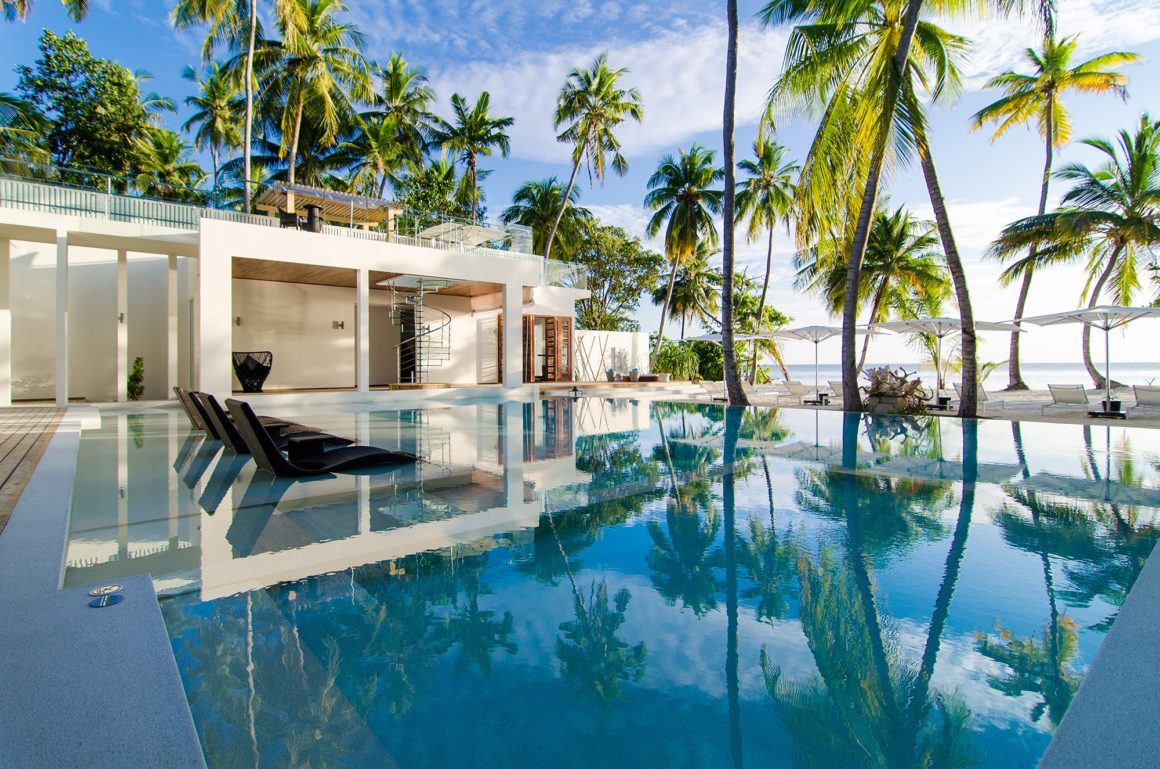 The island whimsical luxury Residences are located on the pristine beaches of the iconic Amilla Maldives Resort and Residences in Baa Atoll, Maldives Unesco Biosphere Reserve.
Amilla Maldives Resort and Residences ( previously called Amilla Fushi ) is nestled in Baa Atoll, just a scenic 30-minute flight by seaplane or domestic flight from Velana International Airport.
The resort is located on a beautiful and long island spanning over 23.5 hectares of lush vegetation surrounded by one of the best house-reef in Maldives for snorkeling.
Amilla spans over 23.5 hectares of pristine beaches and lush vegetation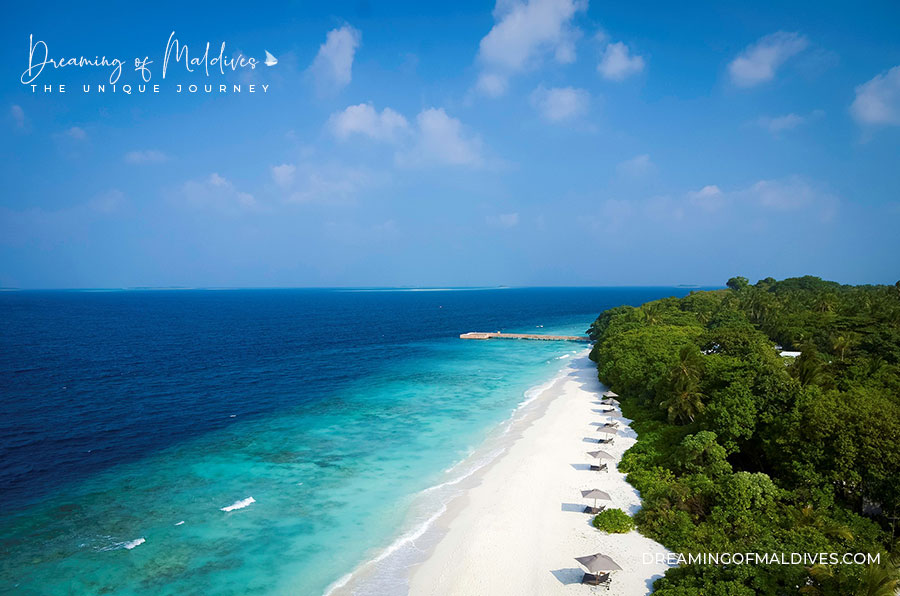 Amilla Maldives. A snorkeling heaven

Amilla's Ocean Reef Houses are located right at the edge of the reef for easy access.
The resort is a snorkeling heaven.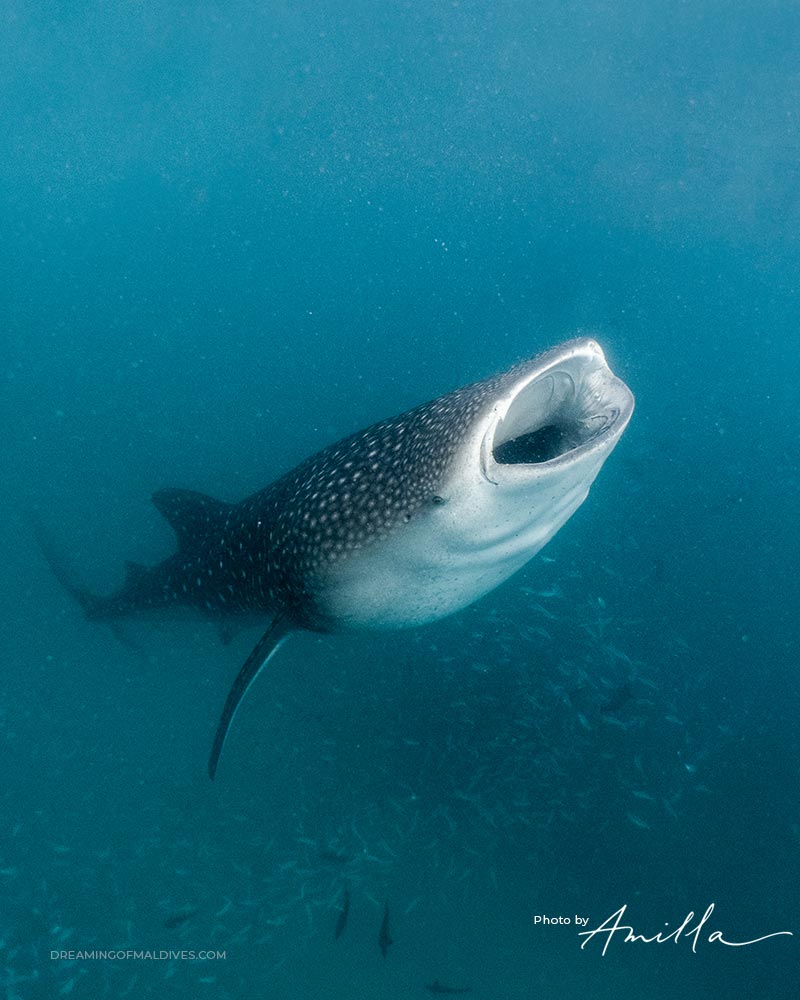 The resort boast 67 contemporary Villas located on the rich island reefs, on the beach and up in the trees with a fabulous Treetop Pool Villa perched at 12 meters above the ground.
Amilla fabulous Tree House
Amilla's palatial Residences are the latest and highest category of accommodation on the island.
The Miami-esque Beach Front Estate Residence at Amilla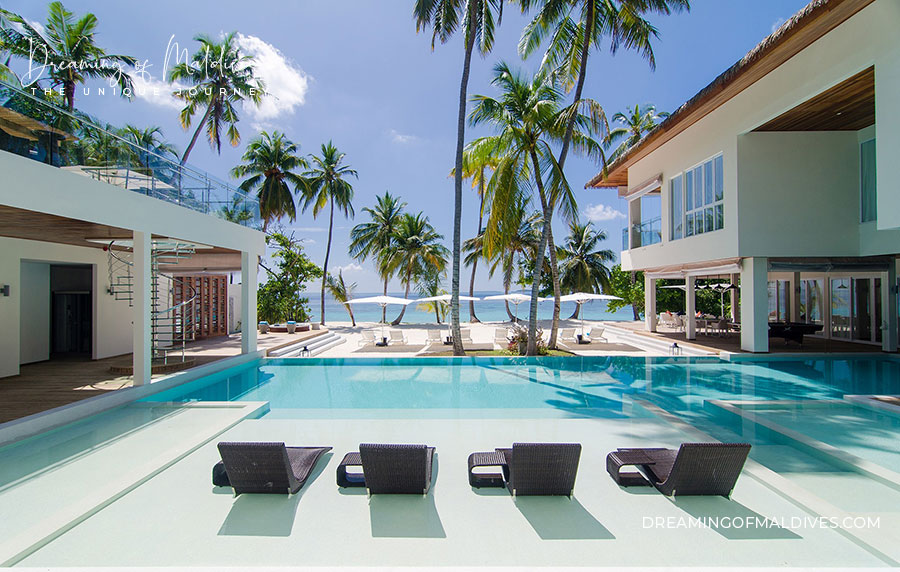 Amilla Maldives Resort and Residences, a unique Miami-esque Dream in Maldives
Amilla Maldives Resort and Residences, previously known as Amilla Fushi, recently re-opened its shores. The island concept "My Island Home" has reached new levels of privacy and design with the opening of stunning Miami-esque Beach style Residences specially designed for friends and families Dreaming of a super stylish Maldivian Escape.
As travellers adapt to 'the new normal', the exceptionally spacious Residences at Amilla Maldives are becoming highly sought-after by savvy guests seeking the ultimate destination for seclusion and a safer holidaying.
Amilla's Residences, A Dreamy Hideout in Maldives
Amilla itself is a spacious private island with very few Villas and Residences but for guests seeking for more privacy, the resort has recently opened several beachfront Residences (which range from One-Bedroom Residences to Six-Bedroom Residences) and a stunning Estate offering 8 Bedrooms.
The Great Beach Villa Residence aerial view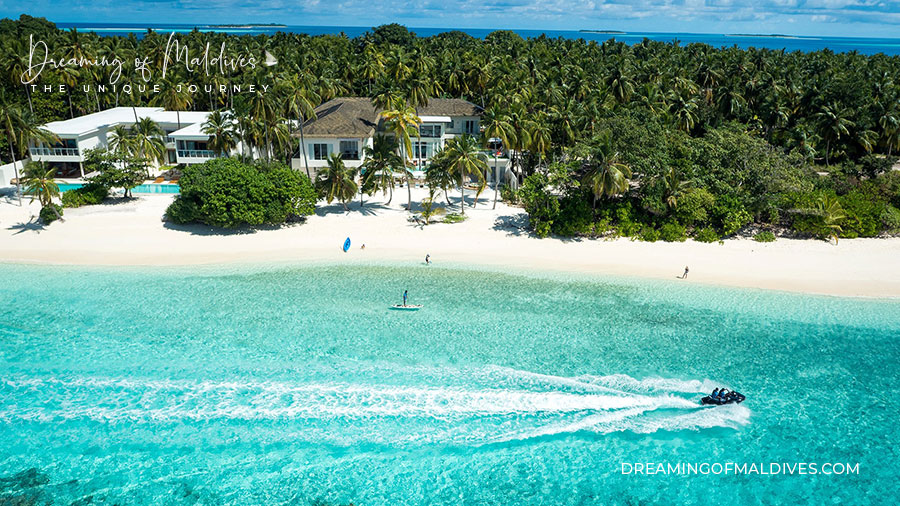 The stunning Residences, which can also be purchased, feature enormous spaces, complete privacy, private beach access, huge swimming-pools, fully equipped kitchens, outdoor barbeques, dedicated staff and everything needed for a super secluded stay.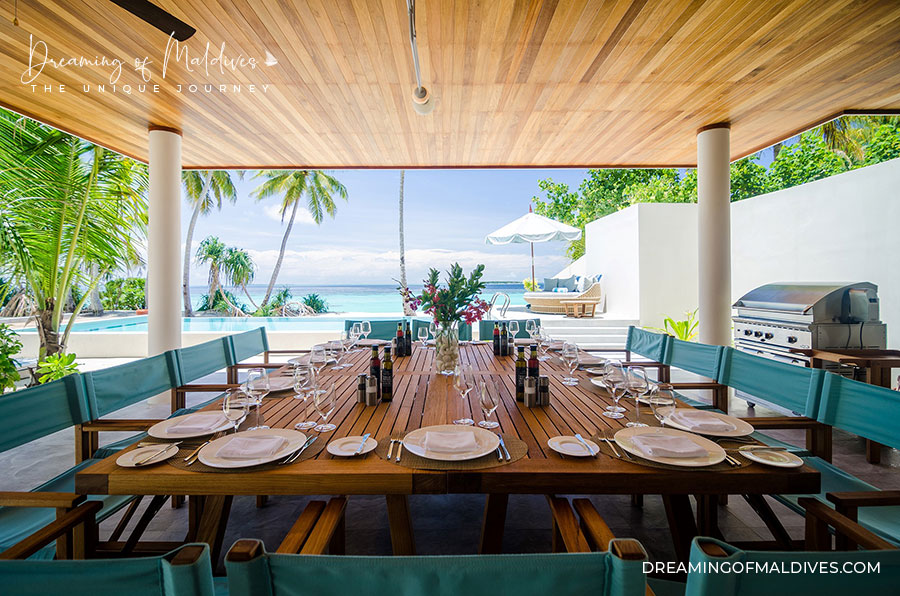 Residence guests will have access to a 'providore list' of groceries and have the choice to self-cater, order in or enjoy the main restaurant on request. The self-catering option is a rare advantage as very few Maldives villas have kitchens.
Amilla residences : one of Maldives coolest place to stay for big families and group of friends.
The Luxury Residences at Amilla are some of the biggest in Maldives.
All Residences offer enormous private indoor and outdoor space starting from 1,500sqm for the 4 Bedroom Residence to 3,000 sqm for the 8 Bedroom Great Residence.
The 8 Bedroom Great Beach Villa Residence at night.
Their size, physical distance from other properties and abundance of self-contained amenities make them an ideal hideout for a "quaranteaming' with family or friends.
Enjoy a "quaranteaming" with family or friends.
From the BBQ terraces and courtyard gardens to the 11-20m infinity pools, games rooms, private beaches, roof terraces and balconies, there's enough to entertain and delight at each Residence to remain hidden.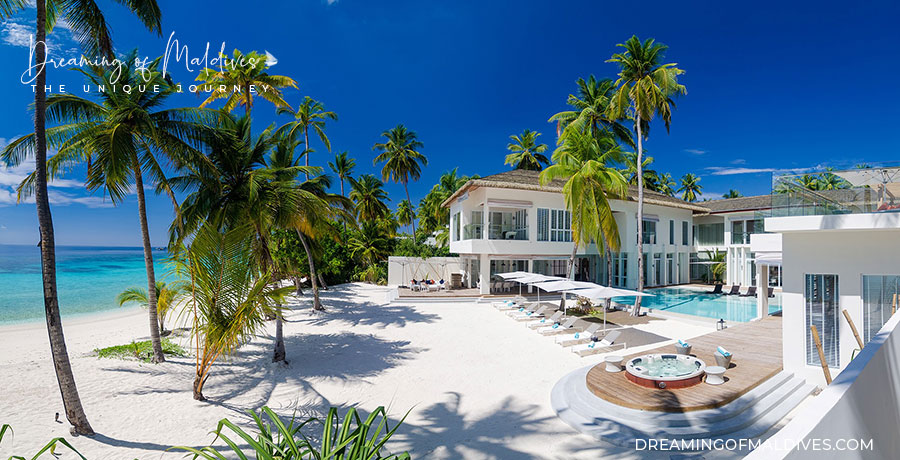 A Tropical Island of 23.5 hectares to explore
With only a select number of Villas and Residences on the island, most of it is stunningly wild, intersected by idyllic tracks for cycling, running or discovering with a Residence's dedicated private buggy.
Wander around the Island with your stylish Buggy

If you wish to explore the island, Amilla Resort and Residences is one of the largest islands in the Maldives with 23.5 hectares of space to roam and play and barely a chance of even running into anyone else on the beach or in the island jungle.
Amilla infinity-edge pool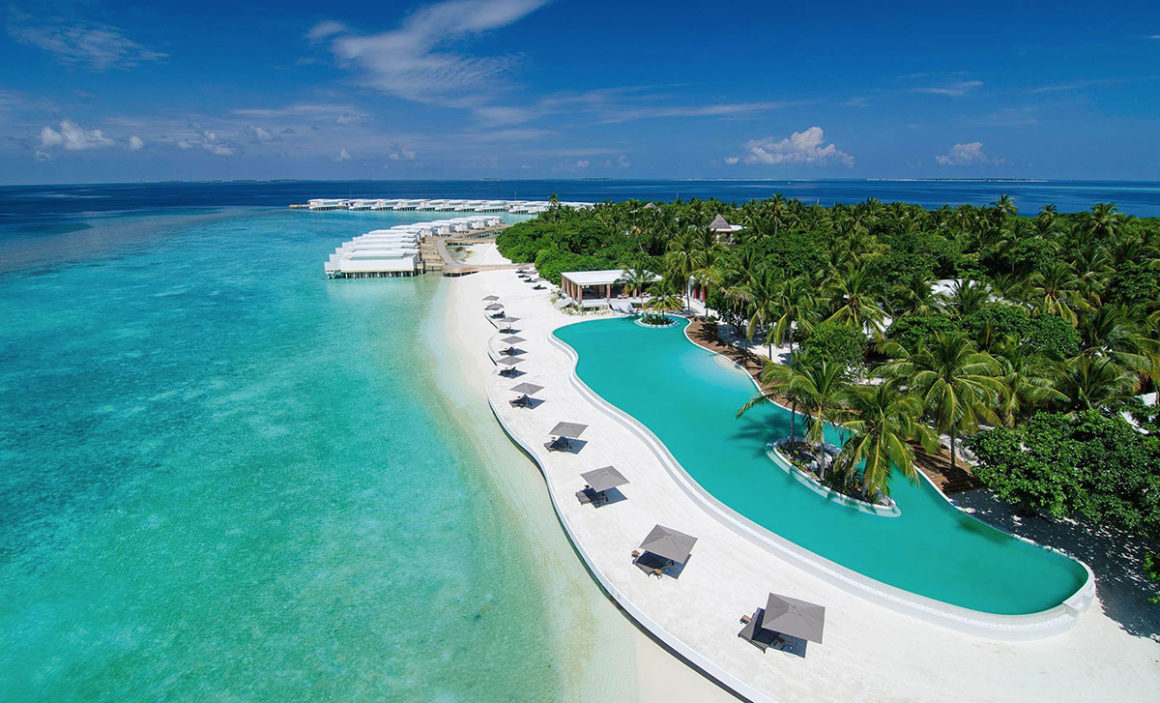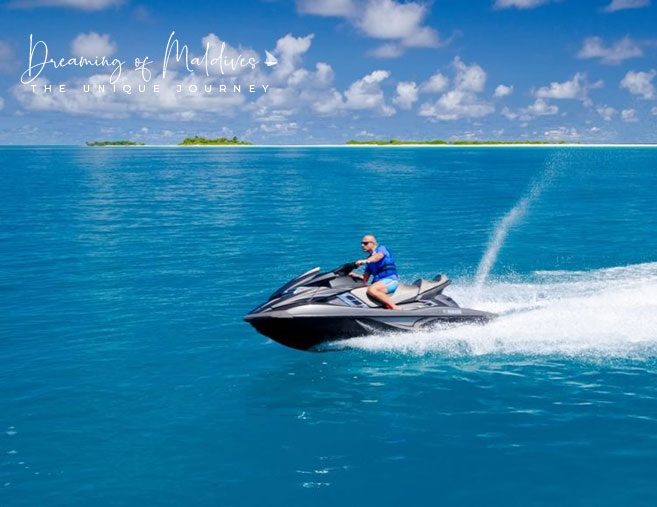 Amilla Maldives offers a host of five-star facilities including an enormous infinity-edge pool, jet-ski, special amenities such as a fun open-air 'Jungle Gymnasium' with ropes and trapezes, solo-use 'gym pods' which are sanitized thoroughly between use.
Each activity can be driven by one the Island team member.
This is all consolidated by Amilla's rigorous COVID-19 prevention protocols.
Amilla Maldives coronavirus prevention protocols
Amilla has been going above and beyond standard Maldives coronavirus prevention protocols, ever since the first day the resort reopened in July, to ensure the island remains COVID-free.
Amilla Maldives has not had any cases of COVID-19 to date.
The Islanders have been working extremely hard on upholding Amilla's coronavirus-prevention protocols, and in testimony to that, Amilla Maldives has not had any cases of COVID-19 to date.
Amilla has one of Maldives most robust COVID-prevention strategy
A safe protocol at arrival on the Island
Anyone arriving on the island, whether guests or team members, have been given complimentary PCR tests since day one.

Initially, guests who had just arrived were then asked to relax in their Residence or Villa until they received a negative result, with a room service 'Katheeb' on call, a couple of bottles of wine and snorkelling equipment so they could enjoy the reef on their doorstep without running into other guests until they had the all-clear.
After this, they were free to roam the island.
Now, all guests travelling to any resort in the Maldives are required to get a PCR test 72 hours prior to their flight departure. But Amilla is consolidating this precaution by also offering a complimentary PCR test on arrival at the resort.
Arrival protocol at Amilla : all new arrivals use a separate restaurant to the existing guests until they receive a negative result or can enjoy the in-villa dining option.
During this brief period, the team -called Islanders, caters to the new arrivals' needs. Guest stay in a separate quarantine bubble with home delivered food, to mitigate any potential risk even further.

This makes it the most robust COVID-prevention strategy in the Maldives.
Let's go back to Amilla's heavenly Residences, shall we ?
Amilla Residences. The Ultimate Luxury Hideout in Maldives for big families and friends
What is the difference between a Residence and a Villa at Amilla ?
Amilla features some of the most iconic modern design in Maldives with their stunning beach and overwater houses.
Amilla's Residences boast the same edgy concept but have more bedrooms and many more living areas than a typical Amilla Villa, which has one-two bedrooms, one living area and a spacious terrace/beach area.
One of Amilla most iconic over water villa, the Reef Pool Villa.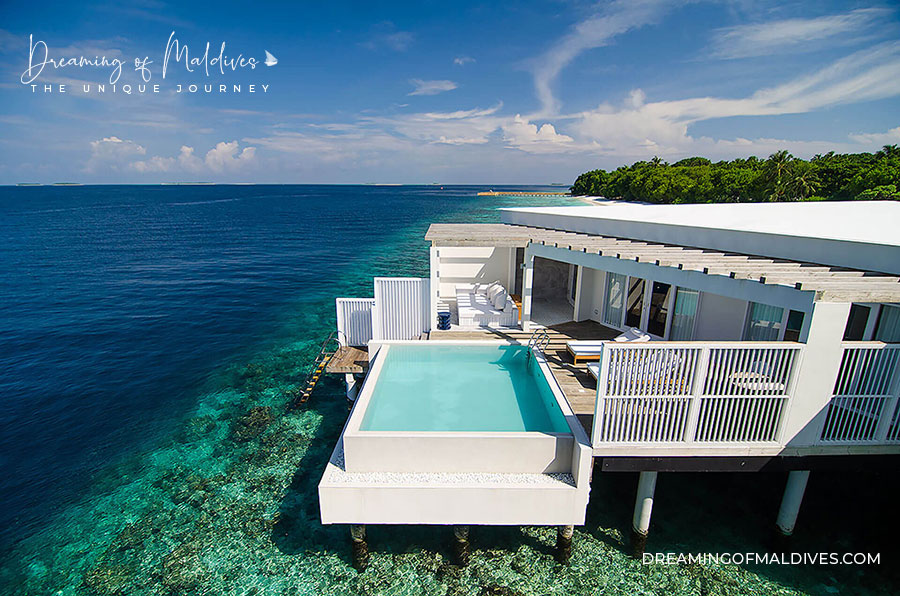 Amilla's beachfront Residences feature four, six and eight bedrooms, plus multiple dining, relaxation and play areas. This makes them perfect for larger social bubbles of families or friends.
The Amilla Residences are designed in a chic Malibu beach-house style with splashes of tropical glamour and are set over two storeys, with each space flowing seamlessly into the next.
Amilla's beachfront Residences are built on 2 levels.
Amilla offers flexible rates and has waived cancellation fees.
Designed to welcome families and group of friends, all Residences can be booked for one, two, three and four-bedroom rates, for maximum flexibility and Amilla has now waived cancellation fees.

The contemporary minimalist lines sit harmoniously in the lush island surroundings, with prime views of each Residence's private swathe of beach and the glistening turquoise waters beyond.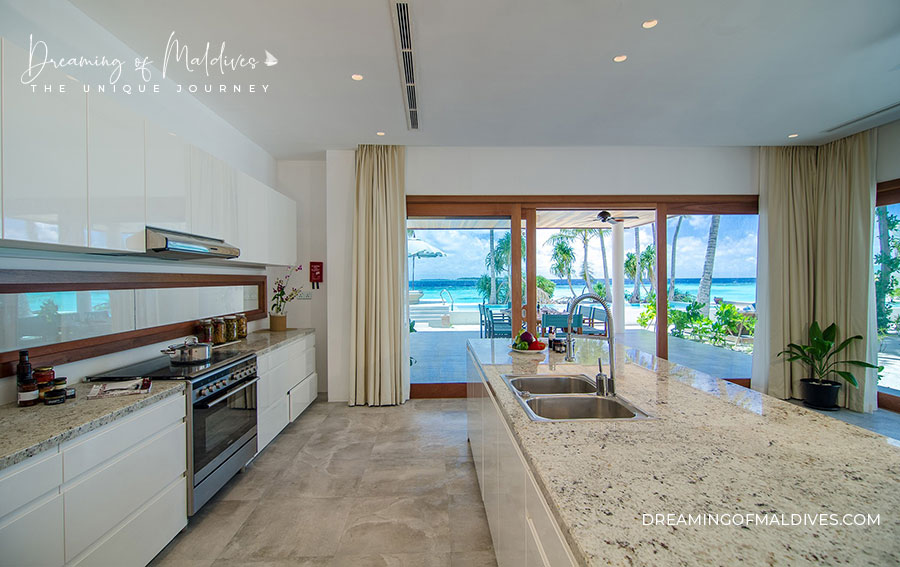 Another unique feature of Amilla's Residences ( which has come in particularly handy during this time of adjusted hospitality ) is their fully equipped kitchens. While this is more common in other tropical beach destinations such as in the Caribbean or Mauritius, it's a rarity in the Maldives. Considered first as a secondary asset, the private kitchen concept has turned out to be particularly useful during these times of change.
Order your complimentary ingredients to your Private Chef
A private chef can be provided upon request and a "Providore List" is included in each Residence, whereby guests can order complimentary ingredients for light lunches and snacks (or chargeable items such as premium meats, cheeses and charcuterie cuts) from Amilla's Emperor General Store (a tropical boutique-sized Fortnum & Mason-style food hall) if they wish to self-cater.
All of the dining venues are open-air or semi open-air, which again is a huge advantage in terms of COVID-19 prevention.
All Residence guests receive complimentary daily Afternoon Tea with fresh patisserie items and pre-dinner canapes as a Full Board meal plan.
This incredibly generous plan includes the freedom to dine around the resort at any of Amilla's eight restaurants and cafes.
They range from contemporary Japanese and Italian cuisine to a gourmet beach club and of course, Amilla's pioneering Chill'd café and 'Wellness Your Way' dishes, which comprehensively cater to today's 'eating lifestyles' such as keto, paleo and vegan on a level never previously seen before in the Maldives.
Let's take a tour at each of Amilla's stunning Residences
THE FOUR BEDROOM RESIDENCES
Amilla 4-bedroom Residences are Private Beach Residences spanning over 1500 sqm.
From the private, gated entrance of each of the six 4 Bedroom Beach Residences a colonnaded walkway leads across a courtyard garden into the massive living room that looks out to the beach and ocean.
Beyond an open-plan kitchen are the dining terrace, swimming pool and sun deck.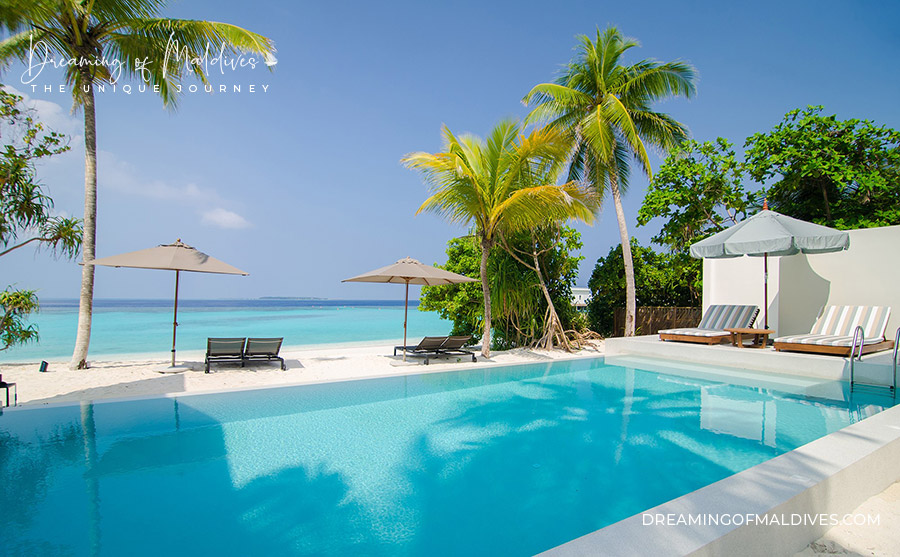 The Four Bedroom Residences even feature a new additional bedroom space for guests' nannies or teenagers who may appreciate the extra privacy.
This means there's always a new nook to nestle in, a different view to admire or another spot to dine or chat in.
Special features of the Residences include full-size pool tables, PlayStation 4s, ping-pong tables, books, DVDs and even a bar or a rooftop cocktail lounge.
The Four Bedroom Residence. 4 photos
On the ground floor is an ensuite guest bedroom and a guest bathroom with indoor and outdoor showers. A grand staircase leads to the second level of this L-shaped residence. Fanning out from a central study are an open-sided lounge, an enormous master suite and two more guest bedroom suites.
4-Bedroom Residence capacity and floorplan
The 4-Bedroom Residences can welcome 8 people (4 ensuite bedrooms: 2 with king-sized beds and 2 with twin beds)
The villa can also accommodate up to 2 additional guests on extra beds (extra charge) + a baby cot.
The Amilla Estate is the ultimate private estate to make your tropical island holiday dreams come true. Spanning over 2500 sqm, the 6 bedroom beach mansion features six bedrooms and numerous living spaces across a two-storey U-shaped building framing a 20-metre pool and oriented towards the panoramic beach and ocean views.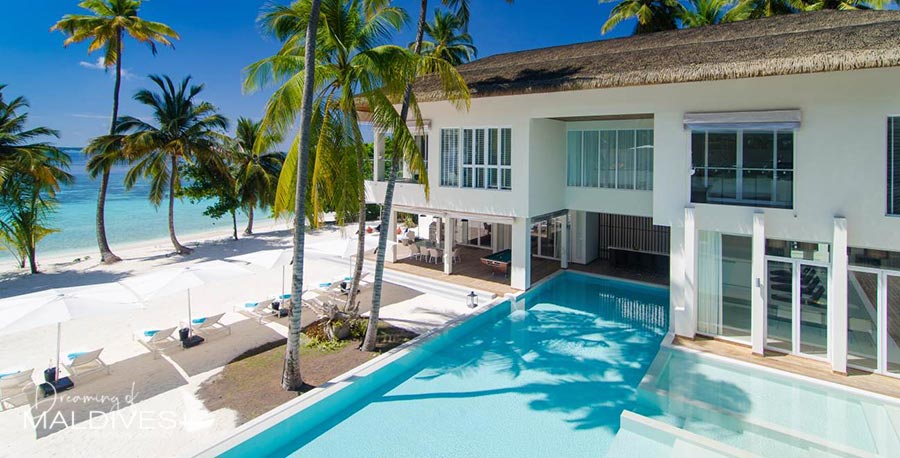 To the left of the entrance lobby is a lounge, guest washroom, study/library, and guest bedroom with garden access. To the right is the guest kitchen (with service kitchen and guest staff quarters behind) leading to the dining room, alfresco dining lounge and bar, cinema and games room. On the floor above are five ensuite bedrooms. A separate wing houses the gym, spa room and steam/sauna, above which is a rooftop sun deck/cocktail lounge..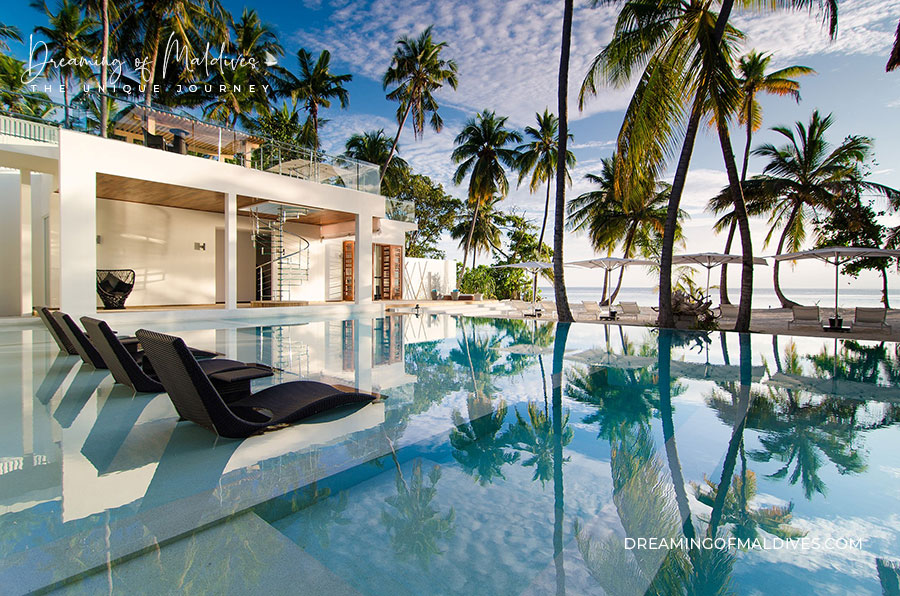 The Amilla Villa Estate Billiard and outside living area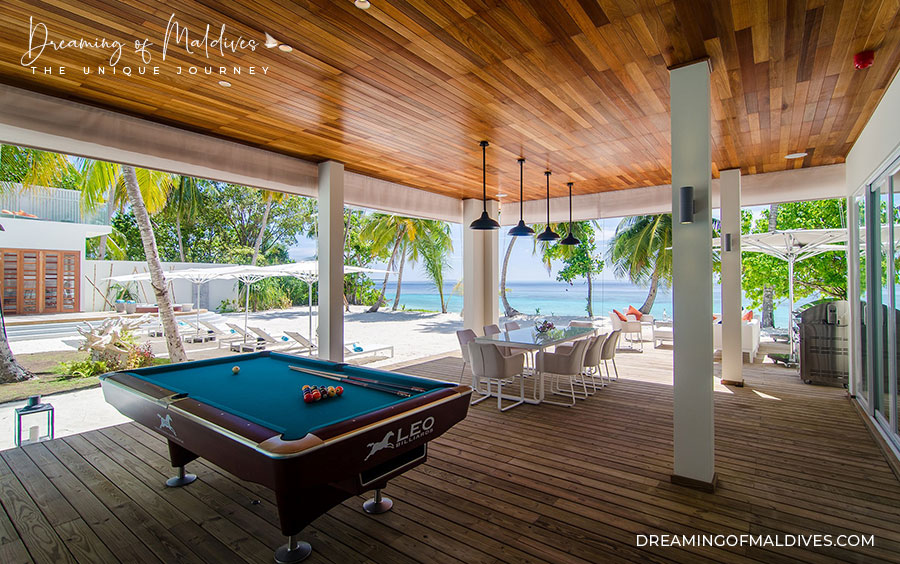 The Amilla Villa Estate is perhaps the Maldives' most sought-after six-bedroom villa. The glorious beachfront pad of this residence in Maldives promises an ultra-luxury away-from-it-all island vacation with a breezy laid-back vibe for parties of up to 14 people.
The Amilla Estate. 3 photos
The Estate Villa Residence capacity and floorplan
The 6-Bedroom Residences can welcome 12 people (6 ensuite bedrooms: 4 with super-king beds and 2 with twin beds).
The villa can also accommodate up to 2 additional guests on extra beds (extra charge) + 2 baby cots.
THE GREAT BEACH RESIDENCE
The Great Beach Residence is the largest of the eight hyper-luxury Amilla Beach Villa Residences.
Spanning over 3000 sqm, this Maldives private beach palace is perfect for multiple families and large groups of friends who seek vast space for entertaining without compromising personal privacy.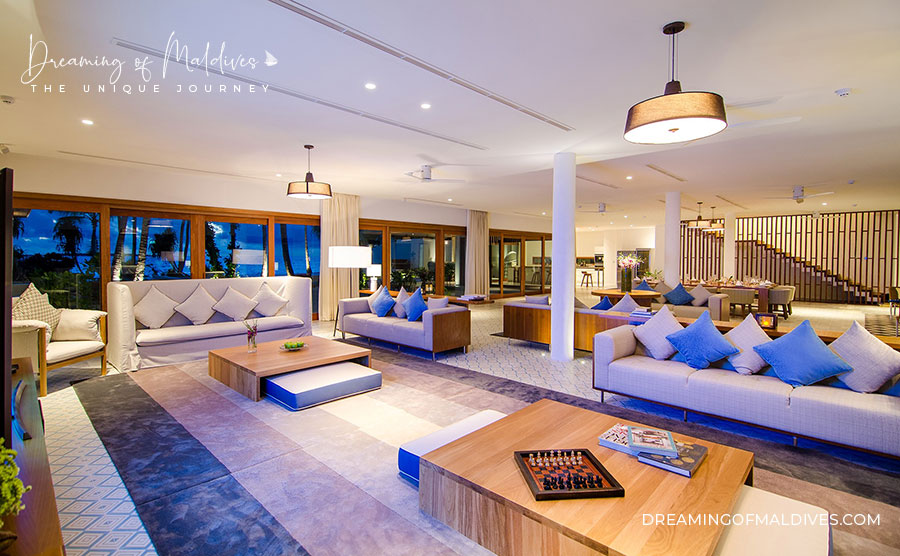 At the heart of this capacious, ultra-modern, two-storey residence is a massive living room that looks out over the beach and ocean. To each side is an open-plan glass-sided kitchen – one set up as a bar – behind which is a guest bathroom with indoor and outdoor showers, and a single ensuite bedroom.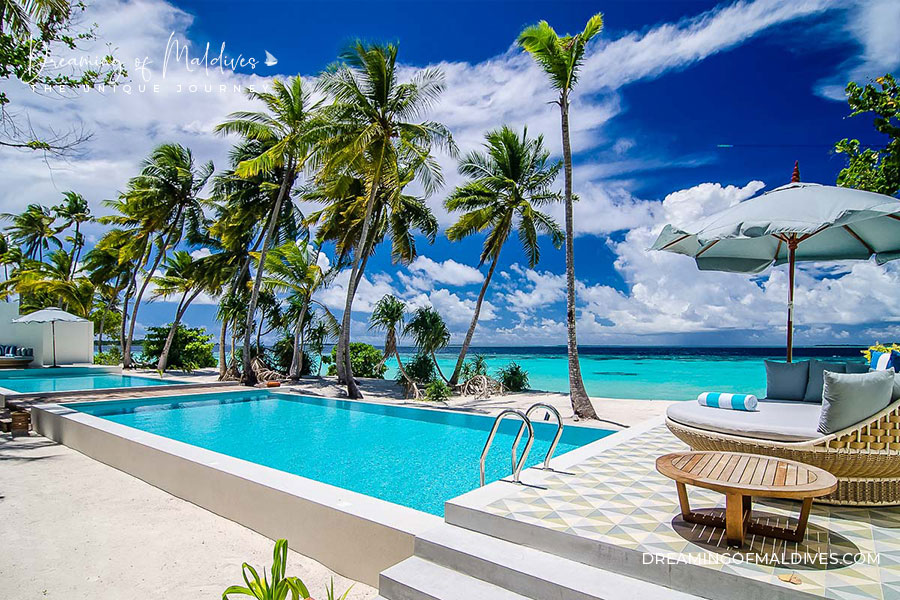 Outside on the beachfront, a pair of 11-metre pools sweep between two raised sun decks, overlooking intimate clusters of garden seating and two large dining terraces connected by a wall of glass doors to the kitchens.
On the second level, a huge open-sided lounge connects the two bedroom wings – each with its own staircase leading to a central study area, off which is an enormous sea-view master suites and, to the rear, two ensuite guest bedrooms.
The Great Beach Residence. 4 photos
The Great Beach Residence capacity and floorplan
The 8-Bedroom Residences can welcome 16 people (8 ensuite bedrooms: 4 with king-sized beds and 4 twins).
The Villa can also accommodate up to 4 additional guests on extra beds (extra charge) + 2 baby cots.
Contact me
Do you have questions about Amilla or your next trip to the Maldives ?
I will answer you via our form on the contact page.
You can also contact me via our Dreaming of Maldives Facebook page. Click on "Like the page" and submit your question.
I will answer you within 24 hours maximum.
Amilla Maldives Resort & Residences
FROM $USD 447 PER NIGHT

Dreamy Offer Available.
Follow us on Facebook and Instagram for our latest Maldives Dreamy Places to discover.
Maldives TOP 10 Dreamy Resorts 2021
YOUR CHOICE. YOUR DREAM. YOUR VOICE