How is to fly with Qatar Airways and Emirates to the Maldives with the new rules onboard. Everything you need to know before you go onboard.
As Covid-19 pandemic continues, Airline Companies are struggling to remain operational.
To continue this road and survive this unprecedented chaos, Airlines, together with IATA, are coming up with an arsenal of measures and reinsurances for passengers and crews.
Several Companies fly ( in normal times ) to the Maldives, but for this article, I will focus on Qatar Airways and Emirates, the 2 major Airline Companies flying to the Destination.
What you need to know before you fly to the Maldives during / After Pandemic.
Feel free to share some information from your country and favorite Airline Company and/or discuss in the comment section.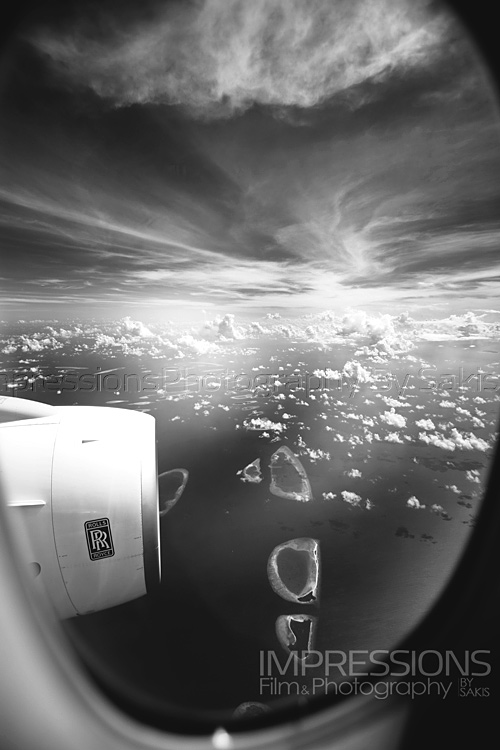 Arriving in Maldives. Window seat Views
Air Travel On halt around the globe
The closure of borders and movement restrictions put in place around the world to prevent the spread of the coronavirus have brought air travel to a halt since March.
80 and 90% of the world fleet has been grounded since the beginning of the pandemic. Some have already bankrupt.
Between 80 and 90% of the world fleet has been grounded and it is only from June that traffic will restart, first on domestic lines then continental and finally intercontinental, according to Iata which estimates that It will not return to its pre-crisis level until 2023.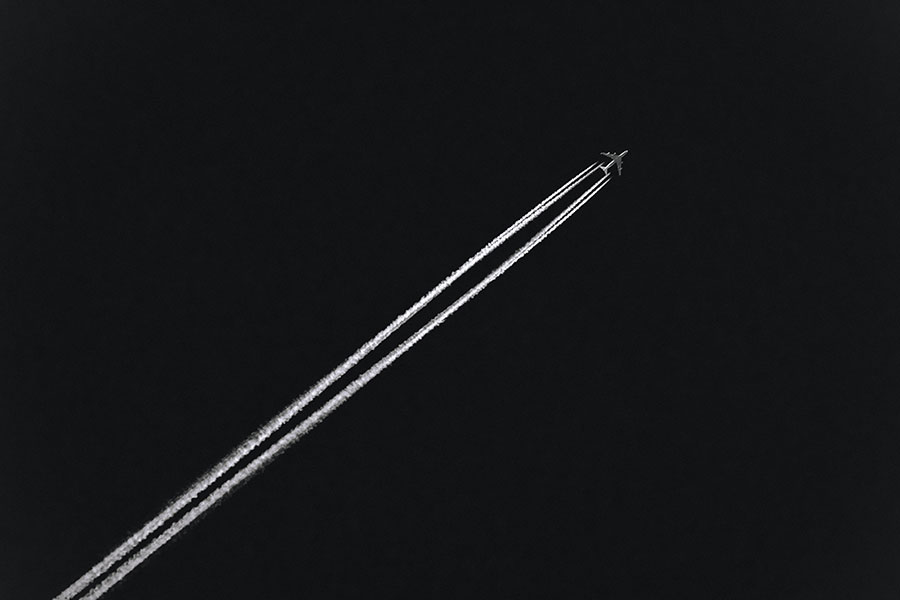 Flying AFTER/during COVID-19 will never be the same.
IATA Measures for after COVID
IATA is working on the development of an anti-coronavirus arsenal to allow airlines to gradually resume their activities.
They have been suffering from the coronavirus crisis for several months and have been calling for a gradual resumption of their activities for several weeks.
The empty middle seat is ruled out by IATA
The empty middle seat is a controversial subject among Airline Companies around the world.
The industry on the whole, IATA included, has argued that blocking middle seats isn't necessary.
The protection barrier of 1 metre to 2 metre distancing mathematically doesn't work with economy seat measuring around 50 cm in width.
– Concretely : Let say you have an empty seat between you and your neighbor, the distance between you 2 would be 50 cm only, far from the recommended social distancing.
Despite this argument, some Airlines believe that passengers are asking for this measure and will charge passengers an extra fee for "extra space".
Emirates and Qatar Airways, like the majority of them, will not apply this procedure.
IATA insists on the fact that, besides the size of each seat, the High Efficiency Particulate Air (HEPA) filters found on modern aircraft added to mandatory masks on board rule out already the virus propagation.
Middle seat economical impact
The economical impact of an empty middle seat rule would be quite noticeable with fares that would need to go up dramatically—between 43% and 54% depending on the region—just to break even.|
Something that the majority of travellers cannot afford.
Airlines are preparing to take off under strict sanitary conditions, supervised by the International Air Transport Association (IATA).
Discussions are currently underway at the level of the International Civil Aviation Organization (ICAO) and States to try to have a convergent and harmonized approach on the whole planet on the health control system.
LIST OF IATA HEALTH MEASURES AT THE AIRPORT AND ON BOARD
health declaration on arrival at the airport
temperature control
wearing of a mask at the airport and on the plane
distribution of pre-packaged food to limit contact
disinfection of the plane
limitation of the number of luggage cabin or even accelerated baggage delivery.
A very efficient air filtration systems in aircraft to create an anti-Covid net.
QATAR Airways and Emirates communication and actions to ease the travel of passengers and crews.
Safety, health and wellbeing are the priority.
On board, IATA measures will be applied as above. More procedures and actions have been decided.
Hygiene Kits, STaff Extra Protection and Care AsSIStant on board
Emirates has unveiled multi-faceted measures for employee and customer care at every step of the travel journey.
In Dubai, besides thermal screening upon disembarkation, protective barriers, Airport staff dressed in personal protective equipment, customers will be given an additional hygiene kit at the gate before boarding their connecting flight.
These kits comprise of masks, gloves, antibacterial wipes and hand sanitiser.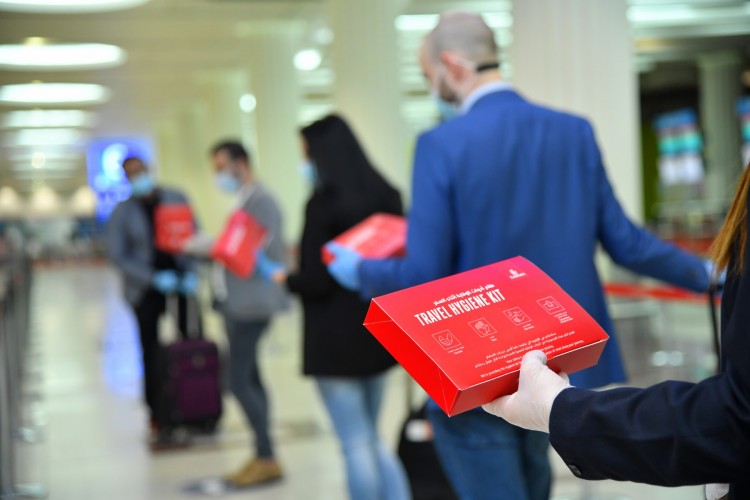 On board
All cabin crew on board will be fully kitted out in PPEs. To uphold the highest standards of safety and hygiene, Emirates has added a cabin service assistant (CSA) to the crew complement on flights over 1.5 hours.
These images, as reinsuring they are, are so strange.
We will travel but it won't be the same….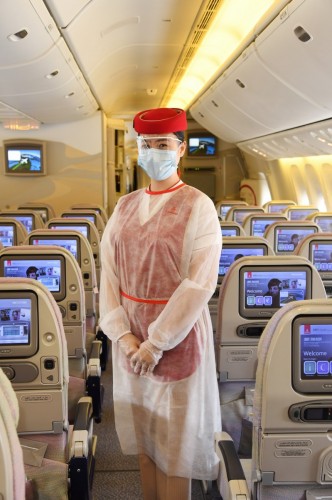 Emirates Cabin Service Assistant. Photo Emirates.
Photo Emirates.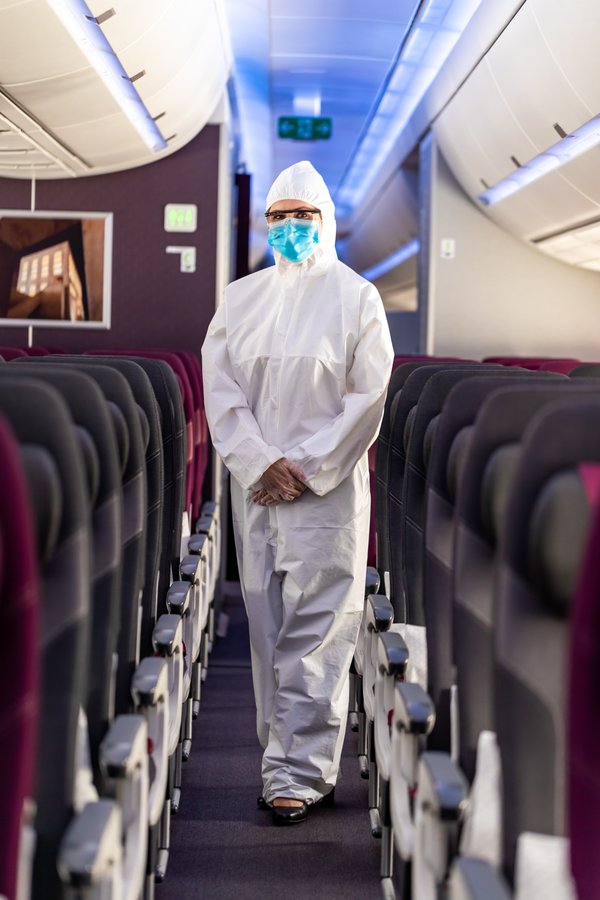 Qatar Airways full body protective gear for cabin crew.
Photo Qatar Airways
Aircraft advanced air filtration systems Available on the market
Qatar Airways promotes the most advanced air filtration systems available in the market.
These systems are equipped with industrial-size HEPA filters that remove 99.97% of viral and bacterial contaminants from re-circulated air, providing the most effective protection against infection.
Maximum Hygiene Policy on board with high temperatures cleaning for linen and blankets
Qatar Airways linen and blankets are washed and dried at 90 degrees centigrade, then pressed using an iron operating at 100 degrees centigrade.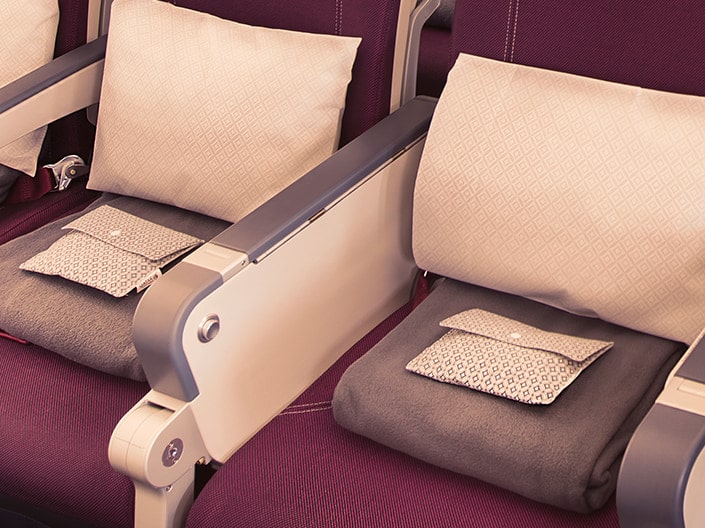 ► Both airlines have launched a video about "How they Do it during COVID"
Remember, before travelling to the Maldives or elsewhere in the world you will need to follow special procedures and rules. Read more at IATA and check with Airline Company for the latest news before flying.
For more information and resources
IATA : iata.org and https://twitter.com/IATA for the latest news.
QATAR AIRWAYS : qatarairways.com and https://twitter.com/qatarairways/ for the latest news
EMIRATES : emirates.com and https://twitter.com/emirates for the latest news.

Fly safe and happy wherever you go & see you soon in Maldives.
Maldives TOP 10 Dreamy Resorts 2024
YOUR CHOICE. YOUR DREAM. YOUR VOICE