If you're a diver and plan a holiday in Maldives, I've put together 8 of the best dive spots in Baa Atoll.

You could spend years exploring the Maldives scuba diving spots. But if you do plan a trip, there are some real standouts you may want to check out in Baa Atoll. From massive pinnacles – called Thila in Dhivehi, multicolor coral walls crowded with countless fishes, to whale sharks and manta rays, there is a ton to see.
Come down under and dive on some of the best dive spots Baa Atoll has to offer !
Baa Atoll - The 8 Best Dive Spots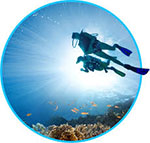 If you have dived in Maldives before, please share your experiences: Dive spots you would recommend, the resort you stayed, the fishes you saw, your diving gear, visibility, currents, …
Please post your comments at the end. By doing so you will help fellow divers to plan their next trip ;).

Diving in Baa Atoll at a Glance
Along with Ari Atoll, Baa Atoll is a favorite destination for travelers who come to the Maldives for diving and snorkeling. Located in the northern part of the Maldivian archipelago, Baa consists of two circular sub-atolls covering a total area of 1,127 square kilometers. The area is best known for its manta ray site at Hanifaru Bay, the World's largest known aggregation of Manta Rays and a hotspot for Whale Sharks who come to feed on planktons and mate.
Although diving is no longer permitted in this area, there are several other fabulous spots to discover.
Baa Atoll Best Dive Spots
Grab your scuba gear and discover some of the best diving spots in Baa Atoll.
Fish Species and corals you can see when diving in Baa Atoll
( non exhaustive list).

Whale sharks, Manta Rays, Eagle ray, Turtles, Grey Reef Sharks, Schooling reef fish, Giant frogfish, Ghost pipefish, Nurse sharks, Pelagic fishes, black corals, soft corals, canyons,…

DHONFANU ROCK
This thila is small swim away from the main reef where in the season manta rays are regularly seen. Beautiful Black coral bushes are everywhere on this small thila.
Points of interest : manta rays (during season), schooling fusiliers and snappers, green turtles, batfish, stone corals.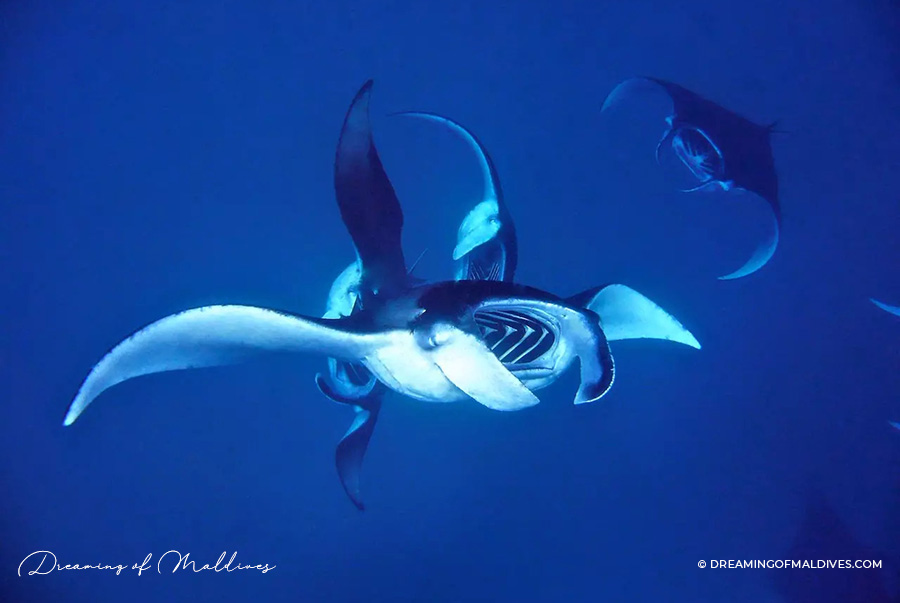 DHONFANU THILA
Consists of a pinnacle which comes to a point and faces into the prevailing current of the reef at about 22 meters. There is a swim through at 25 meters which you pass and ascend to around 18 meters to find its entrance. The swim-through is quite narrow so care must be taken to pass through.
Points of interest : Dhonfanu Thila is one of the best reefs in Baa Atoll – long reef – grey reef sharks, eagle rays and manta rays in season– abundant fish life – overhangs.
BOOK The Nautilus Maldives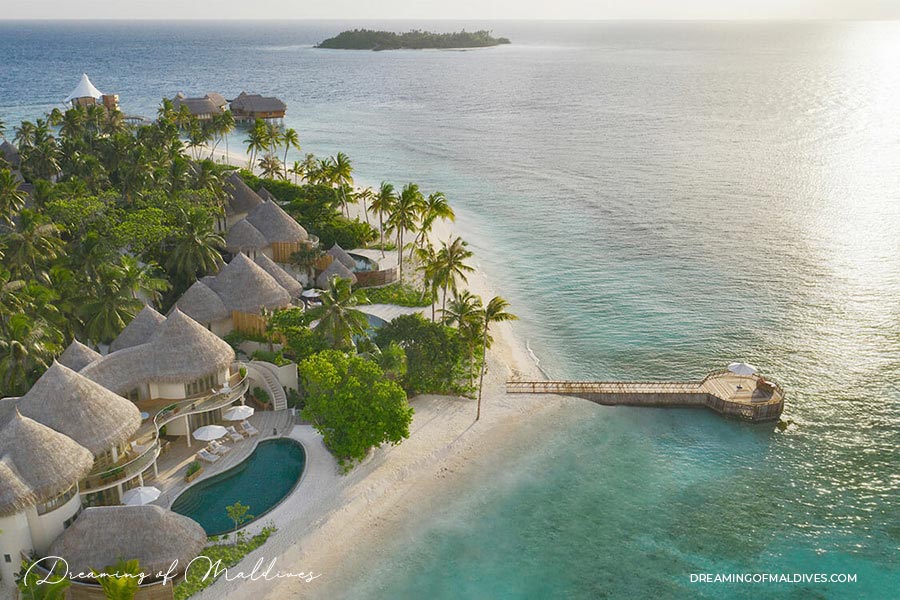 in association with our trusted partner
& personal counsellor in Maldives
KAKKA THILA
This reef can be dived on both sides. On the East Side of the reef you can see Eagle rays. On the West End of the reef there is a cross-over to the main reef, which is covered with yellow soft corals, and in the deeper overhangs are often Nurse Sharks or a Sting Ray having their daily nap. The top of the reef reaches up to 4 meters.
Points of interest : big overhangs- pelagic fish, nurse sharks, soft corals, scorpion fish, octopus, schools of banner fish and bat fish.

MILAIDHOO WALL
Milaidhoo's house reef offers some interesting overhangs, which are nicely covered with red-orange-yellow soft corals. Ideally dived with a light medium current, in order to see the soft corals open. Lots of overhangs line the north-side of this reef.
Points of interest : great night dives, beautiful orange and yellow soft corals, big overhangs, nudibranchs, macro photography.
Diving at Milaidhoo Island Maldives

Milaidhoo Maldives, in Baa Atoll, invites guests to swim with manta rays, the sea giants, in Hanifaru Bay during the Manta season. In…
BOOK Milaidhoo Maldives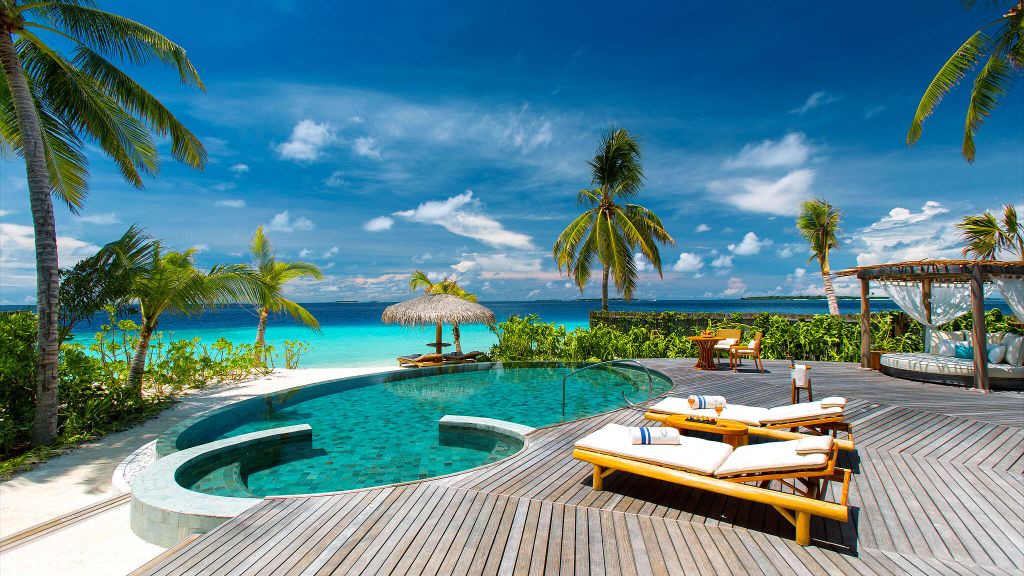 in association with our trusted partner
& personal counsellor in Maldives
YELLOW WALL
A long wall dive with overhangs covered with yellow soft corals and you can dive it both ways. A very colourful dive with a stunning amount on fish life in the shallower depths.
Points of interest : overhangs, soft corals, abundance of schooling fish.

DARAVANDU THILA
A narrow curved thila connected to the main reef, with a very interesting landscape. Its location makes this dive one of the easier ones, but still one of the most beautiful dives. The top of the reef is 6m and leaf fish and even ghost pipe fish have been spotted here.
Points of interest : in season manta rays, honeycomb moray eels, scorpion fish, sweetlips, blue-striped snappers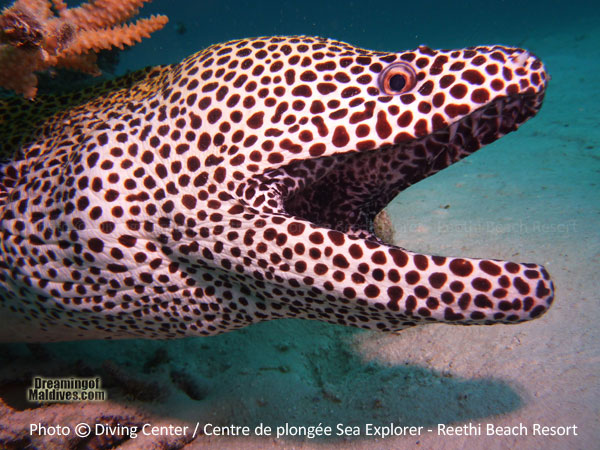 DHIGALI HAA
A gorgeous thila, with a small canyon on the west, one on the north and overhangs covered with soft corals and anemones. It hosts a large variety of schooling fish, which are chased by giant trevallies and tunas. It's an amazing site for macro photography although one should lift the head sometimes as the resident turtle, eagle & sting ray and barracuda may appear.
Points of interest : canyon, overhangs soft corals, pelagic fish, turtles, eagle rays

THE BLUE HOLE
A famous dive spot known as there is a very wide hole where you can swim through. It is a very adventurous drift dive as the current splits at one point in the middle of the reef, where you are completely driven by its flow. Frog fishes, leaf fishes and some special nudibranchs are part of the dives, as well as larger predators in the deep blue.
Points of interest : swim through, sting ray, turtle, moray eels.
Diving at Amilla MAldives Resort & Residences

Let's go underwater for a Diving and Snorkeling exploration of Baa Atoll at the exquisite Amilla Maldives with the Resort Dive Center…
Where to stay in Baa Atoll ?
Baa Atoll is home to some of the Maldives best luxury resorts such as Milaidhoo Island, Vakkaru Maldives, The Nautilus, Soneva Fushi, Four Seasons Resort Maldives at Landaa Giraavaru, Amilla Fushi, Anantara Kihavah … so you will have plenty of choice to choose.
If you're on a budget, the atoll also offers many 4* resorts and guest houses on local islands.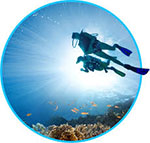 Follow us on Facebook, Youtube and Instagram
for more Maldives Dreams & Stories