Dreaming of Diving and Snorkeling at Baros Maldives ?
Put your gear and let's go explore the Resort underwater world with an interview of its Dive Center Managers.
Follow Karin and Ronny complete tour of one of the best Maldives Resort for Snorkeling and Diving.
I recently wrote you an introduction to Diving in North Male Atoll, where I was giving you tips, information and a short list of the main diving sites…remember ?
This article gave you, I hope, a good glimpse at North Male Atoll.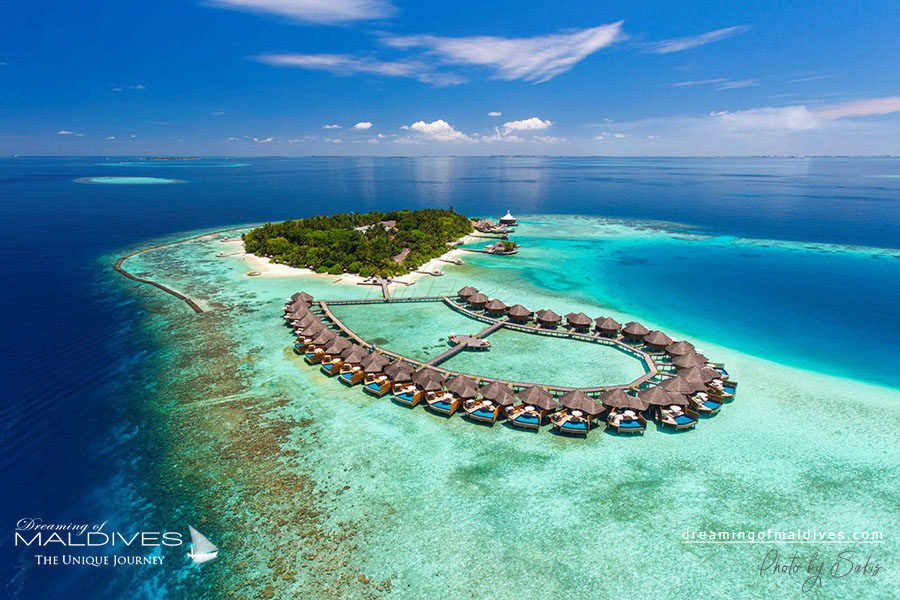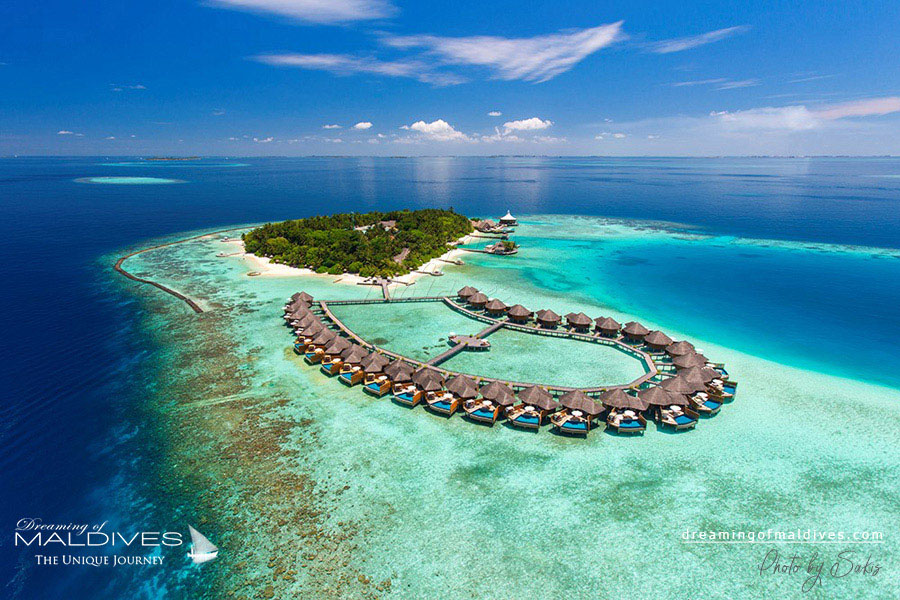 We've visited several times Baros Maldives. The resort is without any doubt one of the best for snorkeling in North Male.
Its location close to Male international airport, makes it also one of the best starting point to discover the Atoll best diving spots.
Diving And Snorkeling At Baros Maldives, North Male Atoll.
But at the end, who's better than a diver himself to speak about it ? …A Professional diver based on the spot of course !
So, I thought it would be interesting to get the point of view of one Diving Center manager.
I contacted the Diving center at Baros Maldives, one of our favorite resort, in order to ask them questions about their job, their dives, the atoll itself, their tips and everything in between…
Karin, one of the 2 Dive center managers accepted to participate and took time (during her holidays …thanks to her again), together with her husband Ronny, to answer my questions.
After all, we always speak about Maldives resorts and diving spots, so it's now time to put also the spotlights on the people who make these dives possible : The divers themselves.
This is why Dreaming of Maldives will now bring you closer to the diving centers and their divers with a new serie of interviews and diving focuses.
Stay tuned.
I hope you'll enjoy this very first interview !

Note : A small Photo Gallery is waiting for you at the end of the interview

INTERVIEW
Diving in Maldives from a Professional Point of view.
Focus on North Male Atoll ( Southern Part )
Dreaming of Maldives Question. Where are you from ?
Karin and Ronny Answer. We are a couple from the Netherlands.
Q. Can you introduce yourself ?
A. We are Karin Spijker and Ronny van Dorp, we both have a laboratory education with a few years of working experience at the laboratory. After 3 years working in the Netherlands we wanted to gain some work experience abroad before life get's to serious. We thought 1 year would be perfect, to experience a different country and culture. But, by now, we are already 16 years in the Maldives.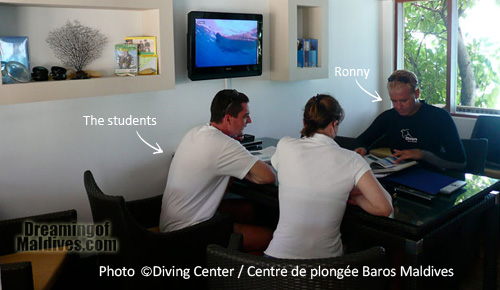 Q. Your diver degree(s) ?
A. We are both PADI instructors with over 8000 dives each. Ronny is also a Eco Diver Instructor from the international recognized organization Reef Check, this is a course to learn to survey the reefs in the Maldives and worldwide. The data of this survey is send to Reef Check. Every 4 years Reef Check will publish a Report about the state of the reefs worldwide. Divers Baros Maldives is the only Dive Center in the Maldives where guests can learn how to do a reef check.

Q. When and why have you started diving ?
A. We started working in the Maldives in 1996, but we had never snorkeled before.
Ronny started as windsurf/catamaran instructor and Karin as a guest relation officer for the hotel. Because our passion was already water and marine life we started directly to learn diving.
After completing the open water course we were "infected" and completed within 1 year all our dive certification at Baros upon instructor.

Q. How long have you been diving in Maldives ?
A. Since January 1996

Q. How did you become a dive center manager in Maldives ?
A. After completing our dive courses Karin got a full time job as dive instructor at the Baros Dive centre. In 1998 we were offered a job as base-leaders on another universal resort Fesdu (AN – better known today as W Maldives in Ari Atoll). We operated the dive center at Fesdu for 6 years.
In the meantime Baros Maldives underwent a refurbishment and re-opened as 5 star luxury property in January 2006. We both started to work at the dive center again at Baros. In 2008 Karin took the role as dive centre manager.

Q. What are your favorite spots and why ?
A. – Banana Reef : because of its beautiful landscape and the huge variety of marine life.
– Rameez Place : because of the mega fauna and landscape and the good chances to see grey reef sharks
– Manta point : we are lucky because Baros lies in the middle of the north Male atoll and we a great chance to see Manta's all year around.

Q. How do you compare Maldives diving with the rest of the top spots around the world ?
A. I think the Maldives offers ideal circumstances for diving. The flora and fauna are both very diverse and all reefs are easily accessible. Baros lies in the middle of the North Male Atoll and, due to this position, offers an excellent choice of dive spots.

Q. Anything more ?
A. Maldives has a resident population of manta's all year around. Here, sharks are protected since 2008 and different species of sharks can be regularly seen during our dives. It is also not uncommon to see dolphins on the way back from the dive sites !

Q. The difference(s) ?
A. Because Maldives lie in the middle of the Indian Ocean, we are at times exposed to strong currents, which also brings a lot of marine life with it.
attn : Some reefs can be difficult due to high currents.

Q.I am curious to know about :
– Your most exciting/memorable moment.
A. A morning channel dive at Boduhiti thila: Halfway the dive at 15 m. depth a hundred plus manta's came to lay down on top of the reef. The Manta's were "flying" closely over our heads with there wings only a few cm away from the divers This event lasted for 15 min. and the manta's were cruising up and down the reef staying close to us.
– Your worse
A. After an amazing dive with 15 Manta's one of our divers came to the surface disappointed and said : "I have not even seen a shark". I thought he was kidding, but he was dead serious.

Q. North Male Atoll : what are the top spots proposed from Baros ?
A. – Baari Thila and Rameez place : Sharks, Rays, Napoleons and other pelagic fishes
– Okobe Thila and Nasimo thila : beautiful landscapes and an abundance of fish life.
– Banana Reef : shallow dive with beautiful landscapes and an abundance of fish.
All dives are suitable for beginners as well as for advanced divers as long as the currents are not too strong
Besides, we have an easy access to more than 30 dive spots and a beautiful house reef.

Q.1 Diving Spot not to be missed ? Which one ?
A. Manta Point from July till November and Boduhiti Thila in February and March. These reefs are famous for Manta's.

Q.Is it dangerous to dive in Maldives ?
A. No diving is not a dangerous sport as long as you follow the safety procedures. In the Maldives, the government has a special diving law, which protects the divers.
It is important that the dive center has a good knowledge of the reefs and currents and tides. If you know the reefs and the dives are properly planned, then it is a safe place to dive.
Always dive on the safe side. When currents are too strong have a plan B.
When we reach the dive spot and the currents are too strong we always have an alternative dive spot at hand.

Q.Any wrecks around Baros ?
A. We have 2 wrecks on our house reef, one is a traditional wooden Dhoni ( AN : traditional Maldivian boat ) where nurse sharks and large groupers often make themselves a home.
The other wreck is a small speedboat which attracts a lot of batfishes and snappers. Our resident Marine biologist is "planting" this wreck with corals.
After a year, the wreck will be lovely grown with beautiful corals, which gives a lot of protection for marine life.

Q.What is the best season for you to dive around the Atoll – anything about currents, visibility, big species ?
A. From January till April the weather is more stable, but the currents could be stronger.
June till September the weather is reasonable to good with lighter currents. But Sharks, Napoleons and other big species can be seen all year around.

Q.Best season for Mantas ?
A. Because Baros lies in the middle of the North Male Atoll we have the chance to see Manta's all year around.

Q.Best season for Whale Sharks ?
A. Most chance From February to April on the West side of the Atoll.

Q.How is the coral around Baros ? Improvement ? Worsening ?
A. Since 2007 we see a huge improvement of coral growth on our house reef.
This year we had a coral spawning, which means that the reefs are in an excellent condition

Q.How is the coral in North Male Atoll. ? Improvement ? Worsening ?
A. In general the coral growth on all the reefs in the Maldives is improving.

Q.Any basic advice for divers ?
A. Because "Divers Baros Maldives" is a Eco-dive center we stand for the following and our philosophy is that all divers, no matter their level of education, should follow these basic rules:
– Observe nature but do not chase or touch animals.
– Do not remove anything that is part of the natural environment.
– Do not touch, stand on or collect corals, do not feed the Marine life ( AN : feeding them contribute to change their behavior towards humans. please also note that giving bread to fishes is totally unhealthy for them )
– Pay attention to buoyancy skills and make sure you are properly weighted and prevent breaking corals by dangling equipment.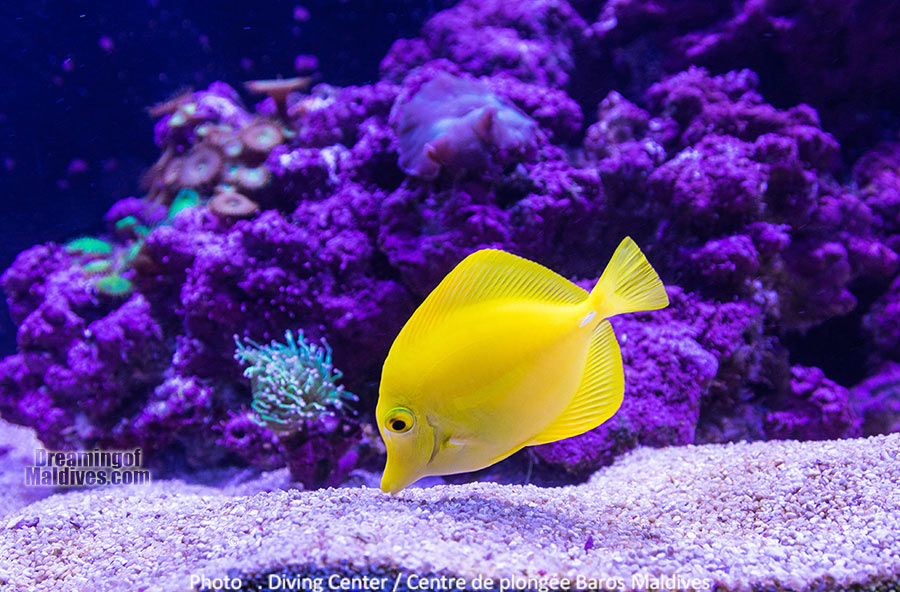 Q.Any basic advice for snorkelers ?
A. Same as for the divers respect the fragile environment

Q.Any dives outside Baros house reef ? How is the diving around ?
A. The Baros House reef encircling the island is known as one of the best house reef in the Maldives. Just a few meters from the beach, at 300m. away, anybody can easily reach the island house reef . It gently slopes down to 20m. where there are large coral outcrops which astonishing variety of marine life. The house reef is a nursery ground for black tip sharks, which can be seen every day in their natural habitat. Turtles are often spotted in shallower depth.

Q.Can I see nice underwater water life / coral ?
A. The coral growth is very good, and there is a big population of Blacktip Sharks, Whitetip Sharks, Trevally, Tuna's and a lot of schooling fishes and 4 resident turtles.
Don't miss Night Diving at Baros Maldives !
About Night Diving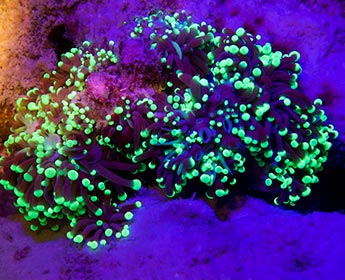 FLUO NIGHT DIVING
With Fluo Night Diving you will be equipped with blue lights and a yellow barrier filter. Certain marine life absorbs part of the blue light and emits a different colour.
This effect is called fluorescence and reveals unusual yellows, greens, pinks and blues when a special light is shone in the water. With a yellow barrier filter fitted over the mask, the effect becomes spellbinding.
WHAT CERTIFICATION DO YOU NEED TO DO A FLUORESCENT NIGHT DIVE?
Any certified diver can participate. You will be accompanied by an experienced instructor who is fully qualified to lead night dives.

Q.Approximate Depths expected:
A. The maximum depth around the house reef is about 20 m. but on most of our dives we don't exceed the 23 m.

Q. How is the snorkeling around Baros ?
A. The house reef is very easy accessible for snorkelers, with multiple exit and entry gaps.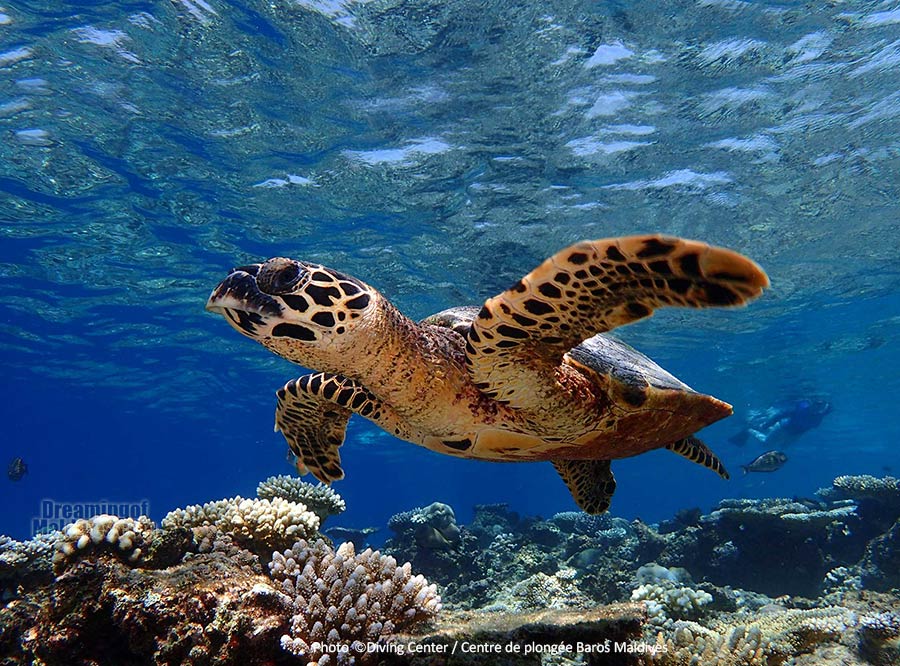 Q.Snorkeling in front of Baros beach. Can I see nice underwater water life ?
A. The reef is great for snorkeling as well as for diving, the reef is very diverse and full of Marine life in shallow and deeper depth. The coral grow is fabulous.
The reef is easy accessible, just in front of your villa the reef is starting, Around the island is a protection wall and the not-so experienced snorkeler can stay inside this protection zone, where already lot of Marine is to be seen. For the more experienced snorkelers or divers outside the protection, the snorkeling just amazing. Manta's, shark and turtles are all seen on the reef.

Q. Any top snorkeling spot reachable by boat ?
A. There are 3 times a week snorkeling excursion to nearby reefs which are starting at 2 m. and are suitable for the more experienced snorkeler.

Q.Approximate Depth outside and inside home reef.
A. The inside of the reef is about 1 m. deep, the outside slopes down to 20 m.

Q.Can you tell us about your diving center ?
A. Divers Baros Maldives has been operating in the Maldives since 1979 and the dive center was one of the first one to open in the archipelago. It is a PADI five-star Gold Palm Dive Center with an experience international team focusing on service and diving in small groups with personal attention.
Baros Maldives stands for environmental awareness and the dive centre in close cooperation with the resident Marine Center are dedicated to preserving the reefs. Divers Baros Maldives has officially been certified as the first eco dive center in the Maldives, offering the international recognized Reef Check for all Baros Maldives guests.
The reef check project combines education with action to give guests a unique experience. while taking an active role in conserving the reefs.
As well as the general courses, the dive center has a Diving by Design program enabling individuals to have personal attention and assistance and to plan their own diving program with the dive Center's dive master.
Twice a day a selection of over 30 world-class dive spots can be visited each reachable within 50 minutes boat ride. Among them are Marine Protected Dive Sites, sites exclusive to Baros Maldives and classic North Male Dive sites.
Among the different dive options available are an orientation dive, refresher dive, boat diving, house reef diving, night diving and private diving.
The dive center also runs a nitrox facility and has digital cameras for rent by divers as well as for snorkelers.
The instructors conduct all level of PADI course in several languages, including discover scuba diver, open water diver and advanced diver.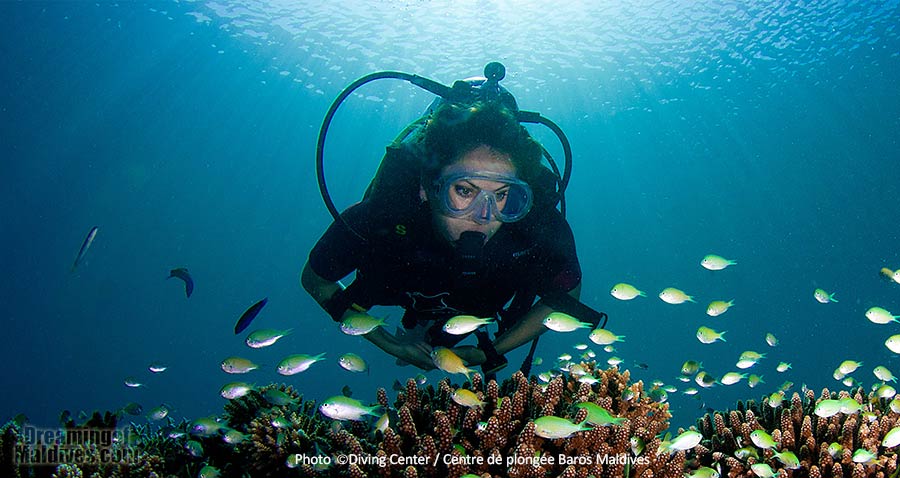 Q.Spoken languages at the diving center ?
A. French, German, English, Dutch, Japanese and Dhivehi.

Q. Starting from level 0. Which level can I be if I stay 1 week in Maldives ?
A. One week stay you can do the open water diver course including the international recognized open water certification.

Q. How many divers maximum per group ?
A. Our groups are small with 4-5 divers per dive master

Q.Can I dive privately ?
A. Yes we offer a unique program so called diving by design where the guests can "design" their own diving day and they all dives will be accompanied with an experienced dive guide. A private instructor can be also hired.

Q.Beginner course (discovery ) – where and how does it take place ?- Any age/health issue/requirement ?
A. Before participating in a course all guests are asked to fill out a medical questionnaire stating that you are fit for diving. If you are not sure if you are fit for diving, we always advice you to visit your doctor.
All courses take place in shallow areas of our warm lagoon. After having successfully fulfilled the required skills, we will take you for a thrilling dive at our house reef.
END –
© DreamingofMaldives.com
Map of all available diving sites from Baros Maldives
Diving and Snorkeling at Baros Maldives Photo gallery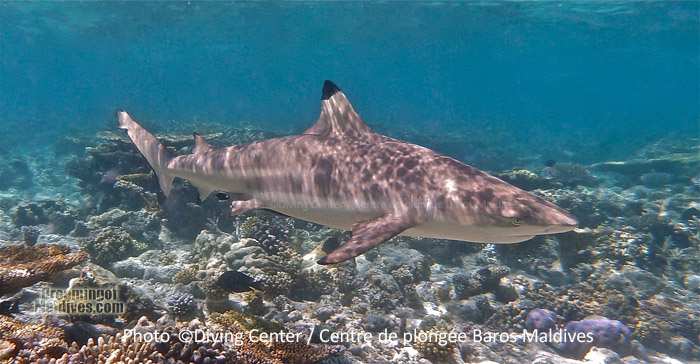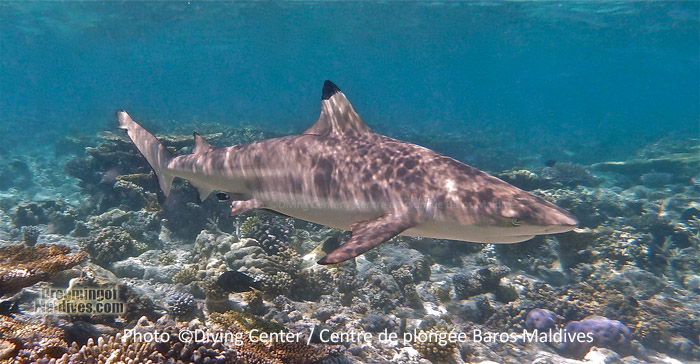 Diving at Baros Maldives. Video
Follow us on Facebook and Instagram for more Maldives stories.
Your TOP Best Maldives Resorts 2023
YOUR CHOICE. YOUR DREAM. YOUR VOICE
[ Official ]
Traveler's Choice
12th Edition