Discover the TOP 10 Best Maldives Resorts in 2020 voted by Maldives Travelers at Dreaming of Maldives.
CURRENT TOP 10 WINNERS and NOMINEES
The TOP 10 Best Maldives Resorts are Voted each year and for 1 year, by our Readers who answer the following question :
The Best Maldives Resorts.
Your TOP 10 2020
. OFFICIAL .
9th Edition

Discover the 9th Annual "TOP 10 Maldives Best Resorts" Results for 2020.
We have finally compiled the results and it's now time to submit them to you. The following list is a combination of your votes.
Note : the results of this TOP 10 do not necessarily reflect Dreaming of Maldives preferences.
The Best Maldives Resorts 2020
YOUR TOP 10 :
We Do Not Give Awards
. YOU DO .
Keep On Voting !
The TOP 10 Maldives Best Resorts 2020 as Voted by YOU
In details…
Number 10
Milaidhoo Island
A Maldivian Super Stylish Tropical Retreat for Lovers.
Baa Atoll
Milaidhoo is located in Baa Atoll UNESCO Biosphere Reserve at a 35 mns seaplane flight from Male.
Naturally beautiful, the tiny private island ( measuring only 180 metres by 300 metres ) is surrounded by a stunning house reef and has in her heart a rich beautiful tropical vegetation. Milaidhoo offers a return to a classic, relaxed and stylish Maldivian holiday.
All catered by a Personal Island Host, the 50 spacious pool villas located over-water and on the beach offer a 180-degrees view on the outside and the blue lagoon and are decorated with Fine art from the Maldives…
Milaidhoo is all about Love, Maldives and You.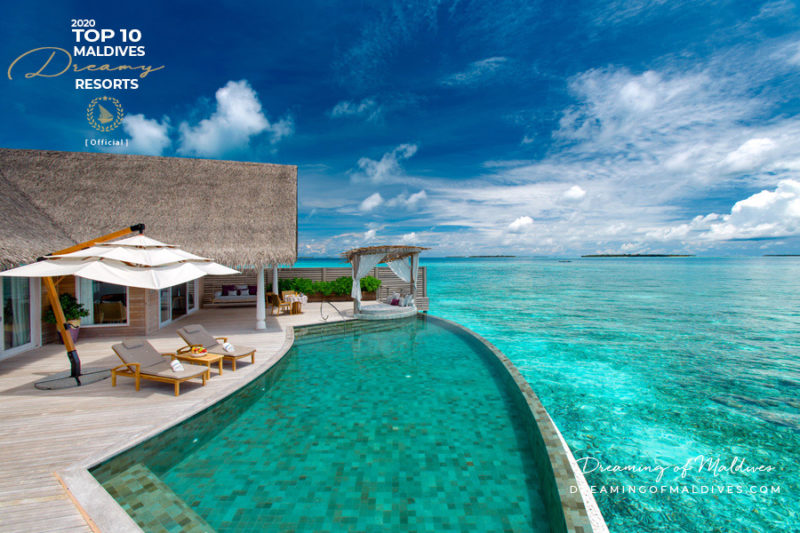 Number 9
Four Seasons Maldives at Landaa Giraavaru
An exquisite Ultra Luxury Resort nestled in one of Maldives largest natural lagoon.
Baa Atoll
Four Seasons Landaa Giraavaru is an Ultra Luxury resort situated on a lush tropical island in Baa Atoll. Reachable after a 30-minute seaplane ride from Male International airport, the island is surrounded by an exotic jungle greenery, immaculate white beaches and one of Maldives' largest natural lagoons. Landaa Giraavaru offers superb accommodation suitable to everyone, from honeymooners, big families to VIP's with several secluded suites and Residences.

The 103 stunning villas enjoy a relaxed-chic, native-Maldivian aesthetic (steep thatched roofs, traditional coral walls and beautiful wooden accents) and can be found dotted across the idyllic island's 44-acre surface area and set either on the white-sand beach, amid tropical foliage, or perched on stilts over the super island lagoon.
The resort combines impeccable service, five-star facilities and world-class cuisine with a sense of primal discovery.
Four Seasons Landaa Giraavaru is a magical Maldivian escape where natural wilderness meets island innovation and where families and lovers alike can indulge in whatever their hearts desire.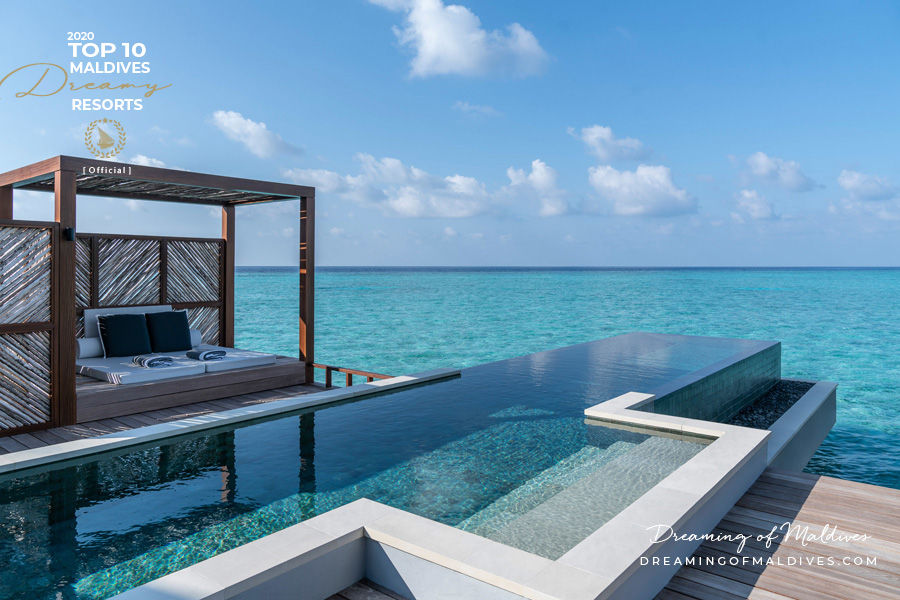 Number 9

(ex-ae)




The St. Regis Maldives Vommuli Resort
A Crusoe-Chic Ultra Luxury Resort surrounded by Beautiful Reefs.
Dhaalu Atoll
Located in the southern Atoll of Dhaalu, after a spectacular 40-minute seaplane flight from Malé International Airport, The St. Regis Maldives Vommuli Resort is one of Maldives Finest Address and a design masterpiece.
The resort is surrounded by a gorgeous house reef and is built on a 9 hectares island. The St Regis Vommuli offers style and character with a design inspired from the Maldives and mixed with a serious touch of contemporary lines

Outfitted for both romance and family vacations, the resort elegant are all superbly designed and assigned with a St Regis personal butler.
The resort boasts an award-winning architectural design inspired by marine life and the local Maldivian culture with remarkable facilities such as the Whale Bar with a design inspired by the whale shark and the Iridium Spa, inspired by the lobster.
The uber luxury resort is also home to 6 highly acclaimed restaurants.
The St Regis Maldives Vommuli is a Dream Resort for families, couples and Nature lovers.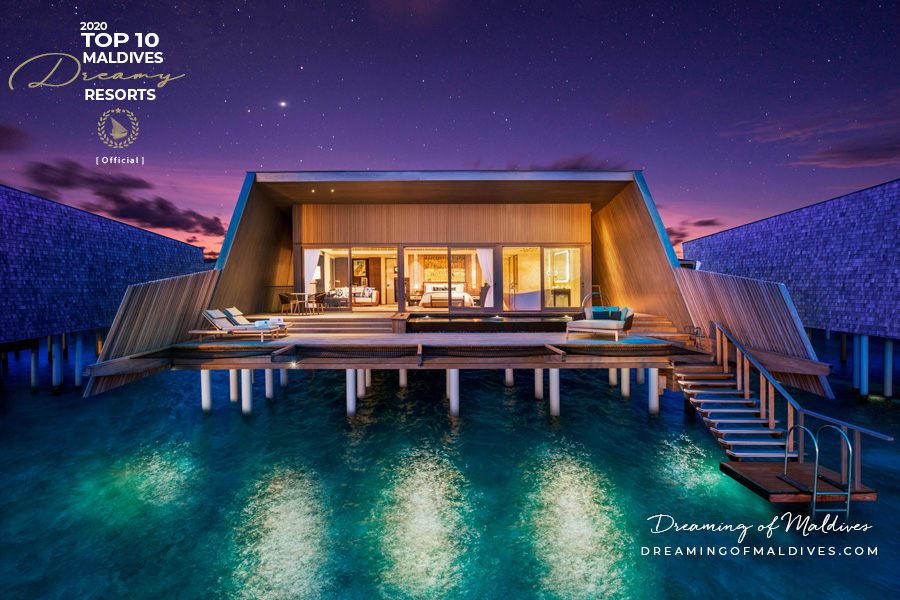 Number 8
Conrad Maldives Rangali Island
A World renowned Luxury Resort offering an awe-inspiring environment and services
South Ari Atoll
Conrad Maldives Rangali Island is a one-of-a-kind resort nestled in South Ari Atoll, at a 30 minutes seaplane flight from Male International airport.
The Resorts is settled on 2 islands linked by a 500-metre timber footbridge. Conrad Maldives features villas and suites tucked amongst natural greenery and above the lagoon, several award-winning restaurants and bars, two tranquil spas and a collection of locally inspired experiences designed to connect adults and children with the charm of Maldivian culture.

The multi-award resort has been the chosen holiday destination for several celebrities : Dita Von Teese, Kris Jenner, Michael Phelps or Roger Federer to name a few.
Conrad Maldives Rangali Island, is also known for its extraordinary underwater restaurant Ithaa awarded the 'Most Beautiful Restaurant In the World' by the New York Daily News and the World's first underwater Suite The Muraka.
Conrad Maldives Rangali Island is a spectacular twin-island retreat and one Maldives most innovative Luxury Resort.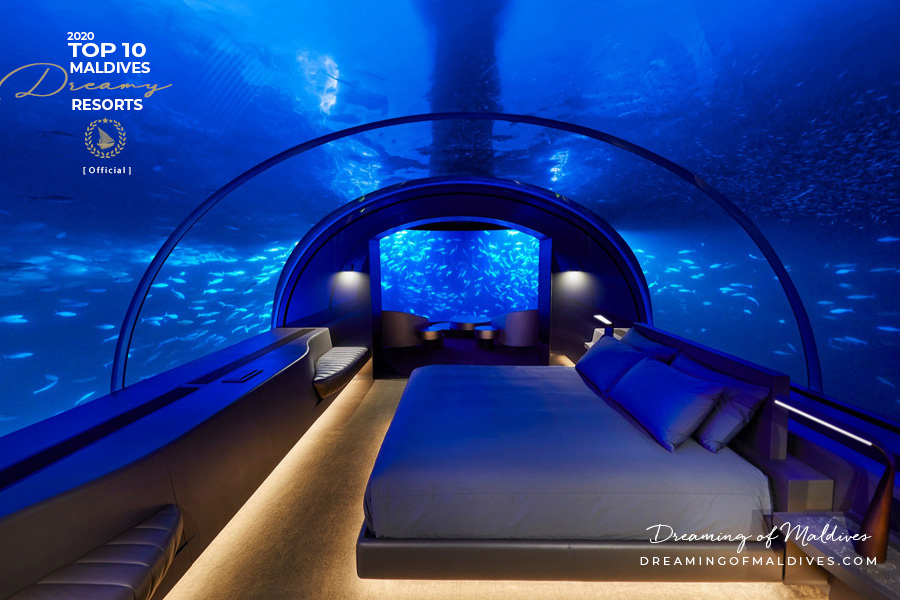 Number 6

(ex-ae)




One&Only Reethi Rah
The Maldives Icon of Luxury.
North Male Atoll
One&Only Reethi Rah is a truly exceptional hotel located in Male North Atoll, at 45 minutes from Male Airport by speedboat.
The resort 130 villas and Grand Residences stretch along the beaches of one of the largest island in North Male Atoll.

Spacious and elegant, all villas are dressed in minimalism and play the card of modern comfort. Quintessence of Luxury, One&Only Reethi Rah is a Dream for elegant travelers looking for a super stylish Maldivian retreat.
Inspiring in many ways, One&Only Reethi Rah is probably the most exquisite and Iconic Resort of the Maldives.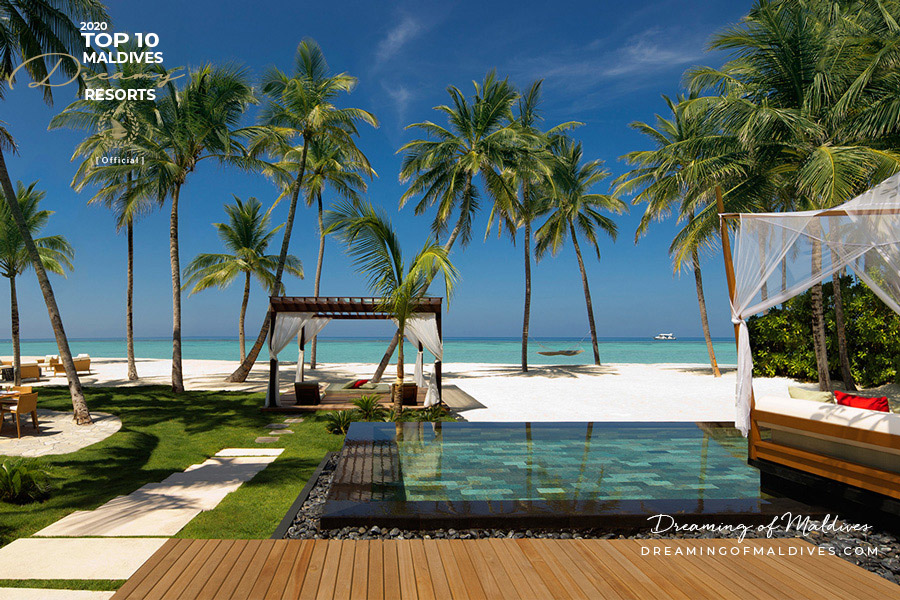 Number 5
Waldorf Astoria Maldives Ithaafushi
One of Maldives most exclusive Luxury Resort
South Male Atoll
Waldorf Astoria Ithaafushi is one of Maldives most exclusive resort.
Located in South Male Atoll, at 40 minutes from Male International Airport via the resort's private yacht, the recently opened island retreat is composed of 3 islands including a super Private Island called Ithaafushi Private Island and 2 ultra secluded Water Residences build far away from the islands.

The resort is the perfect luxury escape for families, couples and VIP's in search of space and exclusivity with 122 luxuriously appointed villas, each equipped with a pool, gazebos, lounge decks and butler service.
Waldorf Astoria Maldives Ithaafushi offers 11 dining venues, a world-class lifestyle spa sanctuary and a plethora of activities for all generations.
Waldorf Astoria Maldives Ithaafushi is one of the newest hyper-exclusive retreat in Maldives.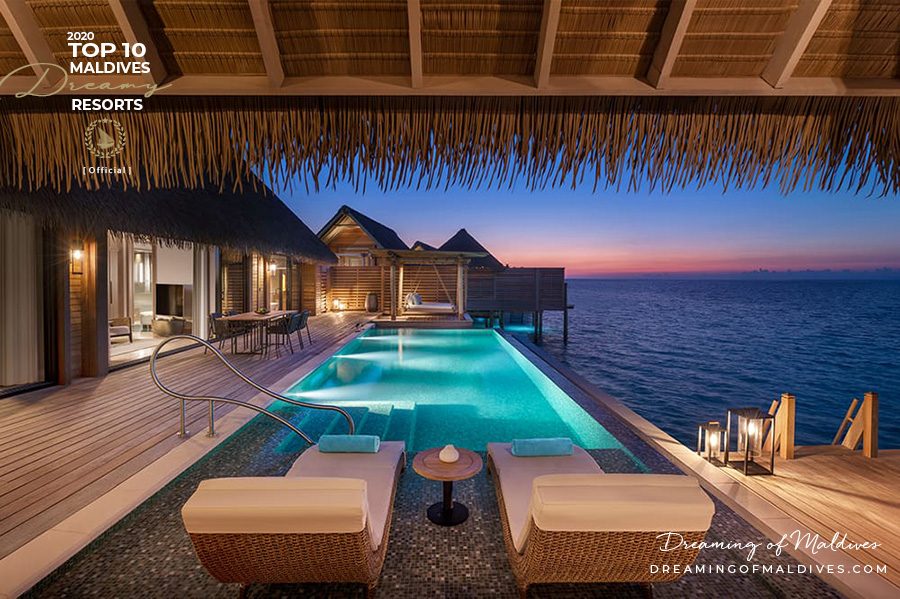 Number 4
JOALI Maldives
A glamorous Luxury Resort that awakens emotions
Raa Atoll
Joali is located on the island of Muravandhoo, in Raa Atoll, North Maldives, at 45 minutes from Male airport by seaplane.
Joali Maldives exudes femininity in its design and branding. From the interior colors and decorative details, to the exterior round and smooth lines and its philosophy the "Joy-of-Life", Joali clearly embodies a woman and what she likes.
Joali Maldives boasts 73 villas, many of which are overwater. The villas are proposed in 1 up to 4 bedrooms spread throughout the island and its lagoon. Each Villa has its own private infinity pool overlooking the blue lagoon or the deep ocean.
One of JOALI's singularity resides in its interactive and experiential Art pieces disseminated throughout the island and in the villas.
Joali is a superb Resort, also known to be the first Immersive Art Hotel in Maldives. Its Art concept makes it one of a kind in a destination full of extraordinary Luxury Hotels.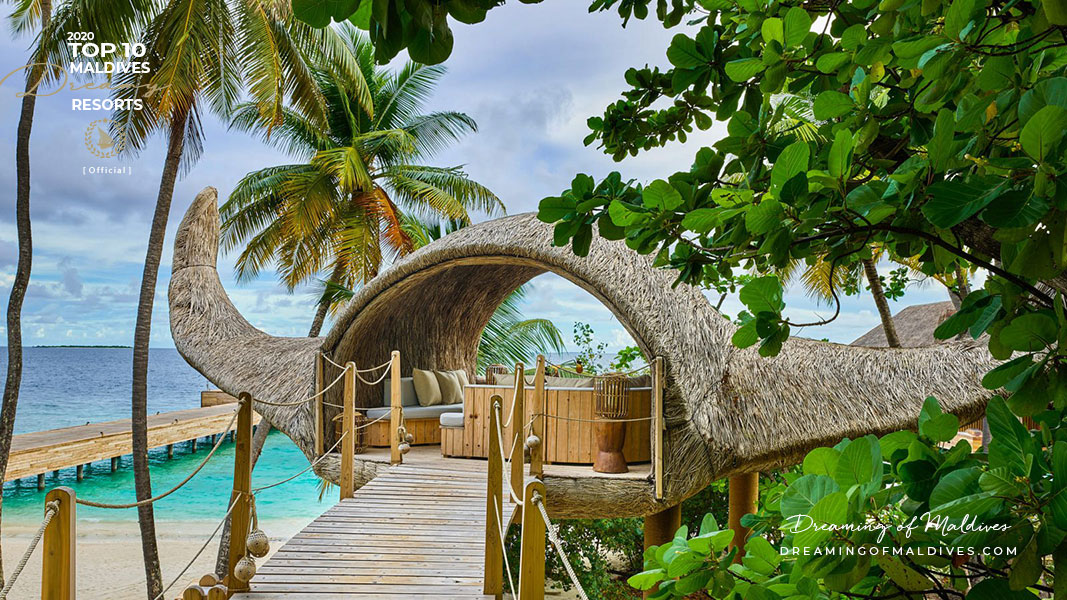 Number 3
Six Senses Laamu
A Stunning Eco-Luxury Resort.
Laamu Atoll
Six Senses Laamu is secluded in a undisturbed nature and surrounded by a gorgeous blue lagoon a long close-by rich house reef.
The eco-friendly luxury Resort is reachable after a 45 minute domestic flight to the Atoll Airport of Kadhdhoo followed by 20 minutes speed boat ride.
The Luxury Eco-Friendly resort is located in one of the most virgin Maldivian Atoll : Laamu, known for its pristine beauty.

Six Senses Laamu offers spacious Beach Villas close to fine white sandy beaches and some of the most beautiful Water Villas in Maldives. The resort is a wonder for the eyes and the senses. Six Senses Laamu offers an amazing service, both a Wonderful Lagoon and a great snorkeling house reef, a fabulous gastronomy and superb accommodation.
Six Senses Laamu is a unique Resort in a unique Atoll and stands as one of the most beautiful Island Resort we have seen in the Maldives.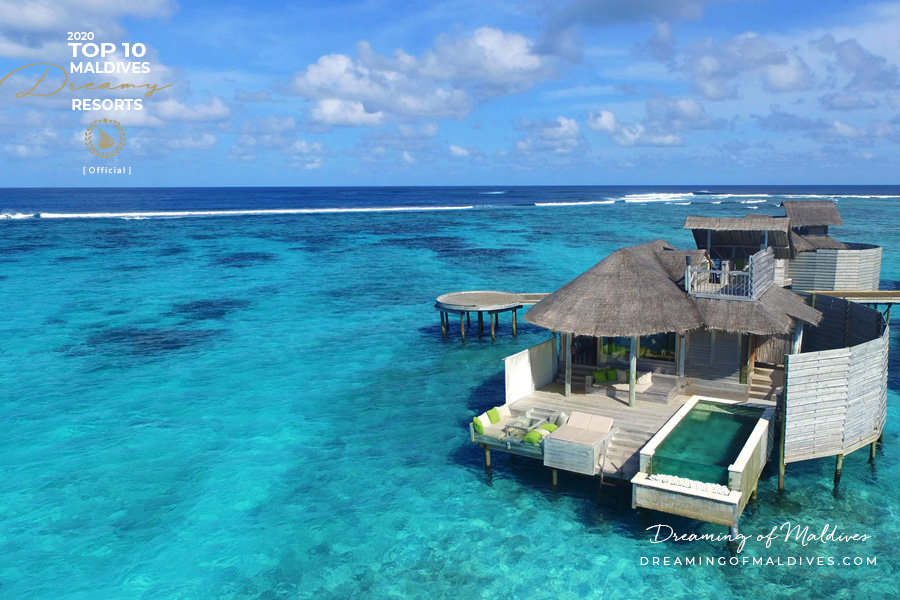 Number 2
Soneva Jani
A Dream Come True Island.
Noonu Atoll
Soneva Jani. 5.6 kilometer lagoon of crystal clear waters with uninterrupted 360° views of the Indian Ocean and extraordinary Water Villas.

Every water villa has a private pool and opens to its own stretch of lagoon, with some villas featuring slides going directly from the top deck into the lagoon below.
The highlight of the villas is the retractable roof in the master bedroom, which slides back at the touch of a button so that guests can lie in bed and stargaze.
Soneva Jani is a Dream Come True and one of the world's most outstanding Resort.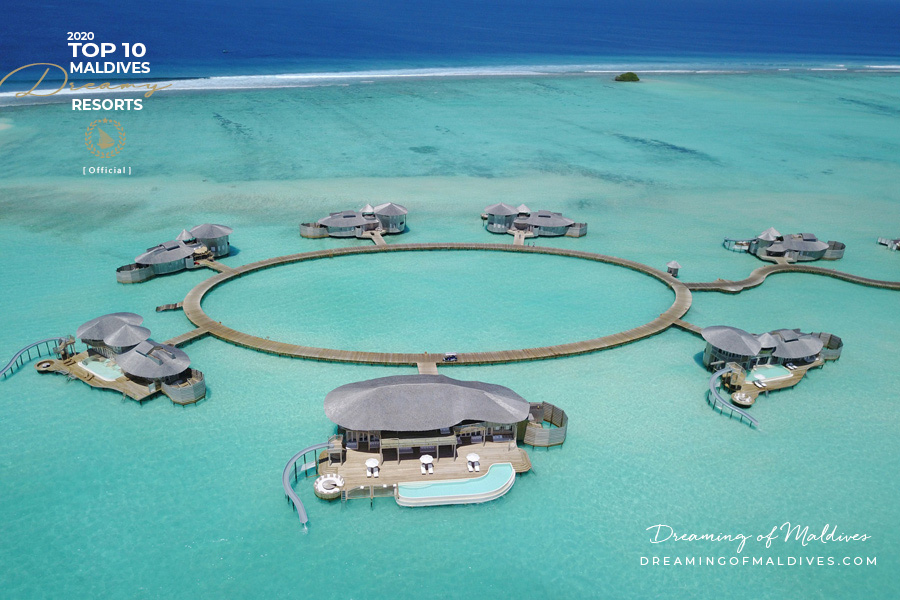 Number 1
Gili Lankanfushi Maldives
An Eco-Luxury Island Beyond Any Words and Expectations.
North Male Atoll
Gili Lankanfushi Maldives is a superbly designed Resort standing in the middle of an endless blue lagoon at a short distance by speedboat from Male airport. Gili Lankanfushi Maldives embraces the "No News No Shoes" philosophy along with very high luxury standards and service levels.
One of the resort dreamiest concept resides in the accommodation with 45 Water Villas impressively floating above the lagoon and its Private Reserve, the World's Largest Water Villa, covering 1700 sqm.

Crafted in a rustic-chic style and built with natural and noble materials, all water villas offer the ultimate feeling of living by the water's edge. The designer's idea behind the concept is clear : to get the best of the blue from wherever we stand.
Impeccable at all levels of services, the island is a Dream for all Water Villa Lovers and Eco-Luxury Retreat seekers.
A resort beyond any words and expectations.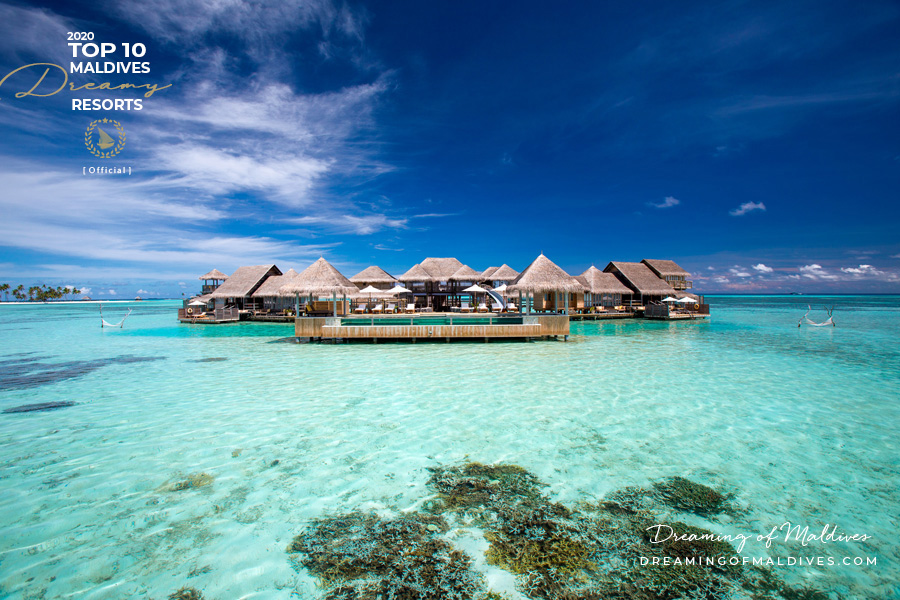 The Resorts in FOCUS
This TOP 10 is YOUR choice and doesn't reflect Dreaming of Maldives preferences
Yet, some of these resorts are also our Dreamy Islands To Be

Read our Reviews
Follow us on Facebook, Youtube and Instagram 
for more Maldives Dreams & Stories