During our various journeys in Maldives we've stayed in many Beach Villas. Here are the TOP 10 We Absolutely Loved.
Maldives Beach Villas Reviews. Our Top 10 favorites. 
As much as we Love staying in a Water Villa in Maldives, we also enjoy a Beach Villa too.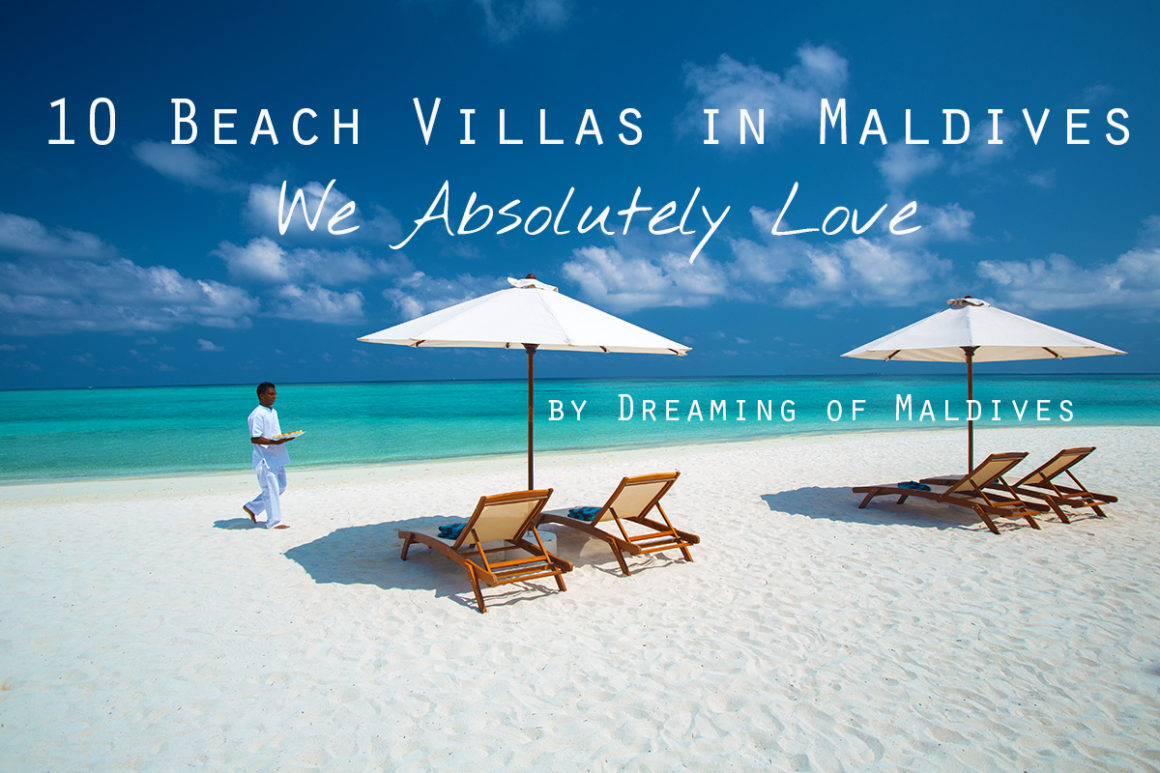 When we're in Maldives, we generally prefer to stay in a Beach Villa. Why ?
We prefer to stay in a Beach Villa first because it they are located on the sand and have direct access to our private beach and a gigantic natural pool whch is the lagoon.
Beside, they also offer shade ( yes, Maldives can be very hot ) and more freedom. At least in my opinion.
Dreaming of a Beach Villa with or without a private pool ?
In Maldives, you will generally find Beach Villas with or without a private pool. We personally do not care much if the villa is fitted or not with a private pool, as we are sea lovers.
How Do we choose our Beach Villa ?
When we choose a Beach Villa, we filter our selection by its location / privacy towards the resort facilities ( far from the bars and restaurants and generators ), if it has a beach direct and private access, a lagoon view from the the deck or even better, from the bedroom and eventually the size.
A Beach Villa to suit everybody's Dream
The Maldives have them all !
The Maldives have all kinds of beach Villas. Low budget Beach Villas with simple but yet nice amenities, super luxury and oversized Beach Villas, with infinity pool, a small pool or without, featured with glass doors for large open views on the outside, fitted with big living-rooms and several bedrooms, family beach villas, they come in numerous styles and prices.
To help you find the beach villa that will suit you, I listed here some of the most beautiful beach houses we stayed in.
You will Love
From Baa Atoll, in the north of Maldives, to Gaafu Alifu Atoll in the south we've roamed the Maldives and I thought to show you some our favorite ones from our previous and early trips to the Maldives.
The Best Beach Villas in Maldives. My Selection
We have personally stayed at the Following Resorts
Ask me any question


Banyan Tree Vabbinfaru 5*. North Male Atoll

Featured Beach Villa : Beachfront Pool Villa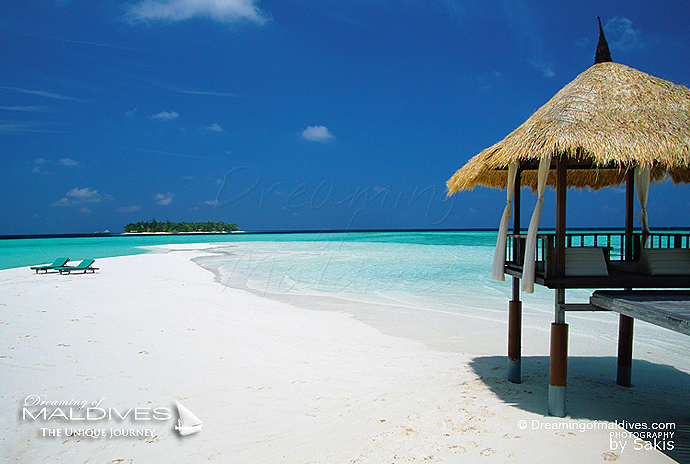 Villa Size : 110 sqm
Beach Villa Description :
The Beach Front Villa at Banyan Tree Vabbinfaru is one of Maldives best beachfront address.The beach offers direct ocean access, a private pool with adjoining jetpool, romantic outdoor shower, a charmingly thatched roof and wooden slatted pathways across sandy floor to bring you to the heart of both sand and sea.
A walled water feature adds an elegant touch to the pool and a broad rounded patio leading out from the plush bedroom French doors offers al fresco dining options. With an open-concept bathroom, private poolside cabana and sheltered outdoor terrace furnished with comfortable lounge beds and a stunningly personal view of the sea's jeweled tones, this Maldives Beach pool villa provides you with a beachfront experience that is nothing short of seafaring.


Park Hyatt Maldives Hadahaa 5*. Gaafu Alifu Atoll

Featured Beach Villa : Park Pool Villa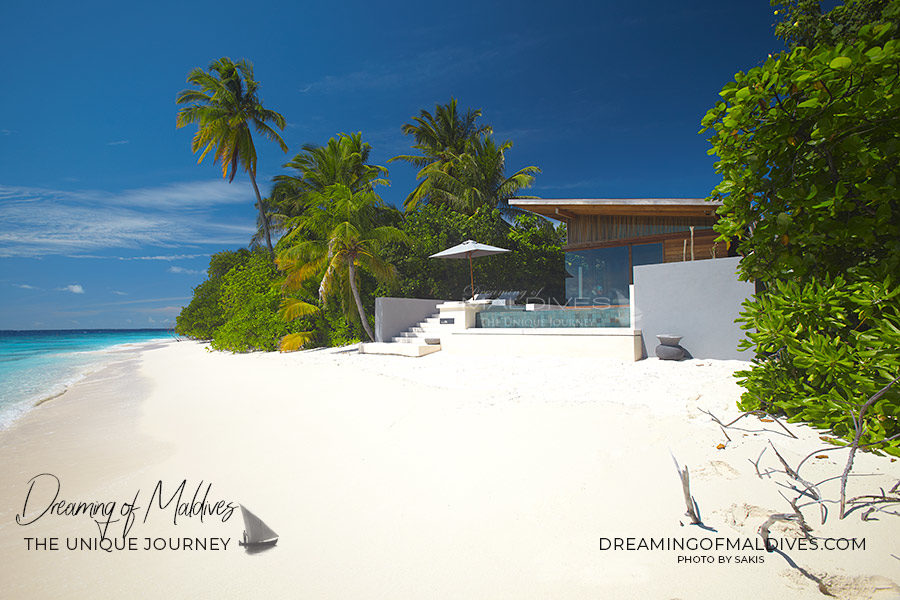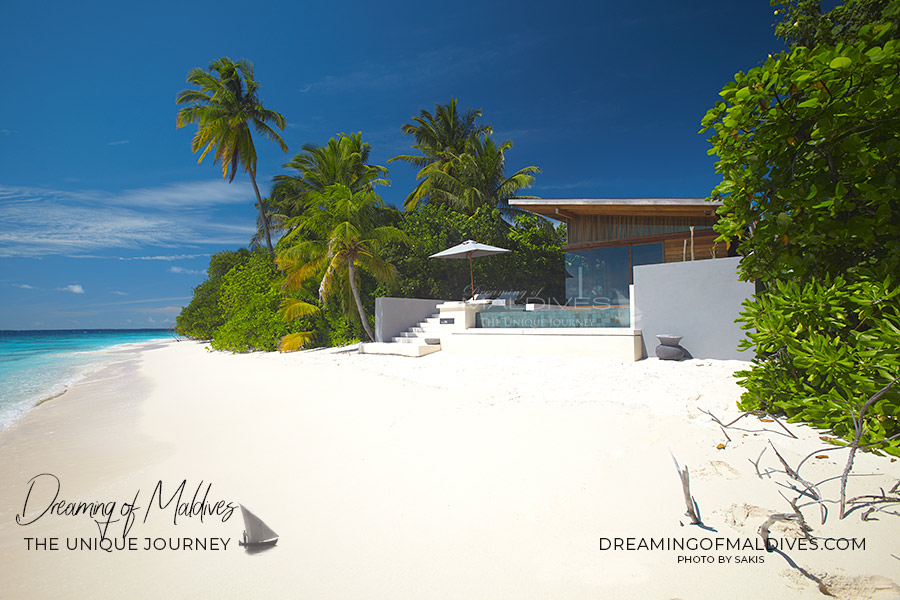 Villa Size : From 180sqm
Villa / Resort Description :
Park Hyatt Maldives Hadahaa is known to have one of the most stunning cose-by house reef in Maldives. The Park Pool Villas with plunge pools have a private beach access reaching the house reef in a few steps and are covered with vegetation to maximize the privacy intimacy.
The outdoor tub and rain shower are a great feature to these pool villas. Private decks have lounge chairs as well as lounge chairs on the beach. All Resort Villas have beautiful interior design with quite spacious living area. The bed is located in a way that you immediately see your plunge pool and private beach. Overall the Park Pool Villas offer a senses of Luxury and comfort for quite a reasonable price in such a category.


Velassaru 5* . North Male Atoll.

Featured Beach Villa : Beach Villa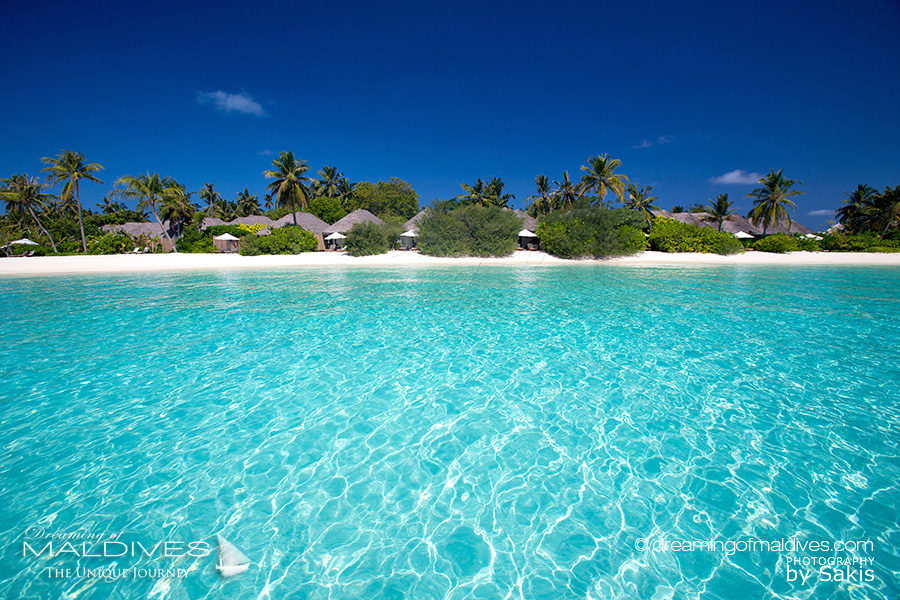 Villa Size : 96 sqm
Villa / Resort Description :
Velassaru Beach Villas offer an interior and a fantastic beach location.
Inside, an elegant interior with natural highlights of stone and teak across 96 sqm of pure privacy.
The bedroom offers full length glass doors and impressive sea view windows, The Private courtyard is completed with garden shower. A bathtub for long soaks, sheltered so you can still feel the refreshing breeze.
Velassaru Maldives Full Resort Video. The Most Beautiful Resort Places !
Velassaru
MALDIVES ESSENTIAL RESORT
VISIT & REVIEW
EXPLORE



Kandolhu 5* . North Ari Atoll
Featured Beach Villa : Pool Villa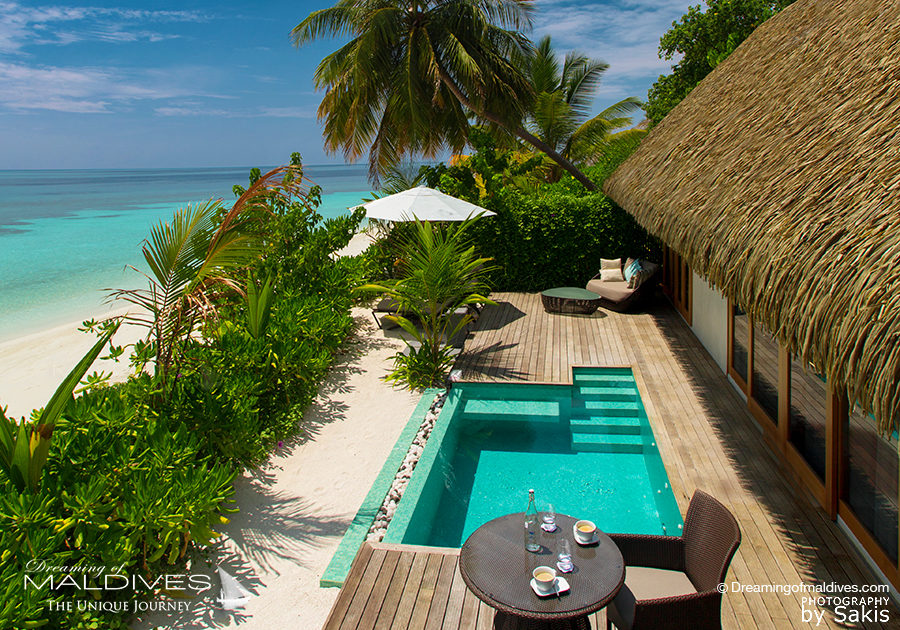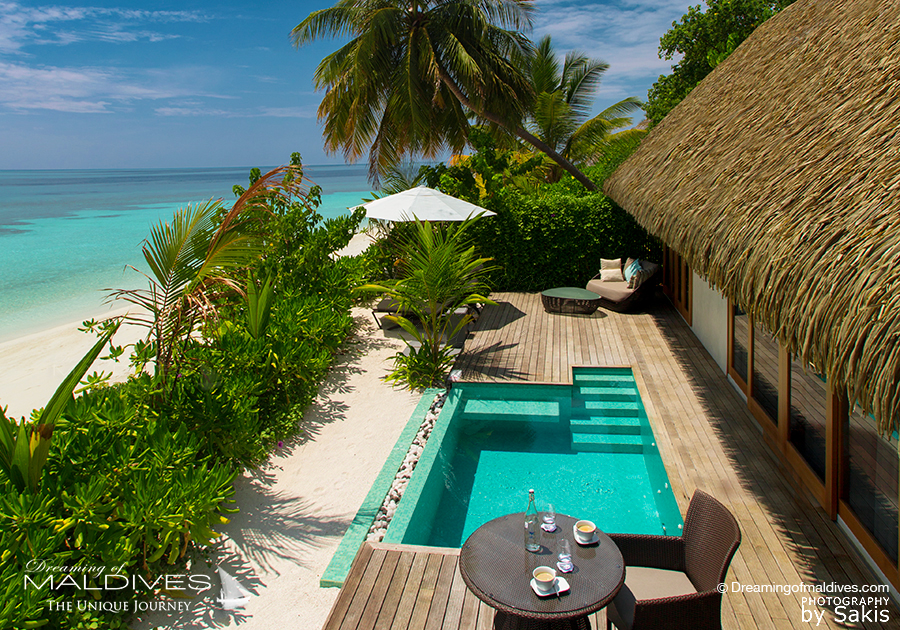 Villa Size : 150 sqm
Villa / Resort Description :
Facing the east, the extravagant Beach Pool Villa features a lavish bedroom with a king-sized bed facing the pool and the blue lagoon beyond. Walk through the expansive wardrobe to access the large open air bathroom featuring a freestanding bath, shower, twin vanity and an outdoor garden shower.
The large verandas of these Maldives luxury villas feature an outdoor daybed. Each outdoor deck houses a pool (9 sqm), sun loungers, sun umbrella and dining area. The Pool Villas can accommodate maximum 3 adults or 2 adults and 1 child.
Kandolhu
MALDIVES ESSENTIAL RESORT
Our Photo Gallery. & Exclusive Photos
EXPLORE



Niyama Maldives 5* . Dhaalu Atoll

Featured Beach Villa : Beach Studio with Pool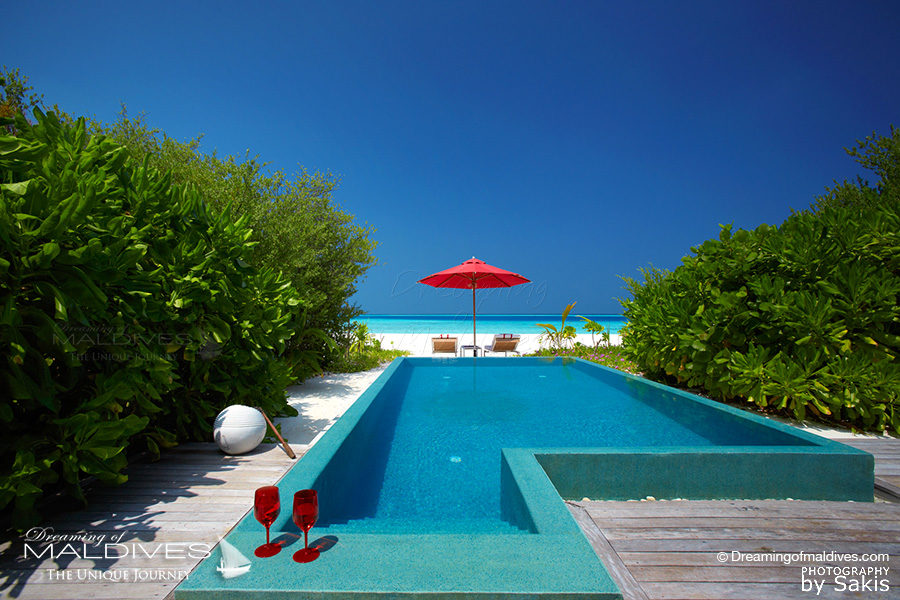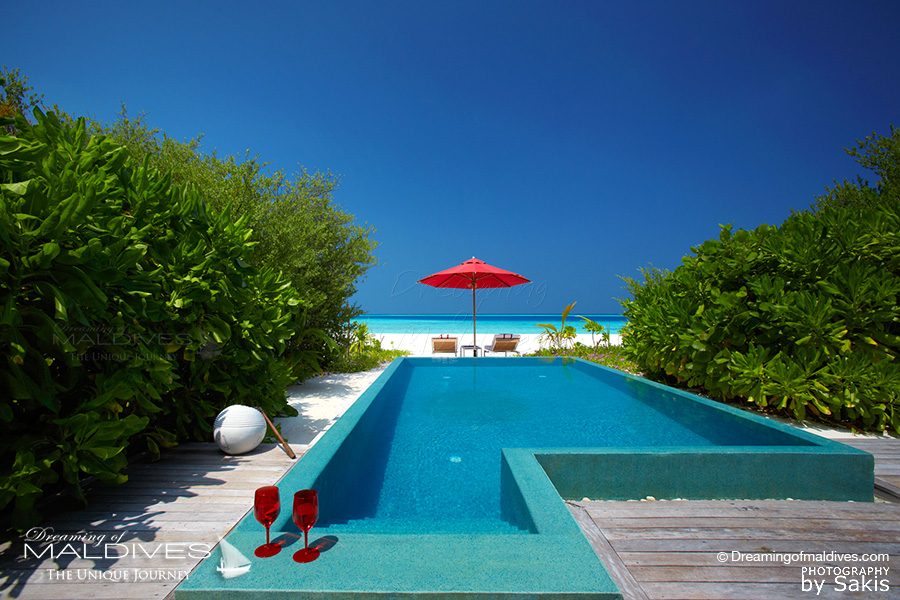 Villa Size : 190 sqm
Villa / Resort Description :
The Beach Studios with Pool at Niyama Maldives are some of the best beach villas with lagoon views.These spacious beachfront studios with lagoon views feature a fibre optic lights pool overlooking the ocean.
Inside, the luxurious bed looks out to the pool, the beach, the lagoon and beyond.
Outside, relax on a big sundeck with a traditional Maldivian swing, on the sun loungers or enjoy an al fresco dining with a separated table.
Sink into the stunning natural surroundings in an outdoor bathroom with deep tub, or relax indoors with a high-tech entertainment system with plasma TV and surround sound and a In room iPad. Enjoy movie nights with your in-room popcorn machine and snack on deli gourmet goodies from your fully stocked fridge whenever you choose.
Niyama Maldives Complete Resort Video #NiyamaMaldives #Maldives #MaldivesResort
Niyama Private Islands
MALDIVES ESSENTIAL RESORT
VISIT & REVIEW
EXPLORE



Six Senses Laamu. 5* Laamu Atoll.
Featured Beach Villa : 2 Bedroom Beach Villa with Pool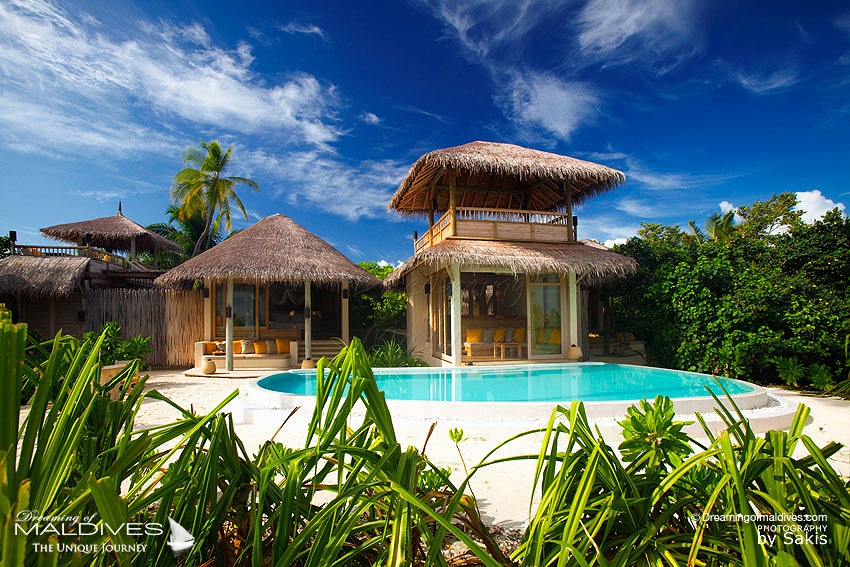 Villa Size : 285sqm
Villa / Resort Description :
The Two-Bedroom Beach Villa with pool is hidden between the lush tropical vegetation of the resort and its bright blue lagoon.This beach Villa is ideal for large families or couples traveling together.
It comprises two separate and independent bedrooms with a private outdoor bathroom and a very spacious common living and dining room area located in between.
The family beach villa hideaway features a private pool and private access to the beach, which is only a few meters away. Sun loungers are placed strategically for sunshine and shade around the pool.
For a unique panoramic view of the Maldivian nature, sapphire seascape and for catching an unforgettable colorful sunset, you can just climb on the treetop deck which features a comfortable seating and dining area, suitable for spending some quality time together.
Dreaming of Six Senses Laamu Maldives. The Resort Most Beautiful Places. #SixSensesLaamu #Maldives
Six Senses Laamu
MALDIVES ESSENTIAL RESORT
VISIT & REVIEW
EXPLORE



Naladhu 5*. South Male Atoll.

Featured Beach Villa : Beach House with Pool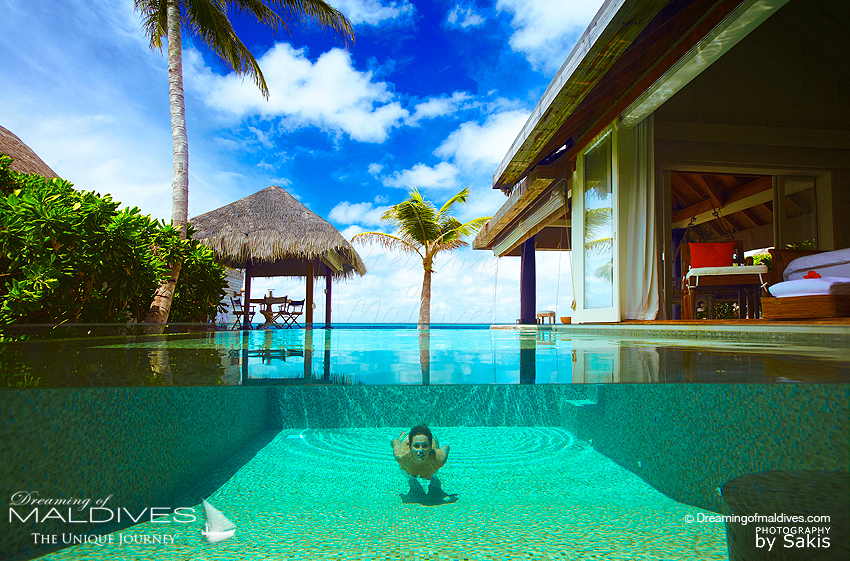 Villa Size : 300sqm
Villa / Resort Description :
Naladhu Houses With Pool come with a big swimming-pool fitted with a transparent see through glass.
The villa opens into a rear garden that leads to a tranquil beach on the lagoon side of the island and is surrounded by lush tropical vegetation to provide a cocoon of privacy.
Each beach house is a symphony of style with elegant hardwood furnishings, cool tones and contemporary ambience.
The decadently appointed al-fresco bathing pavilion with a waterfall shower and private steam room is shaded by bougainvillea and frangipani and gives way to the private 35sqm infinity-edge pool.
Every modern convenience is at your fingertips including WiFi, BOSE home surround theatre system, LCD satellite TV, in-room iPod and CD player, private wine cellar, gourmet mini bar, espresso machine and private library.
Naladhu Maldives Private Island Dreamy Video
Naladhu Private Island
MALDIVES DREAMY RESORT
VISIT & REVIEW
EXPLORE



Huvafen Fushi 5*. North Male Atoll.

Featured Beach Villa : Beach Pool Villa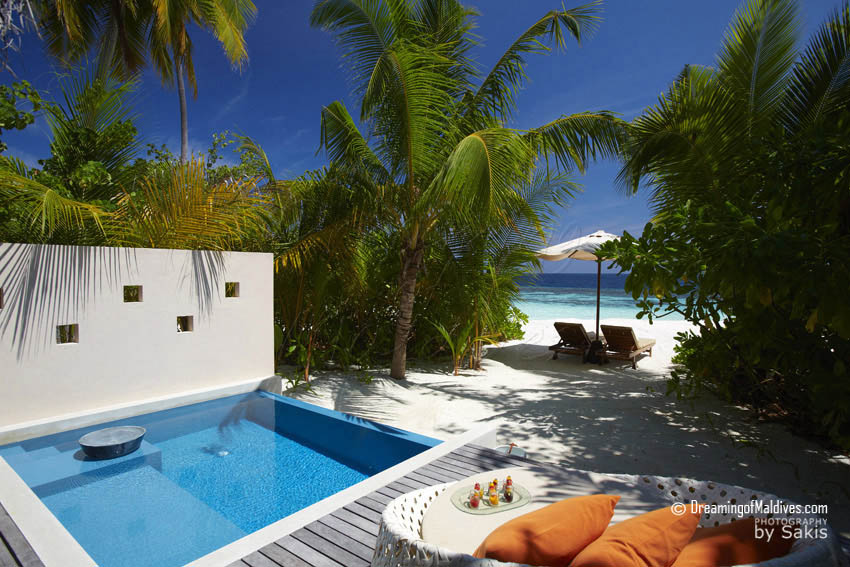 Villa Size : 125sqm
Villa / Resort Description :
The Beach Pool Villa faces the Huvafen Fushi pristine lagoon and offers a direct and private access to the beach
The villa features a deck overlooking the beach with daybed and dining table and a freshwater plunge pool.
The private courtyard houses an oversized bath, waterfall shower and outdoor daybed. Inside the villa is an espresso machine, a flat-screen TV, DVD player and Bose surround sound system.
Huvafen Fushi Maldives Most Beautiful Places. A Dream for Couples Only #Maldives #HuvafenFushi
Huvafen Fushi
MALDIVES DREAMY RESORT
VISIT & REVIEW
EXPLORE



Milaidhoo 5*. Baa Atoll

Featured Beach Villa : Beach Pool Villa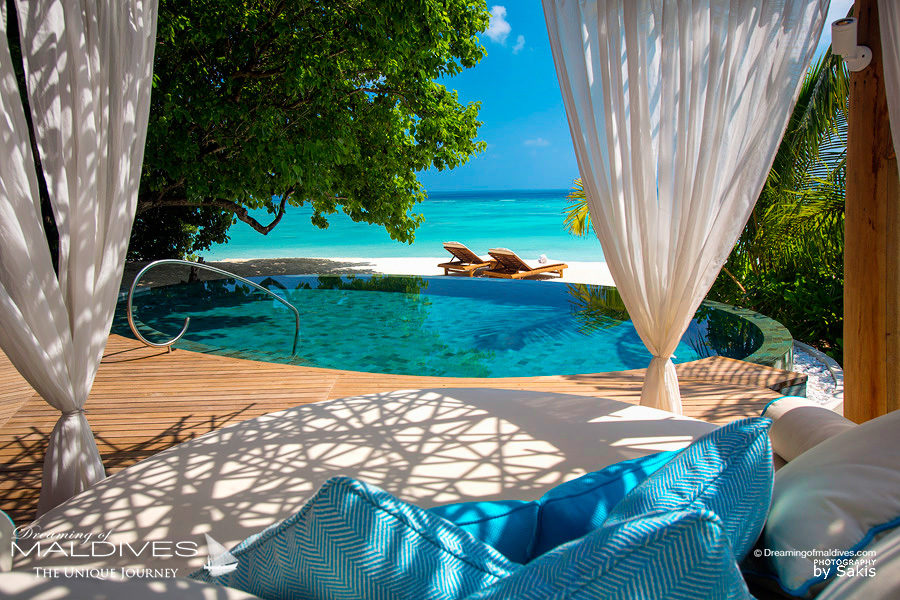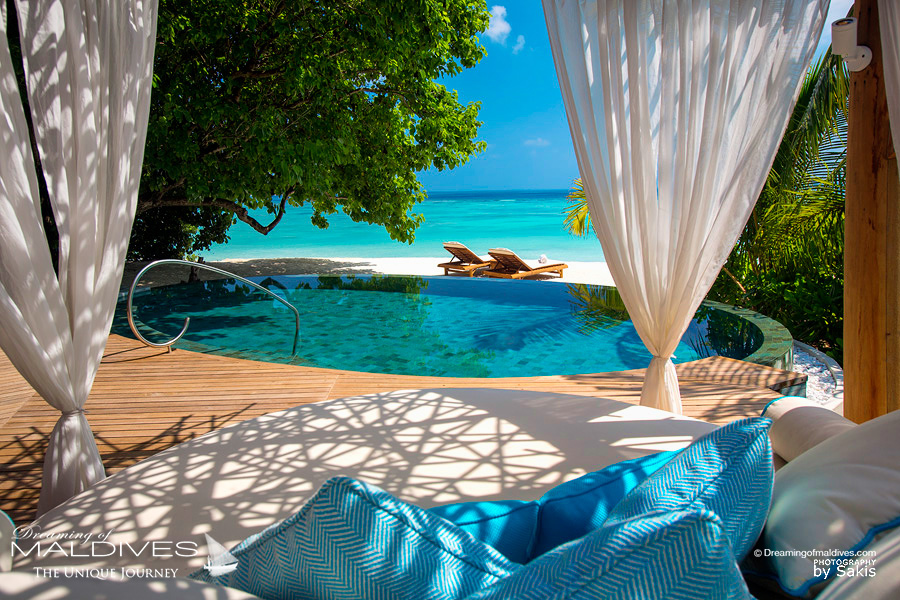 Villa Size : 290sqm
Villa / Resort Description :
The Beach Pool Villas are set directly on a white powdery beach amongst lush tropical palm trees and greenery.
These huge thatched-roof villas all have ocean views and open-up 180-degrees to the huge sundeck.
Inside the villa is a king bed with views of the beach and ocean; a discreet flatscreen-TV; high ceilings; private wine fridge; full size fridge/mini bar; coffee machine; ceiling fan and air conditioning and custom-made furnishings.
The contemporary interior design includes many local touches giving a sense of being truly in the Maldives.
The sundeck has a 36 square metre private freshwater infinity pool; Maldivian-style swing chair; sun loungers; umbrella; table with chairs and an oversized daybed by the pool.
The luxurious air-conditioned bathroom offers an indoor rain shower; a separate deep bathtub as well as an outdoor open-air garden-shower and luxury-size toiletries are by Acqua Di Parma.
Stunning Drone Footage of Milaidhoo Sandbank. A Dream Video for Honeymooners #MilaidhooMaldives
Milaidhoo
MALDIVES DREAMY RESORT
VISIT & REVIEW
EXPLORE



W Maldives 5*. North Ari Atoll
Featured Beach Villa : Wonderful Beach Oasis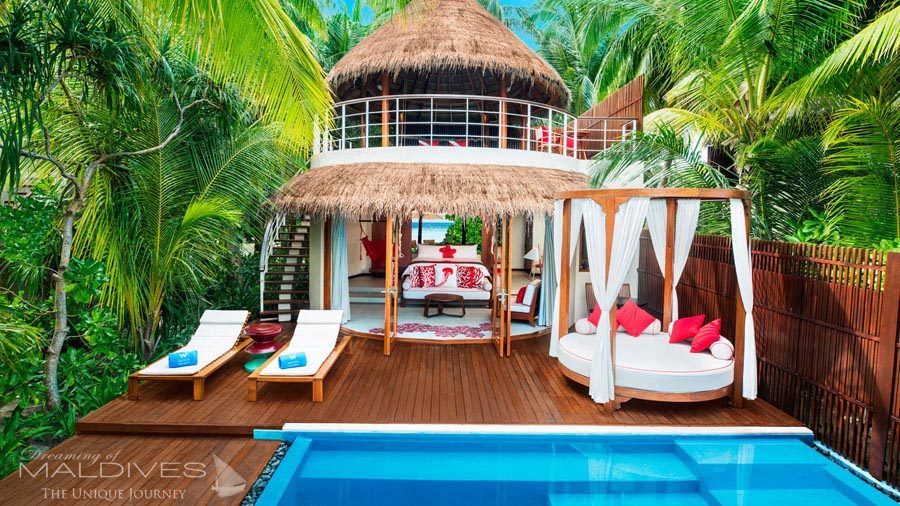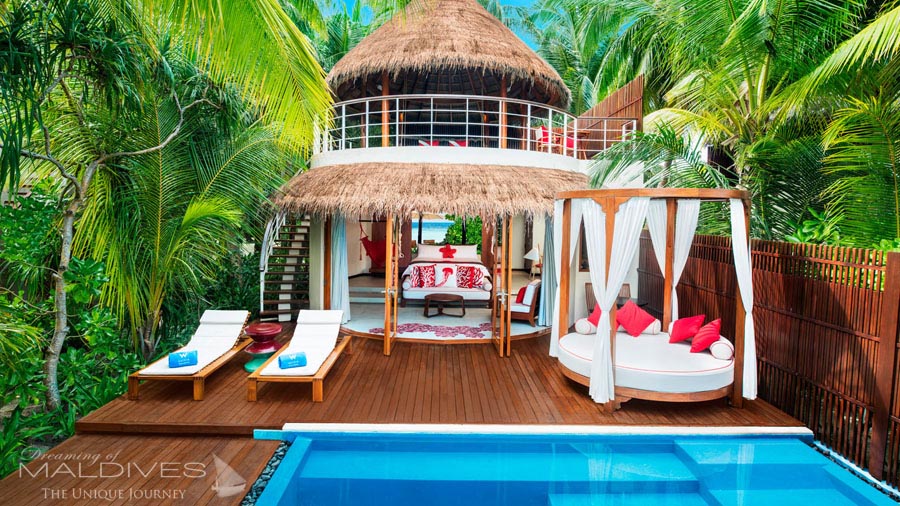 Villa Size : 188 sqm
Villa / Resort Description :
The Wonderful Beach Oasis is a two-level beach villa in Maldives.
A spacious outdoor lower deck (118 square meters) covers all the custom amenities of absolute tropical luxury, starting with a plunge pool and a circular daybed, nestled within absolute privacy.
Dipping in the crystal clear Indian Ocean or running your toes through pristine white sands is just moments away from your doorstep.
Stay indoors forever with the 42" plasma TV, BOSE® sound system, complimentary High Speed Internet Access, king-sized signature W bed, wine fridge and delightful Munchie Box.
Bathe under blue skies or bright stars in the open roof bath area with standalone bathtub, rainforest shower and Bliss® Spa bath amenities. Upstairs, a swing daybed, fridge and BBQ area beckon in hideaway living space, complete with unobstructed sweeping views of the coast and soothing sea breezes.
And keep everyone together with interconnecting twin rooms !
W Maldives Video. An Extraordinary Luxury Resort. #WMaldives #BestSnorkelingMaldives #WHotels
W Maldives
MALDIVES DREAMY RESORT
VISIT & REVIEW
EXPLORE

Follow us on Facebook, YouTube and Instagram for more Maldives stories.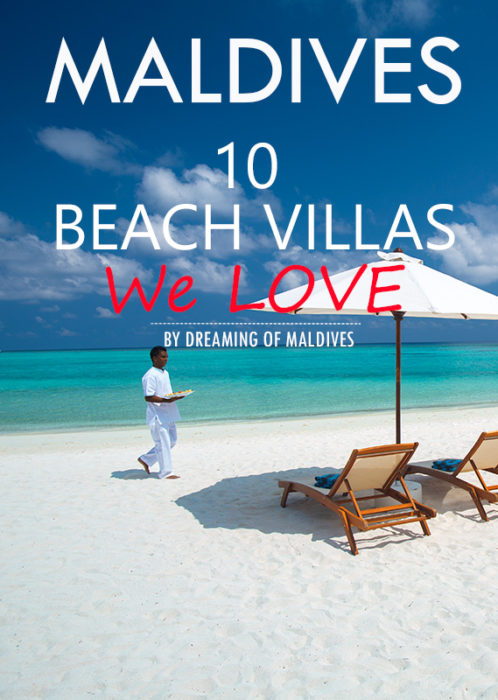 Your TOP Best Maldives Resorts 2023
YOUR CHOICE. YOUR DREAM. YOUR VOICE
[ Official ]
Traveler's Choice
12th Edition