Joali is a superb Resort, also known to be the first Immersive Art Hotel in Maldives. Its Art concept makes it one of a kind in a destination full of extraordinary Luxury Hotels.
Throughout the all island and in the villas, guests are invited to experience and contemplate various artist creations. From fine Objects to large Installations, Joali showcases an extraordinary and diverse collection of creative and artistic works.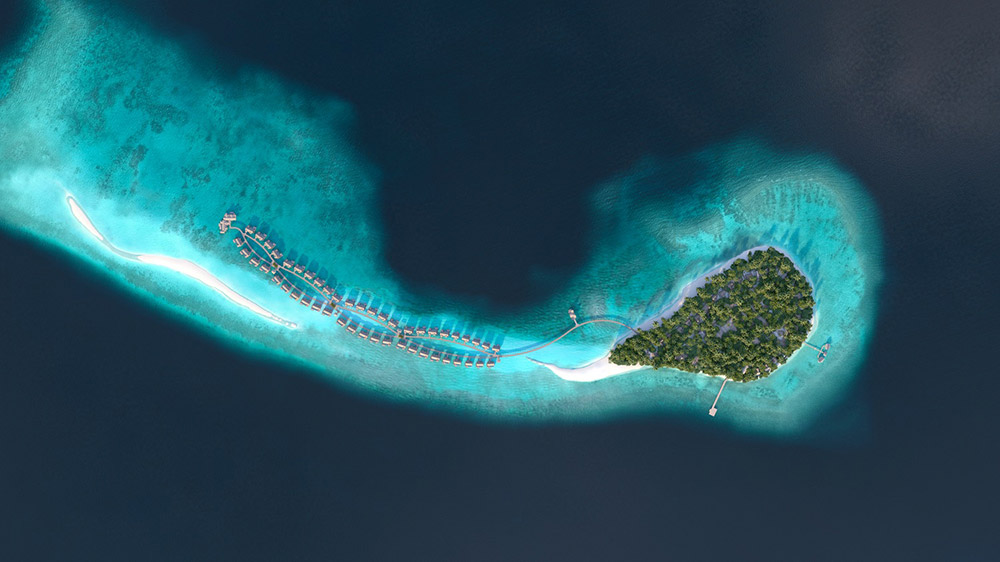 Out of curiosity, I went through Joali Art Gallery and got very impressed by its creativity and beauty. I give you here a Dreamy Inventory of the most captivating pieces.
This beautiful in and out Art gallery is a joint collaborative work between Joali and No LaB *, Art & Design Curators. This permanent and versatile exhibition was created by various young artists * based around the world and executed in collaboration with local artisans to support the surrounding community.
See more information at the end.
Behind each Art piece is a story, a team or a single person who got inspired by Maldives. Each piece is handmade, unique and took countless hours and lots of love to be created.
I have put the website of each artist. To be discovered urgently !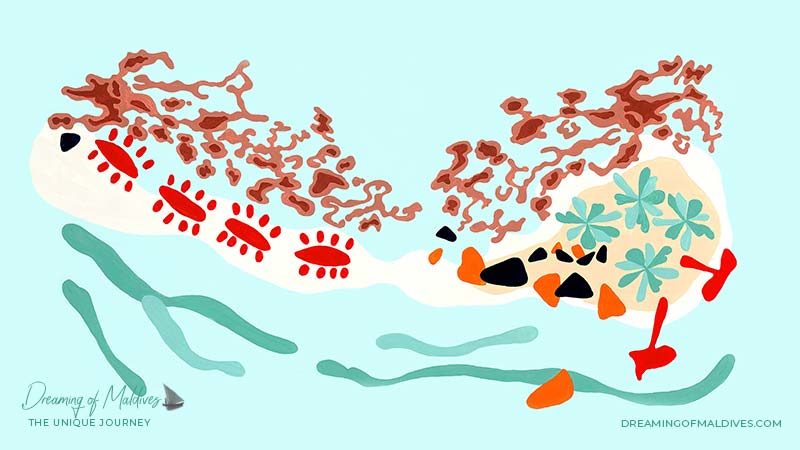 At arrival at the resort, guests are met with an Art Map of the island detailing all the art installations disseminated around the property.
Joali Immersive Art Gallery & Collection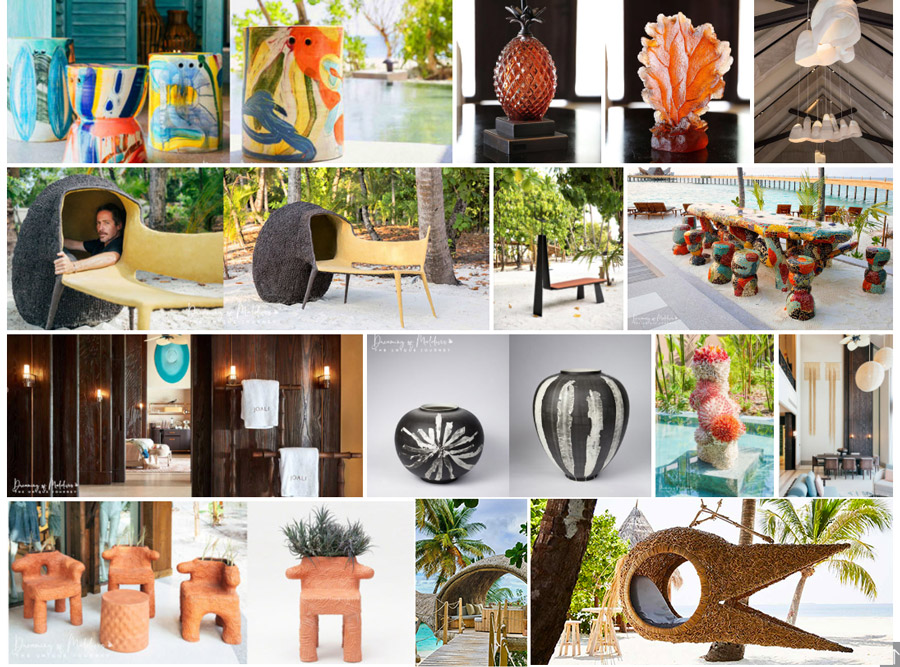 Joali Maldives uniqueness lies in its art.
The objects and installations are located inside several villas and outside, throughout the island.
Glass Art objects by Fy-shan Glass Studio. Turkey
Coral Glass Fine Object
Location : Selected Villas & Residences
Artist website \ http://www.fyshan.com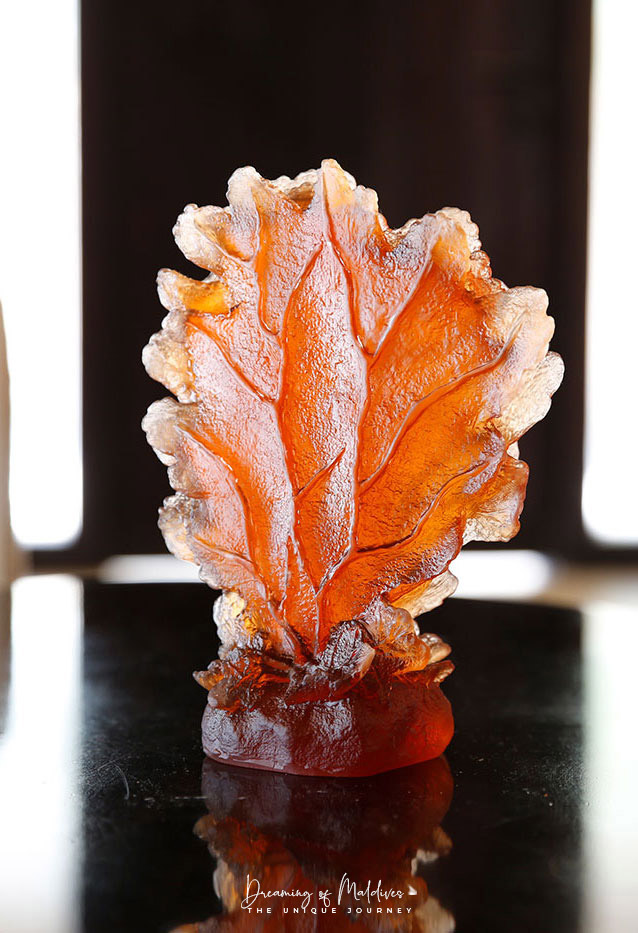 Coiled Lighting by Doug Johnston. USA
Coiled is a sculptural lighting made out of coiling and machine-stitching.
Location: inside of the Maison De JOALI
Artist website \ http://www.dougjohnston.net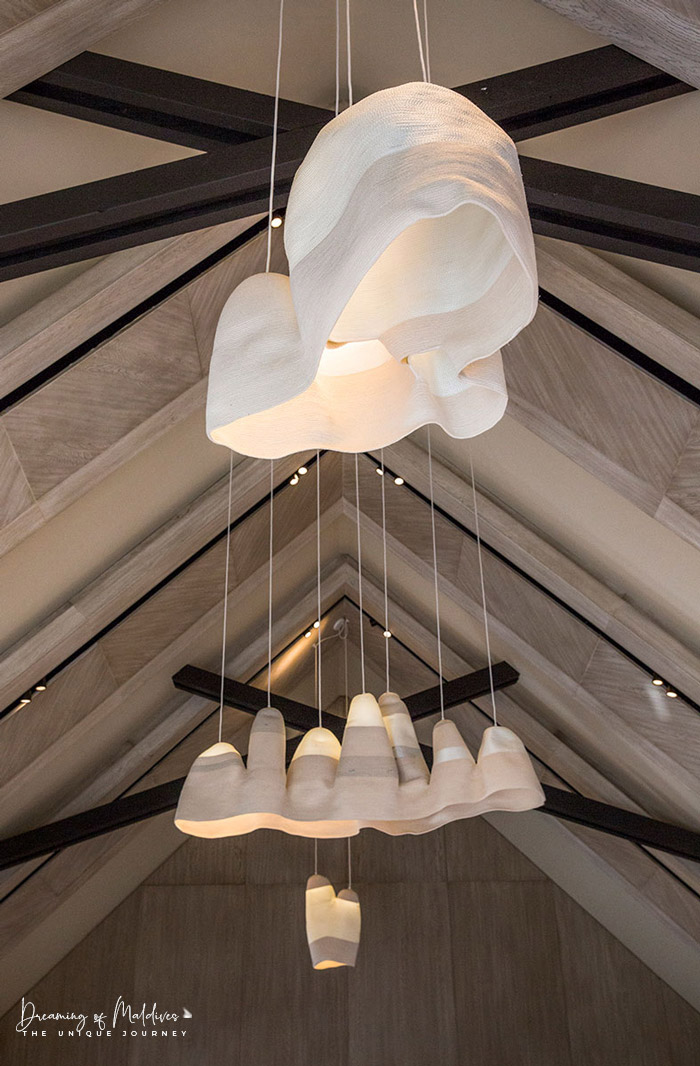 Evolution Chair by Nacho Carbonell. Netherlands
The Evolution Chair is made from sand and tree sap.
Location: Vandhoo restaurant
Artist website \ https://www.nachocarbonell.com

The Mini Stools by Reinaldo Senguino. venezuela
The Mini Stools are made of Ceramic.
Location : Mura Bar
Artist website \ http://reinaldosanguino.com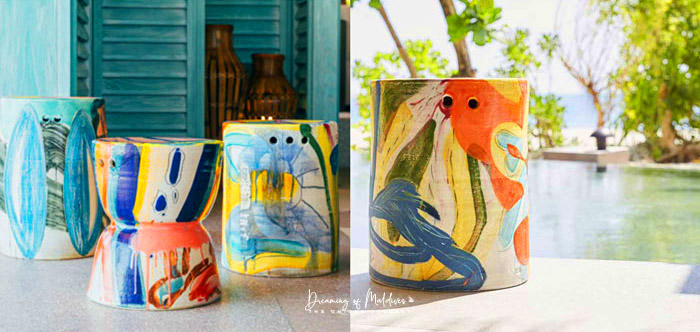 The Perch by John Paul Phillipe. USA
The Perch is made of wood and metal "for Humans and Birds to rest".
Location: in front of Bellinis restaurant
Artist website \ http://johnpaulphilippe.com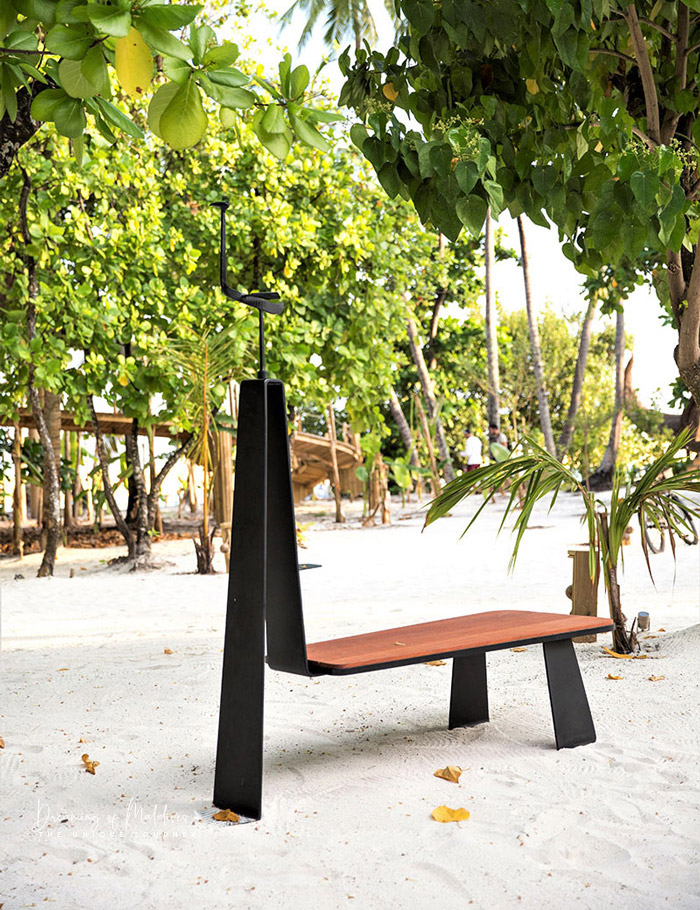 The table Club Tropicana by Misha Kahn. USA
The Table Club Tropicana is made of mosaic tiles and
inspired by Misha Kahn favorite artists like Gaudi and Nicki de Saint Phalle.
Location: Mura Bar
Artist website \ http://www.mishakahn.com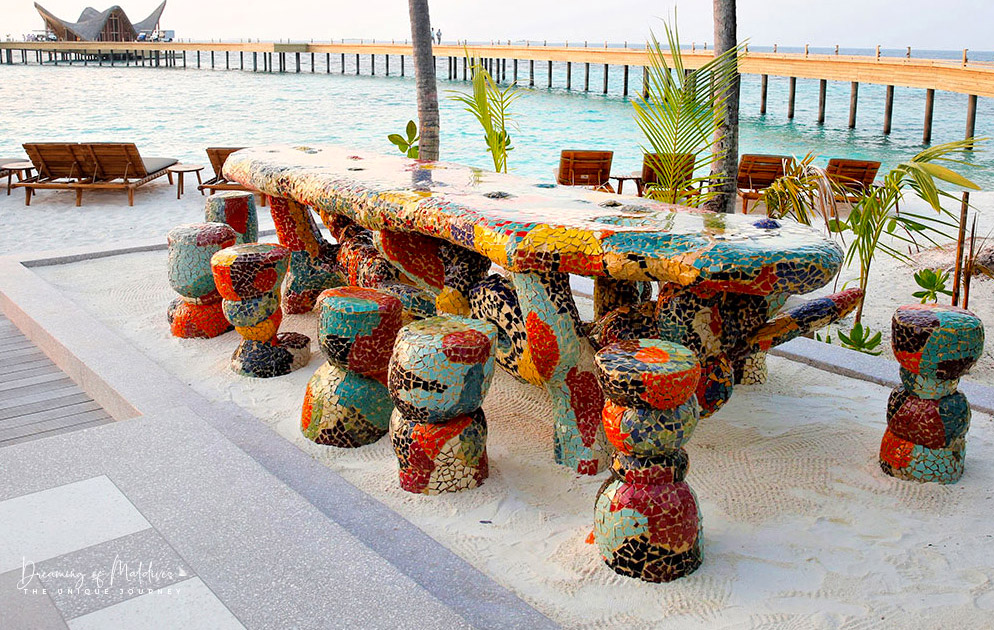 Pearl by Seçkin Pirim.Turkey
Pearl is made of metallic auto paint on plexiglass
Location : Villas and Residences
Artist website \ https://www.seckinpirim.com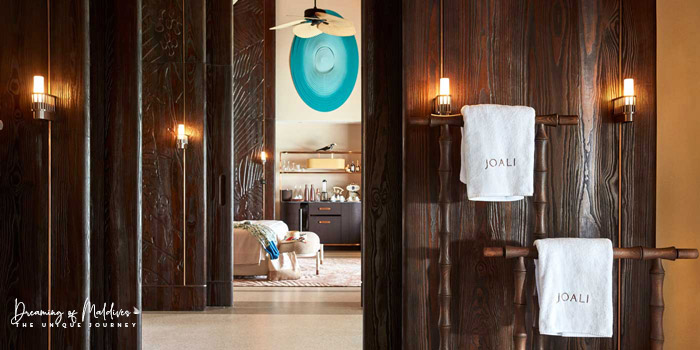 Silverware Vases by Glithero. UK
Silverware vases are made of photosensitive turned porcelain enriched by undergoing a delicate photographic process using real seaweed or leaves.
Location : Maison de Joali
Artists website \ https://www.glithero.com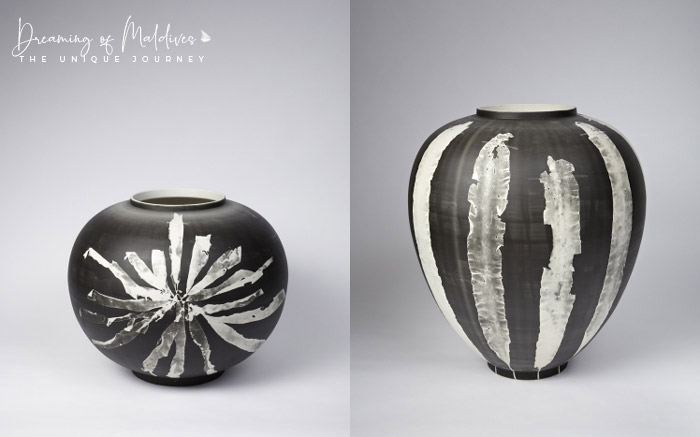 Maldive Vibes by Zemer Peled. Israel
H72 W36 L36 inches
Maldive Vibes is made of Porcelain.
Location : The Spa Entrance
Artist website \ https://www.zemerpeled.com/work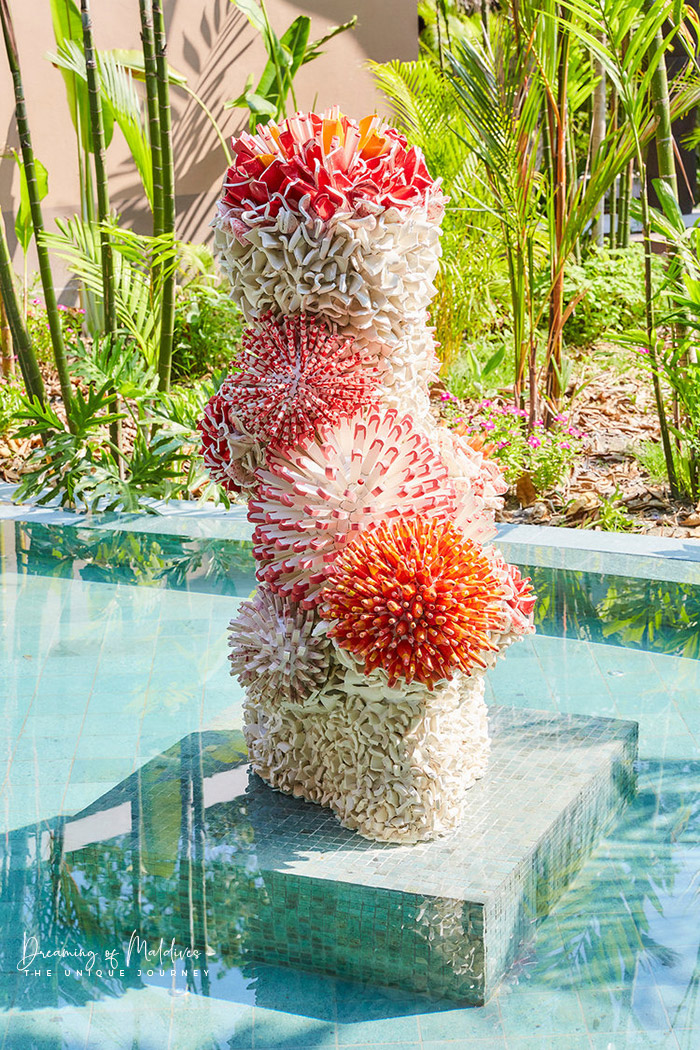 Rawness Wall ornaments by Soojin kang. South Korea
Rawness Wall objects are made of Cotton, linen and plywood.
Location : Villa 6
Artist website \ https://www.soojinkang.net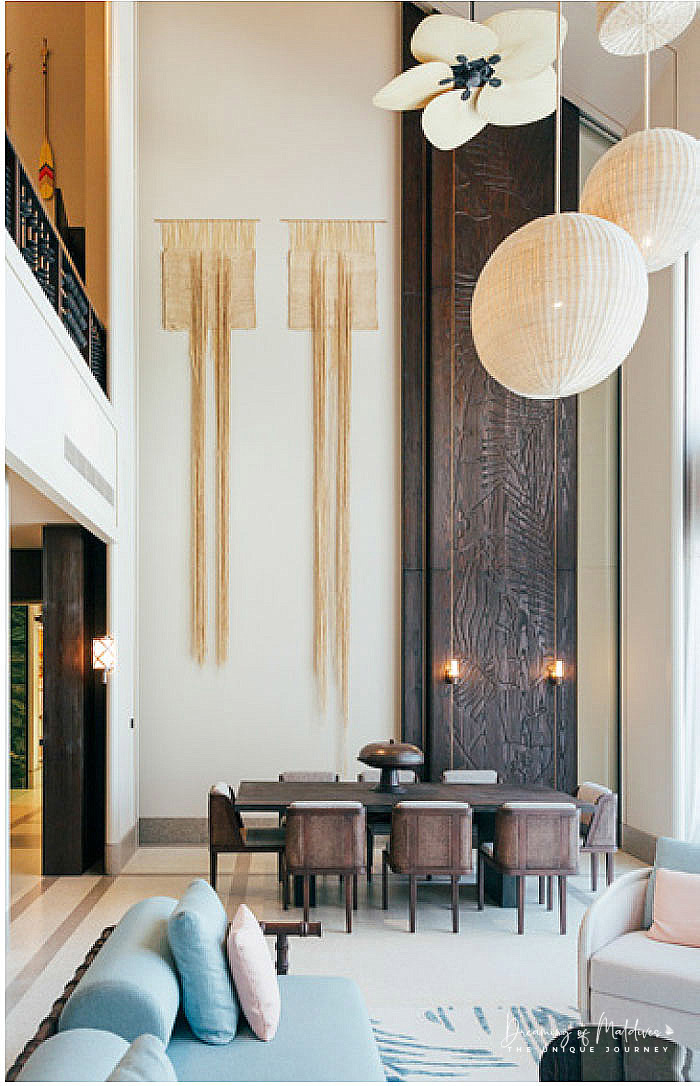 Terra Cotta Furniture by Chris Wolston. USA/Colombia
Terra Cotta Furniture
Location: In front of the Maison De JOALI
Artist website \ https://www.chriswolston.com/work

Joali most iconic Nature Inspired pieces
The Manta Ray Tree house by Porky Hefer. South Africa
The Manta Ray Tree House is built with a steel structure on the inside and surrounded by wood and local palm.
The superb and iconic construction stands at 5 meters high and has a wingspan of almost 15 meters.
The Manta Tree House has a 50m tail that serves as a suspended walkway to lead guests up to the body which can seat up to 10 people.
Location : in the island jungle, with its foundation on the beach facing the lagoon
His work is stunning and so inspiring.
Discover Porky Hefer extraordinary Animal Creations
Artist website \ http://www.animal-farm.co.za/works/#animals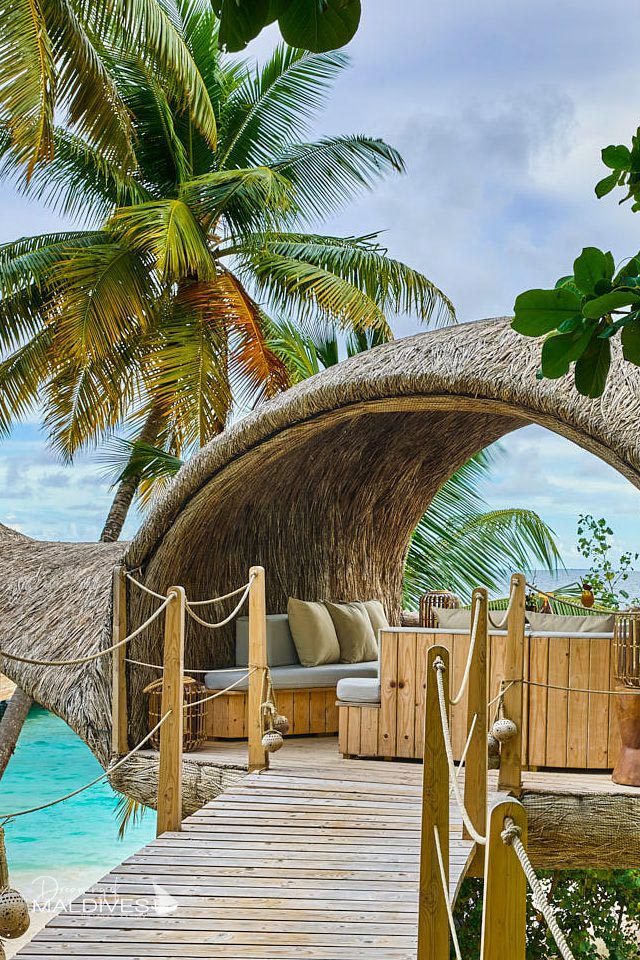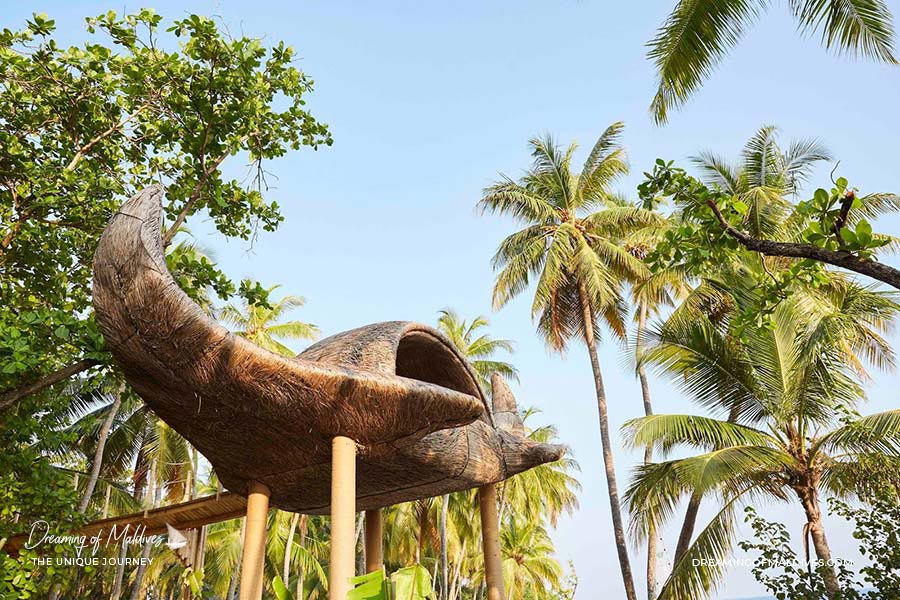 The Giant Heron Head Swing by Porky Hefer
The giant Heron Head ( the heron is a common bird in Maldives ) is woven from natural and local materials.
The extraordinary swing is made to relax alone or at 2.
Location : on the beach at Mura Bar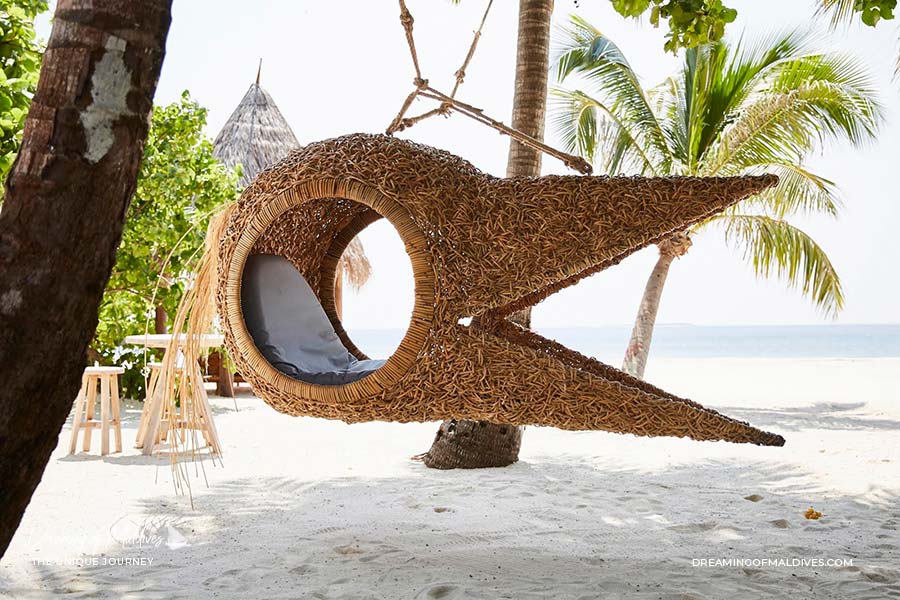 Joali Immersive Art Collection. The making of in Video
Art Immersive Luxury Resort in Maldives
Joali Art Gallery References & Credits
Who is No Lab, the Concept Executors behind the resort Art Gallery ?
Based in Turkey, No LaB is a Art & Design Curators & Concept Executors composed of and founded by 2 persons, Ala Onur and Zeynep Ercan. They have displayed multi-talented artist pieces; From sculptures to paintings to tapestry to clothing pieces, and many more, each made by an artist.
For JOALI they came up with the "Immersive Art Hotel" concept which is first to be seen in Maldives and have also done the art curation and design development of the whole hotel.
Discover more about the Artist Works
Behind each Art piece is a story, a team or a single person who got inspired by Maldives. Each piece is handmade and unique. These Artists have their own vision, technics and universe.
If you want to dream more, please take some time to discover them by visiting their websites indicated for each piece.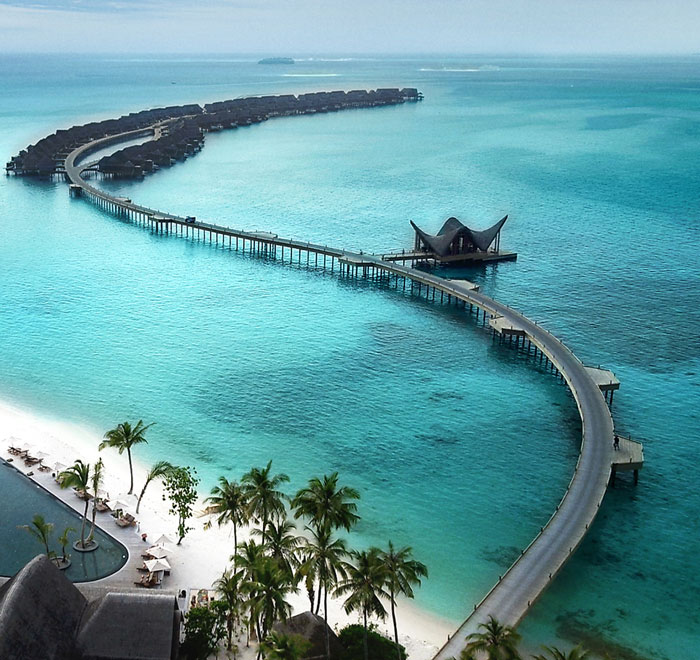 All Photos © JOALI Maldives
more resorts featuring art galleries in maldives /

If you're on the search for a tropical destination where to appreciate modern architecture, design and art and you're a Maldives lover like…

If you love the Maldives, Art and Design, these 3 ultra-luxury hotels should be on your top list. The following properties have commissioned…

Wander around The Ritz-Carlton Maldives to discover 17 curated modern Art pieces that celebrate contemporary art and nature. Follow me for a…
Dreaming of JOALI BEING ?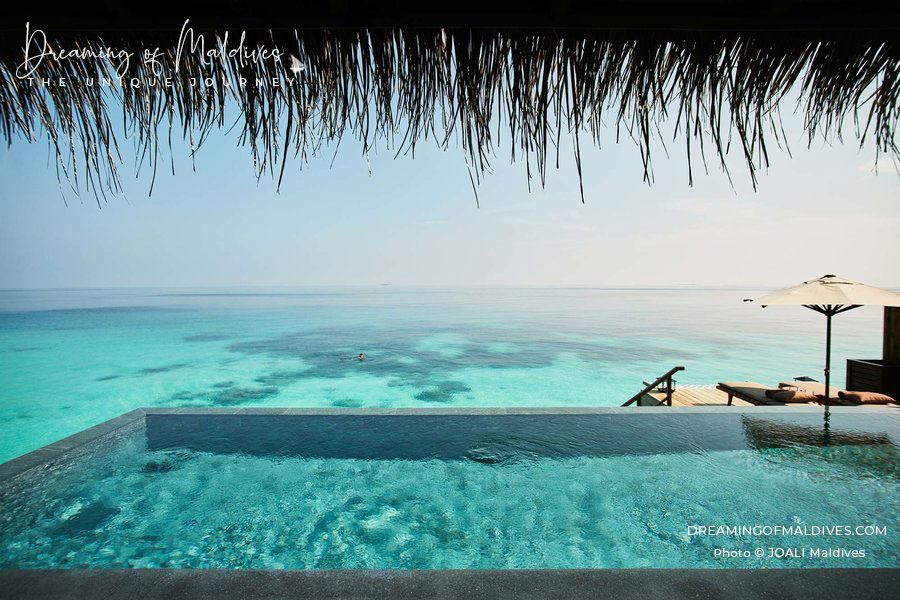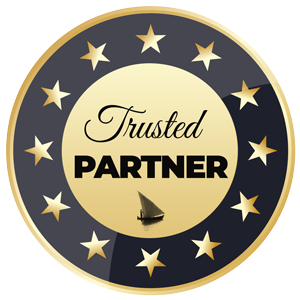 in association with our trusted partner
& personal counsellor in Maldives
Follow us on Facebook, Youtube and Instagram
for more Maldives Dreams & Stories
Your TOP Best Maldives Resorts 2023
YOUR CHOICE. YOUR DREAM. YOUR VOICE
[ Official ]
Traveler's Choice
12th Edition