Ithaa Underwater Restaurant at Conrad Maldives Rangali Island is awarded as The World's Most Beautiful Restaurant by the New York Daily News.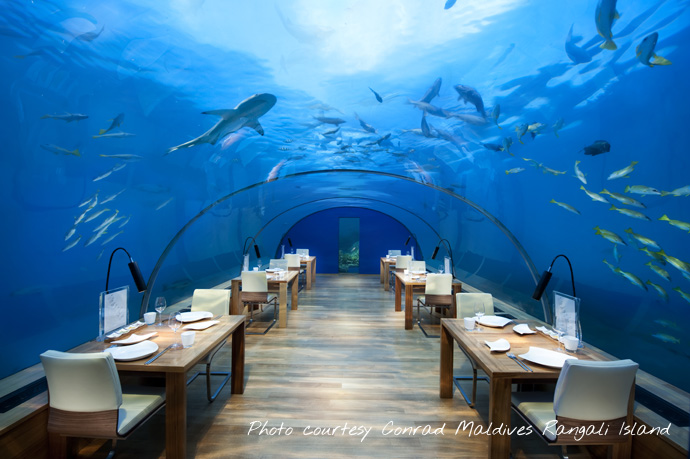 Conrad Maldives Rangali Island underwater restaurant Ithaa was selected as the "most beautiful dining destination on the planet" by the New York Daily News.
Ithaa means 'mother of pearl' in Dhivehi.
Ithaa is the first underwater dining experience in Maldives and on the planet. It's like a restaurant with an aquarium, only in reverse. Fishes, including sharks and rays, get to watch us, humans.
What it's like to dine at Ithaa ?
At Ithaa, guests dine under a ceiling made of transparent acrylic that offers panoramic 180-degree views where schools of rainbow-colored, tropical fishes and sharks glide overhead as guests tuck into dishes such as caviar, duck agnolotti and Maldivian lobster carpaccio.
At midday, Ithaa is so bright that you need to wear sunglasses
The intimate restaurant, whose name means "mother-of-pearl" in the local Dhivehi language, seats only 14 people and serves contemporary European cuisine in a six-course set dinner menu, caviar, Maldivian lobster and local inspired meals by day or night for both lunch and dinner.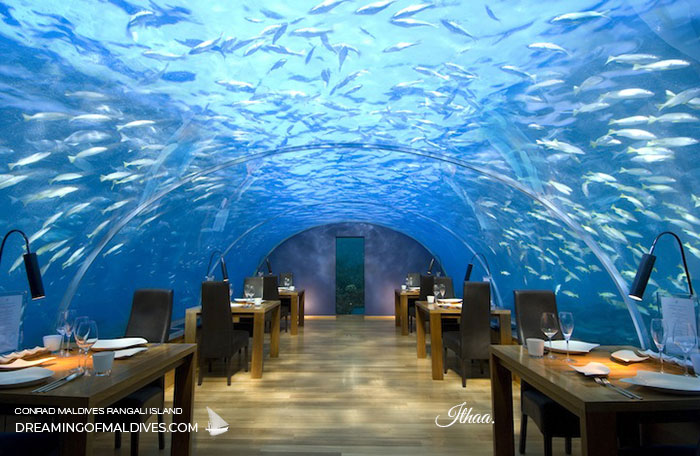 While compiling the list, editors looked at "restaurants that had won awards and accolades for their design, the clout of the designer, location, and the destination's overall reputation, be it from reputed sources like the Michelin guide or press reviews".
Ithaa was the big Winner of three Global Awards at the World Luxury Restaurant Awards, in 2017
1. Award for the best Global Restaurant of the Year
2. Award for Best Luxury Unique Experience
3. Award for Best Luxury Resort Restaurant
Ithaa undersea restaurant is so popular that you need to book your table at least 2 weeks in advance.
Ithaa is also open for mid-morning cocktails, Champagne afternoons and can be booked privately for breakfast, weddings or other special occasions.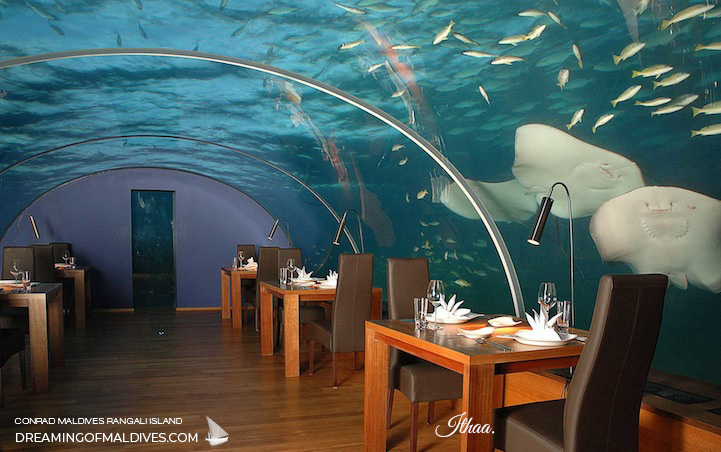 The dining room is sunk near a network of coral reefs
The dining room is sunk near a network of coral reefs and was built between the US and Singapore to be finally assembled by a team of divers on location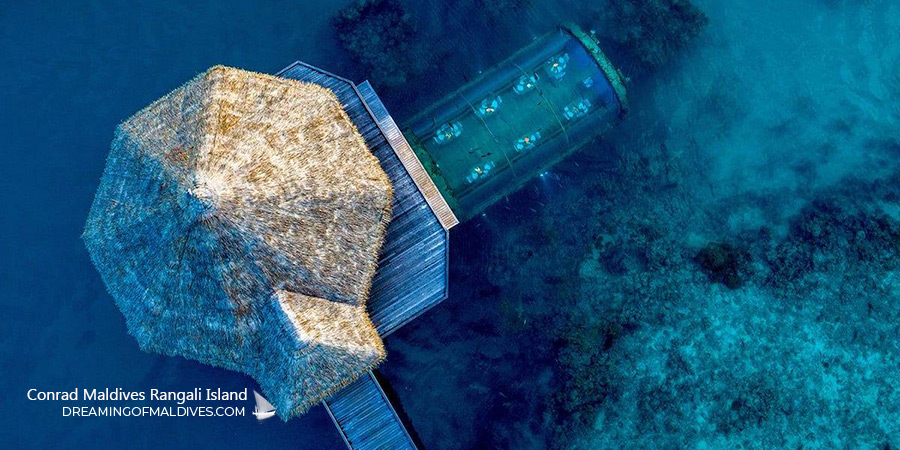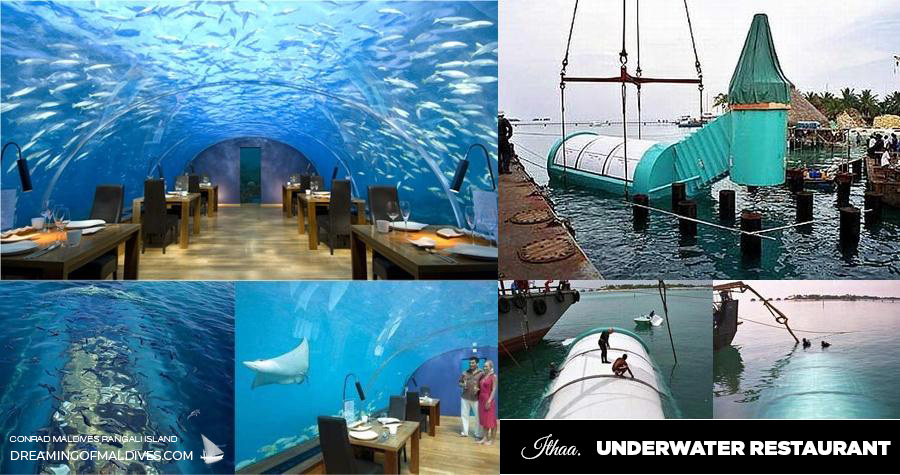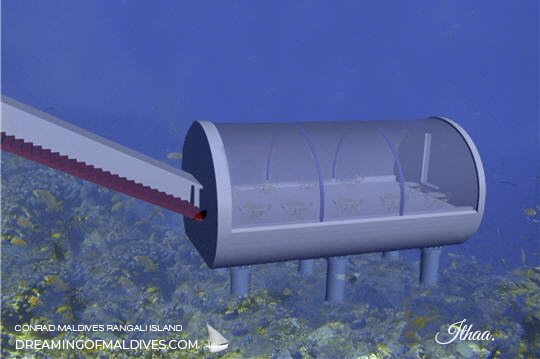 ---
Conrad Maldives Rangali Island will soon open The MURAKA, the World's First Underwater Residence
Read more : The MURAKA. The Underwater Residence at Conrad Maldives Rangali Island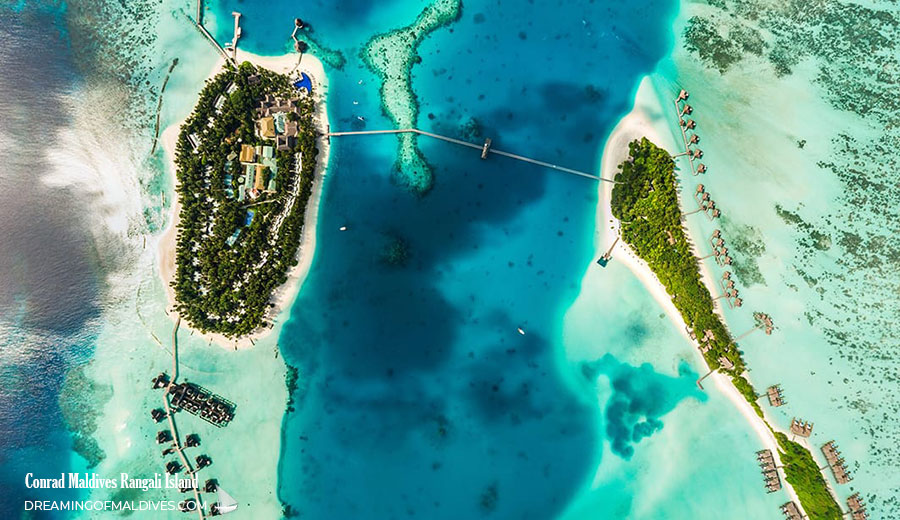 ---
ITHAA underwater restaurant Menu and prices
Chef Ayyoub Salameh, who created the outstanding menu at Ithaa, was delighted at the recognition his signature restaurant has received, saying, "I think of my food in musical terms: I want diners to be able to hear the music of the food. I hope it brings a smile to their face.
Ithaa is a very romantic place and I hope the food we've created create a talking point between the two diners at the table. Don't be shy: although I may not be there at the table, I'm speaking to the diners through the food. If they can feel that, then I think the meal has been a success."
– Chef Ayyoub Salameh
Prices start at 240 USD per person for a 4-course Lunch.
Dinners start at 390 USD per person for a 6-course menu
4-course Lunch Menu
Appetizer
Butter poached lobster and white peach salad
Served with sliced Maldivian dried tuna and vinaigrette
Entrée
Squid ink miso-dashi consommé
Served with crispy tofu and rice fish balls, fresh oyster,
shimichi mushrooms and edamame beans
Main
Sous vide bresse chicken
Served with chanterelle mushroom risotto and blue stilton froth
Dessert
Honey roasted pumpkin cheesecake,
Served with almond milk and thyme gel, financier and honeycomb foam
—–
You can upgrade you main course to lobster for USD 40
– Charcoaled Reef Lobster – A whole Maldivian lobster gratinated with saffron and esplette chili hollandaise,
Ithaa DRESS CODE : Smart
Cuisine : Seafood, European
CHILD POLICY : Children are welcome at lunch but not dinner.
The restaurant can be transformed into an underwater Bedroom
The stunning underwater restaurant can be transformed into a single luxury Bedroom for app. 12 000 USD per night.
The experience includes a private champagne dinner and breakfast in bed.
You will need to book it as a suite 14 days advance
Ithaa Underwater Bedroom View at Day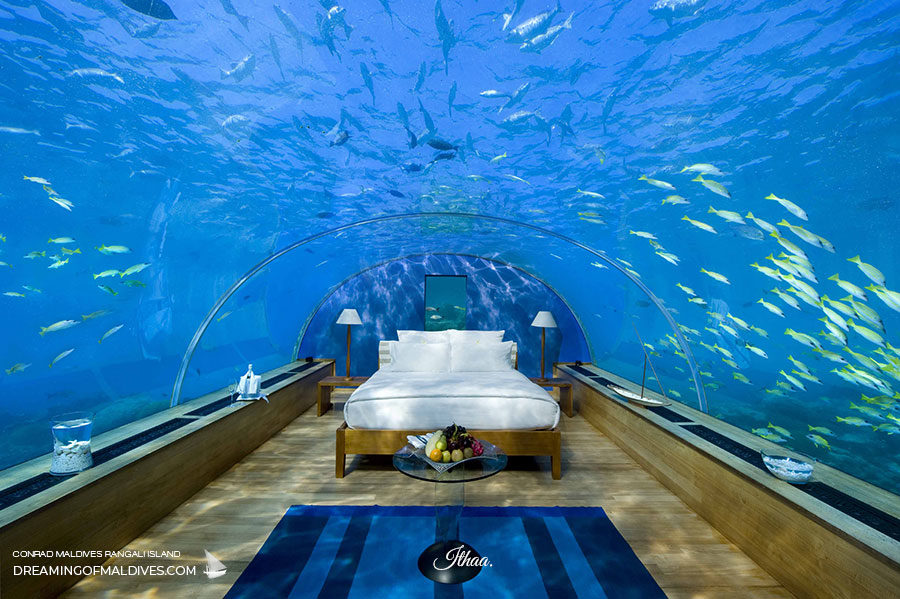 Ithaa Underwater Bedroom View at Night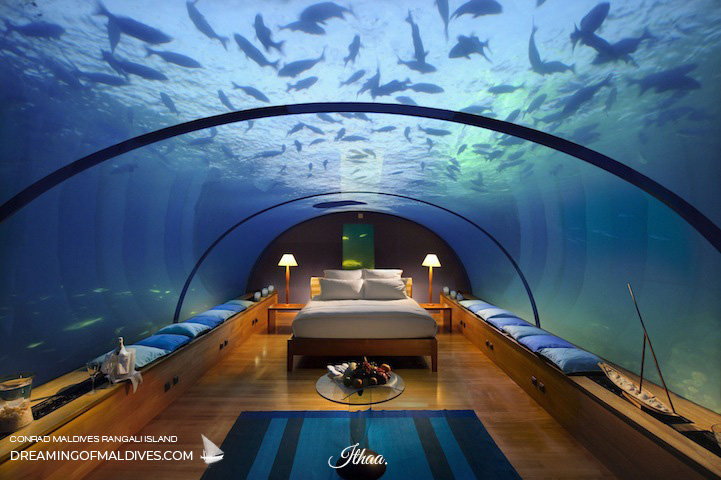 Underwater Restaurants and Hotels in Maldives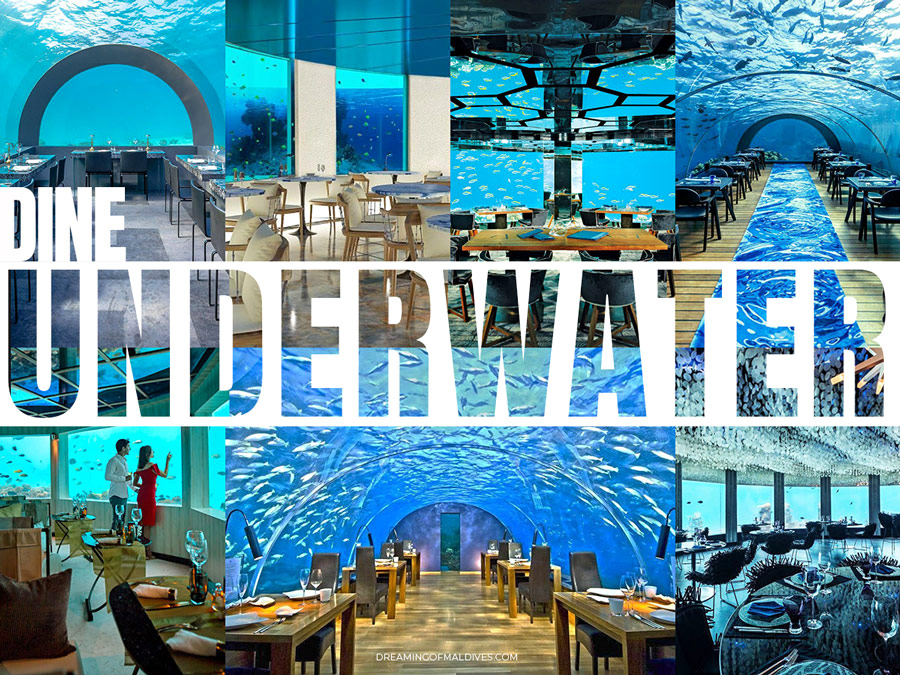 There are multiple resorts boasting underwater restaurants in the Maldives. Gazing out at tropical fishes as you feast on some of the finest…

Welcome inside the World's largest all-glass underwater restaurant 5.8 at Hurawalhi Maldives. Come beneath the lagoon for a Dreamy…

Are you Dreaming of sleeping underwater in Maldives ? Come under and discover Pullman Maldives Maamutaa's underwater bedroom called the…

Win a Maldives dream holiday worth $40,000 and sleep underwater at The Muraka – the world's first undersea residence at Conrad Maldives…
Follow us on Facebook, Youtube and Instagram
for more Maldives Dreams & Stories
Maldives TOP 10 Dreamy Resorts 2024
YOUR CHOICE. YOUR DREAM. YOUR VOICE