LUX* North Male Atoll, the latest Maldives property of LUX* Hotels and Resorts just opened this January. Let's explore the Resort in detail and photos.
Second opening of LUX* Company in the Maldives after LUX* South Ari, the new LUX* North Male Atoll, located in North Male Atoll, opened in January 2019.
NEWS
Jumeirah Group comes back to the Maldives with the acquisition of LUX * North Male Resort. Jumeirah Maldives Olhahali will open on October, 2021 01st. Jumeirah Group, the global luxury hotel…
LUX* North Male Atoll. A Luxury Resort with a new type of Design in Maldives
LUX * North Male Atoll is a luxury hotel that seriously stands out for its design in the Maldives.
First of a long series of Resort opening in the Maldives in 2019 , LUX * North Male is a new type of luxury hotel for the Maldives with a unique design and concept : the island boasts only Penthouses, a first in the Archilepago.
LUX* North Male. Visit & Photos
A Dreamy Retreat in a Penthouse Villa
Unique to the Maldives, each penthouse has a beautiful private rooftop terrace with exceptional views of the lagoon.
LUX* North Male. The Island
Located at a 15 minutes flight by seaplane or 60 minutes by speedboat from Male International Airport, LUX * North Male is set on a medium-sized island surrounded by a huge blue lagoon so you will not find much to go snorkeling nearby.
The island is not very big, so you can walk from one end to the other. Restaurants and Bars, SPA, water sports and diving center are all within easy reach.
Your Transfer.


The view on arrival at the resort followed by the warm welcome of the butler until the discovery of the Penthouse is all impeccable.
Note that if you wish to have your transfer by seaplane, you will arrive later than by boat. You will spend much more time doing so. You will have to go to the domestic airport 9 located close to the international hub – by road only ) and then wait for the boarding which can be long sometimes.

Transfer by speedboat is faster and comfortable especially since it is luxurious and also has a high-speed Wi-Fi access on board.
LUX* North Male Atoll. The resort
Upon arrival, we immediately see that LUX * North Male really wanted to stand out from the rest of the luxury Maldives Resorts ( competition is tough and hard to follow-up ).

Its architecture is refreshing and modern.
Designed in a Mediterranean style with large spaces, all penthouse villas are built to both indulge and impress.
If you like traditional Maldivian villas, the island will probably disappoint you.
Here, it is only pure straight lines with a strict geometry.
The Penthouse Villas
LUX * North Male boasts 67 Penthouses ( Duplex Villas with a roof-top ) located on the Beach or Overwater.

Available in 7 categories all villas are on two floors with private swimming pool and decorated in a Grand Yacht style with a South Beach touch.
From their magnificent Sky-Lounge on the top floor, the view is beautiful.
All villas offer large spaces with a living area of 351 sqm minimum.
They are composed of 1, 2 or 3 bedrooms with contemporary design and a 120 sqm roof terrace and a private pool.
A Butler is at your disposal 24 hours a day.
Decorated in a modern Mediterranean style and accessorized with beautiful items, vivid colors and light wood tones furniture, LUX* Penthouses offer character and charm despite their ultra modern design.
Featuring advanced interior technology, ranging from ambient lighting to sound spreading music indoors and outdoors, each Penthouse Villa harmoniously combines contemporary style with the tropical side of the Indian Ocean.

Each villa has access to its own private beach so that no one disturbs you.


Beach Villa ( 1 Bedroom & Pool )
Villa Superficy : 351 m2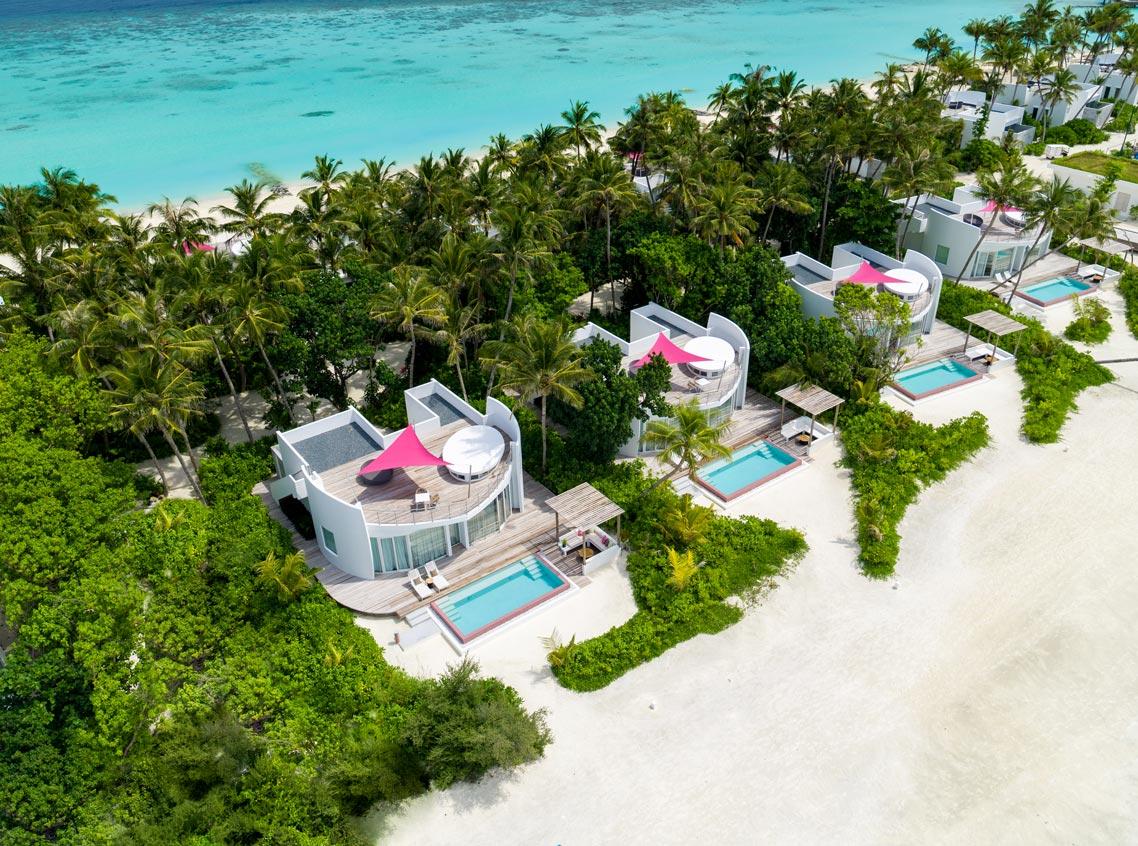 On the beach. 351 square meters of personal space, including a villa of 110 m2 opening on floor-to-ceiling windows for a bright interior.



Water Villa ( 1 Bedroom & Pool )
Superficy : 351 m2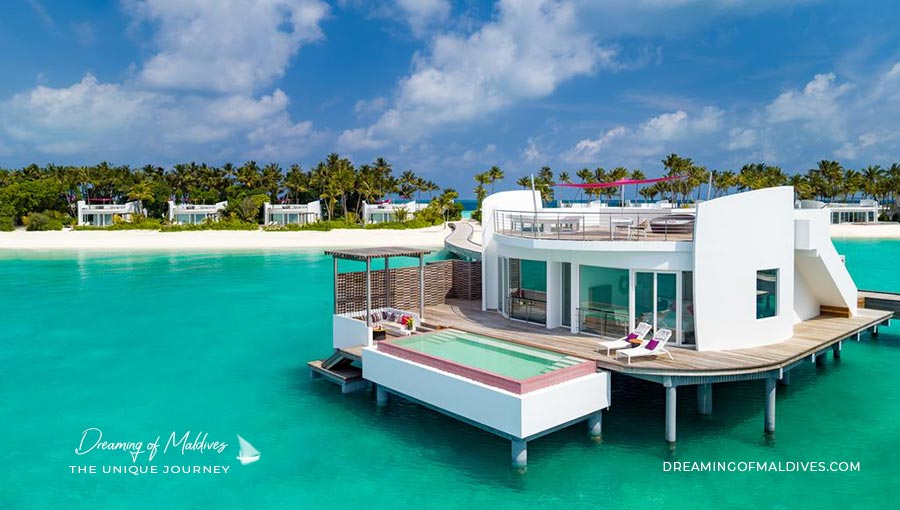 On stilts. 351 square meters of personal space, including a villa of 110 m2 opening on floor-to-ceiling windows to let the natural light bath the space.



Prestige Water Villa ( 1 Bedroom & Pool )
Superficie : 369 m2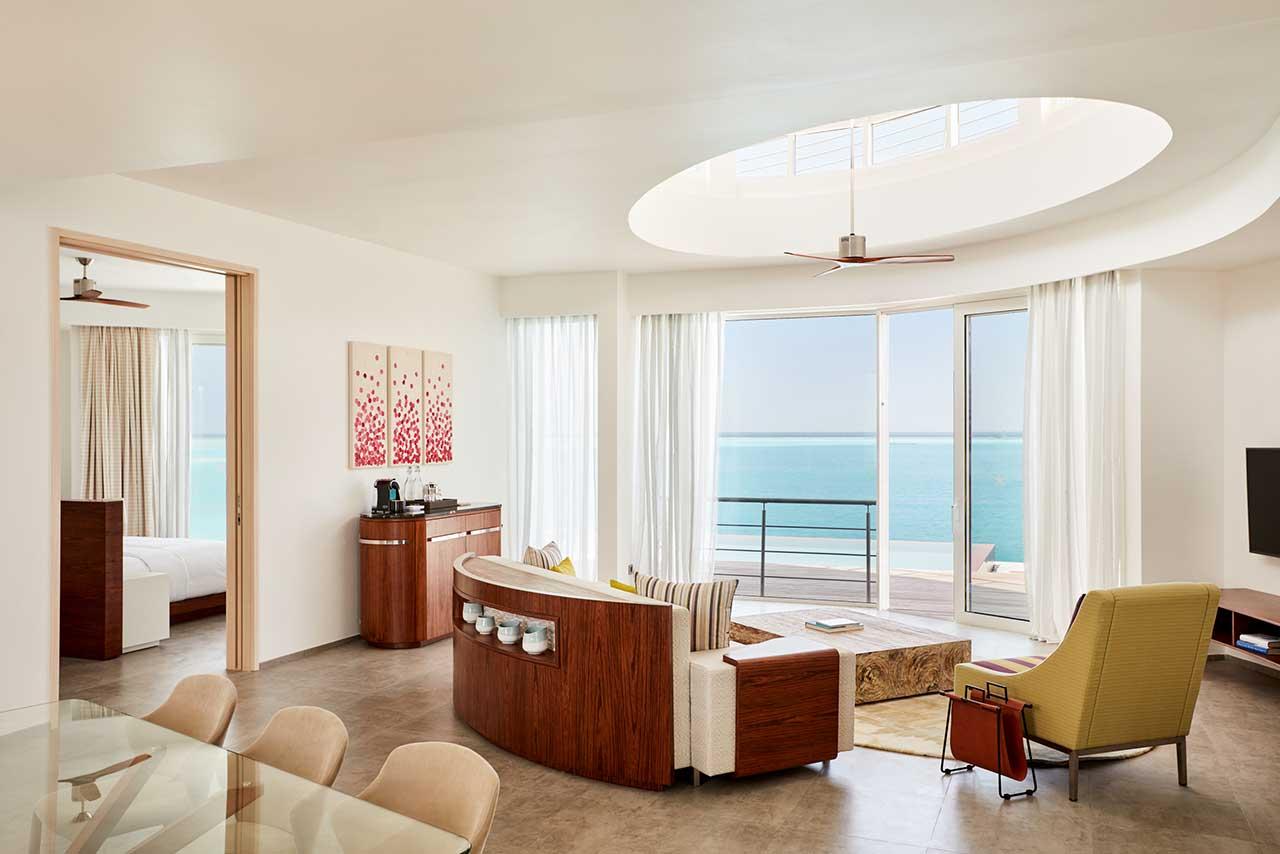 On stilts. Stretching over the blue lagoon, the 369-square-meter Prestige Water Villas offer the best of LUX * at your fingertips.
The 5 Penthouses are located at the tip of the island, offering an unobstructed view on the ocean.



Beach Residence ( 2 Bedrooms & Pool )
Superficy : 680 m2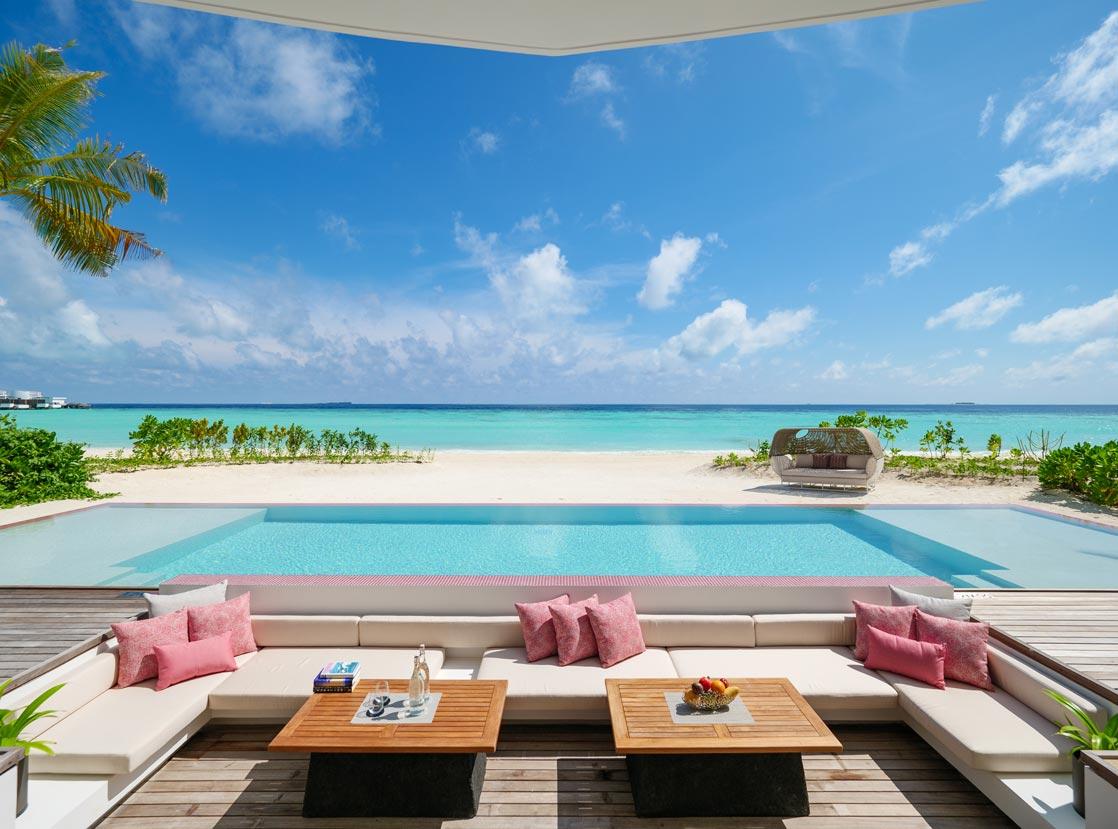 On the Beach. For holidays with family or friends. This large two-bedroom villa combines a South Beach style with island-inspired elegance and opens onto a private beach.

The Beach Residences offer space and luxury with a total of living area of ​​680 square meters, including a villa of 205 square meters. The living room is bathed in natural light with floor-to-ceiling windows, while a nautical-inspired skylight allows you to capture spectacular views of the sky. Each of the 4 Beach Residences features a swimming pool and a very spacious roof terrace and an outdoor shower.


Overwater Residence ( 2 Bedrooms & Pool )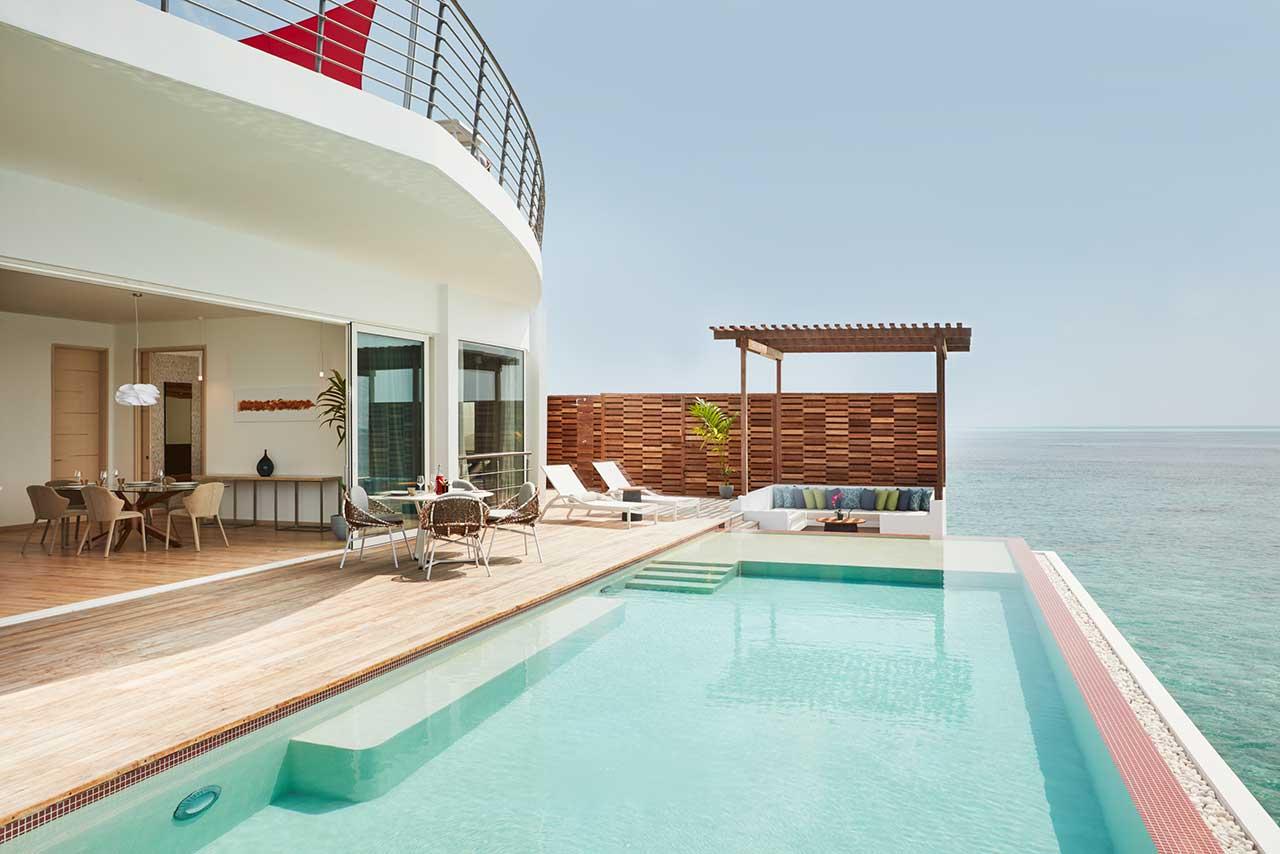 On stilts. These large villas, ideal for family or friends, offer 680 m2 of indoor and outdoor spaces including a villa of 205 m2. Decor and furniture have been selected piece by piece by Singaporean design house Miaja.

Each of the 4 Over Water Residences offers breathtaking views from the rooftop located 5 meters above the lagoon. These residences also have swimming pools suspended over the lagoon.


Beach Retreat ( 3 Bedrooms & Pool )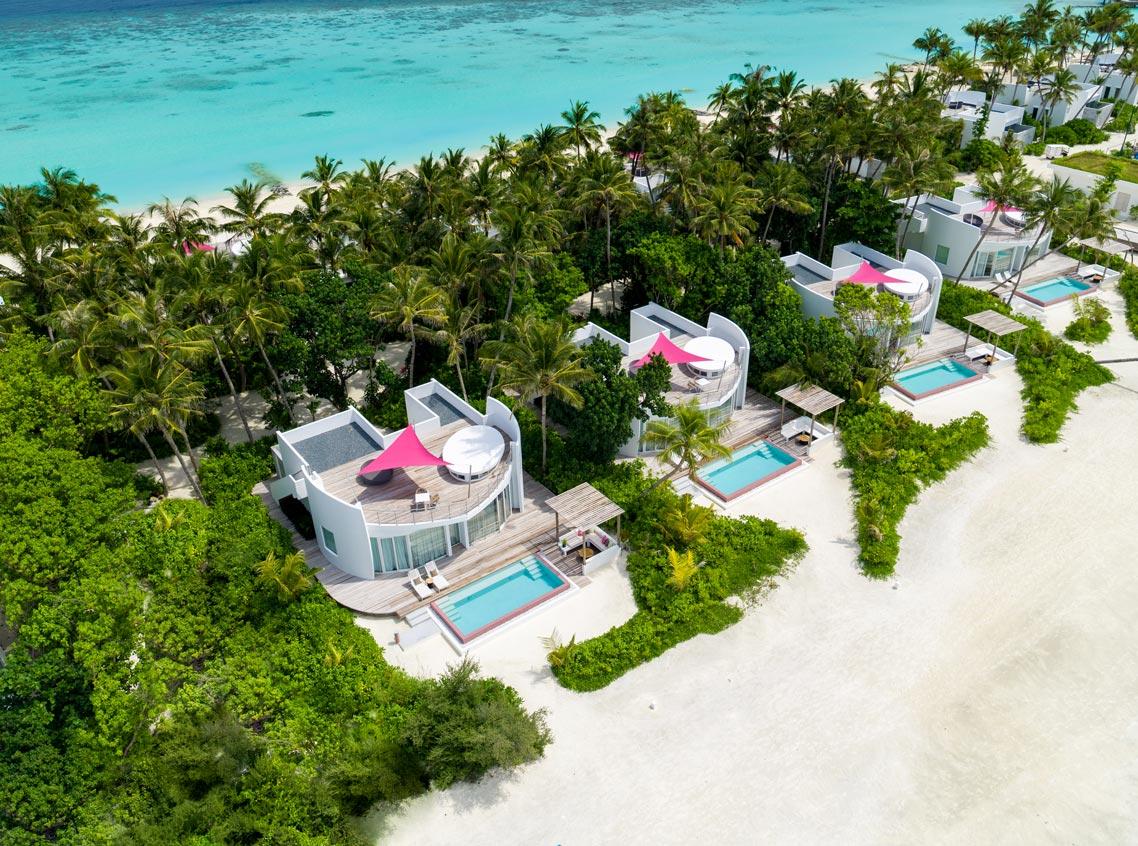 On the Beach. Built on three levels on a private plot of 970 m2, LUX * Beach Retreat is the most luxurious category of LUX * North Male. Situated on a secluded beach, this sanctuary villa features unique architecture in the Maldives.
Very luxurious but yet elegant, this villa of 389 square meters designed by the Singaporean design house Miaja has large windows to let the light bath the vast interior spaces.
Fitted with 3 bedrooms and 1 living room, the Beach Retreat also offers a wellness area with steam room, sauna and fitness. Outside, on the beach, stands a large swimming pool, entirely private and out of sight. From the rooftop terrace, fitted with a bar and a outdoor lounge, views over the sunsets are superb.


Overwater Retreat ( 3 Bedrooms & Pool )
Superficy : 997 m2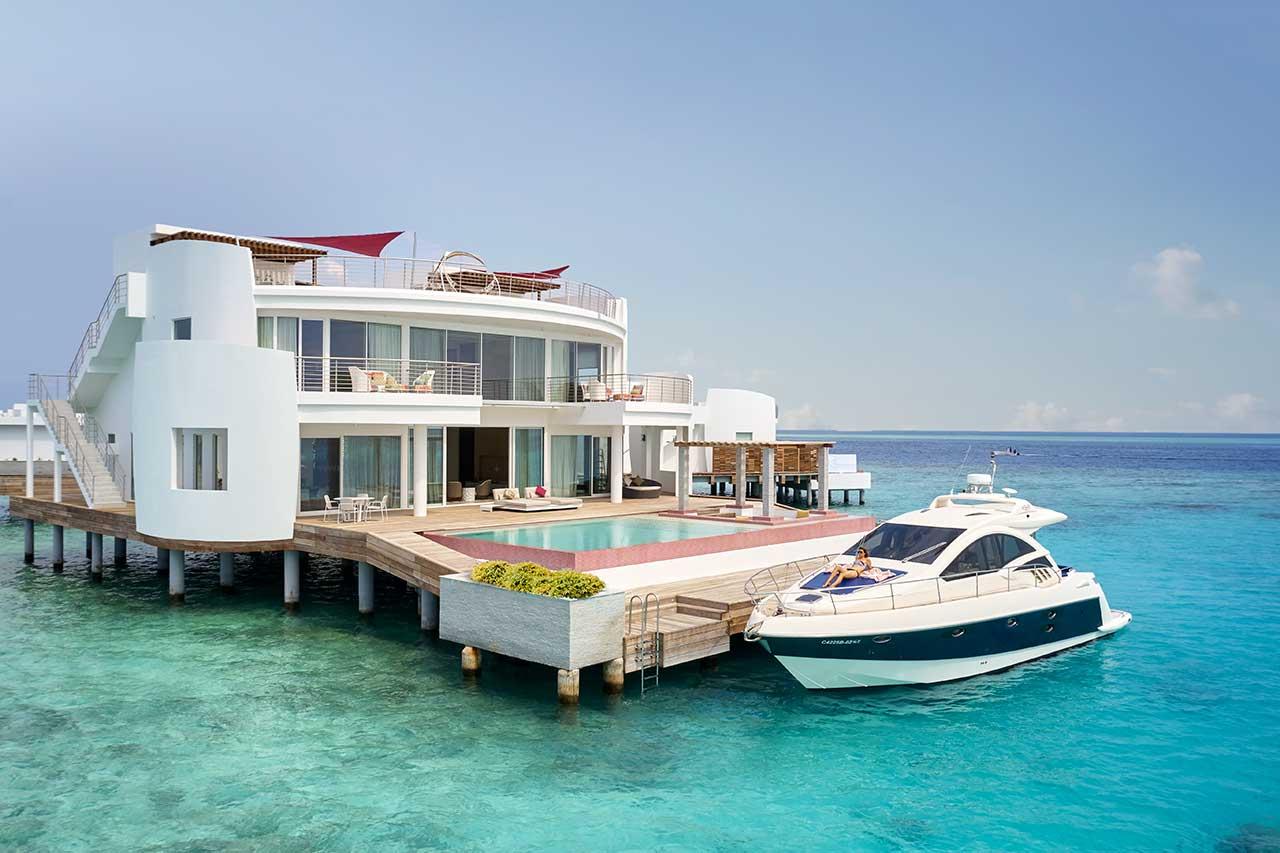 On stilts. LUX * Overwater Retreat offers a total area of 997 sqm, including 389 square meters of interior living space. Isolated from the resort's other villas and located directly on the bright blue lagoon, this sumptuous retreat is a dream place to live hidden.

With a unique design and an architecture subtly inspired by a yacht, the interiors are composed of Greek marble, Indian stones and furniture from Bali. Dotted with an opulent decoration, elegant details in the design and large spaces, the interior and exterior extend over 970 m2 and 3 floors. A Swimming pool is suspended over the lagoon with a huge terrace, a private bar and is accessible by your own private yacht. This floating penthouse is a real dreamy place.
Bars and Restaurants
LUX * offers a great variety of bars and restaurants ranging from the international gourmet restaurant or Asian Snack to practical snacks during the day.
GLOW Restaurant & Bar.
GLOW is a glamorous and trendy meeting point with music and DJ at certain times.
Its restaurant, opened on the beach, offers a creative & International cuisine.
INTI, the Japanese and Peruvian restaurant
A Cuisine from Peru and Japan is at the menu.
Indoor try Sushis at the sushi bar or on the terrace with view on the ocean.
Freshly caught fish and seafood, local meats and vegetables, sashimi, guacamole, flavors are generous and served according to your desires.
Barium. The Antechamber for Gourmets
The antechamber for the tastebuds. BARIUM is dedicated to host special occasions.
On the menu, chic and gourmet dinners accompanied by great wines served by a sommelier, served in a very intimate setting where tropical fishes swim in the background in large aquariums.
Beach Rouge Restaurant & Bar.
The Beach Club BEACH ROUGE offers a wide range of dishes, snacks and drinks all day long. In this restaurant, also suitable for large tables, you can share a brunch or sip a fresh fruit cocktails. Feeling hungry ? Choose from Spanish tapas, wood-fire pizzas, seafood, grilled meats and more if affinity.
Café LUX*
Ideal for a true roasted coffee on the spot, a tea accompanied by a muffin, LUX* Café perfectly meets its objective : to please your sweet tooth and other coffee lovers.
ICI .The Ice Cream Bar
For ice creams or sorbets it's at ICI ( meaning here in French ) and nowhere else !
LUX* North Male Atoll Activities and leisure
Watersports
LUX * North Male offers a great choice of activities and Leisure. The resort lagoon is a playground and toys are coming at will : flyboard, hoverboard, parasailing, mono-ski, kitesurf, funboard, windsurfing, seabob, paddle boards and many others.
Diving
Diving is of course in the spotlight with a PADI center on the best diving sites of North Male Atoll. Semi-submarine excursions are also offered.
LUX* Me. The Spa
The spa LUX* Me is located over the lagoon. Offering a holistic approach, it was imagined by the wellness guru Shirley Page. Shirley Page has partnered with LUX * to create a range of treatments to purify the body and mind, each tailor-made.
The holistic approach includes special cuisine, massages, therapies, expert-led workshops, meditation and open dialogue.
On the menu: total relaxation, detoxification, fitness program or a complete tailor made treatment. LUX * Me products combine the purest organic ingredients including spices and flower essential oils from the Maldives Islands.
PLAY, the Kids and Teen Club
LUX * North Male Atoll is an ideal resort for a family holiday in the Maldives.
PLAY Kids Club offers daily programs for children from 3 to 11 years old under the supervision of a dedicated team.
From cake decorating to crafts classes – and even an outdoor Paradiso cinema for moonlit movies – everything has been designed to give our children a dream holiday too !

Teenagers aged 12 to 17 will enjoy participating in various sports or art workshops as well as snorkeling initiation.
In the villas, baby equipment is available on request, including baby phones, sterilisers, bottle warmers, strollers and more.
A full selection of foods for toddlers and menus specially designed for children are also available.
LUX* North Male All-inclusive formula
OPTIONAL . The formula includes:
DINING
Breakfasts are served at restaurant "Glow";
Lunches at restaurants "Glow" and "Beach Rouge"
Dinners at "Glow" and "INTI" restaurants
Tea is served every afternoon from 04.00pm to 06.00pm.
DRINKS
A wide selection of drinks (sodas, tea, coffee, beer, wine, fruit juice, mineral water, cocktails and liqueurs) are offered during the restaurants and bars opening hours.
-Selection of menus and drinks included in the package "All Inclusive" in each restaurant / bar.
– Tea and coffee in the room
-Minibar replenished once a day (water, fruit juice, soda, beers)
ACTIVITIES
Yoga and stretching classes, access to the sauna, hammam, relaxation pool and spa garden (reservation required and subject to availability – adults only).
LUX* North Male Video
LUX* North Male. Resort Photo Gallery
Follow us on Facebook and Instagram for more Maldives stories.