COMING SOON
YOUR CHOICE. YOUR DREAM. YOUR VOICE
Maldives TOP 10 Dreamy Resorts 2019
[ Official ]
Yes ! You read it well…I honestly never thought I would write such a title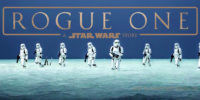 The new and upcoming Star Wars, Rogue One, A Star Wars Story, was partially shot in Maldives.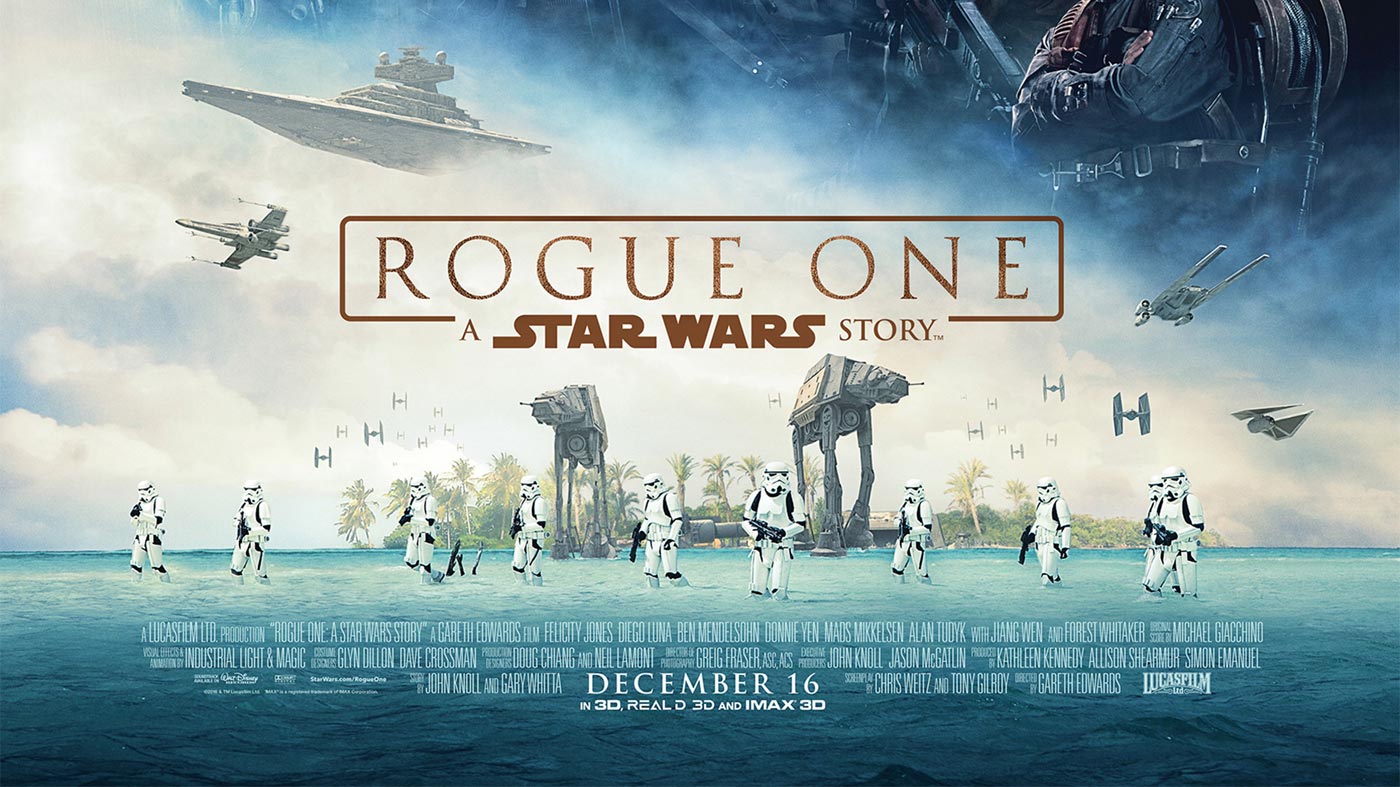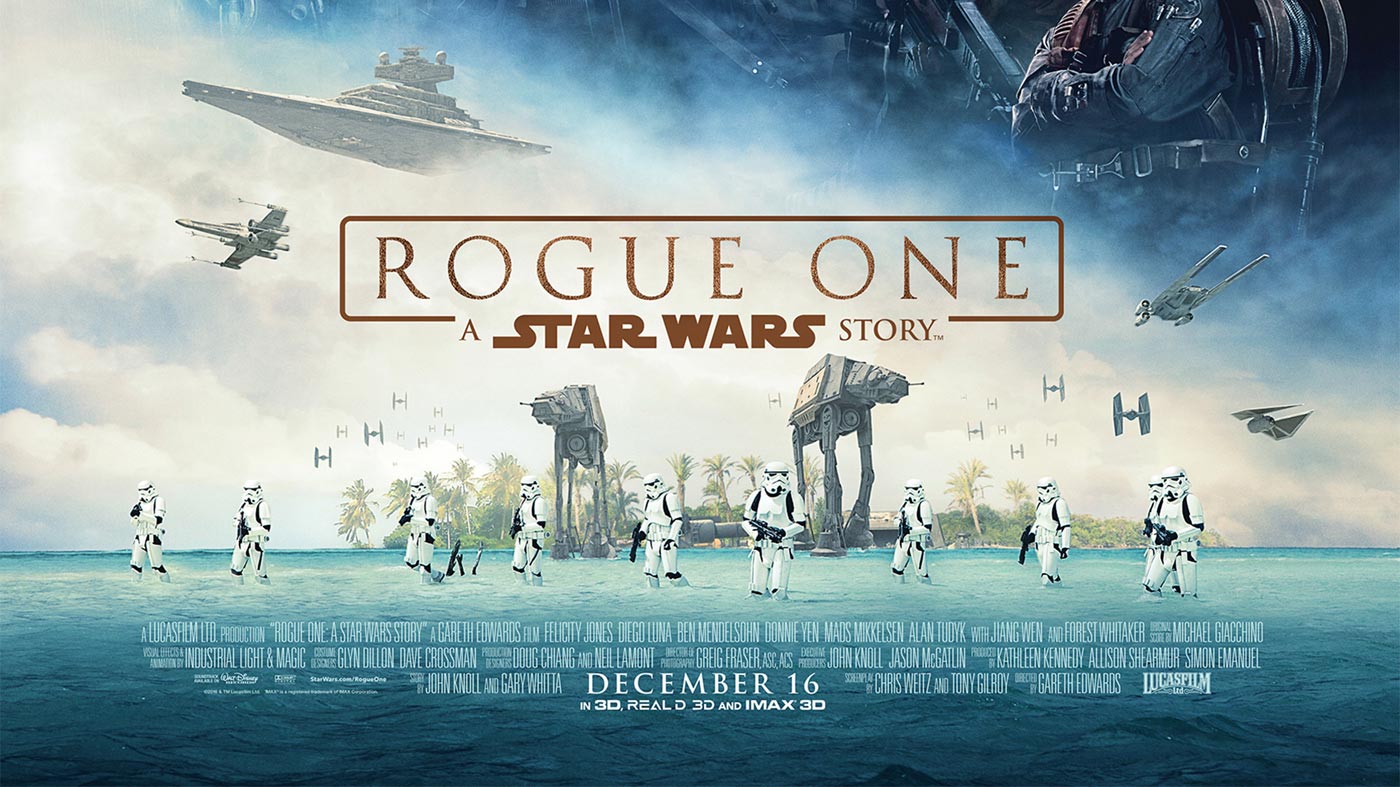 Maldives is the Shooting Location For Planet Scarif in the new Star Wars ROGUE ONE
What a fantastic info, seriously.
I am surprised that the news, as huge it is, at least for me ( aka Maldives / Star Wars Fan ) did not make the news.
So, let me focus on this one, because it is coming soon !
Star Wars Rogue One A Star Wars Story, the super awaited next Star Wars Movie will be released in Movie Theaters around the world on December, 16th 2016.
It's a style that is unlike any other 'Star Wars' movie. This is going to be an incredibly immersive experience -- LucasFilm President Kathleen Kennedy
Rogue One story goes some time after the events of Star Wars: Episode III – Revenge of the Sith and shortly before the events of the original Star Wars, the story will center on a group of Rebel spies on a mission to steal the plans for the Galactic Empire's new weapon located on…Planet Scarif.
There we go ! Planet Scarif.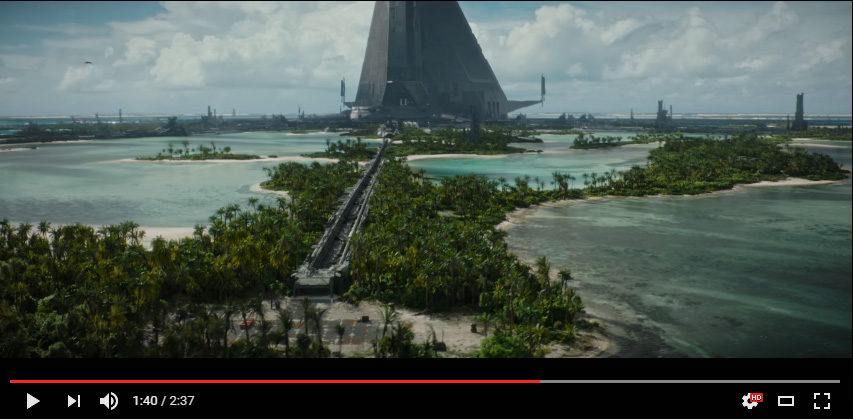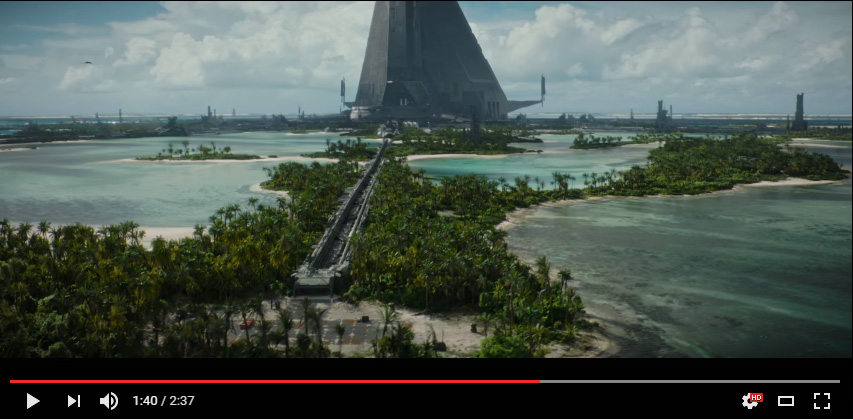 What is Planet Scarif ?
Depicted as a beautiful tropical paradise but with the presence of a major Imperial military installation. Scarif is the principal construction facility for the vast Imperial war machine. The paradise world is enveloped in impenetrable deflector shields and is heavily defended.
Where is the real Location of Planet Scarif ?
The filming location for the beautiful but scary planet Scarif was in the beautiful Laamu Atoll, South Maldives. Apparently on 2 islands : Gan, one of the largest island in Maldives, inhabited and the paradise Island of Berasdhoo, beautiful, idyllic and completely desert planted with coconut trees.
Planet Scarif Filming Locations
Berasdhoo Island
Gan Island
Planet Scarif had to be a "paradise world surrounded by crystal blue waters, palm trees and sandy beaches
Laamu Atoll
Why did they go so far, in a remote place such as Maldives and even beyond…in Laamu Atoll ?
Firstly, Gareth Edwards, Rogue One Film Director and its filming crew wanted a real location :
Planet Scarif had to be a "paradise world surrounded by crystal blue waters, palm trees and sandy beaches". The Maldives could not be better.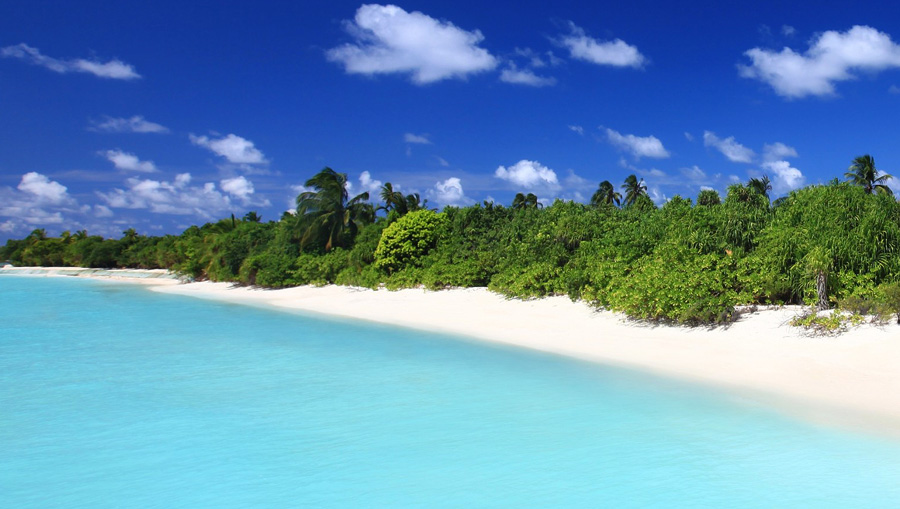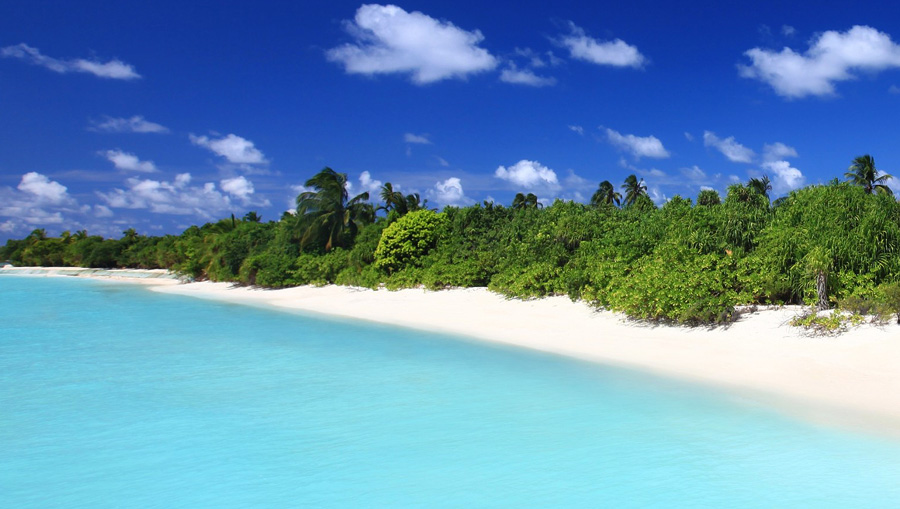 About Laamu Atoll :
Laamu is one of my favourite Maldives Atoll.
Virgin, unique, practically uninhabited and still quite unknown from the public, I guess Laamu was chosen for its complete seclusion.
The Atoll, located in the far south of the archipelago, has superb landscapes with high coconut trees, giving a real sense of tropical Paradise( which is not the case in far North Maldives ) and not much tourists with only a few hotels on Gan Island and 1 resort only, the Eco Luxury Resort Six Senses Laamu.
Sometimes you've got to take one for the team. We tried to use real-world locations, and it just so happened that "Rogue One" was partly set in this paradise world, so we had to go to paradise to film it. – Gareth edwards. Star Wars Rogue One Film Director
Just like all previous Star Wars movies, Rogue One filming locations included several beautiful places around the world to embody some of the key alien places of the movie.
Rogue One was shot in Maldives for Planet Scarif as well as Iceland for Planet Eadu and Jordan for Planet Jedha.
Planet Scarif. MALDIVES
Planet Jedha. JORDAN
Planet EADU. ICELAND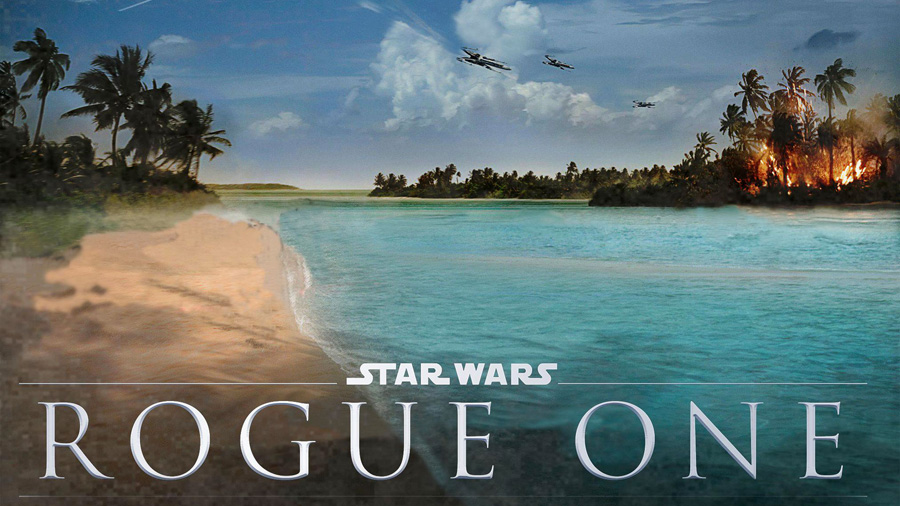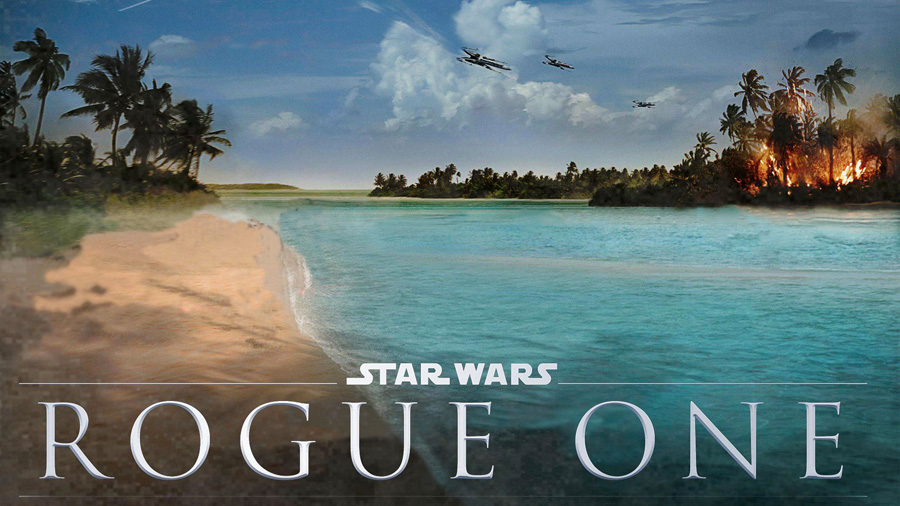 What spices even more this story is the way that Planet Scarif is (heavily) guarded.
We are surely used to see Stormtroopers, the brutal servants of the Empire. Among Star Wars's most iconic images, they are of course still there, but this time they are called Shoretroopers.
Shoretroopers are depicted as specialist Stormtroopers patrolling the beaches and bunkers of Scarif to protect the top secret Imperial military headquarters of the planet.
That's great news, but the question, here is :
Who's inside the Empire Shoretroopers White Armor?
Screenshot showing Scarif Shoretroopers walking in Maldives lagoon during ROGUE ONE shooting.
*Remark the Maldivian fishermen in the background.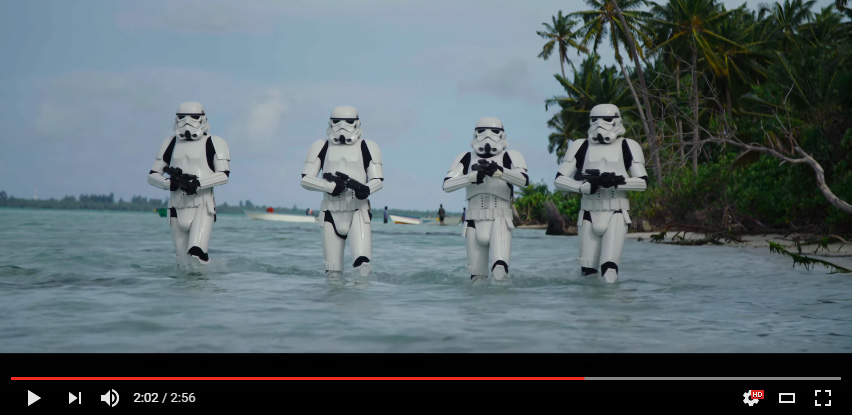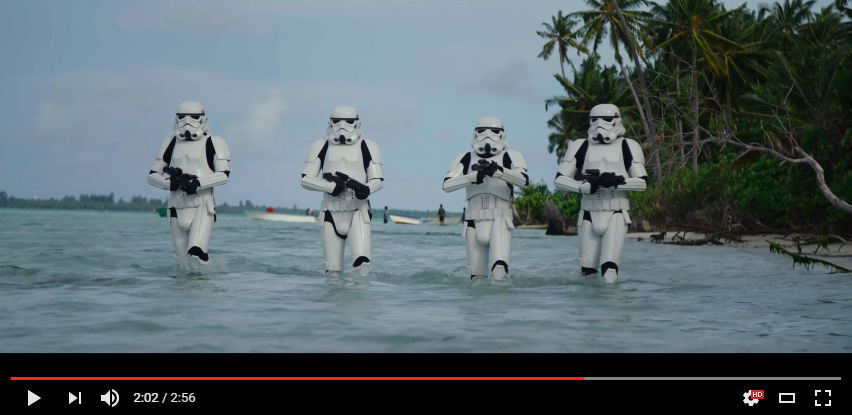 During the film making, some Shoretroopers were played by real Maldivian soldiers.
The scene is so bizarre that actress Gwendoline Christie who plays Captain Phasma in the movie said :
It does look incredible, though, those Stormtroopers wading through the most beautiful water. I think that's what I found so arresting. It's a new image for us.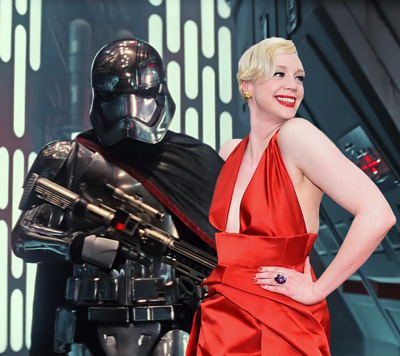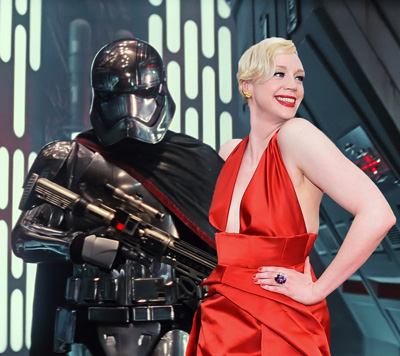 This line of Stormtroopers wading through the sparkling waters of the Indian Ocean is indeed a striking image.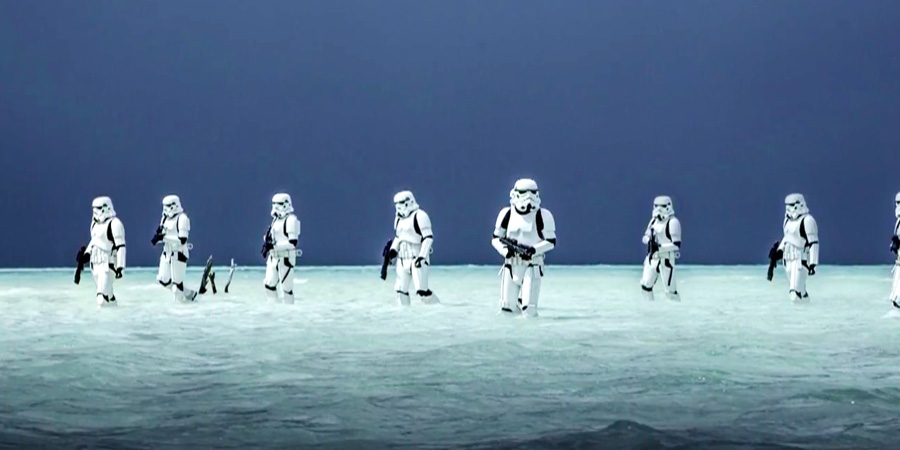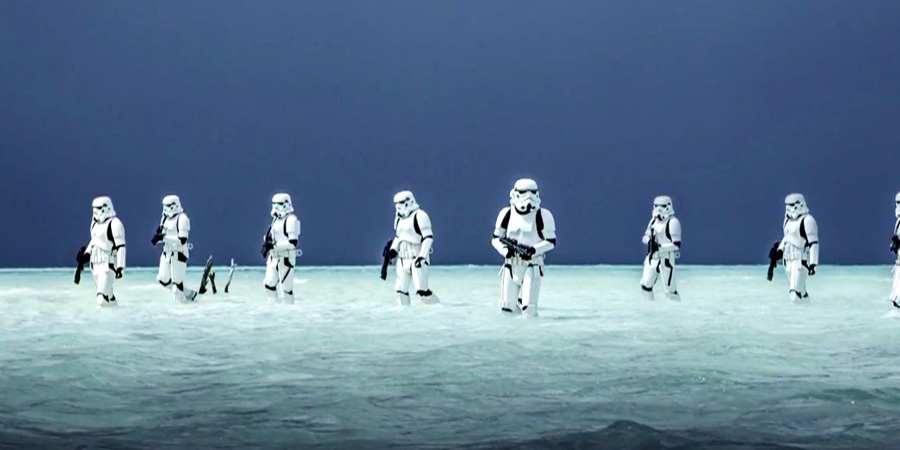 The (lucky) Maldivian Soldiers had never heard of Star Wars.

However, according to Edwards, the soldiers had never heard of Star Wars and were indifferent about appearing in the film.
During the film, Maldivian soldiers were asked by him :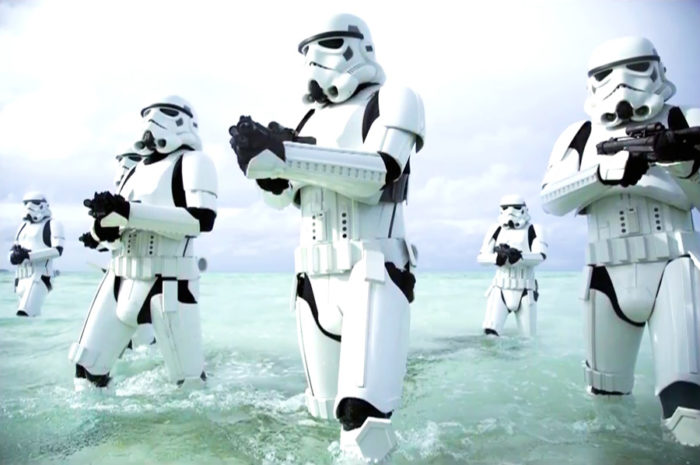 Gareth Edwards : – "Do you know what any of this is ? "
Maldivian Soldiers : – "No."
Gareth Edwards : – "Do you feel really stupid ?"
Maldivian Soldiers : – "Yes."
Just for fun, I tried to spot Laamu sceneries from the released movie trailers & Behind The Scenes.
For your pleasure and to satisfy your curiosity I inserted hereunder screenshots.
You can see the full Official trailer at the end of my article.
All Screenshots. Copyrights Star Wars / YouTube channel
On the 2 below screenshots showing filming from a plane, Laamu islands can be seen by the window.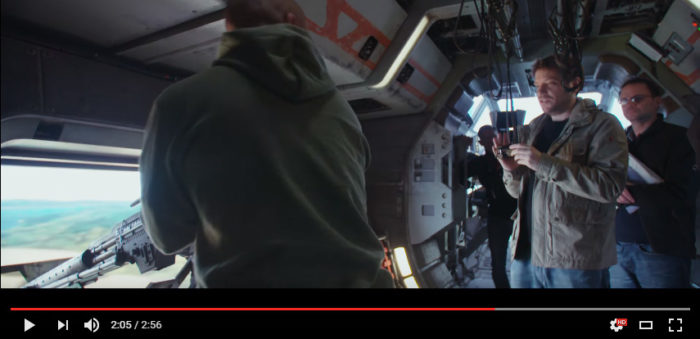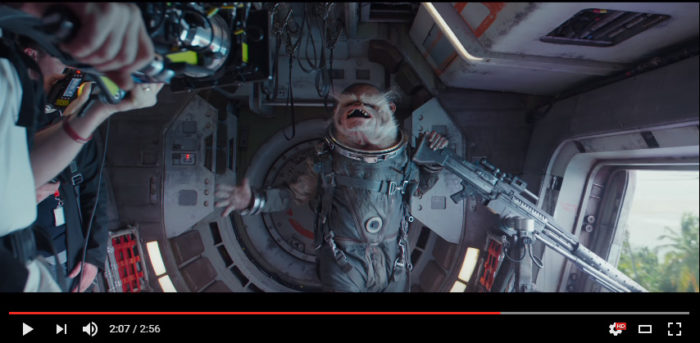 Battle shooting on Gan Island between the Empire and the Rebellion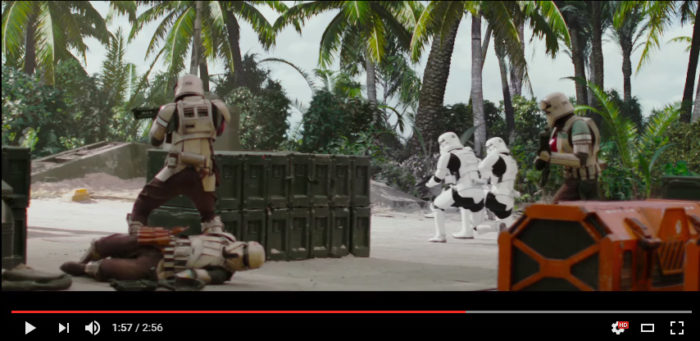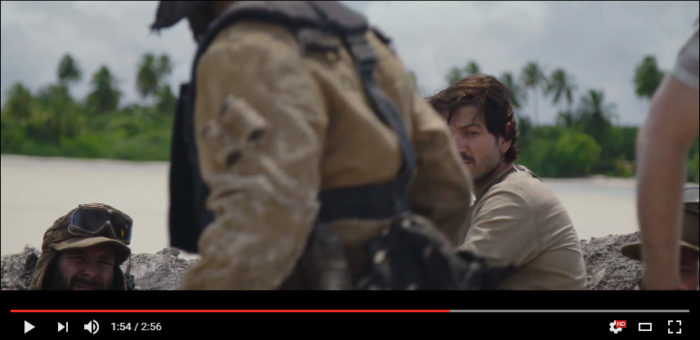 Film crew shooting action on the beach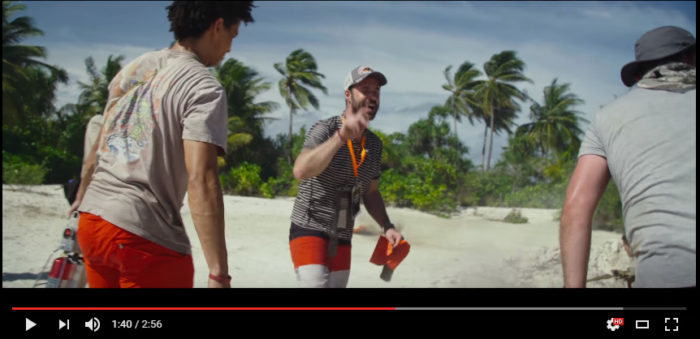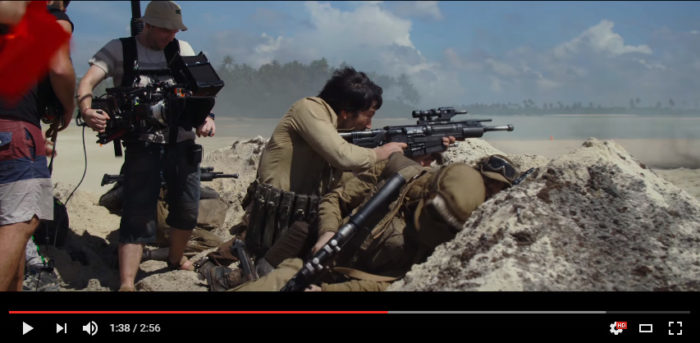 The rebellion shot running on Maldives Beach !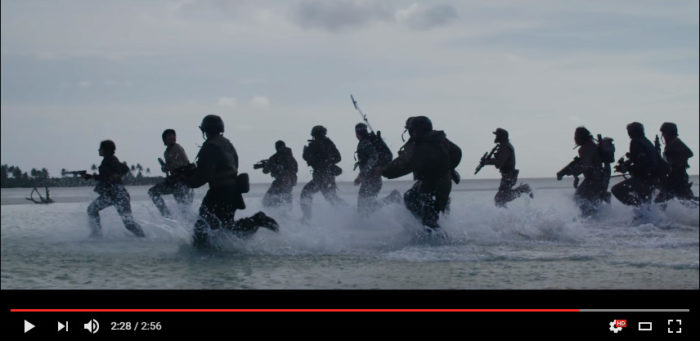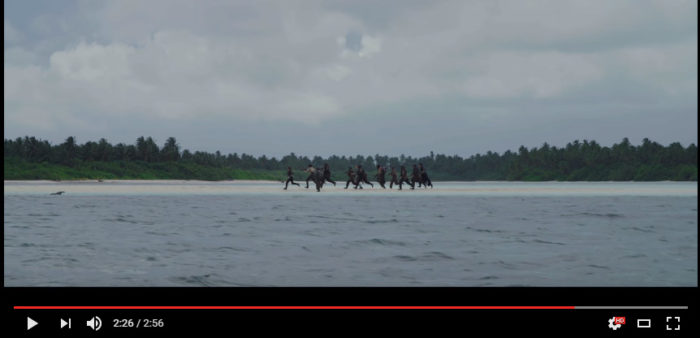 Star Wars Rogue One Official Poster
The poster, seen below, features a massive looming Death Star and the haunting visage of Darth Vader within. The bottom of the poster finds the striking image of Shoretroopers in the waters of Scarif, the principal construction facility for the vast Imperial war machine, with AT-ACT walkers following close behind.
Star Wars. Rogue One: A Star Wars Story Trailer (Official)
Rogue One: A Star Wars Story Trailer (Official)
I found many information via StarWars.com where they regularly release articles, behind-the-scenes, latest news, photos and videos.
Star Wars Lovers and Maldives Travelers, don't miss Rogue One, A Star Wars Story, it promises some incredible Galactic Battles & Epic Landscapes.

On Cinema screens in 3D, REAL D 3D and IMAX 3d this December, 16th 2016 !