Gili Lankanfushi Maldives Diving & Snorkeling
Gili Lankanfushi Ocean Paradise Dive Centre offers diving in both North and South Male atolls to some of the most exciting diving spots. The Center offers beginner's discovery courses to more advanced Nitrox, rescue dives and has a range of programs and discoveries to suit everyone.
Snorkeling
Gili Lankanfushi is gifted with one of the largest lagoon in Maldives, which means, like it is usually for islands with big lagoons - that the best snorkeling sites are located further than the island shores.
Beginner snorkelers and children will surely enjoy the beautiful shallow waters directly from their water villas with a first discovery of Maldives magical underwater world. Snorkeling equipment is also at your disposal for free.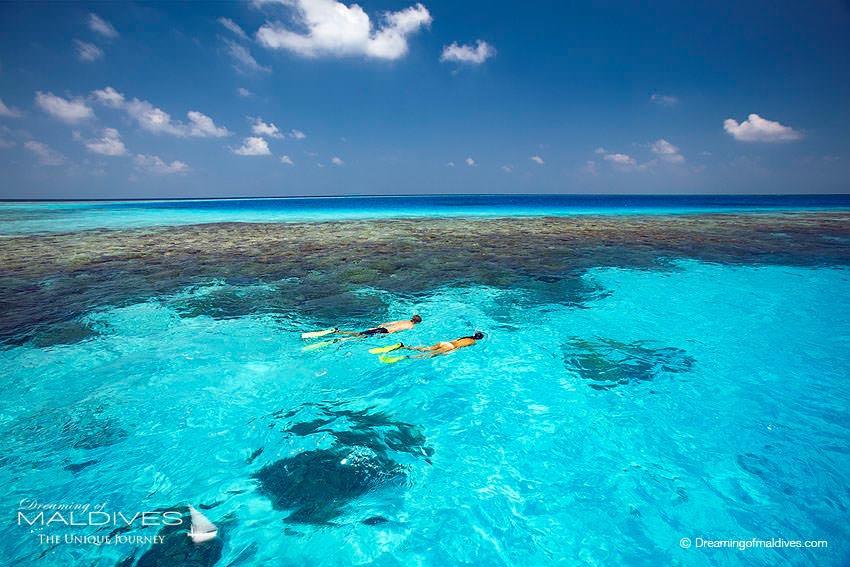 Gili Lankanfushi Maldives House Reef
The past years, the lagoon has been carefully taken care of by the resident Biologist and his team who have planted a wide coral garden all around the Island, giving new homes to little fishes and fascinating little creatures. Some interesting growing coral formation can also now be seen at a step from your deck.
Gili Lankanfushi coral garden is a perfect starting place to initiate yourself to the pleasure of snorkeling.
For more exploration and a wider adventure, advanced swimmers and snorkelers will have to swim 15 minutes in the shallow lagoon to reach the closest spot along the atoll reef. Some interesting spots can be discovered on the sunset side of the Island directly from your Water Villa. Reef sharks can be seen around too ! Besides this long reef, you can enjoy a much richer snorkeling by swimming to the entrance of the island lagoon located on the sunrise side. Mr or Mrs Friday will bring you there with great pleasure !
Pay attention : Before exploring the lagoon, I advise you to visit first the Dive Center to meet the resident Biologist who is in complete charge of the Island underwater World and has many interesting information and tips to give you before you go. Don't miss a snorkeling guided tour too ! You would miss so much....
Snorkeling around the Resort. Spot Map
If you prefer not to swim, you can enjoy one of the excursions to further Atoll spots.
Please click on the right picture for a better look and understanding of the Island snorkeling area.
Diving
With over 20 local and 6 Safari Dive sites, there are plenty of beautiful spots to explore and discover. Dive schedule includes 2 boat dives a day to a variety of nearby reefs, 2 house reef dives per day, 1/2 and Full Day diving trips by speedboat, night diving and a full range of PADI diving courses. Private diving are available on request.
In 2012, Gili Lankanfushi Dive Centre was awarded PADI Green Star Award for demonstrating a commitment to environmental conservation and later became certified by Green Fins, an organisation working to help dive centres around Asia become more environmentally friendly.
The Coral Lines Project. A Unique concept in Maldives.

Coral Lines is a one-of-a-kind project and the first reef rehabilitation project in Maldives. Conducted since 2010, this scientific research, solely based on the help of ropes, aims to help coral to grow again by nursing it in an environmental friendly and efficient way.
Good-to-know Before Diving at Gili Lankanfushi
All divers are required to have an international Diving License together with their logbook.
Orientation Dives and Insurances :
- You must do an orientation dive, unless you have logged a dive within the last three months in the Maldives or in another Ocean Paradise Dive Center who will ask you to demonstrate four skills : Regulator recovery and clear, Mask clearing, Neutral buoyancy (hovering) and Alternate air source breathing.
After demonstrating these skills, you will be guided around the house reef to enjoy the interesting marine life.
- You must have your own diving insurance. If not, a short term insurance is available for purchase from the Diving Centre.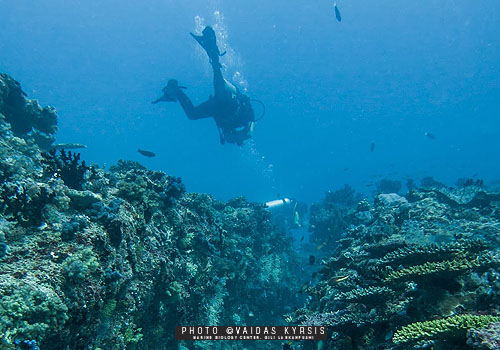 Diving around Gili Lankanfushi Maldives
Gili Lankanfushi Maldives is located in North Male Atoll, a diving area known for its shipwrecks (some of which are amongst the most exciting in the Maldives), its famous "Manta Point", its several "Thilas" (Dhivehi name given to pinnacle reefs) and some of the Maldives Top Diving spots for large species.
Multilingual instructors conduct all level of PADI courses, from Discover Scuba Diver up to Dive‐master.
First fully certified Eco Dive Center in Maldives, the Diving Centre is very well equipped with the latest in Mares diving equipment, a modern 15 meters luxury fully geared diving boat and Marine biology station.