Welcome to Velaa Private Island, one of Maldives most exclusive Luxury Hotel. The elegant private island is a superb fusion of Maldivian culture with contemporary luxury.
Velaa Private Island is the realization of a dream to create a "beyond luxury" ultra-exclusive boutique hideaway.

In 2014, at the time Velaa Private Island opened its exclusive doors to world, I told you the story of this extraordinary hideaway.
More than 1 year after its opening, it is now time to give a complete view at the island.
( updated in August 2021 )
Enter inside one of the Maldives most exclusive Luxury Private Island : Velaa
Dreaming of

Velaa Private Island
The Island
Velaa Private Island is just under 20 hectares in size, around half a kilometre in either direction, providing both exclusivity and privacy. Located in Noonu Atoll, north Maldives, This very exclusive and unique luxury hotel was developed to embody the very best of this unique archipelago, bathed by azure skies in the aquamarine waters of the Indian Ocean.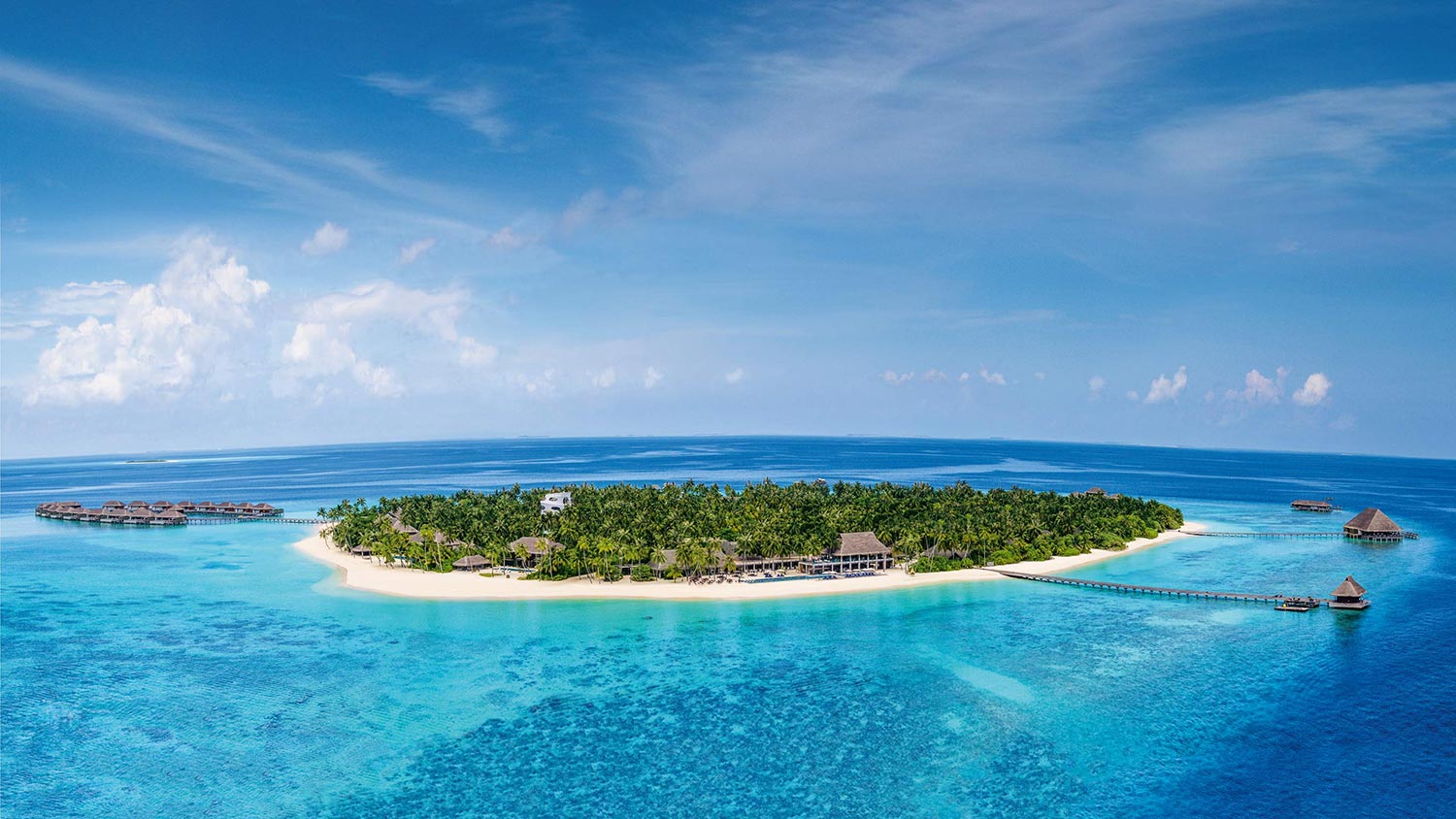 From a broader "bird's eye view" which greets arrivals by seaplane, the island's exclusive over-water villas are also constructed to resemble the head of a turtle, with the island forming the body.
Velaa Private Island transfer is done by the resort private seaplane in 40 mins from Male International airport.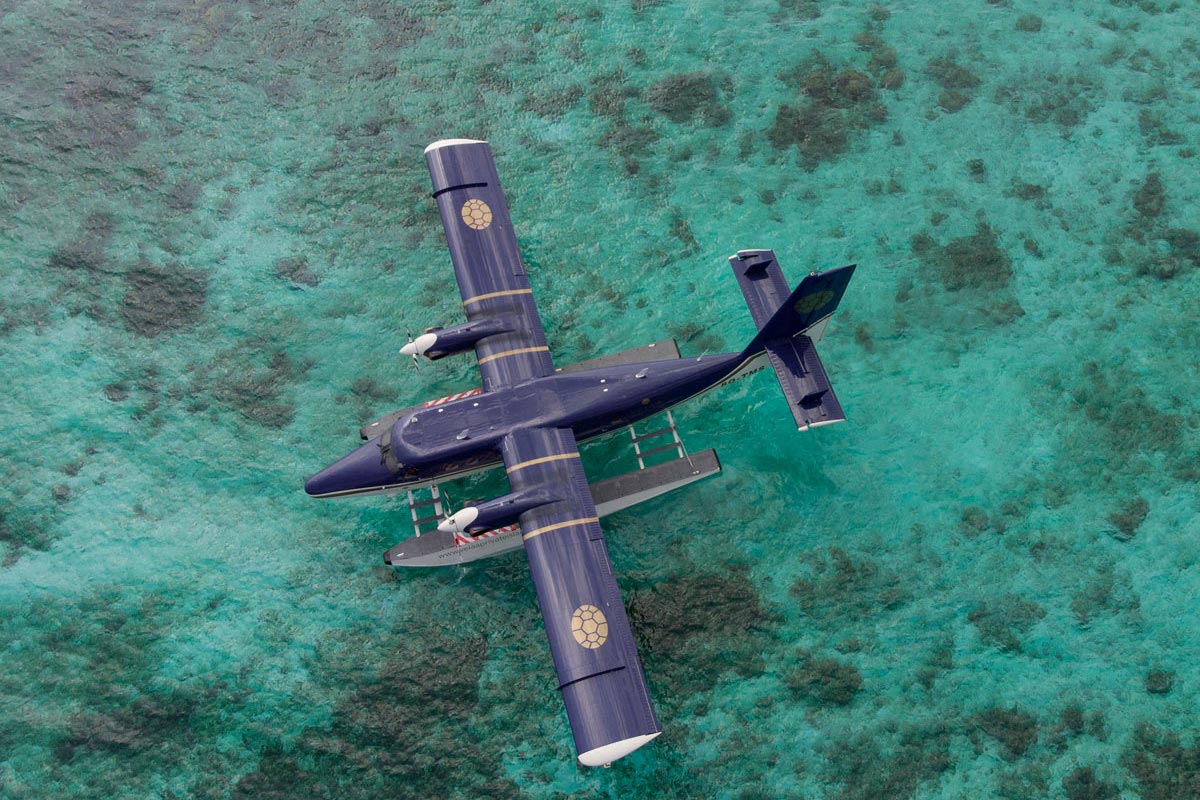 Who created and owns Velaa Private Island ?
Velaa Private island is born from the Dream of 2 people : Jiri Smejc and his wife Radka, who fell in love in the Maldives and share a common passion for the Islands.
Velaa Private island Design
Velaa is designed by Czech architect Petr Kolar, the overall design concept is contemporary yet intimate, with Maldivian nuances.
Design Highlights
Velaa Private Island in details…
Velaa The Villas and Residences
Velaa Private Island comprises 45 private villas, houses and exclusive residences.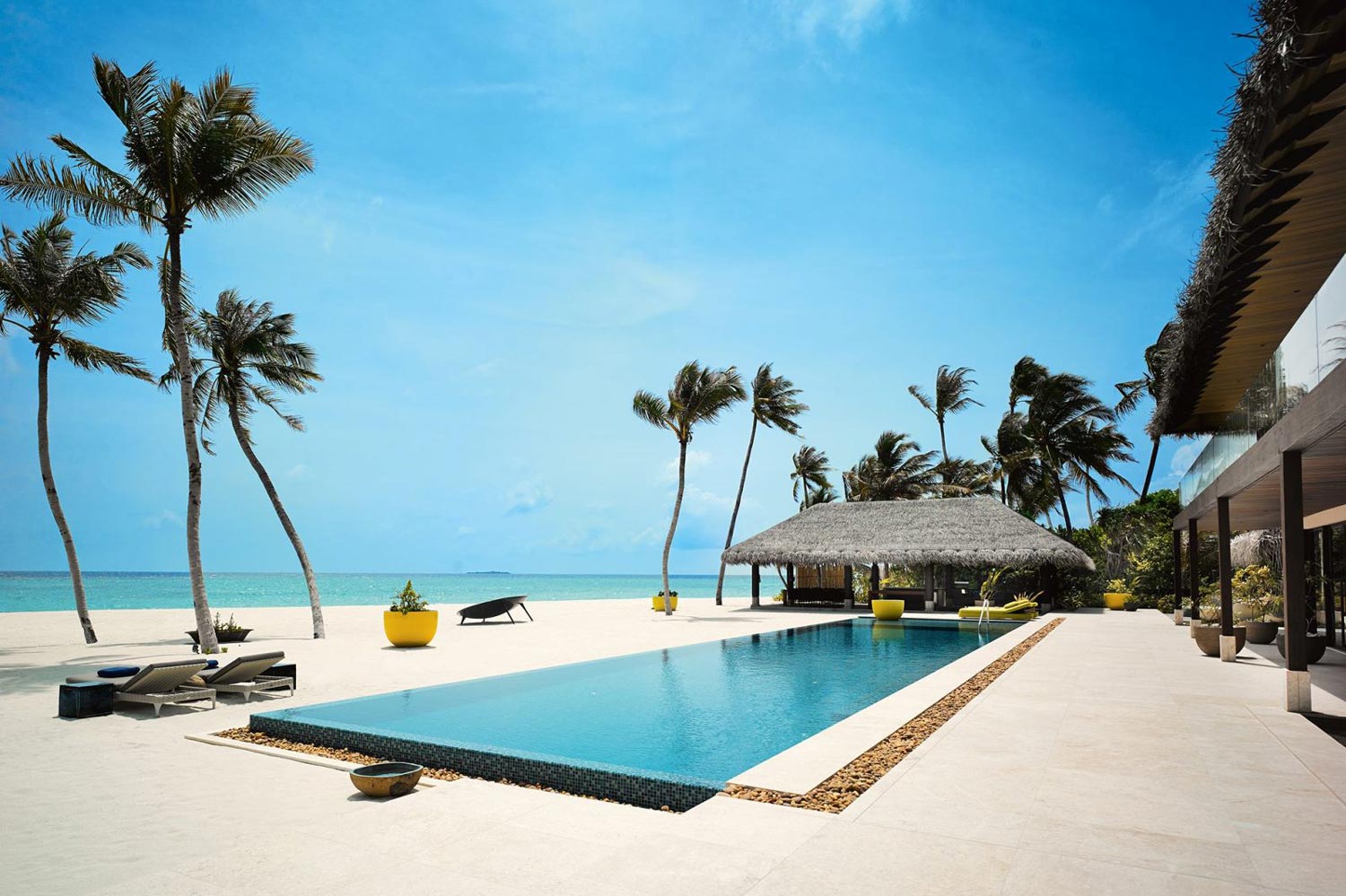 Each of the private retreats is built using local materials, combining contemporary flourishes with interiors designed for sensory exploration.
Generous terraces and sultry gazebos are positioned to maximise shade, breeze, views and privacy, allowing for total immersion in nature.
Live On the Beach
The Beach Pool Villas
Velaa Beach Pool Villas are sumptuously furnished detached one-bedroom beachfront pool villas. Mahogany louvered panels and intricate lofty ceilings give a colonial feel while mahogany furniture and suspended bamboo lights give a natural feel. Wall to wallglass doors frame the terrace and private pool.
By day the villas are light filled, secluded by clusters of palms. An indoor bathroom with Romeo and Juliet basins opens to a large outdoor bathroom connected by a garden atrium where a gazebo-covered daybed overlooks the bathtub. Day beds, swinging chair and an outdoor dining area face the Indian Ocean.
The Deluxe Beach Pool Villas
The Deluxe Beach Pool Villas are designed with natural materials and colours that bring the outside in. These private one-bedroom beachfront pool villas feature a separate large living room, outdoor terrace with an alfresco dining area, a private pool and an indoor / outdoor bathroom.
The Zen-like outdoor bathroom features a huge bath and deck, and reclining daybed under a pillared podium connected by a garden atrium. In the bedroom, a suspended chair adds an element of playful refinement.
The Beach Pool Houses
The Beach Pool Houses are two-bedroom beachfront houses located in lush foliage flanked by gently swaying palms ideal for families.
The large living area works as a retreat in the day and a social hub in the evening, leading to the kitchen area, complete with bar and high stools,
which is practical for both catering and socialising over snacks/meals. Bedrooms blend light and privacy using louvered wood, natural materials and lights suspended from high vaulted ceilings.
Rattan swinging chairs add a sense of fun to the elegant décor. Outside, there is a spacious terrace with a large private pool, carefully positioned day beds and a standalone outdoor dining platform which offers panoramic views of the lagoon.
Velaa Private Residence and Designer House
Velaa Private Island largest and most luxurious villas
Velaa Private residence
The Velaa Private Residence is Velaa most luxurious beach villa. The 1350 m2 beach Residence offers four bedrooms and can accommodate up to 10 travelers.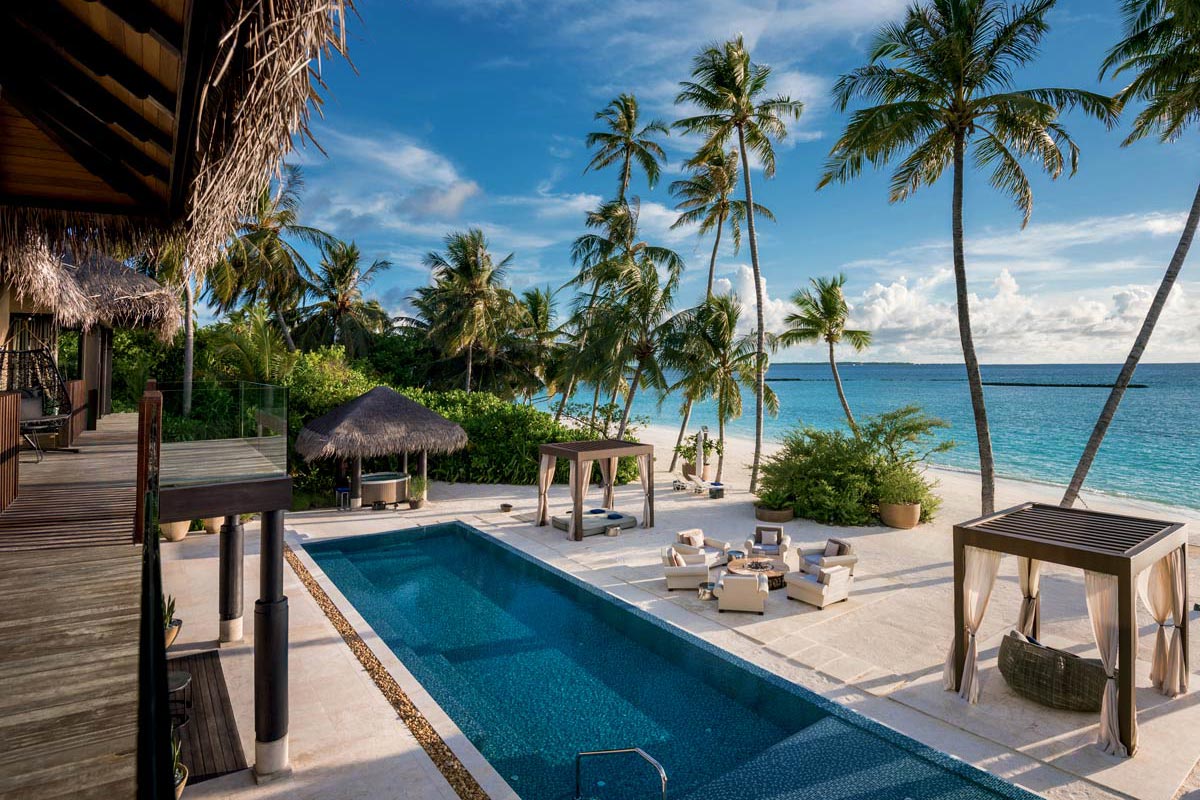 The Velaa Private Residence offers elegant contemporary design and immense private interior and exterior space, inclusive of two terraces, a pool and a courtyard.
Secluded on a pristine private beach, the carefully curated interiors deliver comfort, style and elegance in equal measures.
These two-storey detached residences are laid out with privacy in mind. Each of the four bedrooms faces the ocean across a stretch of icing sugar sand; the first floor bedrooms have generous balconies while the ground floor opens onto the pool.

Indoor and outdoor bathrooms are connected by a garden atrium. Flanked by two gazebos for dining, resting or playing, the pool reflects the ocean and is the central focus.

Behind the living space a gym, spa room and outdoor living area offer plenty of quiet spaces to retire to. Subdued lighting and large format photography provide visual breaks to the sea of natural wood and stone that set the tone of the interiors. These residences set a new level of ultimate luxury in the Maldives for friends and families alike.
Velaa Designer House : Nika Residence by Patricia Urquiola
The Nika Designer House is Velaa Private Island latest signature addition. Designed by Patricia Urquiola, a Spanish Art & Design studio, the superb 4 bedroom beach residence can accommodate up to 10 guests and offers the ultimate designer beach villa retreat.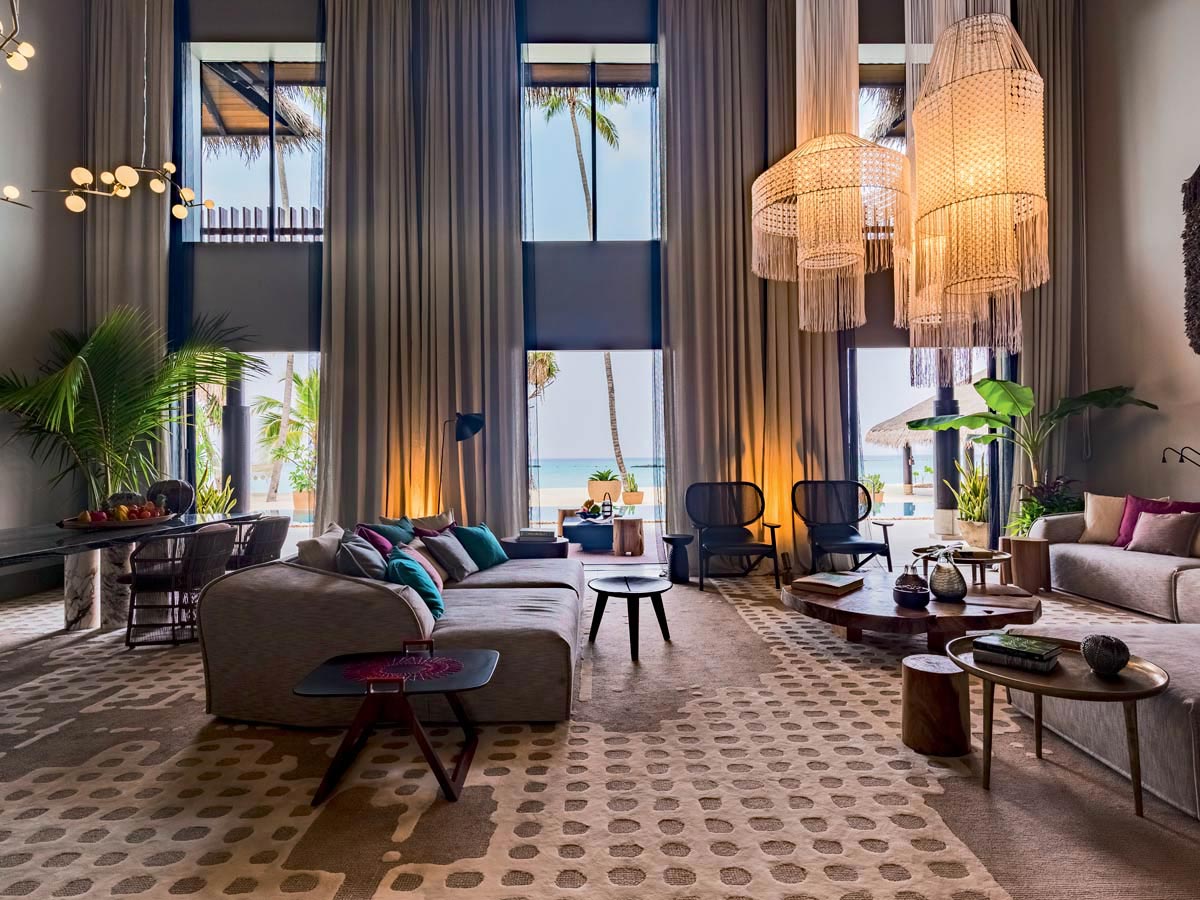 Patricia Urquiola, nominated Designer of the Decade, re-imagined one of Velaa prestigious four-bedroom Private Residences at the end of 2018.
In her design, Urquiola plays with the perception between indoor and outdoor, challenging the defining lines between the spaces. She used materials such as raffia, natural wood and earthy textiles on the vertical panels to help to embrace the space, creating a warm, comfortable and light habitat.
The design creates a warm, yet stylish atmosphere, arranged with hand-crafted, minimalistic furniture pieces; a sprawling 5 meter dining table cut from two pieces of rare black marble slab and positioned beneath a stunning, beaded Craft chandelier.
Superficy : 1324 m2
for : 10 travelers
Live OVerwater
The Sunrise Water Pool Villas
The Sunrise Water Pool Villas are located along an extended jetty with uninterrupted views at the Sunrise and the ocean.
Overhanging thatch offers shade over the dining area, while the bedroom and bathroom open onto the terrace, pool and sun deck, with steps leading alluringly into the ocean.
Inside, the comfortable living room is designed around a viewing window set into the floor, while the bed faces the ocean.
The Sunset Deluxe Water Pool Villas
The Sunset Deluxe Water Pool Villas also offer uninterrupted ocean views and face the sunset. These villas are dreamlike in design, separated by canvas sails ensuring utmost privacy.
Thatched roofing shades the outdoor dining area, while the bedroom and bathroom open onto the terrace. The pool and sun deck have steps leading into the ocean, while under the gazebo a vast daybed scattered with cushions catches the final moments of the sunset.
Inside, the large comfortable living room has its own bar area complete with a private wine fridge and is designed around a viewing window set into the floor. A huge bathroom with a circular bath and a swinging chair reflect the water surrounding the villa.
The Ocean Pool House
The Ocean Pool House is Velaa Private Island most iconic overwater villa. Prestigiously located on the tip of the island, in an exclusive private domain, this two-bedroom overwater residence fringed with traditional thatch offers elegant living space with carefully curated elements.
Louvered shutters let the breeze flow through, while a deep sofa is covered in scatter cushions, ideal for settling down with a good book.
The dining area provides a central space while the ocean is the backdrop from every aspect. From the two spacious bathrooms featuring circular baths, to the elegant bedrooms. Two decks offer a sunken hot tub and a daybed.
Velaa Overwater Residence
Velaa Private Island ultimate hideaway
The Romantic Pool Residence
The Romantic Pool Residence is Velaa ultimate Hideaway. Accessible only by boat, this ultra-private one-bedroom villa suspended above the lagoon with uninterrupted views of the ocean offers utmost privacy and romance, making it perfect for honeymooners or those who looking for ultra-luxury, including a private chef and butler.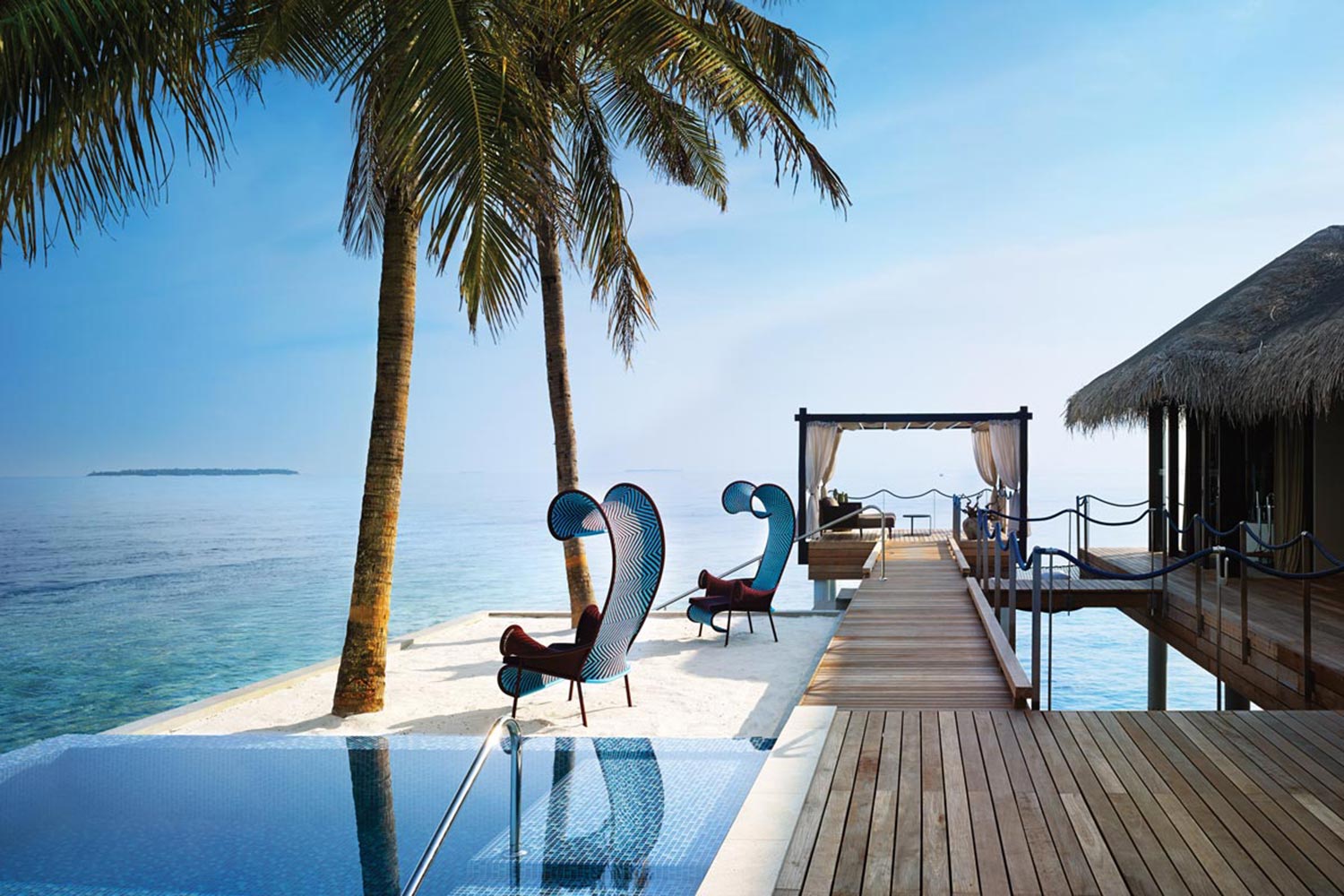 All rooms open onto the terraces, where the Jacuzzi, pool, sundeck and sunken bath offer varying aspects on the horizon.
Dine inside at sunset, or over the water in a dining gazebo on its own jetty and enjoy sundowners on the sumptuous daybeds.
Interiors are designed with natural materials and neutral colours with occasional accents of Ikat or animal prints.
With a personal gym and spa treatment rooms inside the residence there's little reason to leave.
Velaa Dining options and Bars
For the epicurean, Velaa Private Island boasts an extraordinary culinary experience with venues that are unrivalled throughout the Maldives and an extensive wine cellar with an exclusive wine selection from around the globe.
With three restaurants, two bars and a wine cellar, Velaa Private Island offers an unforgettable culinary journey to its guests.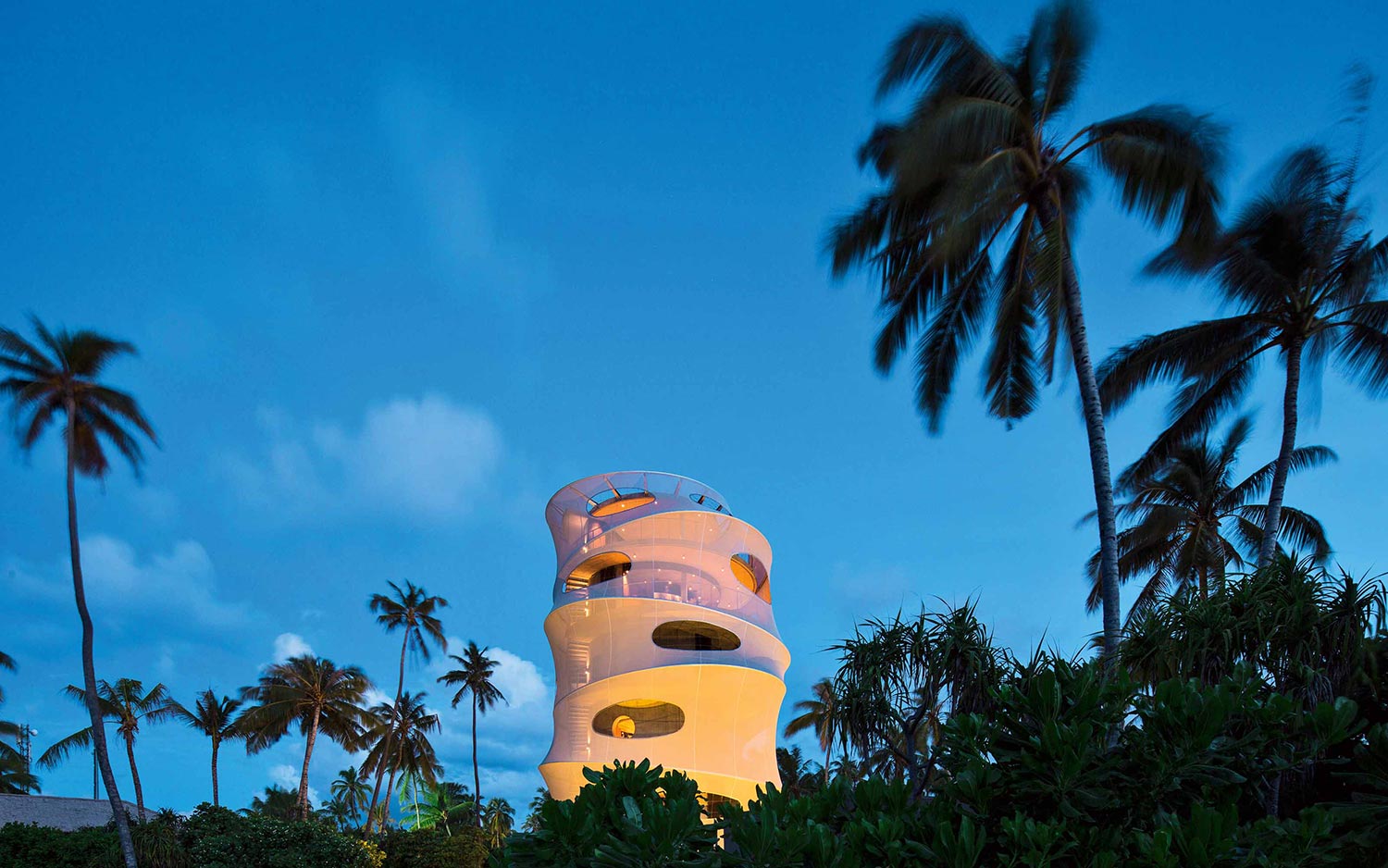 Tavaru
Tavaru is one of Velaa Private Island most recognizable venue. Instantaneously recognizable by its unique design, the impressive tower offers amazing views over Velaa and the beautiful azure waters of the Indian Ocean.
Tavaru, Japanese Teppanyaki elevated to new heights while below the island's secret cellar houses the most exclusive collection of wine in the Indian Ocean.
Aragu & Cru
With a twist on Modern European Cuisine, Aragu is taking its gourmet experience to a new level; combining passion for culinary art with awareness and sustainability.
Favoring carefully chosen, organic produces from all around the world to underline the authenticity, Gaushan de Silva created an innovative twist on the evergreens of the Old Continent.
The chef's classical culinary techniques coupled with contemporary ideas and thoughtfully picked ingredients promises a refreshing yet lavishing experience.
Athiri & Avi
Athiri is beachfront all-day dining at its finest, where guests can enjoy a feast of creative cuisine served fresh to their tables or prepared to their request.
Avi is a casual pool bar by day and a vibrant cocktail bar by night, complete with mixologist and live DJ against the backdrop of spectacular ocean views.
Destination Dining and In-villa Dining
Destination Dining is a unique concept whereby guests are entertained exclusively in a variety of stylish and distinctly different settings, both on and off the island with creative menus and entertainment, ideal for special occasions.
In-villa Dining allows guests privacy and personal space around the clock with speedy "Velaa Express" service and "Served in Villa" menus available at any time.
Velaa Private Island The Spa by Clarins
Velaa Private Island counts itself one of only a handful of hotels in the world to be working alongside this distinguished brand and features exclusive My Blend facial products and body treatments by Clarins for a truly personalized experience.
The Spa also showcases the first Snow Room in the Maldives and a synergy of therapies and products with six secluded double treatment villas overwater.
A comprehensive range of signature treatments are available, including customized facials with sophisticated European technology and traditional Asian massages and body treatments.
Wolke 7 Cloud 9
The Viennese artist and perception researcher, Sha, has now developed a holistic spa treatment concept to counter daily stresses and strains: Wolke 7 Cloud 9.
Velaa Private Island The Golf by Jose Maria Olazabal
Besides a stunning range of activities, Velaa Private Island boasts an extraordinary golf course and academy.
Velaa Private Island golf course is designed by Jose Maria Olazabal, renowned for his short game prowess, and managed by Troon, the leader in upscale golf course management, development and marketing.
Velaa Golf Academy
The island also features a golf academy. Managed by Olazabal, the Velaa Golf Academy is a unique golfing experience in the Maldives.
The studio offers one-on-one tuition with PGA professionals aided by the latest swing analysis technology and is also equipped with a Trackman simulator to enhance the golf session.
Velaa Activities and Leisure
Velaa Private Island houses some of the newest hi-tech water sport toys and equipment, from flyboarding and hoverboarding, to electric foil surfboards and the latest tandem jetovator, covered tennis court, squash court, a climbing wall as well as a complete range of exciting towables for children and families to enjoy.
Velaa Water Sports
Seadoo Scooters are available for hire to access the island's coral reef for the best snorkeling.
Windsurfing offers seven different board size options and 10 sail configurations for all conditions and experience from training for complete novices to the most advanced setup for experts.
Sailing features a Topcat K1 Catamaran and New Zealand-designed Weta High Performance Trimaran easily operated by one or two.
Kite Surfing is with F1 Kites – by far the best in the world – taking this action packed sport to all levels, from downwind runs to private lessons.
Kayaks are available in 3 different, fun options: for one, two or 3-4 persons. Stand Up Paddle Boards are increasingly popular, to explore the beautiful waters around Velaa Private Island and keep fit at the same time!
Jet Skis are Yamaha VX 1100 Cruisers, designed for both experienced riders to enjoy great on-water performance, and beginners to ride at reduced power, for safety and comfort.
Seabobs are the latest and greatest watersports trend, for cruising effortlessly on top or just under the surface like a dolphin.
Velaa also features AG21 Sports Boat, speed boats designed for water sports of all types with unique features such as its low centre of gravity and ability to increase wake size by filling on board tanks.
Finally, for all levels, styles and ages are Water-skiing, Wakeboarding and Knee Boarding with fun inflatable activities such as Tubes, Bananas and the new Ski Seat experience
Land Sports
Land Sports Velaa Private Island offers the latest "Technogym", a world-class Gym features state-of-the-art fitness equipment.
On an elevated Yoga, with beautiful views over the golf academy, guests can receive personal yoga master sessions held on the raised-tree meditation platform in the garden or by the beach.
Diving and snorkeling at Velaa Private island
The untouched Noonu atoll is home to numerous exotic dive sites featuring shark cleaning stations, dramatic swim-throughs and elusive Eagle Rays.
The well-equipped dive shop offers PADI certification from beginner through to dive master levels and a range of Scubapro equipment.
You Will Love
Excursions
Velaa Private Island offers several excursions within Noonu Atoll and around the Maldives. You can cruise the sea with a traditional Bahtheli, meet the dolphins, hire a private boat, rent a seaplane for a flight, fish like a Maldivian on a traditional boat or go on a big game fishing.
Velaa Private Island Kids Club
Velaa offers one of Maldives best Kids Club. The island Lha Velaa ("Little turtle") Kids Club welcomes children from 4-12 years old and boasts the most extensive kids' water park in the Maldives which was designed and based on the inspiration of the owner's daughter. Young travelers will adore the water slide featured inside.
Lha Velaa is the ideal place for our younger guests to enjoy, learn, develop new skills and form new friendships with kids from around the globe, while the parents enjoy some much-needed time off.
Velaa little guests can enjoy many exciting activities, from playing Maldivian baseball and Koraa [Maldivian hopscotch], to taking part in a talent show or going on a pirate ship adventure, all in addition to extensive festive programmes for children of all ages.

All Photos Copyright Velaa Private Island
Do you have questions about Velaa Private Island or your next trip to the Maldives ?
I will answer you via our form on the contact page.
You can also contact me via our Dreaming of Maldives Facebook page. Click on "Like the page" and submit your question.
I will answer you within 24 hours maximum.
Follow us on Facebook, Youtube and Instagram
for more Maldives Dreams