The Island at a Glance
Category 5***** Ultra • Number of Villas 20 Houses • Location South Male Atoll • Island Size Width - 123m / Length - 180m • Transfer 35 mns by speedboat or 10mns by seaplane • Airport distance 21km (13 miles) • Diving Very Good • Snorkeling None at proximity. Necessary to swim 15/20 mns to reach the closest spot. • Lagoon Very Good
Resort Concept & Highlights
Naladhu Maldives by Anantara is a Small Luxury Boutique Hotel located at 35 mns by speedboat from Male airport. The Resort can also be reached by private seaplane after a 10 mns flight. Nestled on a beautiful and tiny Island measuring only 123 meters wide by 180 meters long, Naladhu is one of the best secluded retreat for couples in Maldives. With only 19 Houses and 1 Villa, it is one of the smallest resorts of the archipelago and a unique small island, perfectly made to remain hidden. However, if you look for more excitement and activities you will be able to go and enjoy its close-by sister island resorts, located at a very short pontoon boat ride.
The Resort has definitely mastered the Art of "Feeling-Like-Home" by creating a complete set of private and tailored services only and last but not least, a unique concept of Villas: Naladhu Maldives accommodates 19 Houses and 1 Residence, facing the lagoon or the Ocean. Remarkably intimate and romantic, they are all hidden in a superbly kept vegetation with sandy paths and a lot of tropical flowers. Each Villa, called "House" is set up, built and decorated to absolutely look and feel like your own House, inside and outside.
Naladhu Houses are in our top 5 favourites Villas in Maldives and we love them for various reasons :
First for their unique and complete at-home feeling. Second, for their design and decoration. An harmonious blend of colonial style and modernity influenced by various countries such as Sri Lanka, India, Morocco and of course the Maldives. Real antique furniture's and art objects come to complete this perfect set.
Among many private services and activities Naladhu offers a series of Spa retreats and treatments to be enjoyed in the privacy of your own House or in one of its dedicated Ocean Retreat, for a tailored spa experience as well a very exclusive choice of private dining options.
According to your mood, you can have a private diving lesson from Naladhu or go to the main Diving Center located at Dhigu. The Diving center offers beginner's discovery courses to more advanced Nitrox, deep water and rescue dives and a complete range of programs to suit everyone.
Elegant and extremely private, Naladhu main aim is to answer to the highest expectations for intimacy. A dedicated and discrete House Master is on call 24h/24h for any wish, the Spa and Yoga team will come to your House to pamper you, the Chef will execute any of your dream meal at the Living-Room restaurant or in your house.
Naladhu Maldives lifestyle is one of the few of its kind in Maldives.
Recreating a Home-Like-Feeling atmosphere is often the ultimate achievement for such Hotels. The concept, challenging and exigent, requires a lot of creativity, attention to details as well as a constant -but very discrete- care. Reaching all expectations on this matter, Naladhu has definitely achieved this Dream
Our Favourite Moments and Places
Naladhu Maldives concept is truly private. From there, you can just imagine your own favourite moment. The Houses themselves are an ideal place to start. It's your home, your Dream so anything is possible ! This very real Home-like-feeling and variety of exclusive choices make it a pure Bliss. Let your imagination go and the team will do the rest.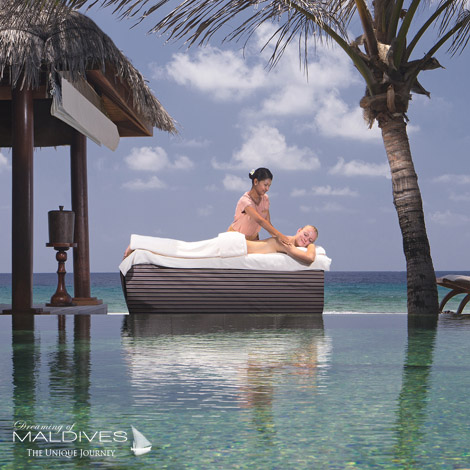 A massage on your House deck
Have you ever dreamt to have a massage directly at home ? Well, you can live this moment by asking for a massage on your private terrace. The all atmosphere and set-up are just perfect for this very private relaxation...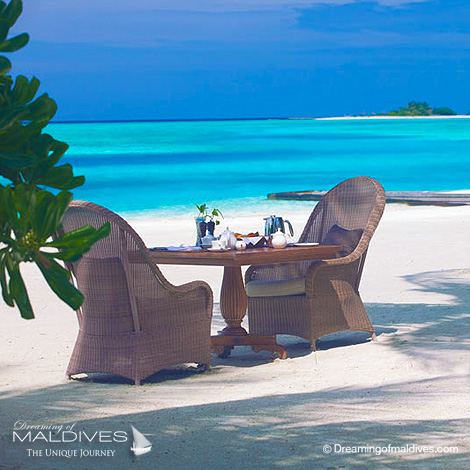 Have a Breakfast on the beach
A simple yet great way to start the day. Naladhu Maldives has a small restaurant indoor and the beach, the Living Room, which offers the possibility to have your very own table alone, on the beach. No music, no noise, no people around... just the tranquility of the Maldives lagoon waves licking the island shores and a table full of delicious food.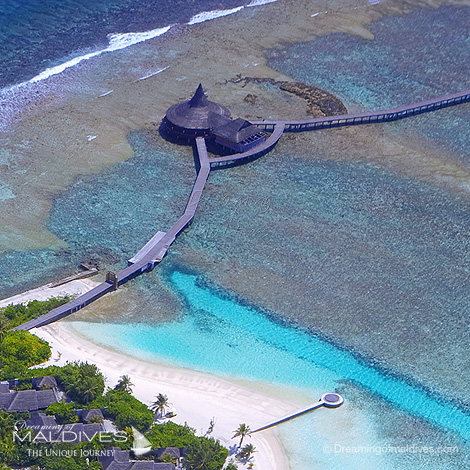 Eat at the Baan Huraa Thai Restaurant
Anantara is renowned for having the finest Thai Restaurant in Maldives. The beautifully decorated restaurant (in the pure Thai tradition) is located in the middle of "nowhere", right in the lagoon, linked by 2 long bridges and can be also accessed by private boat.