Velaa Private Island is the long awaited and most talked Private Island Retreat of the Maldives. The resort opened its very exclusive doors in December 2013. Let's see together the island story and why the resort is truly beyond luxury.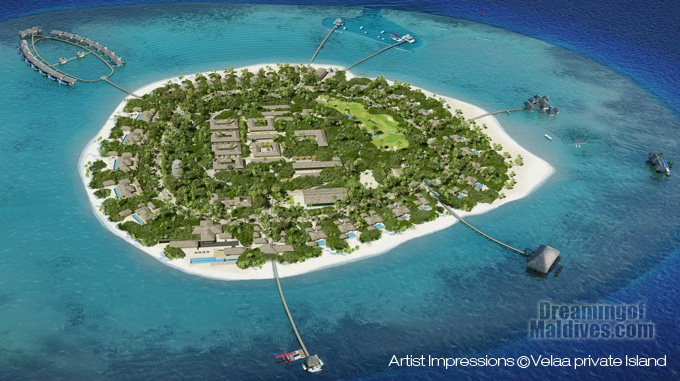 Located in the beautiful Noonu Atoll, in Northern Maldives, Velaa Private Island is a small rounded Island covering just 20 hectares dedicated itself to Luxury, Privacy and …Extraordinary.
Velaa Private Island is now and already positioned amongst the Top 10 Resorts in the world
Velaa Private Island – The Story
The Resort is born from the Dream of 2 people : Jiri Smejc and his wife Radka, who fell in love in the Maldives and share a common passion for the Islands. ( we love this kind of story ! ).
Together, they decided to open their own private Maldives Retreat, an Island that would fulfill their dreams about a perfect place on the Earth… Velaa Private Island is a true inspiration from their various journeys in the archipelago.
An architecture inspired by Nature
Its name "Velaa" ( which means Turtle in Dhivehi, the Maldivian language ) was chosen to embody the generations of sea turtles that flock on the island to nest and hatch. Inspired by the beautiful Turtles, the Resort Designer has kept Turtle motifs and colors as a main pattern to imagine the property. From a broader "bird's eye view" which greets arrivals by seaplane, the island's exclusive over-water villas are also constructed to resemble the head of a turtle, with the island forming the body.
In order to preserve their precious population, Velaa Private Island has also ensured plenty of room for its marine visitors, with a hatchery and conservation plan in place.
Velaa Private Island a Resort Beyond Lurury
The Resort defines itself as an Unique and Ultimate Luxurious Private Retreat that will bring its guests "Beyond Luxury" .
Knowing the high levels of hospitality in the Maldives and the plethora of Top Luxury Resorts, Velaa Private Island had to bring something more.
As expected, it is not surprising that you will find there the first class service and luxury amenities that contribute to make the Maldives one of the most exceptional destination in the world. But looking at the resort features and the owner inspiration, it looks that Velaa Private Island has put another "Golden" touch into it.
Let's have a look at this Uniqueness…
The Arrival at Velaa
At arrival, according to their wishes, guests will enjoy 2 types of transfers to reach their hideaway from Male Airport : a 45 mns seaplane ride or a 4 hours cruising on board of a Luxury Yacht.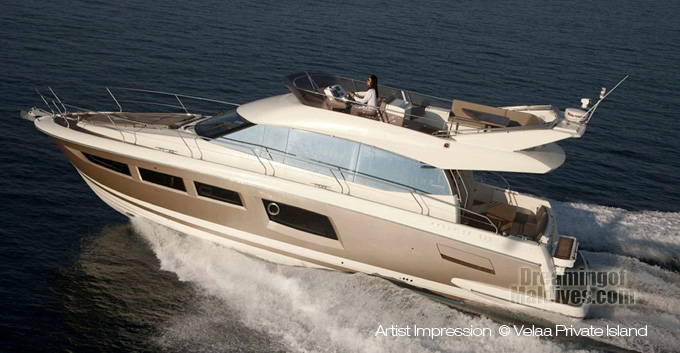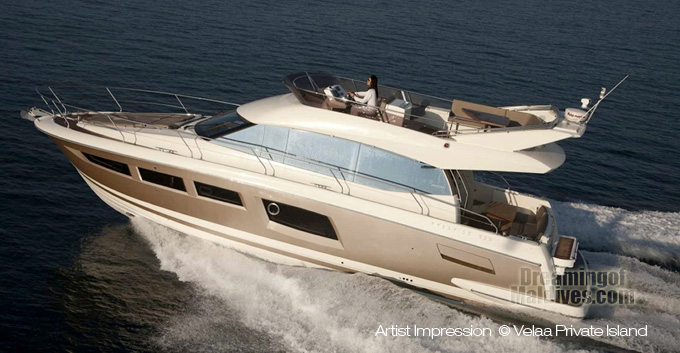 Velaa The Villas, Houses and Residences
Velaa Private Island boasts 45 private villas, houses and exclusive residences, blending contemporary design and Maldivian nuances, featuring soft colors, fine linen, teak and bamboo, luxury furniture Brands and Top Designer items only.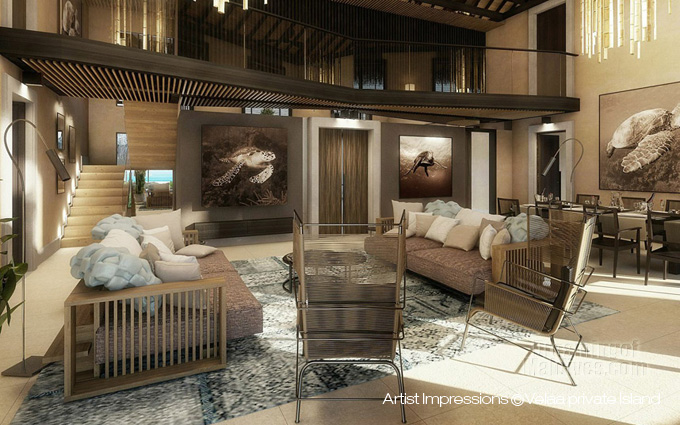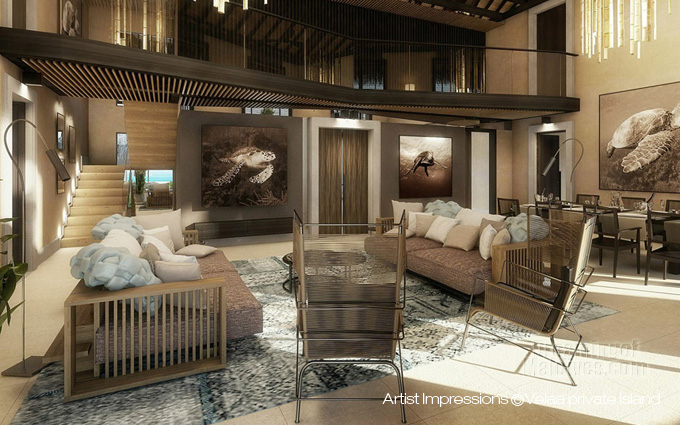 In any Villa you will choose to stay, you will find immense space, splendid design and exclusive amenities.
Butlers are naturally at the guest disposal during all their stay.
From the first Villa category to the most exclusive Residence, they all offer private pools, a lot of privacy and extraordinary volumes.
The "smallest" Villa, called the Sunrise Water Pool Villa, is set on 232sqm and the largest one on 1350 sqm. ( you will find more details about the villa sizes and numbers at the end ).
In some Villas, amenities and services include spaces that can be customized to guest wishes such as private gym or libraries. Features also include Zen-like outdoor bathrooms, suspended chairs, majestic high ceilings and private extended over water jetties to name a few.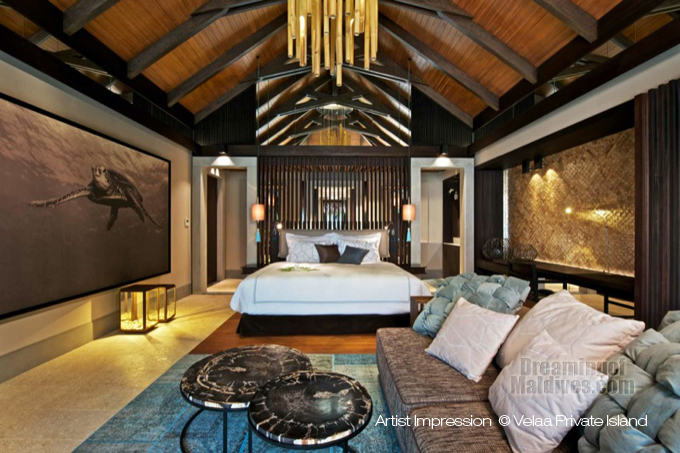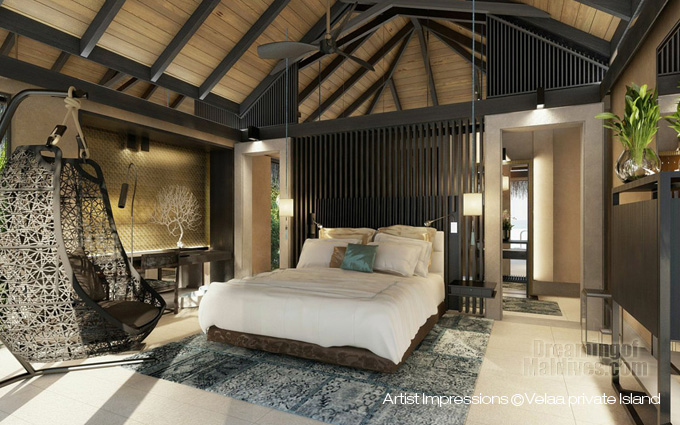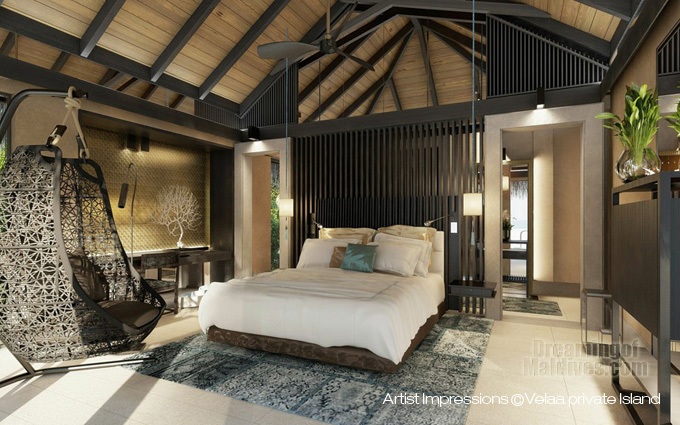 Velaa Leisure and activities
If you're not a Diver or if you like a bit of adventure, a private Semi-Submarine will bring you down to explore the beautiful Noonu Atoll underworld.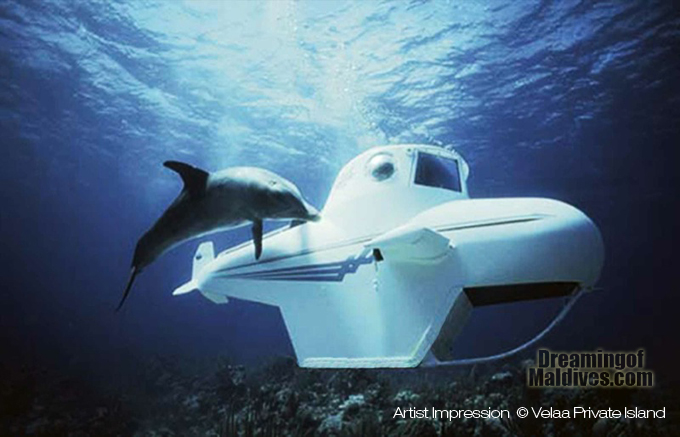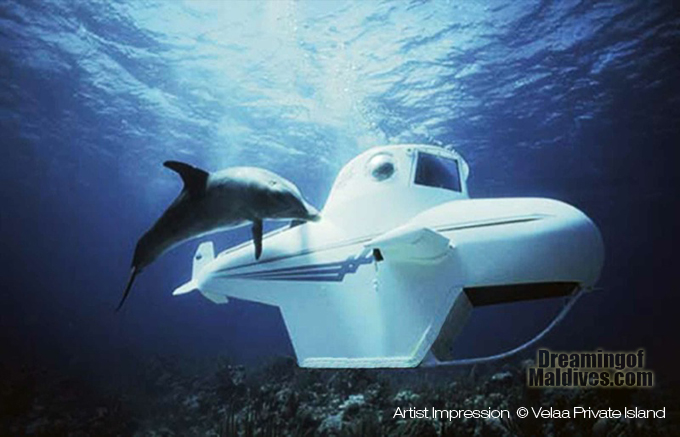 To be sure to provide the ultimate experience, Velaa Private Island has also teamed up with some of the finest Names and Brands.
Velaa The Overwater Spa.
Velaa Private Island counts itself one of only a handful of hotels in the world to be working alongside with "My Blend" by Clarins featuring exclusive facial treatments and body products. Organic ingredients are also at the menu.
Holistic Therapies developed by Viennese artist and perception researcher Sha, offer cloud-shaped reclining treatment pods cradling guests into deep relaxation.
Yoga sessions, Reiki and shiatsu are proposed on a daily basis by a dedicated team.
The Golf at Velaa
Besides a wide array of sports, Golf enthusiasts will enjoy the only "Short Game Golf Academy" in the Maldives with 170m of greens and a swing studio carefully crafted by Masters Champion Jose Maria Olazabal. Have a look at this short Video :
Restaurants & Bars
To pretend to this "Uniqueness" in the Maldives, Velaa Private Island had to rise up the gastronomy levels and Architecture at its highest. Taste and Design come both in a spectacular way.
The Cuisine is ensured by excellent Chefs including Michelin star and Gault & Millau Awarded French Chef Adeline Grattard. 3 superbly designed Restaurants feature some of the finest Cuisine from around the World.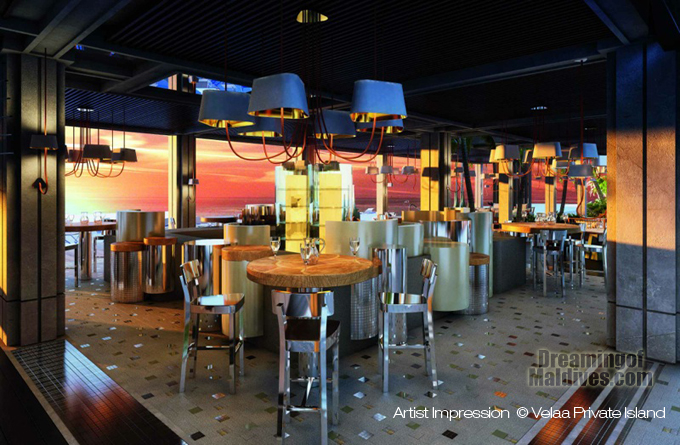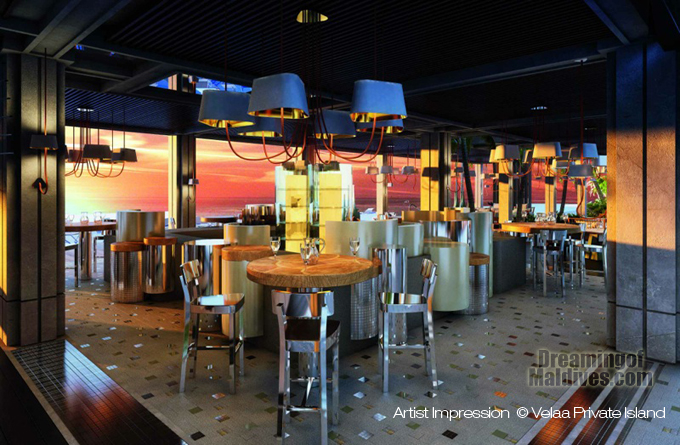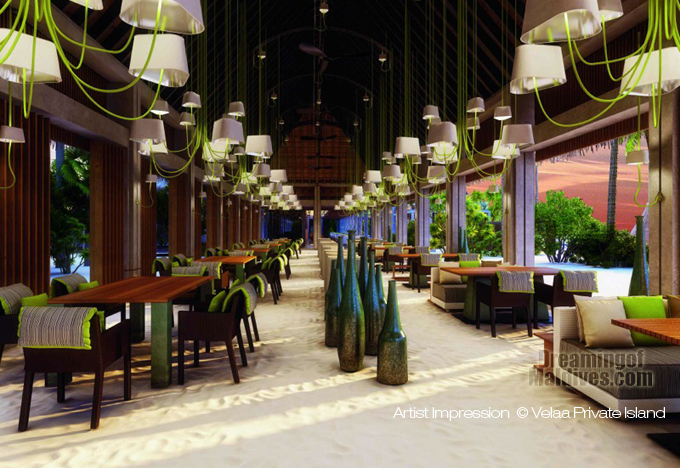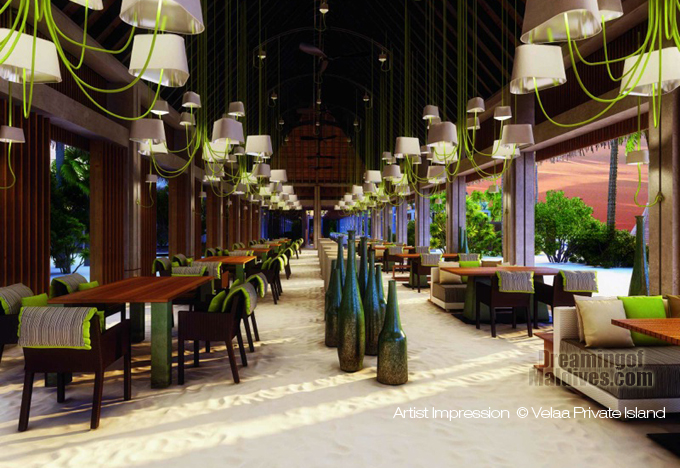 One of the most extraordinary is the unbelievable "Tavaru" Tower, the Teppanyaki restaurant, that stands as an architectural centerpiece of the Island.
Visually striking, the ivory-white tower hosts live cooking and Velaa's extensive wine cellar at its heart. Wine Lovers will appreciate the 30 page wine list which covers the whole spectrum from boutique wineries to grand marques and organic as well as biodynamic producers.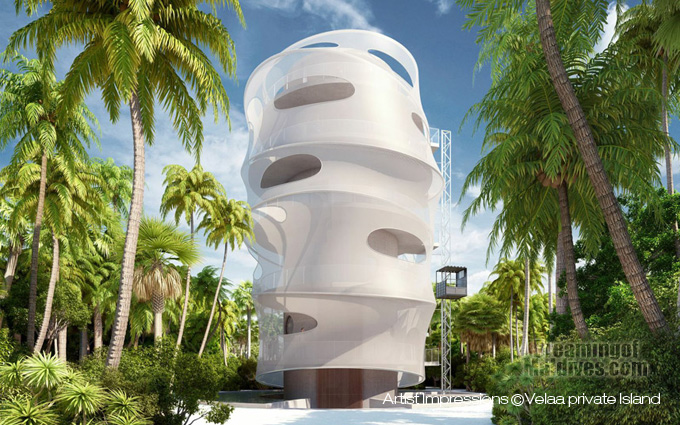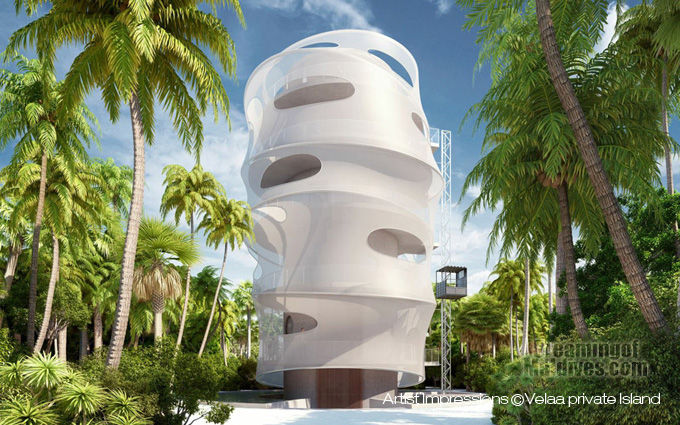 Recently built, Tavaru Tower has already created a lot of sensations and has rapidly become an Iconic place to experience.
Its outstanding architecture is definitely one of the Maldives Most Extraordinary Places to see.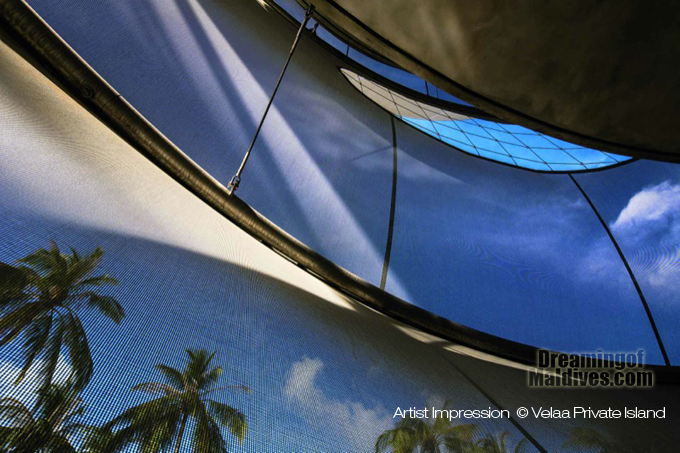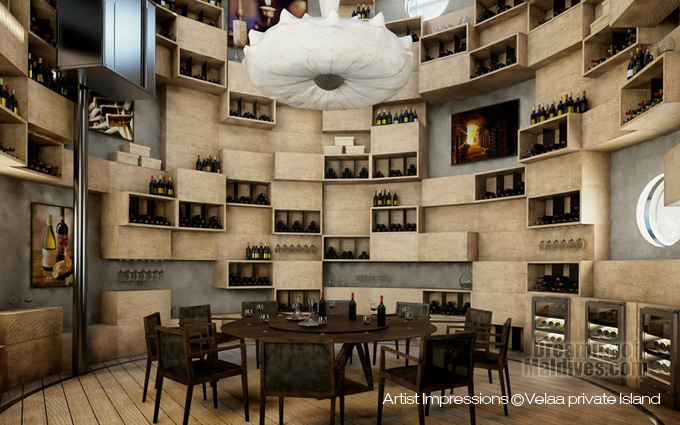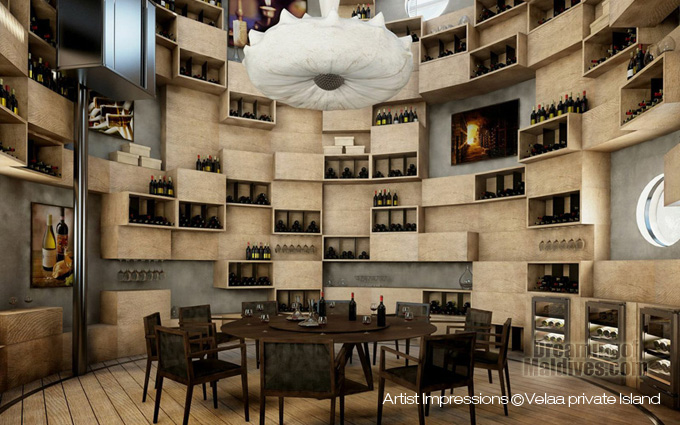 Champagne !
Aragu & CRU Champagne Lounge signature over water restaurant proposes culinary delights topped off with the sparkle of Champagne. And if you never get enough from Champagne bubbles, a dedicated Lounge serving Vintage Champagnes will wait for you after your dinner.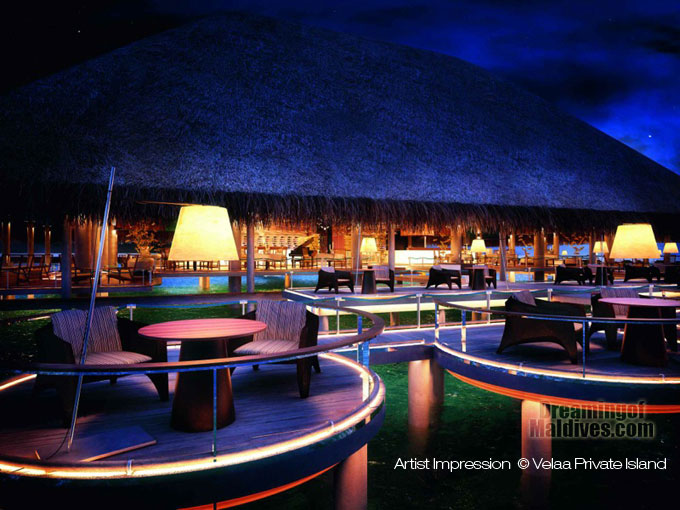 Velaa Private Island has much more to offer. I just outlined for you some of the key features that make this new resort the hottest Luxury Island to be right now.
A last detail… The price to stay at Velaa Private Island
You will surely read around that Velaa Private Island is The Most Expensive Resort In Maldives, which is partially true. Of course, some Villas and residences are pricey and will cost you up to USD 30,000 a night ( BB Basis ), but if you don't mind staying in one of the first category villa ( remember their amazing volumes and amenities), a night in BB will cost you around USD 1500, which is far to be unusual in Maldives.
More information and Photos ( Artists Impressions )
Number of Villas and respective sizes :
8 Sunrise Water Pool Villa – 232sqm
9 Beach Pool Villa – 295sqm
9 Deluxe Beach Pool Villa – 346sqm
8 Sunset Deluxe Water Pool Villa – 256sqm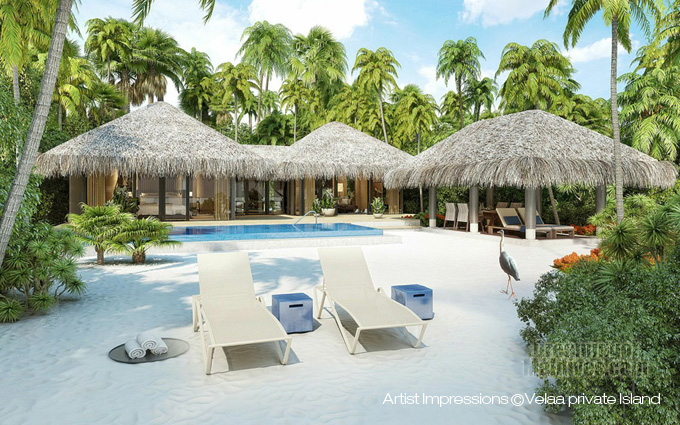 Number of Houses and respective sizes :
5 Beach Pool House – 600sqm
2 Beach Pool Pavilion – 600sqm
1 Ocean Pool House – 500sqm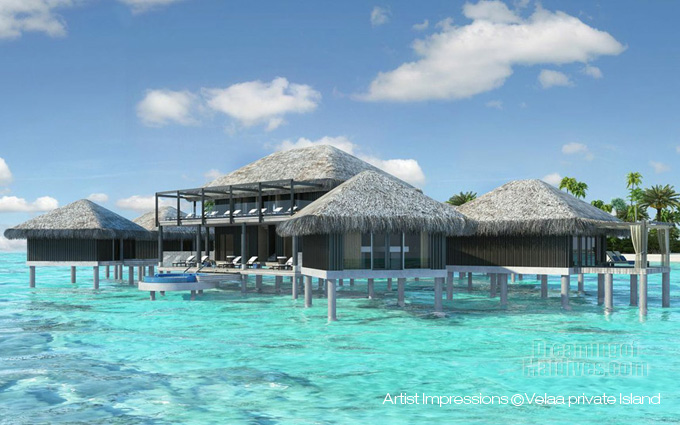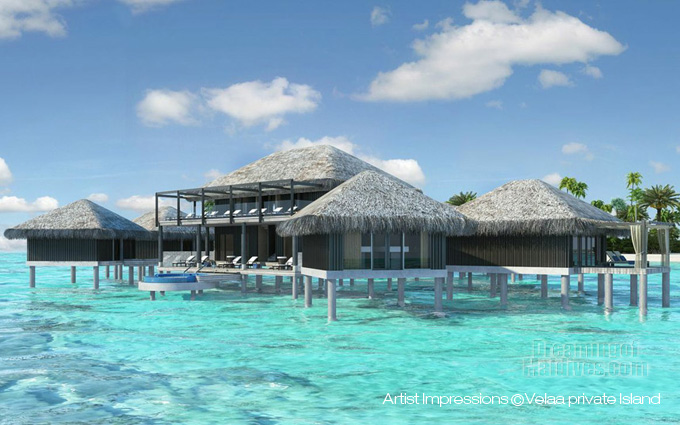 Number of Residences and respective sizes
1 Romantic Pool Residence – 623sqm
2 Velaa Private Residence – 1350sqm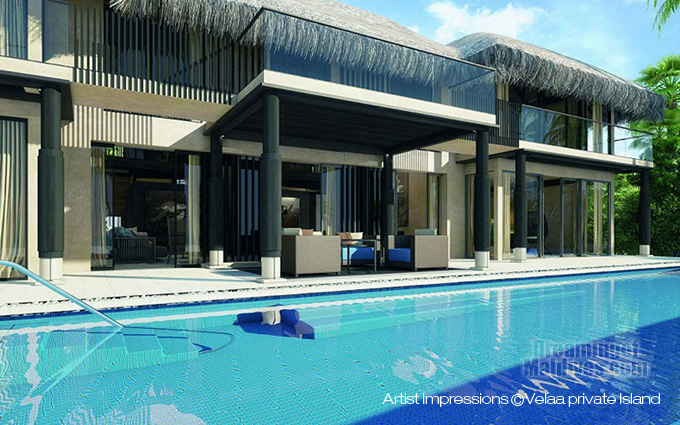 Find more velaa Private Island Stories in
Dreaming of Maldives readers have nominated Velaa Private Island for Maldives Best Resort 2023 in the 12th Edition of the TOP 10 Maldives…
Are you Dreaming of a wedding in Maldives ? Here are the 10 most common questions and their answers to help you start to plan this unique…
Here are the 22 Maldives hotels nominated for the TOP 10 Best Maldives Resorts 2022. We Do Not Give Awards . You Do The Maldives Best Resorts…
Follow us on Facebook, Youtube and Instagram
for more Maldives Dreams
Your TOP Best Maldives Resorts 2023
YOUR CHOICE. YOUR DREAM. YOUR VOICE
[ Official ]
Traveler's Choice
12th Edition