This aerial photo of several perfect Maldives Islands in Baa Atoll was shot by Sakis, Dreaming of Maldives photographer, from a seaplane during an aerial photo shooting in 2002.
Here is its Dreamy story.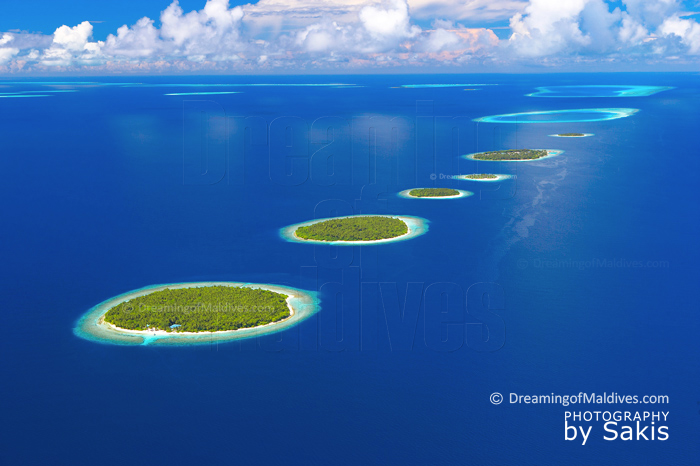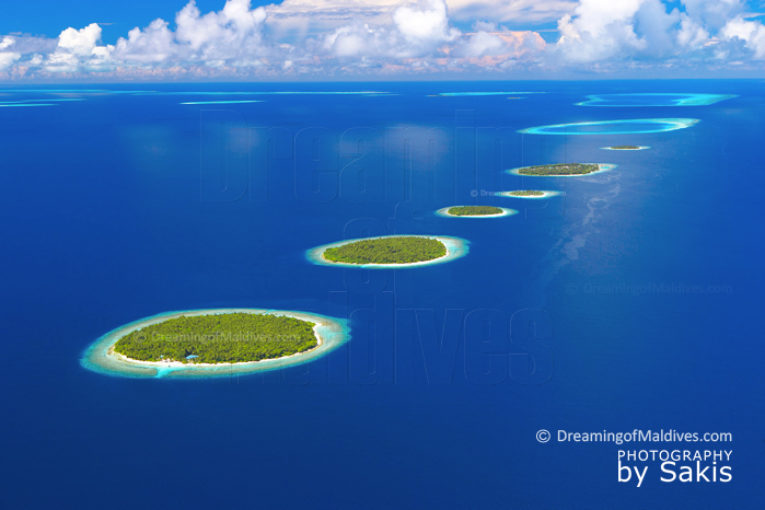 The Maldives are full of incredible island shapes to photograph. This row of islands in Baa Atoll, north Maldives, is iconic. These 6 little Gem Islands are such an ideal demonstration of Maldives splendor and rareness.

I knew the shot was good but I did not know what was next…

Sakis. Dreaming of Maldives photographer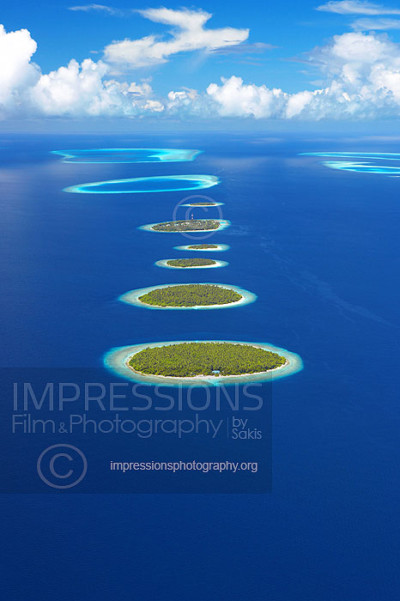 Flying above Baa Atoll in 4 photo sequences
Baa Atoll photos from the Photography Book, Dreaming of Maldives, The Unique Photo Journey. Row of Islands.
See more aerial photos of Baa Atoll on Sakis website.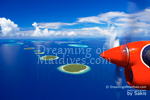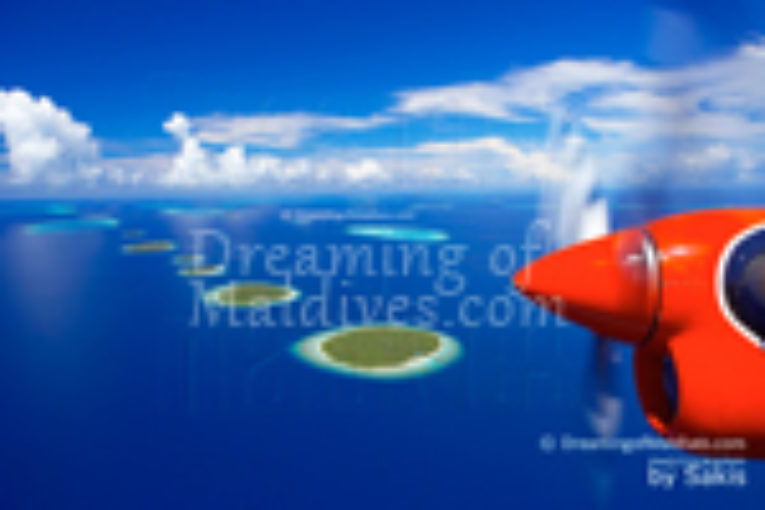 Shortly later, the photo was used in several ads and magazines in many countries to showcase the stunning beauty of the Maldives Islands.
The Maldivian Gem Islands were a complete Dream for travelers.
A testimony of Maldives timeless beauty and fragility
Later on, in 2009, the photo took another dimension and a much bigger meaning by being chosen to illustrate the Maldives Islands in the famous coffee table Book and international awareness project – 100 places To Remember Before They Disappear.
The Book and the project ( featuring exhibitions – including Copenhagen in 2009, TV Spots and conferences ) were meant to draw attention to the beauty and extreme fragility of 100 endangered places on the Planet ( selected according to the 4th Assessment Report from the Intergovernmental Panel on Climate Change ) and to create an argument to preserve them.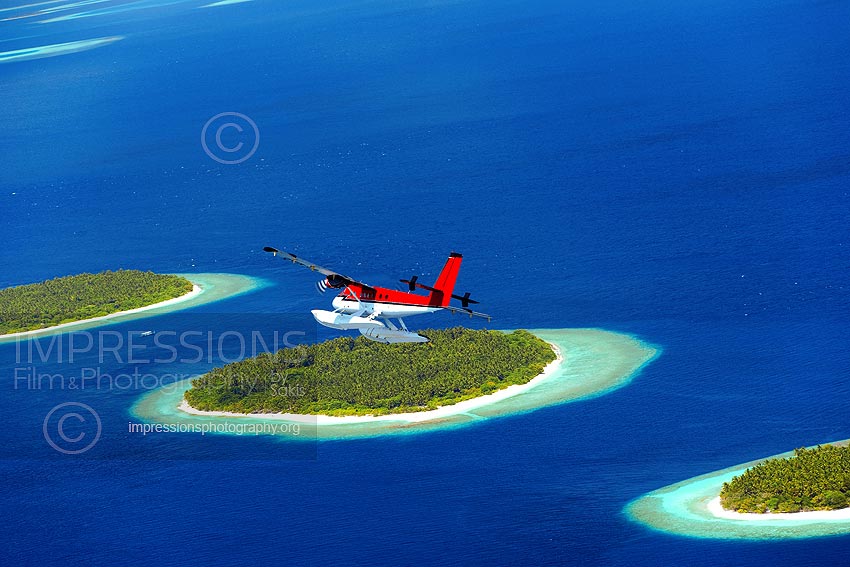 I am sure many of you heard about this "100 Places to remember before they disappear" book and project or that you've already seen this photo.
10 years after, this photo keeps on inspiring travelers and photographers and this little precious islands keep on turning around the planet as a testimony of Maldives timeless beauty and fragility.
For the little story,  we've flown above them the past weeks…and it was quite emotional. Pitiful, the weather was not good enough to photograph them again. It would have been interesting though…Next time maybe.
Precious Baa Atoll
Did you know that Baa Atoll and its beautiful little Islands were also part of another and bigger environmental project ? No ? Then read this…
Joining a list of precious and famous places around the World such as the Galapagos, Yellowstone National Park or Brazil Central Amazon among others, Baa Atoll has been officially declared in July 2011 a UNESCO International Biosphere Reserve.
For years, the Atoll has been known to be one of the richest Atoll in Maldives for its phenomenal natural beauties, above and under the water, with a rich biodiversity including large mangroves, a unique fauna and last but not least, one of the World's most unique underwater life.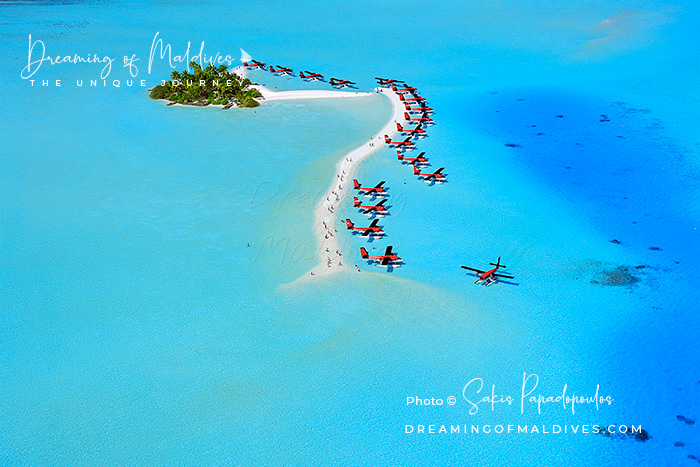 Located at app. 35 minutes by plane and seaplane from Male Airport, Baa Atoll hosts 8 Island Resorts and welcomes in its waters several Diving Safari Boats and many Divers ( Baa Atoll diving spots are known to be extraordinary for Mantas and Whale Sharks observation ).
Some Resorts participate to the Atoll protection and play a role in the current actions lead by the Atoll Ecosystem Conservation Project, a Maldivian Organization working on conserving the Atoll and using its biodiversity in a sustainable way.
Some Resorts, Dive Schools and Live Aboards from Baa Atoll officially participate to the project and actively work on it as per the Baa Atoll Conservation Fund Partnership Agreements signed in November 2012 :
Here is the list of the participants who signed the agreement :
1. Four Seasons at Landaa Giraavaru
2. Soneva Fushi
3. Reethi Beach Resort
4. Soleni Dive School
5. Sea Splash Maldives Dive School
6. Sea Explorer Dive School
7. Live aboard Association of Maldives
8. Haveily Safari
The event demonstrates the engagement and Public Private Partnership in Management and Conservation of Biodiversity and Sustainable Resource Utilization.
Discover more about Baa Atoll
Read more

Get a bird's-eye view of some of the Maldives most beautiful island resorts with this patchwork of aerial views. There is nothing better…

Maldives Aerial Views. In Maldives, to make the difference, each Resort must be featured from the air. It allows viewers to have a perfect…

Here are 18 Aerial Photos of the Maldives Islands to show you a patchwork of their amazing shapes. Flying above the Maldives Islands is a…
Follow us on Facebook, Youtube and Instagram 
for more Maldives Dreams & Stories
Maldives TOP 10 Dreamy Resorts 2024
YOUR CHOICE. YOUR DREAM. YOUR VOICE